Kate Middleton has impeccable style, whatever the season. In autumn, she sticks to her tried-and-tested formula of rich colours, cosy knits, long coats, dark tights and stylish boots. All perfect for the cooler months.
Below, I've created a round-up of my favourite fall looks worn by the Princess over the last 12 years. I'm hoping it'll be handy inspiration for your own wardrobe! Find outfits in assortment of styles to suit all occasions!
Fall Favourite
Let's kick the post off with this fab tonal outfit. It's actually one of my all-time favourites. The Princess layered her Hobbs Tilda coat over the brand's matching Lara sweater. I love the deep pink colour. Sumptuous jewel tones provide the perfect splash of colour on dreary autumn days.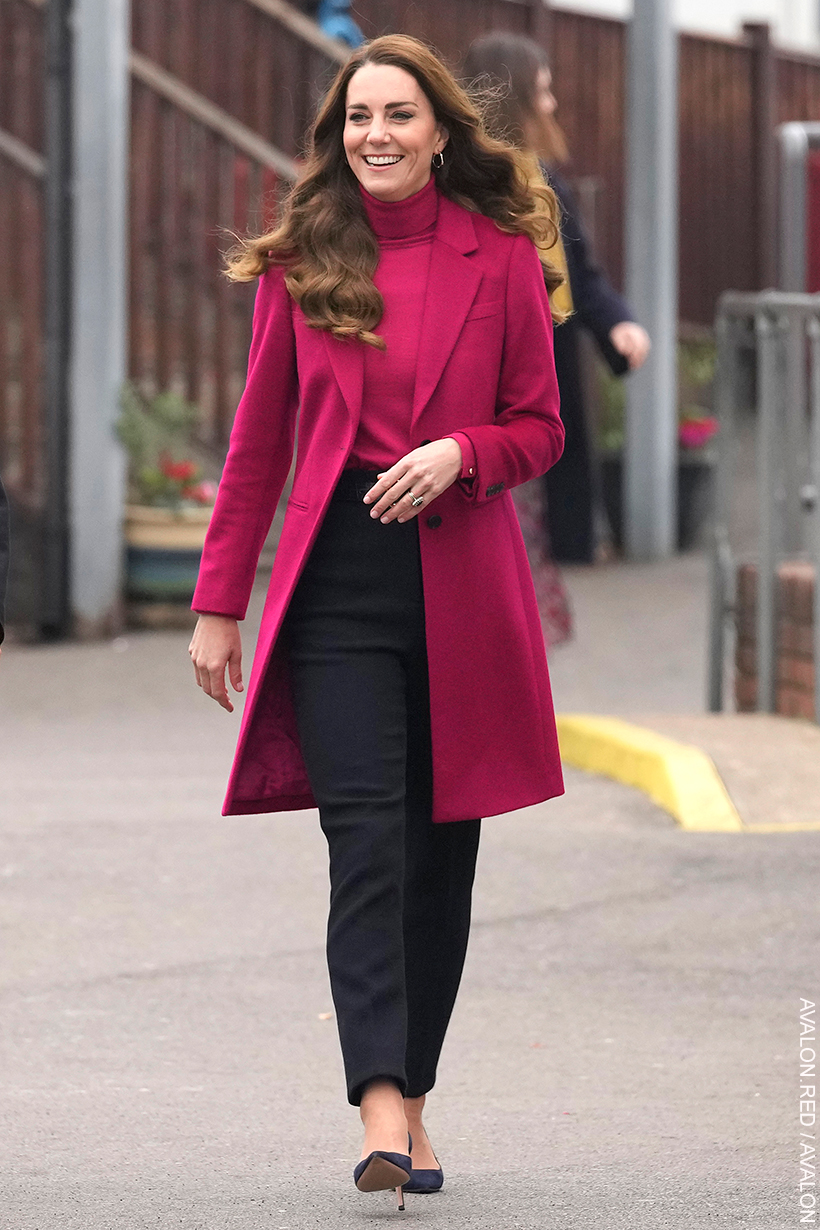 The then-Duchess wore the colourful coat and sweater combo to take part in a school science lesson in autumn 2021.
Kate's has worn several iterations of this style before—a sweater underneath a coat in the same tone. It's becoming her signature look.
Want to copy Kate's layered look? You can still purchase the Tilda coat and Lara sweater from Hobbs London (in different colours, including berry and blue & camel).
The Princess finished her outfit with a pair of trousers from L.K. Bennett, earrings by Daniella Draper and a pair of Gianvito Rossi '85' pumps.
Dark Autumn Florals
Who says florals have to be restricted to spring and summer? Seven years ago, Kate showed us how to work the print for fall too. She wore the long silk 'Cersei' dress from L.K. Bennett in a dark and moody colour palette perfect for the season.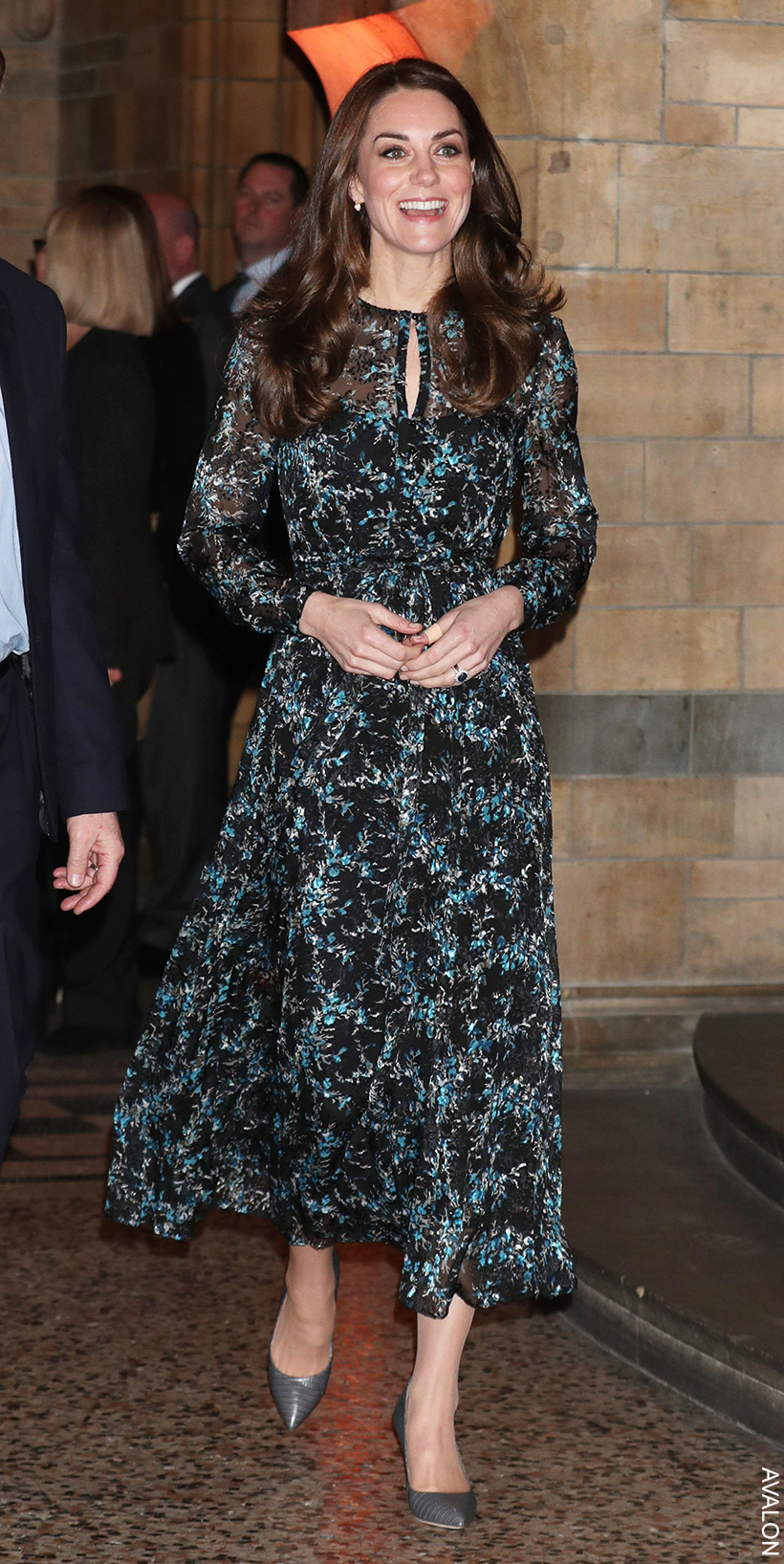 She wore the garment to visit the Natural History Museum in 2016.
Six years have passed since this engagement and the dress is still as stylish today. It's a timeless piece. I fully expect to see Kate wear this piece again.
Kate paired the frock with a pair of grey pointed heels from Hugo Boss and her Kiki McDonough Lauren Leaf earrings.
Scarlet Separates
If you read my recent roundup of Kate's best outfits, you'll know I adore this look! I think scarlet red and tan brown are the perfect colour combo for an autumn afternoon.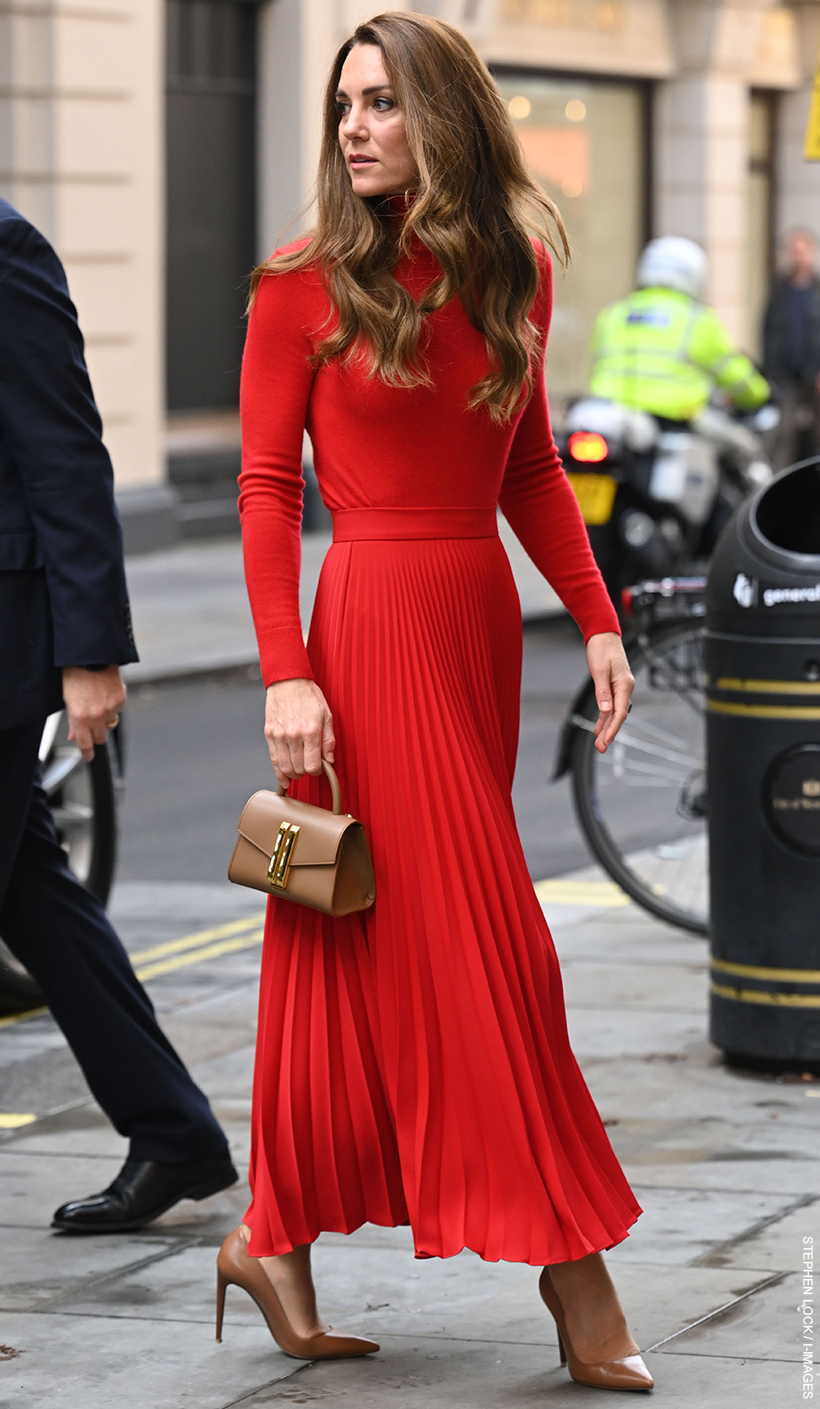 The Duchess tucked a cashmere turtleneck jumper by Ralph Lauren into a long pleated skirt from Christopher Kane. Her shoes are also by Ralph Lauren. Her gold hoop earrings were a bargain £12/$18 from ASOS (still available). Handbag by DeMellier.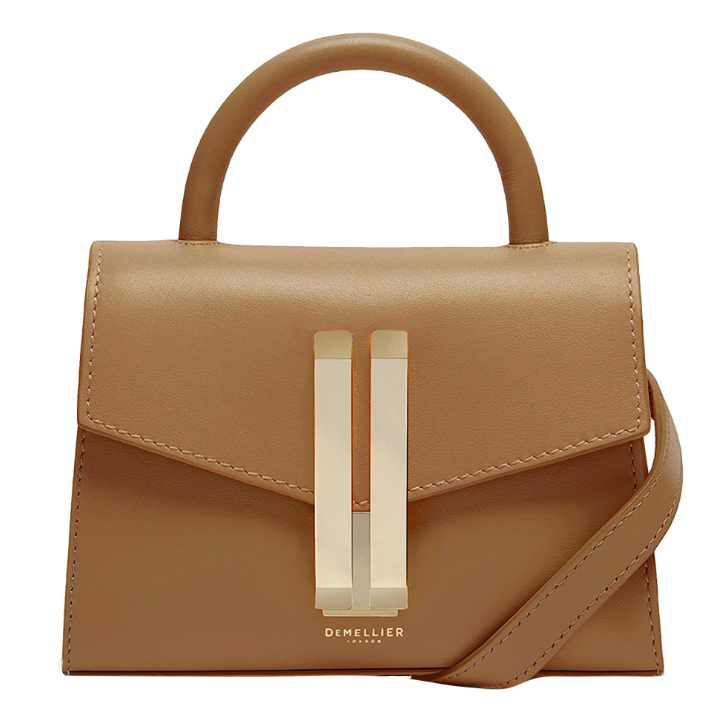 DeMellier Nano Montreal Bag
Exact match! Want to emulate Kate's sophisticated style? This DeMellier handbag is the perfect pick. It's elegant and refined — just like the Duchess herself.
Berry Nice
In autumn 2019, Kate attended Shout's Crisis Volunteer celebration wearing a pair of berry-coloured slim-fit trousers by Joseph. She paired the trousers with a grey glen check blazer by Smythe.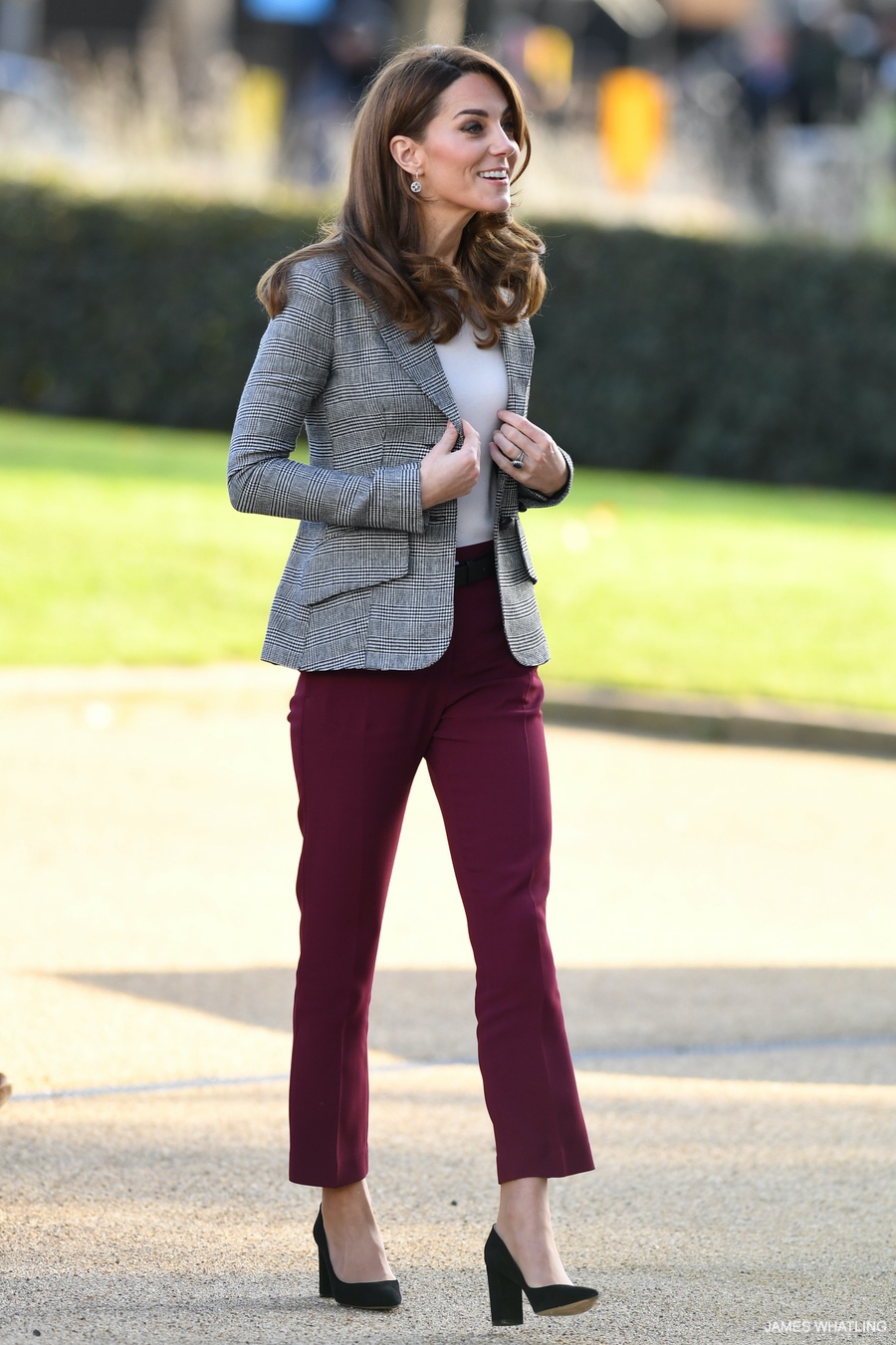 Berry is autumn's juiciest shade. It's the perfect hue to brighten the colder months. Vibrant shades provide a welcome pop of colour on drizzly grey days.
The Duchess finished her autumnal outfit with her Gianvito Rossi Piper block heel pumps and the Mappin and Webb Empress diamond earrings.
Casual Yet Polished
Let's change tack and look at one of Kate's casual outfits now. I wanted to include a couple in the round-up—these looks are easy for us to copy! Perfect for running errands, visiting family, taking kids to the park, etc.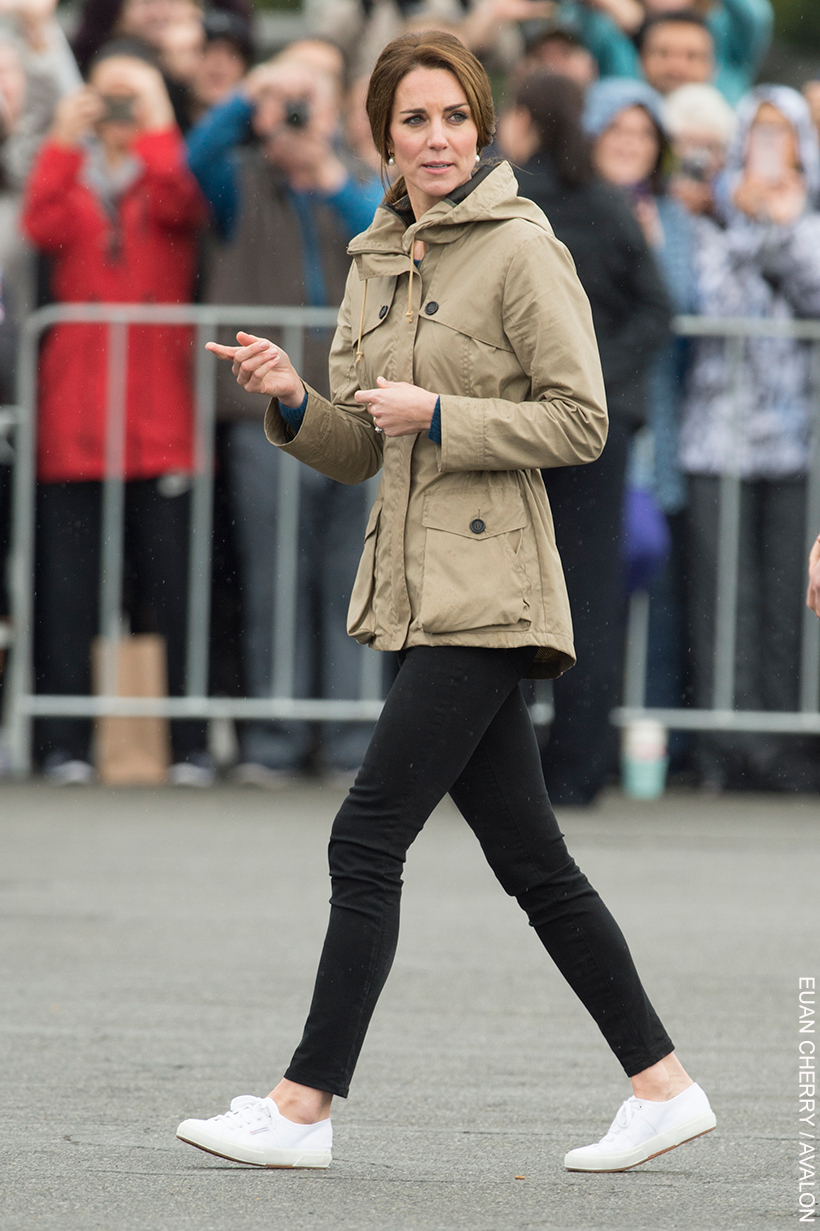 Kate wore this informal look on day eight of the 2016 Canada Tour as she attended a sailing engagement with youngsters from two charities.
Kate paired skinny black jeans with a blue sweater and a pair of white Superga Cotu Classics. On top, she wore a chic-yet-practical wax parka by Troy London. She finished the outfit with her pearl earrings by Annoushka. The result? Simple, relaxed and yet perfectly polished.
I love this look—I imagine this is how Kate dresses on her days off, out of the spotlight.
Just a word of warning from personal experience. Only wear white Superga sneakers on dry autumn days!
COPY THIS LOOK
Kate's parka jacket, shoes and earrings are still available. Pair with jeans and a sweater to copy Kate's look!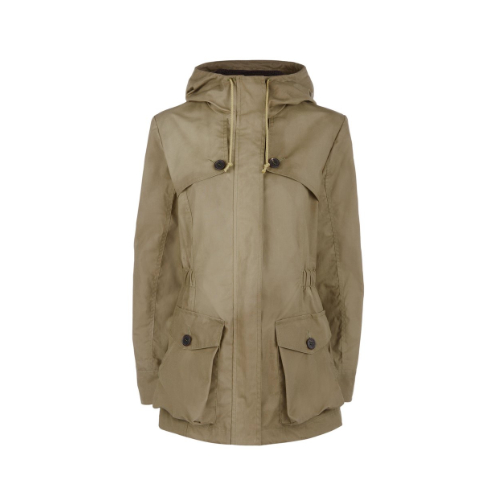 TROY LONDON PARKA
Kate owns it in navy too
Click to buy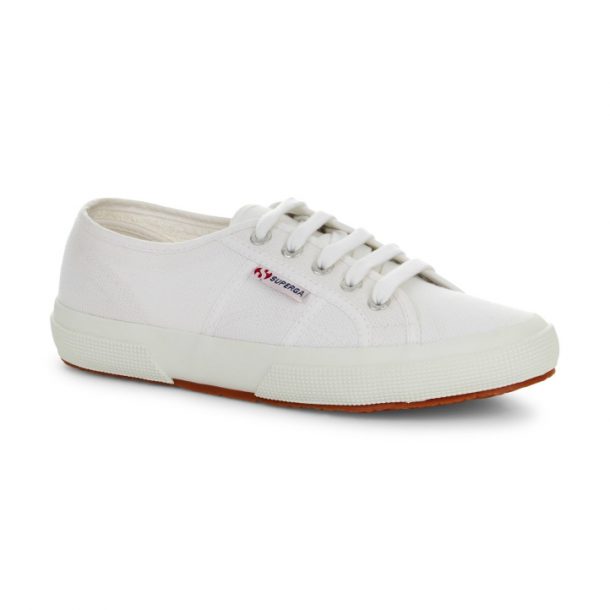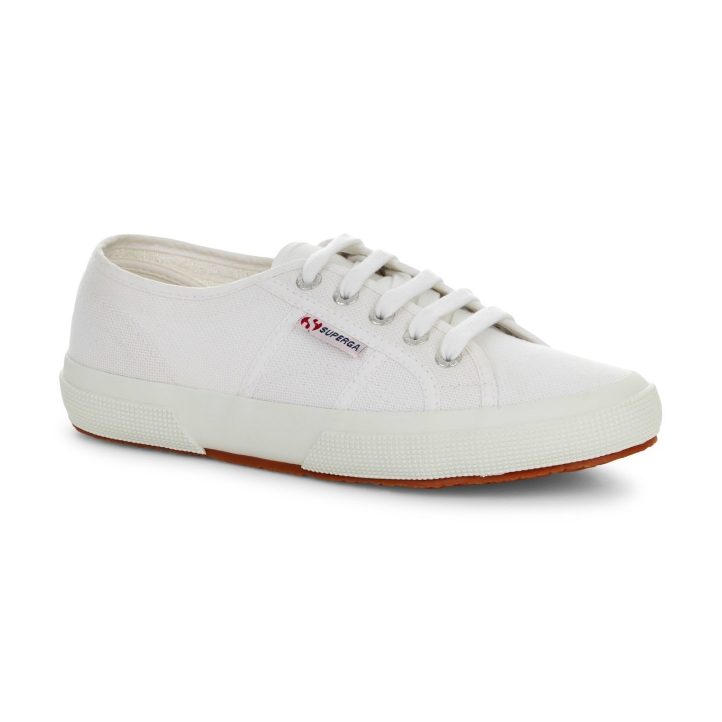 WHITE SUPERGA COTU CLASSICS
Kate owns them in green too
Click to buy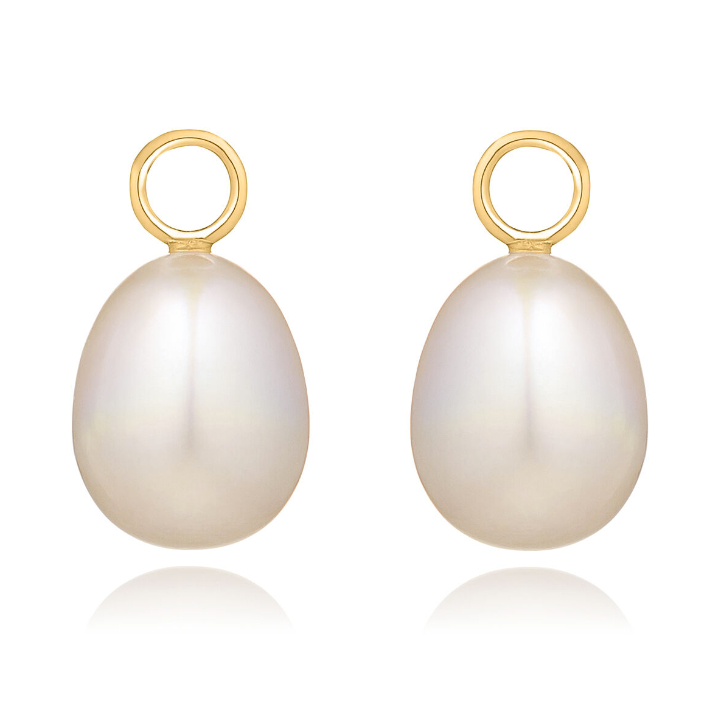 ANNOUSHKA PEARL DROPS
Kate's go-to pearl earrings
Click to buy
Collegiate Autumn
What does one wear for a visit to a university in October? Well, according to Town & Country Magazine, a "preppy look" that's "fit for collegiate autumn". That's how the publication described this look donned by the then Duchess in 2020: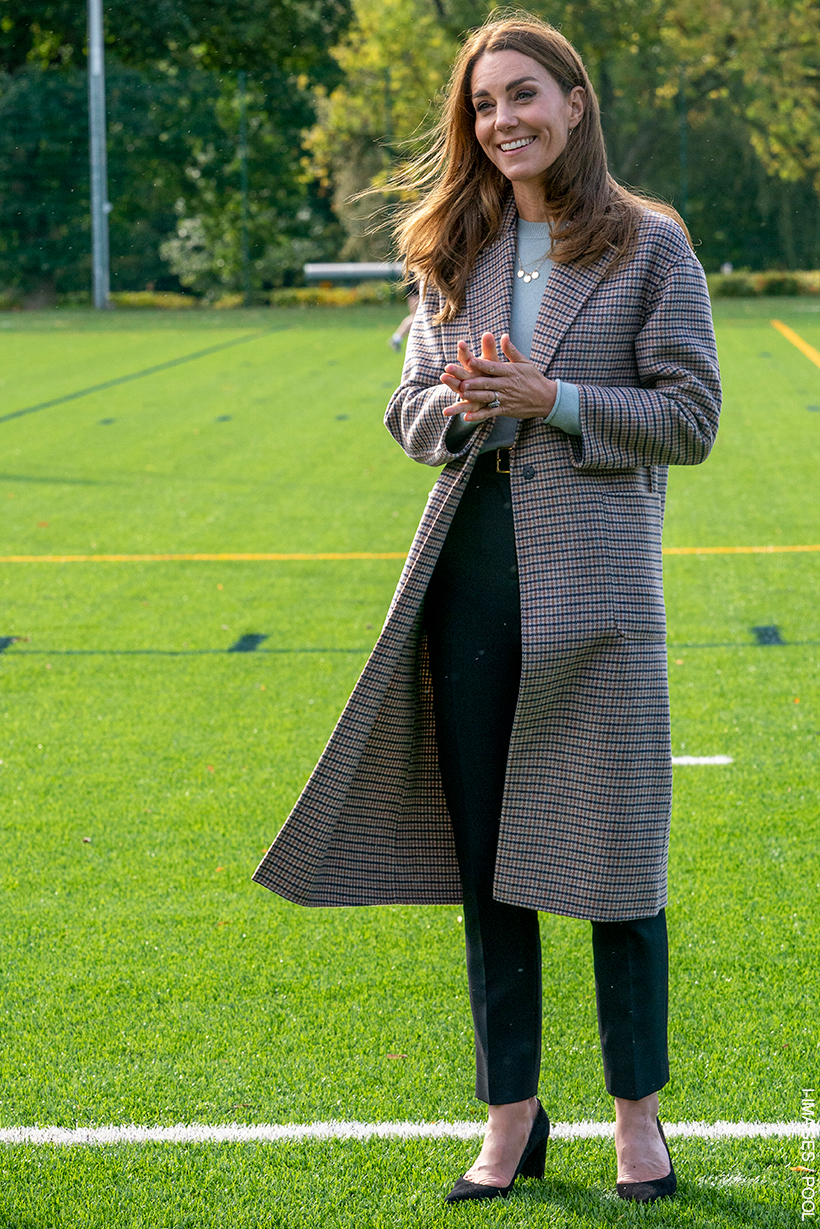 I'm certain the preppy, collegiate look was a deliberate choice—a great smart but chic look for her tour around campus.
I enjoy the relaxed-yet-chic cashmere sweater, the trendy gold disc necklace and the unbuttoned wool coat. The sweater and coat were both from the Spanish brand, Massimo Dutti.
Her block heeled pointed shoes were by Gianvito Rossi. You'll probably recognise the trousers from above, they're the L.K. Bennett Frieda style.
Wrapped Up Warm
As I'm sure Kate will attest, a "coatigan" is the perfect topper for unpredictable autumn days. Lighter than a full coat but cosier than a cardigan, it's perfect for those sunny afternoons that can quickly turn chilly. Kate sported this grey Sentaler design during a visit to Carcross, Canada in 2016.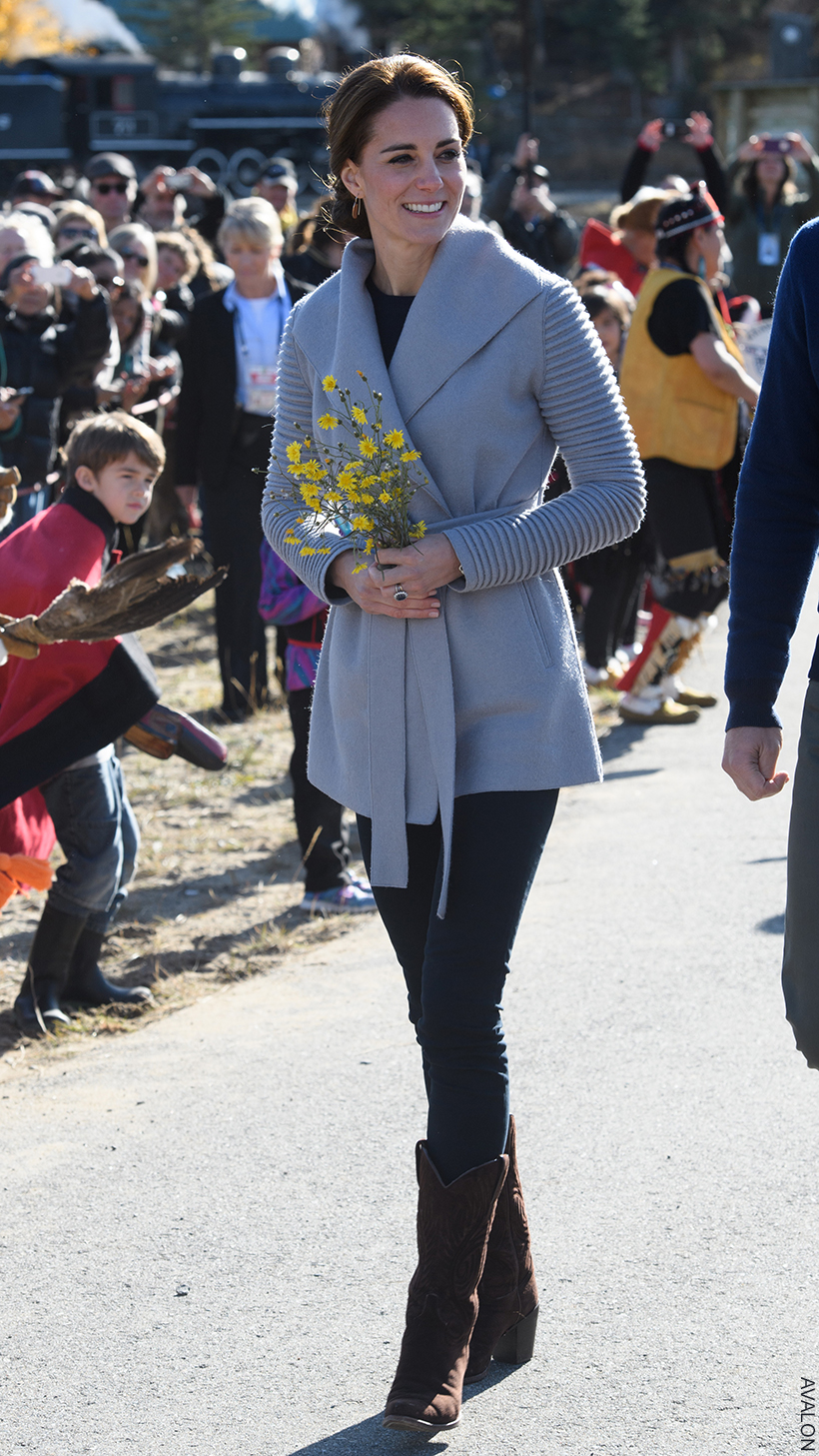 Kate paired the wrap coat with navy skinny jeans, brown suede cowboy boots and a pair of gold earrings by a local designer. She finished the look with a chic updo.
Outdoorsy Outfit
I have a real soft spot for Kate's outdoorsy style—I imagine her wearing outfits like this as she walks around Sandringham with her kids at the weekend.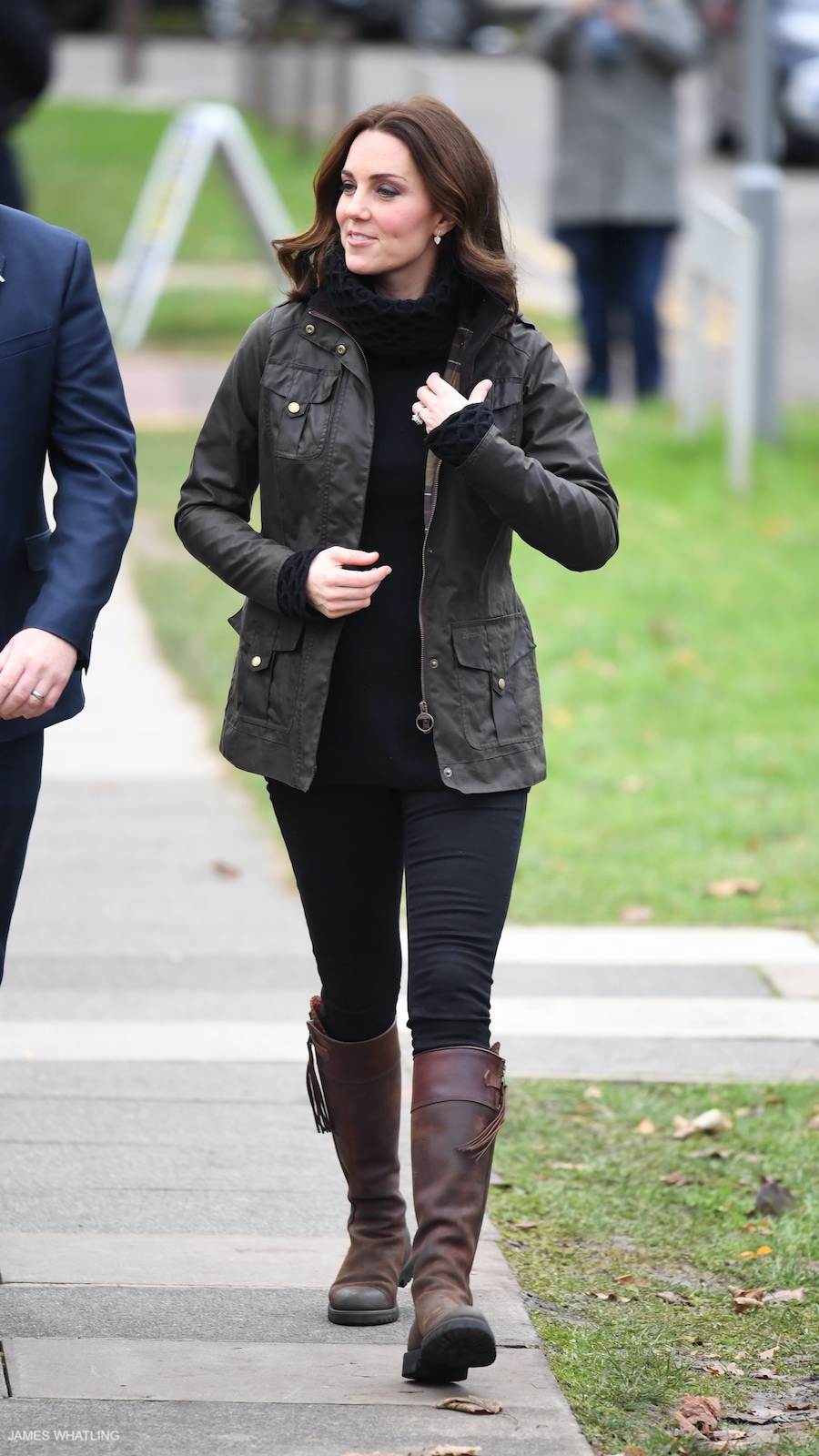 The former Duchess chose this relaxed ensemble to visit Robin Hood School in 2017.
Did you know these boots are nearly TWENTY YEARS old? It's true. There are photos of Kate wearing them back in 2004!
They're the 'Long Tassel Boots' by Penelope Chilvers. In an interview, Chilvers told a journalist that, to her knowledge, Kate has never replaced the boots. She wears the same pair.
Kate's coat is by Barbour, the company's Wax Defence jacket. This is another item she's owned for a long time. It dates back to at least 2012. She's worn it in more recent times too (last spotted in 2020).
I love Kate's super chunky roll-neck sweater; it looks VERY cosy. It's by Temperley London, the Honeycomb tunic. We've seen her wear it on a couple of occasions—the first time nearly a decade ago, during a ski trip in 2013. She owns it in a creamy almond colour, too.
Trimmed With Velvet
Who can resist a bit of sumptuous velvet in autumn? The plush fabric is synonymous with the season for me. Kate clearly agrees. She wore this stunning coat with velvet trims to a service marking the centenary of the end of World War I in November 2018. I've always loved the coat—it's another Catherine Walker piece—Kate's owned it since at least 2017.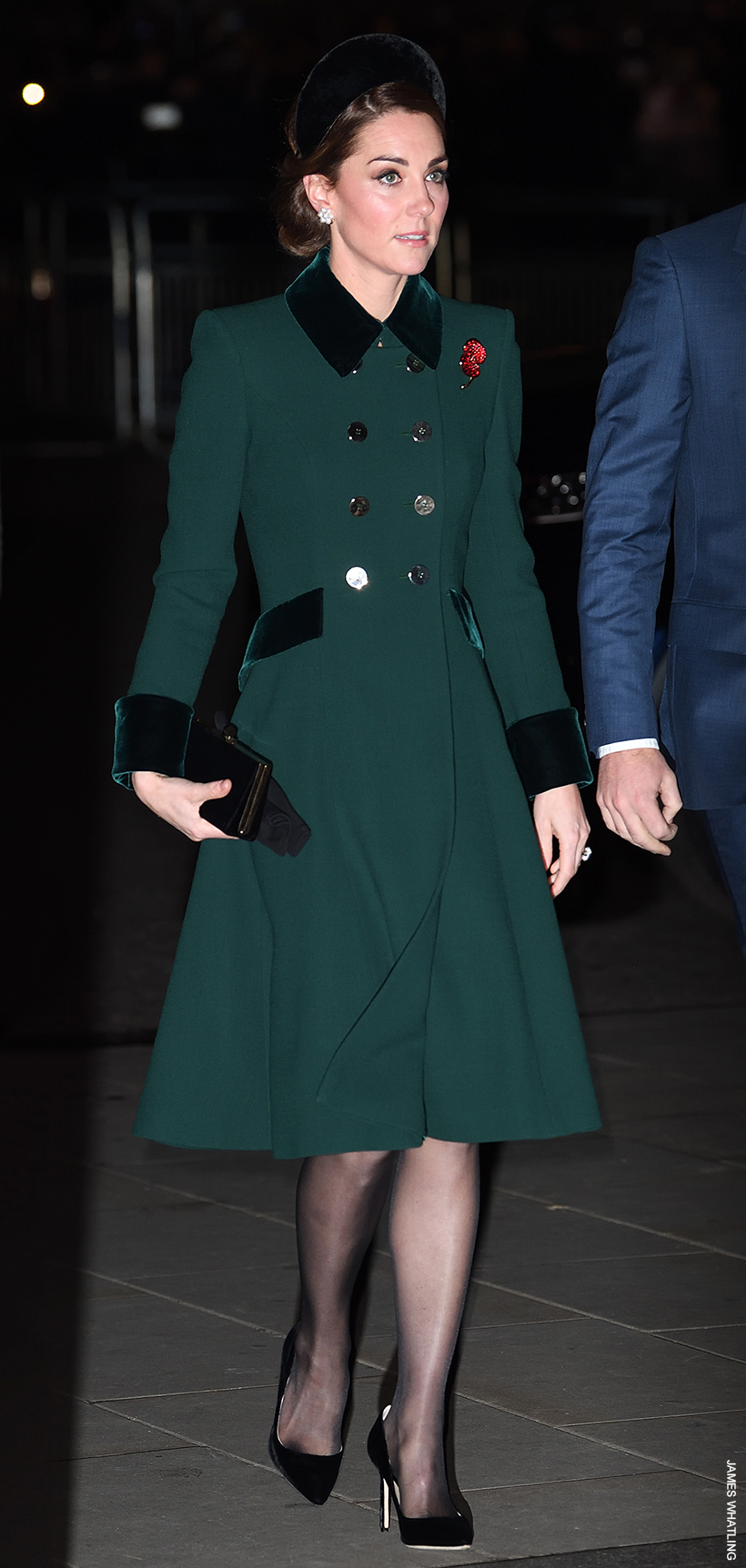 Kate paired the green coat with black velvet accessories: a hairband by Jane Taylor, the Celeste clutch from Jimmy Choo and the Jimmy Choo Romy 100 pumps.
The Duchess finished the look with her Cassandra Goad Cavolfiore pearl stud earrings and a Large Poppy Brooch from the Royal British Legion.
Dopamine Dressing
If you're a fan of dopamine dressing—a.k.a. finding joy in wearing bright and beautiful clothes—you'll appreciate Kate's rich plum purple skirt suit by Oscar de la Renta.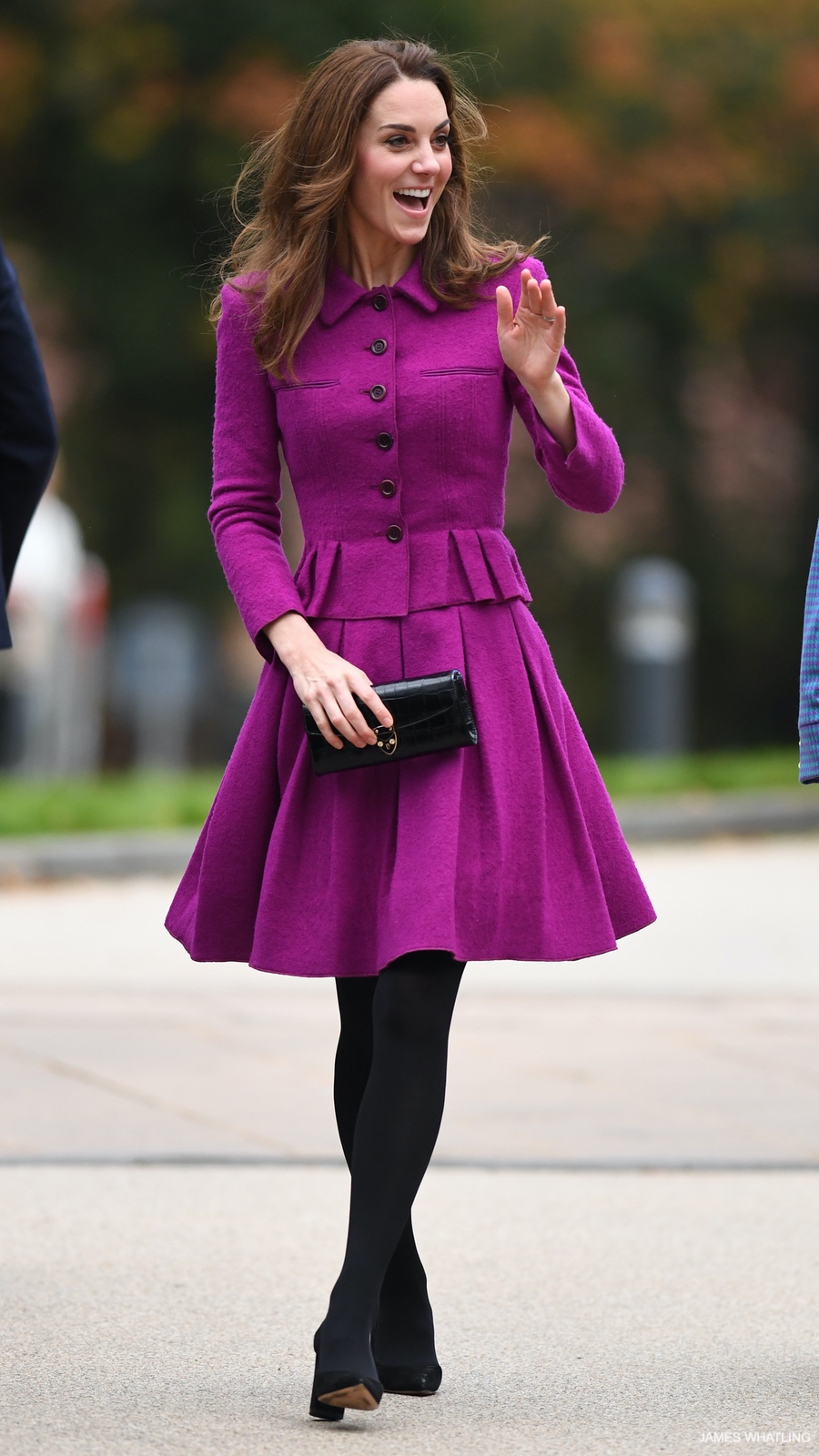 The happy shade is perfect for autumn, the bright plum contrasts perfectly against bright blue morning skies and fiery falling leaves.
Kate wore this mood-enhancing ensemble to launch The Nook Children's Hospice in Nov 2019.
Kate paired the bright separates with black tights, a pair of Gianvito Rossi Piper block heel pumps, her Aspinal x Beulah Blue Hearts clutch bag and her Catherine Zoraida Fern hoop earrings.
Smart-Casual Seasonal Staples
Another fab smart-casual look I imagine most of us could copy and wear as we go about our daily business. Kate wore this autumnal ensemble in September 2021, during a visit to Cumbria.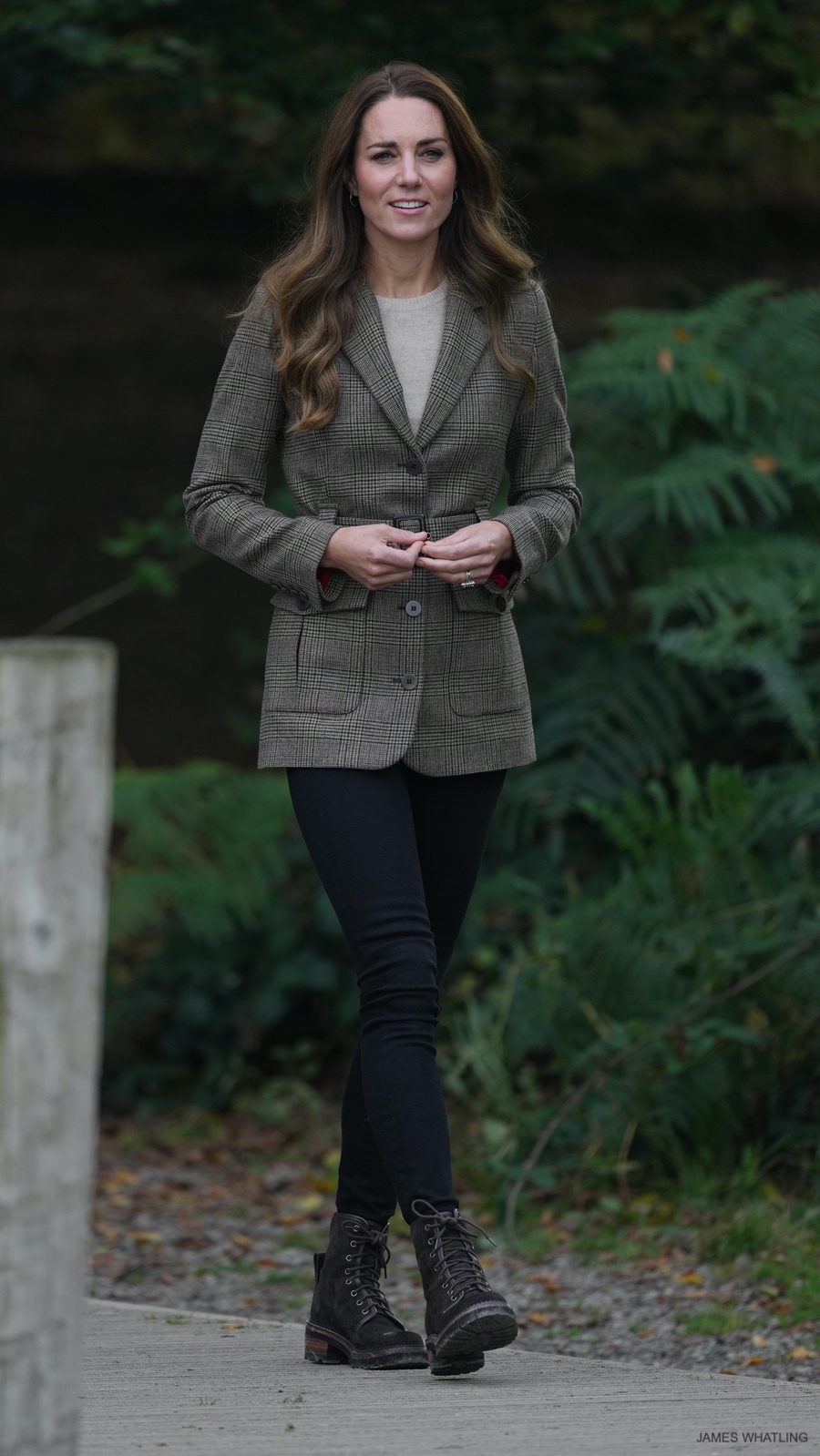 She paired a smart-casual in a belted tweed jacket by Really Wild with a Boden cashmere knit and dark skinny jeans tucked into See by Chloé ankle boots. She finished the look with a pair of gold hoop earrings by Liv Thurlwell.
Puddle Pants
In 2018, Kate debuted a pair of long, wide-leg trousers for a visit to RAF Akrotiri in Cyprus. She's worn them on repeat ever since. Fashionistas have termed the trousers "puddle pants". Even Vogue approve, "why puddle pants are the perfect antidote to skinny jeans" read one recent headline in the publication.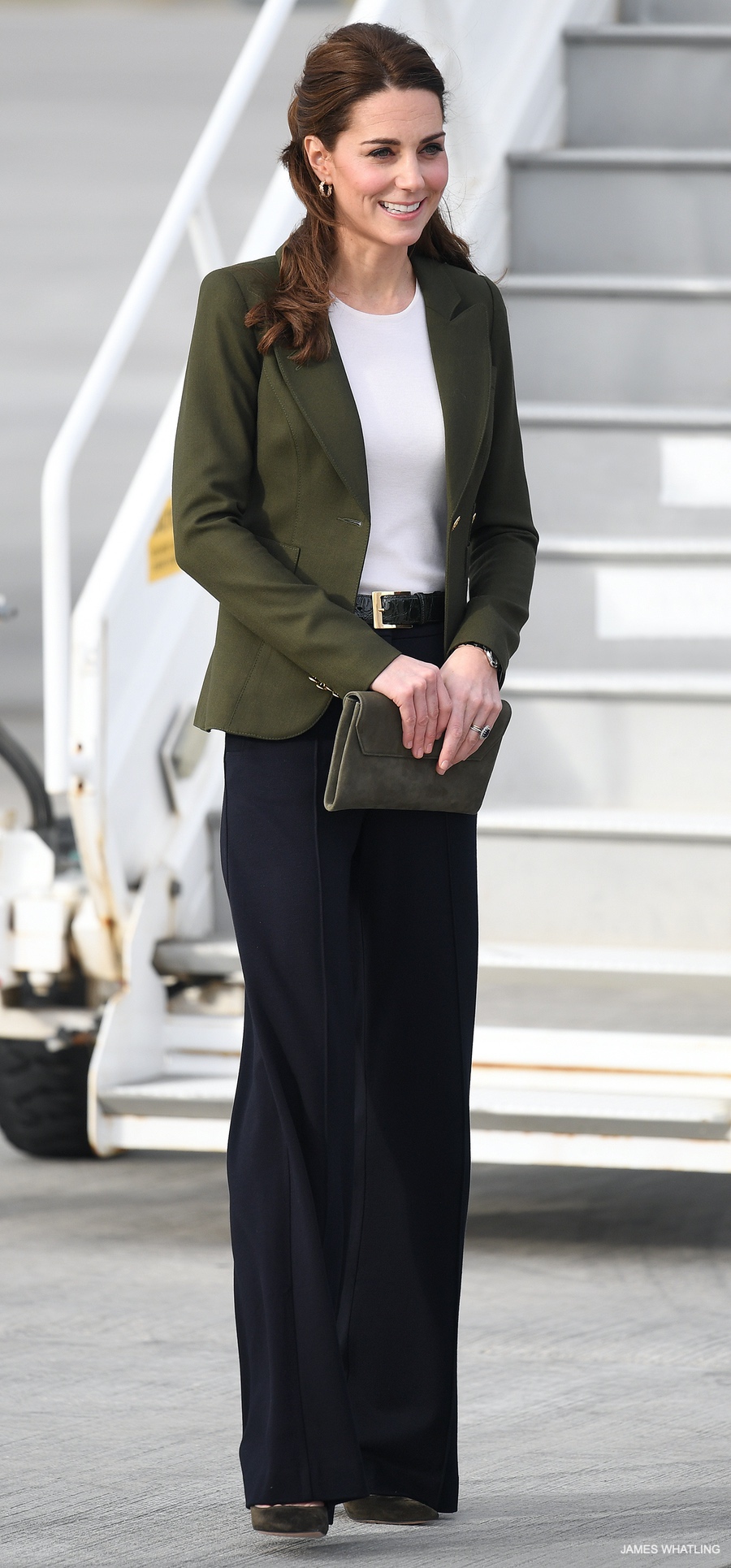 Smart and polished, relaxed tailored trousers continue their dominance into autumn

Who What Wear
On top, Kate wore her Duchess blazer by Smythe over a plain white tee. She wore her Asprey London Oak Leaf earrings and finished the look with the Dora clutch from L.K. Bennett and Gianvito 85 pumps by Gianvito Rossi, both in matching shades of olive.
Immaculate Style
Kate, The Queen of Diplomatic Dressing, wore Canadian red on a handful of occasions during her visit to the country in 2016. On day five of the tour, she wore this coat by Carolina Herrera. She looked immaculate.
I loved her conker-coloured accessories too (Tod's pumps and Mulberry clutch) and Maple Leaf Tartan scarf. All very autumnal.
She finished the look with her Annoushka Baroque Pearl earrings.
Elegant Styling
You can't beat a full-length coat. Kate wore hers open over a silk blouse and trousers–perfect for the trans-seasonal weather during toda visit to the Imperial War Museum in the autumn of 2021. Such an elegant look.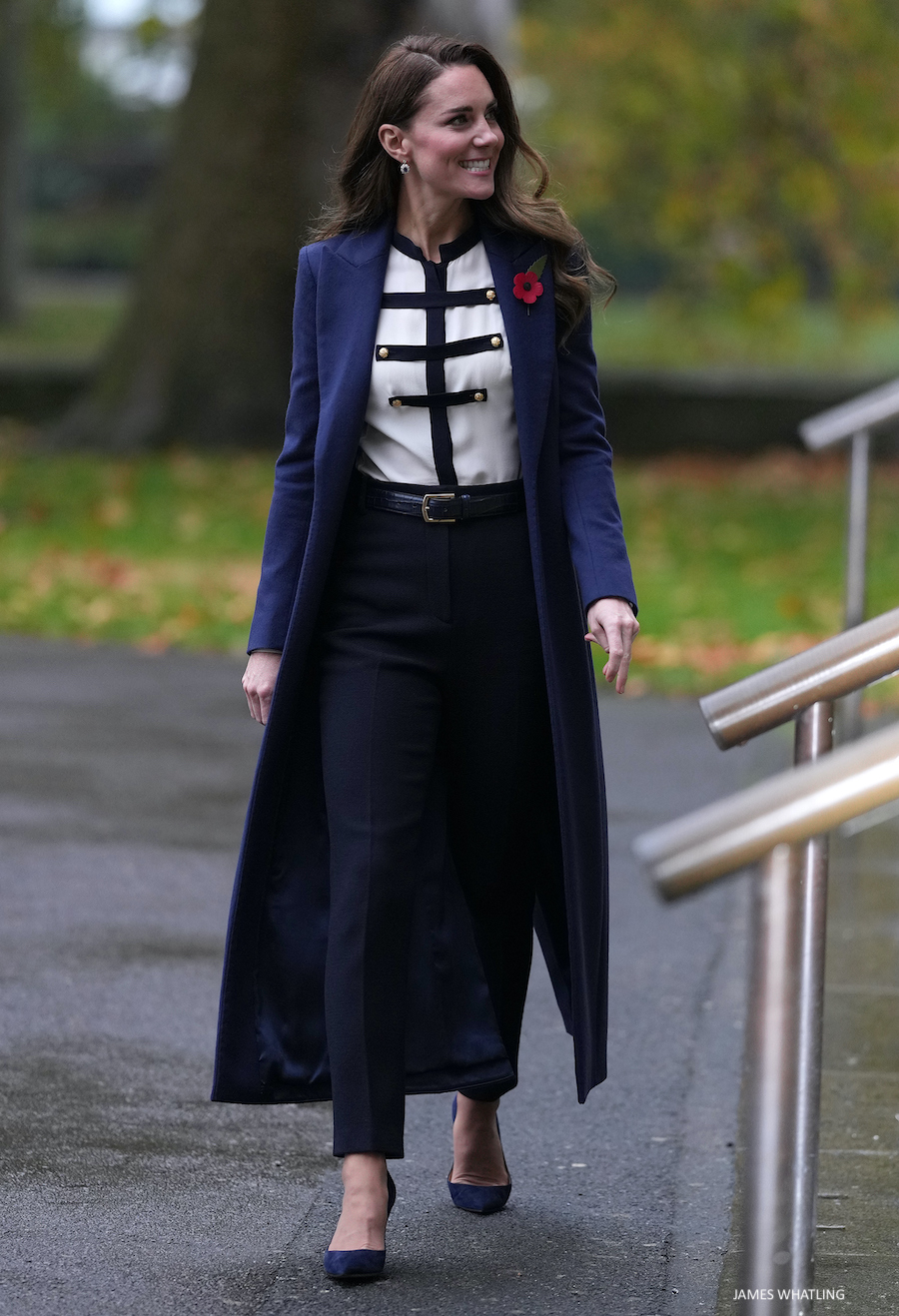 Kate chose a military inspired blouse by Alexander McQueen. The maxi coat is by Catherine Walker.
Kate debuted both the L.K. Bennett Frieda cigarette trousers and navy Gianvito Rossi 85 pumps on this occasion. She finished the look with a croc print belt and a pair of sparkling diamond and sapphire earrings.
Ultimate Fall Colour Palette
Are burgundy and khaki the ultimate fall colours? I think so. These two autumnal shades look fantastic together. The result? An eye-catching combo perfect for the season.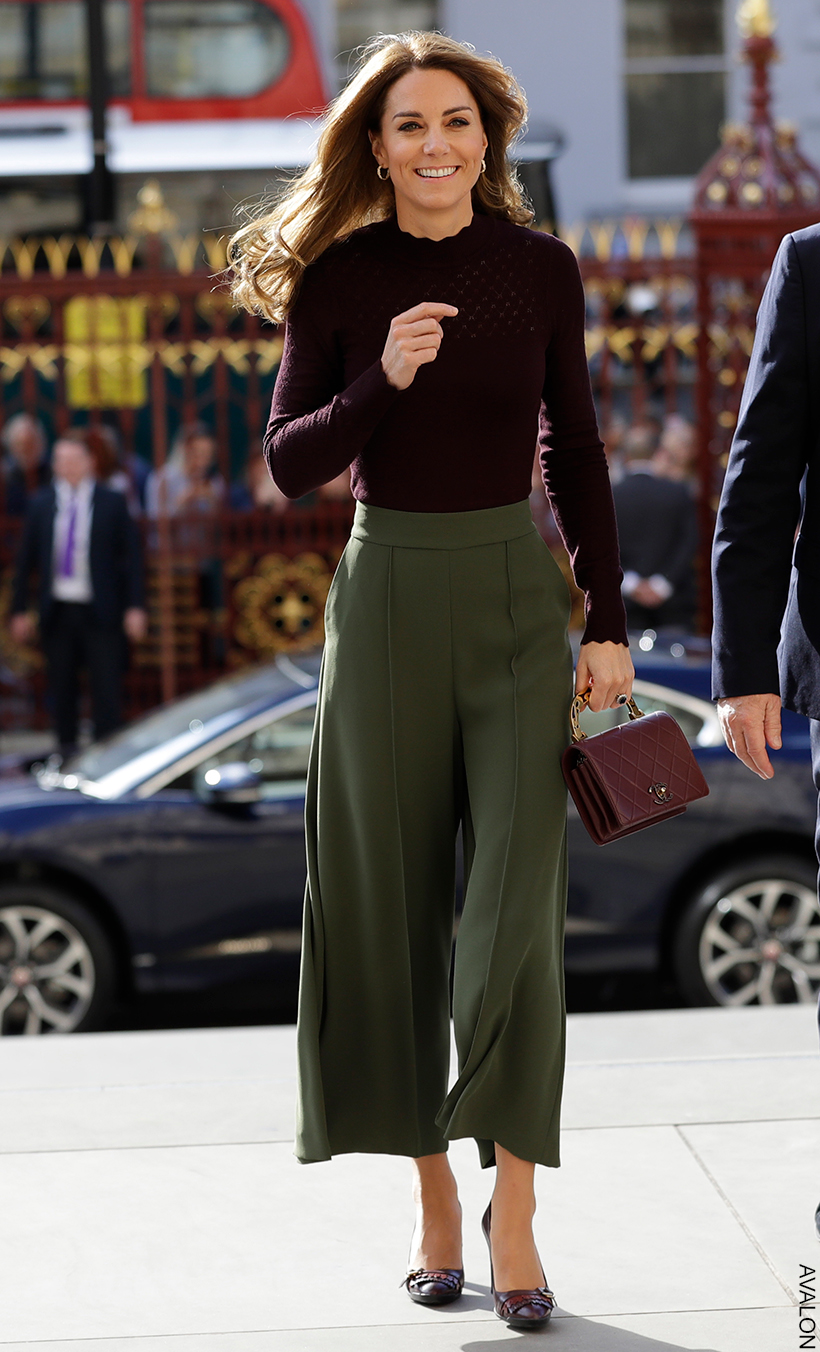 The scalloped knit is from Warehouse and the wide-legged culottes are from Jigsaw.
Kate wore this outfit to visit the Angela Marmont Centre (AMC) for UK Biodiversity at the Natural History Museum in London in October 2019.
She finished the autumn-appropriate look with a pair of Tod's fringed block heel pumps and her gorgeous Chanel handbag.
The Science Of Style
When Kate visited the Developmental Neuroscience Lab at UCL in 2018, it wasn't just the research that captured our attention—it was her sublime outfit, too. The Princess re-wore her skirt and blazer set from Paule Ka in this luxurious deep wine colour, paired with contrasting black accessories. Talk about quintessential autumnal hues!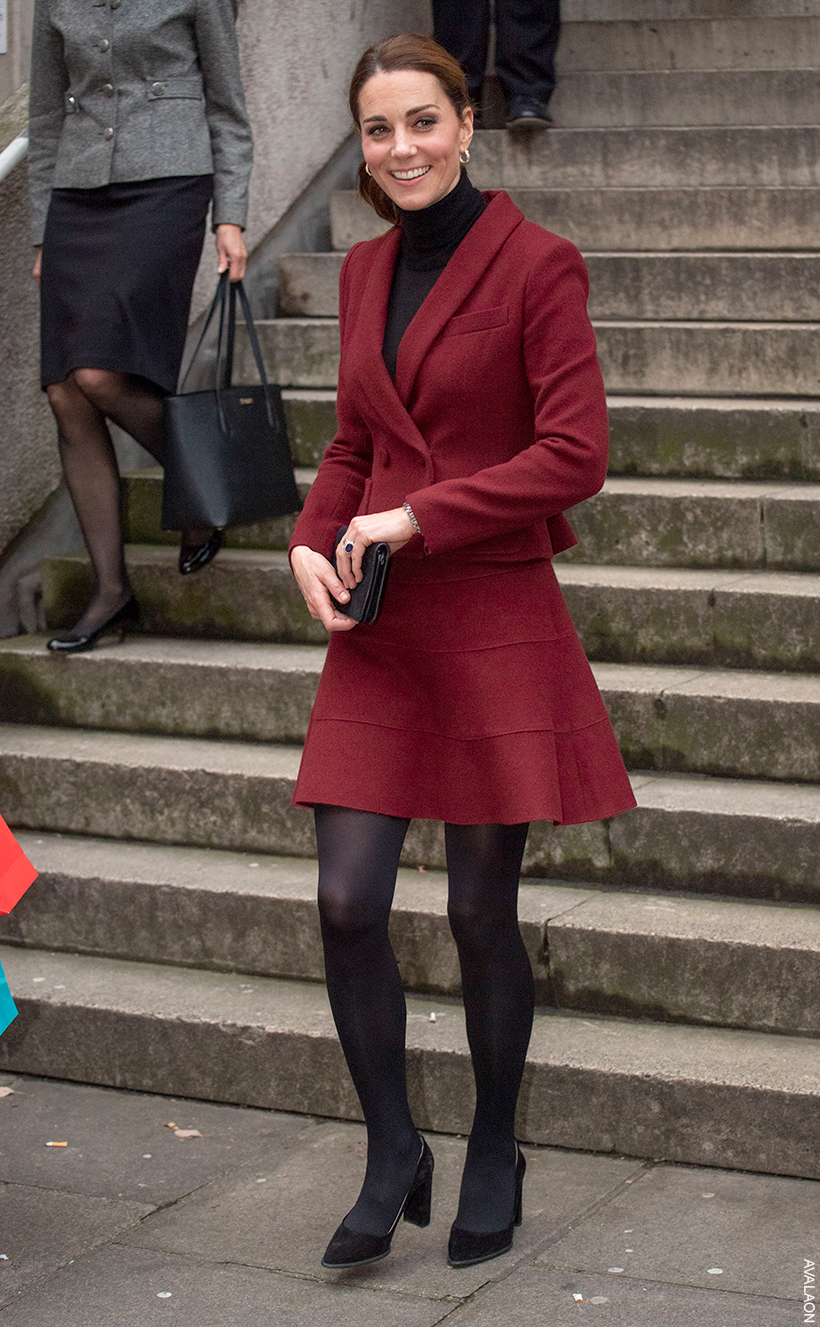 She paired the standout skirt suit with her Tod's suede block heels and a turtleneck to beat the fall chill. A simple black hair ribbon finished the look.
Back To School Chic
Kate was spotted in the perfect fall ensemble as she took her kids for a 'settling in' session at Lambrook School last year. In a copper-brown polka dot dress by Rixo paired with matching suede heels.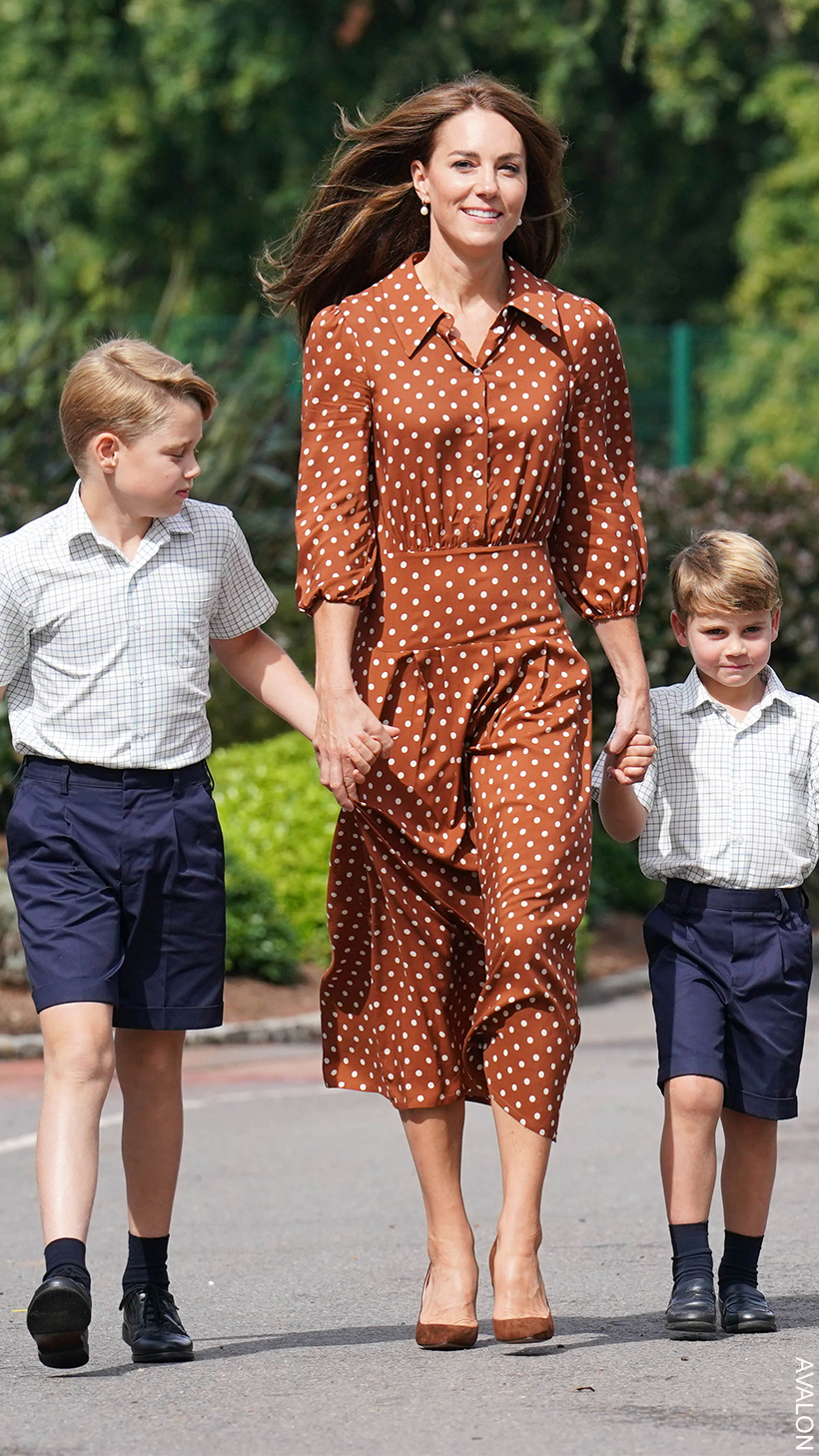 The former Duchess rounded off this look with her go-to Annoushka Baroque Pearl Drop earrings—a true style staple she's worn over 70 times.
Evergreen Elegance
For her 2016 Canada tour stop in Whitehorse, Yukon, Kate mastered the art of layering with a dark pine green trench by Hobbs London over an emerald green midi dress by Dolce & Gabbana.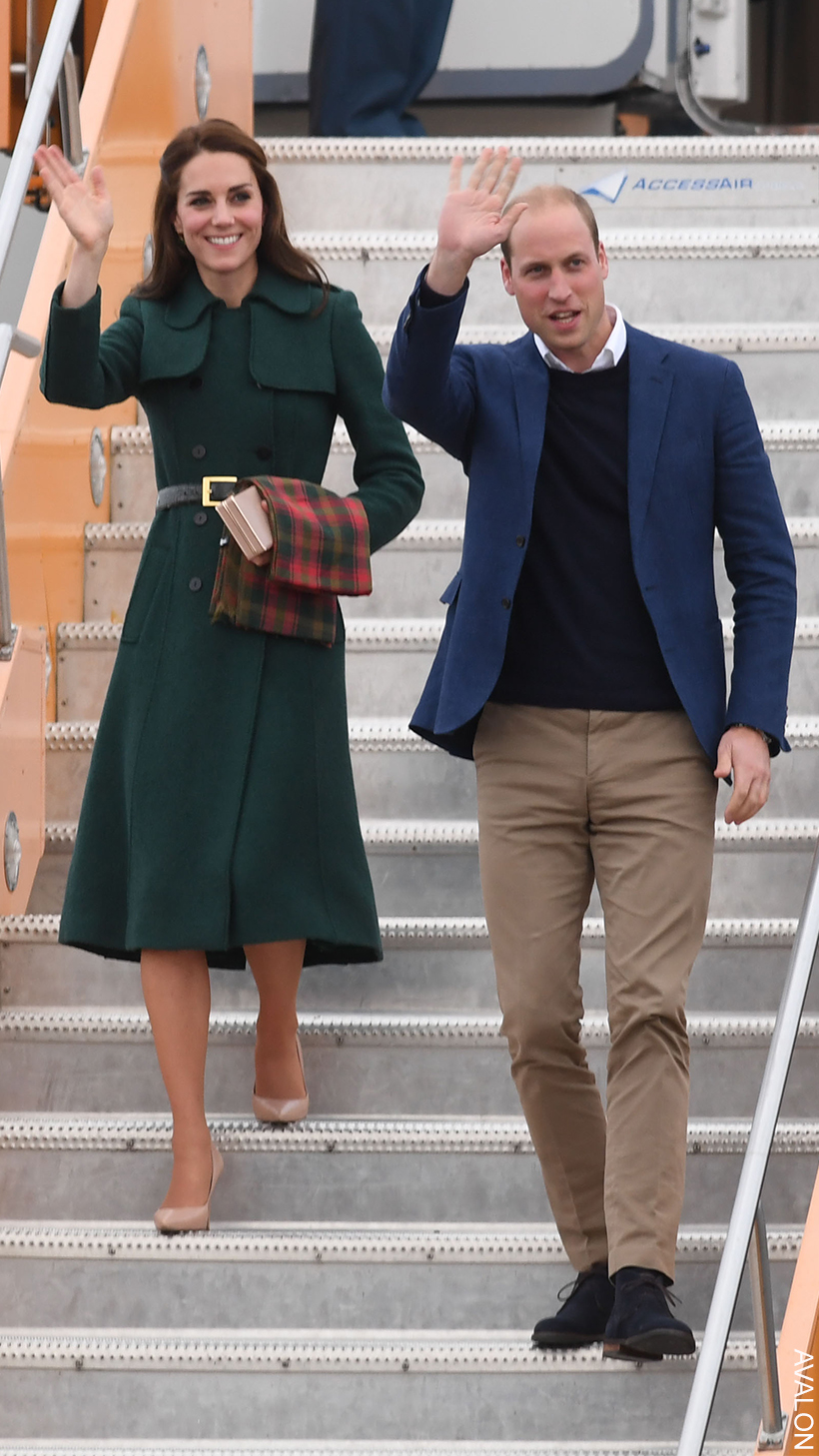 The Princess perfectly coordinated with her L.K. Bennett leather pumps and box clutch in matching shades of pinky-beige.
She completed the ensemble with a croc-embossed belt in a matching green tone, green Onyx drop earrings and a 'maple leaf tartan' scarf — a nod to her host country.
Aubergine for Autumn
Kate turned heads in this sophisticated aubergine and burgundy look in the autumn of 2012. She wore her Whistles 'Sophie Rae' dress under an elegant wool coat. Confirmed by the palace, the coat was the work of an "independent dressmaker."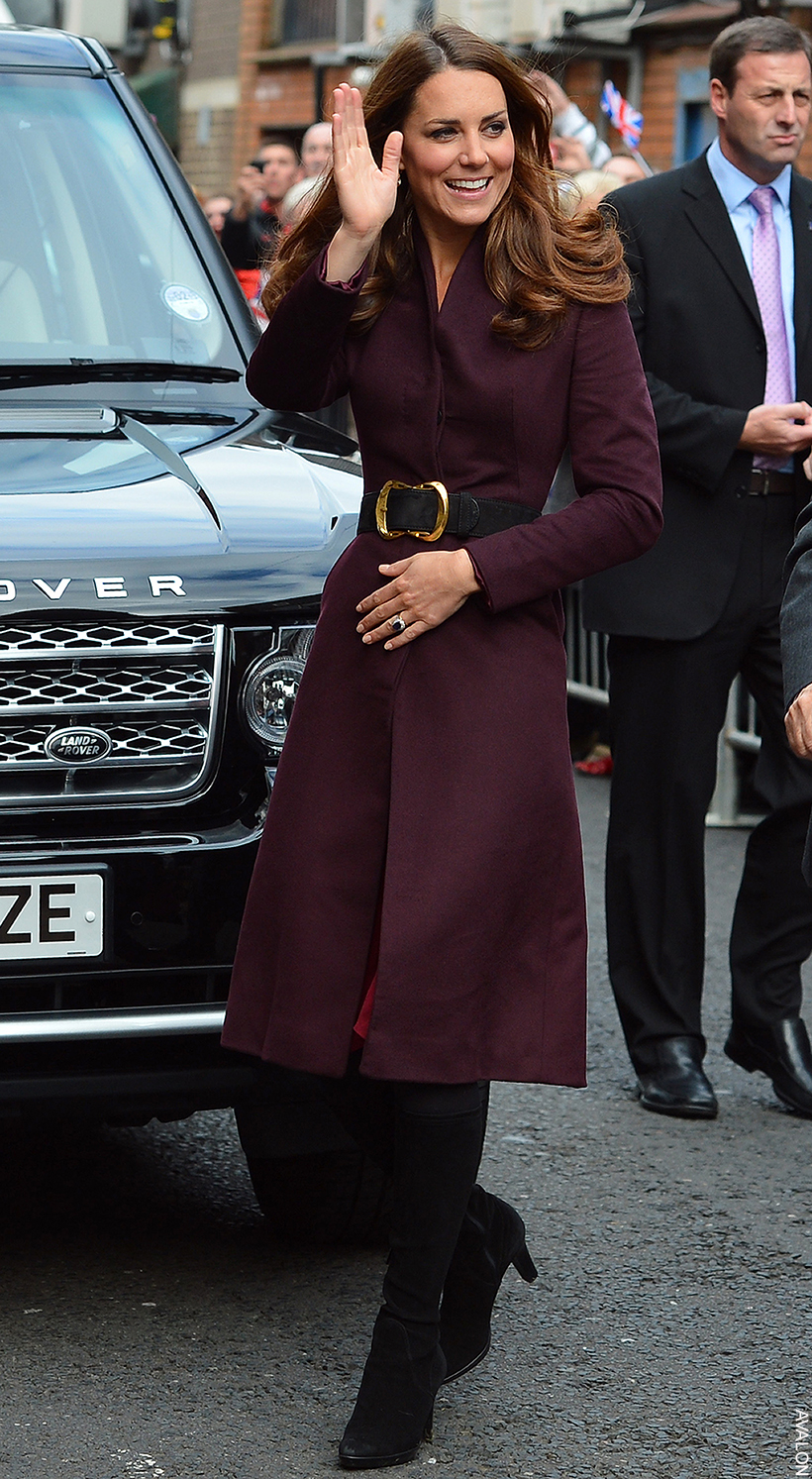 The Princess's accessories were equally on point. She cinched the coat with her Alexander McQueen suede belt, while her reliable Kiki McDonough Citrine Drop earrings added a little sparkle.
Completing the look, she chose her tried-and-true Aquatalia black Suede Rhumba Boots.