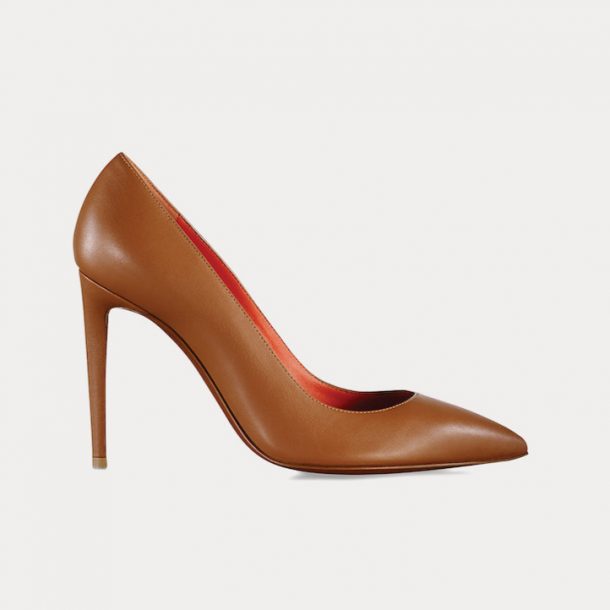 In September 2020, the Duchess of Cambridge (Kate Middleton) carried out a number of engagements in London wearing a new pair of brown court shoes. Eagle-eyed sleuths soon worked out that the pumps were by Ralph Lauren. Specifically, the Celia style.
About the Ralph Lauren Celia pumps:
The elegant shoes feature a sharp pointed toe and a 4" heel. They have a padded, branded leather insole and they're made in Italy.
From its sculpted topline to its leather lining, every detail of this Italian-made pump is carefully selected and meticulously executed.

RALPH LAUREN
Which colour does Kate wear?
Ralph Lauren made the Celia shoe in two near-identical colours: pastel brown and gold brown (both shown below).
The light brown colour has a brown inner and darker heel.
The golden brown colour has a red inner and the heel is the same colour as the leather upper.
It's not obvious which style Kate wears. We'll probably find out when she wears them again.
Kate Middleton wearing Ralph Lauren:
Kate is no stranger to Ralph Lauren. She owns sweaters, boots, dresses and jackets by the brand. Here are a couple of our favourite looks from the archive:
The olive green turtleneck jumper dress Kate wore to visit Centrepoint in 2011. The blazer she wore to the Anglesey ultra marathon in 2013 and the belted houndstooth dress, first publicly debuted during a visit to the Anna Freud Centre in 2015.