Kate Middleton regularly wears the Superga 2750 Cotu Classic sneakers in white canvas.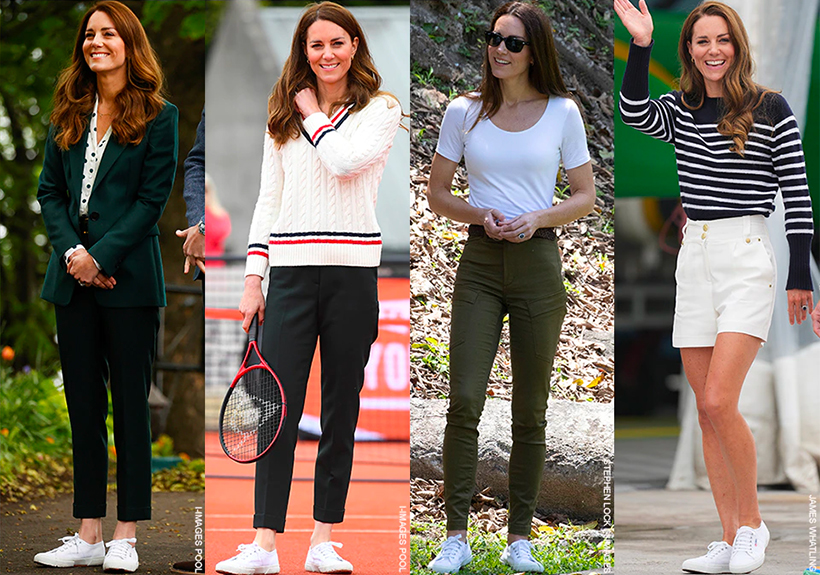 The Princess often pairs the shoes with casual outfits during less formal public engagements.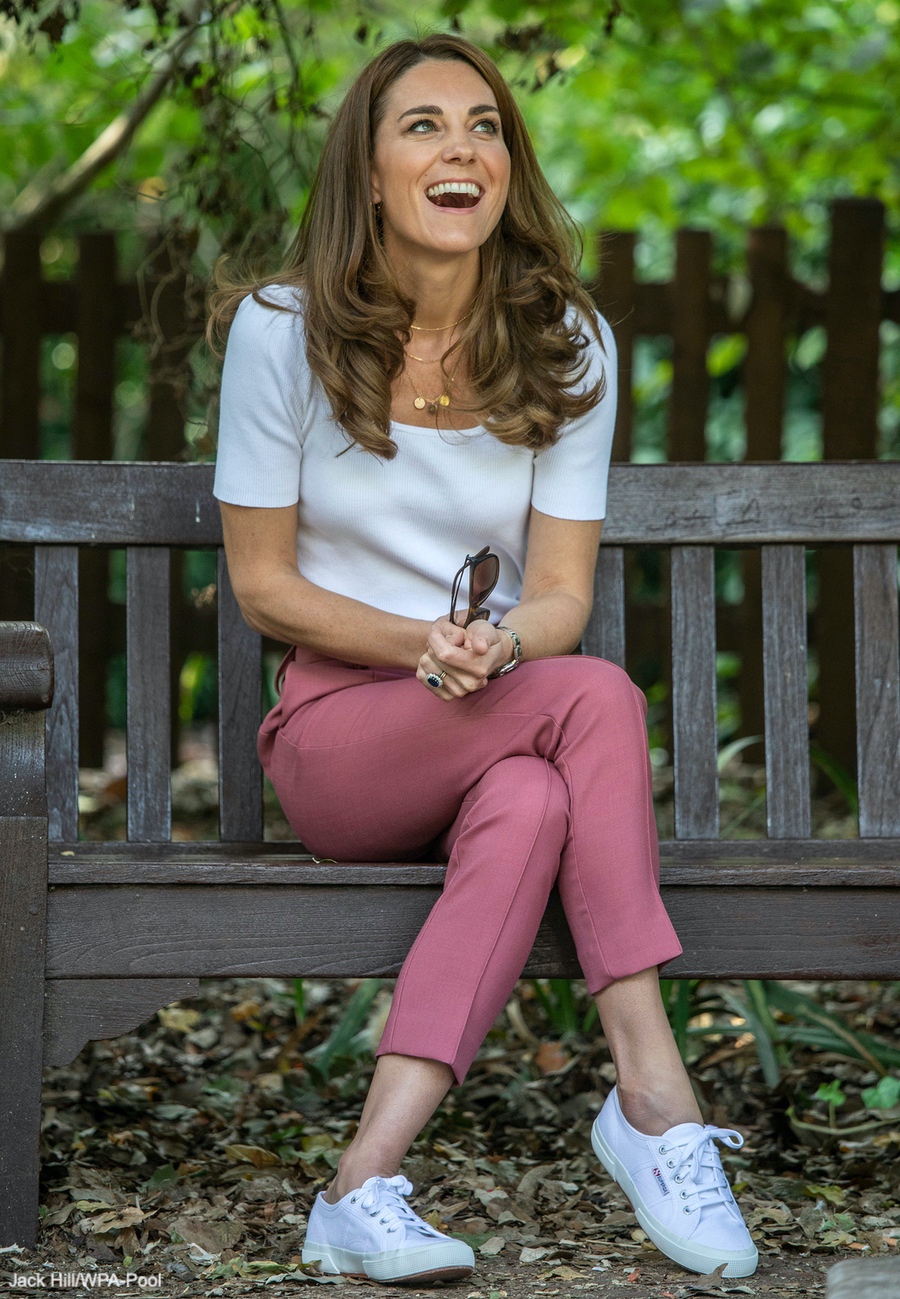 We've spotted Kate wearing the white canvas shoes to 12 public engagements since 2016. (Plus the family's 2022 Christmas card, plus one candid photo taken outside of her sister's house a few years ago).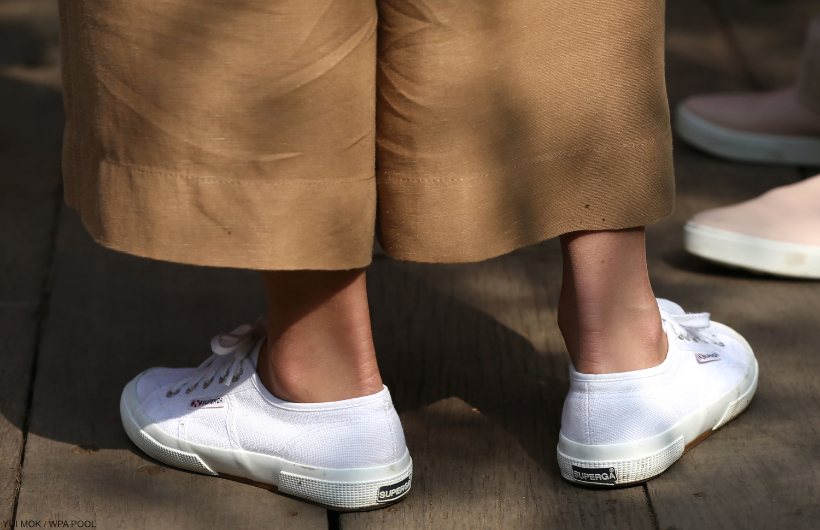 We know the Princess has re-purchased a new pair of white canvas Supergas at least once. Between visiting The Bahamas in March and attending a SailGP event in Plymouth in July 2022, her sneakers gained an eyelet! Compare the two images below: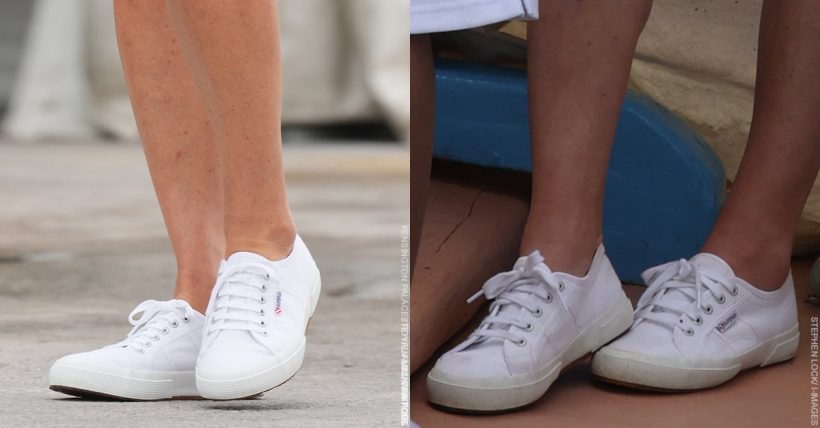 The left image (July 2022) shows Kate's Superga shoes have six eyelets. In the picture on the right (March 2022), the shoes only have five eyelets. As you can see, the new Supergas look much cleaner too!
About the Superga Cotu Classics:
These trendy trainers are made from a strong cotton canvas upper on a vulcanised gum sole. They're fully breathable and made from pure cotton. Here's how Superga describes the Cotu on their website:
Our Classic Superga 2750 Cotu shoe is Fashion's trainer of choice. With an extra strong, fully breathable, pure cotton upper, our timeless shape trainer is a lightweight, simple canvas tennis shoe with our vulcanised rubber sole. In production since 1911, this is the staple shoe with full versatility, and is the very definition of smart casual.
Where to buy Kate's white sneakers:
You can buy Kate Middleton's white Superga sneakers from: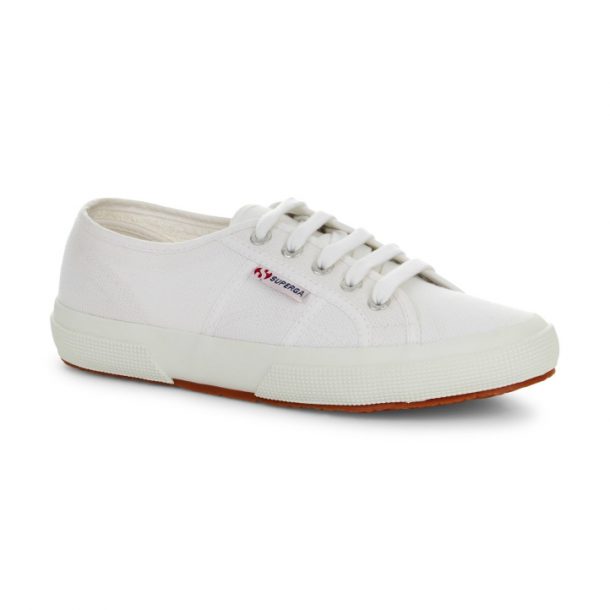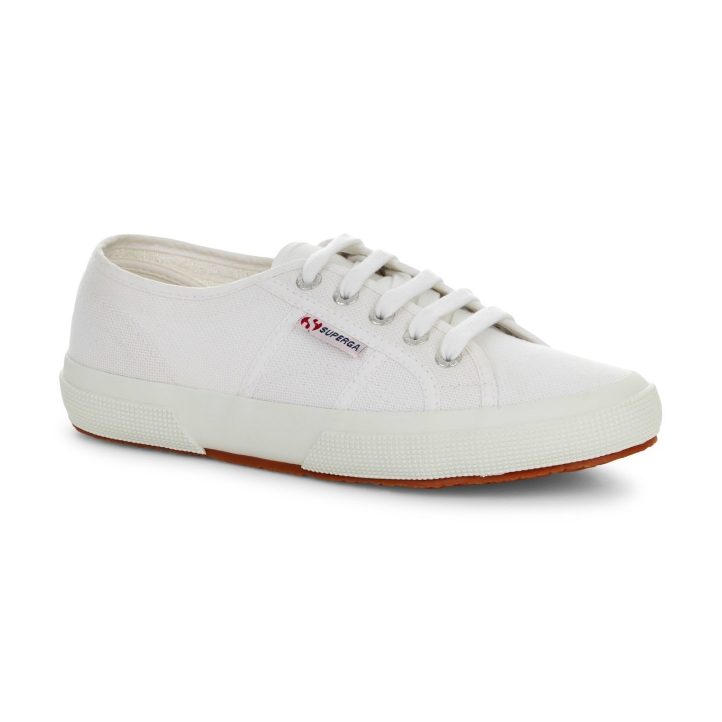 Superga Cotu 2750 Classic
EXACT MATCH! The Superga Cotu Classics are Kate's most-worn sneakers. The Princess has worn the shoes with a rainbow of colourful outfits over the last five years. In addition to skinny jeans and sportswear, Kate's used her white sneakers to give formal items like dresses and suits a casual edge.
How Kate styles her Superga white sneakers:
Kate is proof that basic white sneakers go with anything, they're really versatile! Over the last five years, we've seen her wear the Superga Cotu Classics with shorts, skinny jeans, wide-leg trousers, breezy culottes, summer maxi dresses, smart-casual suits, sportswear and more!
I bought the white sneakers to try:
After seeing Kate wear her white Cotu Classics with so many different outfits, I decided to take the plunge and get a pair for myself. I love how Kate styled them with long floaty dresses and jeans—I wanted to do the same.
I opened the box and was dazzled by the canvas immediately—the shoes are SO CLEAN AND WHITE AND NEW. It made me a bit nervous to wear them, truth be told. So I took to Twitter and asked my followers/friends about their experiences—how do they keep them pristine? How do they get out the stains? I was told to only wear them on dry days and avoid muddy grass where possible. They also provided a few cleaning tips too (read them here).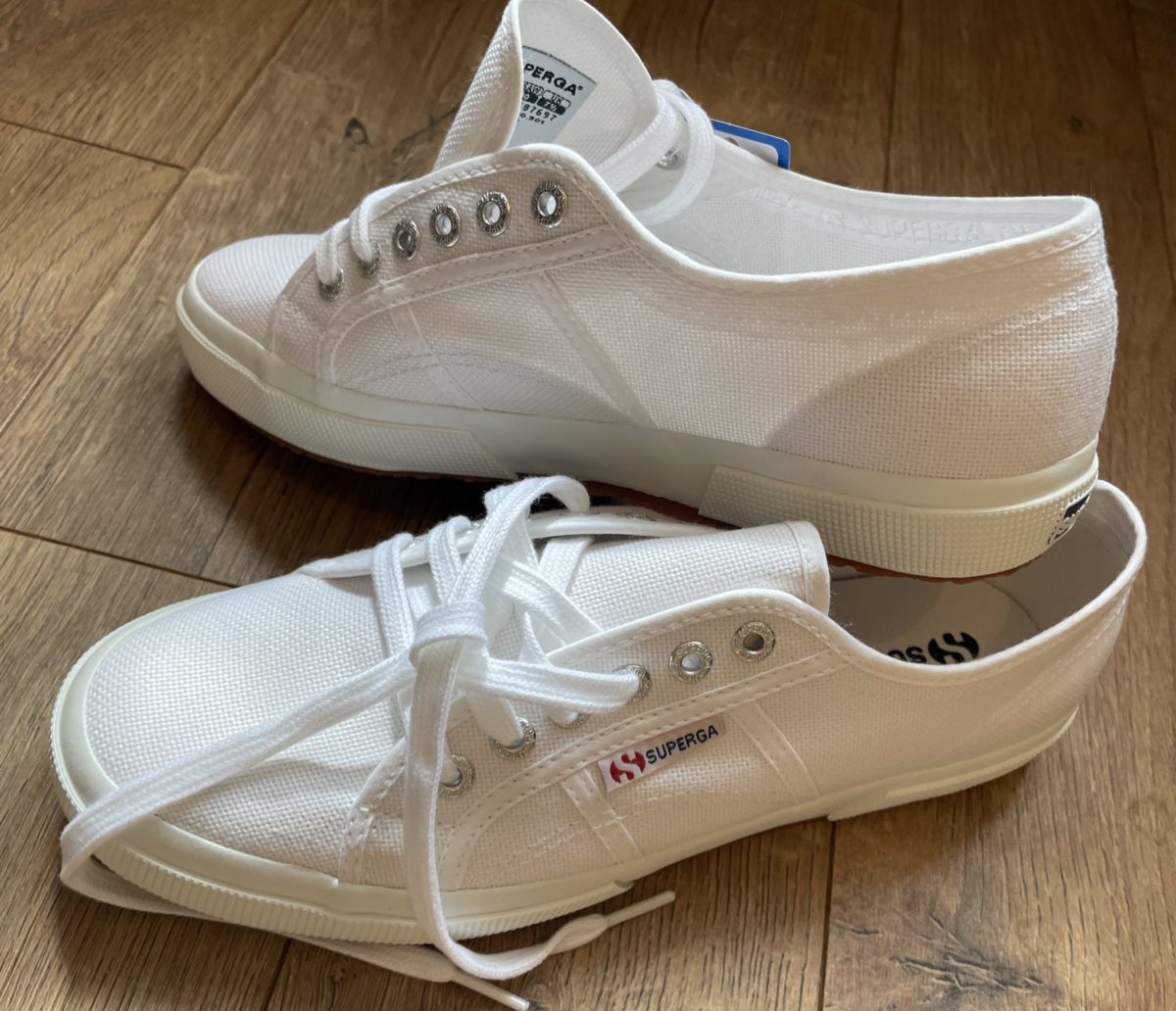 Although described as "lightweight" by some leading retailers, I found the shoes a little heavy at first. But this is likely because I am used to wearing a super light shoe on a daily basis. Within a few minutes, I didn't notice the weight and now I'm totally used to them.
In terms of fit/comfort, I bought my usual size and have zero complaints.
I was NOT compensated for this review. In the interests of transparency, I do use affiliate links on this page. I will receive a commission from Superga if you purchase a pair of trainers through one of my links. Superga didn't ask me to write this review. In fact, I've never had any communication with the company. The commissions come through a third party.
Kate owns the Superga Cotu Classics in green too!
The Superga Cotu Classics come in a range of different colours. Kate also owns them in green! The Princess has worn them on three public engagements to date.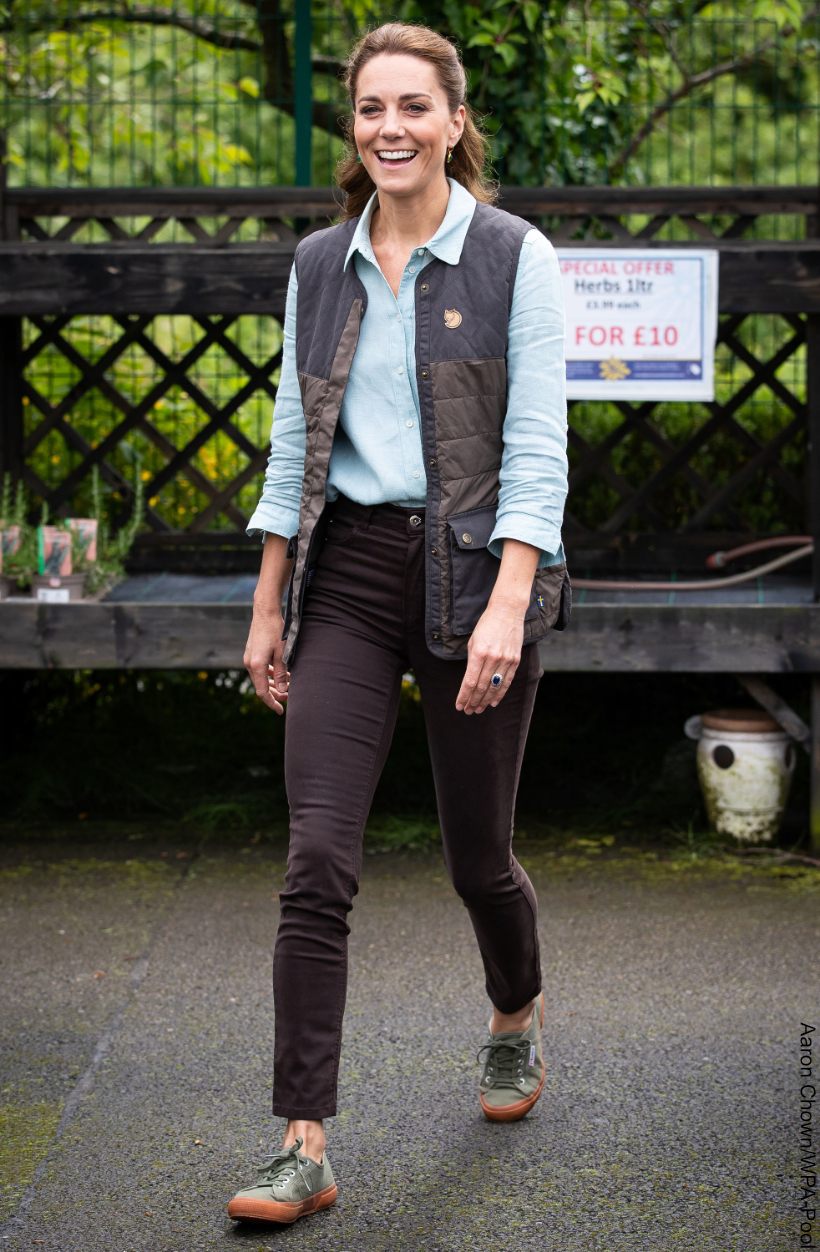 Plus… did you know that Princess Diana wore the exact same sneakers? In 1996, she travelled to Angola. Pictures show the late Princess wearing the 2750 Cotu Classics in navy blue.
(Note: In the United States the shoes are referred to as sneakers. In the United Kingdom, they're known as plimsolls or trainers. I use all three terms interchangeably on this page).
What Superga does Kate Middleton wear?

Kate wears the Superga Cotu Classics 2750 in White Canvas—click to view.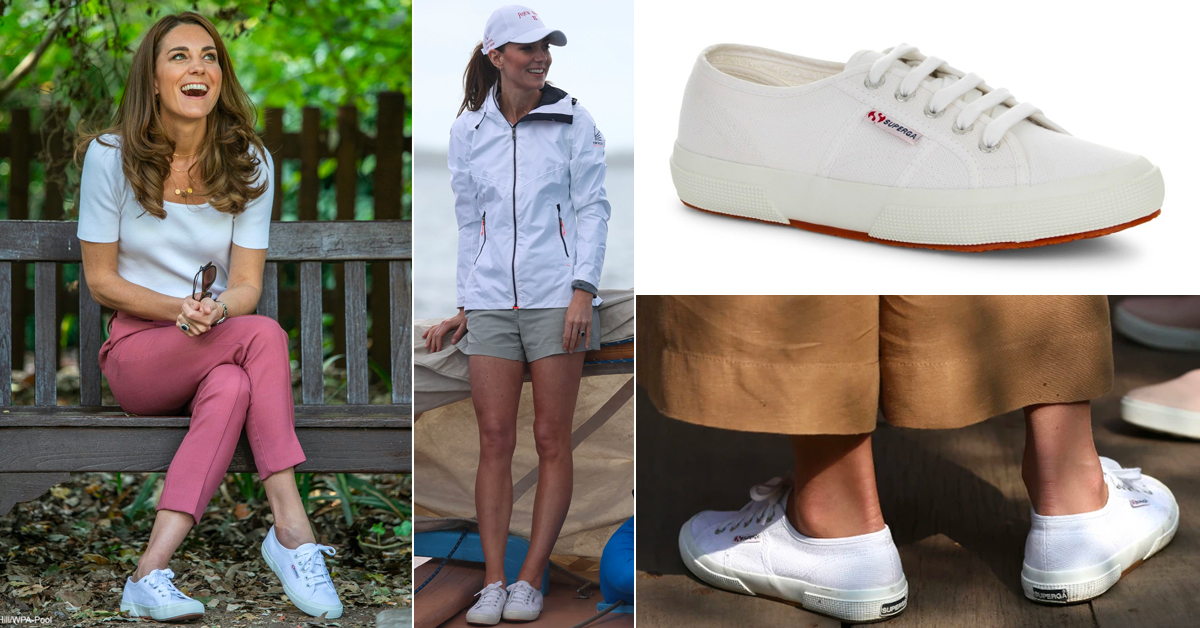 How many pairs of Superga Cotu Classics does Kate Middleton own?
We know the Princess has worn at least three separate pairs to date. The 2750 in white (twice) and the 2750 in green. She re-purchased the white Cotu Classics at some point in 2022. We can tell from photography by counting the number of eyelets on the shoes. In earlier engagements, the shoes have five eyelets. They have six at later engagements. (It looks like she purchased the new pair after wearing them in Belize during the 2022 Caribbean Tour.)