Kate Middleton is not only a style icon, but also a champion of British fashion. As a member of the royal family and a representative of the UK, it's no surprise that she frequently totes accessories from homegrown brands.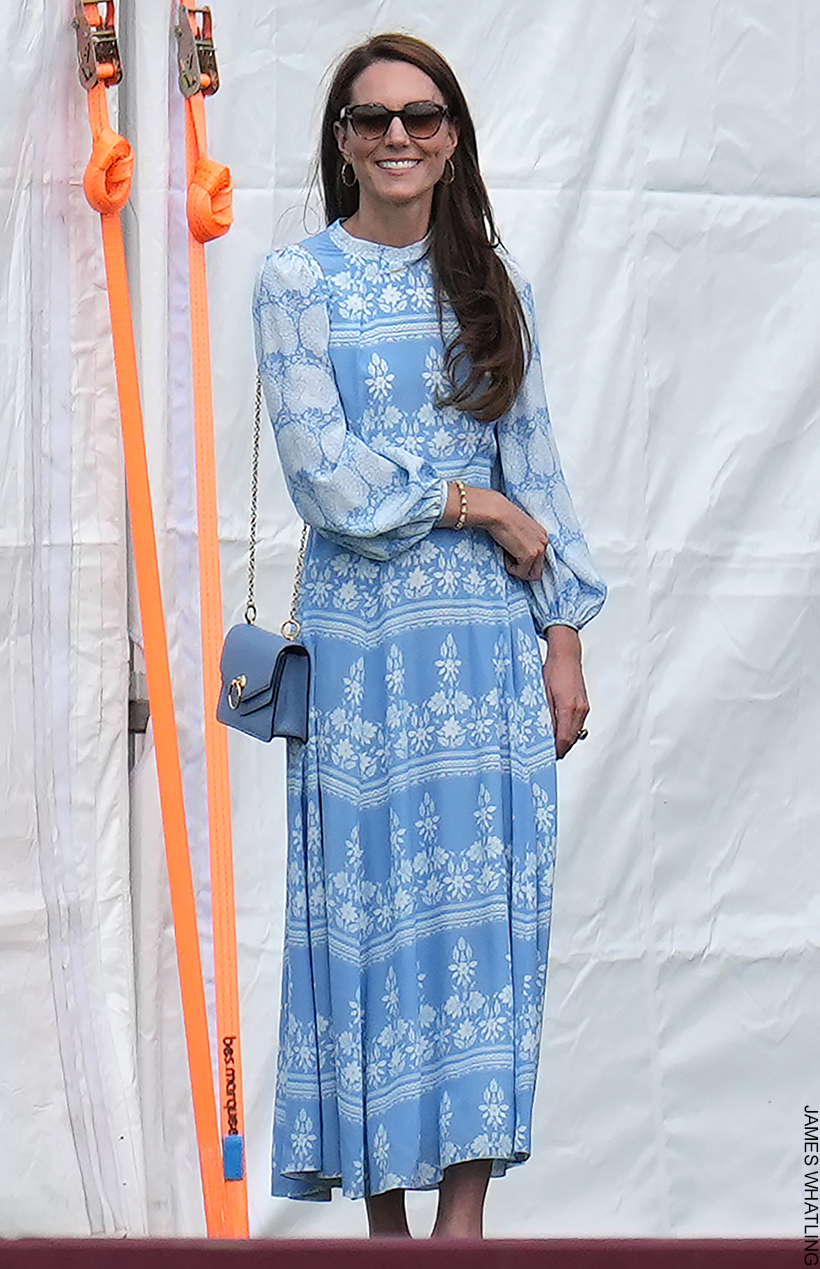 Plus, her position as a royal demands the best of the best—and British bag brands are known worldwide for their high quality and craftsmanship luxury handbags that stand the test of time.
From the sleek and sophisticated to the practical and functional, Kate's handbag collection is full of covetable designs from some of the UK's most beloved brands. Join us as we take a closer look at the British bag brands that Kate Middleton carries on repeat!
Strathberry
Let's start with Strathberry, a relatively new brand for the Princess. She owns three of the Scottish company's bags in total—all Multrees wallets (in black croc, navy croc and vanilla leather).

You'll love this brand if: You're after a minimalist, sophisticated aesthetic.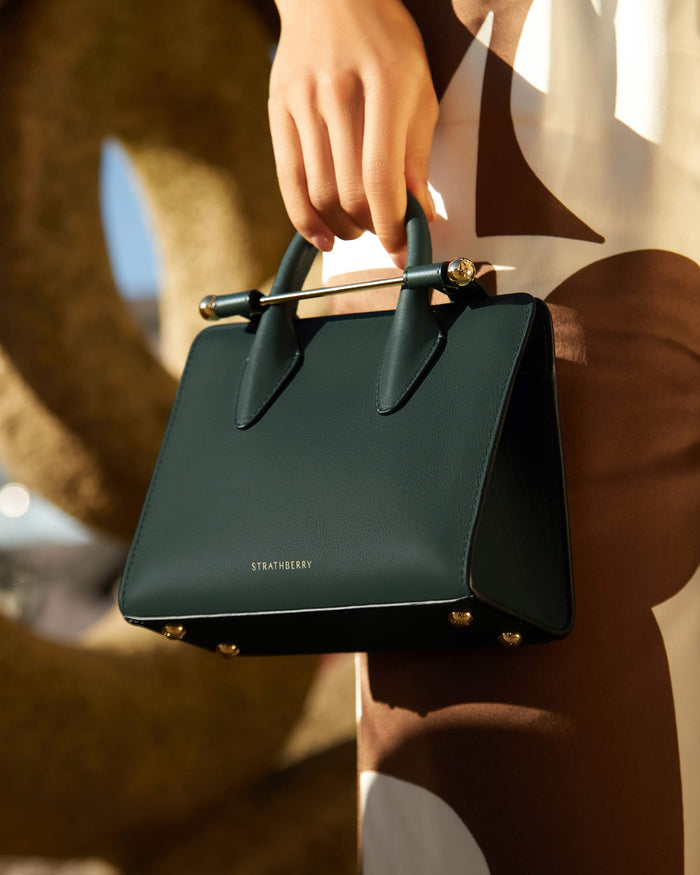 STRATHBERRY
Discover Strathberry's minimalist and sophisticated aesthetic, featuring the brand's signature bar closure that sets them apart from the rest.
Is Strathberry A UK bag brand?
Yes, Strathberry is headquartered in Scotland. Their bags are designed in Edinburgh, but they're not made in the UK. They're handcrafted in Spain. 
DeMellier
Kate owns two sleek micro-bags from London-based brand, DeMellier, the Nano Montreal in Navy and the Nano Montreal in Deep Toffee.
Before 2017, DeMellier was known as Milli Millu. I remember Kate's sister Pippa carried 3-4 Milli Millu bags frequently in the early Twenty Tens. The brand's understated yet elegant designs are clearly a hit with both sisters.
There could be a reason behind Kate's frequent appearances with DeMellier bags—her admiration for the brand's commitment to giving back. DeMellier has launched an initiative called "A Bag, A Life," a program that collaborates with international children's charity SOS Children's Villages and local vaccine providers. This initiative funds lifesaving vaccines and medical treatments for children in need. These vaccines are administered in countries like Somalia, where, unfortunately, one in six children does not live to see their sixth birthday.
By carrying DeMellier bags in public, Kate can help draw attention to the brand's charitable efforts and increase sales that support this mission. I'd wager that the Princess is well aware of "The Kate Effect" and the power of her influence on fashion. By promoting a brand like DeMellier, she is using her platform to make a positive impact in the world.
Kate has a connection with SOS Children's Villages too—she visited one of their locations in Lahore during the royal visit to Pakistan in 2019. During the pandemic in 2020, she also reconnected with the charity via Zoom.
You'll love this brand if: You're trying to incorporate "quiet luxury" into your wardrobe.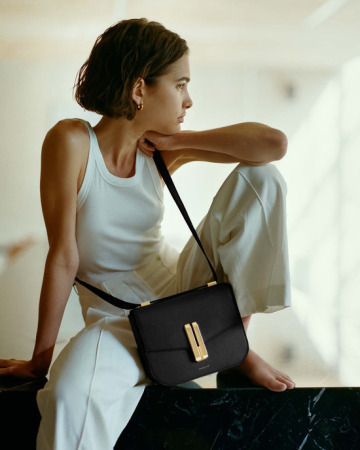 DEMELLIER
Elevate your accessory game with DeMellier, the British luxury handbag brand that offers an exquisite collection of bags that are as stylish as they are functional.
Are DeMellier Bags Made In The UK?
DeMellier is a UK bag brand based in London. Their bags aren't made in England, they're ethically made in Italy and Spain using the finest sustainably sourced materials. DeMellier have used the same family-owned factory located in Ubrique – South of Spain – since the brand was first launched.
Aspinal Of London
Aspinal of London is known for its timeless elegance. The English company's classic designs are well-suited to the Princess's refined and sophisticated style.
Kate's Aspinal bag collection includes the Midi Mayfair bag in two different colours (Lilac and Black Croc), plus two smaller clutches, the 'Eaton' Clutch in Black Croc and the Blue Heart Clutch in Black Croc.
Kate's sister, Pippa, is a fan of the luxury handbag brand too. She's carried at least nine Aspinal bags in public to date.
You'll love this brand if: You're looking for a true British classic, a bag made in England and expert craftsmanship.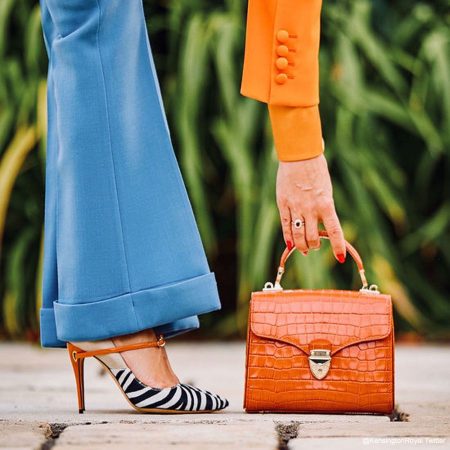 ASPINAL OF LONDON
Discover the ultimate in luxury with Aspinal of London's exquisite leather goods. Elevate your style with a timeless handbag, expertly crafted with the finest materials and exquisite attention to detail.
Are Aspinal of London Bags Made in England?
Yes, Aspinal of London's team design and hand craft their bags in England. The company is headquartered in the South Downs National Park in southern England.
Emmy London
If you've seen Kate carry a coloured suede clutch in recent years, I can almost guarantee it's the Natasha from Emmy London. The simple yet sophisticated design has been a mainstay in Kate's collection for over a decade now–the Princess owns fourteen, YES fourteen, of the bags.
Kate's carried the Natasha clutch in a rainbow of colours since 2012, from classic black suede to sumptuous cupcake pink. And with good reason too – the sleek shape pairs well with almost any outfit and adds a touch of sophistication to even the most casual looks.
Emmy London's Natasha Clutch is the perfect embodiment of the brand's ethos – handcrafted, high-quality, and timeless. Each bag is made from the finest quality suede and is handcrafted in Portugal. The oyster suede lining adds to the luxury appeal of the clutch, making it a must-have for anyone looking to add a touch of elegance to their outfit.
So, whether it's attending a church service with her family or representing the UK on an overseas tour, Kate knows that her Emmy London clutch has got her covered.
You'll love this brand if: You want a beautifully crafted, luxury clutch bag with plenty of room for your next big occasion.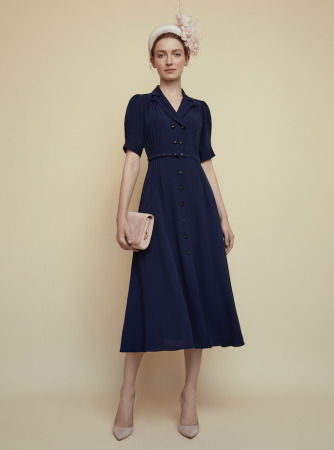 EMMY LONDON
Shop Emmy London's range of beautiful and functional bags, designed to perfectly complement your special occasion look.
Are Emmy London Bags Made in The UK?
Emmy London is a British brand. The bags are designed in the UK and they're made by hand in an artisan workshop in Portugal.

Smythson
Renowned for their high-quality craftsmanship, meticulous attention to detail and elegant designs, Smythson is synonymous with luxury and sophistication. It's no wonder Kate has several of the British brand's bags in her collection.
At last count, the Princess owns three Smythsons (a Concertina Crossbody in Black Ludlow, a Purse with Strap in Navy Panama, the East-West Tote in Panama Black, and one A4 Writing Folder in Black Mara.
You'll love this brand if: You're looking for sleek designs, luxury, and iconic British design.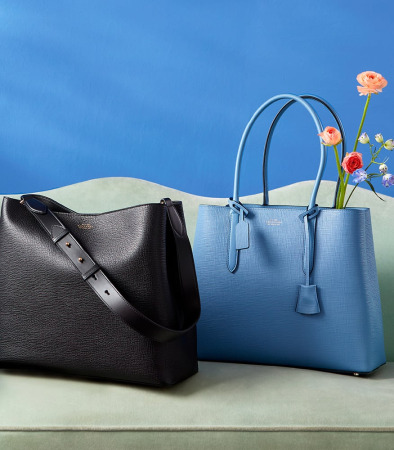 SMYTHSON
Looking for sophistication and unparalleled quality? Try Smythson, the iconic British brand that has been crafting exquisite leather goods since 1887.
Are Smythson Bags Made in the UK?
Yes, some of Smythson's leather goods are made in the UK. The brand work with artisan factories in the UK and Europe.

Mulberry
Next up, Mulberry, the quintessential British handbag brand—and easily Kate's go-to. Mulberry's known for their structured silhouettes, elegant designs, luxury materials and impeccable craftsmanship. It's no surprise Kate has turned to Mulberry for some of her most iconic handbag moments.
Since becoming a member of the British Royal Family, we've spotted the Princess carry eleven different Mulberry bags (and we know she carried one or two styles before her marriage to Prince William too, but I have not kept a record of those).
The Princess debuted two new Mulberry bags during a recent visit to the USA in December—the Amberley satchel in green and the Harlow satchel in blue.
She also carries the Amberley Crossbody in two colours (White and Black), the Mini Seaton in Black, the Bayswater Wallet in three different colours (Conker Suede, Black Suede and Buttercream Suede), the Amberley Clutch in Dark Blush, the Small Darley in Red Croc and the Polly Push Lock in Midnight Blue.
We suspect Kate's office has a working relationship with the British brand. We have spotted her carry designs that differ from those available in the company's off-the-shelf offering. For example, the green Amberley carried by Kate features a small tubular top handle. The same bag in Mulberry's online store does not, it comes with a crossbody strap instead, suggesting Kate's is bespoke.
You'll love this brand if: You want to invest in a true British icon.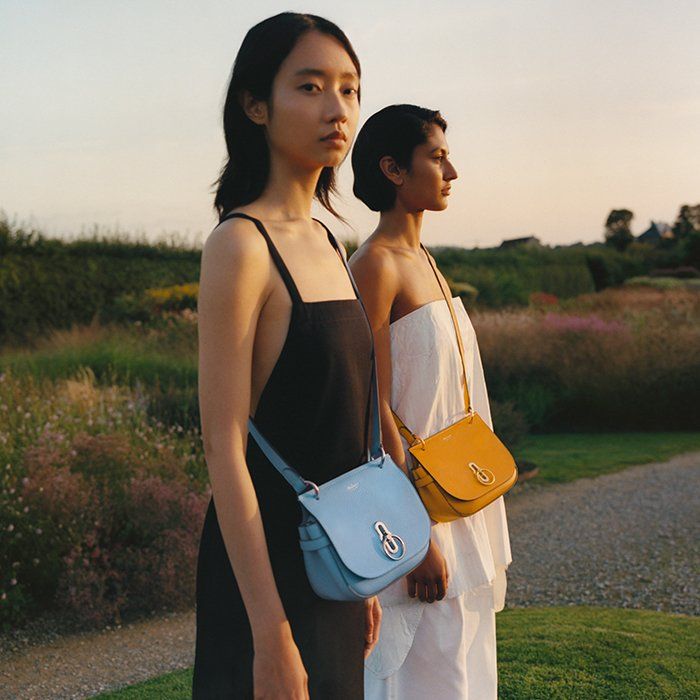 MULBERRY
Looking for British craftsmanship from a quintessentially English brand? Explore Mulberry's exquisitely designed pieces for unparalleled quality and luxury.
Are Mulberry Bags Made in The UK?
Partially, yes. According to Mulberry, 50% of their bags are made in the south of England. Mulberry claim to be the largest manufacturer of luxury leather goods in the UK with a 600-strong team of craftsmen and craftswomen.
L.K. Bennett
Everybody who follows Kate's impeccable sense of style knows about this brand: L.K. Bennett. The Princess has been sporting their clothing and accessories for well over a decade now. It's no surprise, really, given that the British company is renowned for its timeless, modern, and feminine aesthetic, making it the perfect choice for a working royal.
While Kate's love for L.K. Bennett's shoes was the talk of the town in the early years of her marriage, it's clear that the Princess has a soft spot for their bags as well. She's carried seven different designs in public to date. Amongst them, the Natalie and Nina box clutches. Combined, those two bags have amassed over 40 public appearances, which is no small feat when compared to other bags she has carried—some of which have only made two or three appearances in total.
You'll love this brand if: You're after luxury at a more affordable price point.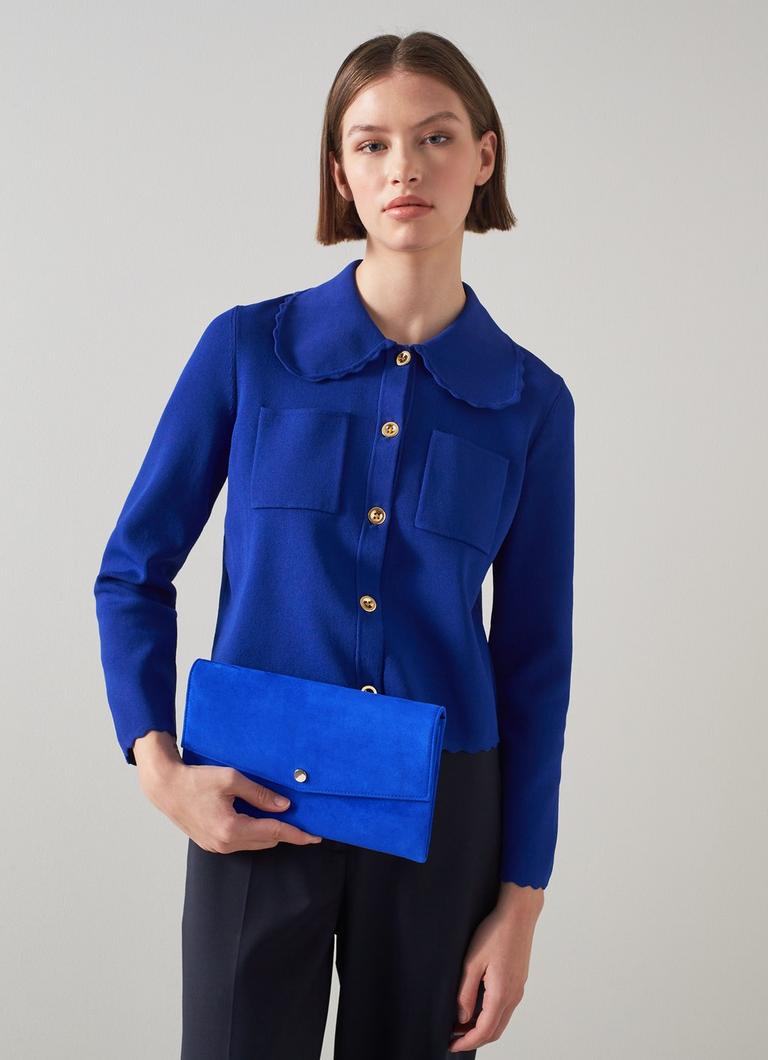 LK BENNETT
Discover LK Bennett's range of beautifully designed handbags, crafted with a uniquely British ethos and made to be cherished forever.
Where are L.K. Bennett's Bags Made?
L.K. Bennett is a British brand with a London-based team that designs the products. Each piece is carefully curated in factories across Europe. I believe L.K. Bennett's bags, specifically, are made in Spain.
Alexander McQueen
Alexander McQueen is a high end brand that has become synonymous with Kate's style, and for good reason. The Creative Director, Sarah Burton, was responsible for designing Kate's iconic wedding dress in 2011, and has continued to dress her for high-profile events and special occasions ever since. However, Kate's love for McQueen extends beyond clothing. She has also carried a variety of the company's bags over the years too.
I estimate that the Princess must own around 6-7 box clutches. They're usually adapted to look more in line with her royal style—the edgy skull clasps removed and swapped for something elegant and understated. She's also carried two of McQueen's mini satchels to date.
You'll love this brand if: you want something avant-guard from an iconic British design house.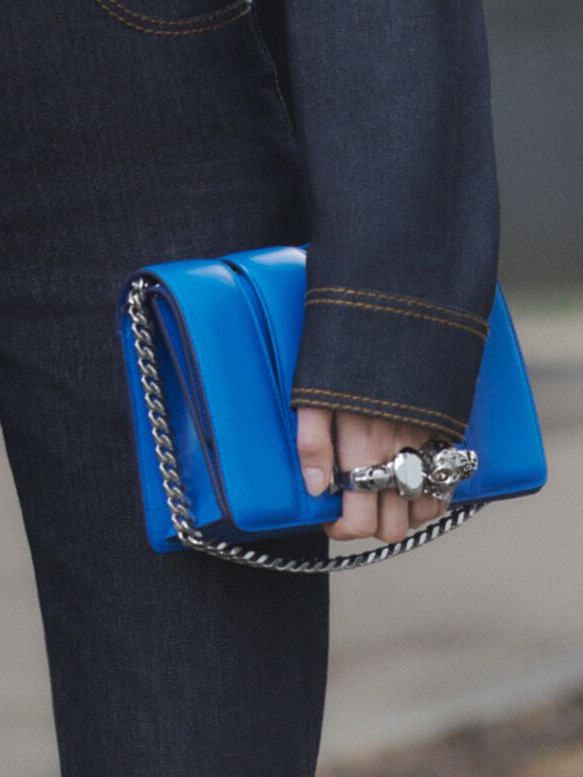 ALEXANDER MCQUEEN
Discover the artistry and craftsmanship of Alexander McQueen's bags, featuring innovative designs and luxurious materials.
Where are Alexander McQueen Bags Made?

From what I can see, Alexander McQueen bags are made in Italy, Portugal, Spain, Switzerland—one website does claim some designs are manufactured in the UK too, but I cannot confirm this.
Anya Hindmarch
Although Anya Hindmarch is known for her quirky and playful designs, Kate has opted for more understated choices during her time as a royal, which is to be expected. One of her go-to accessories has been the black satin Maud clutch, which she has been spotted carrying on numerous occasions.
The Maud is monogrammed, embroidered with the Princess's initial, 'C'. We last saw Kate carry it in 2015. But she added the same design in white satin to her collection recently. We spotted her with it during a visit to Jamaica in March 2022.
Other Hindmarch bags in Kate's collection: a woven bag shaped like a fan, a sparkling gold box and a red lizard print clutch.
It's no secret that Kate Middleton is committed to sustainability and ethical fashion practices, and Anya Hindmarch's brand ethos aligns well with these values. The British designer made headlines back in 2007 with her "I Am Not A Plastic Bag" tote, which was designed and manufactured with sustainability in mind, well before the current trend for plastic-free living. Hindmarch's brand continues to focus on reducing its environmental impact, with the recent launch of the "Universal Bag", a 100% recycled recyclable reusable bag that's available at supermarkets and online. Will we see Kate carry one during a visit to her local grocery shop?
You'll love this brand if: you want to make a statement with a playful and unique design.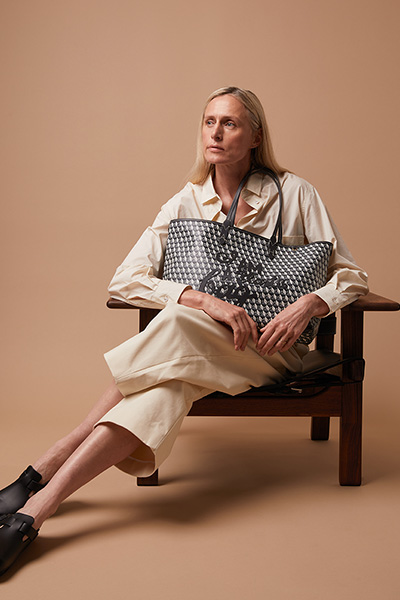 ANYA HINDMARCH
Make a statement with Anya Hindmarch's playful and unique designs—shop bags and accessories that are sure to turn heads.
Where are Anya Hindmarch bags made?
It's hardly surprising that due to the variety of Hindmarch's designs, her bags are crafted all over the world using "traditional techniques and luxurious materials".