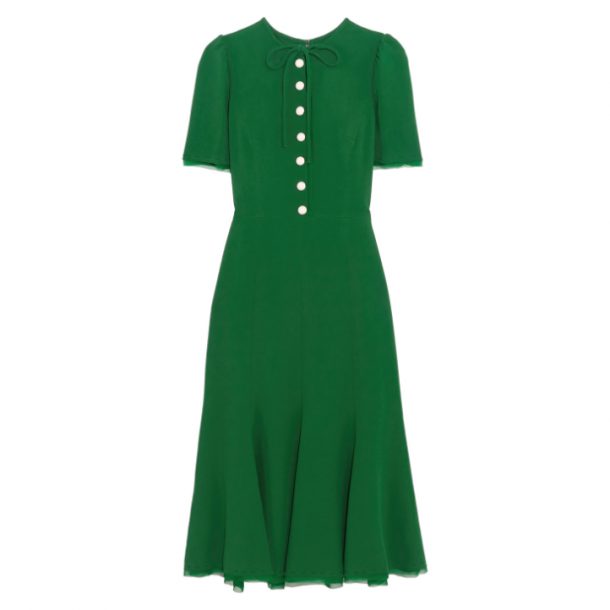 In September 2016, the Duchess of Cambridge (Kate Middleton) debuted a new green dress by Dolce & Gabbana for a visit to Kelowna, a city in the Okanagan Valley as part of the Royal Visit to Canada.  She visited the University of British Columbia and sampled food and drink at the 'Taste of British Columbia' festival.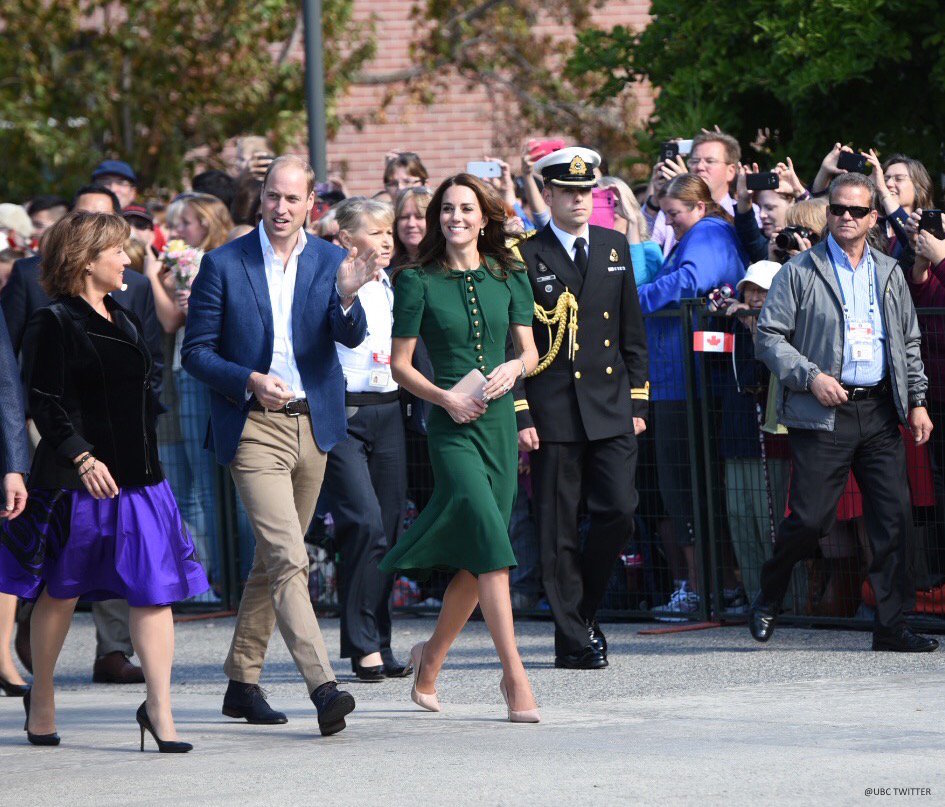 About Kate's green Dolce & Gabbana dress:
Kate is wearing a bespoke version of the Italian label's Georgette Crepe Midi Dress: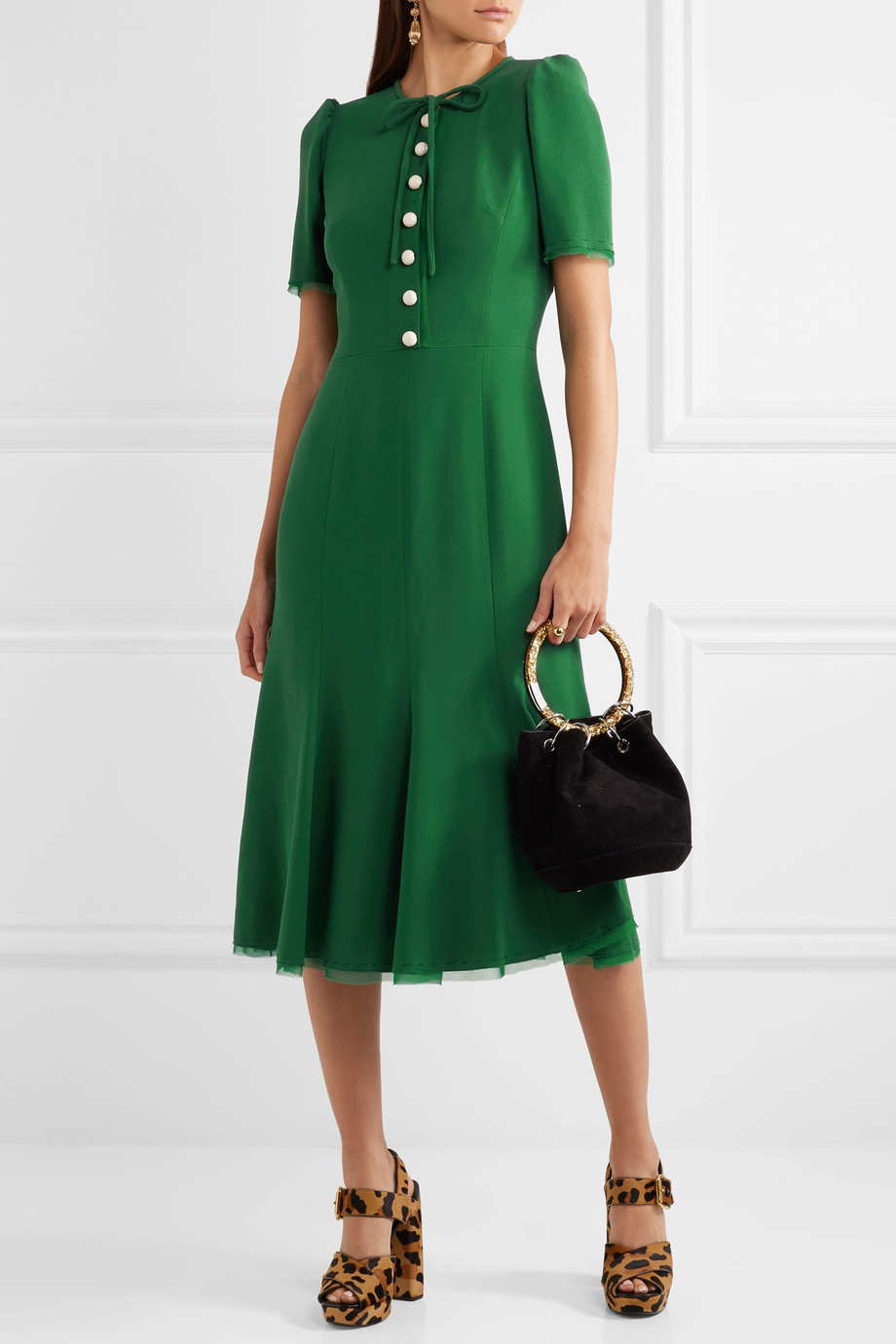 The forest-green dress is made from a silk mix crepe fabric in Italy.  It features a self-fastening neck tie, gold buttons and a nipped in waist.  It is midi-length and cut in a fit and flare silhouette with ruffled detailing on the sleeves.
Here's how Net-A-Porter.com describe the dress on their website:
Dolce & Gabbana's dress was worn by the Duchess of Cambridge on a recent visit to Canada. This forest-green crepe piece has puffed sleeves, a pretty bow tie and white buttons, evocative of styles from the '40s. We like how the stitched seams and raw georgette trims playfully emphasize the craftsmanship.
I should also point out that the Net-A-Porter D&G dress has creamy/white buttons, whereas Kate's had gold buttons.
A look at the back of the dress: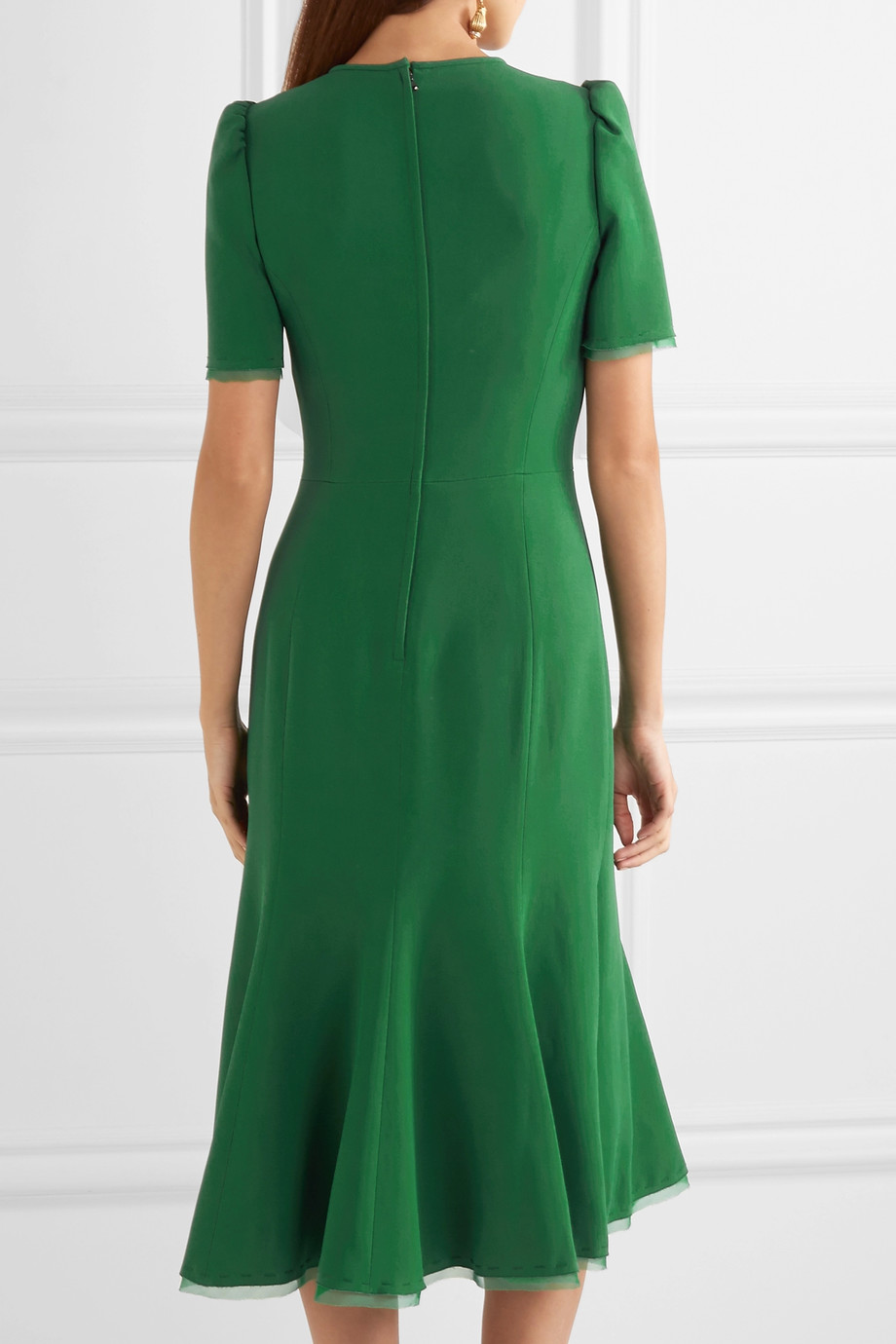 Where to buy the green midi dress:
The green midi dress is exclusive to Net-A-Porter.com.
ordered an exclusive run of the green dress without the clock motif, which is closer to the design worn by Kate. If you'd like to purchase the dress, it retails for $2,675 USD / £2,150 GBP.
The same D&G dress in blue & white:
Dolce & Gabbana have also released Kate's dress in powder blue and white.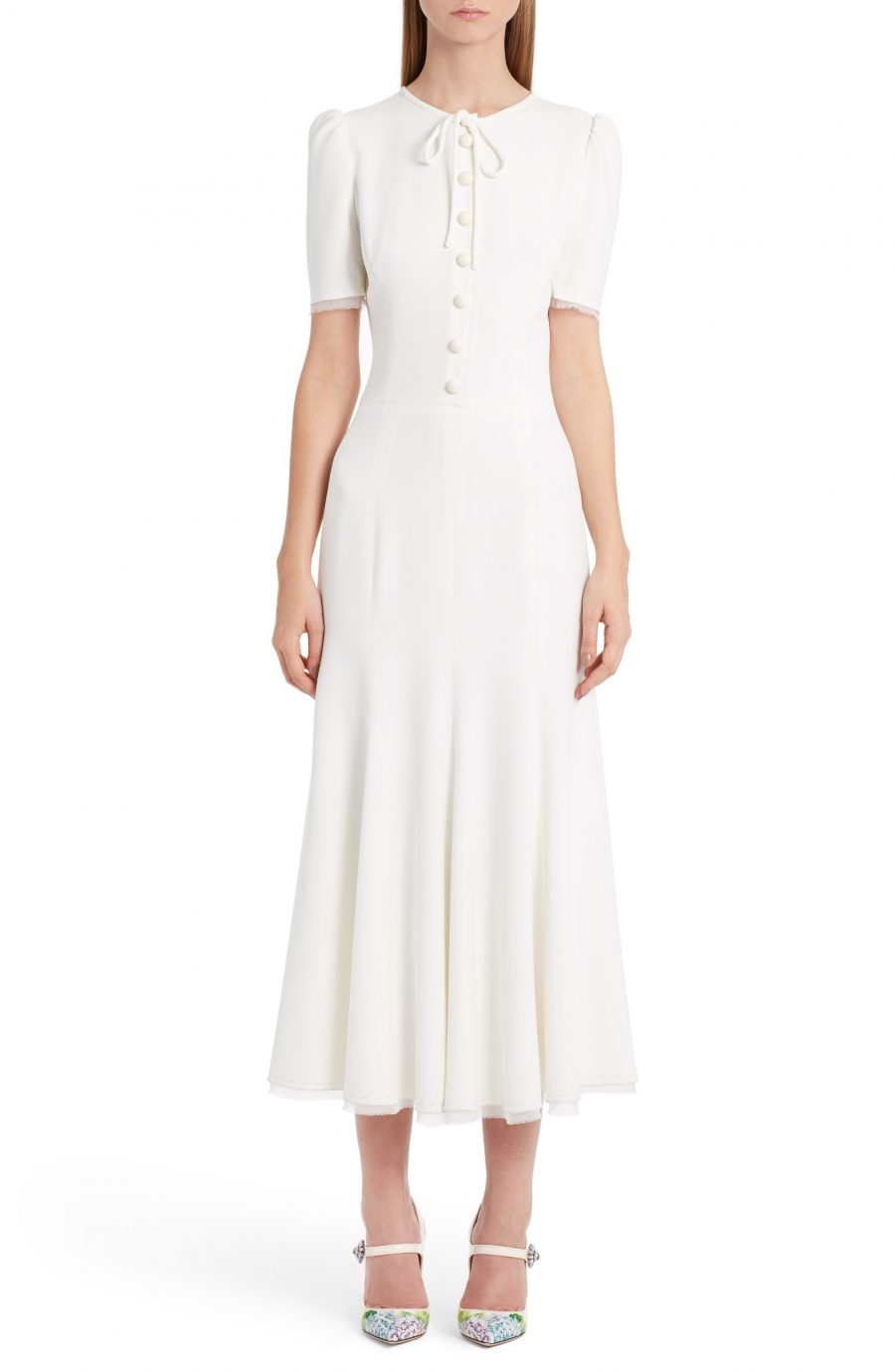 Here's how MatchesFashion.com describe the blue version of the dress on their website:
It's the powder-blue hue and calf-skimming length that makes Dolce & Gabbana's stretch-cady dress so perfect for summer parties. Pale-pink chiffon trims the short sleeves and fluted hem, while slender neckline ties and decorative cream buttons enhance the ladylike appeal. Contrast the powdery hue with gleaming gold sandals.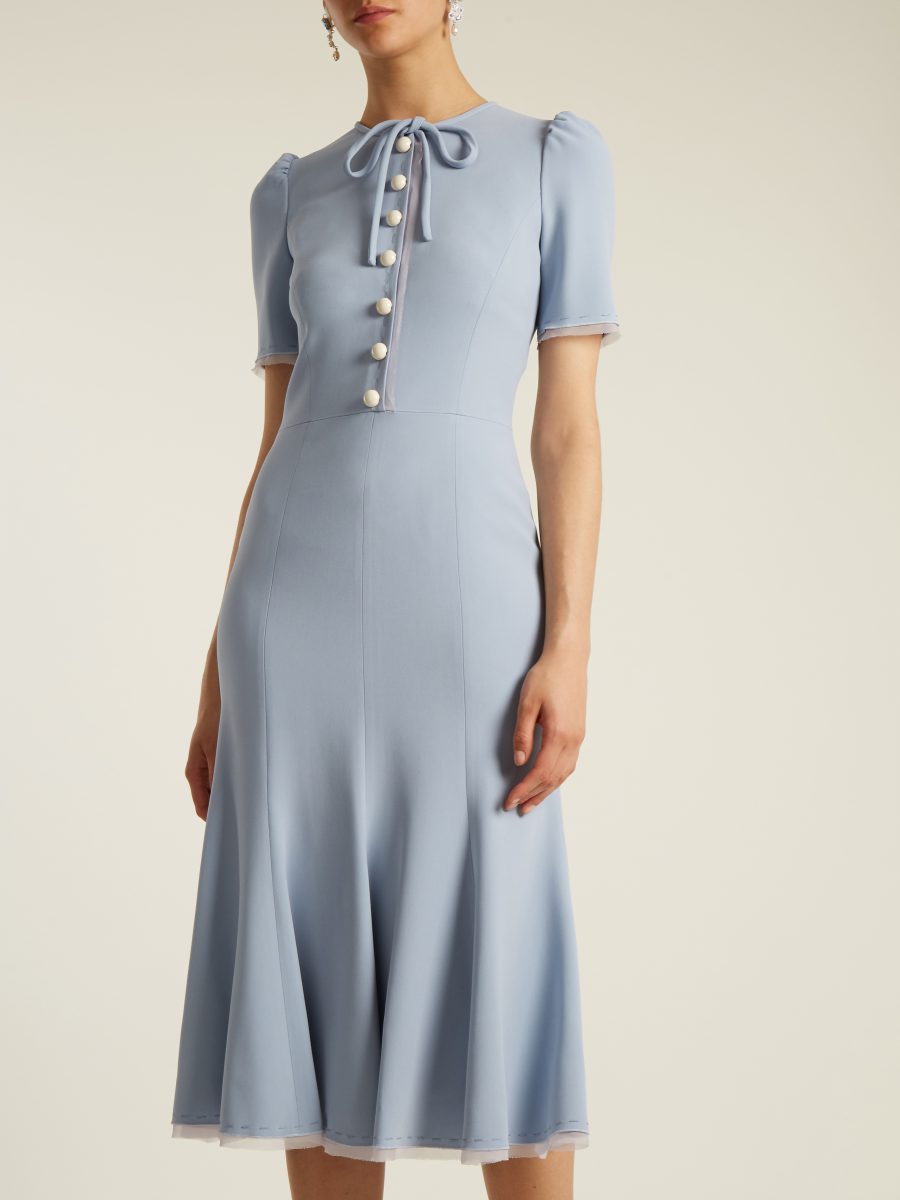 Kate Middleton wearing Dolce & Gabbana:
The Duchess has worn two other Dolce & Gabbana dresses to date.  First, she chose a purple lace dress to the Creative Collaborations event in October 2015.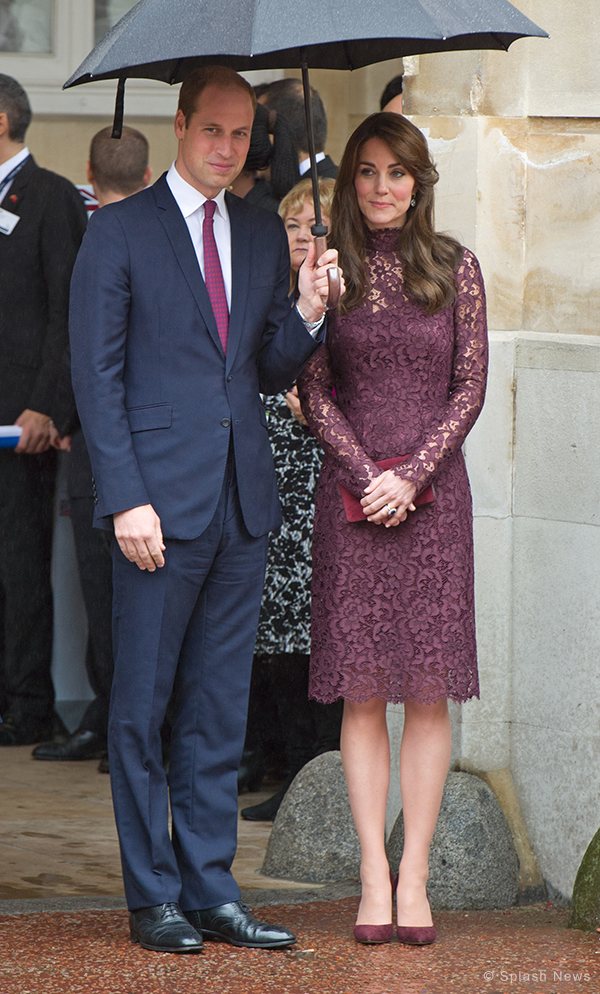 Then, she wore a white lace dress by the brand for the Royal Windsor Horse Show in May 2016.  She wore it again Royal Ascot later in the year.