Kate Middleton carries the 'Blue Heart Clutch' from Aspinal of London's collaboration with Beulah London.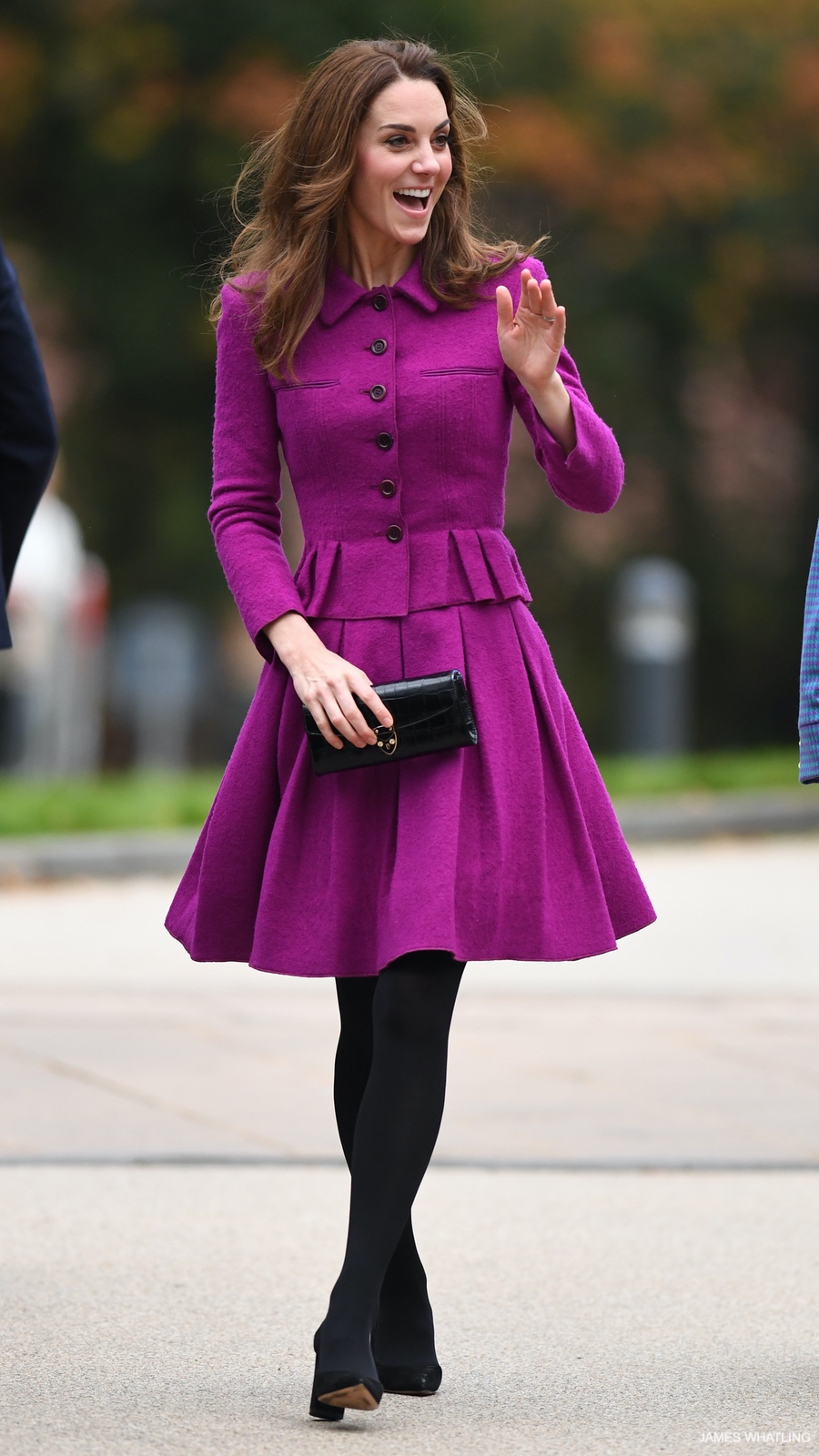 The Princess debuted the Aspinal clutch bag in 2017 at a Service of Hope held at Westminster Abbey following the Westminster Terror Attack. Since, she has carried the piece three more times in public.
About the Aspinal Clutch Bag:
The rectangular clutch bag features a glossy black crocodile-embossed leather exterior, which exudes a timeless elegance. The design is accentuated with Aspinal's distinctive shield lock clasp on the exterior in in a gold-tone finish.
The clutch's slim profile is complemented by a delicate gold chain shoulder strap, offering versatility in styling.
Upon opening, the interior reveals a striking contrast with its vibrant blue and white pattern— Beulah London's signature print. Inside, practicality meets luxury with a zippered compartment, adding an element of security and organisation to the bold statement piece.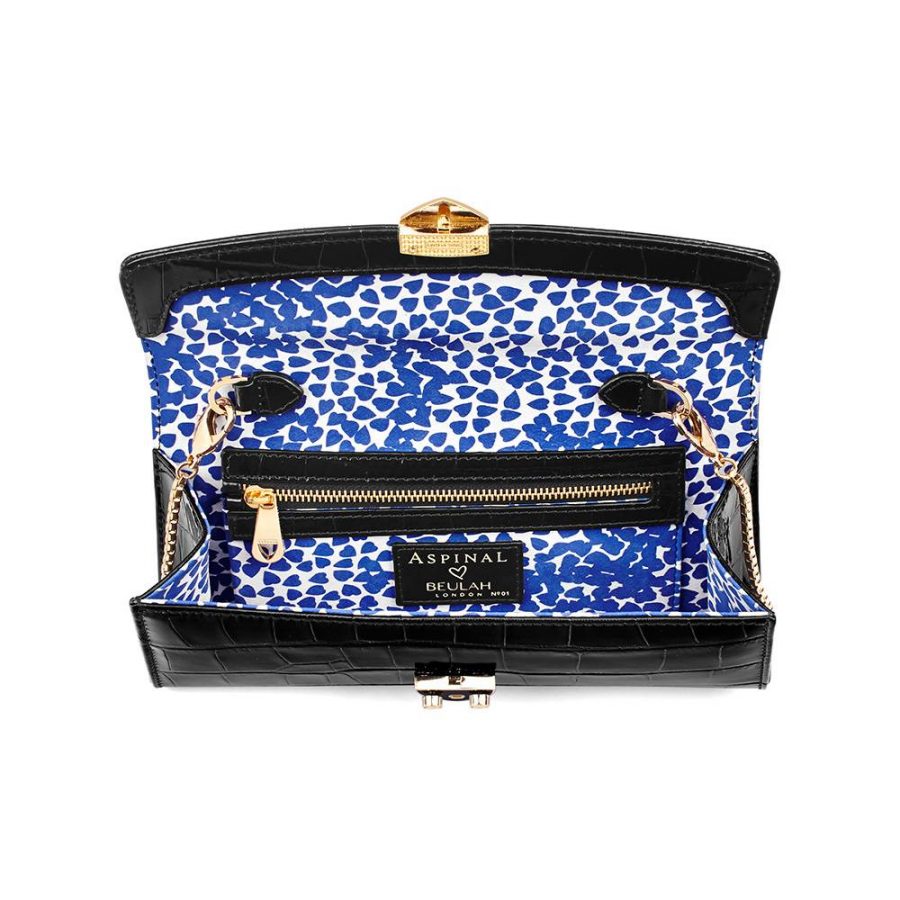 This clutch marries functionality with high-end design, making it an exquisite accessory for evening events and special occasions.
Here's how Beulah London described the clutch bag in a press release back in mid 2010s:
The Blue Heart clutch is a grown-up classic … Intricate metal chains in silver and gold finishes add to the functionality allowing the clutch to be held in the hand or elegantly draped over the shoulder.
Charity Collaboration:
The 'Blue Heart Clutch' was designed in collaboration between Beulah London and Aspinal of London. The collaboration benefited charity, with 25% of the profits from each sale of the bag going to the United Nations Blue Heart Campaign.
Here's how Beulah London described the collaboration:
Beulah London and Aspinal of London, have collaborated on a special charity project by creating two limited edition 'Blue Heart' clutches, with Beulah's iconic blue heart print on the exterior and interior linings. These limited edition bags are now on sale and 25% of profits from every bag sale will be donated to the United Nations Blue Heart Campaign.

The Blue Heart Campaign is an awareness-raising initiative to fight human trafficking and its impact on society. The Blue Heart logo represents the sadness of those who are trafficked while reminding us of the cold-heartedness of those who buy and sell human beings. The use of the blue UN colour also demonstrates the commitment of the United Nations to combating this crime against human dignity.

In the same way that the red ribbon has become the international symbol of HIV/AIDS awareness, this campaign aims to make the Blue Heart into an international symbol against human trafficking. By "wearing" the Blue Heart clutch, you will raise awareness of human trafficking and join the campaign to fight this crime: these are truly bags with a heart.
Kate Middleton and Aspinal of London:
Kate's been spotted with four Aspinal of London bags to date, each adding a touch of elegance to her ensemble. In addition to the Blue Heart Clutch, Kate has carried the Mayfair Midi Bag in both Deep Shine Lilac Croc and Deep Shine Black Croc, showcasing her preference for the brand's classic yet contemporary designs. We also spotted her carrying the company's Eaton Clutch in Black to a friend's wedding back in 2011.
About Aspinal of London:
Aspinal of London, established in 2001 by British entrepreneur Iain Burton, is synonymous with timeless English style. The brand is celebrated for its exquisitely crafted leather goods, which epitomise the finest quality and artisanal craftsmanship. Aspinal's heritage is deeply rooted in British craftsmanship, luxury materials, and bold, contemporary design. The brand values family, community, and a commitment to quality, ensuring that its products are not only luxurious but also enduring. Aspinal is also dedicated to sustainability, working to lessen its environmental impact and create positive change, as part of their wider commitment to responsible luxury.
Kate Middleton and Beulah London:
Beulah London is another brand that we've spotted Kate wear on multiple occasions. The Princess has frequently chosen Beulah London for her public engagements, with the brand's pieces resonating with her style ethos. A memorable selection was the £550 Calla Rose shirt dress in silk crepe de chine, worn during a visit to Brick Lane's Beigel Bake and the London Bridge Jobcentre in 2020.
The brand's ethical credentials and British roots make it a fitting choice for Kate, aligning with her own values.
The Princess of Wales' relationship with Beulah London extends beyond fashion, as she is acquainted with the brand's founders, Natasha Rufus-Isaacs and Lavinia Brennan.
About Beulah London:
Beulah London is a brand that goes beyond fashion. It stands out for its British origin, ethical credentials, and commitment to social causes. Beulah London's social mission is integral to its identity; through The Beulah Trust, it aids victims of sex trafficking and abuse by providing skill-based course grants. The label also collaborates with women artisans and cooperatives globally, supporting traditional crafts and sustainable livelihoods.