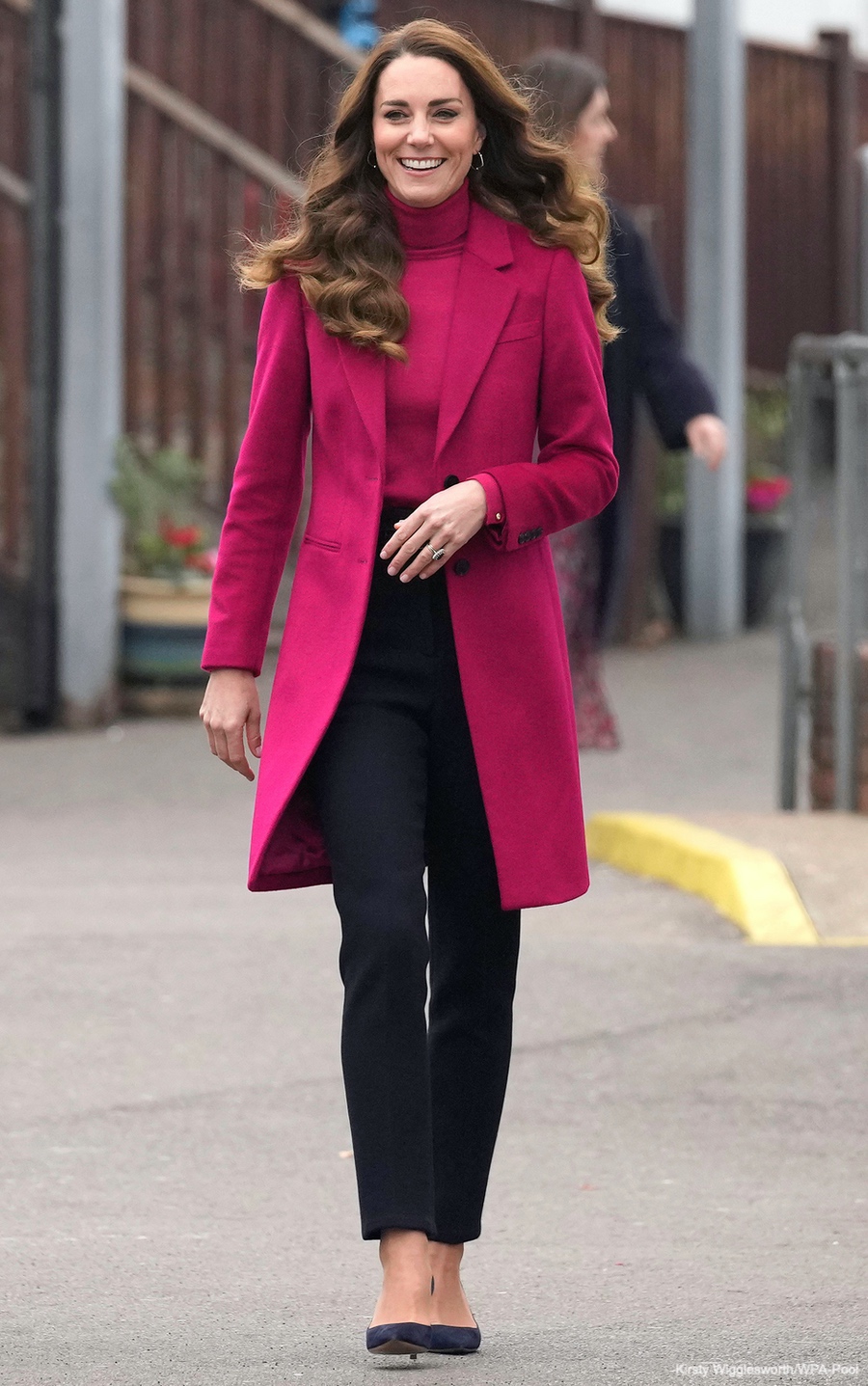 24th November 2021—Dressed in an eye-catching shade of fuchsia pink, Kate added a bright pop of colour to an otherwise grey and dreary afternoon.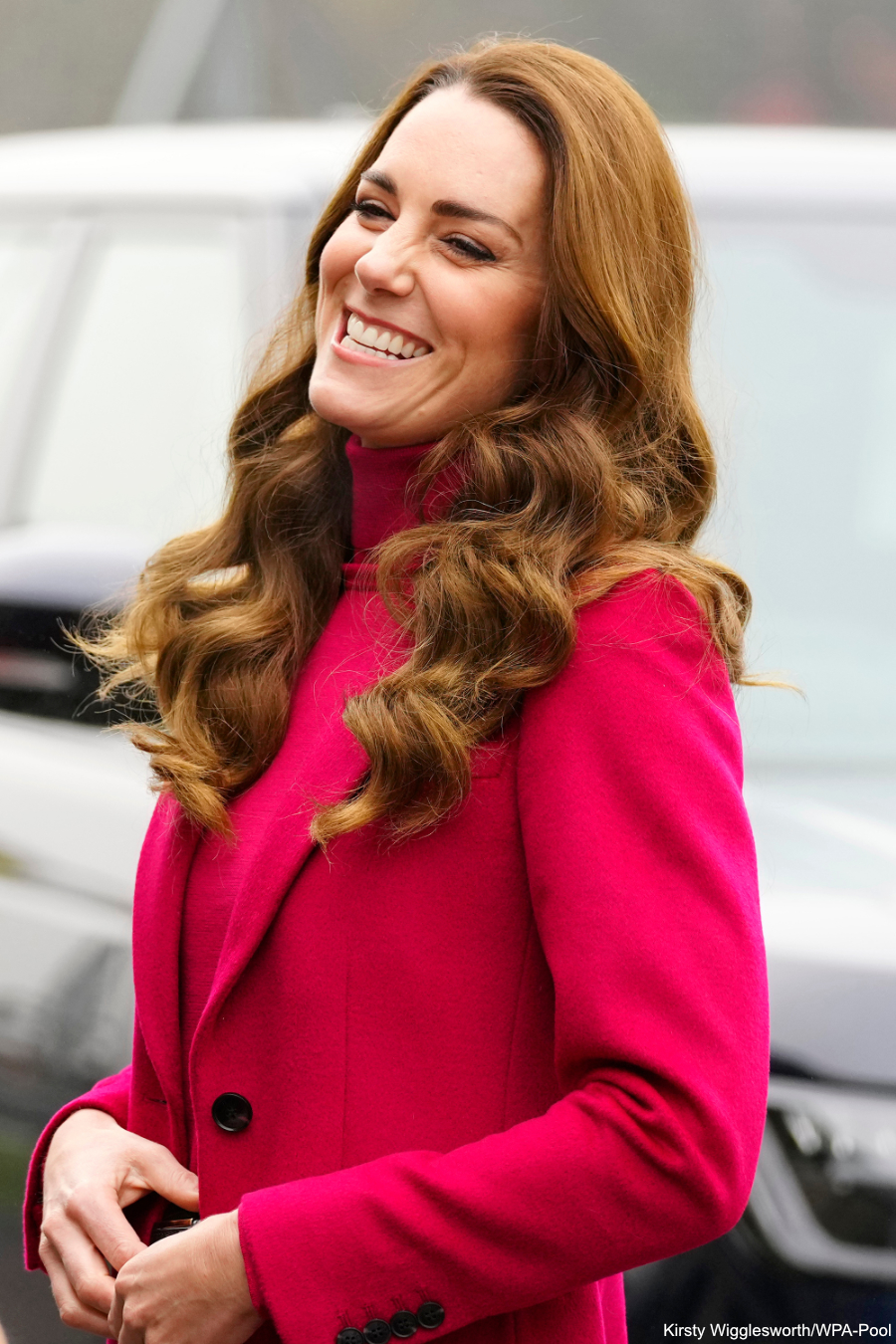 The Duchess wore a pink coat and rollneck sweater to visit Nower Hill High School in Harrow, London. She joined a class of year eight pupils for a special science lesson.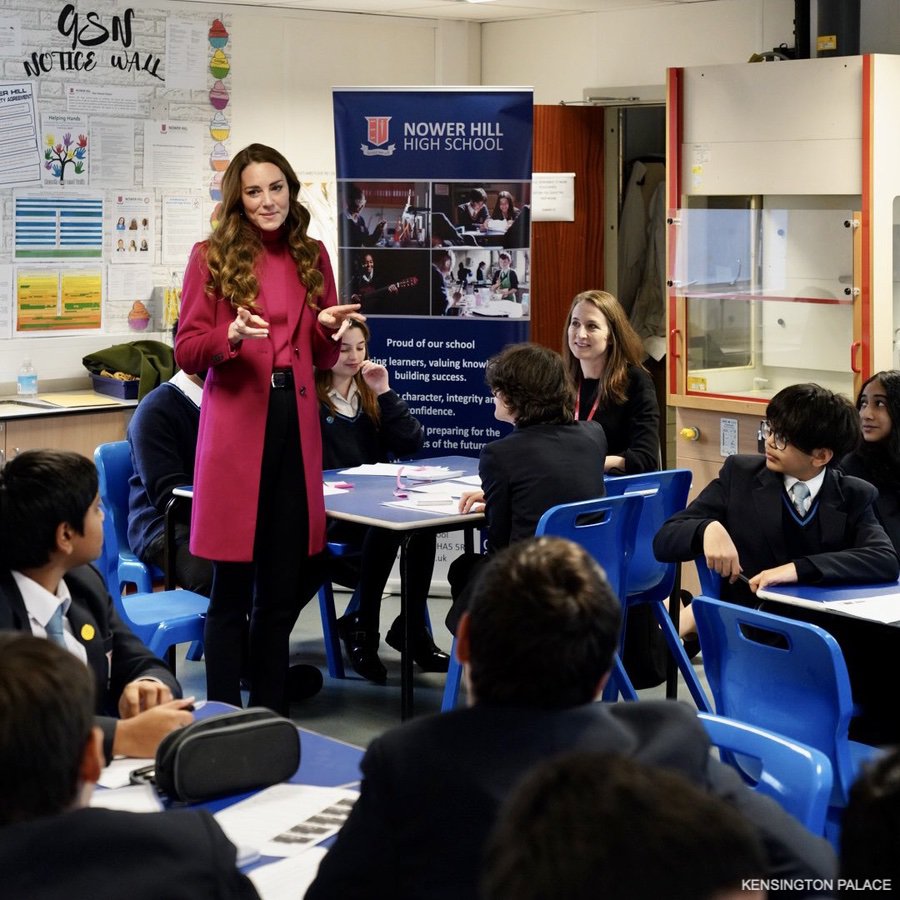 The children have spent the last few weeks studying early childhood development and neuroscience as part of a pilot research project called SEEN (an acronym for Secondary Education around Early Neurodevelopment.) SEEN is run by early years charity Kindred2 and the University of Oxford. Together, they have developed a pilot curriculum for Key Stage 3 pupils and hope to embed them with the key principles of early childhood development and neuroscience. For anybody wondering why you'd want to teach these topics to 12 and 13-year-olds:
The first 1001 days (pregnancy and the first two years of a child's life) is a critically important period for development that significantly influences a child's long-term health, well-being, learning and earnings potential. It provides the foundation for children's nascent emotional wellbeing, resilience and adaptability. Sensitive and responsive parent-infant relationships have been shown to be pivotal for the development of infants' social, emotional, behavioural and cognitive outcomes. It is therefore essential to develop a community-wide understanding of the neuroscience that underpins how caregivers' behaviour contributes to children's future outcomes.

Psych.ox.ac.uk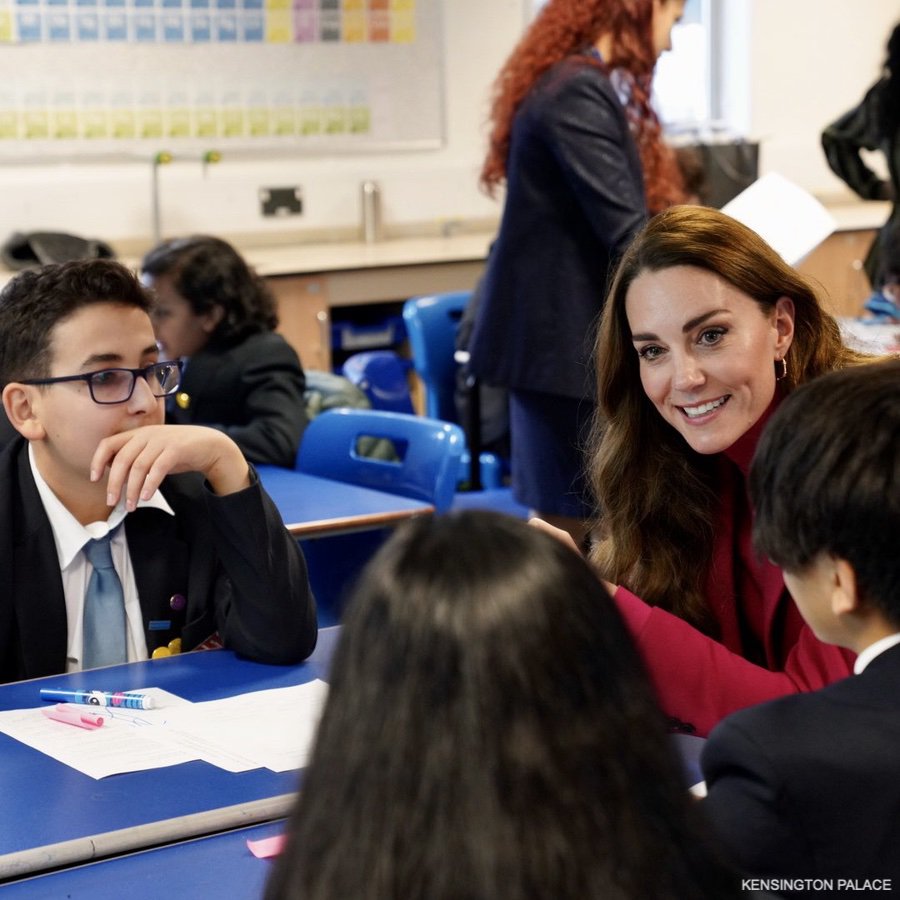 The researchers are hoping this will have a positive effect on future generations:
More than 90 per cent finished the classes knowing that a care giver should speak to a baby to promote their language development.

It is hoped that the lessons will stick with young people as they grow up to become parents themselves, helping to transform the outcomes for the next generation.

Telegraph
Now the pilot scheme is over, the researchers will use their findings to inform recommendations relating to the teaching of neuroscience around child development to policymakers.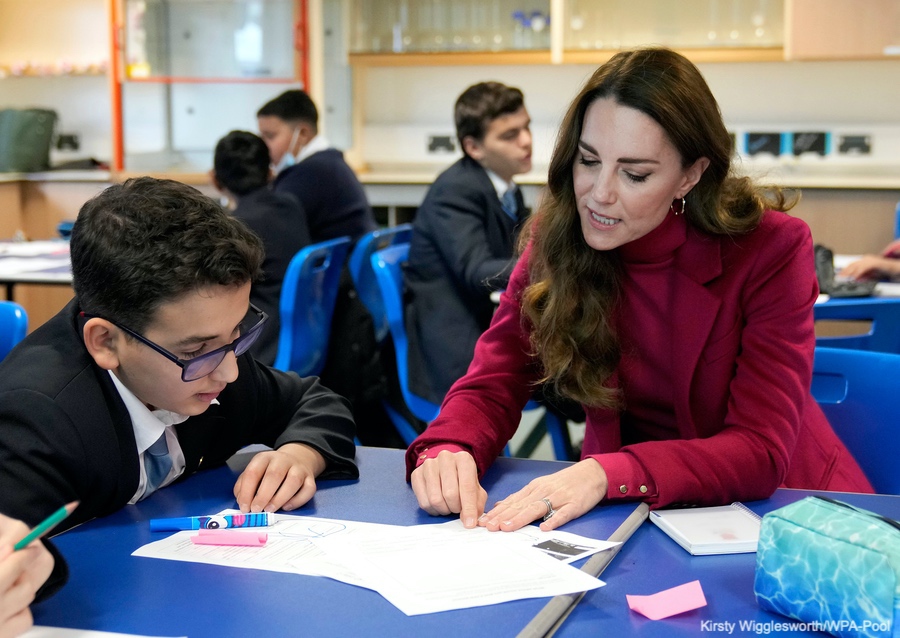 Of course, early child development is something Kate is very passionate about. She has spent the last decade as a working royal learning about the topic. Oxford University's research project aligns strongly with the Duchess and her work:
…[The research project] is steeped in the understanding of the critical importance of early child development and its influence on an individual's long-term health, wellbeing and potential in the future. The lessons focused on the neuroscience underpinning how caregiver's behaviour is pivotal to childhood development and children's future outcomes.

Kensington Palace
You may remember that Kate launched The Royal Foundation Centre for Early Childhood earlier this year. The Centre is "on a mission to transform society through early childhood". A reminder, should you need it:
In the lesson, the children gave Kate a recap of everything they've learnt and understood. Before leaving, Kate thanked the students for taking part, and asked them to carry on chatting with their friends about the topic. She told them was "super impressed" by their efforts.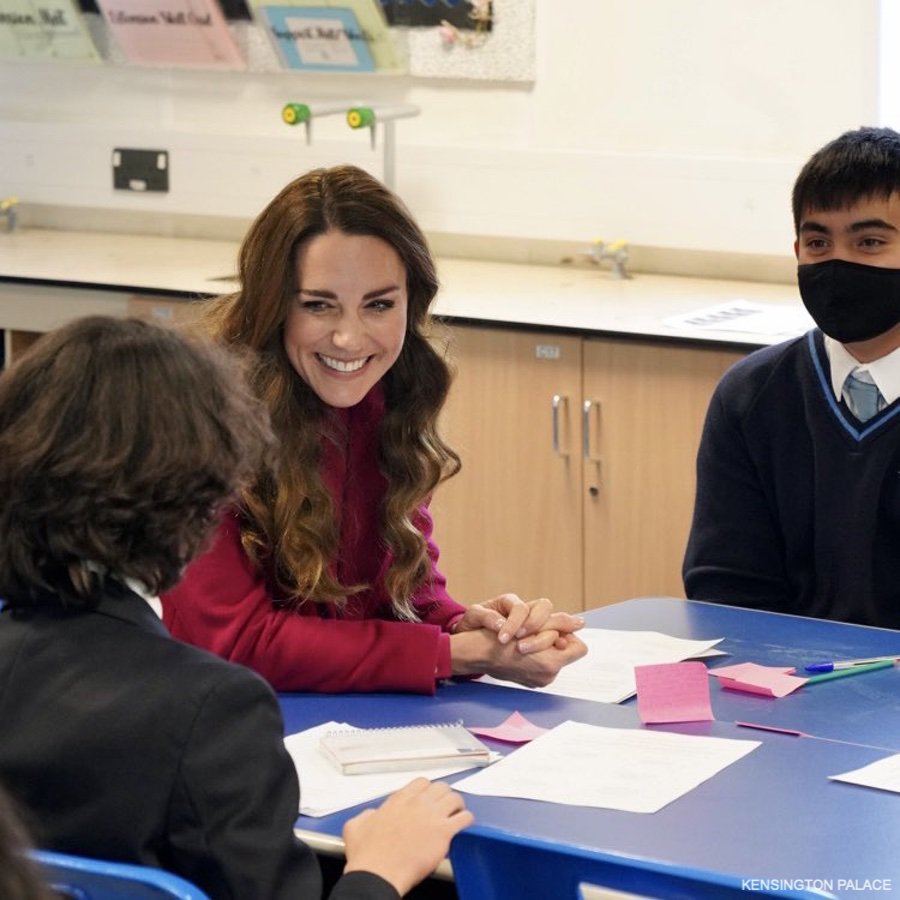 The Kensington Palace social media team published the following tweet:
The first five years of our lives have an extraordinary impact on the adults we become. They provide the foundations for how we respond to our biggest challenges in later life, our long-term health, wellbeing and resilience.

Everyone involved in a child's early life has a pivotal role to play & @OxChildPsych's research educating teenagers in science lessons about how early experiences shape brain development is just one example.

Kensington Palace
They signed off by thanking the pupils at Nower Hill for sharing their experiences.
The day didn't end there for Kate. She then travelled to Buckingham Palace where she joined the Chief Executives of Academy Trusts for a briefing. They discussed the results of the research project.
Video of Kate at Nower Hill:
Onto the fashion portion of our article now.
Kate's outfit:
Kate wore a berry pink coat over a matching roll-neck sweater. She paired the fuchsia pieces with darker items—a pair of navy slim-fitting trousers and navy suede heels. Let's take a closer look: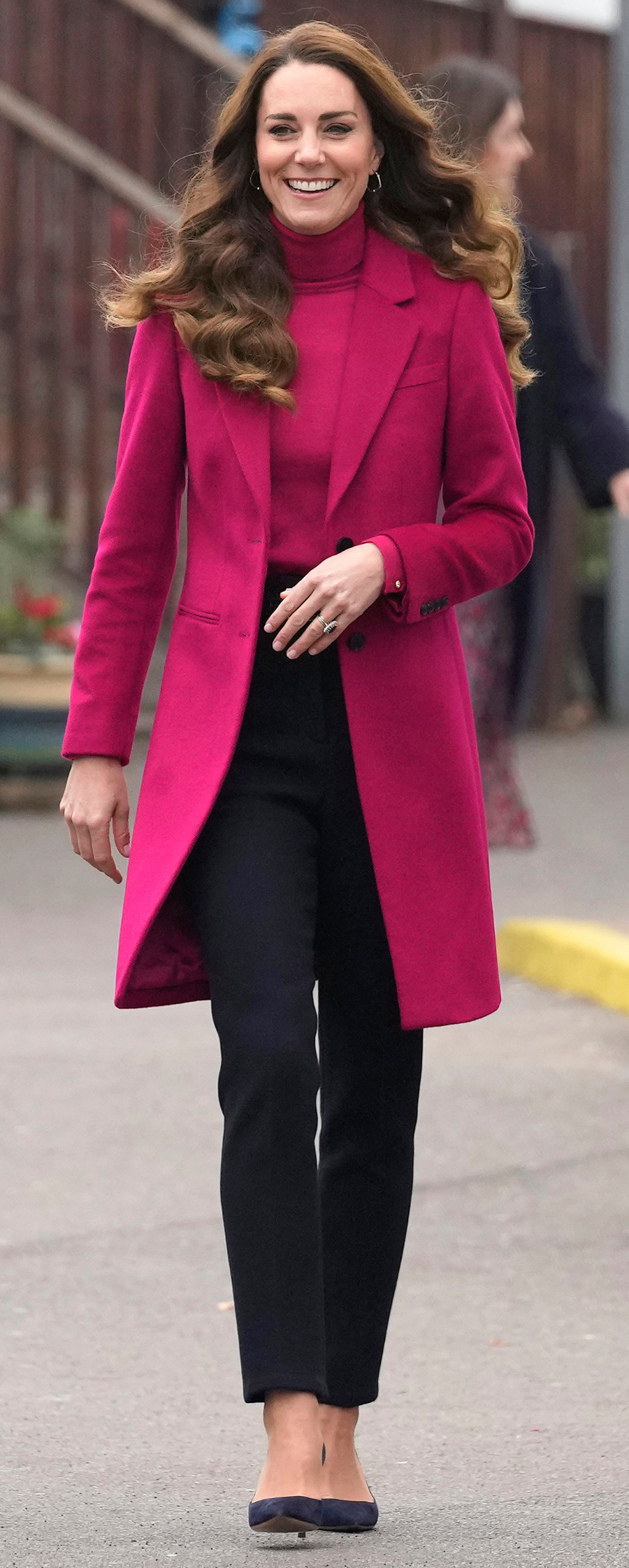 The pink coat is by Hobbs London. It's the London-based brand's Tilda style. (Thank you to Susan and Bojana for identifying the item quickly.) The smart coat features a notch lapel, welt pockets, seam detailing and contrasting black buttons. Hobbs describe the piece as "immaculately cut".
I'm sure Kate chose the coat for its eco-credentials (something she's been doing a lot of lately): it's made from brushed wool, a fibre that's naturally warm and biodegradable. Plus, the lining is partly made from recycled polyester which helps to reduce the amount of scrap fabric that ends up as landfill.
If you're hoping to buy the pink coat, you're in luck. At the time of writing, it's still available in most sizes (standard and petite) in the colour 'fuchsia' pink. At Hobbs London, the piece was £299 but currently retails for £224.25 in the Black Friday sale. On their US site, the coat is selling for $450 (was $600). (Other currencies are available, I just don't have time to check and list them all. Use the currency switcher on the top right of the website.) It's also available for the same price at Bloomingdale's and John Lewis.
Not a fan of pink? You might be interested to learn the coat comes in a rainbow of other colours too: pale blue, deep ochre, camel, red, fern green, black and navy…
Let's take a look at Kate's coordinating pink roll neck top now. It's also by Hobbs London. It's the Lara style in 'Granita Pink'.
Described by the company as "a foundation piece" that is "perfect for layering", the sweater is made from soft merino wool certified with the Responsible Wool Standard. The fine gauge knit sweater features a rib design throughout and gold-tone buttons on the sleeve cuff.
Again, if you're hoping to copy Kate's look and buy the pink roll-neck sweater, you're in luck! At the time of writing, the piece is still available to buy on the UK website for £56.25 (was £75) and on the USA website for $120 (was $160). (As above, other currencies are available too.) You'll also find the sweater at Bloomingdale's and John Lewis for the same price.
Like the coat, the sweater also comes in a myriad of colours. Choose from chocolate, black, ivory, khaki, grey, camel and burgundy.
Kate's trousers are still a mystery to us fashion bloggers. We've not managed to ID them yet. I believe she first wore them last month to visit the Imperial War Museum in London. She also wore the same blue mystery belt on both occasions.
I can identify Kate's suede heels. They are by Gianvito Rossi. They're the 'Gianvito 85' style in 'Midnight Blue'. They're quite a recent addition to Kate's shoe closet—she's only worn them on one other public engagement so far.
The Gianvito 85 heels feature a pointed toe, a leather insole and a mid-size (85mm) stiletto heel. They were crafted in Italy.
The shoes are currently available to buy: they're in stock at Net-A-Porter.com. They retail for £510 in the UK and $675 in the USA.
I believe Kate also own the style in three other colours: Dark Olive, Praline and Texas Brown.
Kate finished the look with a pair of 9ct gold and diamond hoop earrings. They're by Daniella Draper, the Luxury Maxi Cupid Hoop style. (Note, in an earlier version of this post, I listed Kate's earrings as the gold hoops by Liv Thirlwell—I was incorrect.)
The earrings are made from recycled yellow gold and feature three diamonds on each hoop: two that are round brilliant-cut style and one baguette. The diamonds total 0.65cts.