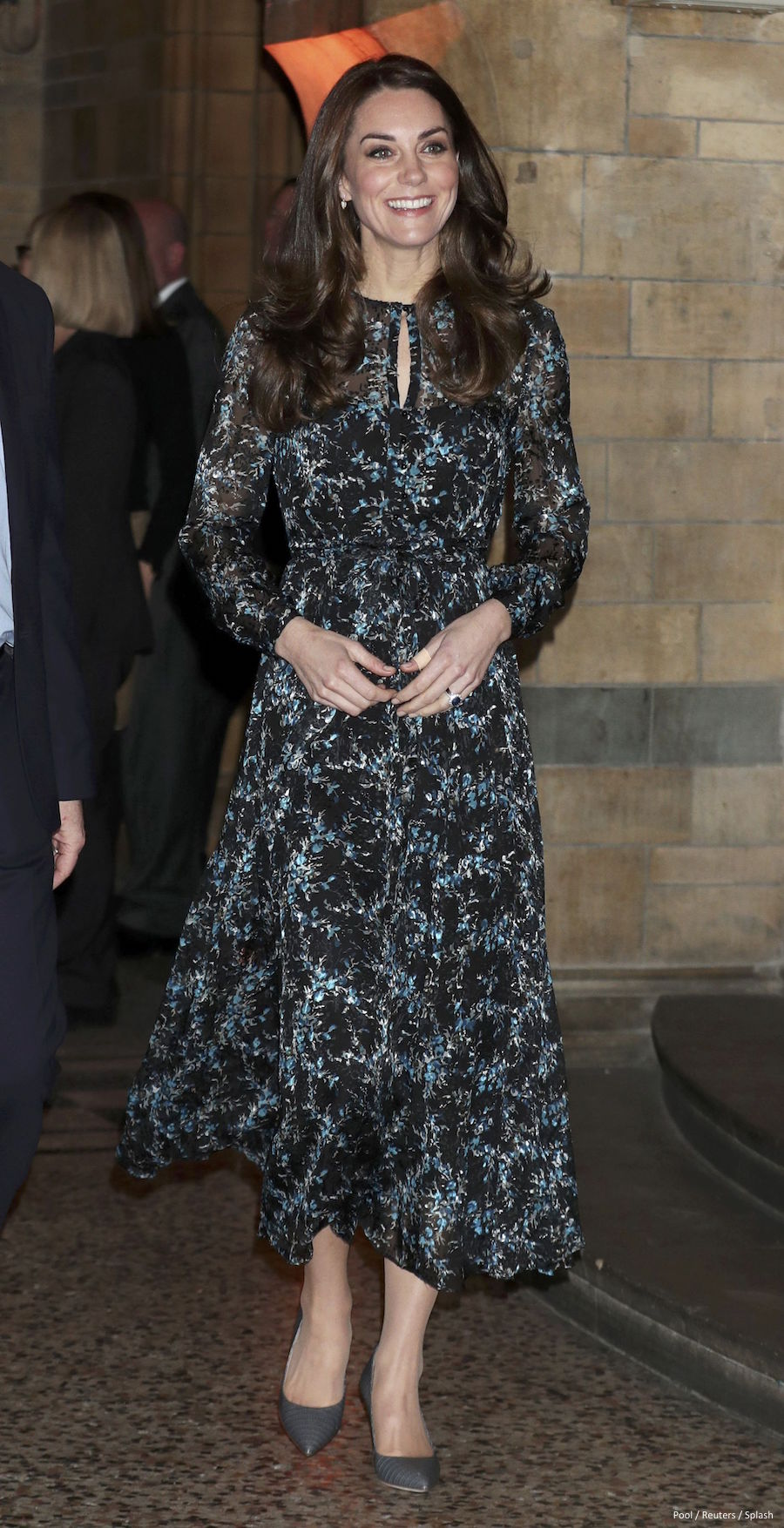 This afternoon, Kate attended a farewell ceremony for 'Dippy the Diplodocus' at the Natural History Museum in London.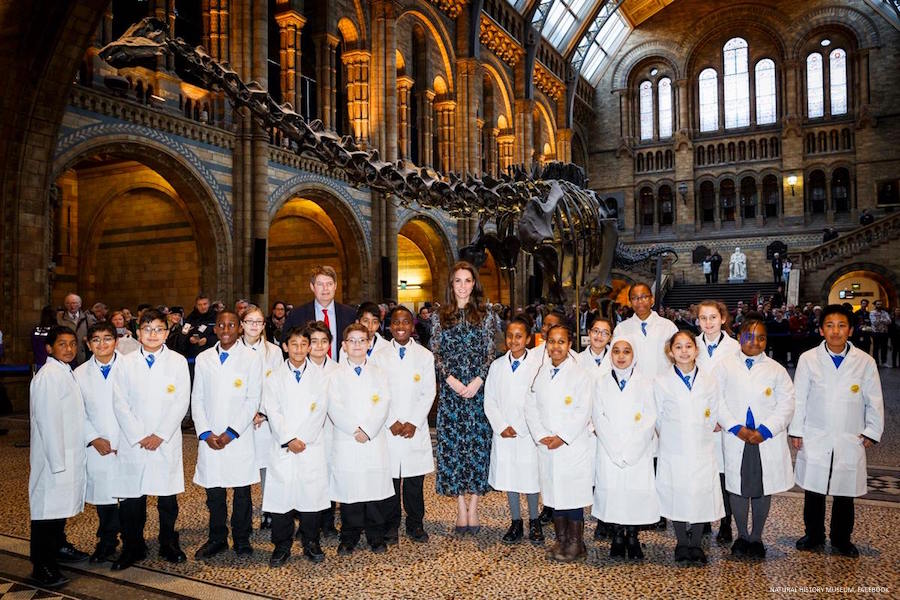 Dippy is the famous 21.3 metre long plaster cast of a diplodocus skeleton that has been on public display at the museum for the last 100 years. In January 2017, he'll be dismantled by conservators before going on tour for two years. He'll visit museums and art galleries across the UK between 2018 and 2010.

A group of London-based schoolchildren attended the farewell ceremony at the museum. Together, Kate and the children took part in an arts and crafts session, chatting as they painted dinosaur eggs.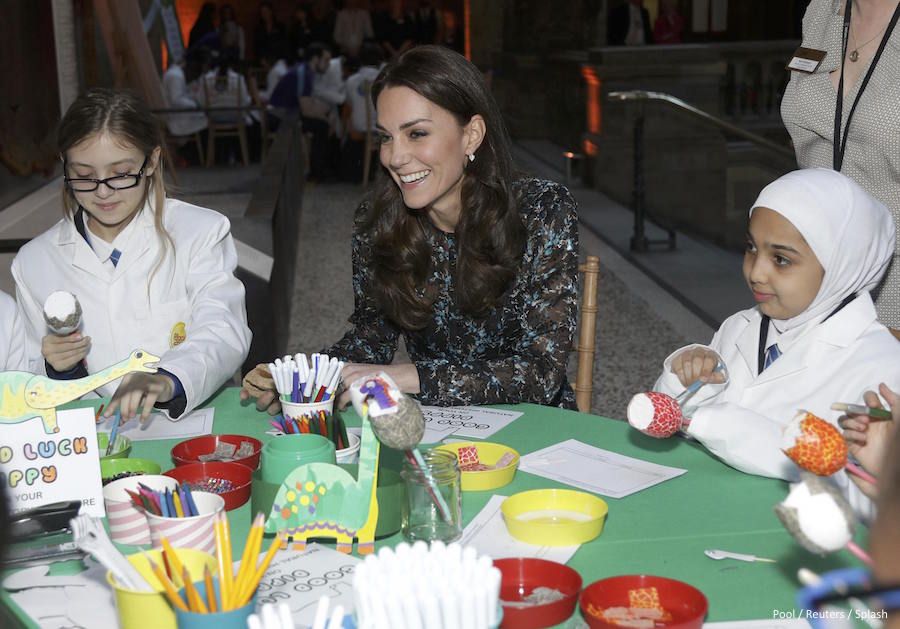 The Duchess helped the children cut into a celebratory dinosaur-shaped cake too!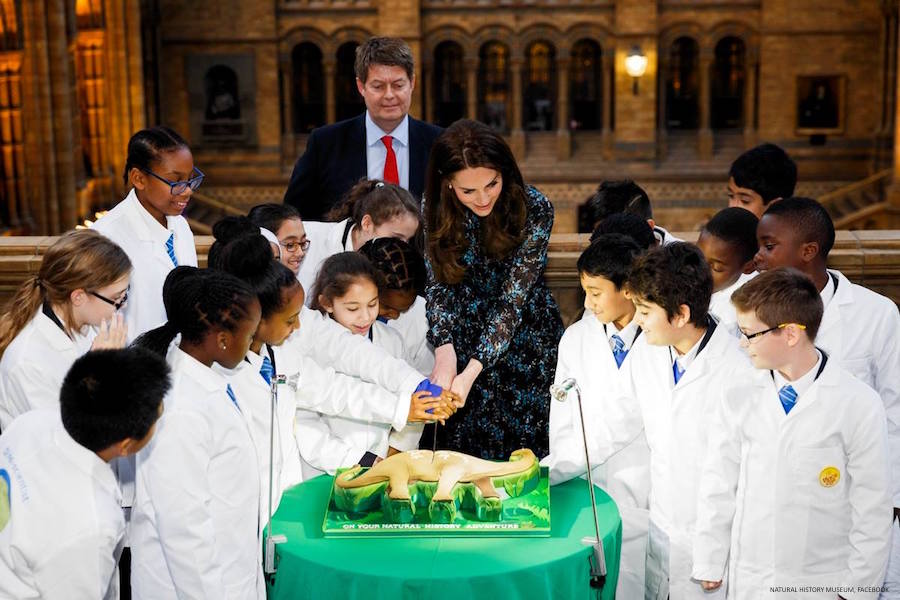 Kate quizzed the children on their favourite dinosaurs before revealing that Prince George loves the T-Rex "because it's the noisiest and the scariest" dinosaur.
The museum visit was in association with Place2Be, the children's mental health charity of which Kate is Patron.
Kate's outfit:
Kate chose a couple of new pieces for today's museum visit. She wore a black and green silk dress by L.K. Bennett.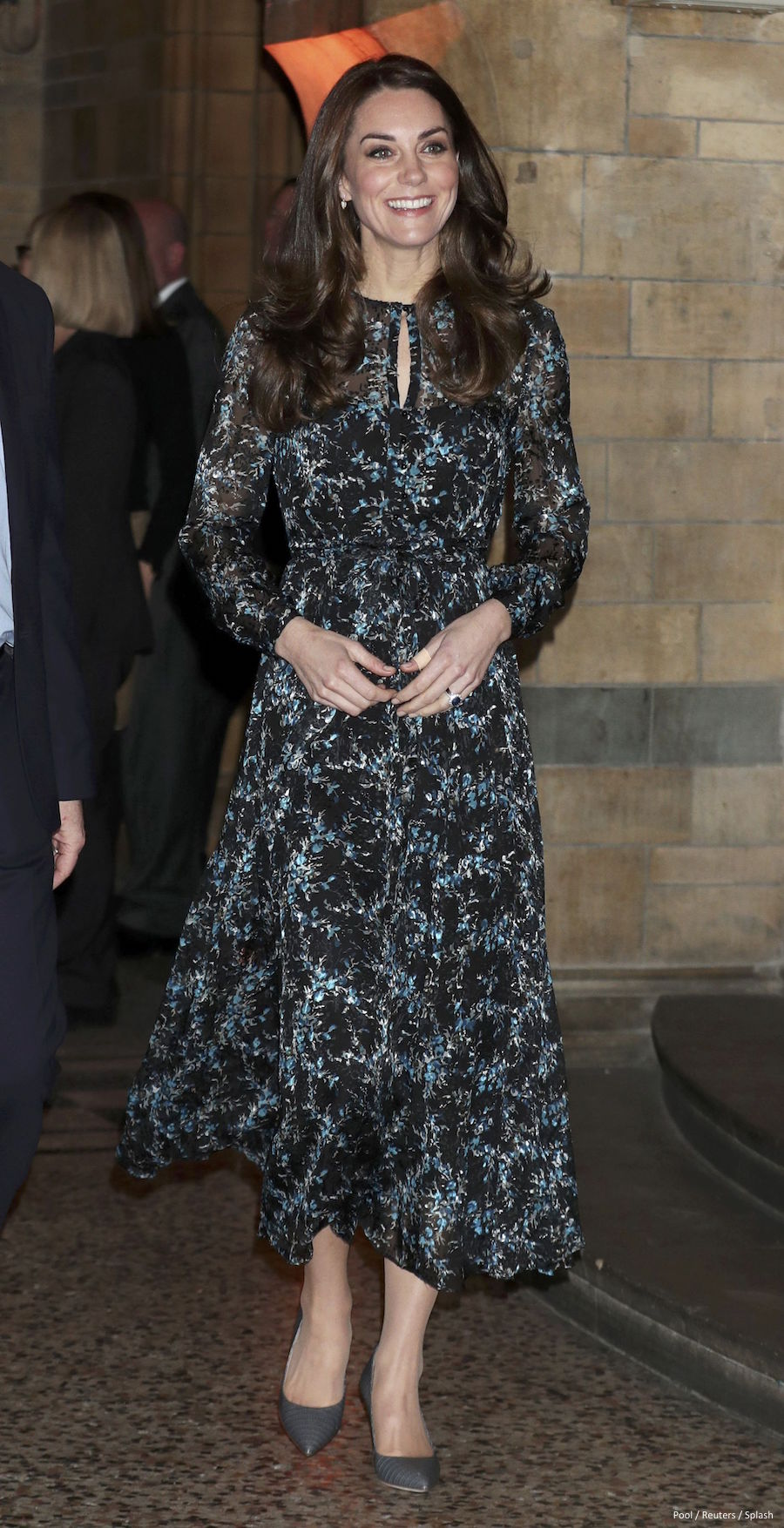 It's the company's Cersei Evergreen Silk Dress. It's crafted from luxe chiffon and features a textured velvet print.
L.K. Bennett calls the dress an "ethereal evening option."  It features a high neckline, long sheer sleeves and an ankle-grazing hem.  Here's a closer look at the blue, black and white print: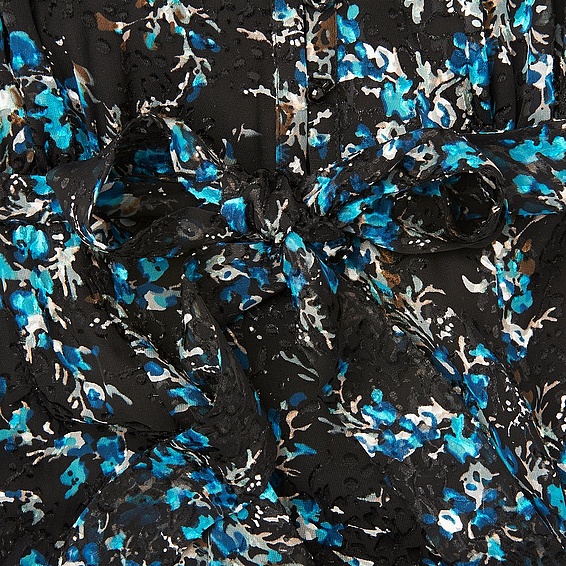 The dress is still available to buy at L.K. Bennett UK/International and John Lewis for £375. However, very few sizes remain in stock at both retailers.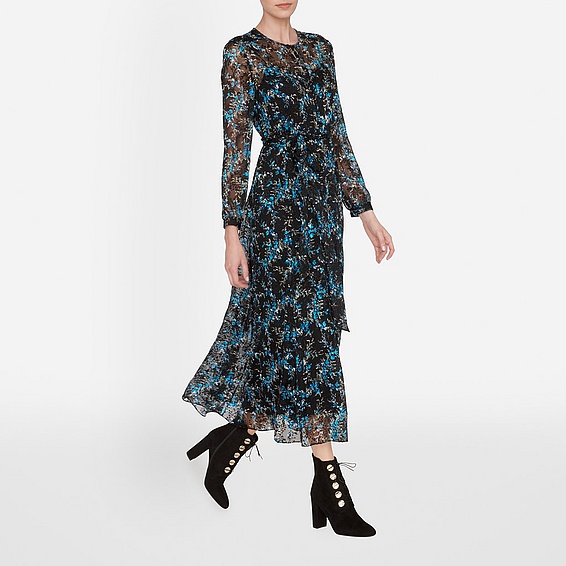 The US/Canadian arm of the brand does not have the dress on their site.  If past experience is to go by, they'll add it to their inventory soon.  They do have a couple of similar dresses in other prints available, though.

L.K. Bennett has sold a number of similar styles in the past that Kate has purchased and worn. (See the Addison and Madison dresses, for example).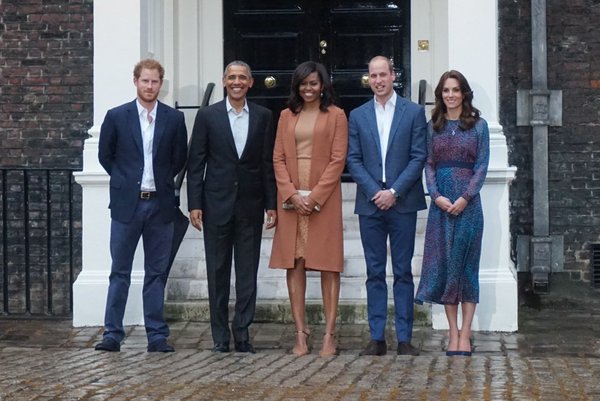 If you're not really a dress kinda gal, L.K. Bennett also sells a Cersei-style skirt for £335. It's stocked at House of Fraser and John Lewis.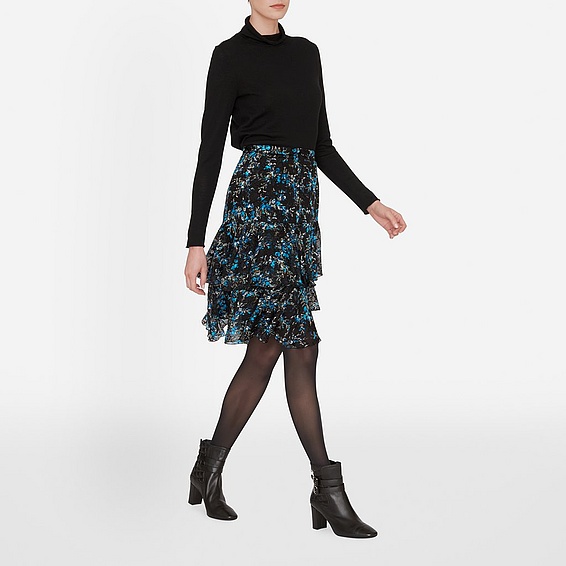 Kate brought back a familiar pair of earrings for the afternoon engagement. Her gold and diamond leaf-shaped Lauren earrings by Kiki McDonough.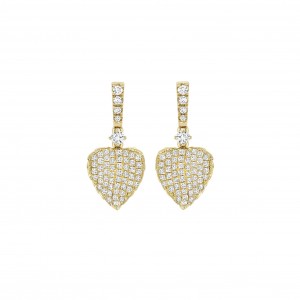 Kate debuted a new pair of heels (new to us following her style, at least).  They're Hugo Boss's Staple P90-L pumps in anthracite grey.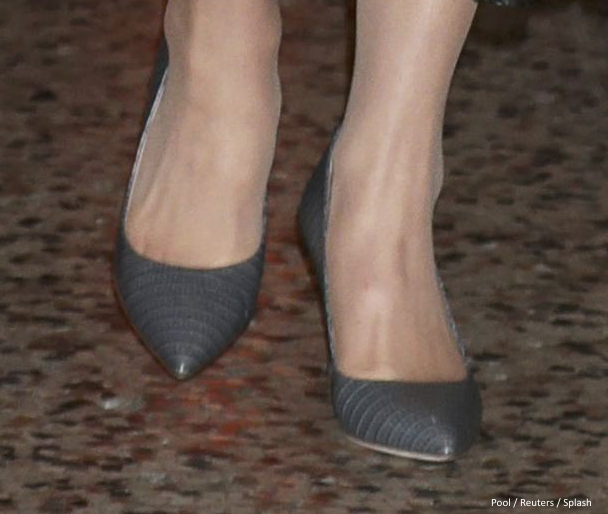 The embossed leather shoes have a 9cm heel. They're described by Hugo Boss as "beautiful women's shoes that give feminine outfits a certain 'je ne sais quoi'."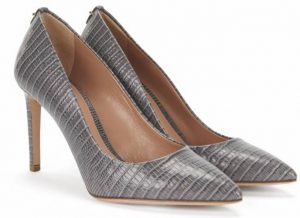 The shoes feature a pointed toe and a Hugo Boss branded "bar-shaped ornament" on the heel, as pictured below.  They retailed for £315. (That's around $390 USD).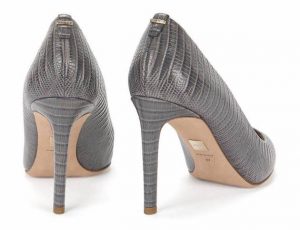 Sadly, the grey heels are no longer available for purchase. However, you can still buy the shoes in both pink and light grey: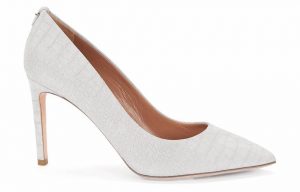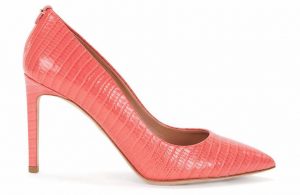 Plus, they're available suede:

Thank you to both CCile and Gabriella for finding the shoes and sharing with the community. 
If you're looking for an inexpensive "repliKate", consider this pair from Mango. They're only £24 / $55.99.  (Oh, and check out the email newsletter box in the website's footer.  You can sign up for an extra 15% off.)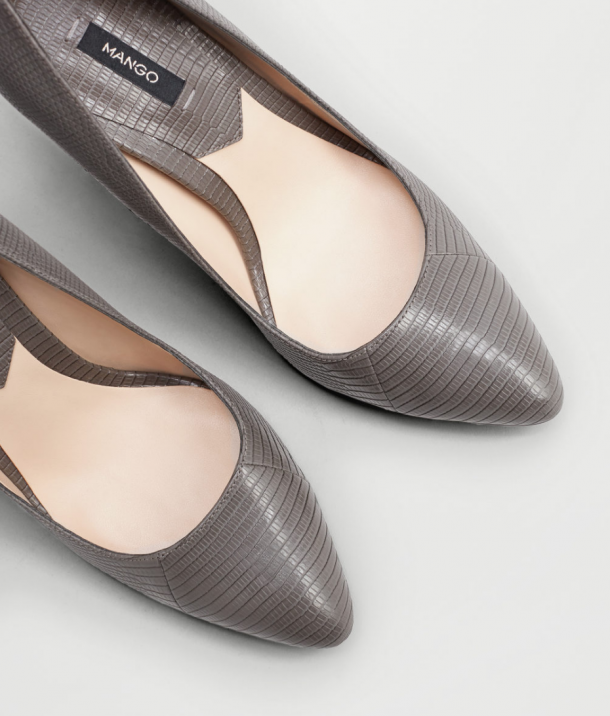 That's all for now. I'll have a second post up about Kate's attendance at the Place2Be Wellbeing in School awards later.  (It's very late here in the UK).  I will just add that she wore a black evening gown by Preen.