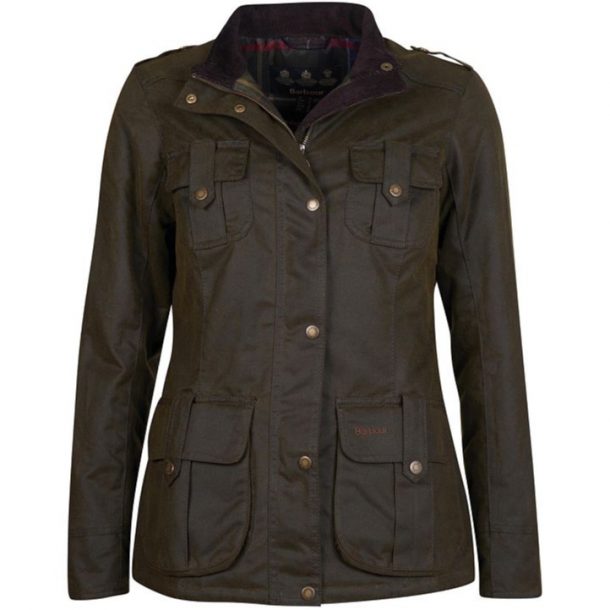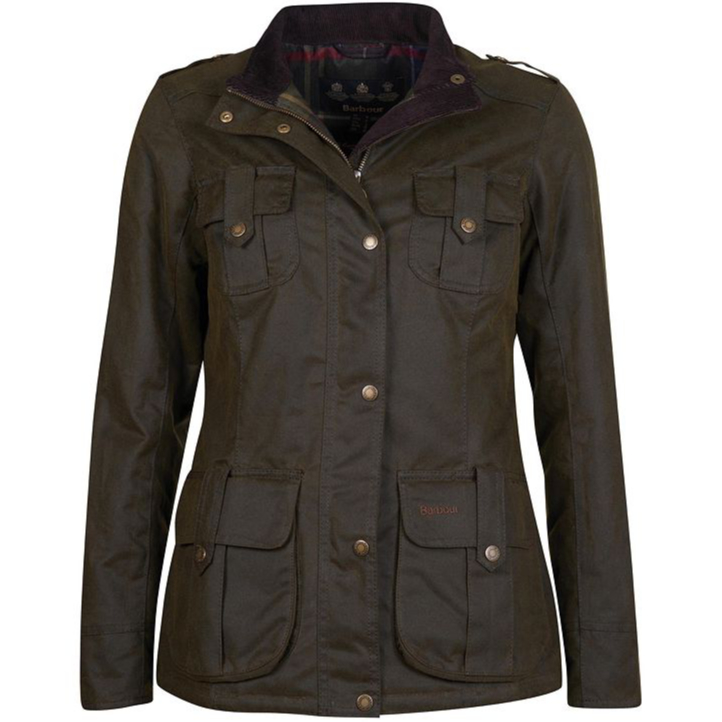 Kate Middleton owns the Barbour Defence Jacket in Olive Green.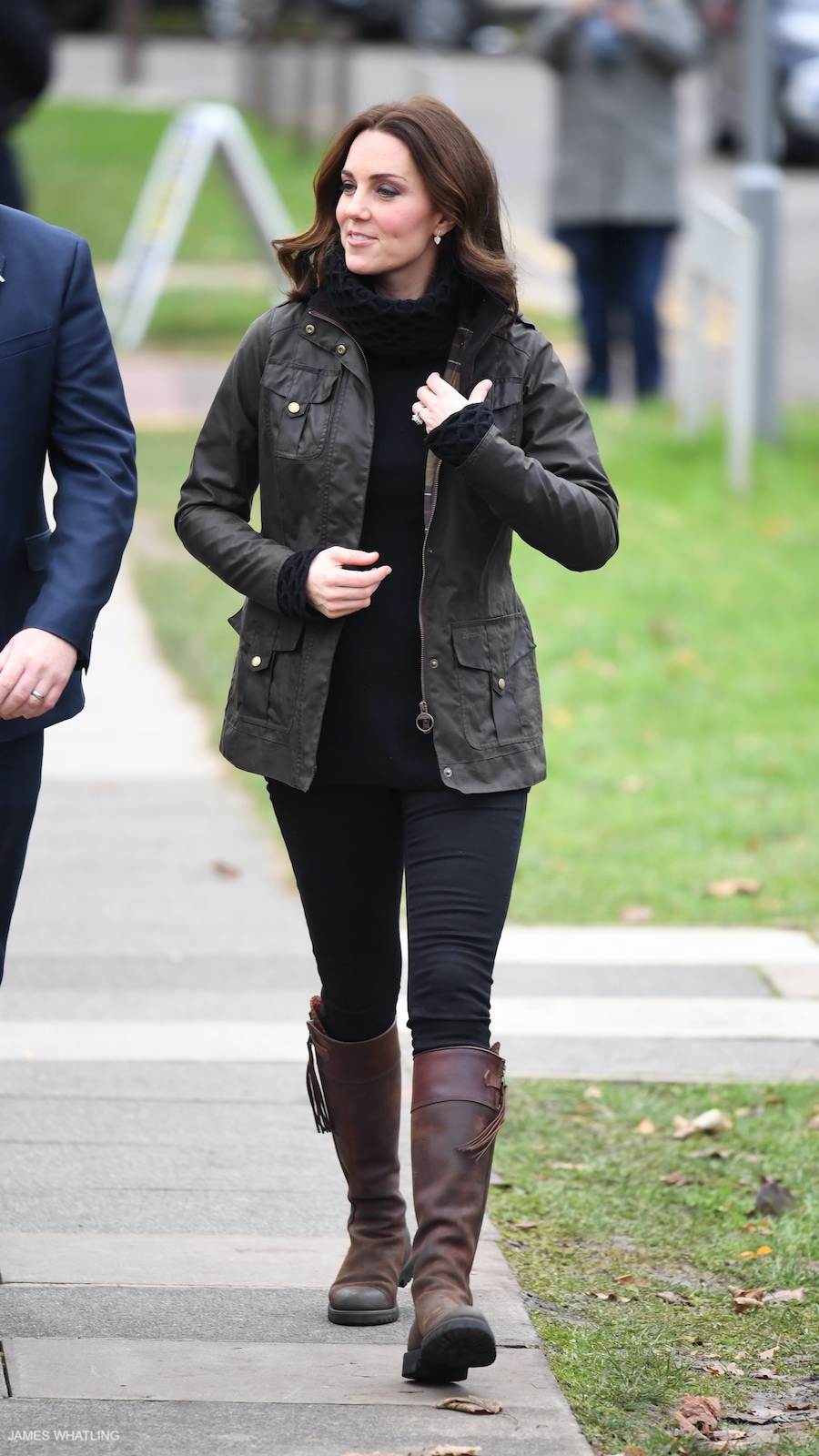 This hardworking Barbour jacket has been in Kate's wardrobe since at least 2012.
We've spotted the Duchess wearing the wax coat on public engagements and while enjoying her downtime. From leisurely strolls through Kensington Gardens to launching outdoorsy campaigns during her life as a working royal.
We first spotted Kate wearing the jacket in spring 2012, during a dog walk in Palace gardens. Nearly a decade on, she chose it for a public engagement (a farm visit in February 2020). This shows the classic country-style wax jacket is durable and long-lasting.
Which Barbour jacket does Kate wear?
Kate's wearing the olive-coloured Barbour Defence wax jacket in the pictures on this page.
About Kate's Barbour Defence Wax Jacket:
The olive-coloured wax jacket is one of Barbour's signature styles. The coat is crafted from cotton and features four front pockets, a stand collar and front zipper closure with button overlay. It's been treated with a water-resistant finish.
Buying Kate's jacket:
The original Defence jacket (worn by Kate) is long sold out. A few years ago, Barbour updated the iconic piece and gave it a new name. It is now called the "Winter Defence Jacket". In essence, it is the same as its predecessor. It's just cut from a heavier-weight fabric and comes with a warmer lining. It can still be purchased through a number of retailers including Barbour.com and Nordstrom.com.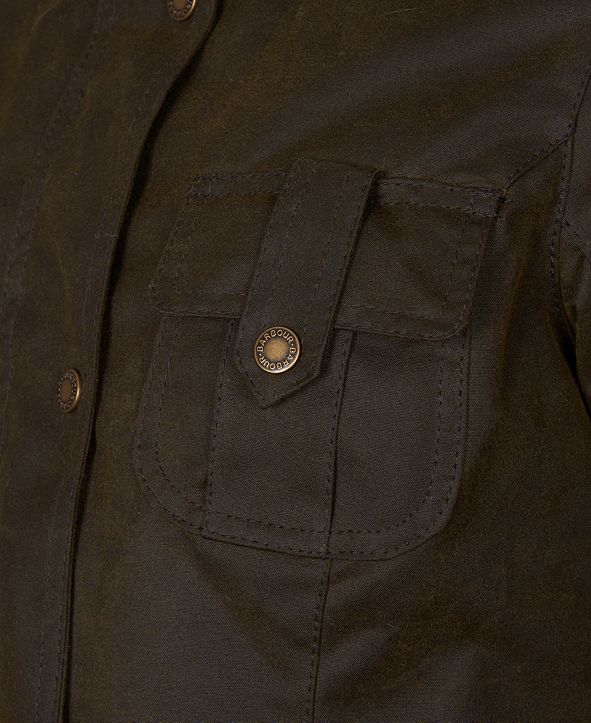 Kate Middleton's Barbour jackets:
As far as we know, Kate owns THREE Barbour jackets. (She could own more, but we've seen her wear three in public to date.)
In addition to the Barbour Defence jacket, Kate owns the 'Edith' style (left) and the 'Longshore' style (right):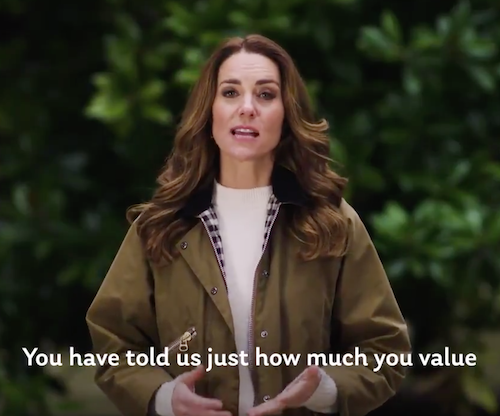 The Edith jacket is from the brand's collaboration with Alexa Chung. Kate first wore it in 2020.
We first spotted Kate in the blue padded Longshore jacket in 2019 and she's worn it to a handful of engagements since.
About Barbour:
Barbour is synonymous with the Great British outdoors. The company has been active for over 100 years and still manufactures their wax jackets in their factory in the North East of England. The company hold three Royal warrants.