Kate Middleton owns the Mulberry Bayswater wallet clutch in three different colours: black suede, buttercream suede and conker suede.
We've seen the Princess with the black Bayswater at 60+ public engagements, making it her most-carried bag to date. She's owned the black version of the bag for nearly a decade.
About the Mulberry Bayswater Clutch bag:
This elegant clutch bag has an embossed gold-tone turn-key closure at the front. On the back, there's a patch pocket for carrying cards or ID. The shoulder strap is made from woven leather and chain, which can be removed.
Here's how Mulberry described the bag on their website –
The Bayswater Clutch Wallet combines an ultra-slim clutch with the versatility of a classic wallet. Inside there is a compact but carefully-organised space, with slip and zip pockets and slots for cards, cash, tickets and receipts. The chain strap can be tucked inside for an understated, slim-line clutch.
Where to buy Kate's clutch bag:
Sadly, the Bayswater clutch bag is sold out at Mulberry.com.
The company have one listed in the pre-loved section of their website at the time of writing.
Otherwise, try the designer resale site, Vestiaire.
MULBERRY BAYSWATER WALLET ALTERNATIVES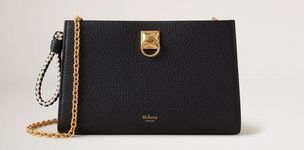 MULBERRY
Iris Wallet In Black
Click to buy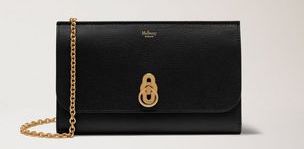 MULBERRY
Amberley Clutch In Black
Click to buy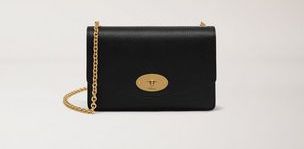 MULBERRY
Small Darley Bag In Black
Click to buy
Kate Middleton and Mulberry:
It's fair to say Kate Middleton is a Mulberry fan. She's worn the brand frequently over the last decade. she owns coats, dresses and bags from the company.
In 2012, Kate Middleton attended a press reception wearing a Mulberry dress. At the time, she told journalists that she didn't realise Mulberry sold clothes in addition to their famous handbags until that point. Since making the discovery, the Princess has worn lots of outfits from the British luxury brand.
Kate chose a mint green coat for a Scouting event at Windsor Castle in 2013, a bright pink coat for engagements in South London and a midnight blue dress while on the 2012 Jubilee tour in Marau, and more.
She also owns a bunch of Mulberry bags, including Polly Push lock bag, which she carried during the 2011 North America tour, the Mini Seaton in black, Amberley clutch in dark blush, the Amberley crossbody in white and the Amberley crossbody in black croc.