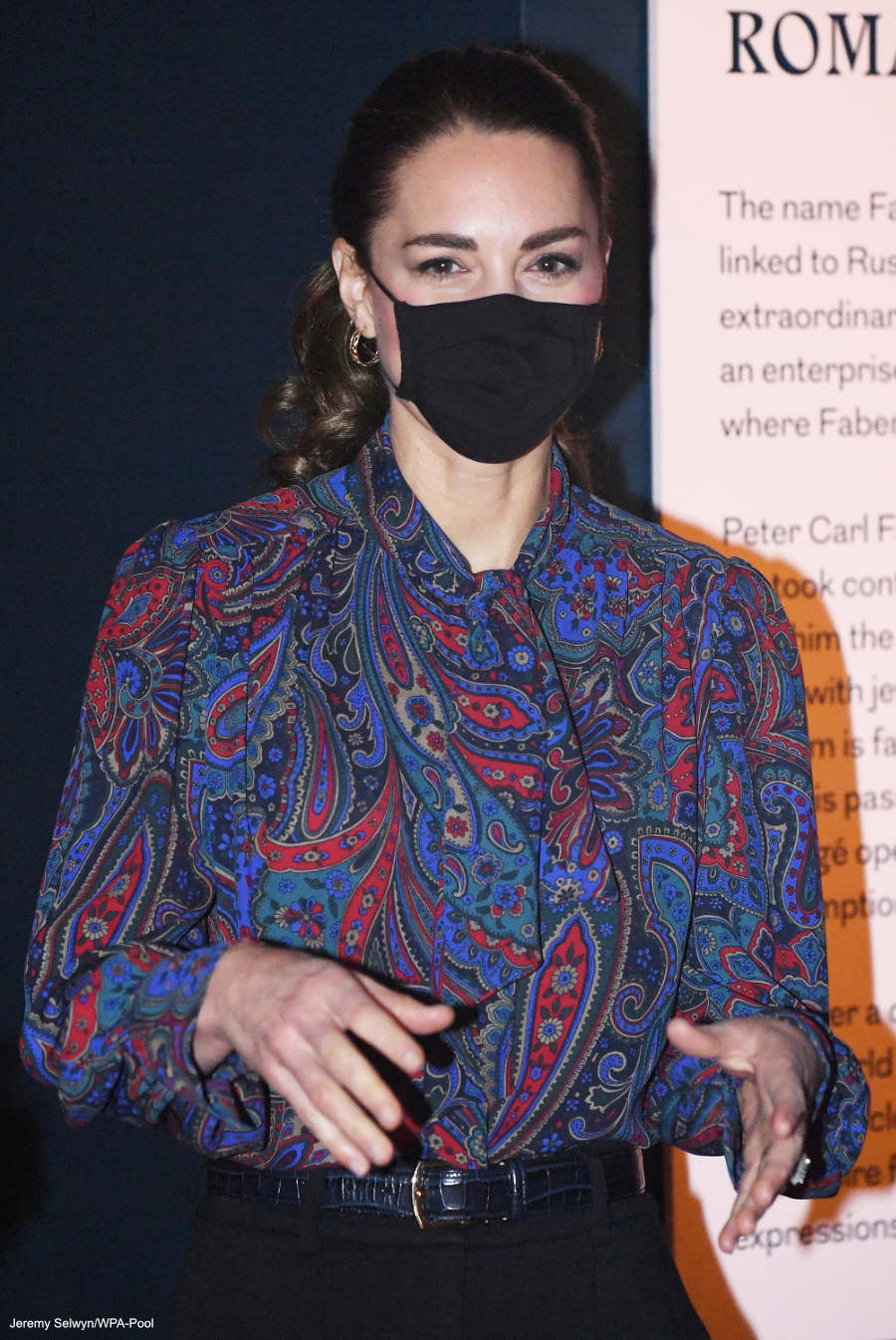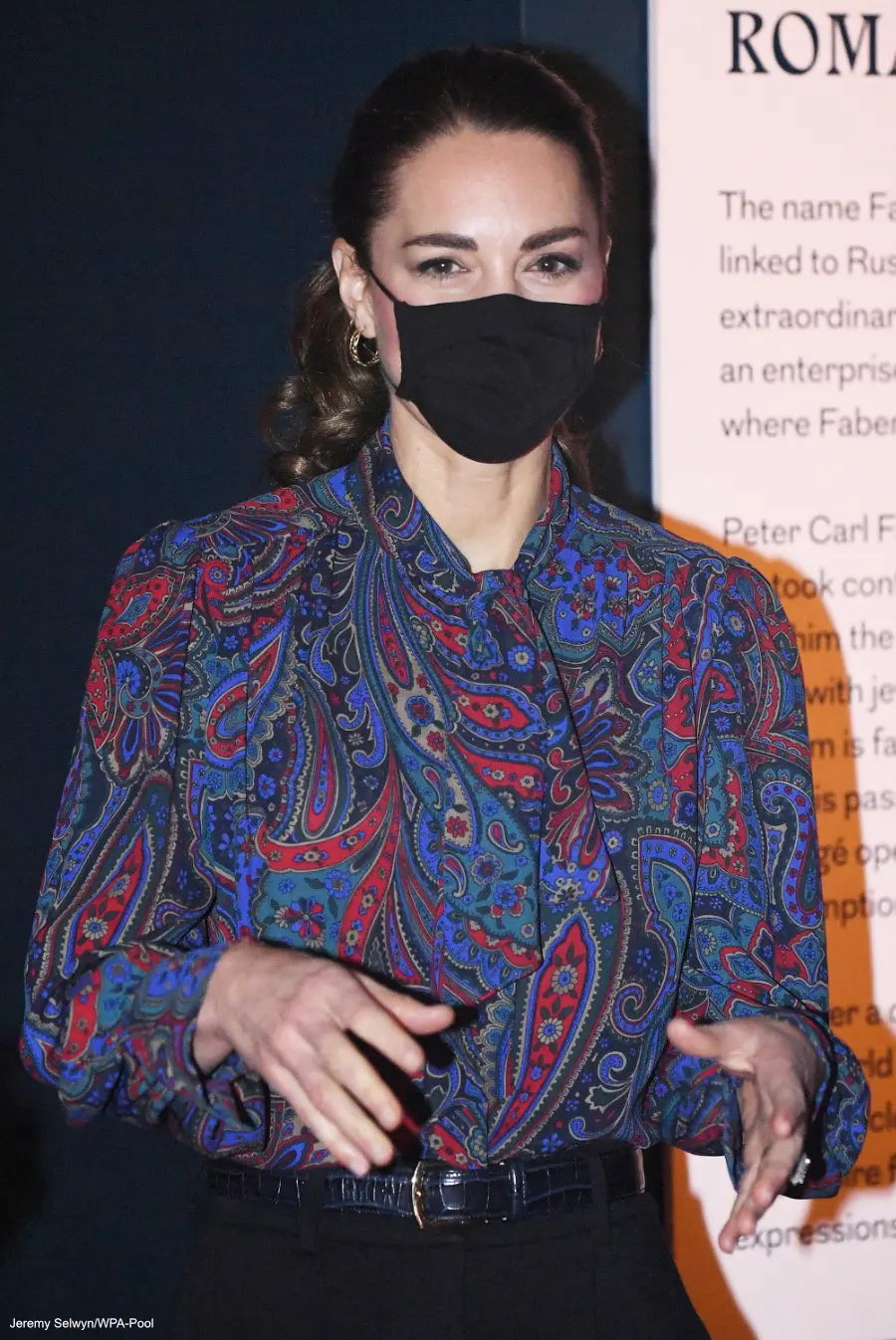 2nd of December 2021— Kate Middleton visited the Fabergé egg exhibition at the Victoria and Albert Museum in London.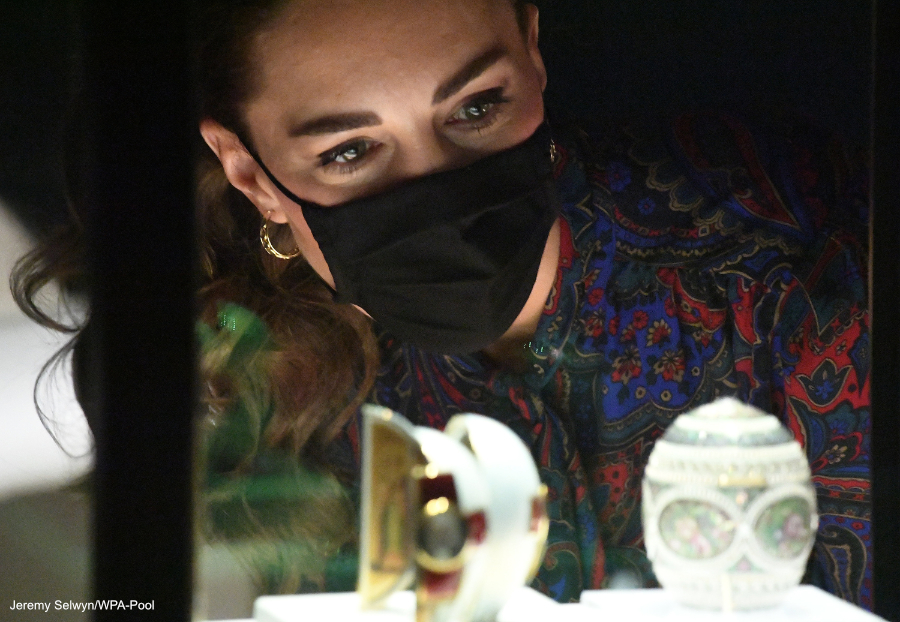 The exhibition features over 200+ items designed by or relating to master goldsmith Carl Fabergé, the infamous Russian jeweller. Fabergé was best-known for creating intricate and elaborate eggs, decorated with precious metals and adorned with jewels.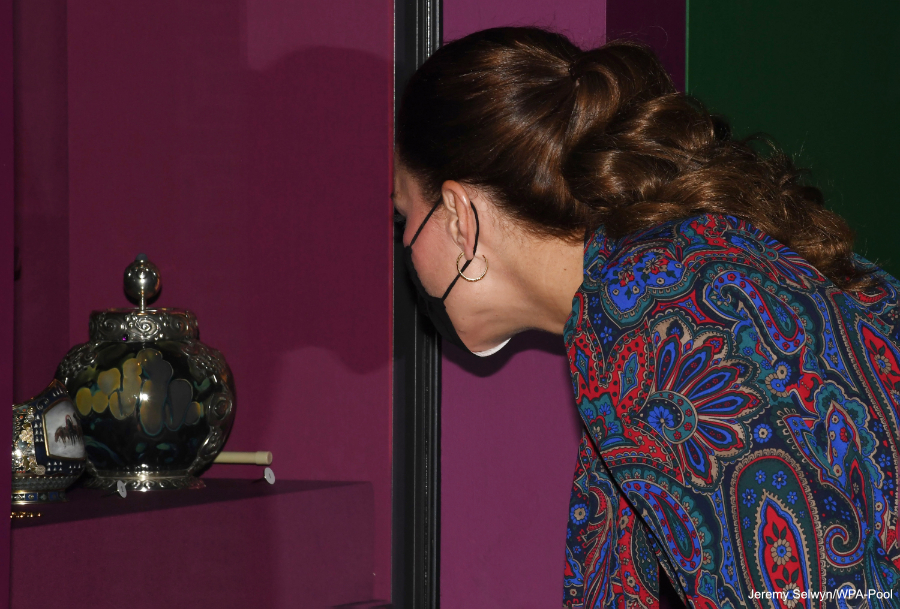 Showcasing over 200 objects across three main sections, the exhibition tells the story of Carl Fabergé and his internationally recognised firm that symbolised Russian craftsmanship and elegance – an association further strengthened by its connection to the romance, glamour and tragedy of the Russian Imperial family.

VAM.ac.uk
Of course, the V&A included many of Fabergé's eggs in the exhibition.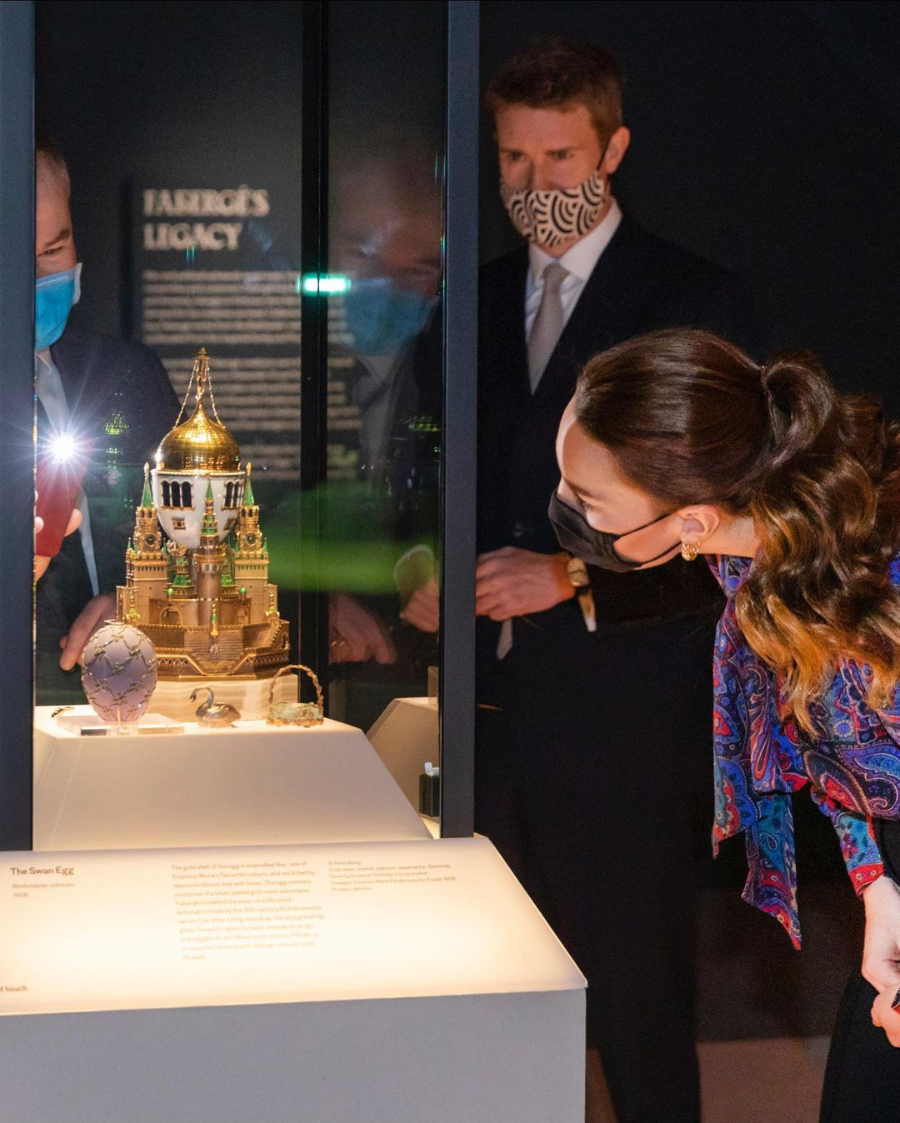 Here's Kate, who studied History of Art at university, taking a closer look: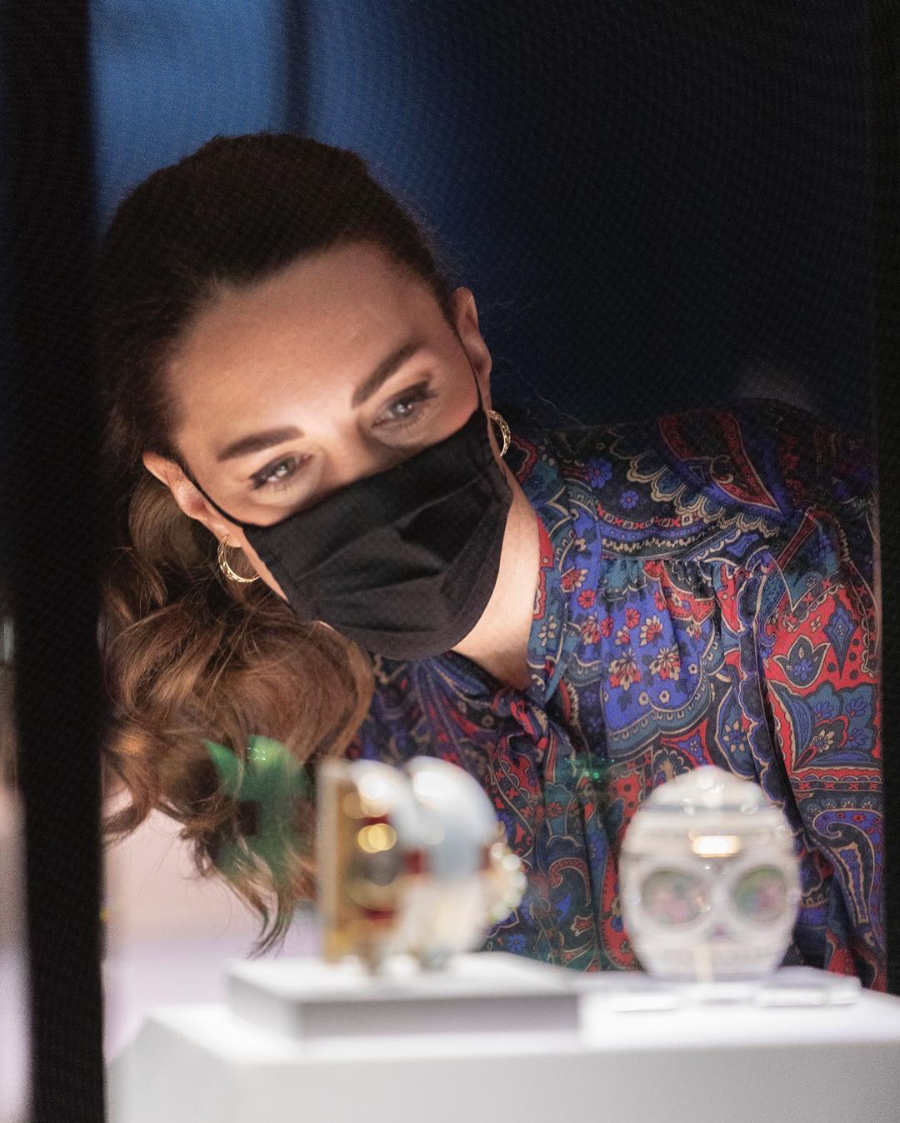 She learnt about the time and skill that went into making many of the pieces.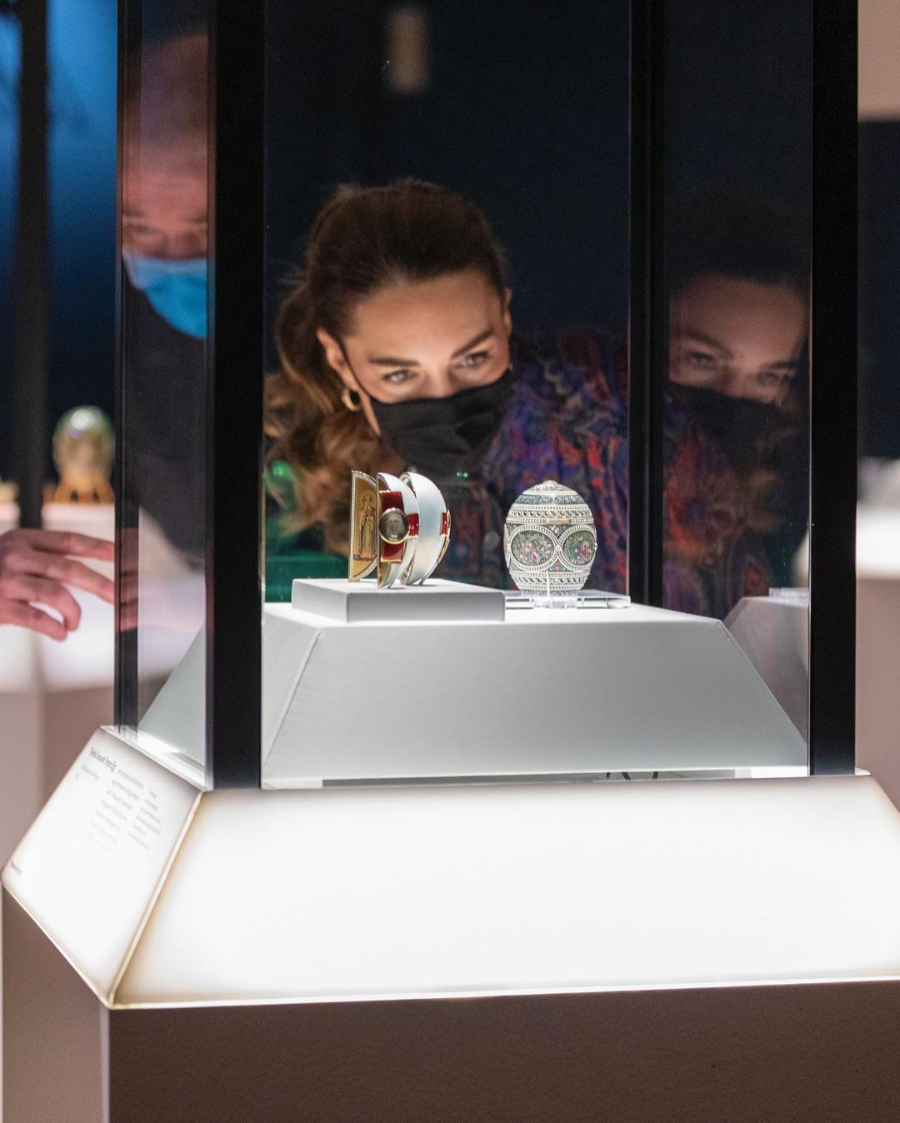 A look at one of those elaborate Easter Eggs: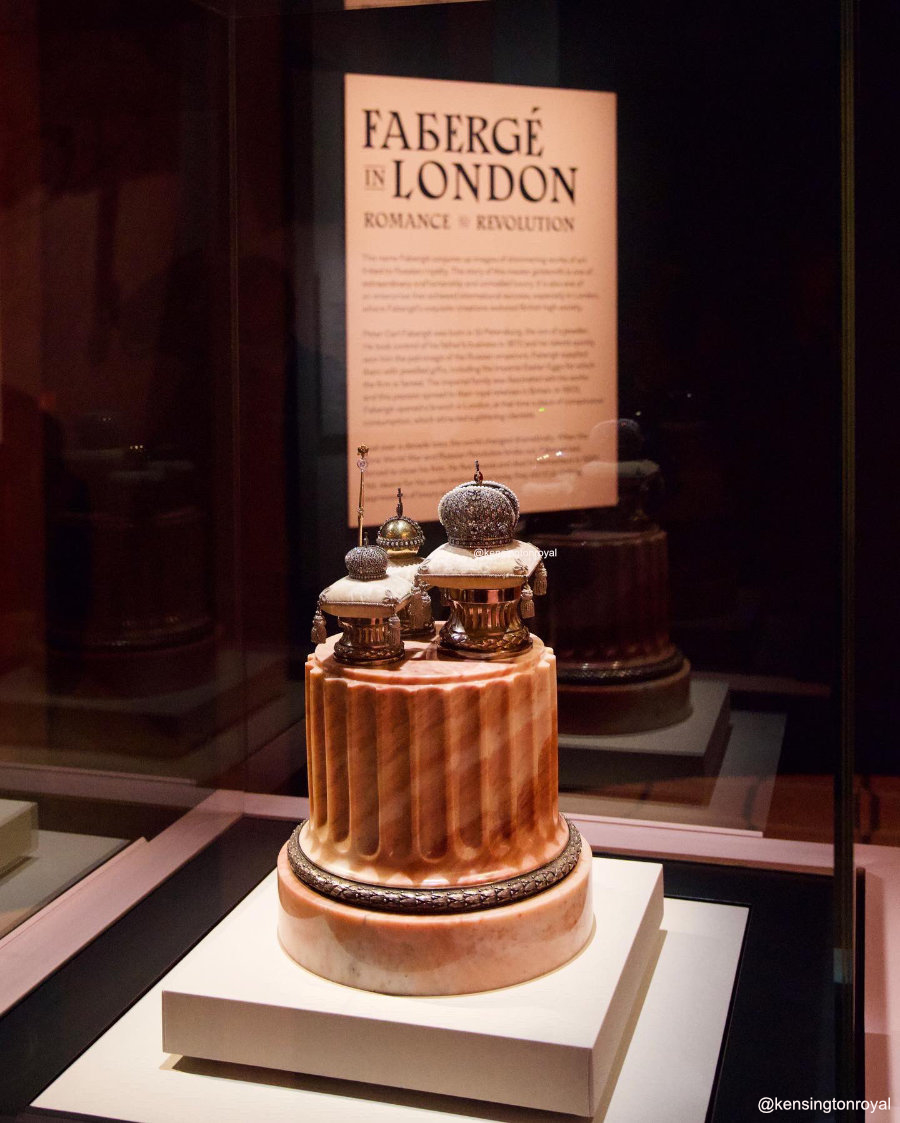 According to the V&A, this is the largest display of Fabergé eggs in a generation. Several of the eggs are being shown in the UK for the first time.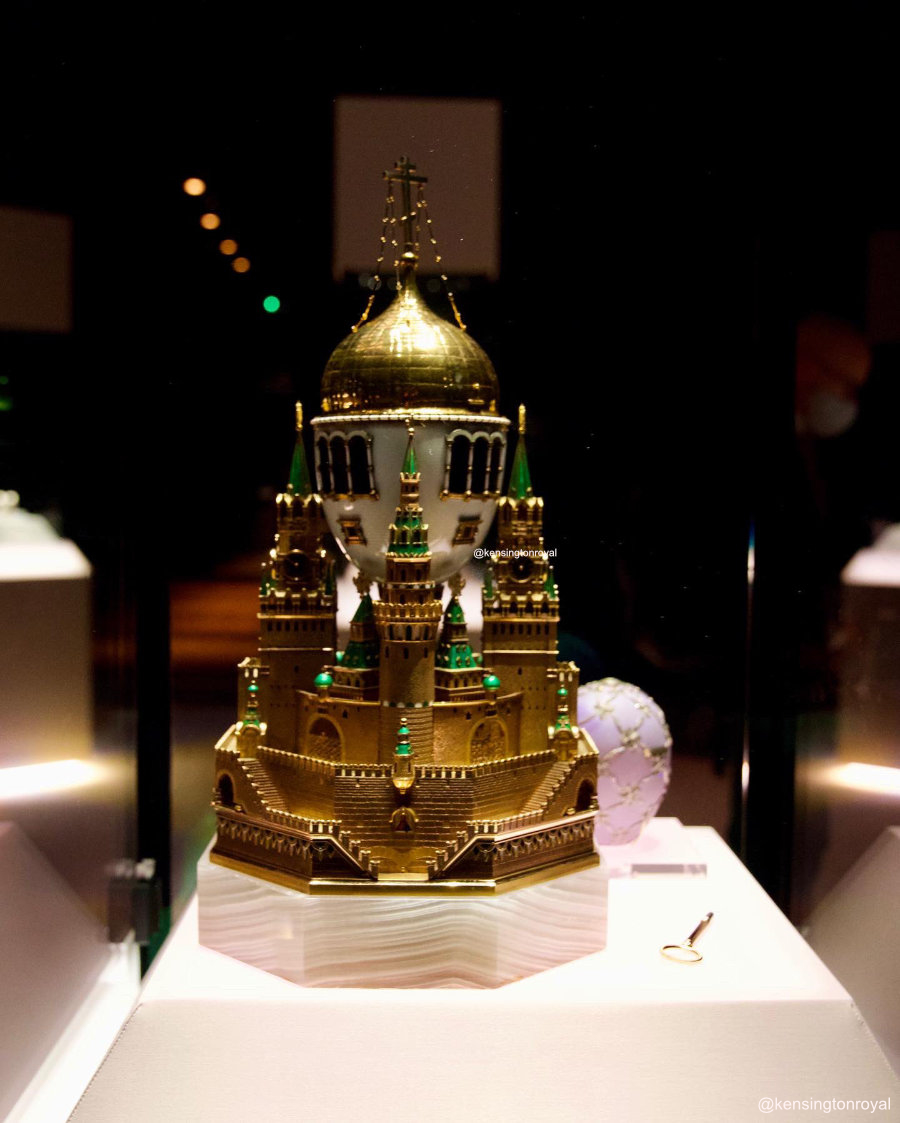 The Queen has loaned three eggs to the museum's exhibition: the Colonnade Egg, Basket of Flowers Egg and the Mosaic Egg.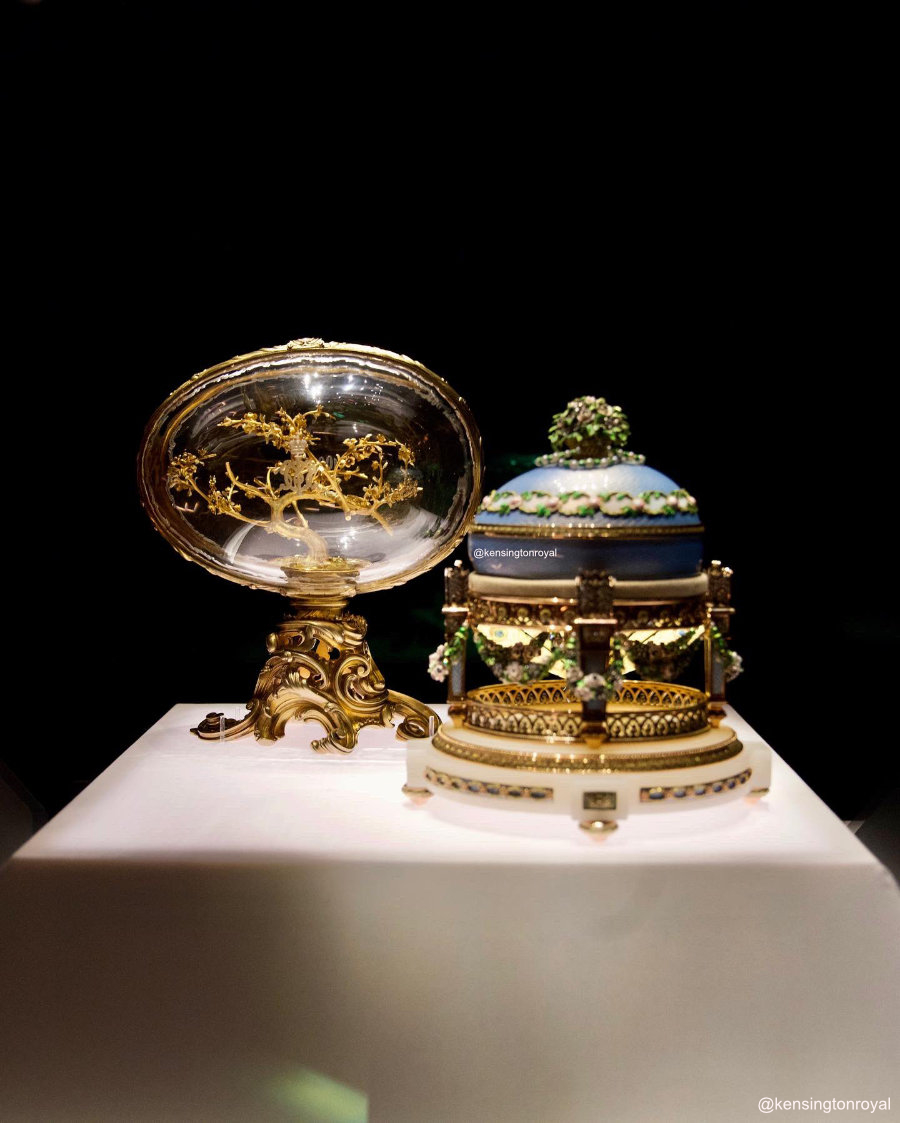 Kate looking at two of The Queen's Fabergé eggs: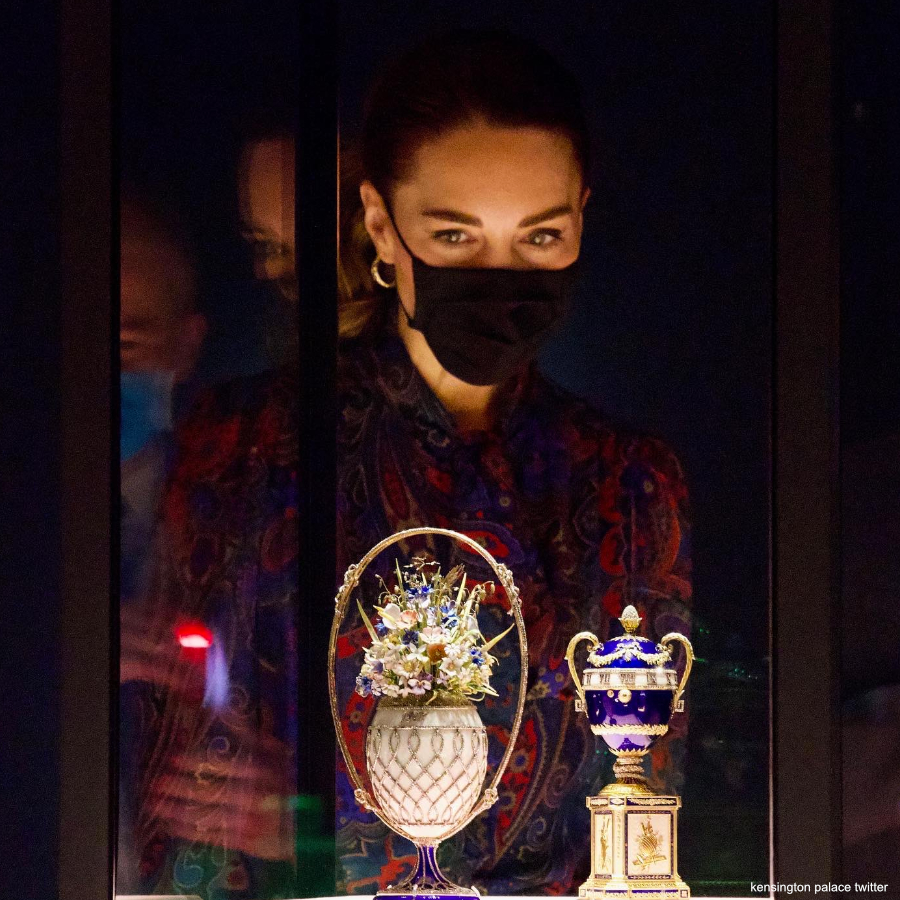 You'll notice the Duchess is wearing a black face mask in all of the photos. Once again, face coverings are now required in a number of settings in the UK. The new mandate came into play earlier in the week following the discovery of a new coronavirus variant.
Video footage of Kate touring the exhibition:
The exhibition, titled Inside the Fabergé in London: Romance to Revolution, is on now until the 8th of May 2022.
Kate is Patron of the Victoria and Albert Museum. She's attended a handful of engagements at their London location over the years.
From left to right: Kate wearing a red and black Alessandra Rich dress to view the museum's Alice in Wonderland exhibition in May 2021. Kate in a tweed Erdem dress at the opening of the Photography Centre in 2018. Kate wearing a Gucci tweed mini dress to open the Museum's Exhibition Road Quarter in 2017.
Kate's outfit:
For the visit to the Fabergé exhibition, the Duchess wore a paisley print tie-neck blouse tucked into navy wide-legged trousers. The pieces are from Ralph Lauren and Jigsaw respectively. To start, let's take a closer look at the blouse: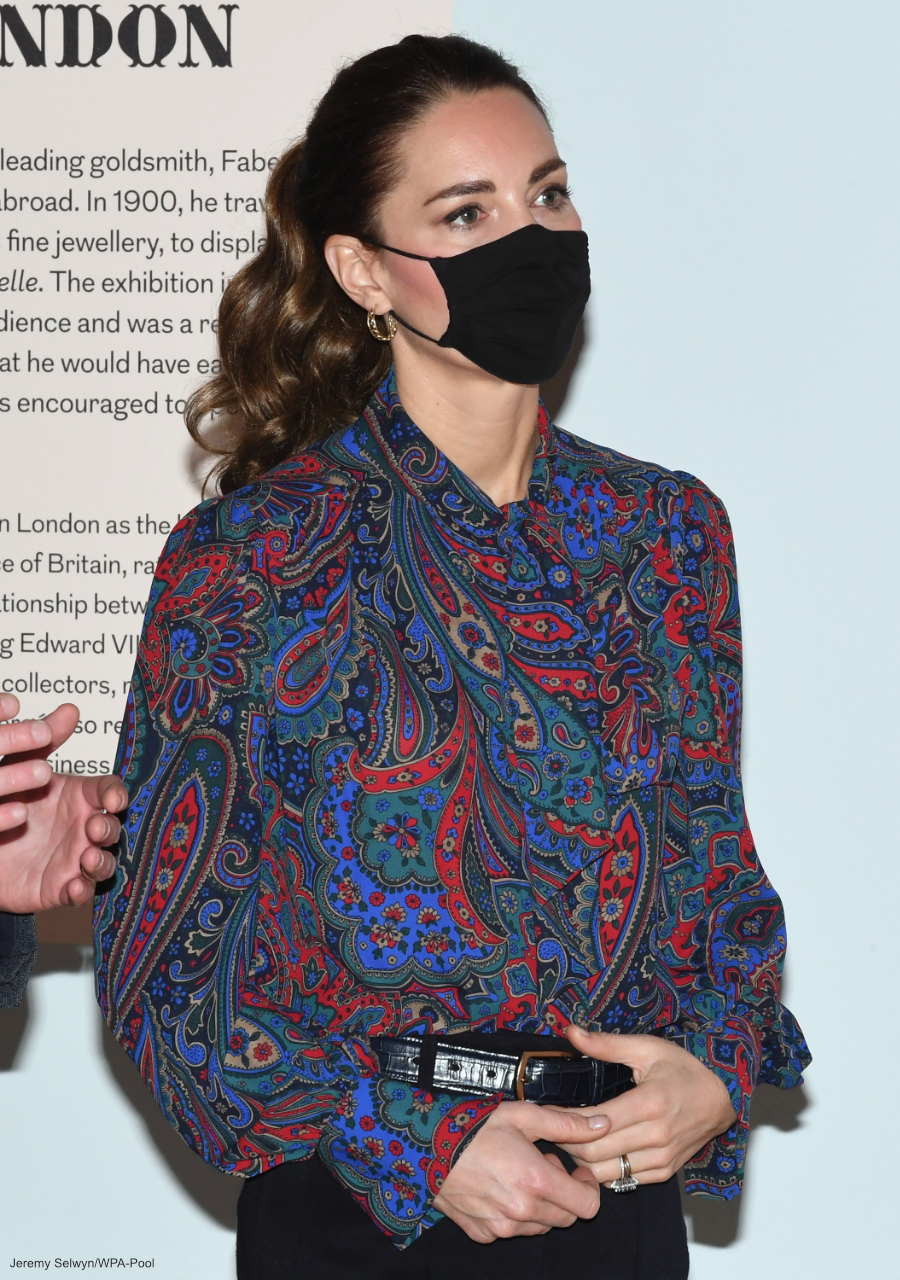 Look at that eye-catching print! It features paisley and floral motifs in a mixture of rich red, green, brown and blue tones. The piece is shirred in various places and features buttoned cuffed sleeves. It is finished with a pussy-bow necktie.
It's from Ralph Lauren's 'Lauren' collection and retails for $135 USD / £139 GBP. The blouse comes in three fits: standard, curve and petite.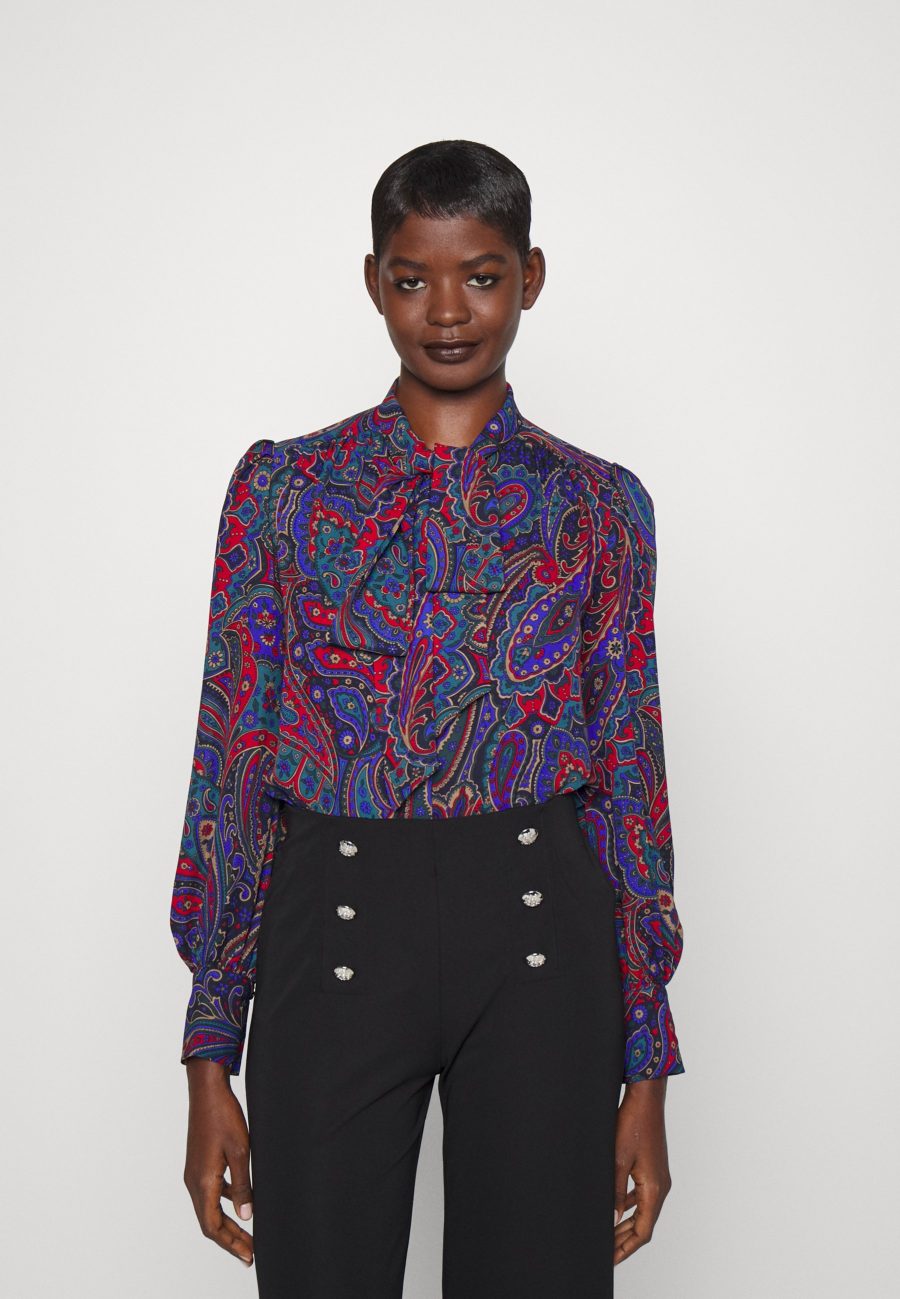 At the time of writing (December 3rd) the top remains in stock (limited sizes) at the following online stores: Bloomingdales, Jarrold, Robert Goddard and Ralph Lauren Curve.
Ralph Lauren have used the same retro paisley print on several other items in their offering this season, here's a selection:
Kate's partial to a tie-neck blouse. She also wears the style in dress form time and time again. Vogue.com say it's become her "signature workwear" style and say she's become "something of a pussy-bow blouse influencer over the years".
Kate's penchant for pussy-bow shirting is something of a secret weapon for the busy public figurehead. The romantic neck tie – which can be worn undone for a more bohemian air – is a hard-working styling flourish that negates the need for anything else fussy by way of accessories.

Vogue.com
Pictured: Kate in a coral pink Stella Mccartney dress for Archie's Christening in 2019. Kate wearing a white Somerset by Temperley London blouse during a visit to Haida Gwaii in 2016. Kate in a blue Elie Saab top and matching skirt at Royal Ascot in 2019. Kate in a pink rose print Kate Spade dress at a Heads Together event in 2016.
Kate's no stranger to Ralph Lauren. She's worn the brand pretty frequently over the last decade during her time as a working royal. I'll just share three of my favourite looks below:
Kate in a green Ralph Lauren blazer at the Anglesey Ultra Marathon in 2013. In an olive rollneck dress, also by the brand, for a visit the Centrepoint charity back in 2011. And finally, the simple-yet-chic outfit she wore to meet mothers in Battersea Park. The top is Ralph Lauren. I really like it paired with the pink M&S trousers.
Unfortunately, I do not have a good photo of Kate's full outfit from her visit to the V&A, as there was limited photography at the event. Unfortunately, that means I cannot share a clear picture of her trousers. However, I can see from this photo shared by the museum (left) and from the video I posted above that she's wearing her navy blue Jigsaw trousers:

The high-waist wide-legged flared trousers were listed at John Lewis. They were described as "perfectly embody[ing] relaxed tailoring." The trousers are woven from a soft viscose mix fabric with a hint of stretch, they feature slit pockets and a seam running down the front.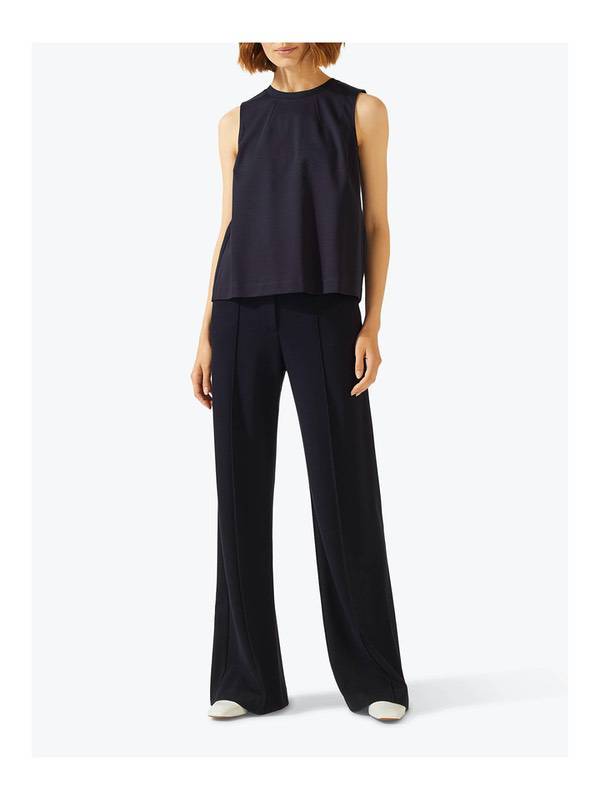 Kate added the wide-legged trousers to her wardrobe in 2018. This is the ninth time she has worn them to a public engagement.
Above: Kate wearing the trousers during a visit to Cyprus in 2018 and during a visit to Wolverhampton in 2021.
I didn't manage a good look at Kate's shoes, but if I had to guess? I'd say her Emmy Shoes Josie Pumps in midnight blue. In the video, you can see she's wearing a pair of pointed shoes (see screen captures above). The Duchess often pairs the Josie pumps with those Jigsaw trousers. (Both pictured below on different occasions). The navy suede shoes retail for £395 and feature a block heel.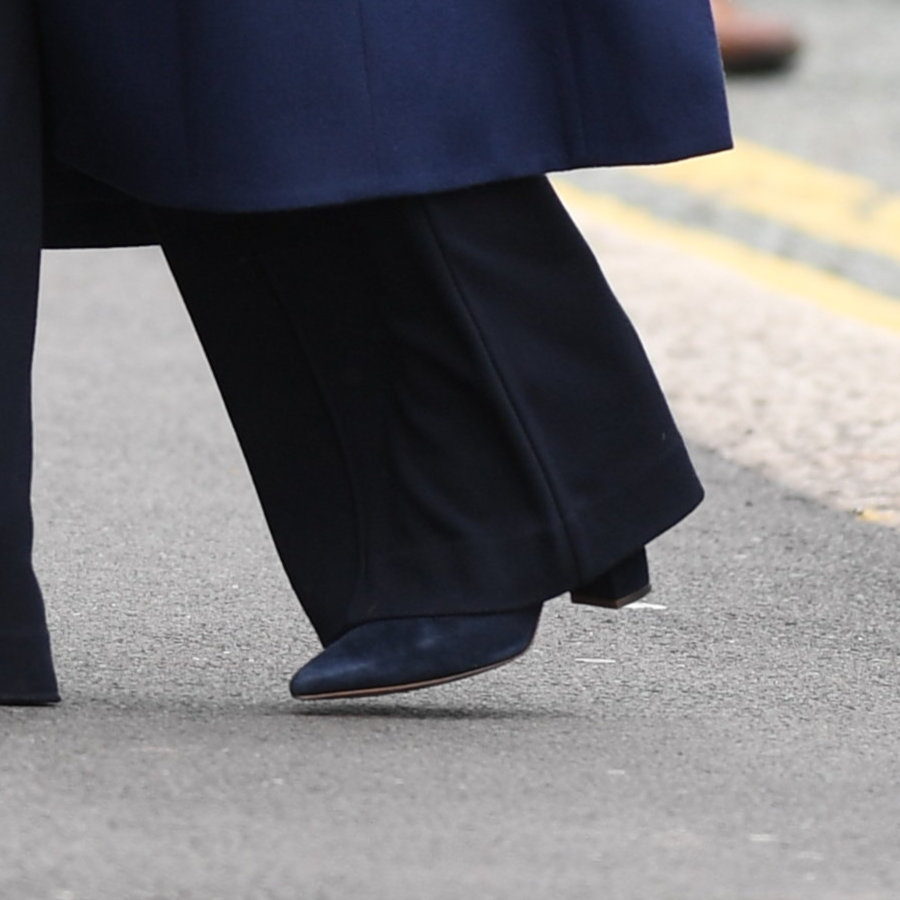 Kate's gold hoop earrings are new (to us at least, she might have owned them for some time). They're the Bruna style by Sézane. (with thanks to Margot via What Kate Wore for this info!)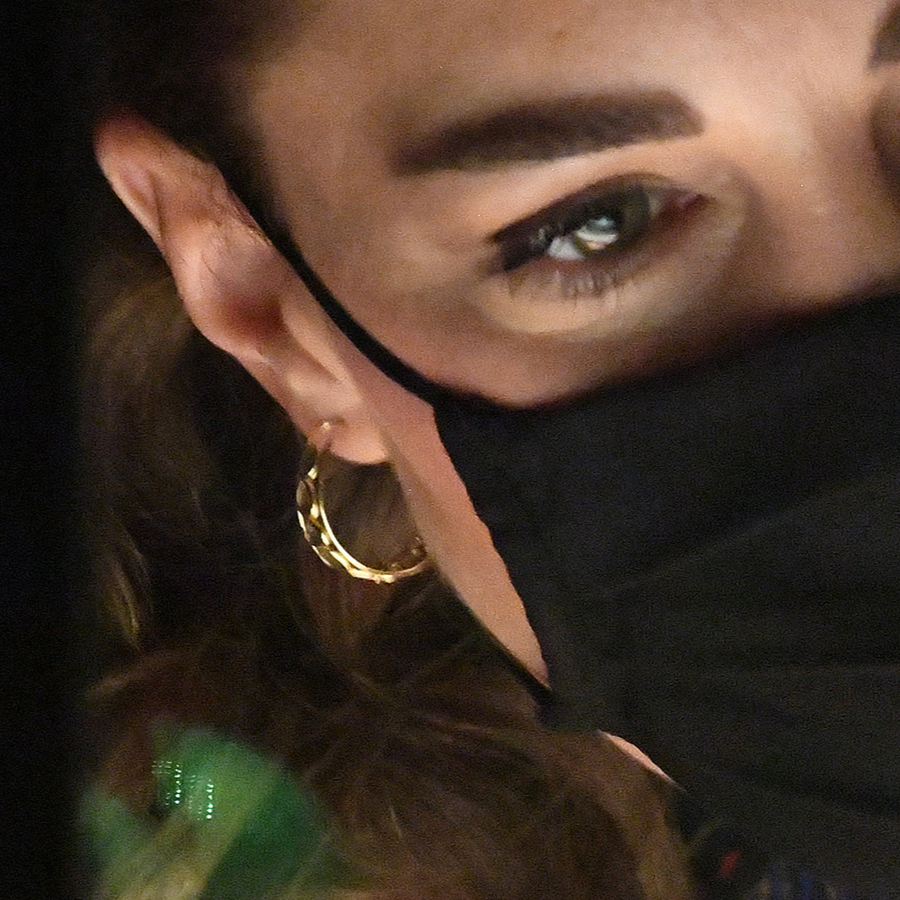 The gold plated hoop earrings feature a cut-out design decorated with hand-set glass stones.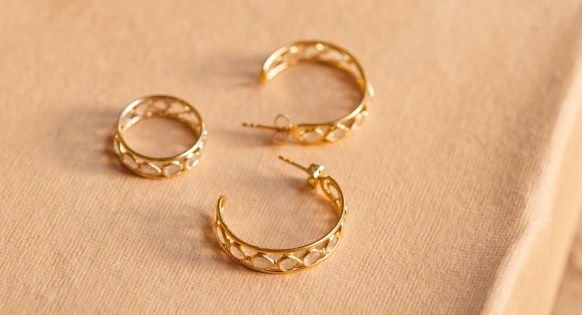 The earrings are from Sézane's 'archives', presumably the company's name for surplus stock. On the archive page, they say "rediscover pieces from our previous collections at a gentle price". The earrings are marked down from £75 to £45 in the UK and from $100 to $60 in the USA (as usual, other countries/currencies available, I don't have time to check and list them all, unfortunately). There's a matching ring too (also pictured).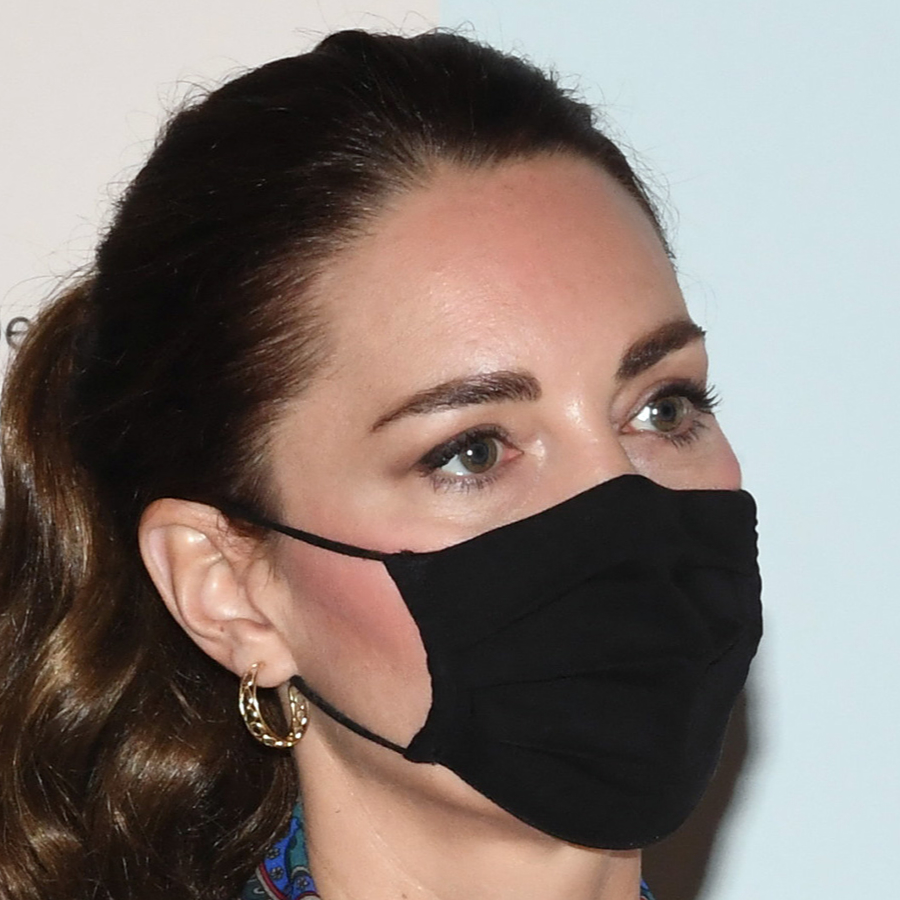 Kate's blue belt is a mystery. Kate first wore it to a public engagement in 2019. This is the 15th time we've seen her wear it since then. Sadly, it remains unidentified.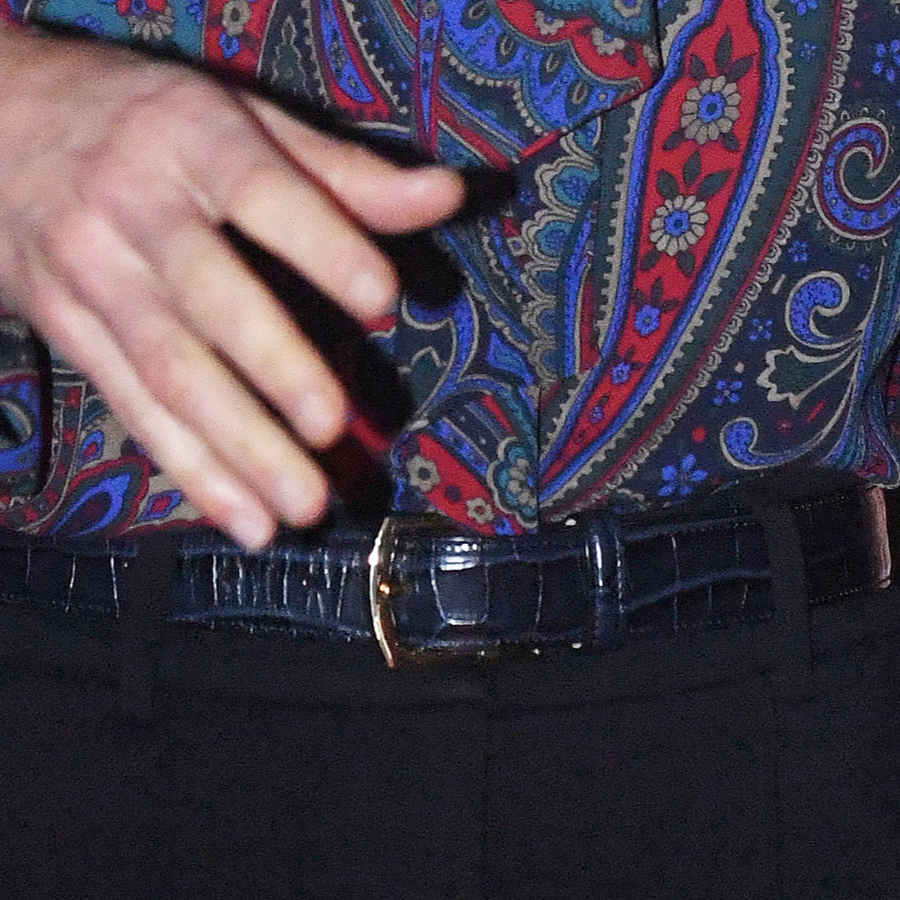 ---
In other news, here's a quick update for anybody who missed out on Kate's Reiss Larsson blazer (the beige double-breasted blazer that she wore to visit RAF Brize Norton in September), it's now back in stock – view it here.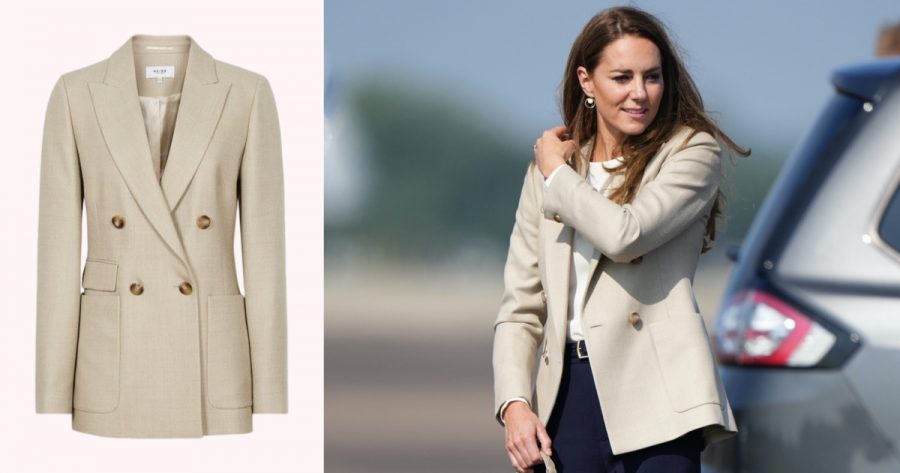 Thanks to both Heaven and Bojana who both identified Kate's paisley print blouse in record speed. As always, thank you to the Data Duchess for keeping us informed how many times Kate's worn an item.