Kate first wore this beautiful dark rose-coloured suit during a private visit to an NHS call centre in Croydon, south-west London, in March 2020. It's from British high street brand, Marks & Spencer. Kate's worn the pink blazer and trousers both separately and together.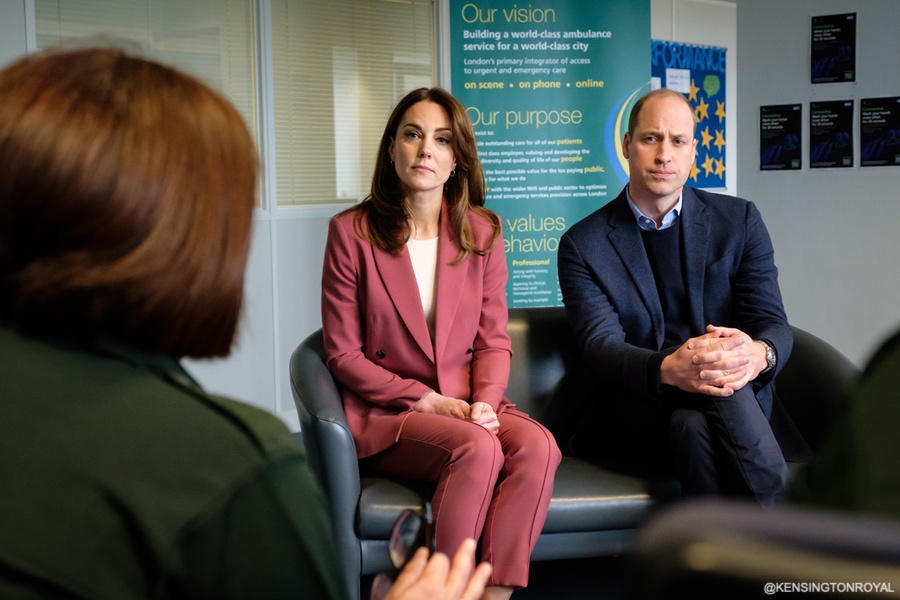 At the end of March, Kensington Palace released a photograph of Kate speaking with the CEO of Place2Be. In the photo, Kate could be seen wearing the same pink suit. You can see the blazer in this photo: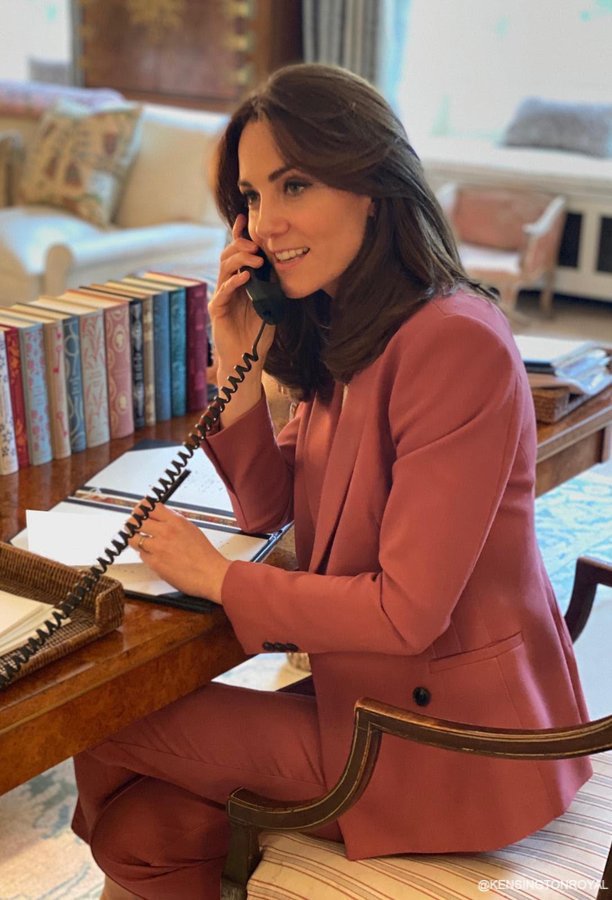 About the pink suit:
The pink pantsuit is from Marks & Spencer's Autograph collection.
Crafted from a beautiful Italian wool blend fabric, the dusky rose blazer and matching trousers are luxuriously chic. They have all the power of a tailored fit, ensuring they're suitable for any occasion. The versatile suit can be worn during the day at work, for drinks in the evening or dressed up for an event at the weekend.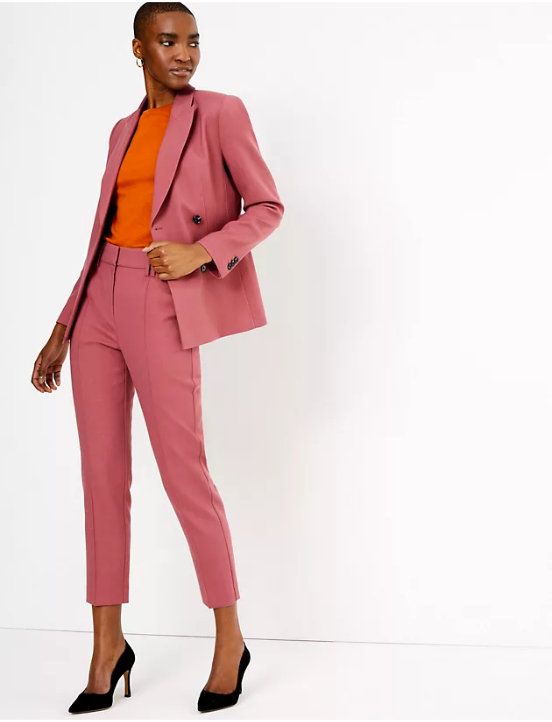 The pink blazer and trousers have been crafted with the bonus of added stretch for comfort, yet this does not detract from the lovely smooth drape of the fabric.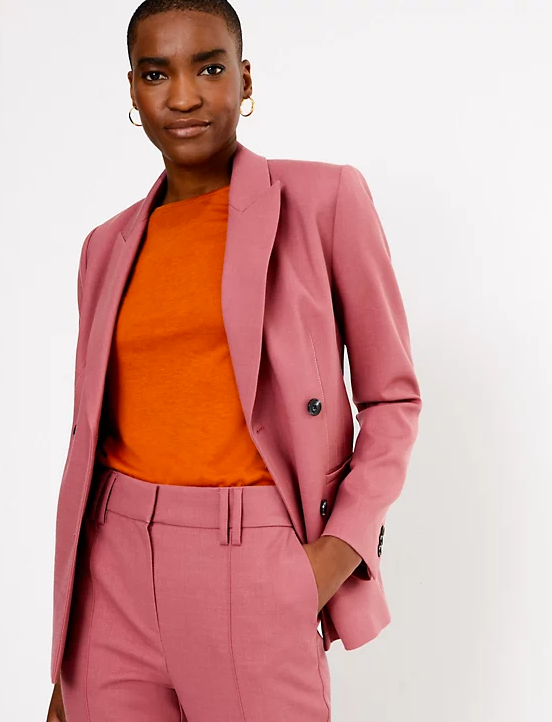 The timeless double-breasted blazer will be a staple in anybody's wardrobe, perfect for spring and into summer. Wear it with jeans for a casual look or pair it with the matching wool trousers. The slim-fit trousers are tailored and cropped at the ankle, giving them a stylish finish.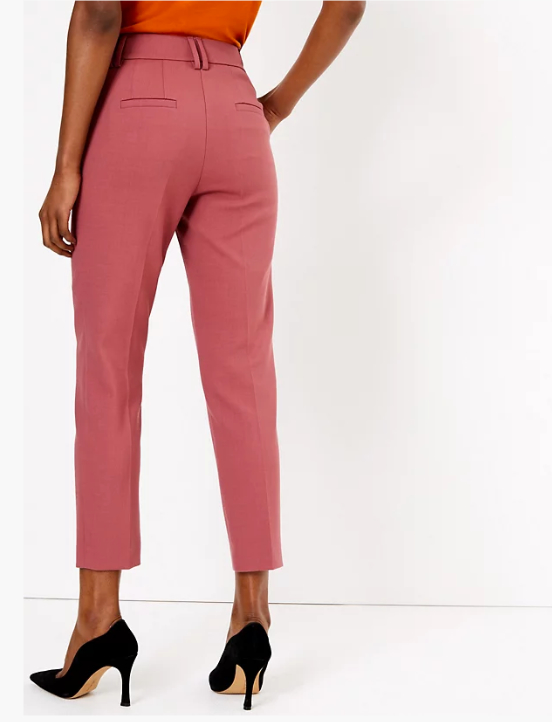 The blazer features contrasting buttons and contrasting lining. The trousers have front pintucks and two functional side pockets.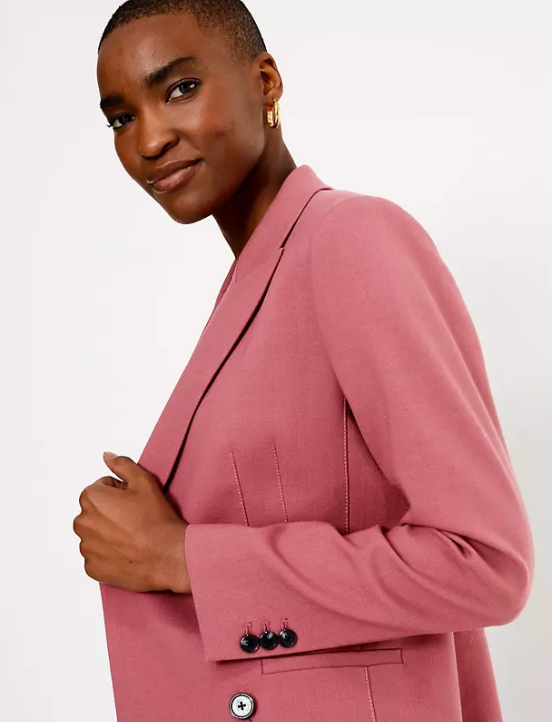 Right across Europe, the pink power suit is a must-have this season whether you're a Queen, a Duchess or a Princess. This suit is soft yet powerful. Feminine yet strong. It's the ultimate in power dressing with a twist – it is perfect in pink!
Where to buy Kate's pink suit:
The classically designed pink suit can be purchased from Marks & Spencer. At the time of writing (May 2020), you can buy both pieces separately. The blazer retails at £99 and the trousers cost £59. Many sizes remain in stock.
Update December 2021: Sadly, the pink blazer and matching trousers are no longer available.
Does Kate Middleton wear Marks and Spencer often?
M&S is one of the more affordable brands we've spotted Kate wearing.
This isn't the first time Princess Kate has worn Marks & Spencer. She never fails to delight us with her eye for timeless fashion and classic wardrobe choices! It's no wonder she gravitates towards the brand, they're known for their ageless pieces designed with quality in mind.
The Princess chose a pair of sporty white trainers by Marks and Spencer for a SportsAid event in early 2020. As of May 13th 2020, you can still purchase the white/green colourway in a limited number of sizes. There are a higher number of sizes available in the navy colour.