Kate Middleton carries the Strathberry Multrees Chain Wallet in Navy Embossed Croc.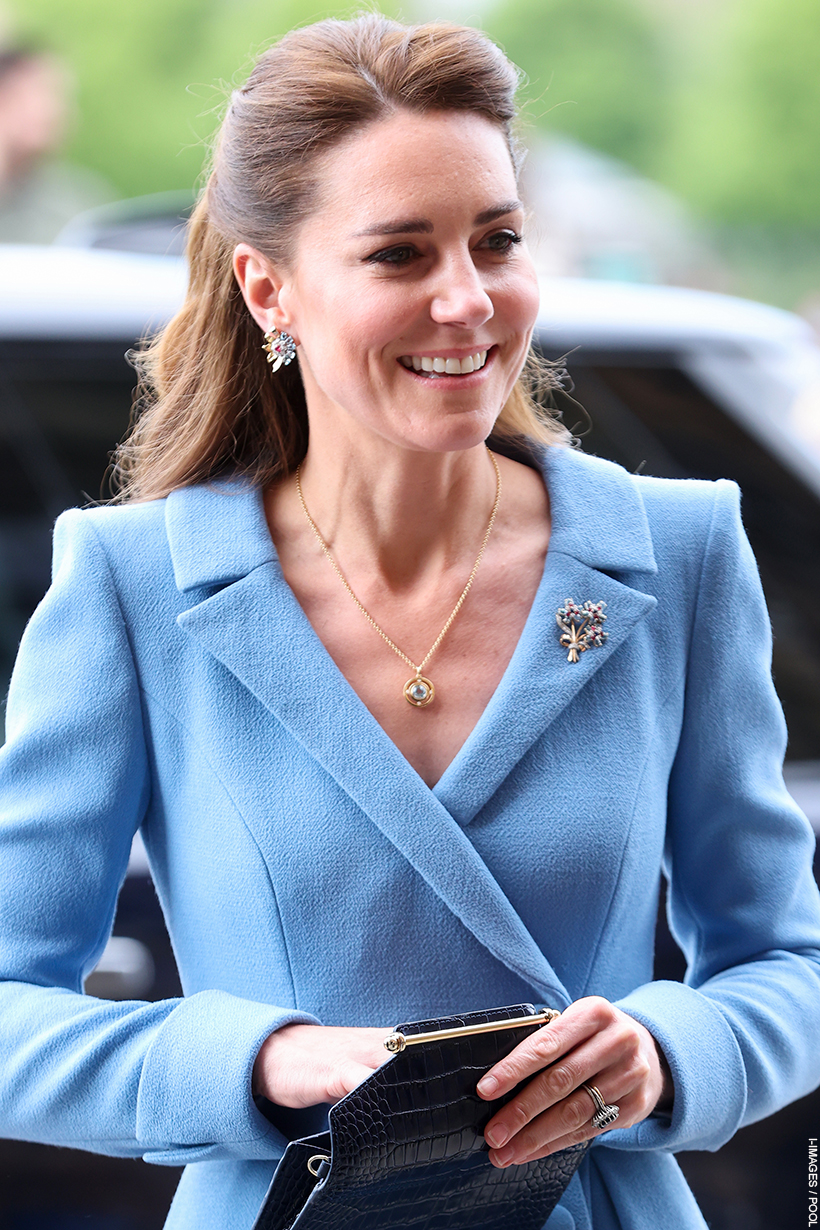 We've spotted the Princess carrying the navy blue croc print bag twice in public to date. First, during a mini tour of Scotland (May 2021). Strathberry is headquartered in Edinburgh—it's likely Kate chose the clutch for this reason (to showcase a local, Scottish brand).
Later, in June 2022, at Trooping the Colour: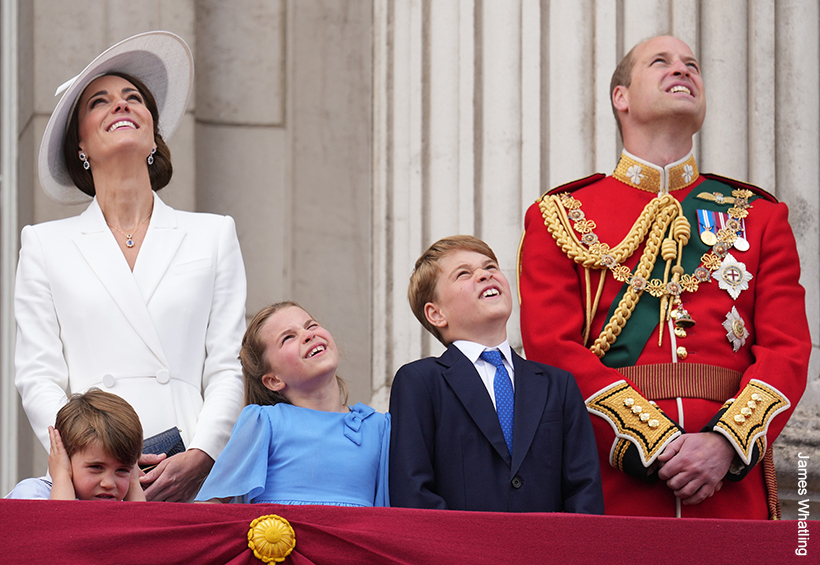 The Duchess held the bag on the balcony as she watched the RAF flypast. You can just make it out in her hand: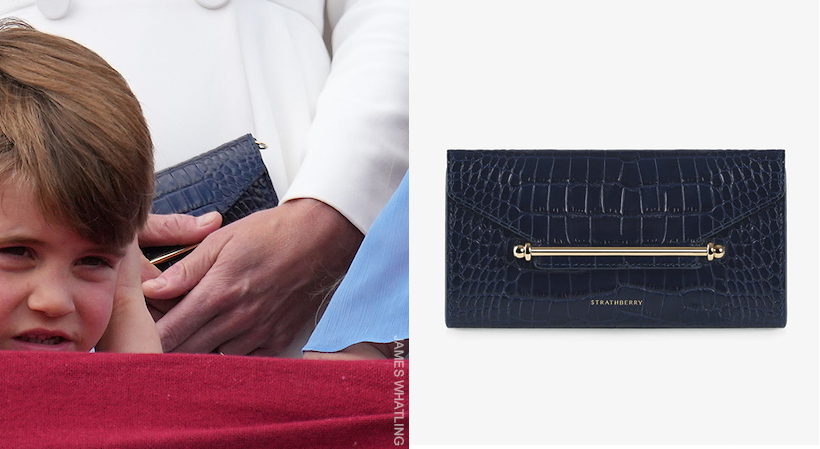 Kate is clearly a fan of croc print—quite a few of her handbags feature the design.
About the Multrees Chain Wallet:
The rectangular-shaped wallet features Strathberry's logo and iconic gold bar hardware on the front. The bag comes with a gold chain strap, which you can remove (Kate doesn't use the chain).
The bag is handcrafted in Spain using 100% calf leather. It's finished with an embossed croc print design.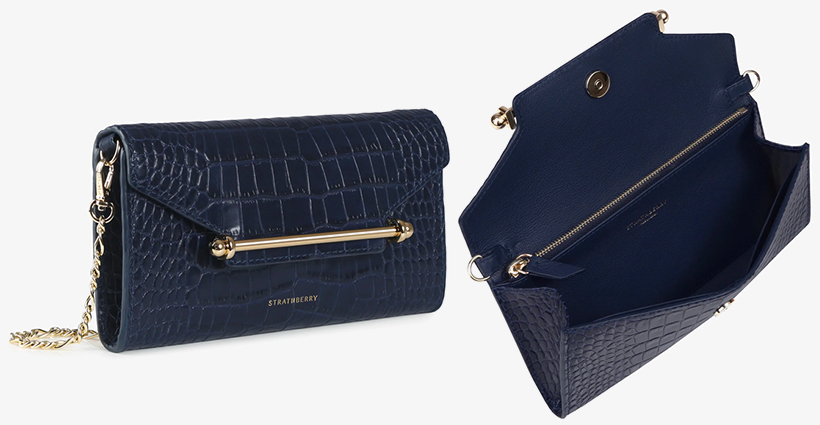 Strathberry call the Multrees Chain Wallet "understated and elegant" and "the perfect day-to-night companion."
Wear it cross-body using the sleek gold chain for everyday ease, or carry it in your hand as a clutch for a dressed up evening look. The fold-over magnetic closure top is decorated with the signature Strathberry bar, and opens up to a surprisingly spacious interior featuring 8 card slots and a zipped pocket with a leather pull.

Strathberry
Each Strathberry bag takes a minimum of 20 hours to meticulously craft by hand. The company offer a six-month guarantee on all products.
WHERE TO BUY KATE'S STRATHBERRY MULTREES CHAIN BAG:
Want to carry this beautifully-made clutch to your next event? You'll be pleased to learn the Multrees Chain Wallet is available to buy.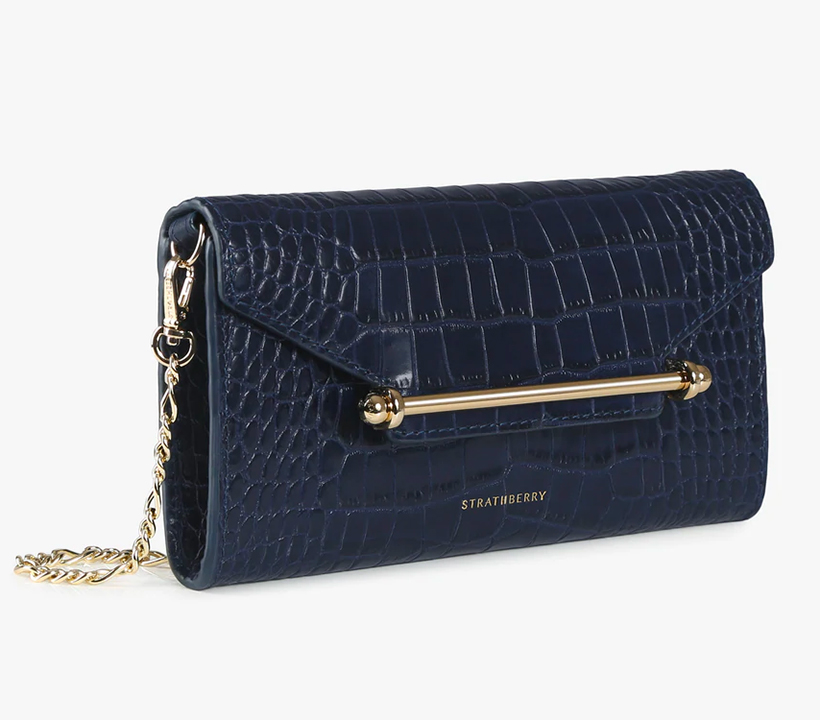 Strathberry Multrees Chain Wallet, Embossed Croc Blue
EXACT MATCH! The Strathberry Multrees bag is a royal favourite—and it's easy to see why. It's elegant, understated and surprisingly spacious. You can wear the piece crossbody (it comes with a removable chain) or clutch it like Kate.
Price: £275 / $395 (Strathberry ships worldwide, I just list the two most popular currencies with my readers).
The wallet qualifies for free shipping, plus there's no tax or duties to pay in the overseas countries I checked (USA, Canada and Australia).
It's also available at Saks Fifth Avenue.
Named after our recently opened Edinburgh flagship store on the iconic Multrees Walk, this beautifully handcrafted versatile style is ideal to wear from desk to dinner.

Strathberry
Strathberry's Sustainability Pledge:
Kate's gravitated towards conscious brands with sustainable practices in recent years. Strathberry is no exception. The company use responsibly sourced leather, their bags are produced by skilled artisans in limited runs and made to be cherished for years to come.
The company acknowledge they are not perfect and are "working hard" to introduce new, sustainable packaging later this year.
Sustainability and the impact our company has upon the environment is central to our business practice, and we aim to continually review and improve all our processes. We have a duty to act now and make a difference to safeguard our planet and resources for future generations.

Guy Hundleby, Strathberry
Strathberry's celebrity fans:
In addition to royalty, Strathberry can count A-Listers among its fans. Katie Holmes, Sarah Michelle Gellar, Vanessa Hudgens and Kate Hudson have all been spotted carrying bags from the brand.
About Strathberry:
The Edinburgh-based brand sells luxury leather goods. Husband-and-wife team Guy and Leeanne Hundleby launched the business in 2013.
With the name Strathberry, we really wanted to honour our Scottish roots and named the brand after the word Strath, meaning wide river valley in Scots. In the past, berries were used to dye the traditional Scottish fabric and materials. This is where Strathberry comes from.

Leeanne Hundleby, Strathberry
Has Kate Middleton carried any other Strathberry bags?
Yes, Kate carries this same wallet in black too!