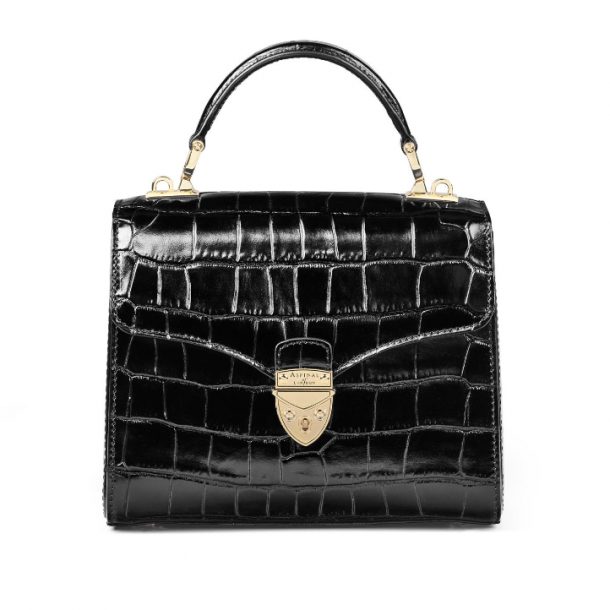 Kate Middleton carries the Mayfair Midi Bag by Aspinal of London in two different colours: Deep Shine Black Croc and Deep Shine Lilac Croc.
In recent years, Kate has gravitated towards small box bags with top handles. So, it was no surprise when she added Aspinal's Midi Mayfair to her handbag collection in 2018.
On this page, we'll show you pictures of Kate carrying the Mayfair bag, tell you all about the item and show you where to buy it.
Kate Middleton carrying the Aspinal Mayfair Bag:
Kate first carried the lilac version of the Aspinal Midi Mayfair handbag in 2018. She matched the bag to her purple dress at the Global Ministerial Mental Health Summit. The black Mayfair bag made its first appearance in the same year, during a visit to Leicester.
In total, Kate has carried the lilac version of the Mayfair bag to two public engagements. She's carried the black version to five public engagements. Most recently, to Copenhagen, Denmark on the 22nd of February 2022: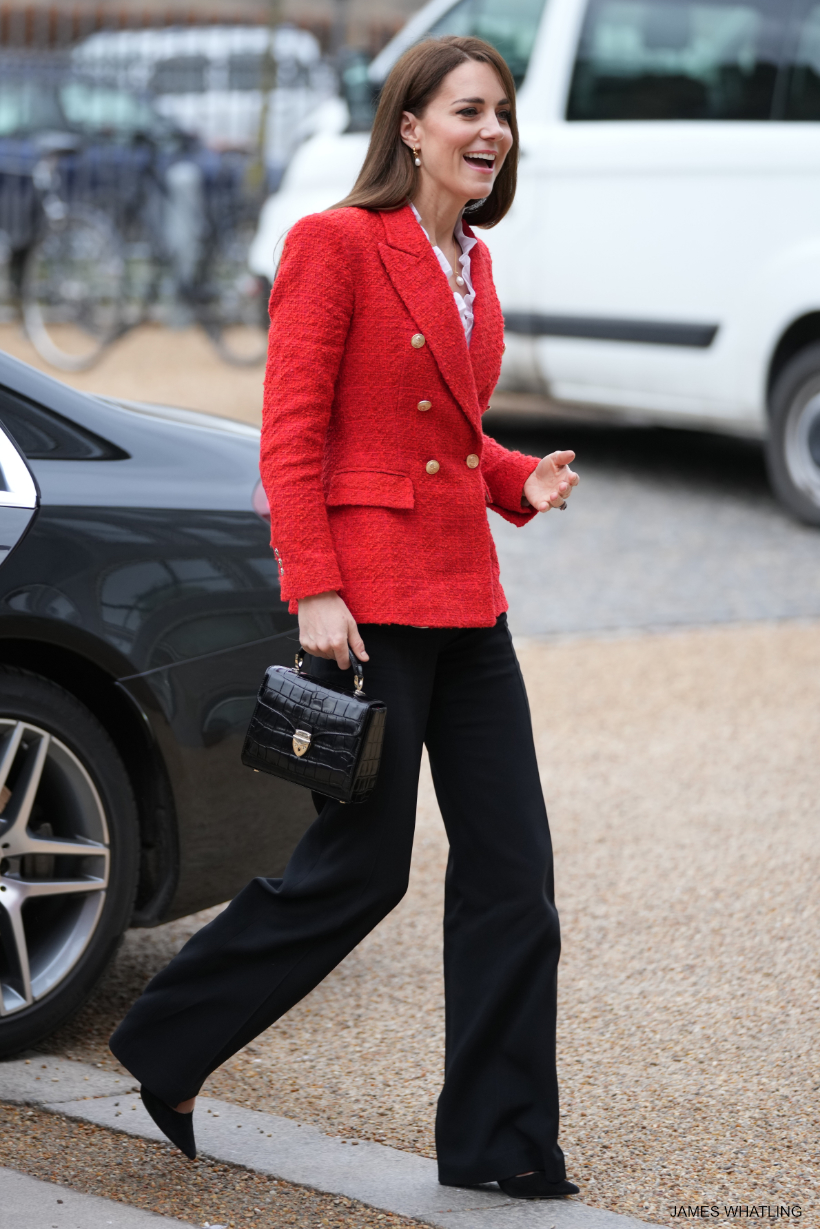 About the Midi Mayfair bag:
This structured boxy bag features a dainty top handle, gold hardware and a detachable strap. On the lilac bag, the strap is a gold metallic chain weaved with leather.

There are two versions of the black bag. One with a gold metallic chain and one with leather. It's not known which design Kate owns.
The piece is crafted from full-grain Italian leather, which features a mock croc print. Aspinal's signature shield lock adorns the front of the bag. It is engraved with the company's logo. The back of the bag is embossed with the logo too.
The size is probably one of the bag's best features. It is midi-sized, making it big enough for all of your essentials but small and compact enough to carry around. The external slip pocket is perfect for storing a small notebook, phone or travel card for easy access. The internal pocket is divided into three sections, large enough to fit a bit of make-up, a purse and your phone.
This bag won't date quickly or go out of style anytime soon. The classic piece, with its vintage-inspired styling, has a timeless appeal.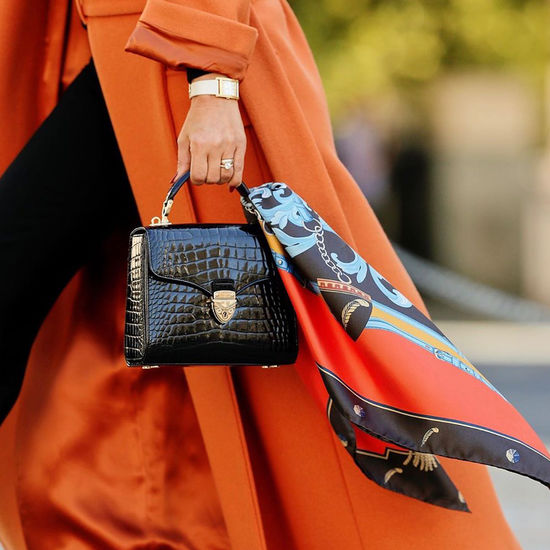 Where to buy Kate's Aspinal Mayfair bag:
You can buy the Mayfair Midi bag from the Aspinal of London website.
Price: £595 GBP / $850 USD (other currencies and worldwide delivery available too).
Colours: At the time of writing (February 2022), Aspinal stock the Midi Mayfair bag in 14 different styles, including the original black croc design carried by Kate. Sadly, the lilac version is no longer available. Try the bag in lavender or taupe croc instead. Both are good alternatives.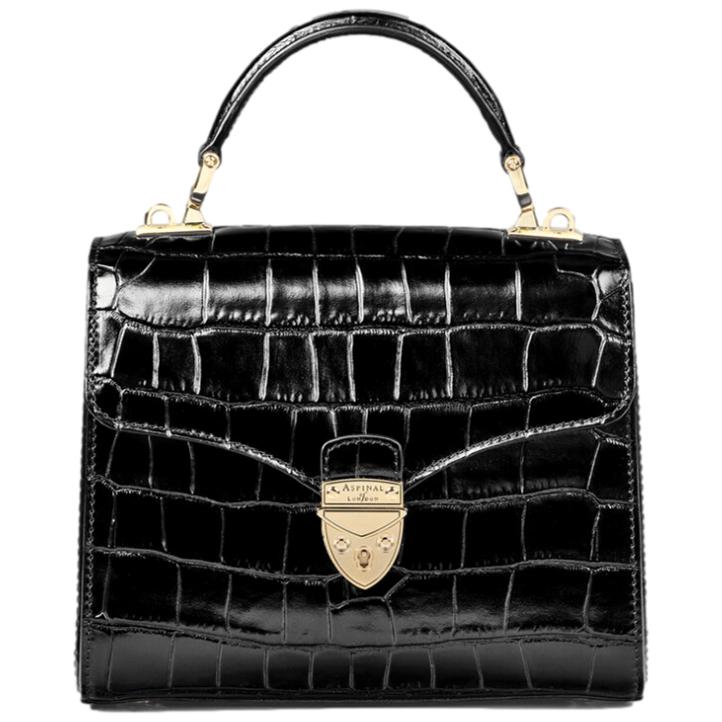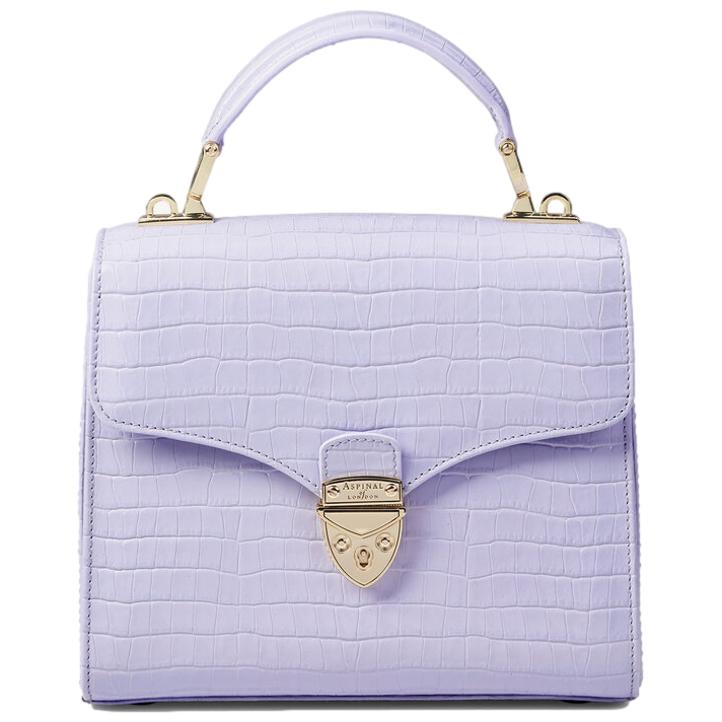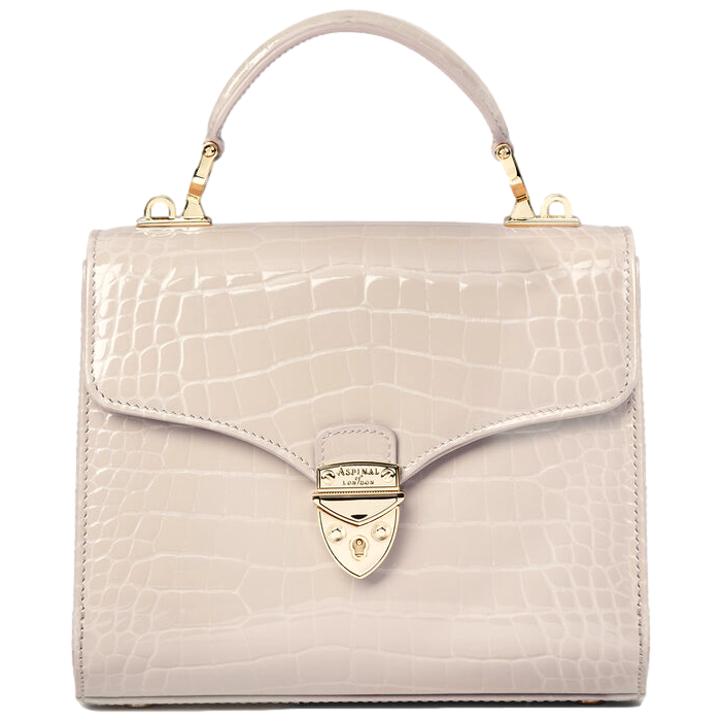 Other stockists: The Midi Mayfair bag can also be found at Harrods, Selfridges and Harvey Nichols.
Does Aspinal's Midi Mayfair bag come in any other colours and sizes?
Yes! The Midi Mayfair bag comes in a whopping 18 different styles, including a range of colours, finishes and strap options! There are even some embroidered designs. And if that isn't enough, Aspinal sell a smaller version of the bag too (the Mini style), which comes in 6 different colours (PLUS there's a clutch version with five colours!) A little selection of the Mayfair bags available on Aspinal's website:
Update: For spring/summer 2022, the Aspinal Midi Mayfair bag comes in two new delicious shades: bluebell (my favourite) and willow (both pictured below). Aspinal have also brought back soft taupe and ivory.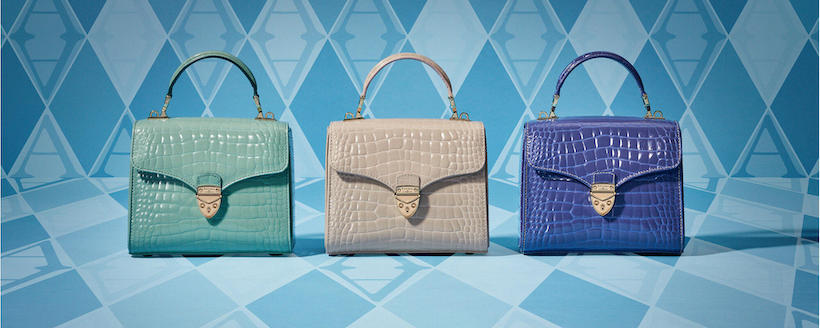 What other Aspinal of London bags does Kate Middleton carry?
In addition to the two Mayfair Midi bags, Kate owns a third piece by Aspinal: the Blue Heart clutch:
Aspinal designed the bag in collaboration with another brand Kate regularly wears, Beulah London. The two companies donated 25% of profits from each sale to the United Nations Blue Heart Campaign.
Do any other royals carry the Aspinal Mayfair Midi handbag?
Yes! Our friends over at UFO NO MORE spotted Zara Tindall carrying the Mayfair bag to the Cheltenham Festival in 2020. She owns it in Deep Shine Amazon Brown Croc.
About Aspinal of London:
Aspinal design, manufacture and retail luxury leather goods, including handbags. London Fashion Week describe the company as "a pioneering English luxury lifestyle brand".
On their website, Aspinal describes itself as a "quintessential, modern heritage luxury lifestyle brand".
Established in 2001, Aspinal started by creating bespoke leather stationery for the world's most prestigious museums and galleries. Today, it's known for its beautifully crafted gifts, small leather goods and accessories.
More links: