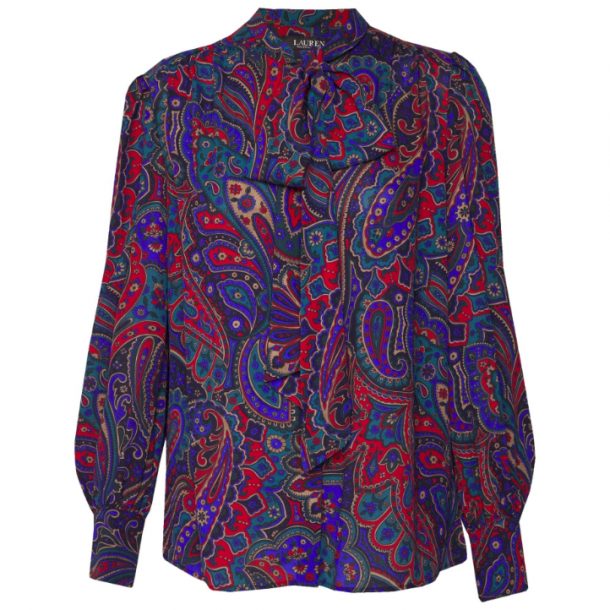 What might one wear to view a collection of intricate jewel-encrusted Fabergé eggs at one of the world's leading art museums? If you're Kate Middleton, the answer is a striking paisley printed blouse in a rich palette of blues and reds. The blouse, which was nearly as elaborate as the eggs themselves, is by Ralph Lauren. The style name is Klaryce.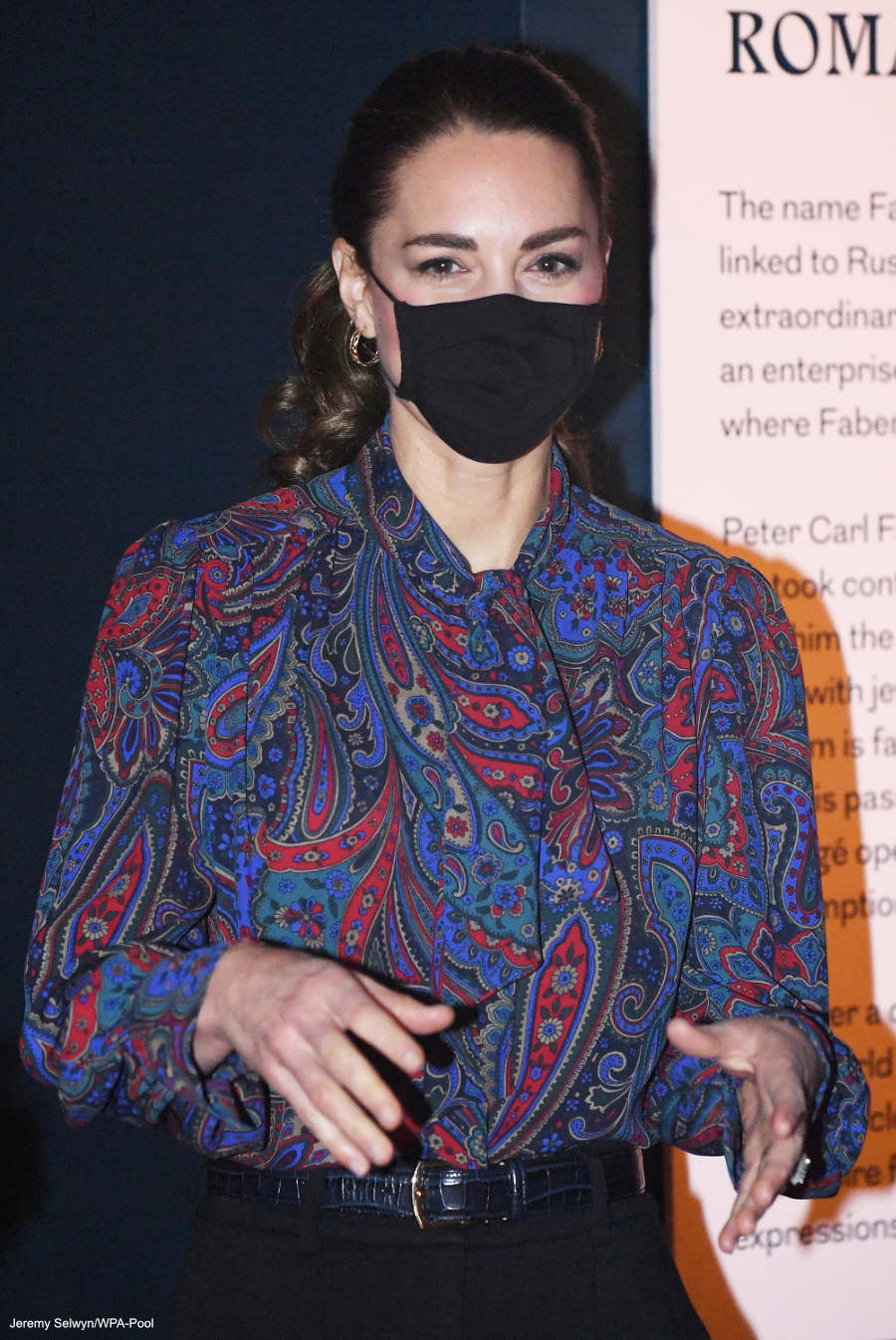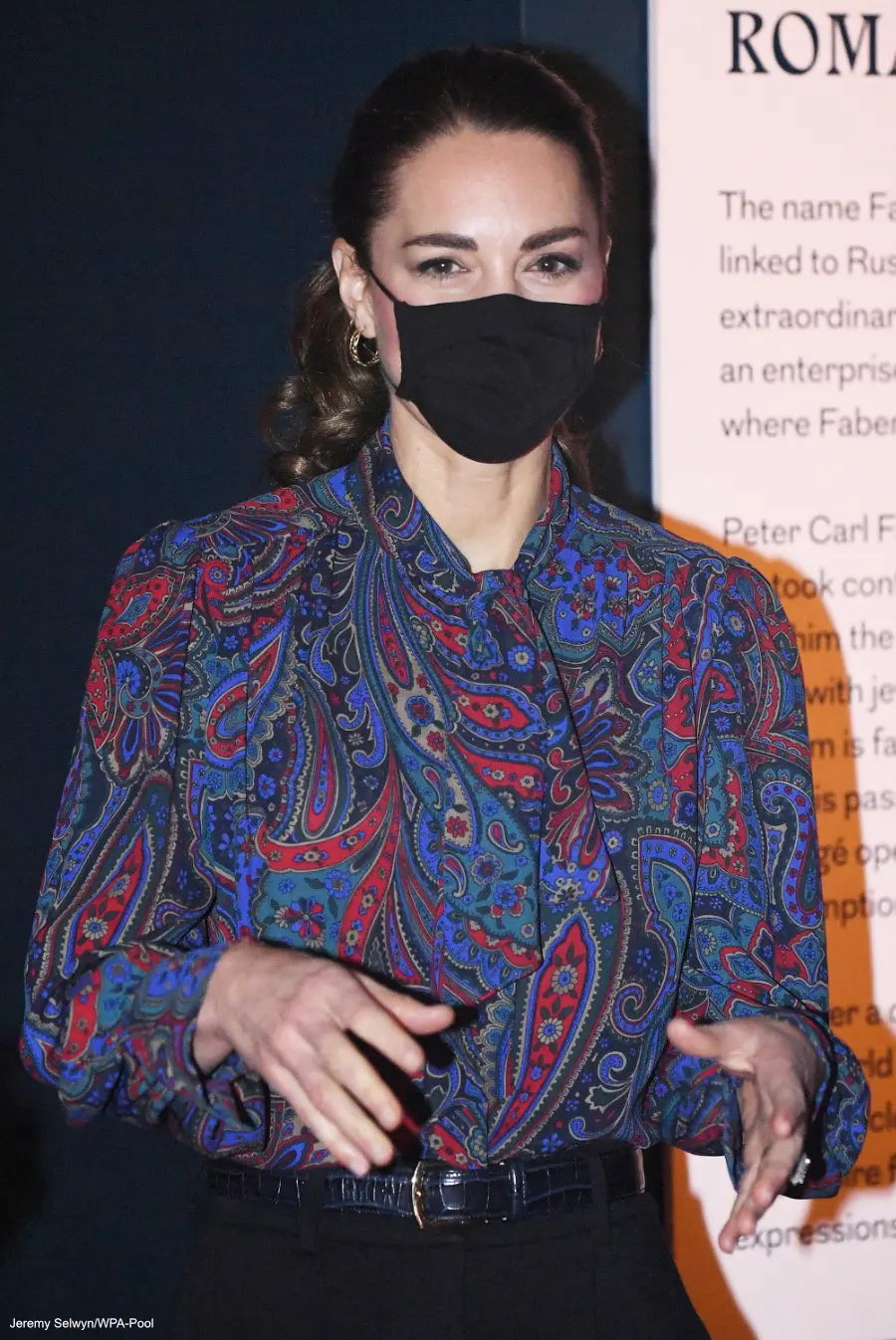 I do think the blouse photographed beautifully in the museum's low-light conditions. Considering the visit took place in December, it's safe to call the colour palette somewhat festive too.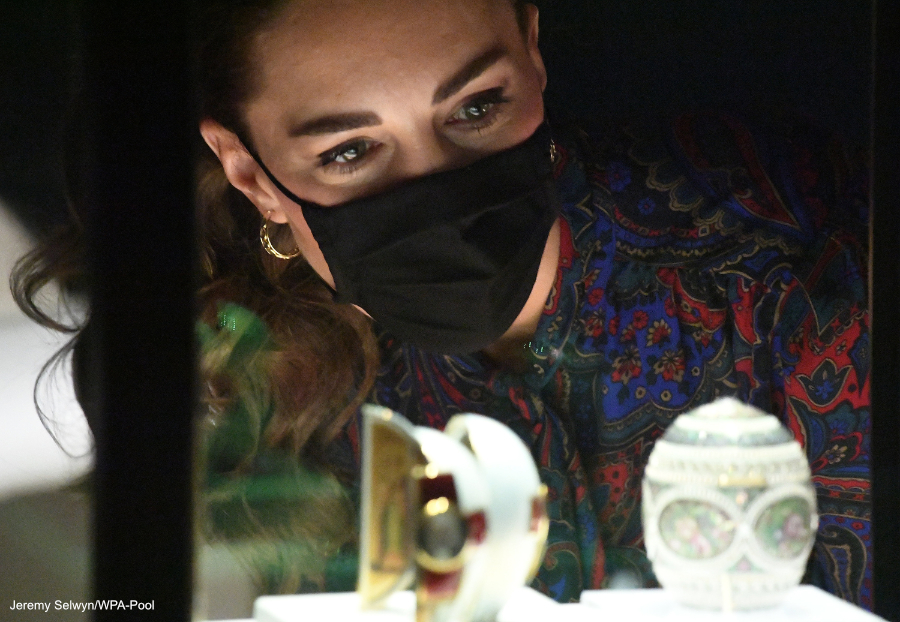 About Kate's Ralph Lauren paisley print blouse:
The paisley print shirt features shirring (a type of gathering) on the shoulders, back and cuffs. The long-length sleeves are finished with buttoned barrel cuffs. This creates the 'goofy sleeve' look that Kate seems to favour at the moment.
The shirt's collar features a tie at the front. (Another style element that Kate's quite partial to, she often chooses a pussybow blouse/dress for public engagements.)
The eye-catching blouse features a mixture of blue, green, brown and red tones. You'll spot both paisley and floral motifs in the print.
The paisley print shirt is made from a synthetic georgette fabric which Ralph Lauren describes as lightweight and airy.
The piece is from Ralph Lauren's Lauren collection. 'Lauren' is one of the company's sub-brand or diffusion lines. The House of Fraser website describes the collection as "for women with a preppy American cool style".
It was from the company's AW21 offering.
Where to buy Kate's Ralph Lauren Paisley print shirt:
At the time of writing, there are limited sizes remaining at the following online stores: Bloomingdales, Jarrold, Robert Goddard and Ralph Lauren Curve.
Does the paisley print feature on any other Ralph Lauren items?
Yes, The same design features on a handful of other items. Below, we show it on two dresses, two tops and a skirt:
Does Kate Middleton wear Ralph Lauren often?
Yes, Kate wears Ralph Lauren clothing to Royal Engagements on a fairly regular basis. She has worn tops, dresses, blazers and shoes from the brand during her decade as a working Royal. Let's take a closer look at some items:
Kate chose the company's white Nadalia top for a meeting with other mothers in Battersea Park in 2020. She wore the houndstooth shirtdress to visit the Anna Freud Centre in 2015. She wore the olive green belted polo-neck dress in 2011, for a visit to Centrepoint with Prince William. The blue and white striped shirt pictured is also by Ralph Lauren, she wore that outfit in 2013, during a visit to an Athlete Workshop run by the SportsAid charity. The green blazer is Ralph Lauren. Kate wore that to the Anglesey Ultra Marathon in 2013. And the final picture shows Kate wearing a cable-knit cricket sweater. Kate wore that during a visit to Edinburgh in spring 2021.
About Ralph Lauren:
The Ralph Lauren Corporation, headquartered in New York, USA, produces products aimed at the mid-range to luxury markets.
Lauren by Ralph Lauren, which launched as Lauren for Women 1996, offers sportswear, denim, dresses, activewear, and accessories and footwear at a cheaper price point than the company's premium offerings.
Blouse identified in record speed by the following two people on Twitter: Heaven & Bojana.