Kate Middleton wears the Berghaus Supalite II Goretex Hiking Boots in Brown.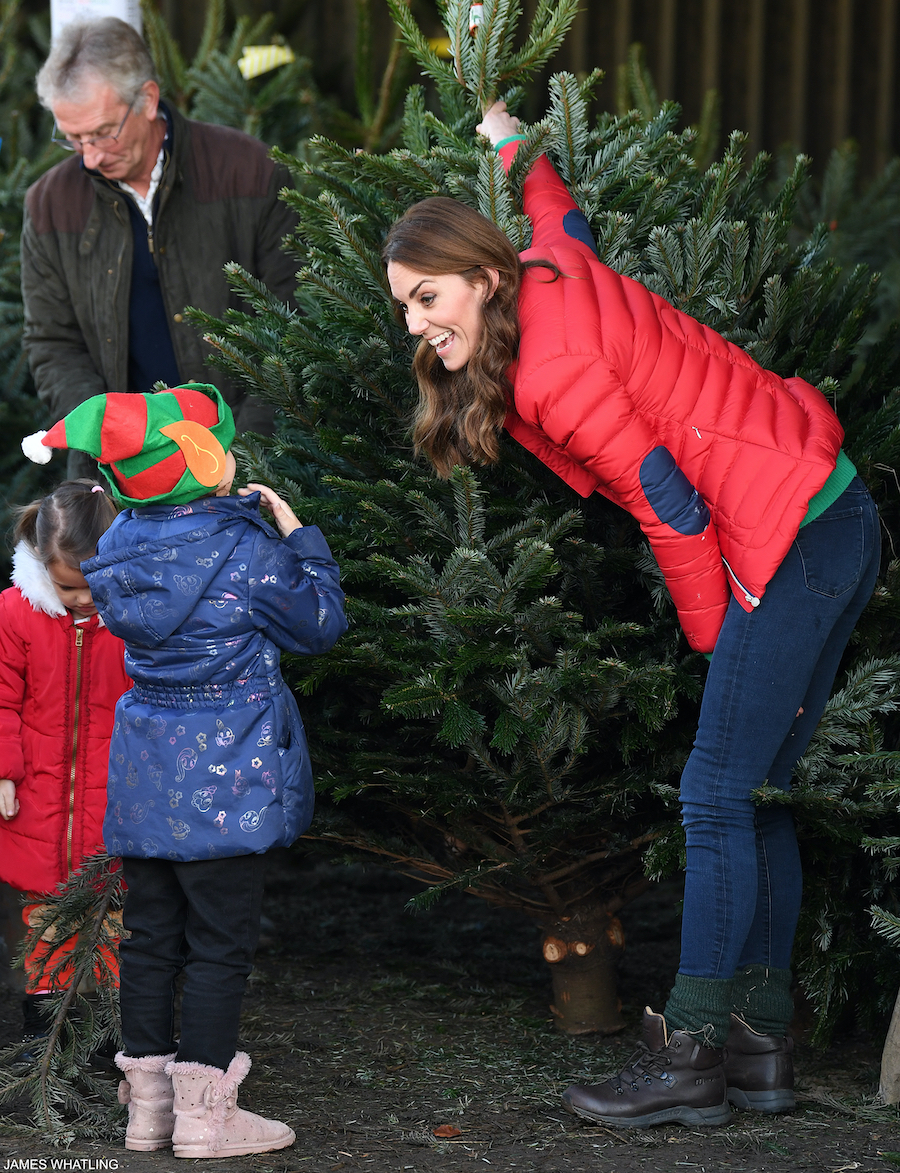 Kate's love of the outdoors is well-known. She's spent years championing the benefits of spending time in nature and it's widely reported that she loves outdoor pursuits like walking. So, it's no surprise she has all the best gear for tackling the tracks and trails around her Norfolk home. We've spotted the Duchess wearing her brown SUPALITE II hiking boots on a number of occasions.
Most recently, during an engagement with the mountain rescue in April 2023.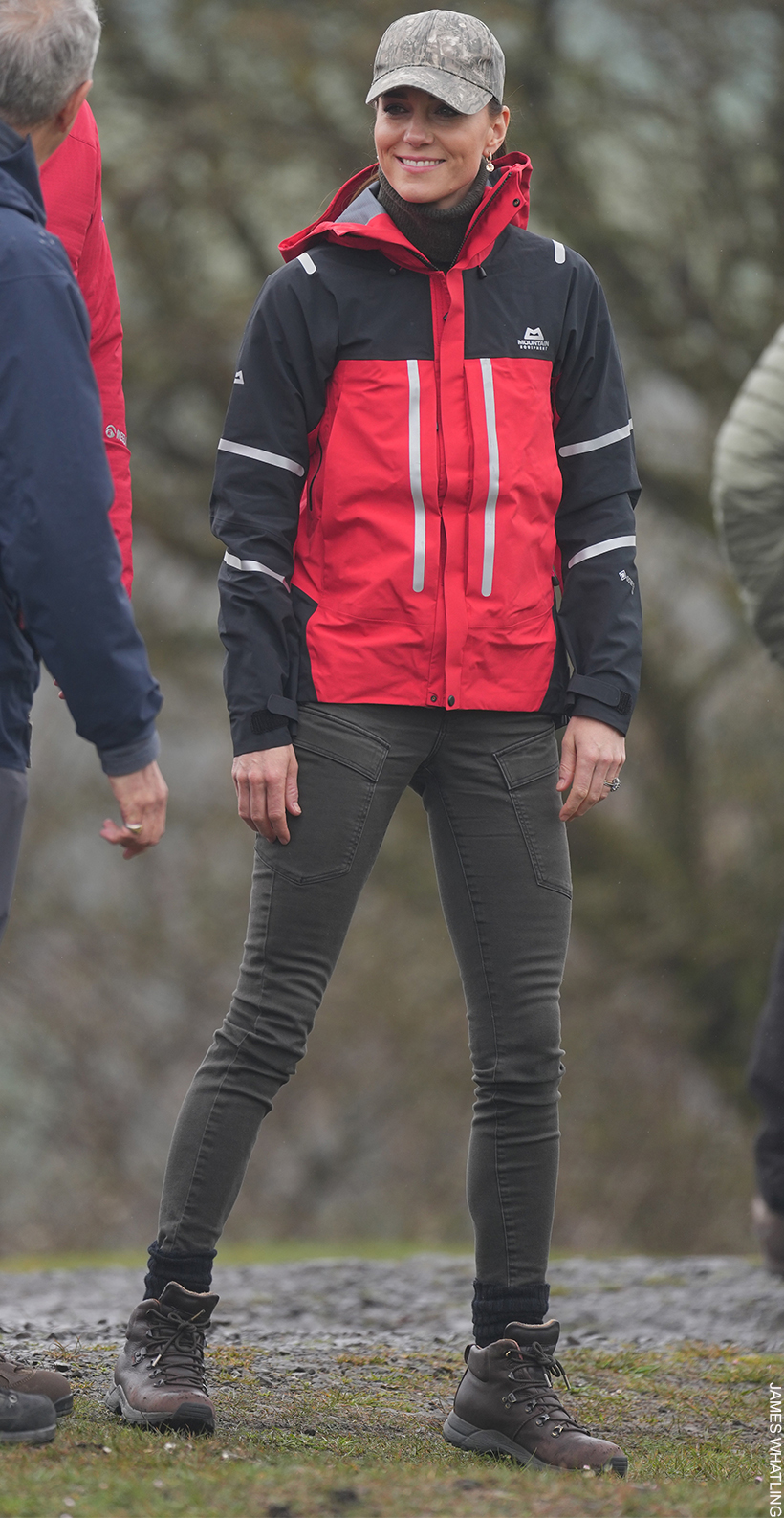 Here's a photo of the Princess wearing the brown walking boots in her Nature Garden at the Chelsea Flower show in 2019, and again with the Irish Guards on the 8th of March 2023.
The Duchess tends to wear her Berghaus boots during outdoor public engagements that require a sturdy shoe: traipsing around farms, abseiling down mountains etc.
Let's take a look at Kate's Berghaus boots in more detail.
Which pair of hiking boots does Kate Middleton wear?
Kate wears the Berghaus Supalite II GORE-TEX boots in brown (view them here).
They're made from a single piece of water-resistant leather that's soft yet strong. They're designed to be lightweight, comfortable and streamlined but don't compromise on performance or durability. The boots are treated with GORE-TEX performance technology that keeps water out of the shoe while maintaining breathability (so your feet won't get clammy!). The steady tread and outsole are specially designed to shed sticky mud. And to ensure a comfortable walking experience, the shoe has a breathable, cushioned memory foam footbed. Berghaus say the boots are perfect for everything from coastal walks to hill hikes.
Anything else I should know?
Berghaus want to tackle climate change and stop their products from ending up as landfill, so they offer a free repairs service:
We make tough, long-lasting gear that goes the distance, but if it ever needs it, we'll repair it as many times as we possibly can, free of charge whether you bought it from us, our stockists, or even if it's a hand-me-down.

We don't care how old, how worn, or how weathered it is or even how many times we've fixed it before. We'll repair your kit for free if we can, so you can reuse not replace, and together we can help fight climate change.

Berghaus
Kate's made a lot of conscious and sustainable clothing choices following William's Earthshot campaign. I'm sure she'll be pleased to know Berghaus are doing their bit for the planet too.
Are Kate's hiking boots still available to buy?
Yes! You can buy the hiking boots directly from Berghaus.com. The company post worldwide.
Other UK retailers include gooutdoors.co.uk and millets.co.uk.
If you're in the USA, you might prefer wiggle.com.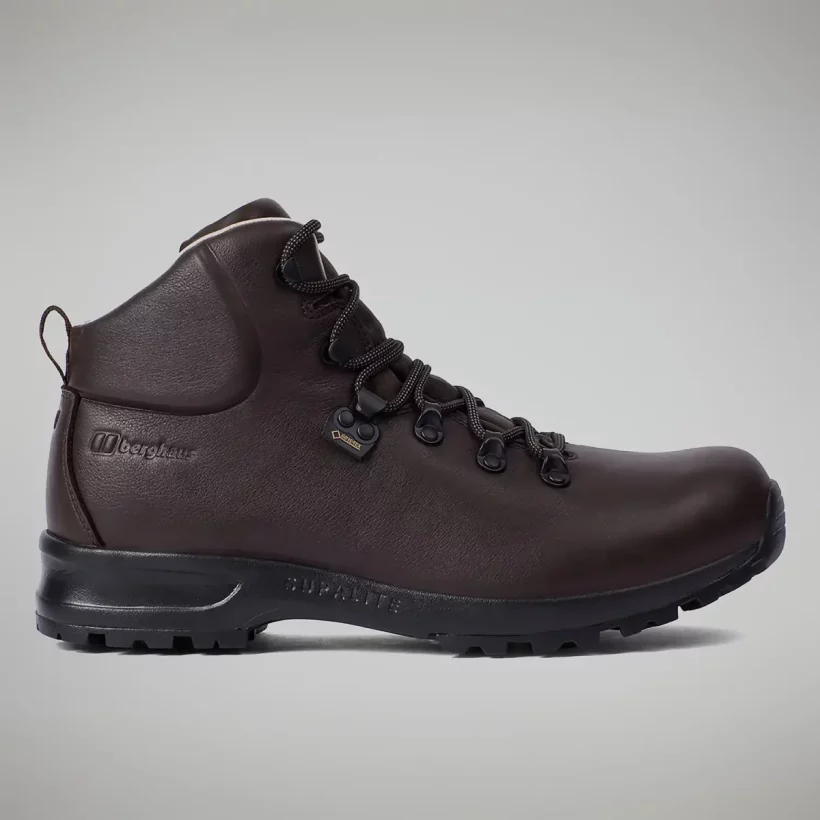 Berghaus Supalite II Goretex Hiking Boots in Brown
Step into your next adventure with the Berghaus Supalites. Discover the ultimate combination of comfort and durability—crafted from water-resistant leather, they keep your feet dry and breathable while the specially designed tread keeps you steady. Plus, Berghaus offers a free repairs service, so you can keep them for as long as possible and fight climate change. Join Kate in making conscious choices – start with Berghaus.
Does Kate Middleton wear any other hiking boots?
Yes, well…sort of… She wore her Penelope Chilvers Long Tassel Boots for a three-hour hike up the Himalayas in 2016 (below, left). They're not hiking boots, but the Duchess clearly finds them comfortable to walk in!
She's also a fan of these lace-up combat boots from See By Chloe (pictured above, right). She's worn the ankle boots to at least eight outdoor engagements over the last two years, most recently for mountain biking and rock climbing in Cumbria. The brown boots are clearly functional and fashionable.
Kate owns at least one other pair of hiking boots: a pair of Brasher Hillmasters. We first spotted the Duchess wearing them in public during a visit to the Borneo rainforest in 2012. Berghaus bought the Brasher brand a few years back. They are now one and the same company.
About Berghaus:
Although German-sounding, Berghaus is a British brand, first established in the 1960s by two climbers and mountaineers. The company design and manufacture outdoor clothing, footwear and equipment.