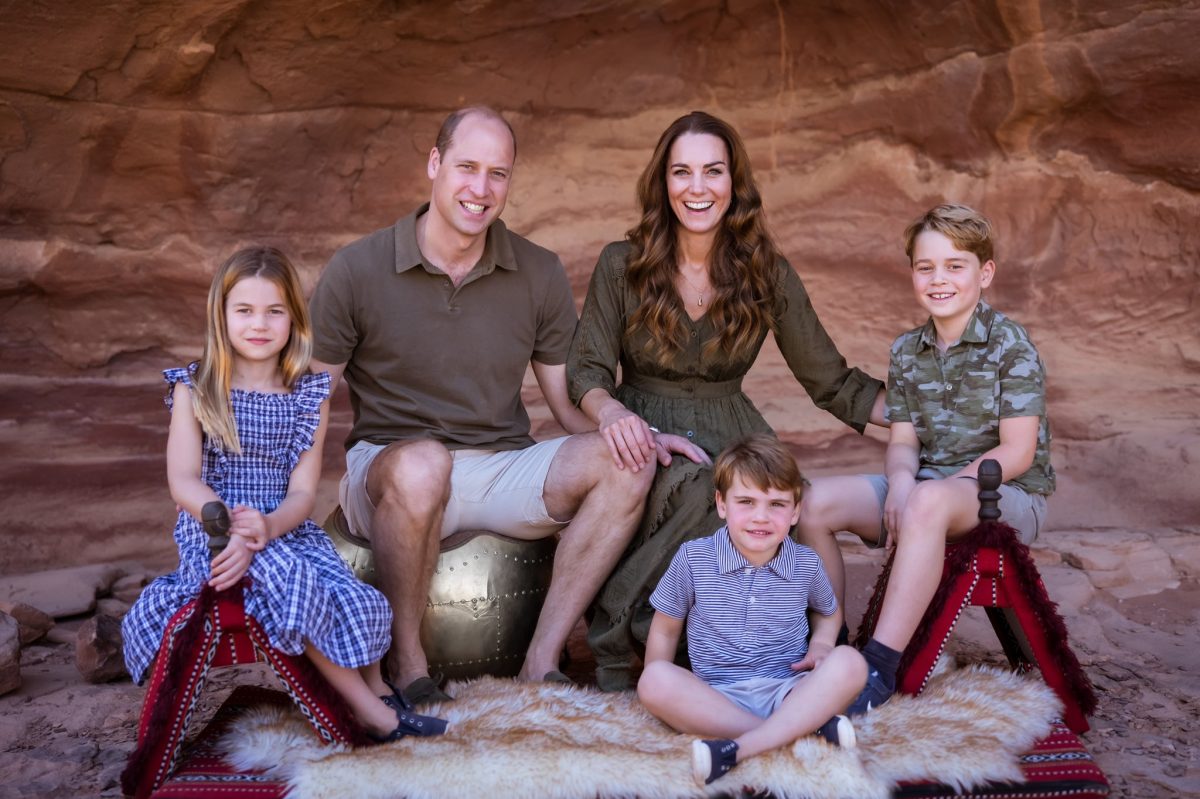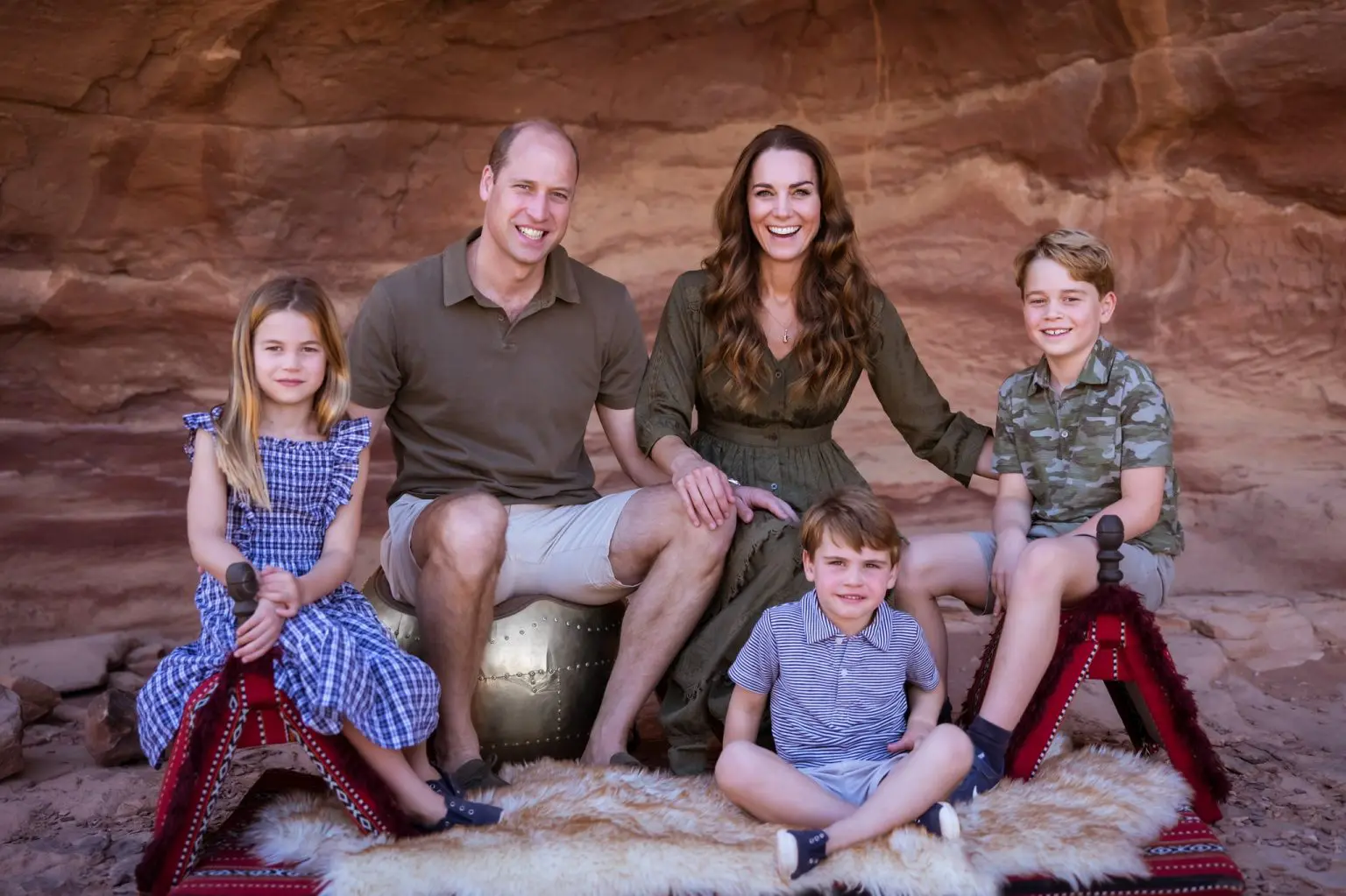 The Cambridges have used a cheery family holiday snap on their official Christmas card this year. The Palace released the sweet picture on Friday the 10th of December, 2021.
The photograph shows William and Kate with their three children George, Charlotte and Louis. The five royals are sat on an assortment of objects in front of a wall of rocks. They're wearing coordinating blue and green outfits.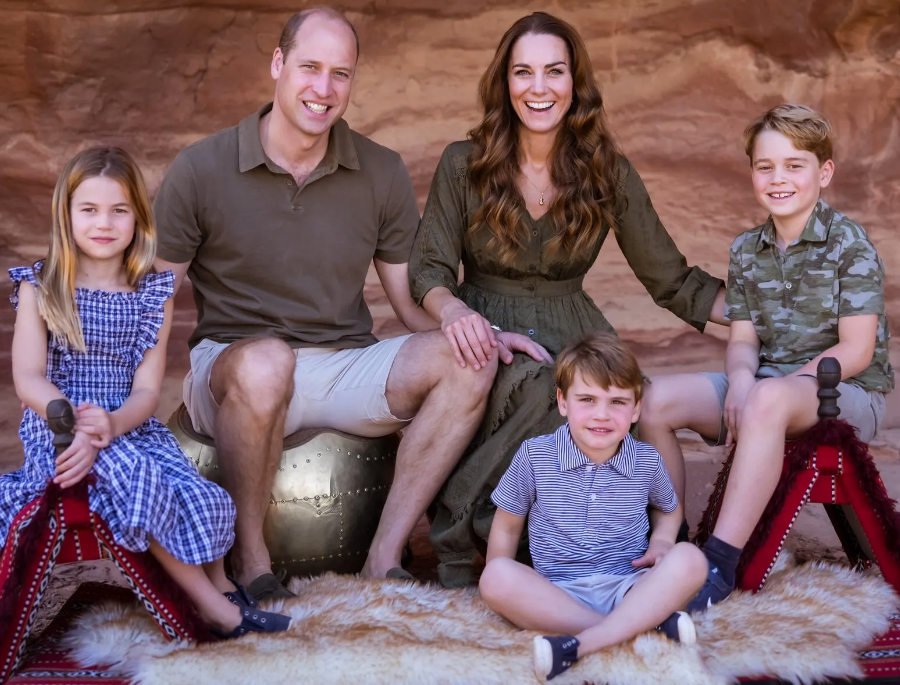 The Palace released a statement alongside the picture, sharing that the Duke and Duchess are "pleased to share a new photograph of their family." They add that the photo was taken "in Jordan earlier this year".
It's unclear who photographed the family of five. Unusually, Kensington Palace did not credit the photographer. This leads me to suspect it's somebody who didn't require attribution for their work, perhaps Kate's parents? The Middleton family have ties to Jordan, so perhaps Carol and Mike joined the Cambridges on the trip? During her childhood, Kate lived in Jordan with her parents and sister Pippa for almost three years while her father worked for British Airways in Amman. In 2011, in the run-up to the Royal Wedding, the Middleton family released the following photograph of Kate with her sister Pippa and father Mike. It was taken at a landmark in the country: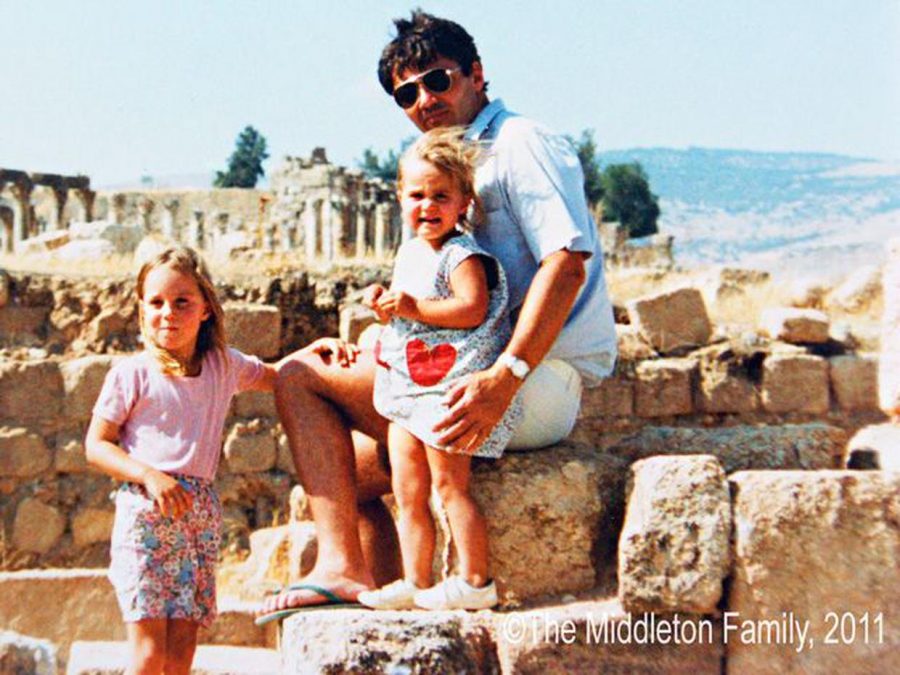 In 2018, Prince William conducted a state visit to Jordan, alone, shortly after the birth of Prince Louis. He spoke of Kate's experience living in the country saying "she loved it here, she really did. She is very upset that I am coming here without her".
Apparently, the Duchess attended an English language nursery school during her time in Jordan and learnt a few songs in Arabic.
Let's move on to the outfit/clothing portion of our post now and take a look at what Kate wore in the photo!
Kate's outfit on the 2021 Christmas Card:
The Duchess wore an olive green dress with a button-down front, long sleeves (perhaps three-quarter length) and cinched waist. The fabric appears to be printed with an intricate design.  I have no further details about the garment, sadly. I'll update the post if/when I find out more. UPDATE: The dress is by SEA New York. (Thank you to Georgie's Mum for finding the piece.)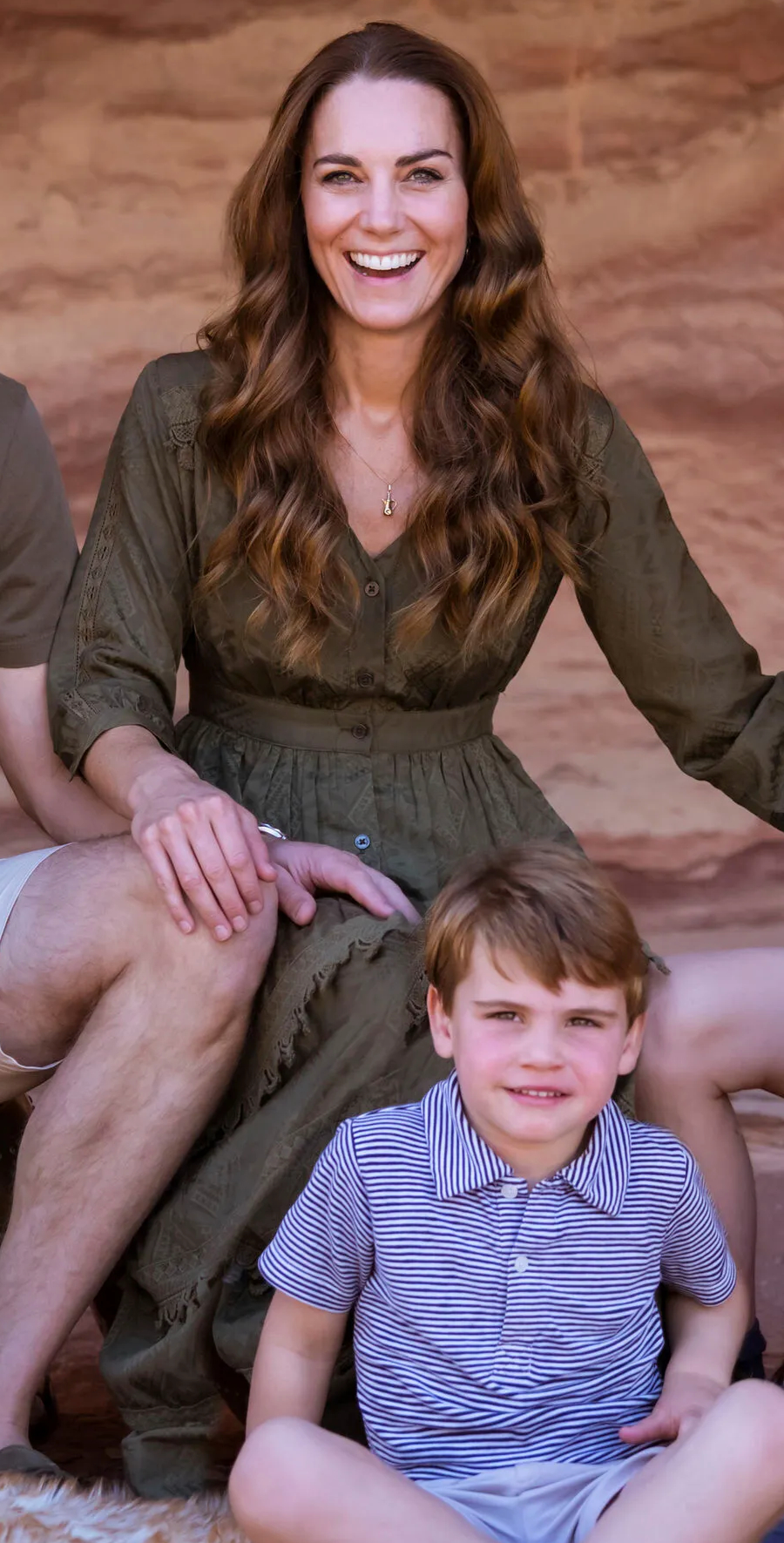 Some photos from a listing on Poshmark:
In Kate's left ear, I can just make out a glimmer of a gold earring—I think a hoop. She has seven or eight options in her jewellery box, but it's pretty impossible to tell which pair she's wearing.
Thanks to some lovely folks on Twitter, I can tell you more about her gold necklace! (Thank you to Elisavet and CoutureRoyals for the following information.) Kate's wearing a Dallah pendant on a gold chain: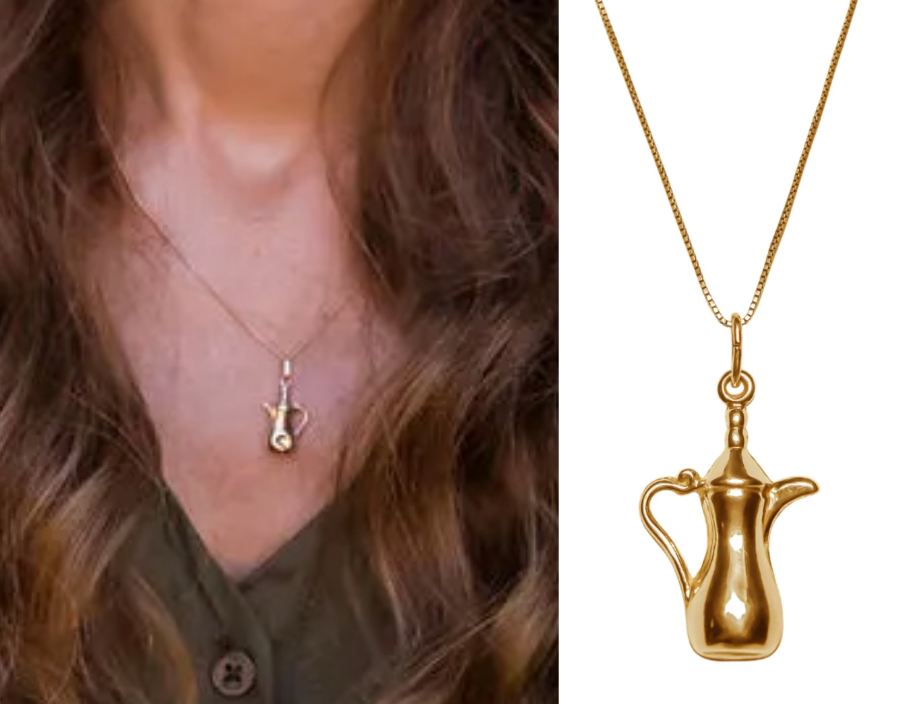 A Dallah is a traditional Arabic coffee pot. In many Middle Eastern countries, it is a cultural symbol of hospitality and generosity. Above, I show you a similar Dallah necklace listed on Etsy. (Note: I'm not saying Kate is wearing this piece, I'm just showing it for comparative purposes. It'd make a fantastic 'RepliKate' though!)
It looks like Kate's owned the necklace for some time. She appears to have worn it to the Gatcombe Park Horse Trials back in 2005 (thank you to Royal Wikipedia for this information). (In case you're wondering, the second necklace she's wearing is the Open Heart Necklace by Lola Rose.)
Let's take a quick look at what the children are wearing now. Prince George is in a green camouflage print t-shirt. It looks like this one from GAP (thanks to What Kate's Kids Wore for this info.)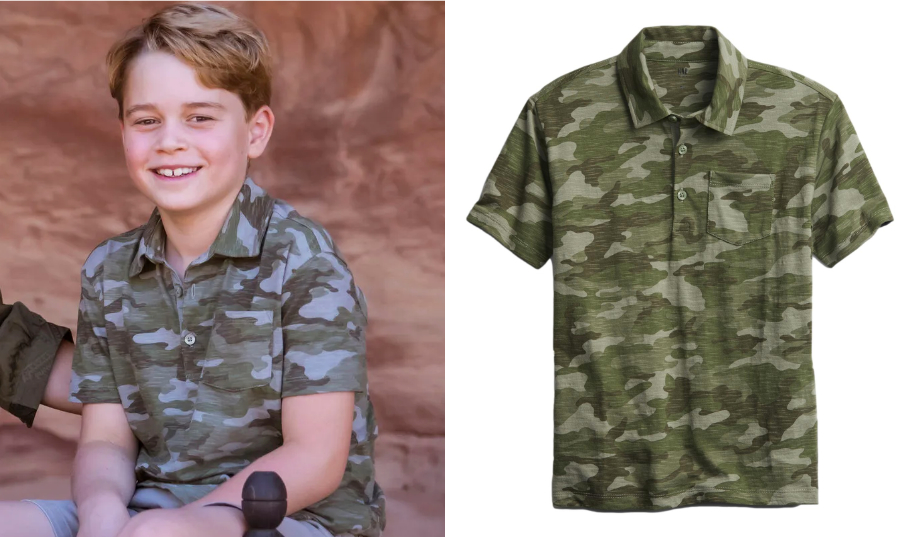 Meanwhile, Charlotte is wearing this blue checked dress by Mango Kids paired with her navy blue Hampton Canvas Plimsolls by Trotters (thank you to Bojana for this ID!)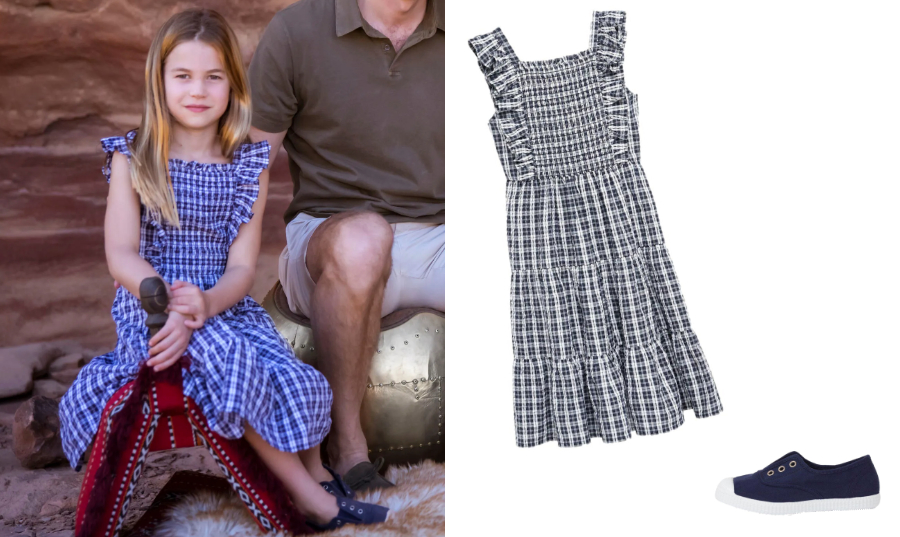 Prince Louis wearing the same blue canvas shoes and a blue striped polo shirt by Rachel Riley. (Again, thank you to What Kate's Kids Wore for this information.)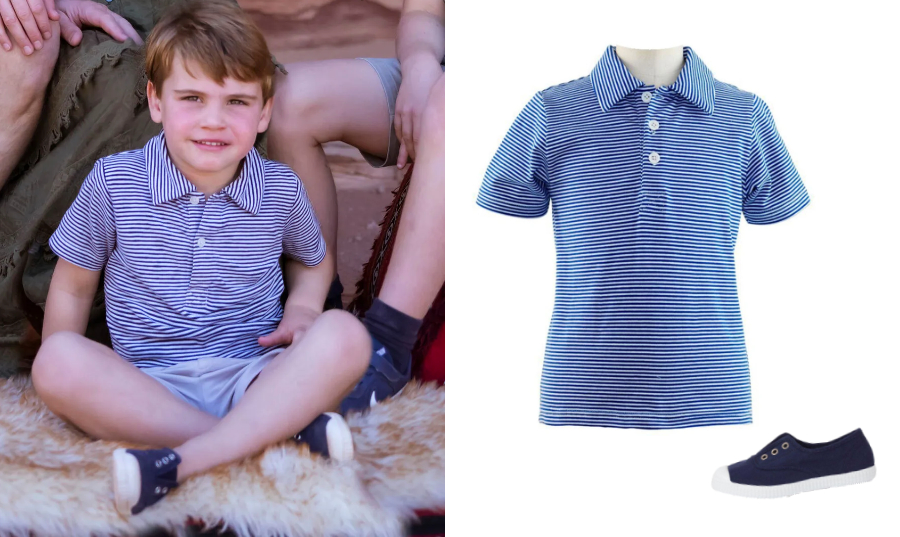 Here's a very young Prince George wearing the same top. This photo was taken during the 2014 tour of New Zealand and Australia during a visit to Taronga Zoo. It's mid-April, so Prince George is just approaching nine months old in this picture. (I assume the Duchess has purchased the blue striped t-shirt in multiple sizes for her sons.)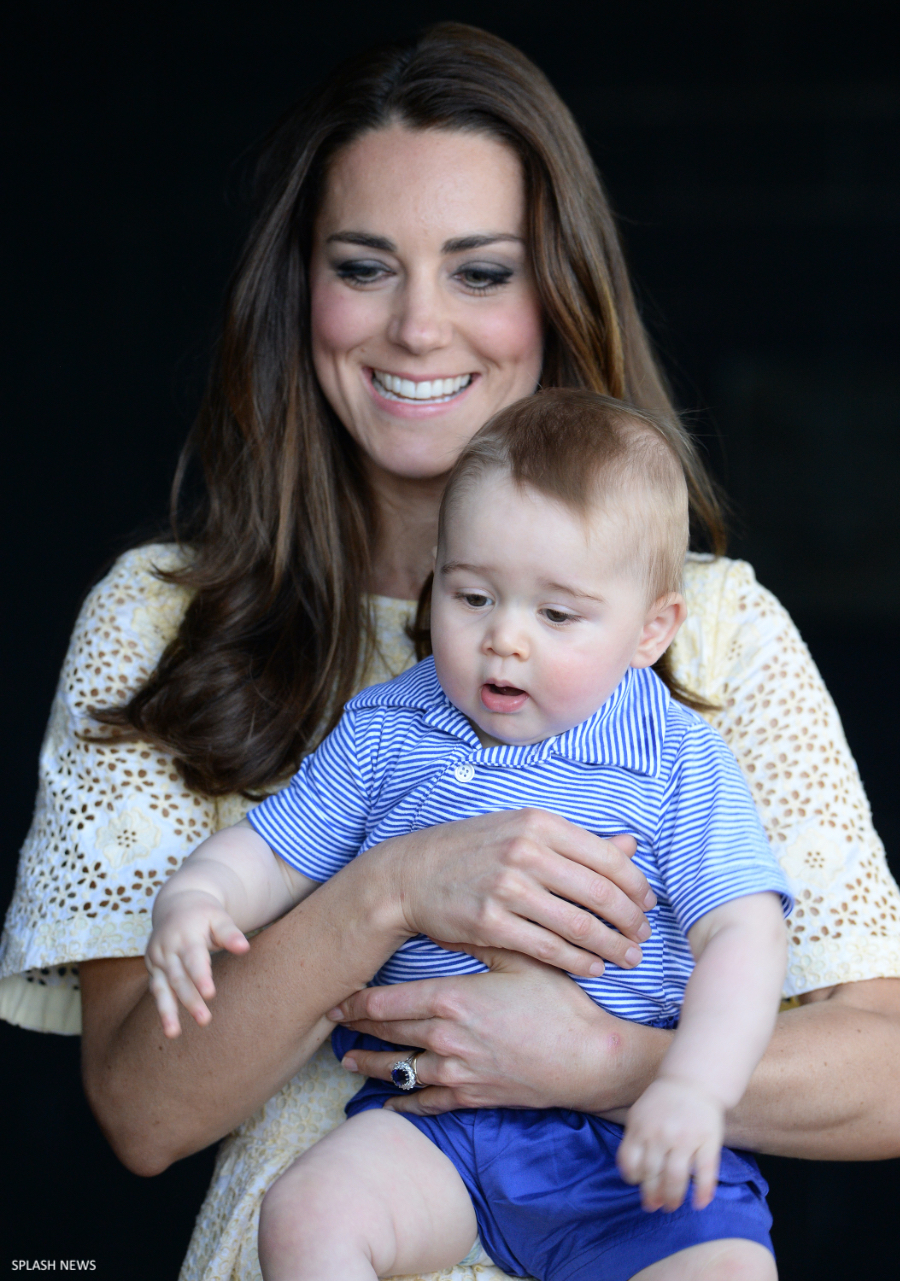 Let's do a quick recap of the family's last three Christmas cards while we're here! (I thought we'd just look at the photos that feature the family as a fivesome.) Here's last year's Christmas Card (2020):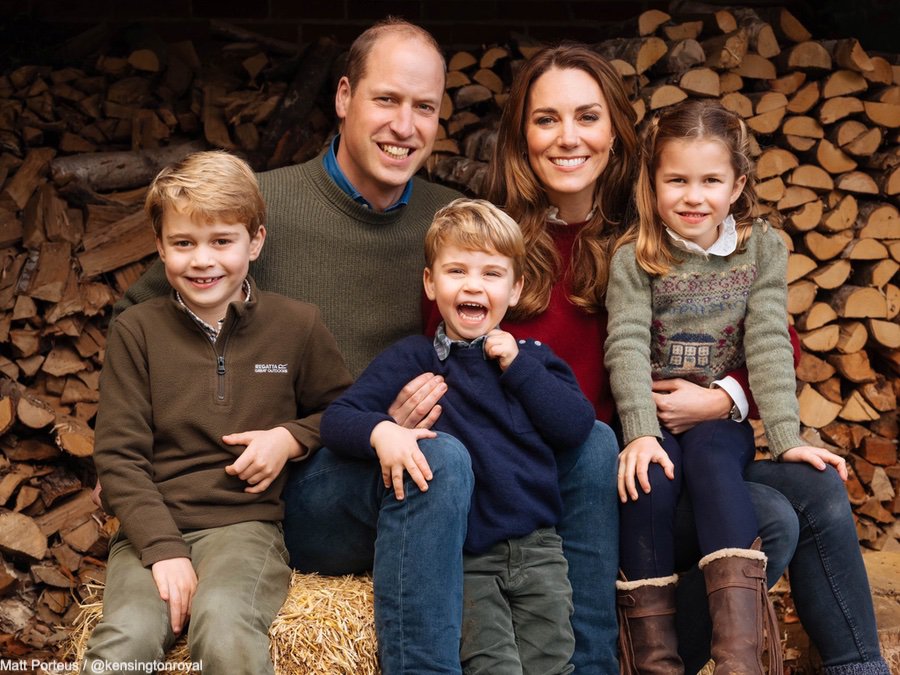 Matt Porteous snapped the charming photo at the family's country home in Norfolk. For the rustic set-up, Kate chose a casual outfit of jeans and a sweater. The only item I can identify is Kate's Sézane Margerite blouse.
Pictured left: the Sézane blouse. Centre: Kate wearing the same burgundy sweater and blouse in a video shared by the palace on William and Kate's 10th wedding anniversary. Right: Kate wearing the blouse and sweater in a portrait used to promote Kate's Hold Still book. I am assuming the Christmas card, anniversary video and promotional photograph were all captured on the same day.
The 2019 official Christmas card featured all five royals posing in front of a vintage motorcycle—presumably another holiday snap straight from the family's photo album. (Note: this picture wasn't released by Kensington Palace. It was shared by Air Commodore Dawn McCafferty on Twitter, hence the quality/angle of the snap.) In the picture, Kate's wearing a summer wrap dress from Boden.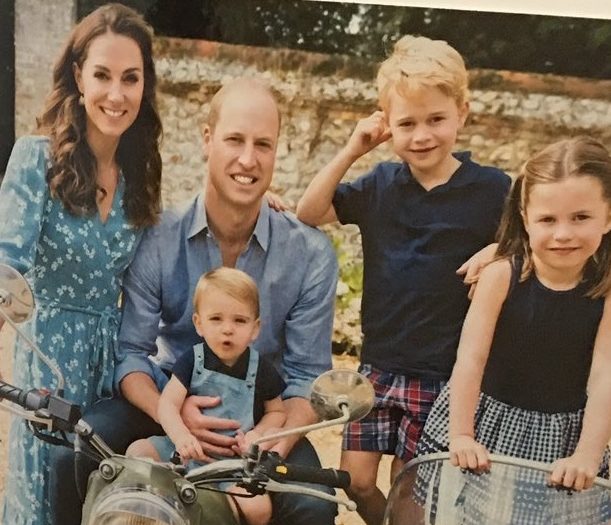 The 2018 Christmas card is the first featuring Prince Louis. This Christmas card is also set outdoors and features all five royals happy and smiling in the autumn sun. In this picture by Matt Porteous, Kate is wearing her Fjällräven Övik sweater with a blouse and jeans.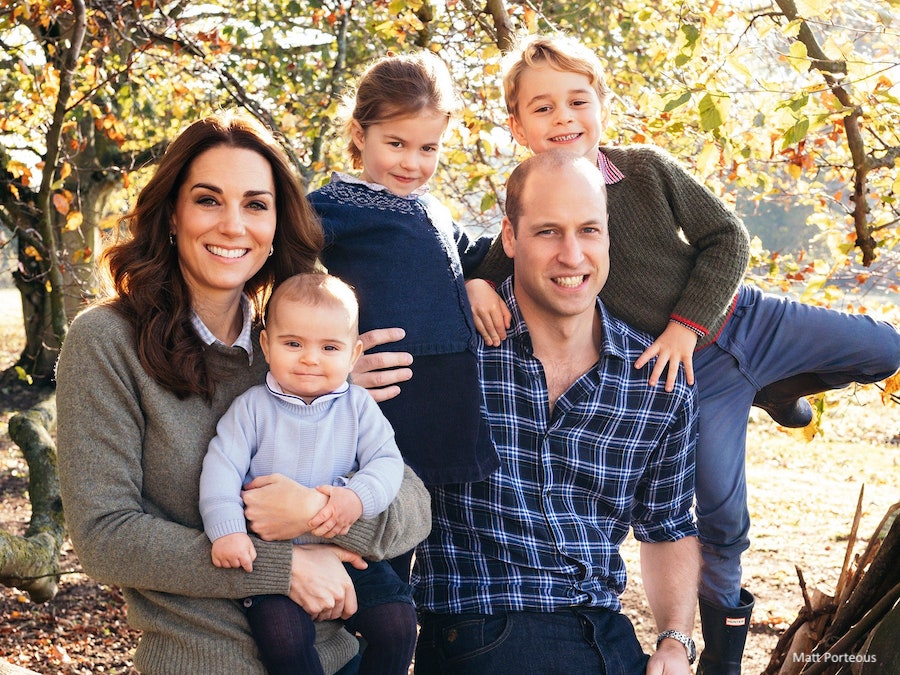 Note: in an earlier version of this post, I apologised for not conducting a thorough write-up & only bullet pointing the main facts. We had some bad news about our dog and sadly, I think we'll be putting him to sleep in the coming week.