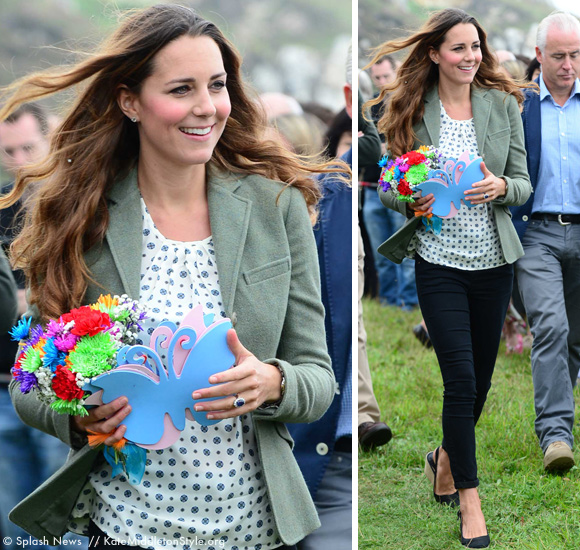 On Friday 30th Aug 2013, Kate made an appearance at the Ring of Fire ultra-marathon in Anglesey, as was rumoured earlier in the week.
It was previously confirmed that Husband Prince William would attend the race,  meanwhile Kate's attendance was only confirmed earlier that morning.
Prince George did not attend the race, rather was at home with grandma Carol, who has been reportedly staying with the couple in recent weeks.
It's thought that Friday's appearance marks the couples final engagement on the island, as they are due to move back to London once William finishes his job as an RAF search and rescue helicopter pilot later this month. The couple have lived on Anglesey since 2009.
Kate looked wonderful as she walked around meeting crowds of people, and talking to the volunteers and runners taking part in the event.
Kate's outfit:
The Duchess wore a pair of black skintight jeans, a green tweed jacket and a print top. It is thought that her jeans are TopShop's Maternity Jeans (but this is not yet confirmed – they look similar though, pocket shape, gold rivet and turn ups at the ankles), meanwhile we know her jacket is from Ralph Lauren and her top is by Zara – Kate has worn both pieces previously:
While Kate's jacket is past season, Ralph Lauren do have a number of jackets in similar styles and colours. "Heritage" is one of Fall/Autumn's biggest trends again this year and I myself have a gorgeous berry coloured tweed jacket, which I can't wait to wear once again when the weather gets cooler.
Kate's Zara top is also from a past season, Facebook friend Fiona spotted a different style top in a similar print from Espirit. It looks like only the German-arm of the brand has the top in stock, and I'm not sure about delivery, but it's a great option if you'd like to "RepliKate' today's look.
On Kate's feet you'll find her trusty, good old Pied-a-Terre Imperia slingback wedges.  She's also wearing her Kiki McDonough Grace earrings, and an old Gucci watch (which is at least 6 years old).