Kate Middleton owns four pairs of Kiki McDonough Classic Cushion Drop Earrings: yellow citrine/gold, white topaz/white gold, pink morganite/white gold and green amethyst/gold.
She debuted the first pair at the Cheltenham Festival in 2013. They feature a vibrant cushion cut citrine stone set in 18ct yellow gold.
One year later, we spotted the Duchess wear the same earrings with a green amethyst stone, also set in 18ct yellow gold. Kate has worn these a number of times since first debuting them in February 2014. The soft tone of the amethyst looks dazzling in the light and in some photographs, they look like aquamarines – but Kiki McDonough has confirmed Kate owns them in green amethyst.
Kate debuted the pale pink morganite Cushion Drops in 2015. They're set in 18ct white gold.  The subtle pink hue of the stone gives them a soft and feminine appeal.
Kate started wearing the fourth pair in 2018. They feature a white topaz stone set in white gold.
All of the earrings can be purchased with 18ct gold/white gold and diamond hoops or, the hoops and cushion drops can be purchased separately, enabling you to mix and match as you please.

Where to buy Kiki McDonough jewellery:
You can buy the earrings from Kiki.co.uk, Kiki McDonough's official website. The company offers worldwide delivery.
RRP: £1,400 for the white topaz, yellow citrine and green amethyst with diamond hoops as seen on Kate. £2,900 for the pink morganite with diamond hoops.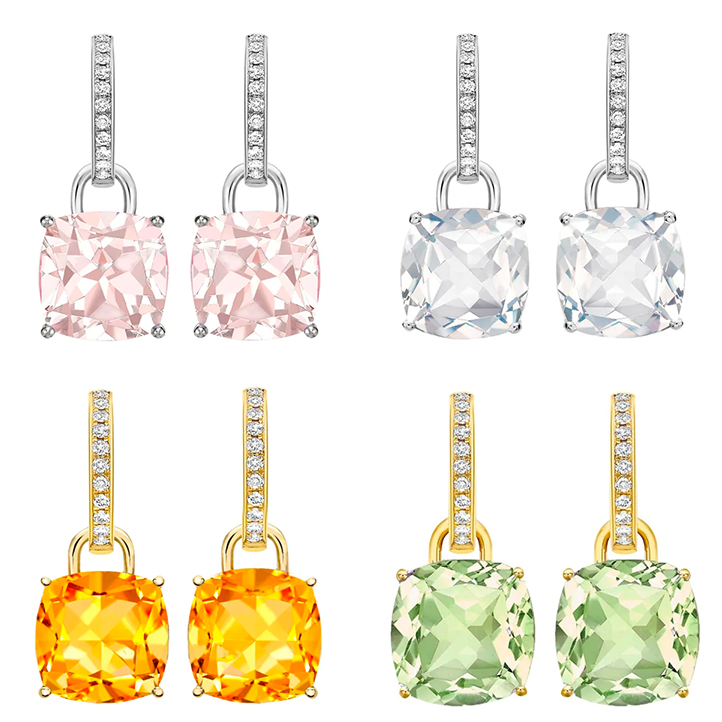 Kiki McDonough Cushion Drop Earrings
EXACT MATCH – Beautiful, versatile earrings that are guaranteed to become your new favourites—Kate loves them so much she has four pairs!
Two styles in one: wear the elegant diamond hoop alone or add the colourful gemstone for a different look!
Kate Middleton wearing Kiki McDonough Jewellery:
The Duchess must love Kiki McDonough earrings, she owns 18 pairs by the designer! (And three necklaces too!)
She often wears Kiki's diamond hoops with a pair of detachable pearl drops by another jeweller too.
About Kiki McDonough:
Kiki McDonough is famous for her striking colour combinations and timeless, wearable designs. Kiki only uses 18ct gold/white gold for her jewellery.
In November 2014, Kiki McDonough gave an interview to the Daily Mail Online about the Duchess wearing her earrings. She said:
'She wears my pieces as they should be worn. She obviously enjoys wearing colour on her ears as opposed to pearls and diamonds all the time.'

[Kate] is a busy working mother like me, and I design jewellery that goes with that lifestyle. My designs have always reflected the way we live now, dashing from work to an event.

'I will quite often keep the same pair of earrings on for a week and they go with me wherever I am going (from the theatre to a football match) and that seems to be something that my clients appreciate.'

Kiki McDonough via Mail Online