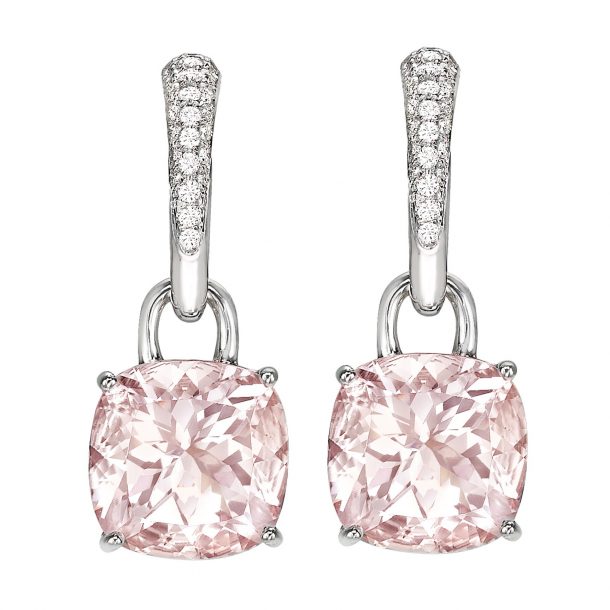 The Duchess of Cambridge owns three pairs of Kiki McDonough Classic cushion drop earrings.    She debuted the first pair during an appearance in March 2013 to the Cheltenham Festival.  They feature a vibrant cushion cut citrine stone set in 18ct yellow gold.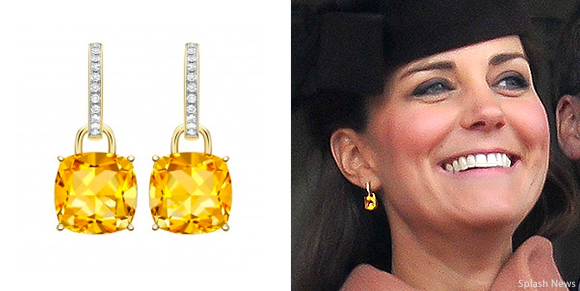 The second pair features an elegant green amethyst stone, which also sits in 18ct yellow gold.  Kate has worn these a number of times since first debuting them in February 2014.  The soft tone of the amethyst looks dazzling in the light and in some photographs, they look like aquamarine stones – but Kiki McDonough has confirmed Kate owns the green amethyst style.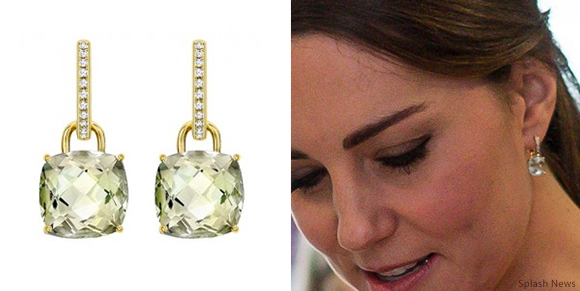 In early March 2015, a seven-and-a-half month pregnant Kate stepped out wearing an all pink ensemble, including these wonderful Kiki McDonough Classic cushion drop earrings in pretty pale pink morganite, and set in 18ct white gold.  The subtle pink hue of the stone gives them a soft and feminine appeal.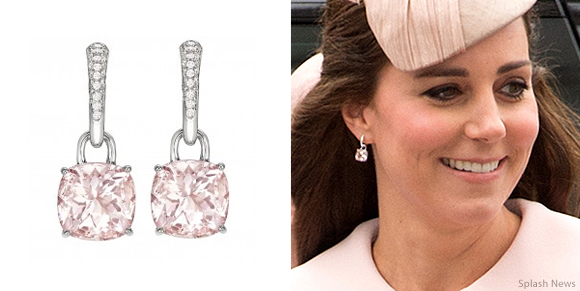 All three pairs of earrings come with 18ct gold/white gold and diamond hoops, which can be worn on their own without the cushion drop stones, if preferred.  This gives the wearer two looks in one!

At the time of writing, the green amethyst and citrine cushion drop earrings are available for purchase and retail at £1,300 (that's approximately $1,916 US dollars at today's exchange rate.)
The pink morganite earrings are considerably more expensive, £3,400 (or, $5,012 USD).  They're out of stock, although a representative from Kiki McDonough has tweeted and confirmed the earrings will be restocked soon.
Where to buy Kiki McDonough jewellery:
Of course, check out Kiki.co.uk, the Kiki McDonough website.
If you're in the USA, Neiman Marcus is a good option. They also sell lots of Kiki McDonough jewellery.  They have the cushion cut earrings in stock at the time of writing.
About the Kiki McDonough Classic collection:
Kiki McDonough's Classic collection features some of Kiki's most iconic designs from over the last 10 years – timeless designs that have been popular all over the world.

Kiki McDonough is famed for her easy-to-wear jewellery featuring vivid gemstones in a variety of shapes and sizes.  Kiki only uses 18ct gold/white gold for her jewellery.
About Kate and Kiki McDonough:
The Duchess owns a number of Kiki McDonough earrings, and wears them regularly.  She often wears the diamond hoops on their own too, with detachable drops from other jewellers.
The Duchess regularly wears her citrine Pear Drops and her Oval Drops, also from the "Classic" collection.  She has worn a peridot and blue topaz pair from the Classic collection too, but only once to the African Cats premiere in 2012.
Kate also owns the "Grace" earrings in white topaz, and the "Lola" hoops in blue topaz.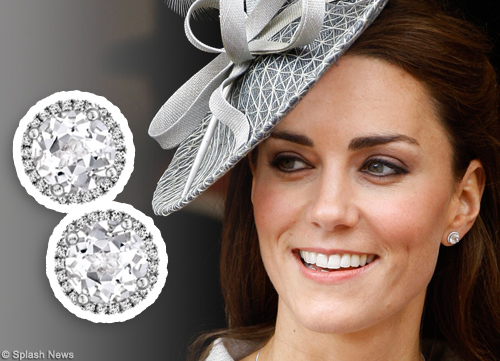 In November 2014, Kiki McDonough gave an interview to the Daily Mail Online about the Duchess wearing her earrings.  She said:
'She wears my pieces as they should be worn. She obviously enjoys wearing colour on her ears as opposed to pearls and diamonds all the time.'

[Kate] is a busy working mother like me, and I design jewellery that goes with that lifestyle. My designs have always reflected the way we live now, dashing from work to an event.

'I will quite often keep the same pair of earrings on for a week and they go with me wherever I am going (from the theatre to a football match) and that seems to be something that my clients appreciate.'