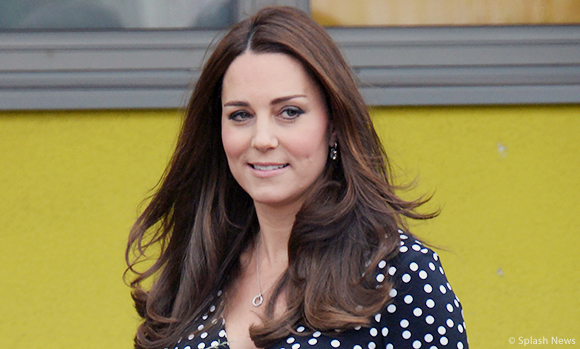 This morning, The Duchess of Cambridge visited Home-Start's Brookhill Children's Centre in Woolwich to learn more about the charity and find out more about the support it provides for children and families.

Home-Start provides families with young children support so they can "deal with whatever life throws at them". The charity has a network of volunteers that provide free, non-judgemental one-to-one support and mentoring to over 32,000 families who are struggling to cope in a variety of situations including isolation, mental ill health, bereavement, multiple births, illness or disability.

Upon arrival, the Duchess was introduced to the Mayor and Leader of the Royal Borough of Greenwich. She then attended a briefing with Home-Start UK's chief executive, Rob Parkinson and the centre's manager, Dawn Brown (see below).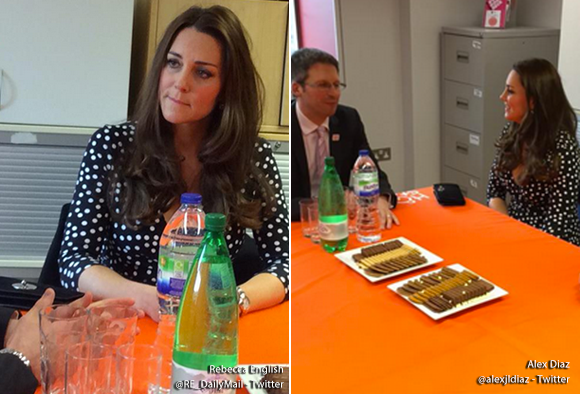 Rob and Dawn told Kate more about the work the charity does to support families to cope, improve confidence and build better lives for their children.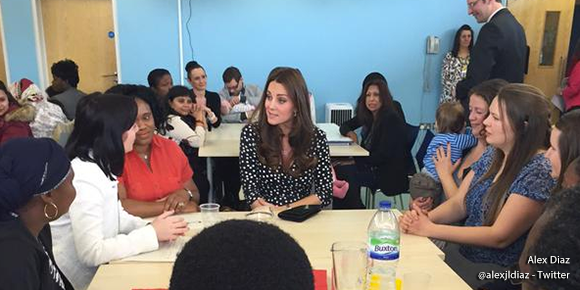 After the briefing session, Kate attended a coffee morning with families who have been supported by Home-Start. Kate chatted with the families about their experiences.  Here she is with a cute little baby girl whose family uses Home-Start's services: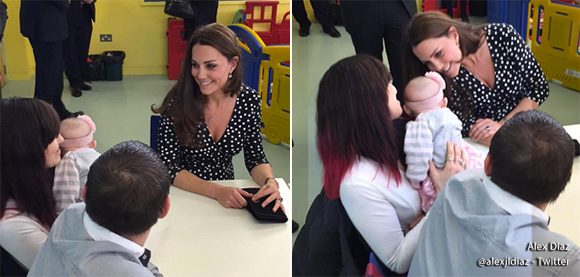 What an adorable picture:
Here's a lovely video from The Daily Mail's Rebecca English:
Next, it was onto a volunteer training session. Kate learned how volunteers are taught to offer practical and emotional support in a family's home, which in turn helps the children to make the most of nursery or school.
A short vine video:
https://vine.co/v/OVU7qWtAJnD
Finally, the Duchess toured the onsite "Together for Twos" creche, where she met families and staff.
Kate's outfit:
For today's visit, Duchess Kate wore a polka dot skater dress by Asos Maternity.
The spotty dress is exclusive to Asos and features a fake wrap front and 3/4 length sleeves.  Click the picture below to view the dress on Asos' website:

The dress is made from stretch fabric (viscose/elastane) and is designed to fit through all stages of pregnancy.  The brand describe it as "true to size" and has an "empire seam" design.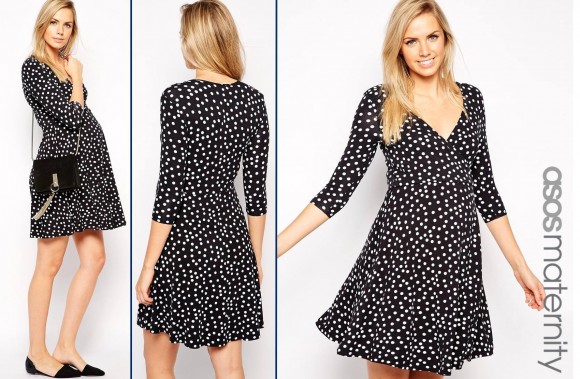 Sadly, the dress sold out quickly in all remaining sizes, but an ASOS rep confirms they WILL restock the dress,, woohoo!  As of MAY 27th 2015, the DRESS IS BACK IN STOCK, in ALL SIZES!  Buy this dress by clicking here.
Today, a fashion-related mystery was solved!  The Duchess wore a black coat with ruffled trim, which we'd seen her wear previously in 2012 to a party at the exclusive London private members club Loulou's in Mayfair.  Here we show a picture from that evening – NOTE – I have brightened the picture in Photoshop, to highlight the coat's features, leading to a loss of quality.  But it was essential to show off the coat: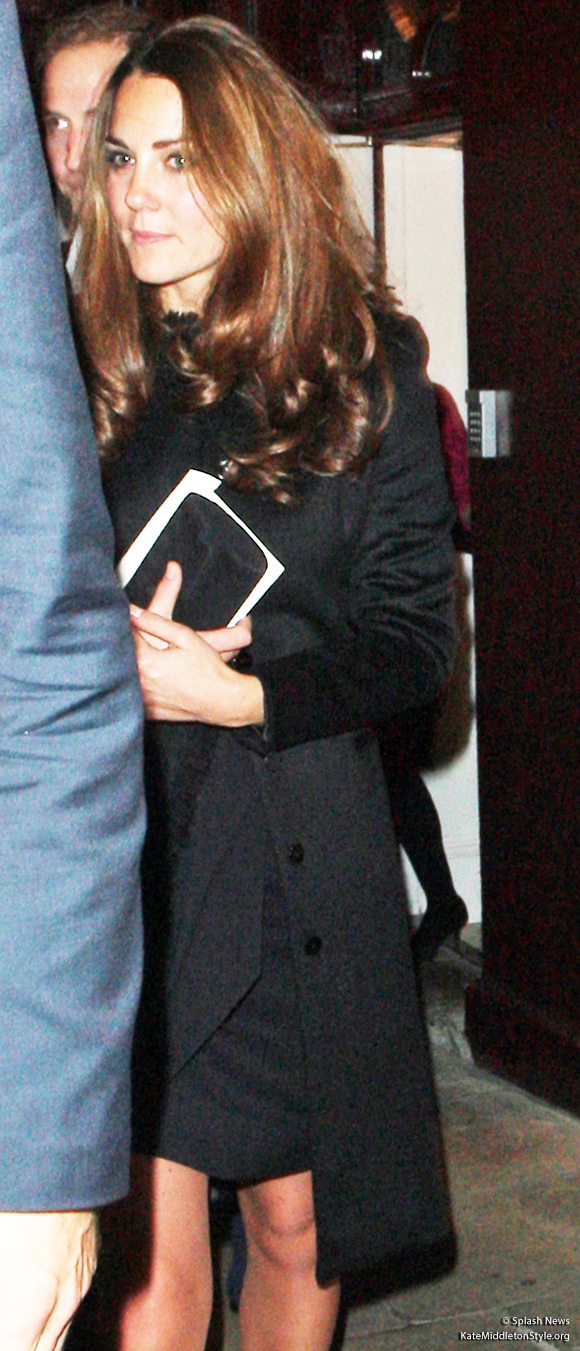 Here's a look at Kate's coat today, from the front: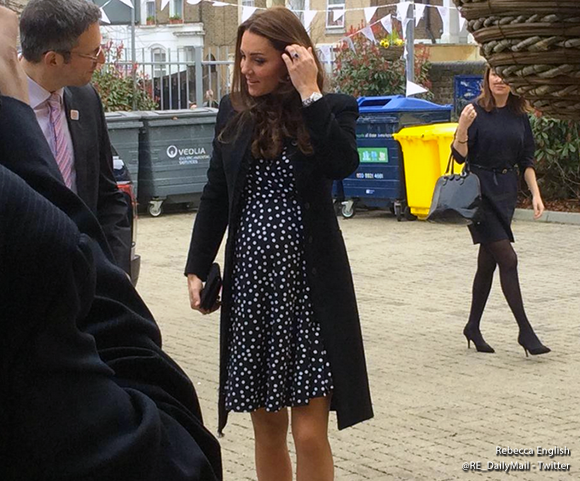 And a look at the back too: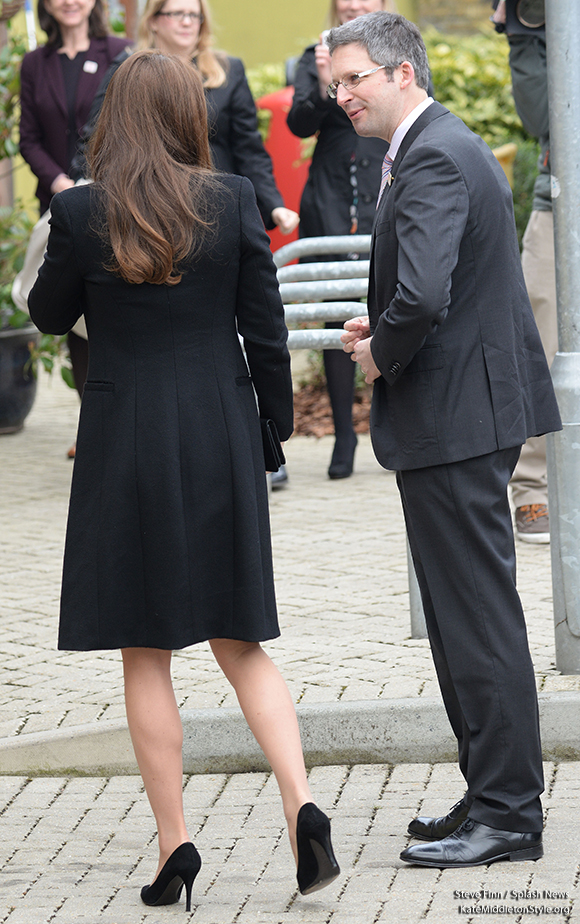 Rebecca English (who writes for The Daily Mail) confirmed that Kate's black coat was made several years ago by her "private dressmaker." 
I have a theory that Kate's "private dressmaker" is Alexander McQueen's Sarah Burton acting in a personal capacity.  Perhaps, creating Kate bespoke pieces, as a friend, as a gift for special occasions.  I have absolutely nothing to back this up, other than the similarity between the following two garments.  Left: Kate wearing a light blue Alexander McQueen coat (confirmed) during the 2014 Australia tour.  Right: Kate wearing another coat by the "private dressmaker" on Christmas day 2011.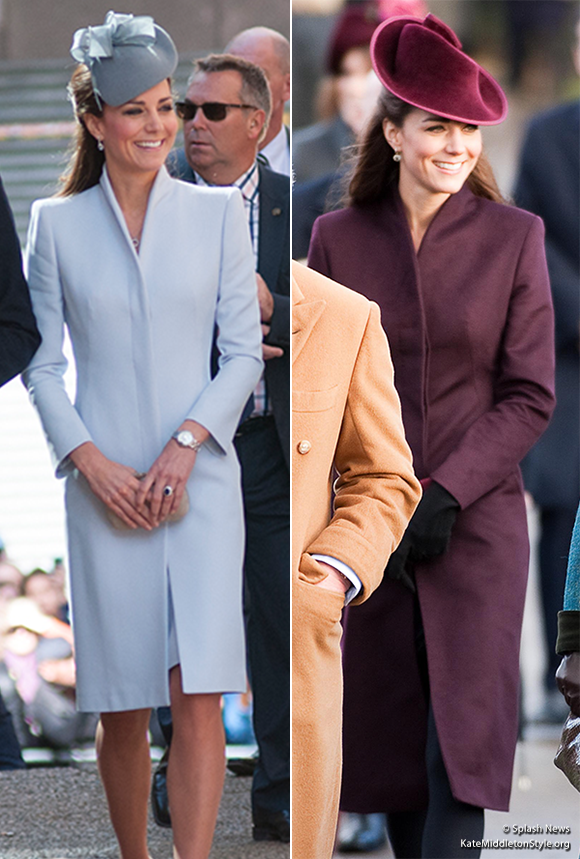 I could be totally wrong – it's just a theory!  But Sarah Burton did design Kate's wedding dress.  The two might have become close?
Back to today's engagement.  Kate paired her ASOS dress and coat with accessories that should be very familiar by now (the Duchess has worn them together on a number of recent occasions.)
The Duchess wore her black suede Stuart Weitzman Power pumps: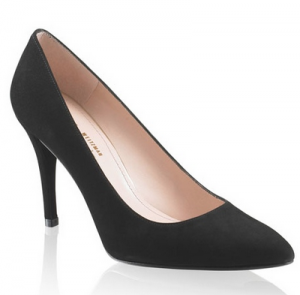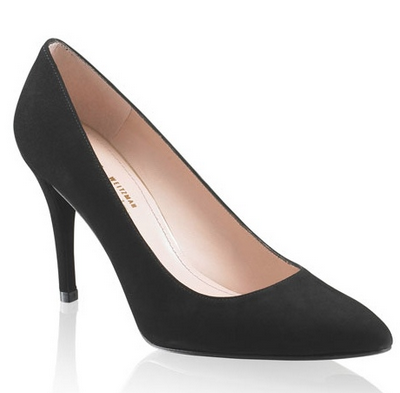 She also carried her co-ordinating black suede "Bayswater" clutch bag by Mulberry (shown below in black leather).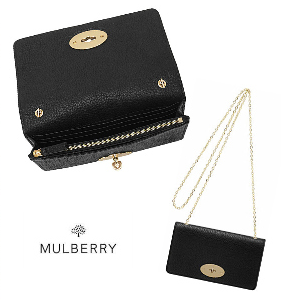 Kate wore her Cartier "Ballon Bleu" watch (33cm size) –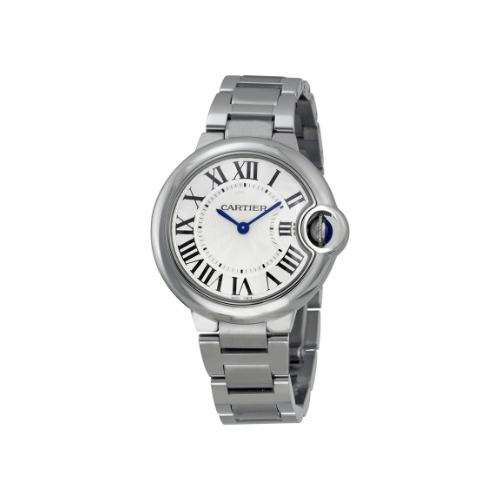 The Duchess added a little sparkle to her outfit with Mappin & Webb's £3,950 (approximately $5,800 USD) white gold and diamond "fortune necklace"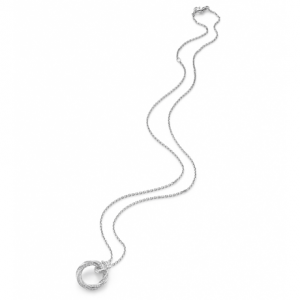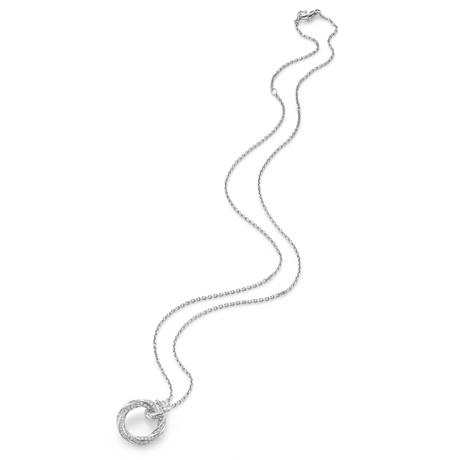 Finally, Kate wore her Kiki McDonough pink morganite cushion drop earrings.
The earrings are pretty new to Kate's collection, she debuted them at the Commonwealth Observance earlier this month: