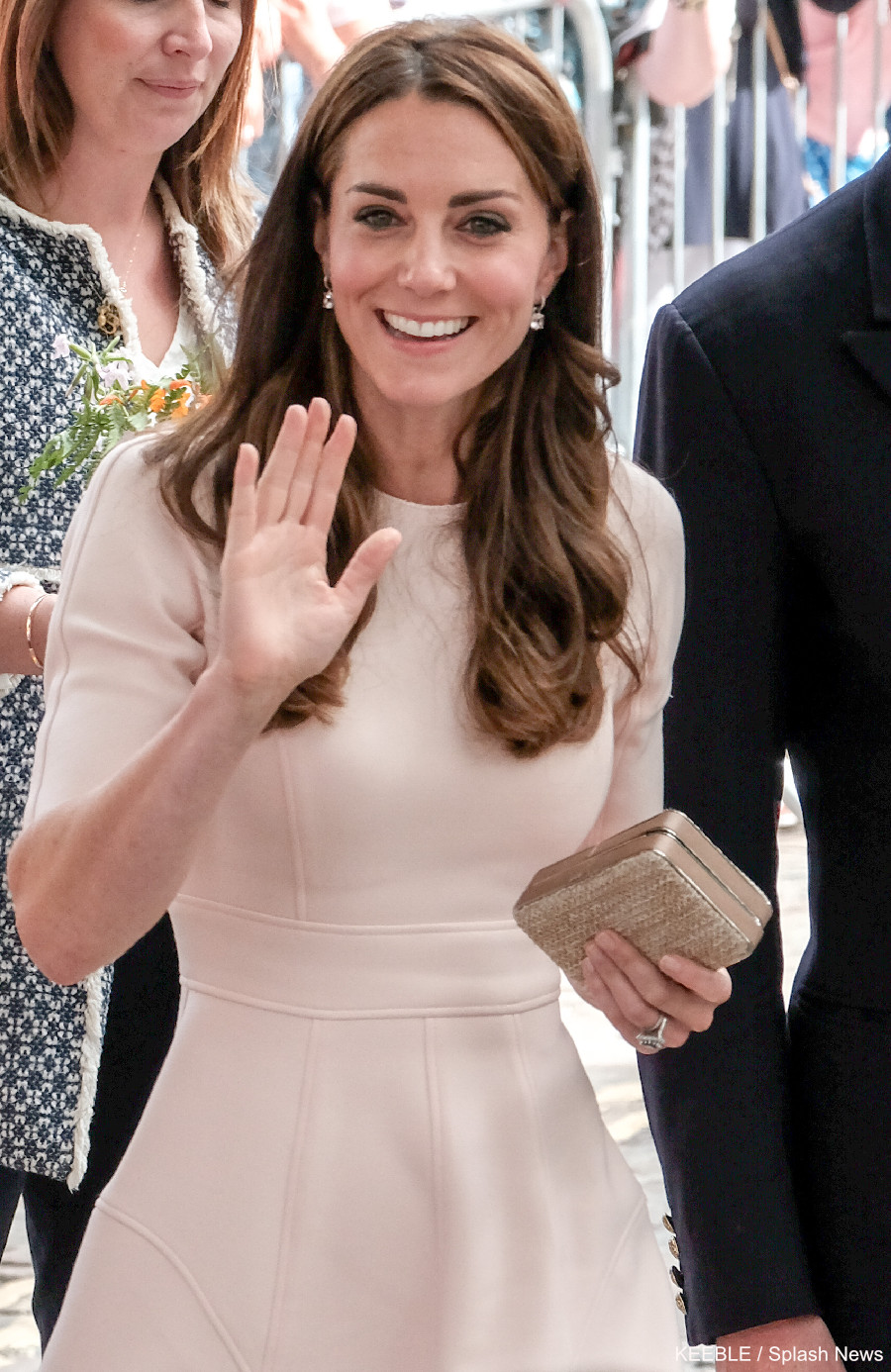 On the 1st September 2016, the Duchess of Cambridge (Kate Middleton) spent a full day visiting businesses, charities, projects and organisations in the county of Cornwall. She visited the city with her husband, Prince William. For those who are from outside of the UK, Cornwall is a large county in the southwest of England. It's a beautiful area that even has its own language!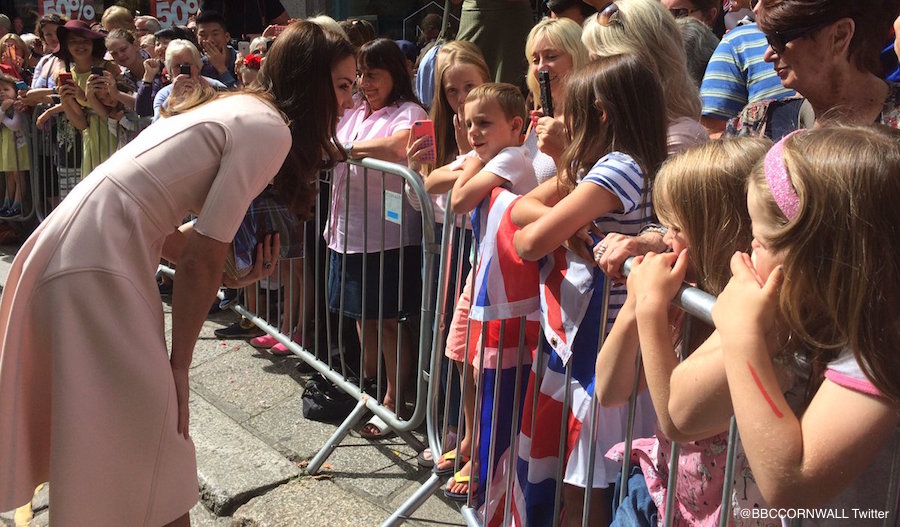 The day began in Truro, Cornwall's only city. The couple paid a visit to the Cathedral to meet with civic dignitaries and cathedral representatives. First, they said hello to the crowds waiting outside.
After a quick walk around, the couple went inside to "sign a slate" in support of the Truro Cathedral Roof Appeal. The cathedral roof is in urgent need of repair and estimated to cost around £3.2 million.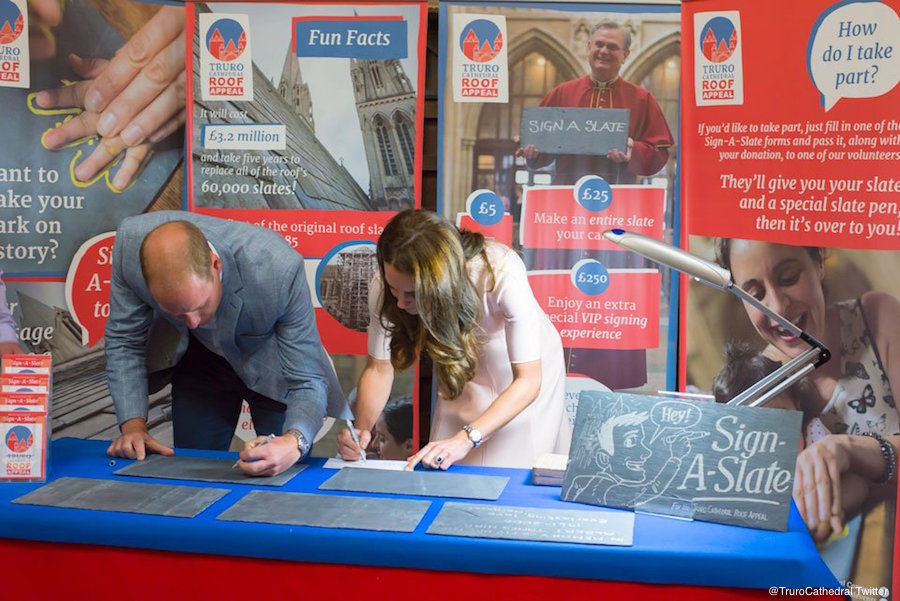 For a donation, you can add your own signature on a tile alongside Kate's! There are different tiers starting from £5 (roughly $7 USD). Here's a look at Kate's tile: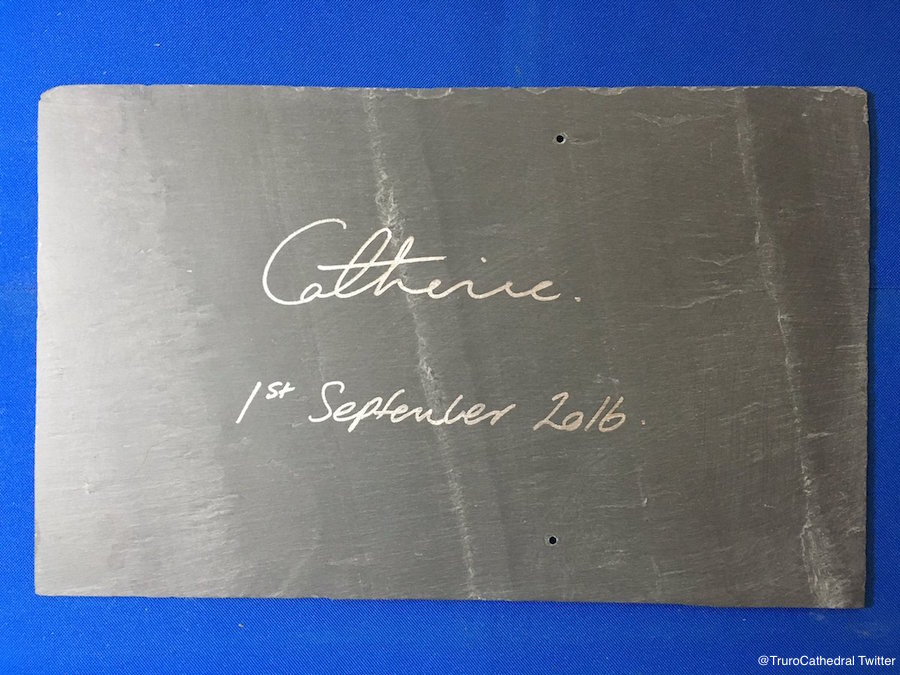 Next, William and Kate visited Zebs, run by Young People Cornwall. The drop-in youth club provides a space for children to try new activities, chat with different people and get support.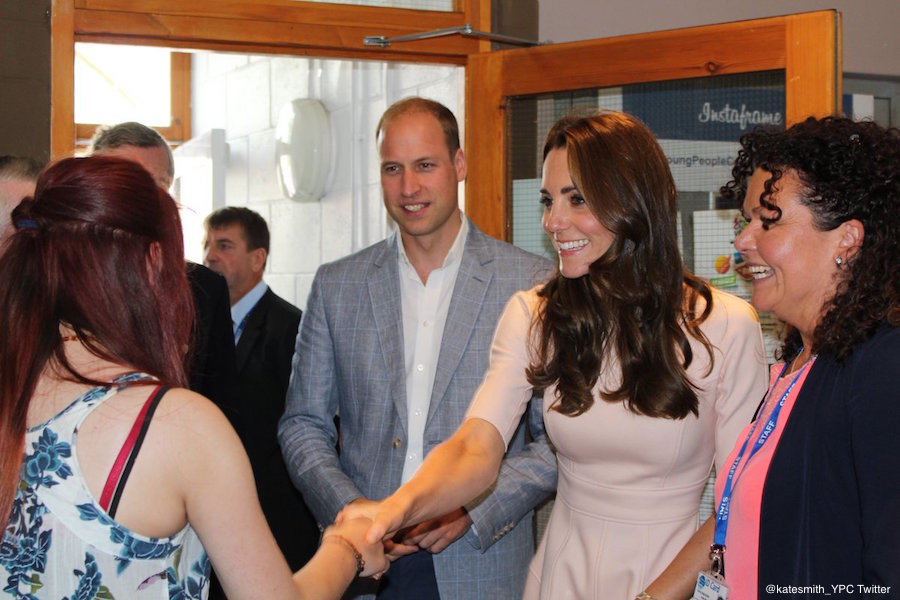 While inside, William and Kate listened to children explain how important it is to support each other with their mental wellbeing.
Next, the couple headed to the award-winning Healey's Cornish Cyder Farm near Newquay. The farm grows apples and turns them into Cornish Cyder, juices, preserves, wines and spirits. Healy's is a thriving local business and one of Cornwall's top tourist attractions.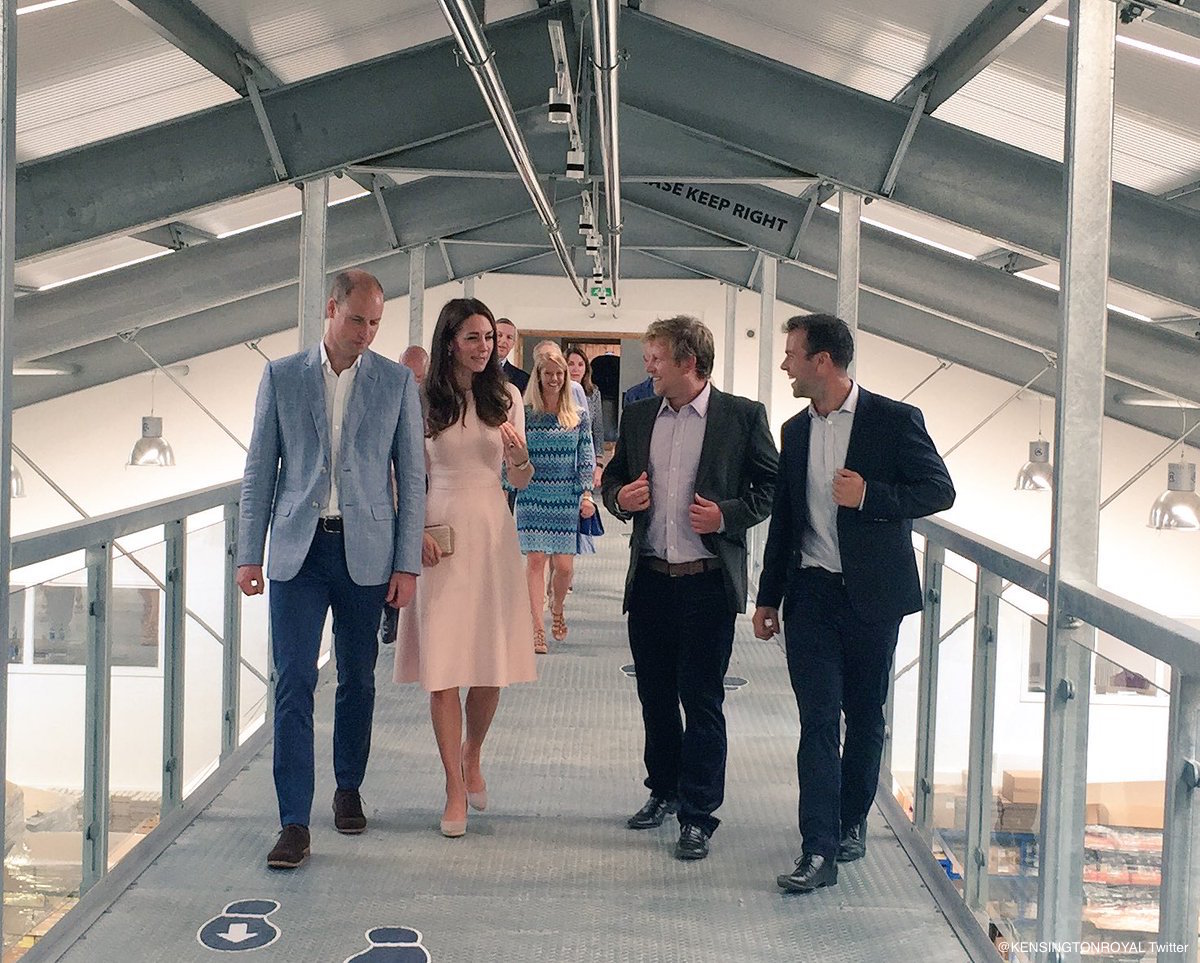 William and Kate received a private tour of the Cyder Farm. Of course, they both sampled a number of beverages during their visit. Emily Andrews from the Sun reports that while trying apple juice, William joked "where's the alcoholic stuff?"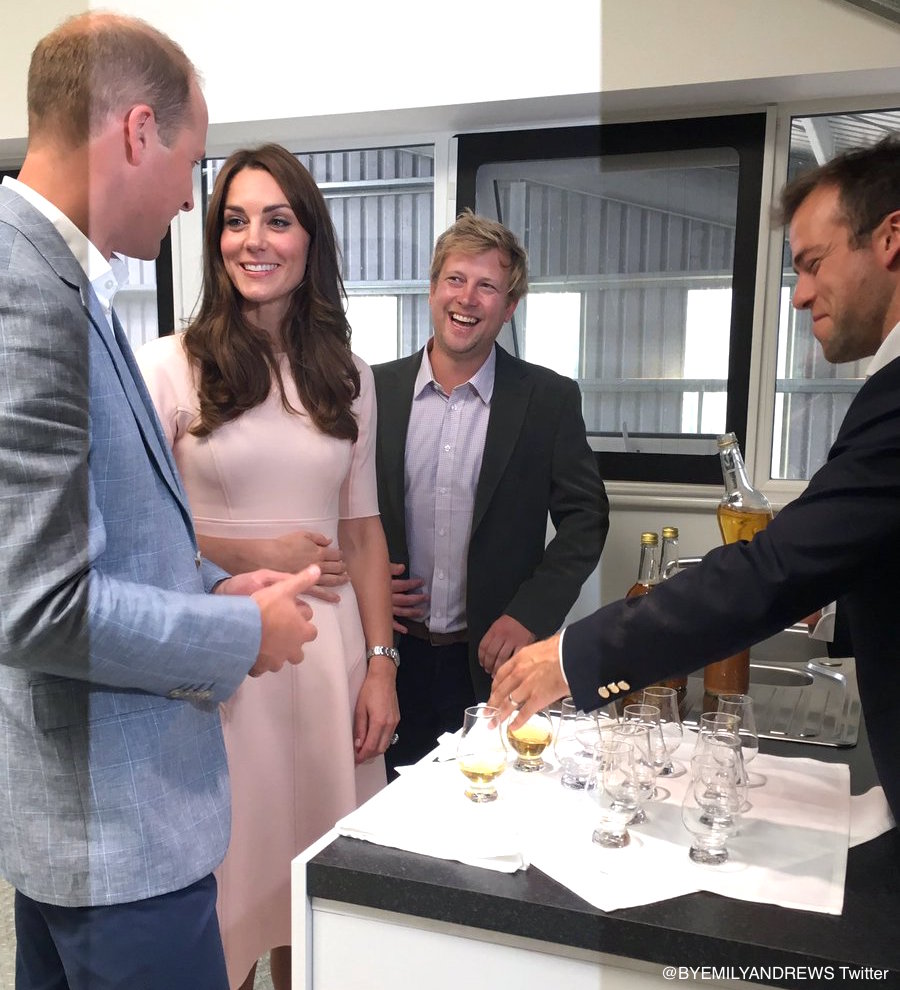 The "alcoholic stuff" came next. Kate poured a pint of the company's famous Rattler cyder. She handed it to William who joked "I'll fall over if I drink that".
The couple unveiled a ceremonial plaque before leaving the Cyder Farm. A little side note: they're lifting the Cornish flag off the plaque.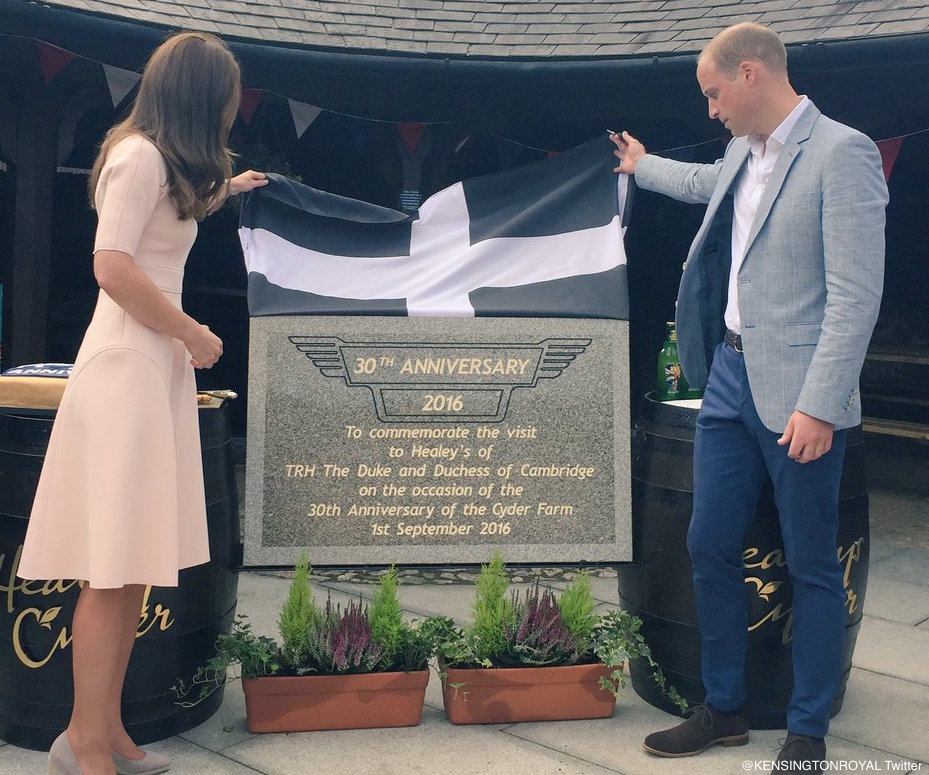 After, the couple visited two development projects supported by the Duchy of Cornwall.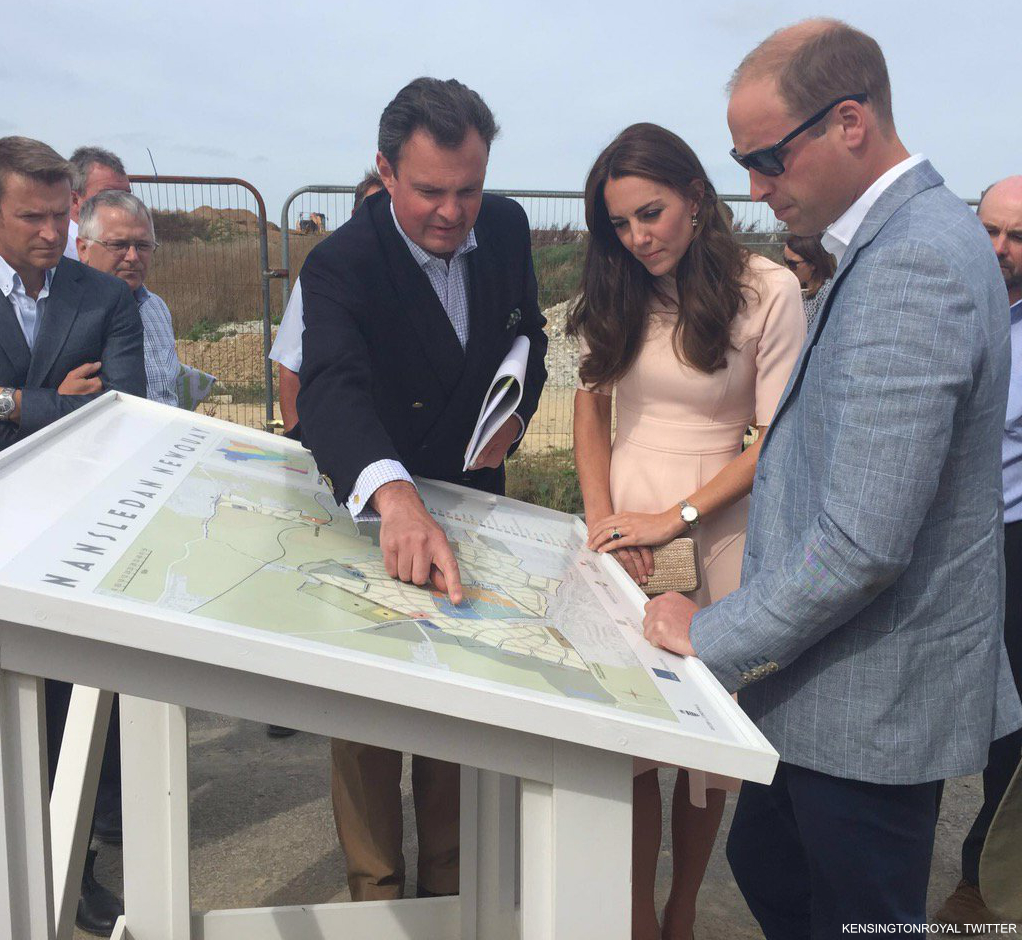 The Duchy of Cornwall is an estate held by the Prince of Wales, currently Prince Charles. William will take over the Duchy when Charles is King.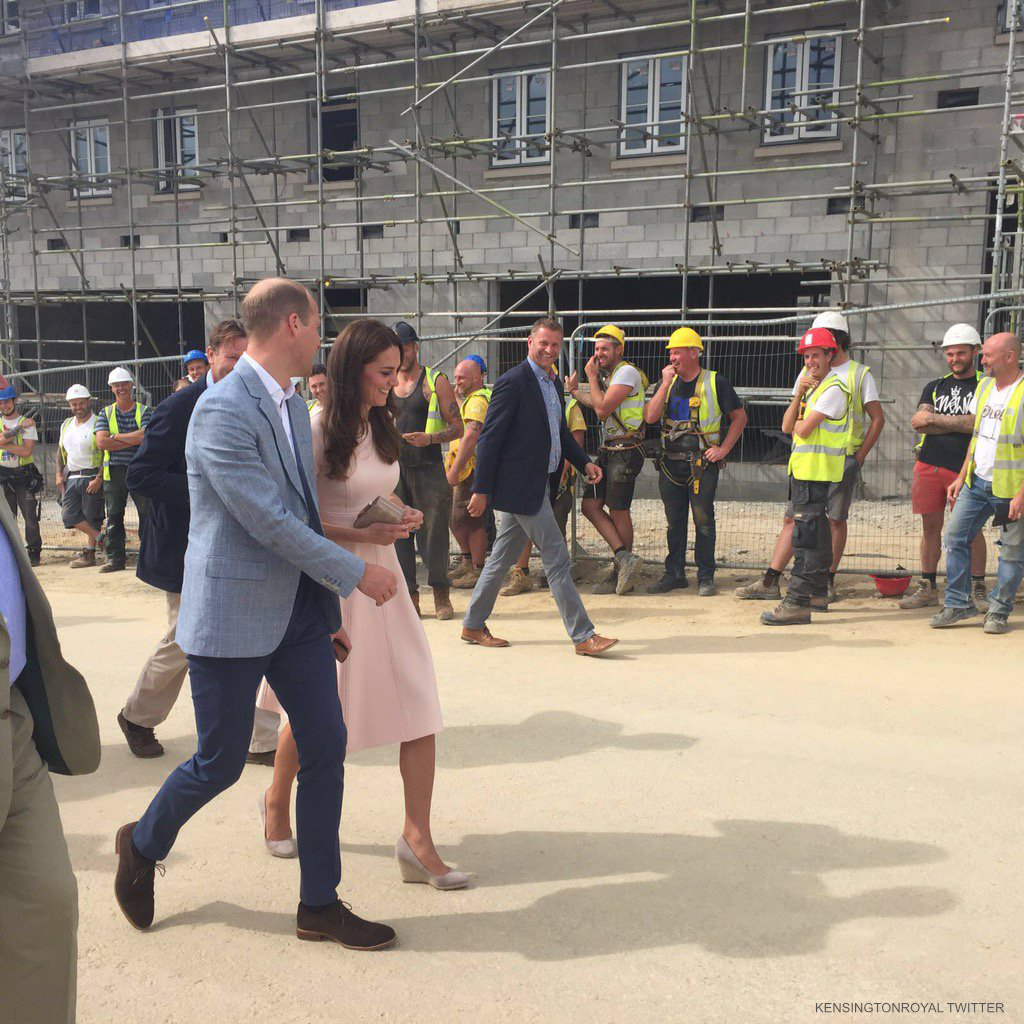 First, the couple visited Nansledan, a 218-hectare site that will provide space for business and housing for the area. After, they visited Tregunnel Hill, a neighbourhood development project.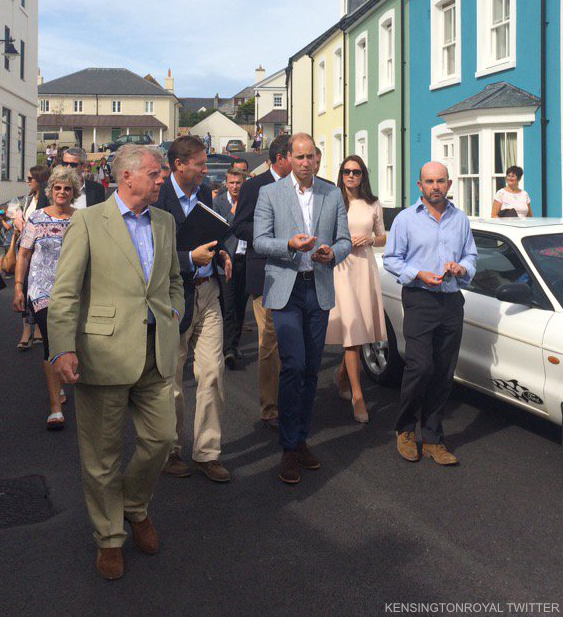 During the visit, the couple met with a number of local people. I just had to share this picture of Kate saying hello to a baby. But check out William giving the dog a little stroke on the ear. CUTE.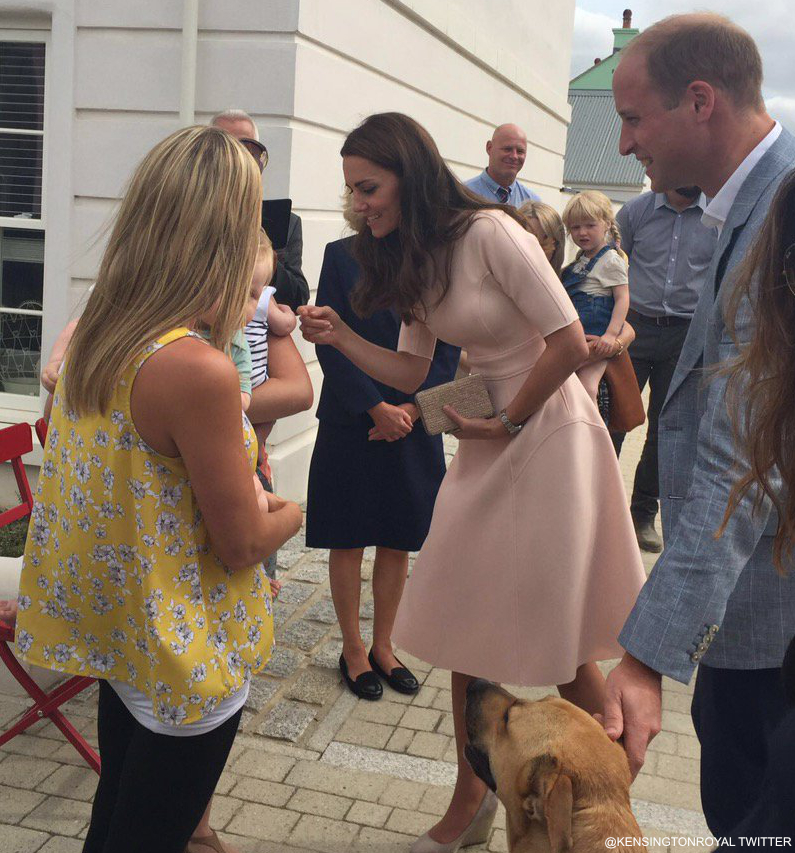 The couple's final engagement of the day took place on Towan Beach.
They met with children and mentors from The Wave Project.
This organisation uses surfing as a tool to reduce anxiety in children and improve their mental well-being.
Kate's outfit:
Kate chose a blush pink dress by American designer Lela Rose. It's the Double Faced Twill Elbow Sleeve style.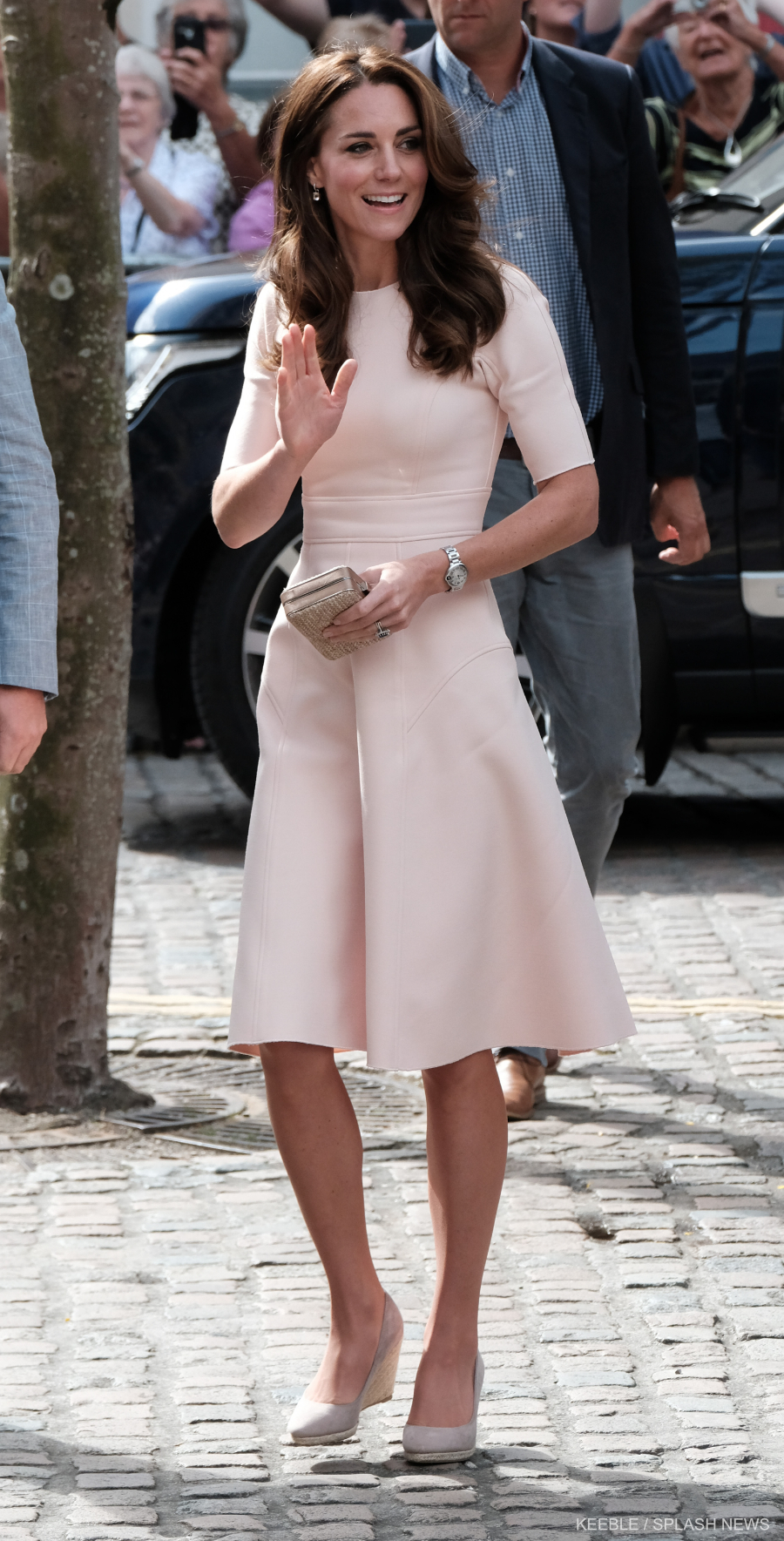 The fit-and-flare dress features elbow-length sleeves, a softly pleated knee-length skirt, a thick waistband and seam detailing along the sleeves and upper portion of the skirt. It's made in the USA from Italian polyamide, wool and elastane fabric.
The dress originally retailed for $1,295 before going on sale at $777.  
If "Lela Rose" sounds familiar, it's because Kate chose a dress from the designer back in 2014 during the Royal Tour of Australia and New Zealand.
Kate accessorised the Lela Rose dress with her favourite L.K. Bennett Natalie straw clutch.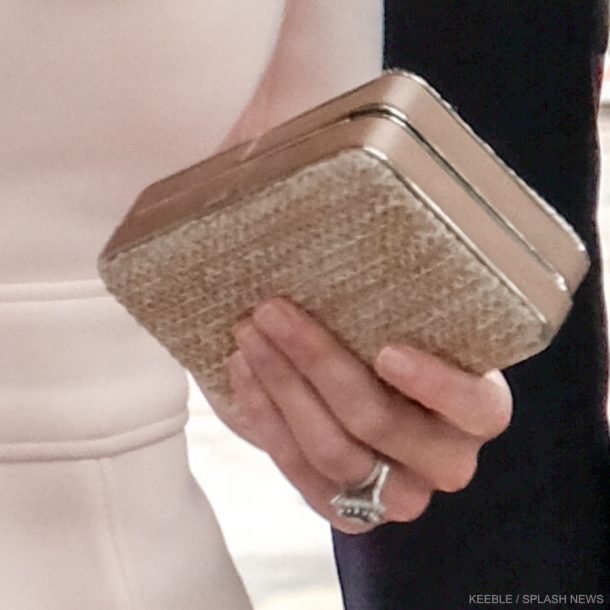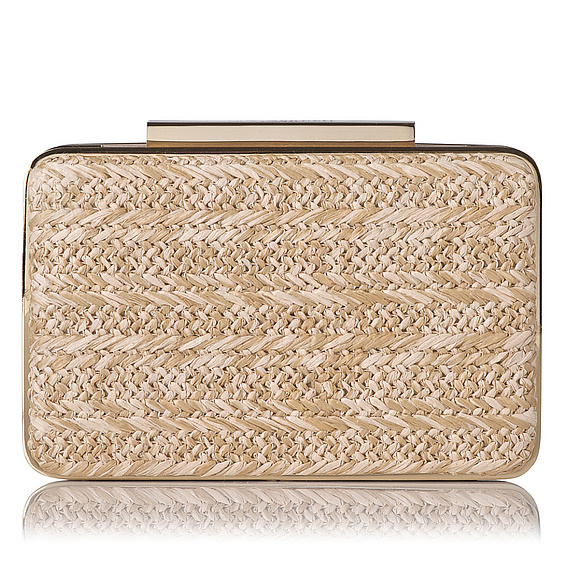 A staple in her closet, this clutch has made a number of appearances since 2011. Read more about it by clicking here. (Pictured below, Kate carrying the clutch bag during a visit to Sydney, Australia in 2014).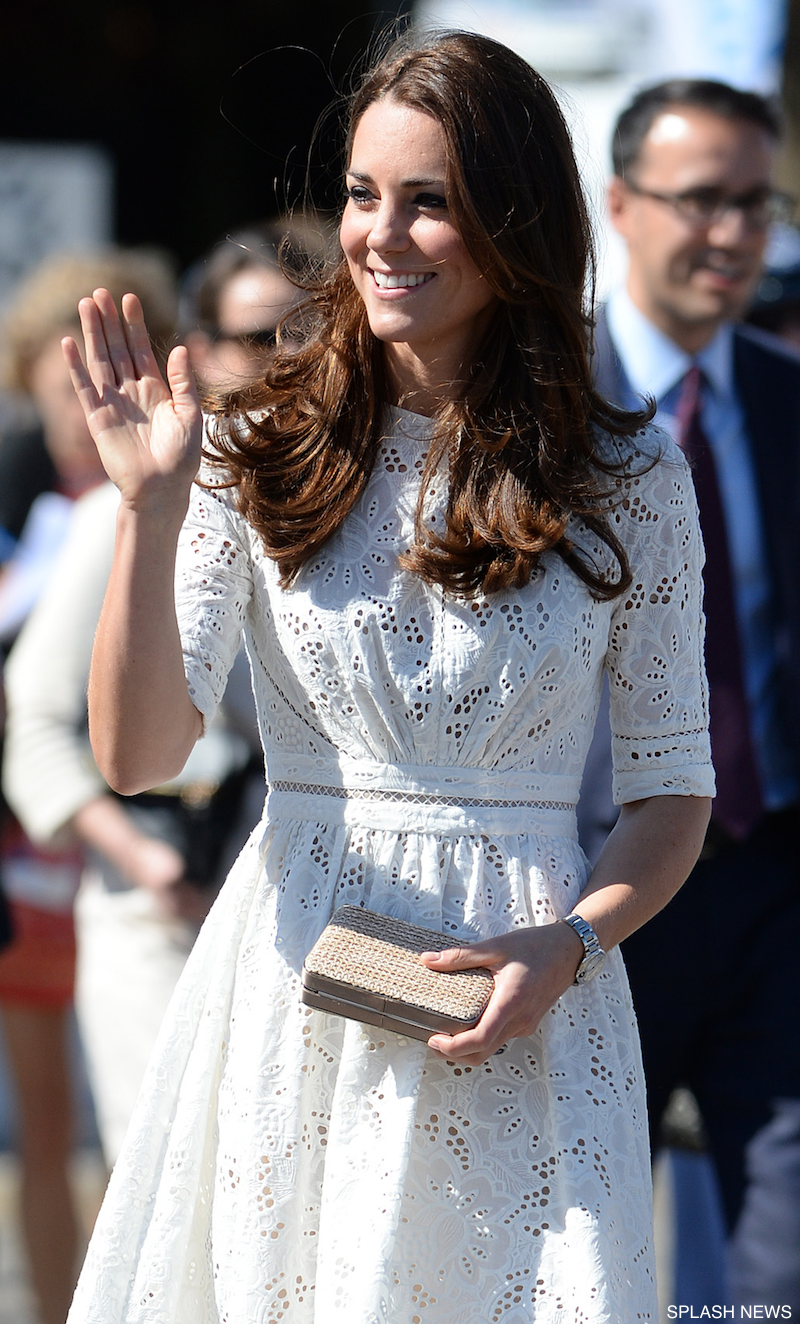 Kate paired the dress with her Monsoon Fleur wedges.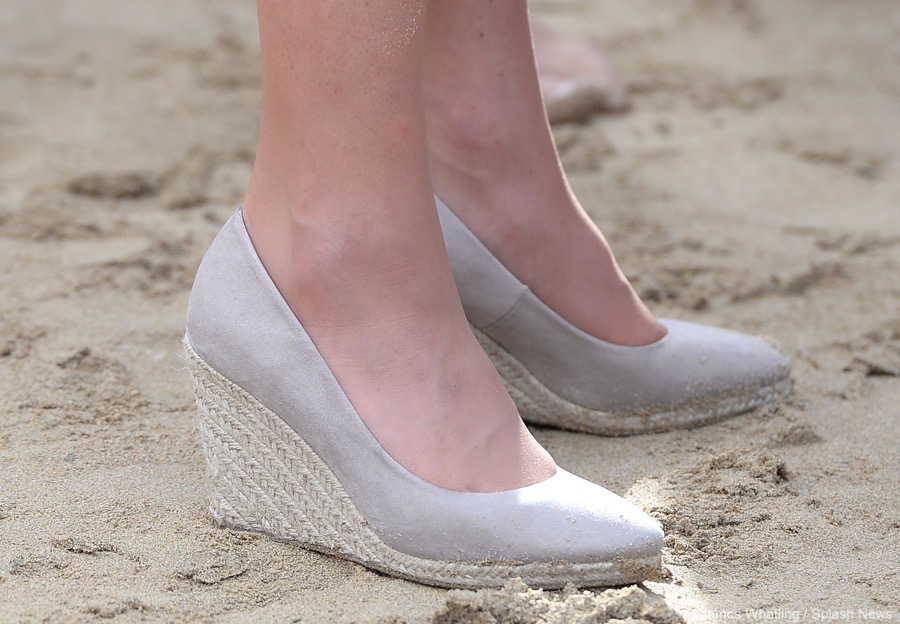 The shoes feature a suede effect upper, an almond-shaped toe and a rope wedge heel.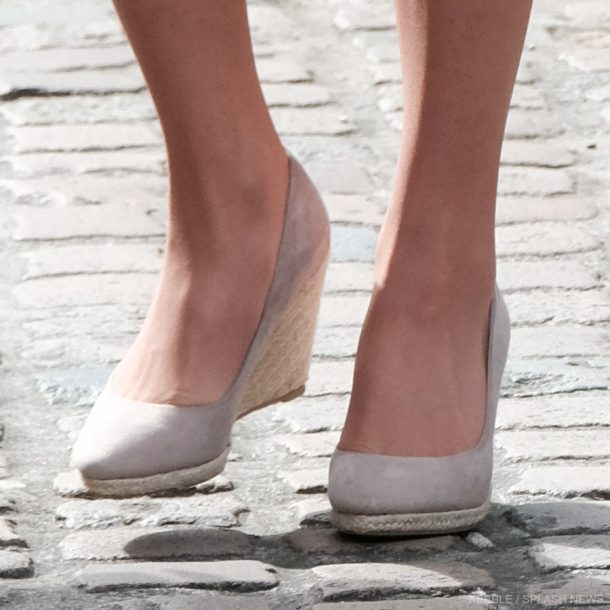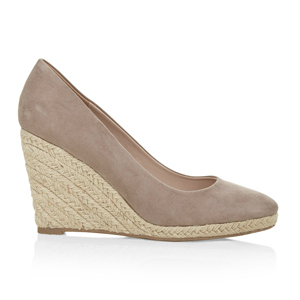 The Duchess first debuted them in Mumbai in April 2016. Sadly, the company no longer stock the style.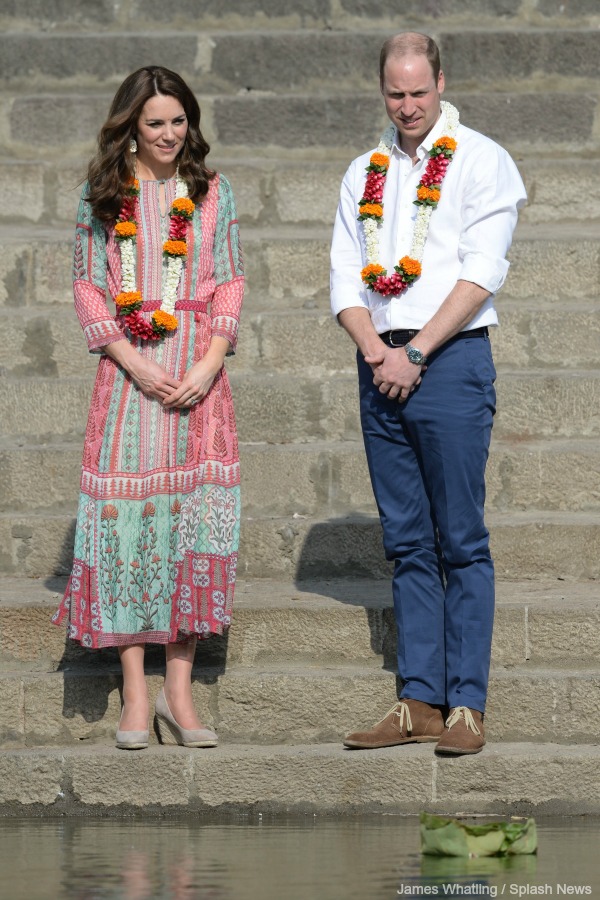 Kate wore her Kiki McDonough cushion drop earrings in pink morganite. She owns them in three different colours! Read more about them by clicking here.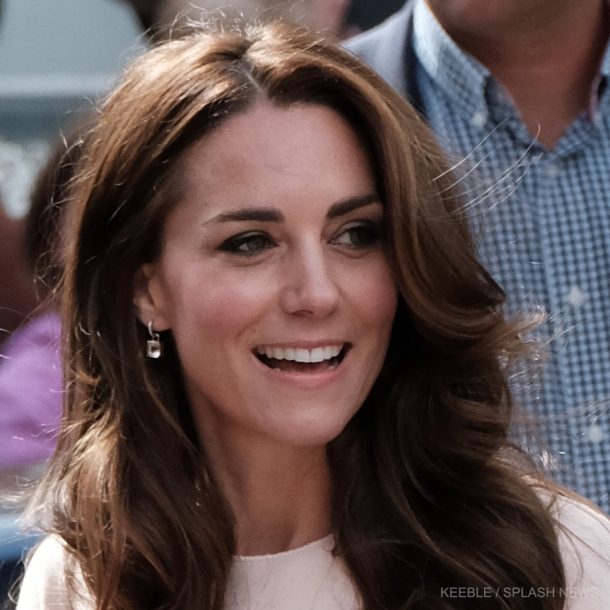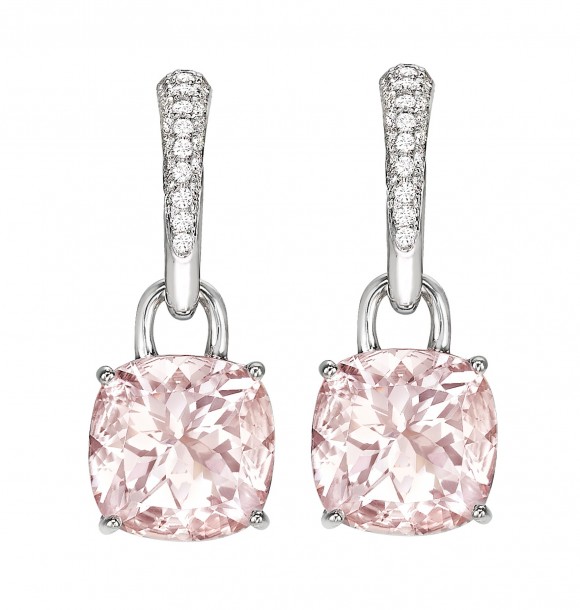 It was pretty sunny in Cornwall and at one point during the visit, Kate put on a pair of sunglasses to combat the glare.  They're her Ray-Ban sunglasses.
And finally, Kate wore her sapphire engagement ring and her 33mm Cartier Ballon Bleu watch: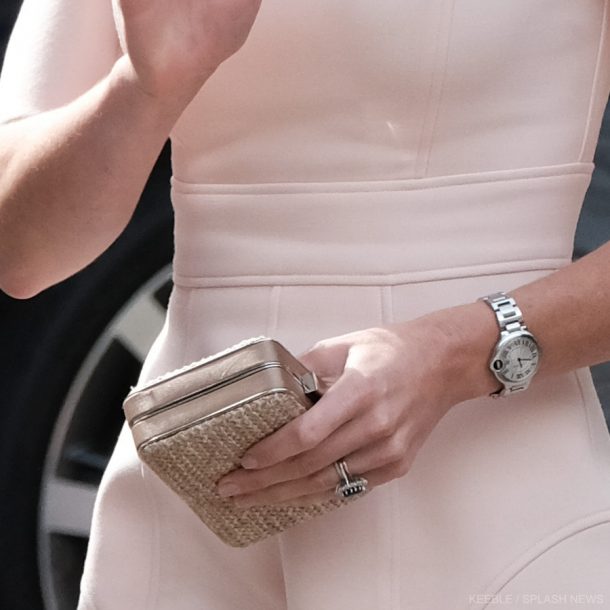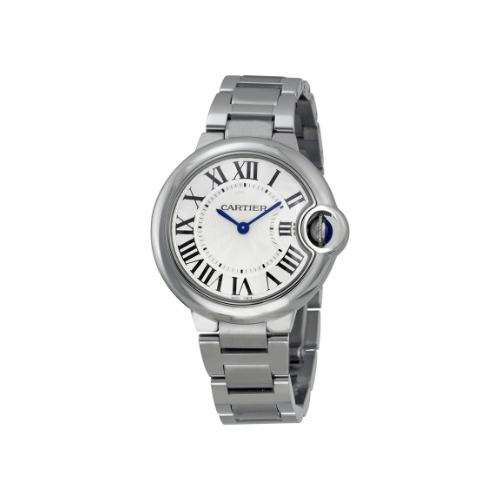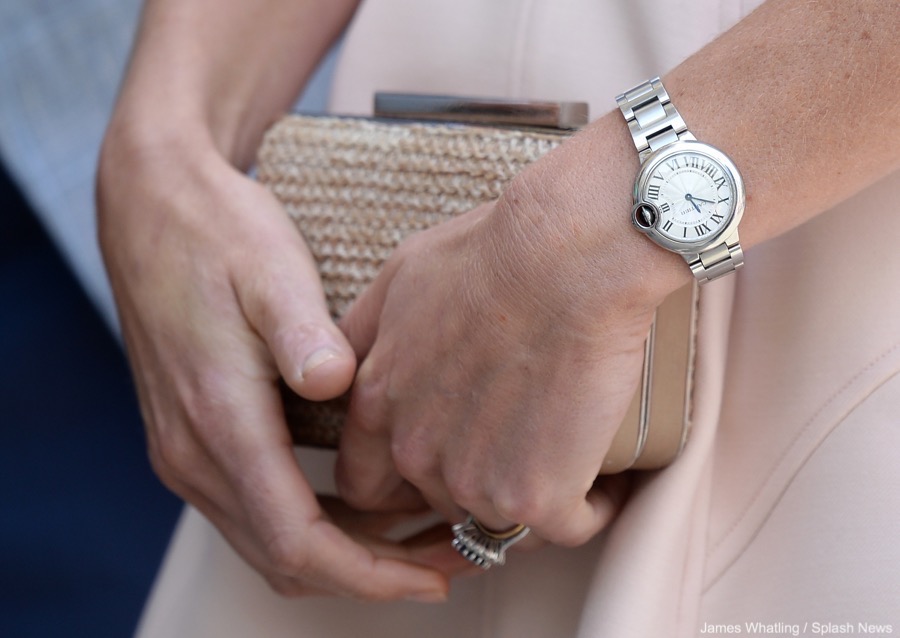 Kate spent a second day in Cornwall, visiting the Eden Project and the Isles of Scilly. To read more, click here.