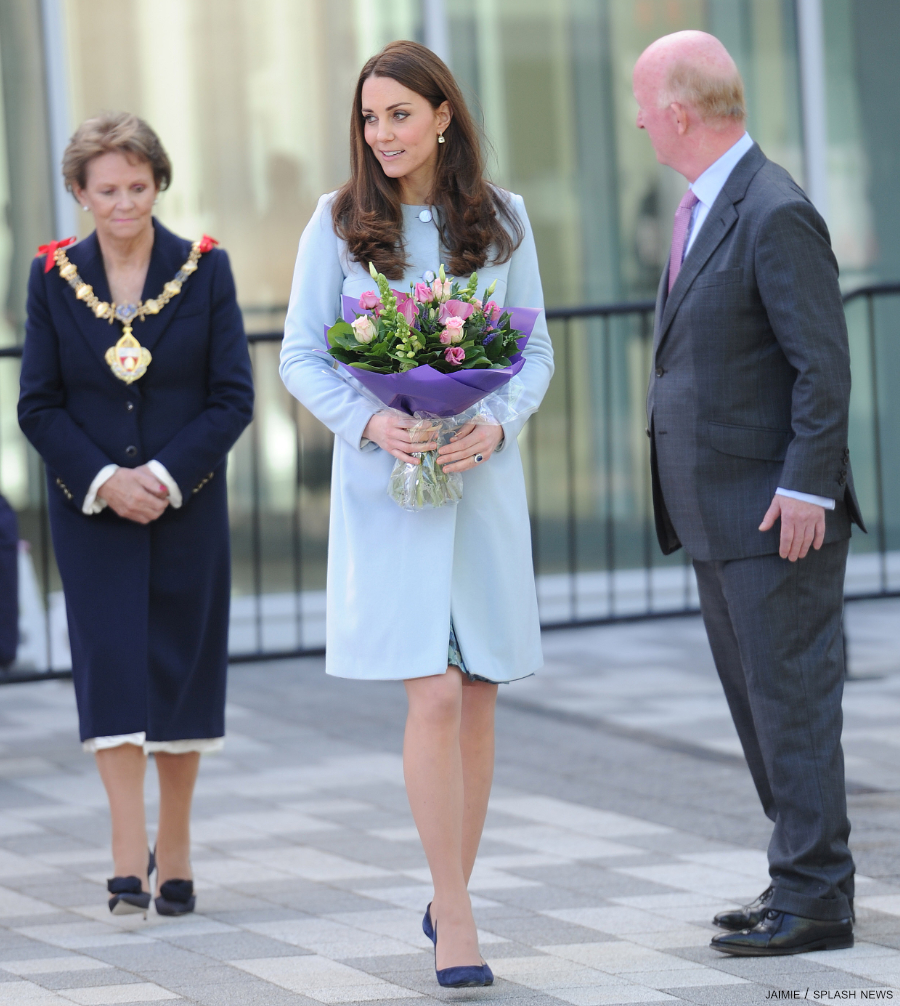 19th of January 2015—The Duchess of Cambridge (Kate Middleton) conducted a number of engagements in the Kensington area, near to her London home at Kensington Palace.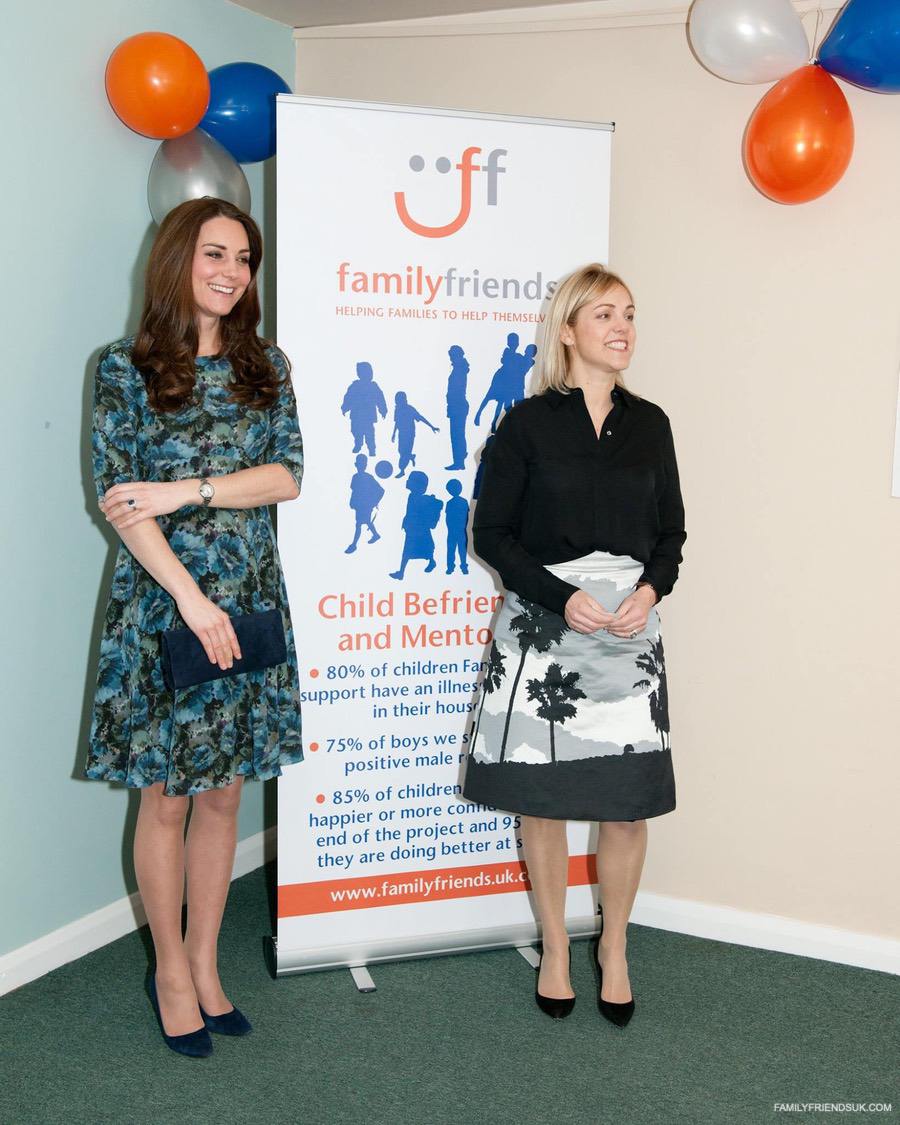 Kate began her day with a visit to the volunteers at Family Friends, a charity that supports disadvantaged families through its network of trained volunteers.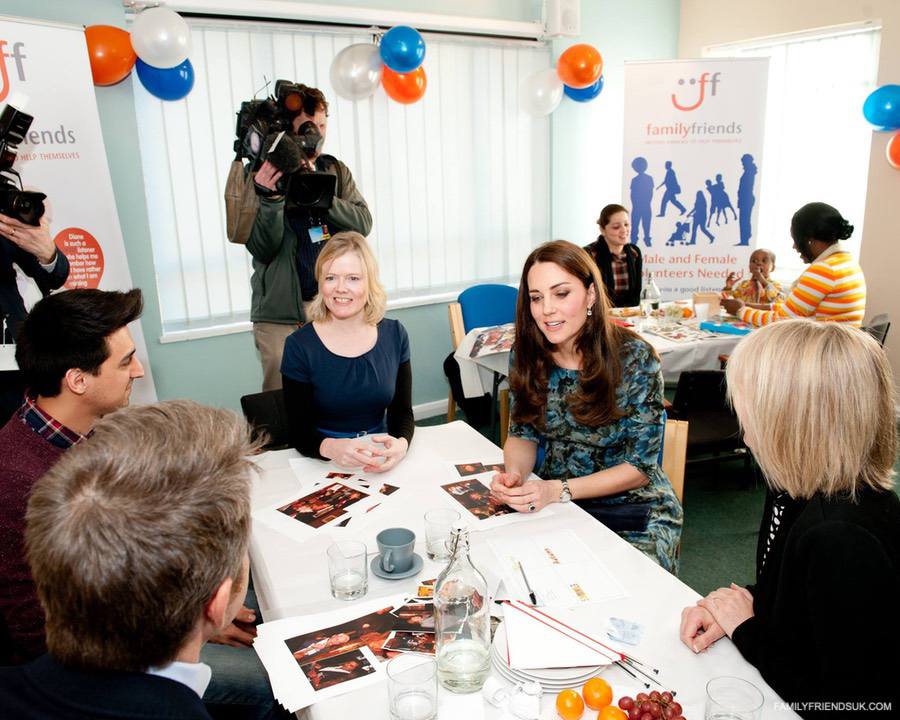 At the event, The Duchess attended a coffee morning and met some of the trained volunteers who provide befriending and mentoring services, together with some of the families themselves.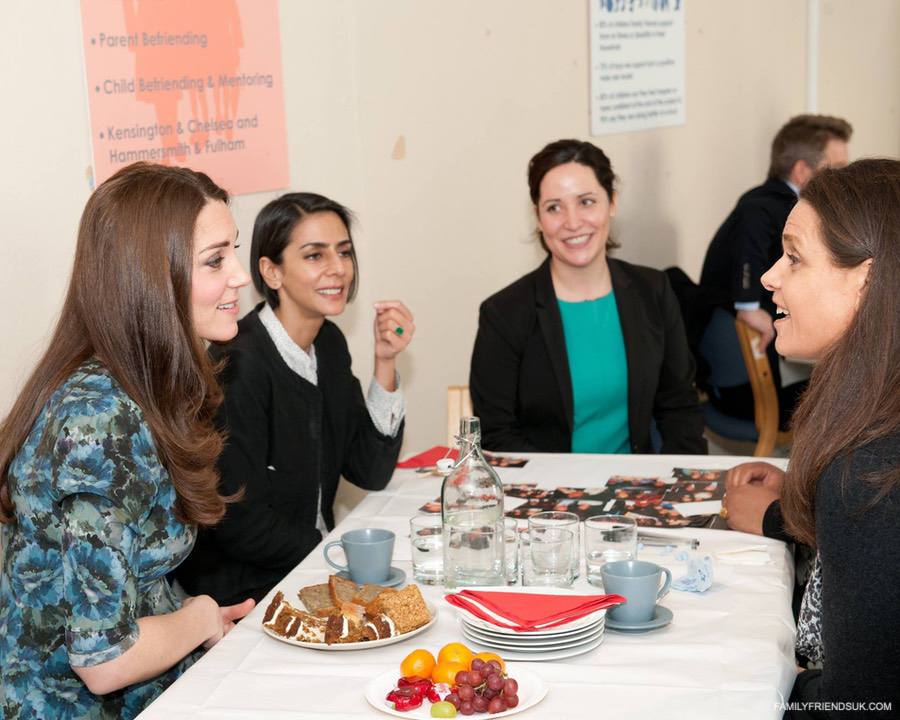 Kate spoke with volunteers, learning how they got involved with Family Friends. She also learned about the benefits of the service from families who attended the event.
Kate met a very shy toddler who presented her with a bunch of flowers:
When two-year-old Ryan Dixon came face to face with Kate at a Kensington coffee morning he had a sudden attack of shyness.

The normally boisterous toddler took one look at the Duchess, said "no no, Mummy, no no Mummy," and did his best to run away.

She laughed off the rare snub, telling Ryan: "I would be shy as well."

Ryan's mum, Tracy Samuels, sheepishly presented Kate with the bouquet of white lilacs and nistercians as her son buried his face in the folds of her clothes.

Miss Samuels said afterwards: "We practised all weekend. He was going to say 'these are for you, nice flowers, lovely flowers' and he was fine doing it at home.

"I don't know what made him so shy, normally he is really outgoing and he's never been shy like this when there's been a big occasion."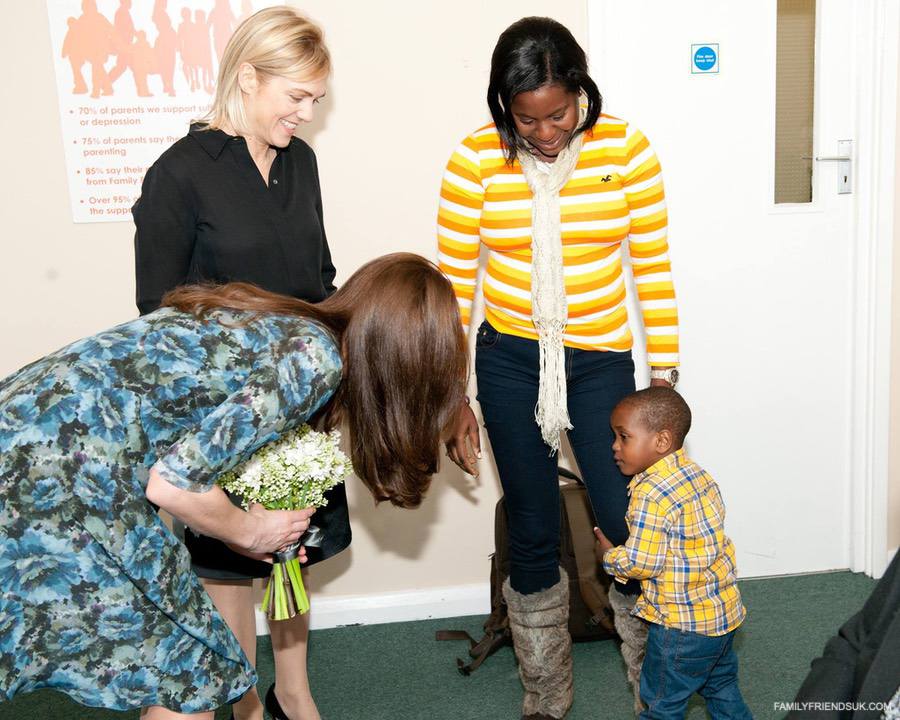 Next, Kate headed over to Kensington Aldridge Academy for an official opening ceremony. The new school opened its doors for the first time in September 2014.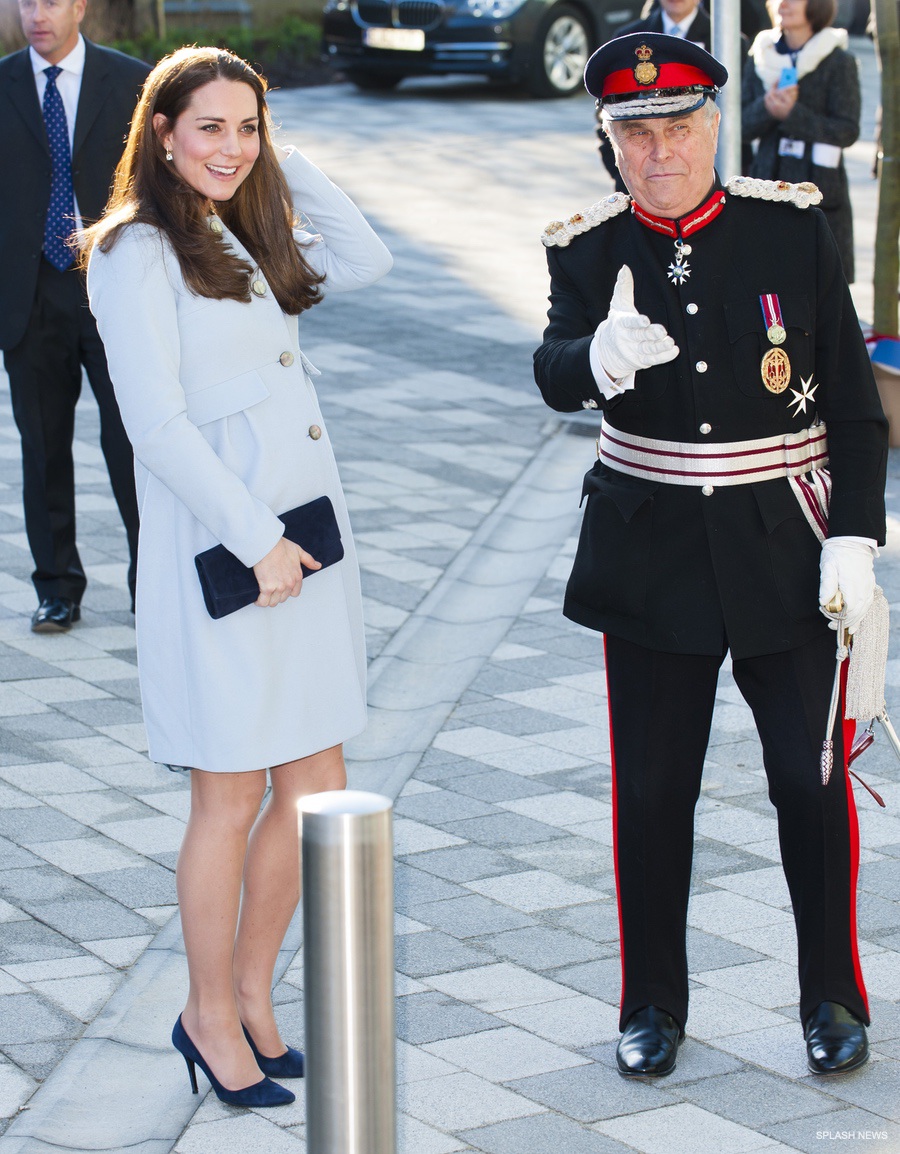 The new academy is a local school serving the North Kensington community and all of its students live less than a mile away.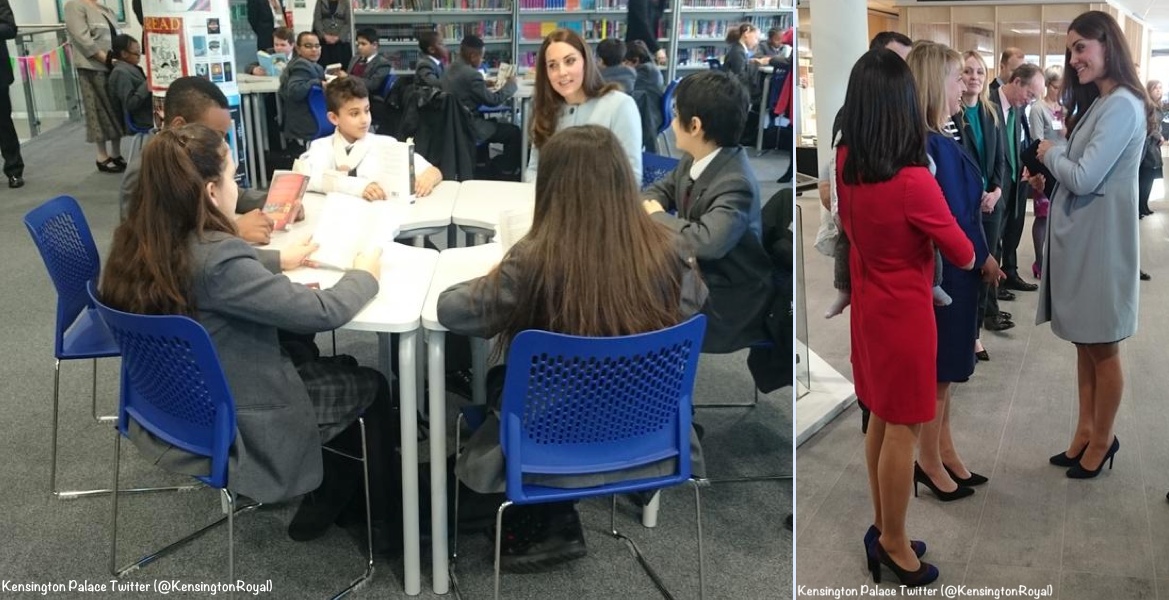 At the academy, students receive a first-class education in a modern building, with facilities such as the sports hall and dance studio available to the community outside of school hours.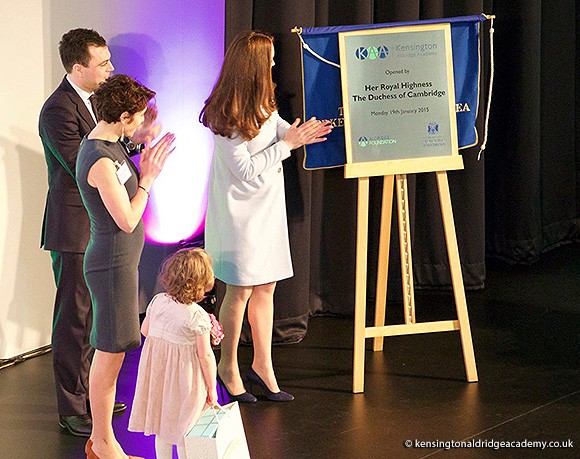 The Kensington Leisure Centre was under redevelopment at the other end of the site. Kate went to see progress and meet with local community groups using the leisure centre's new facilities.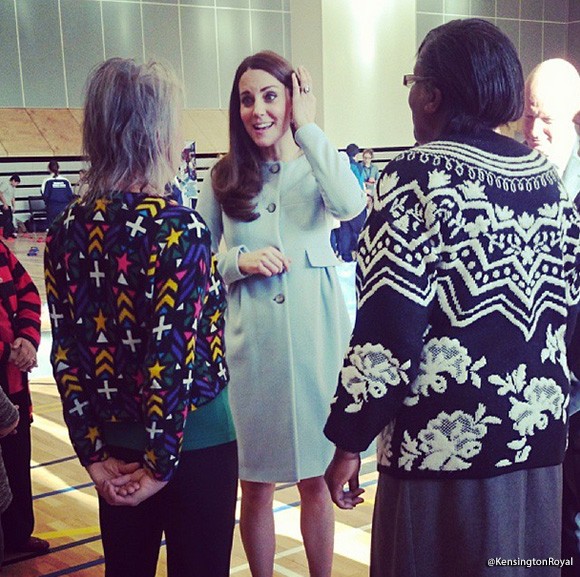 Both The Duke of Cambridge and Prince Harry had swimming lessons at the old Kensington Leisure Centre whilst they were pupils at Wetherby School.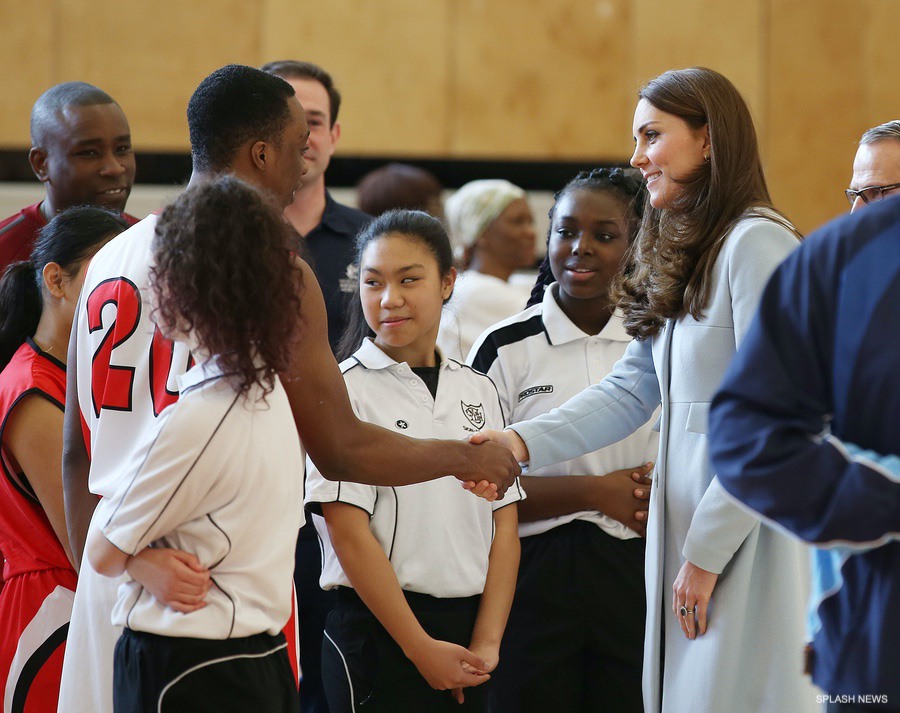 A video from The Royal Borough of Kensington and Chelsea's official YouTube channel:
Kate's outfit:
Six-month pregnant Kate looked radiant in a baby blue coat and coordinating dress by maternity brand Seraphine. It's Seraphine's 'Natasha Cashmere Blend Coat' in soft mist blue.
Made from a cashmere blend, the coat features mother of pearl buttons and retails for £195 ($295).
Under, Kate wore Seraphine's 'Florrie Floral Print Dress' in "marine ocean" blue.
The design is digitally printed onto crepe de Chine fabric. The dress was part of Seraphine's SS15 LUXE collection.
Onto Kate's accessories now. The Duchess returned to a number of familiar pieces—if you follow Kate regularly you'll probably recognise them. First up, her earrings. They are Kiki McDonough Cushion Drop earrings with a green amethyst stone (confirmed by the designer).
She owns the sparkling earrings in three four colours (Kate added a new pair to her collection in 2018). The cushion drops feature a green amethyst stone set in 18ct yellow gold. Kate wears them suspended from a pair of Kiki's gold and diamond hoops.
Her blue suede clutch is by Stuart Weitzman. It's the Muse/Raz style (the bag is known by both names).
This is another piece that Kate owns in multiple colours. The front flap features a magnetic snap closure. The bag comes with a shoulder strap, which Kate's either removed or tucks into the bag. For years, Stuart Weitzman stocked the clutch in a number of different colours and fabrics. Sadly, they no longer make the bag.
Kate's shoes are by Alexander McQueen and date back to at least 2011. The Duchess has worn them on a number of occasions, including during the Canada tour.
Finally, Kate finished off her outfit with her Cartier "Ballon Bleu" watch (33cm). The stainless steel watch features a silvered opaline dial with blue sword-shaped hands.
Net-A-Porter.com stock the piece. This is how they describe it:
The 'Ballon Bleu de Cartier' watch gets its name for two reasons – the spherical case is reminiscent of an inflated balloon and the cabochon-topped crown appears to be floating. Making its debut back in 2006, this version is crafted from durable stainless steel and has an invisible clasp-fastening bracelet. It's detailed with black Roman numerals marking the hours on the silvered guilloché opaline dial and signature blued steel sword-shaped hands. It's a true heirloom that you can pass down through generations.