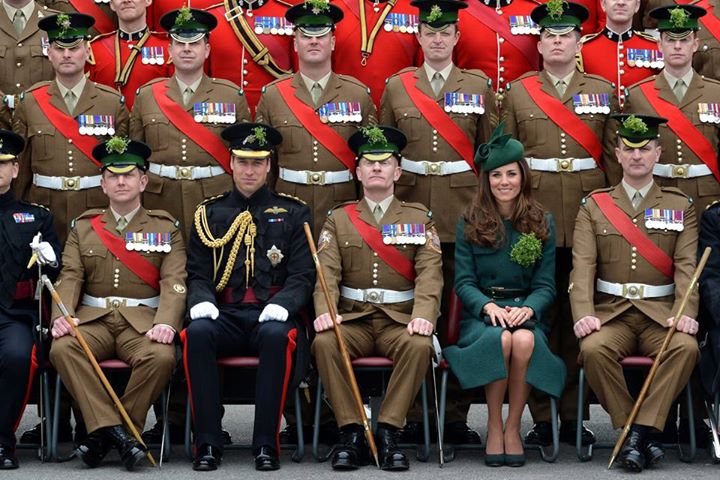 In celebration of St Patrick's Day, this morning the Duchess of Cambridge visited Mons Barracks in Aldershot to hand out shamrocks to the Irish Guard. This is the third year in a row that Kate attended the regiment's annual St Patrick's Day Parade.
The Duchess handed out 300 sprigs of shamrocks to officers, some were fortunate enough to stop for a chat too. Many would love to be a fly on the wall and hear those conversations!  I'm guessing most of the officers asked after Prince George, or perhaps they wished Kate a Happy St Patrick's Day.
Once again, Prince William joined Catherine at the event. This was the couple's first joint engagement of the year.
During the morning Kate presented a sprig of shamrocks to a very special member of the regiment, Irish Wolfhound Domhnall. This gorgeous dog is the regiment's mascot and this was his second year at the parade. The dog has the rank of Guardsman and apparently, he can be promoted for good behaviour according to journalists on Twitter! Kate pinned the shamrocks onto Domhnall's ceremonial tunic.
After handing out the sprigs of shamrocks, Kate and William joined officers for a private luncheon in the Officers' Mess.
Before the day was over, Kate and William had their photo taken with the Irish Guardsmen.  This photo was uploaded to HM Armed Forces' Facebook page.  There are a number of lovely photos in the album, including a picture of Kate petting Domhall on the head!
Kate's outfit
In both 2012 and 2013, Kate wore her dark green Emilia Wickstead coat dress.  Many duchess-fashion followers wondered if  this would be a 'threepeat' (repeat for a third time!) However, this year the Duchess surprised us by wearing a new green trench coat from UK high street store Hobbs London.
The pine green Persephone trench coat originally retailed for £279 (approx $464), but at the time of writing, it was in the Hobbs Outlet section of the website on sale for £195 (approx $324)
Hobbs describes the Persephone trench coat as a 'sleek, clean silhouette' with 'plenty of contemporary cool'. The coat is pretty long at 113cm, and it hits the model's calf in pictures. It features double-breasted buttons, epaulette detailing and a traditional 'storm flap.' Finally, the coat is made from both viscose and wool.
Kate wore a matching green Gina Foster hat, which you may recall the Duchess wore recently on Christmas Day 2013.
Once again, Kate accessorised her outfit with the Cartier shamrock brooch she wore on the two St. Patrick's Day previously.  The brooch is a royal heirloom first worn by Queen Alexandra in 1901 and which has also been worn by Queen Elizabeth the Queen Mother.
In addition, Kate wore her Kiki McDonough Cushion Cut Green Amethyst Earnings and her Tissot watch.
We also saw some new accessories: a pair of new suede heels from Emmy Shoes in the "Valerie" style and matching "Natalie" clutch bag from the same brand.  Some fans argue the colour is 'Carbon' and Kate has worn them previously.  Personally, after looking at the photos in the Daily Mail, I think they're a distinctive dark green colour.   Susan from What Kate Wore has contacted the brand to ask for further clarification.
Kate also wore a mystery green belt with a gold buckle over her new Hobbs coat.  Some Kate fans believe this is an older piece, but nothing is verified as yet.
I'm doubtful that there'll be another event before the official Royal Tour – but finger's crossed!