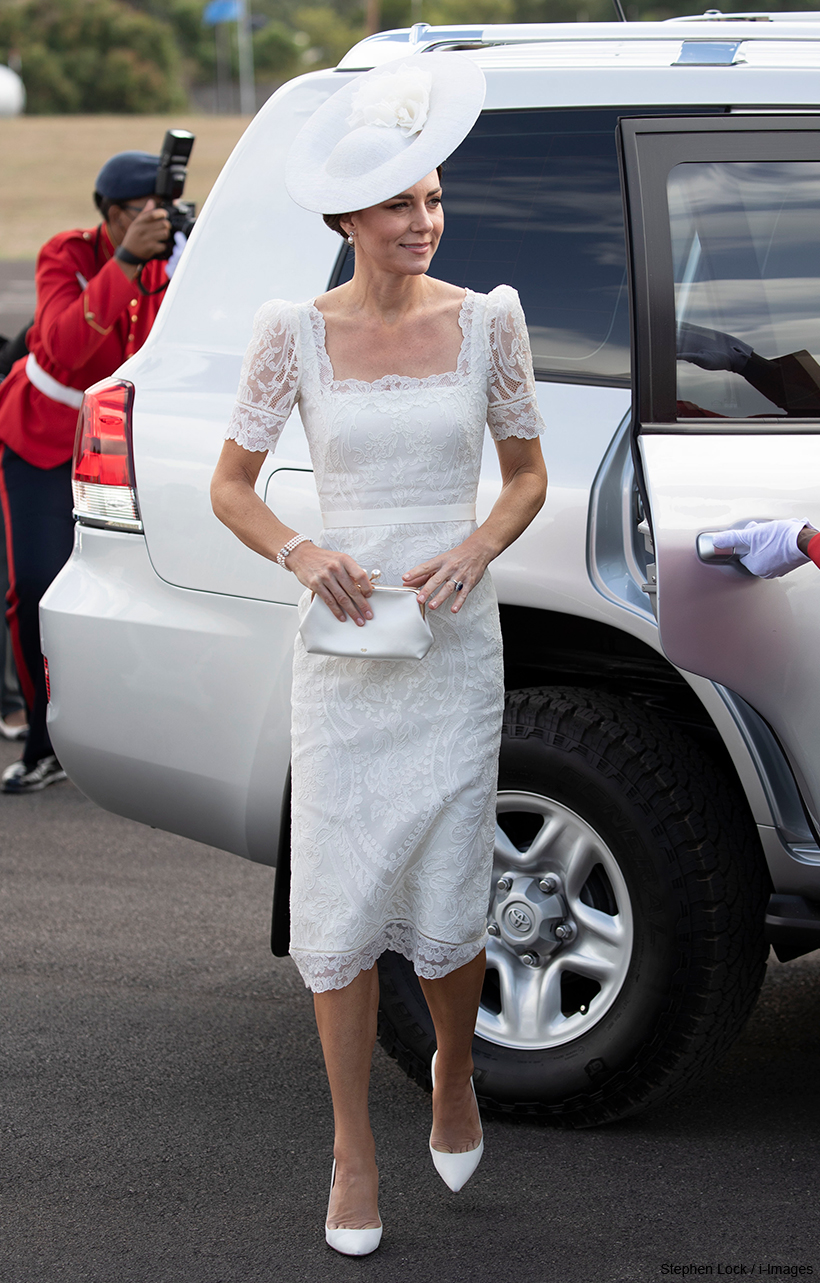 23rd of March 2022—William and Kate ended their visit to Jamaica with a military engagement.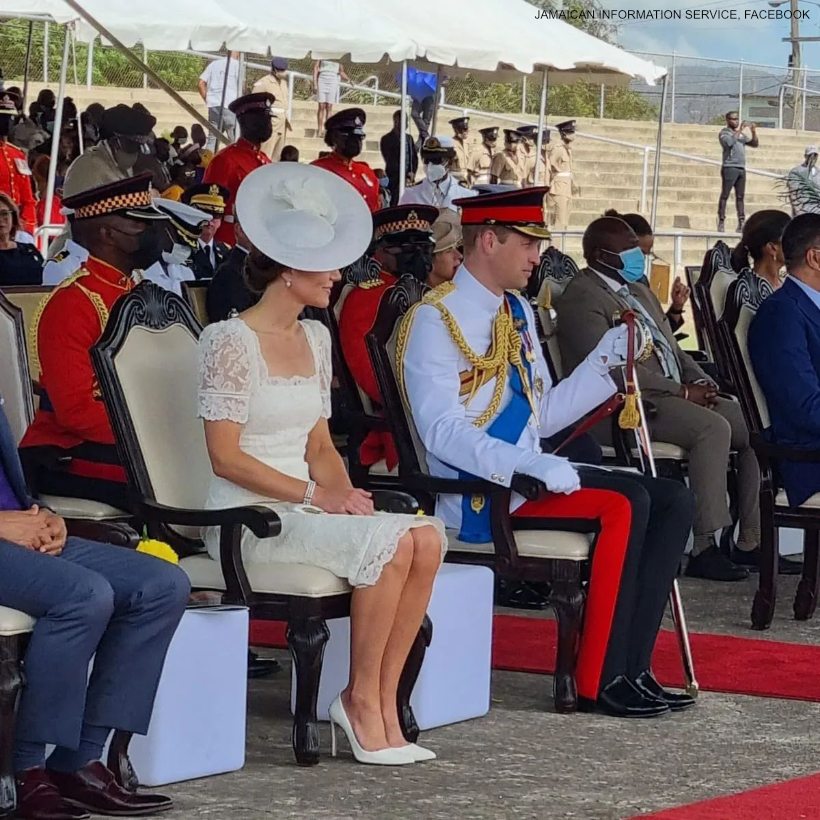 The couple watched a parade for service members from across the Caribbean who have recently completed the Caribbean Military Academy Officer Training Program.
William dressed in a white tropical uniform for the occasion. Kate chose a white lace midi dress to complement her husband's attire.
I've listed outfit details further down the page ⬇️
William and Kate's tour of the Caribbean celebrates the Queen's Platinum Jubilee.  You can view more of my tour coverage (and overview of Kate's outfits) on this page.
William and Kate departed the military ceremony in a vintage open-top Land Rover.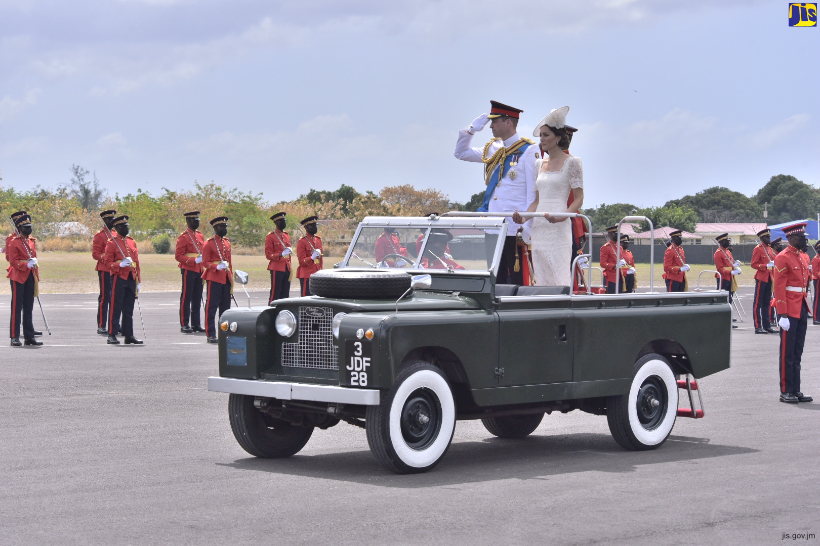 The newly-crowned Queen Elizabeth and her husband, Prince Philip, did the same during a visit to Kingston in 1953.
William gave a speech during the ceremony, in which he referenced his time in the military and quoted his grandmother.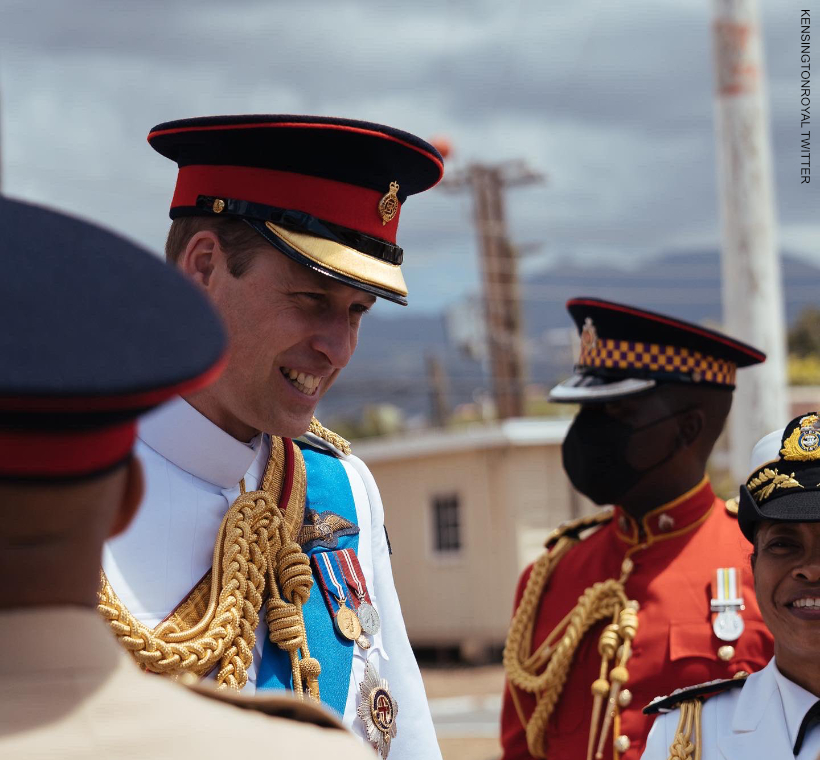 After the ceremony, William and Kate attended a reception at the Jamaica Officers' Club.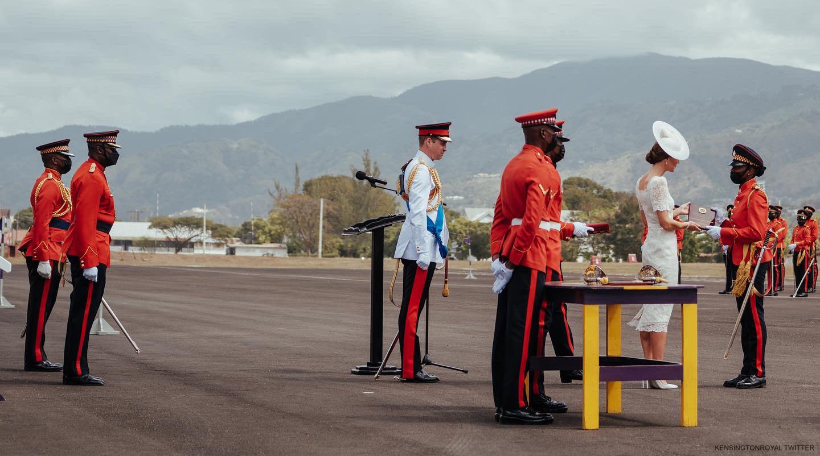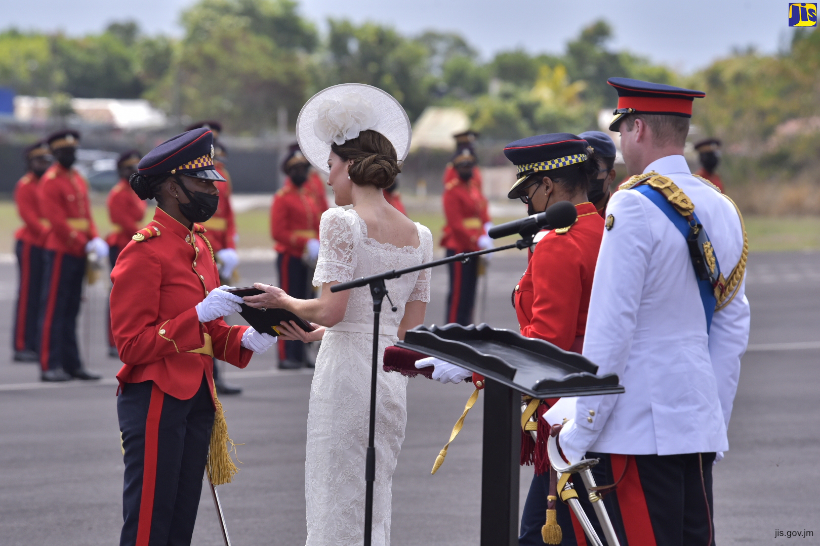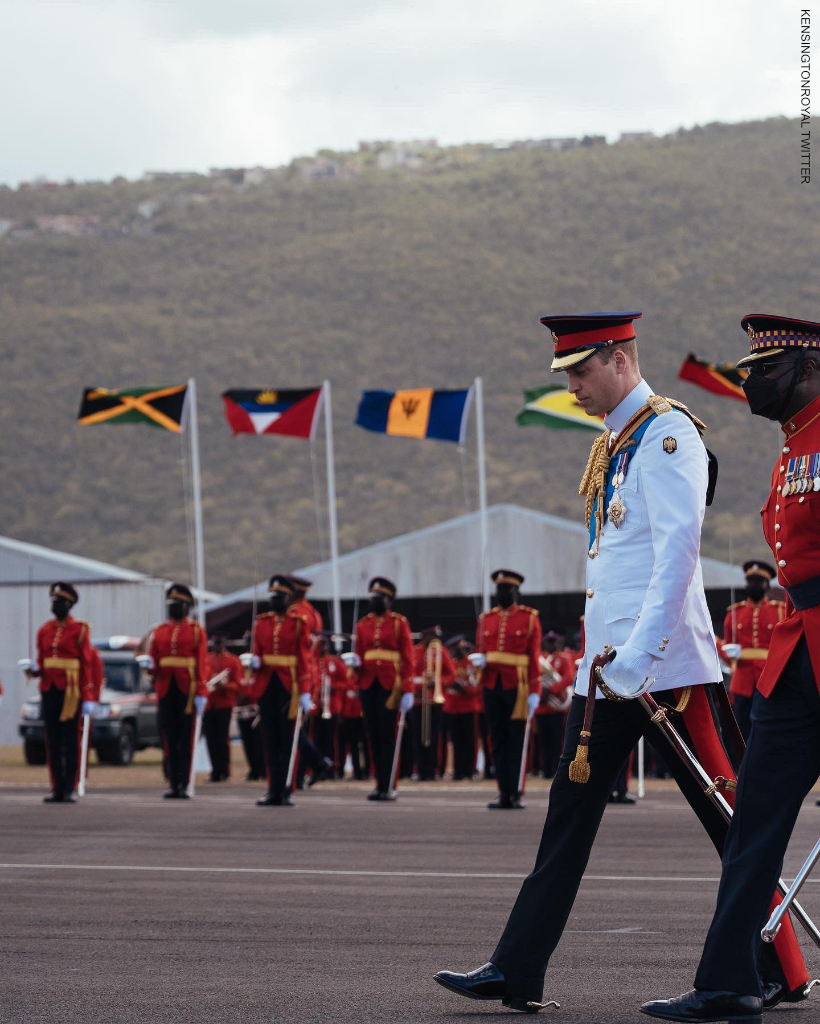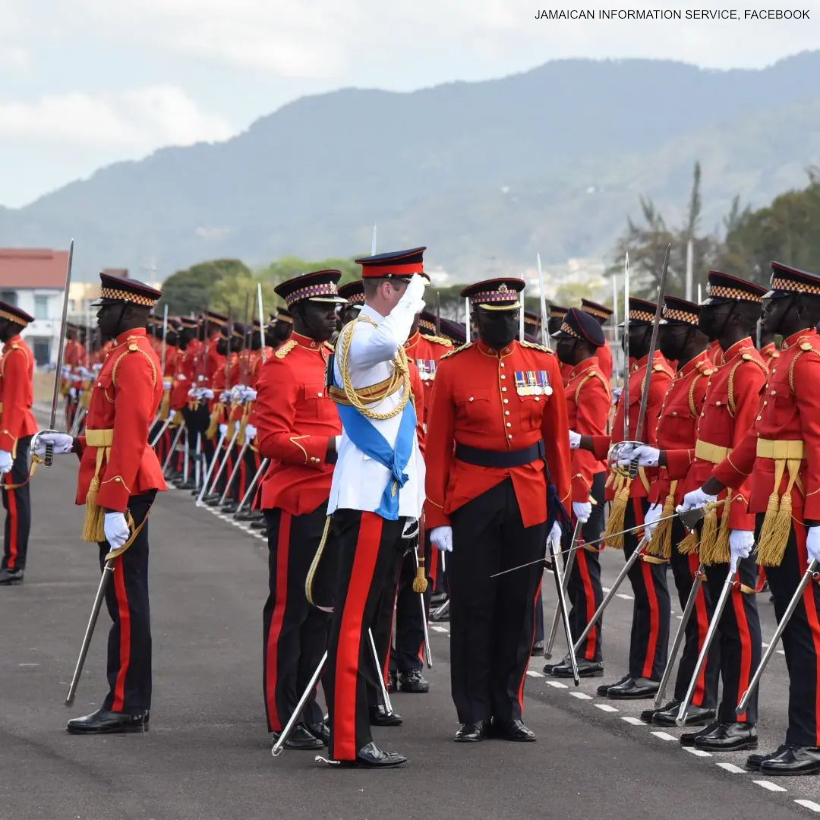 Then, the Duke and Duchess said farewell to their Jamaican hosts and boarded a flight to the Bahamas, ready to start the third and final leg of their tour.
Kate's white dress & accessories at the military parade:
Kate's white lace dress is by Alexander McQueen. The mid-length dress features a square neckline, slightly puffed short sleeves, and a waist belt.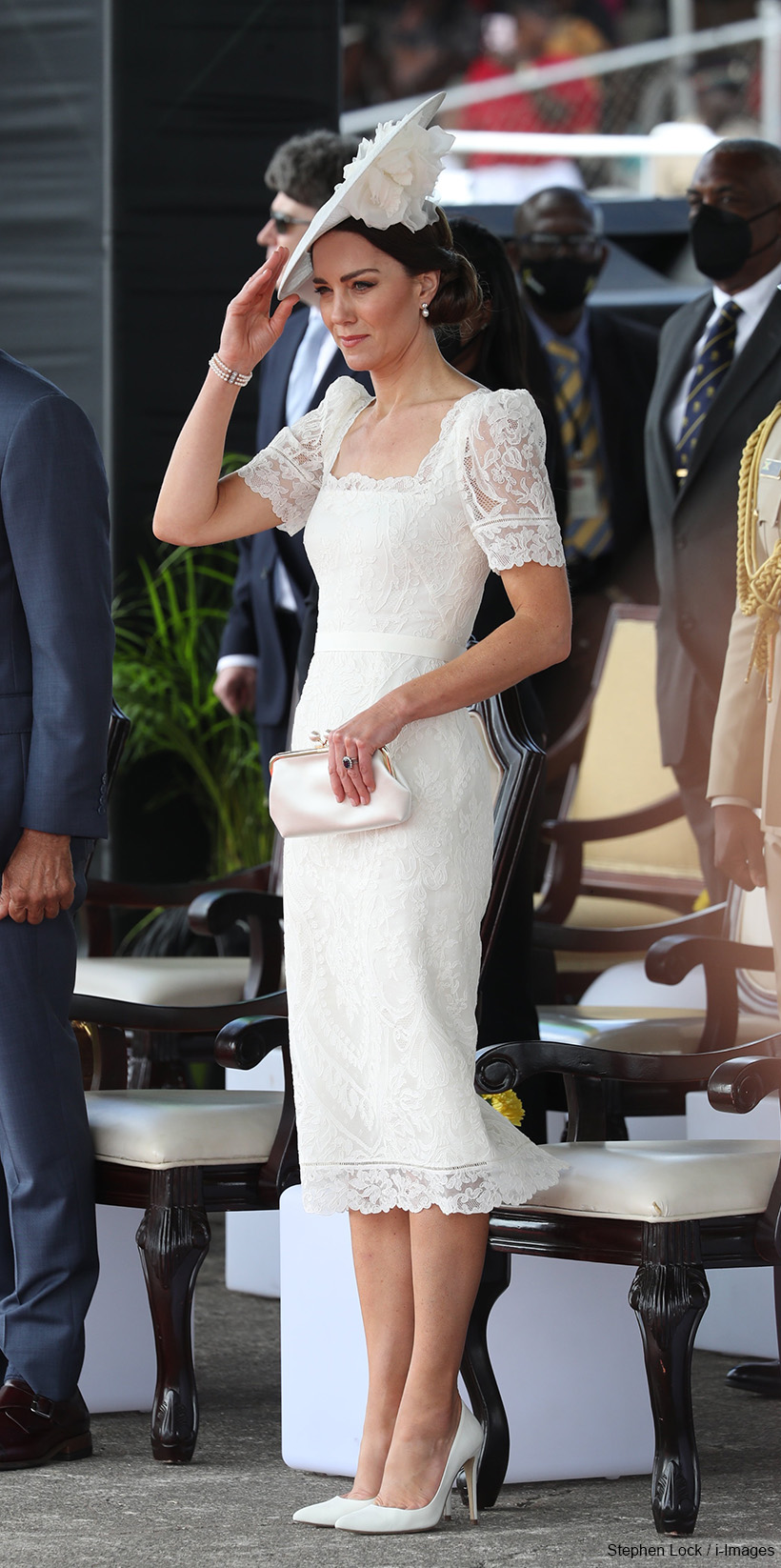 I'm guessing it's a bespoke piece, created especially for Kate.
It's possible an outfit worn by The Queen in 1954 provided inspiration:
Kate's hat is by Philip Treacy. The ivory-white piece features a saucer-like design with flowers on top and underneath.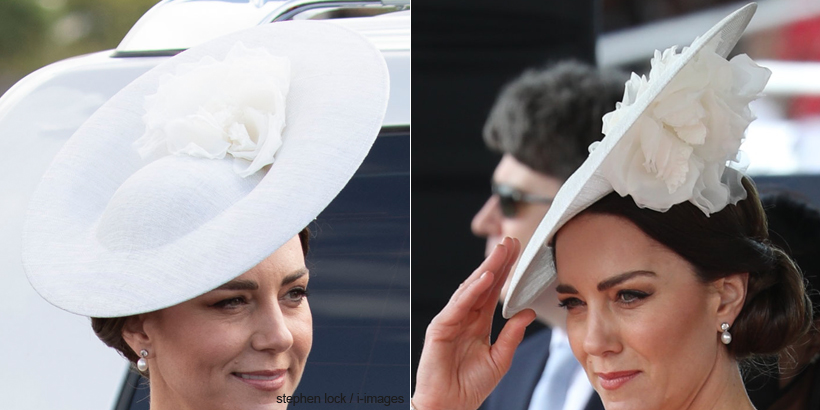 High res close-ups of Kate's shoes show they're made from suede. It looks like they're the Rebecca Style by Emmy London in the colour Ivory. This is a go-to shoe for Kate. She owns them in a lot of different colours.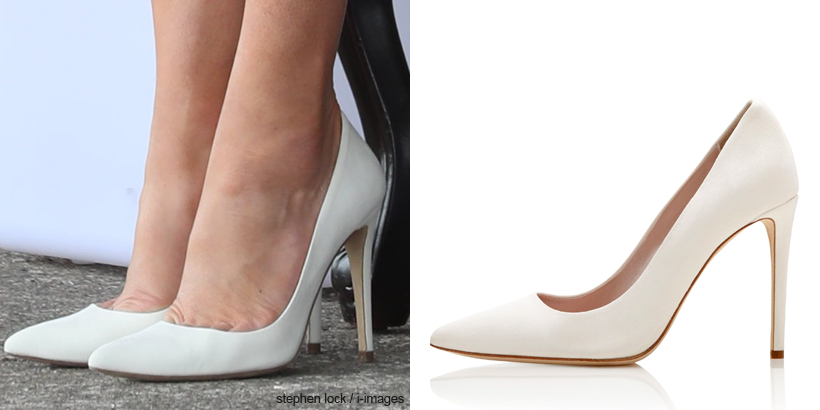 Emmy describe the Rebecca shoes as "a super stylish pointed wedding shoe with an elegant straight heel." They're handmade from soft Italian kid suede and leather.
Emmy shared the shoes on their social media page hours after Kate stepped out in them. I wonder if this was their way of 'confirming' the ID without actually mentioning the Duchess directly (who is a faithful and longstanding customer).
Kate debuted a new ivory-coloured clutch. It's the Anya Hindmarch Ivory Maud with Faux Pearl Detail. The understated clutch is made from satin with a gold-tone frame. It fastens with a faux-pearl clasp.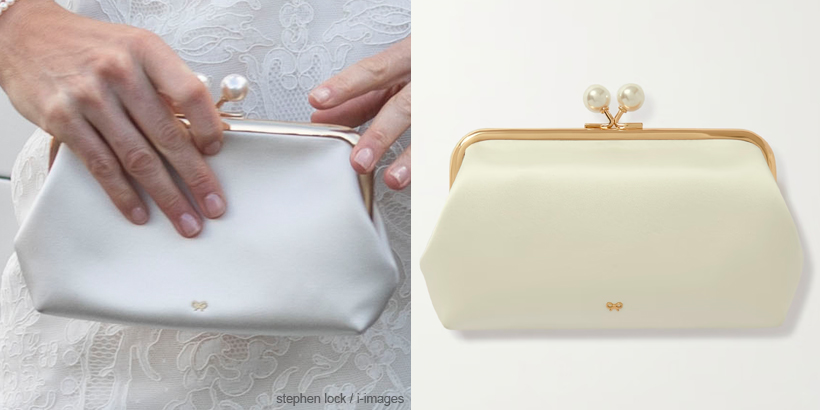 Kate owns the same clutch bag in black too (without the pearls on top).
Kate's earrings belong to the Queen (she was last spotted wearing them in the 1970s). They are often referred to the Pearl Drop and Diamond Studs, they feature an egg-shaped pearl suspended from a diamond post. Kate's worn the earrings on numerous occasions over the last decade or so.

Finally, Kate wore the three-strand pearl and diamond bracelet that once belonged to her mother-in-law, Princess Diana. The piece dates back to the 1980s and was designed by Nigel Milne for charity. More, from The Court Jeweller:
The bracelet dates to 1988. Nigel Milne designed the piece as part of a collection supporting Birthright, a British charity supporting mothers and babies that is now known as Wellbeing of Women. Diana became the charity's patron in 1984; one of its founding members was Sir George Pinker, the obstetrician who delivered Prince William and Prince Harry.

The Court Jeweller