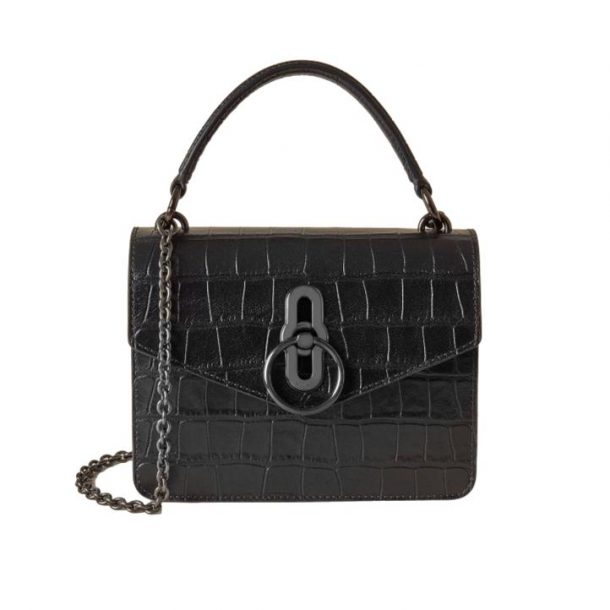 Kate Middleton carries the small Mulberry Amberley bag in black croc.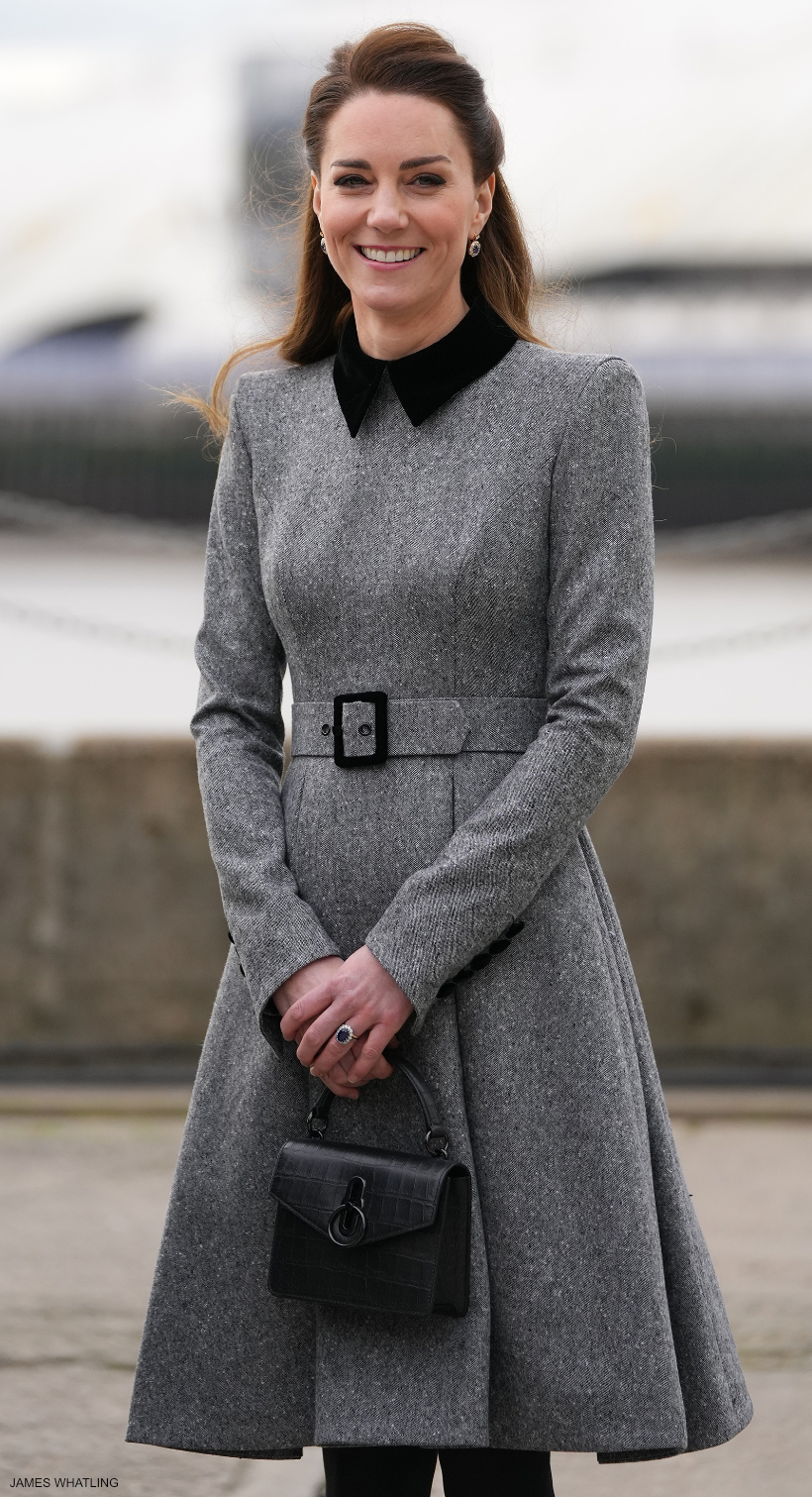 We've seen her carry the bag three times to date (in public).
She first carried the small black bag on a visit to Trinity Buoy Wharf, a centre for arts and culture in East London, on the 3rd of February 2022 (pictured above).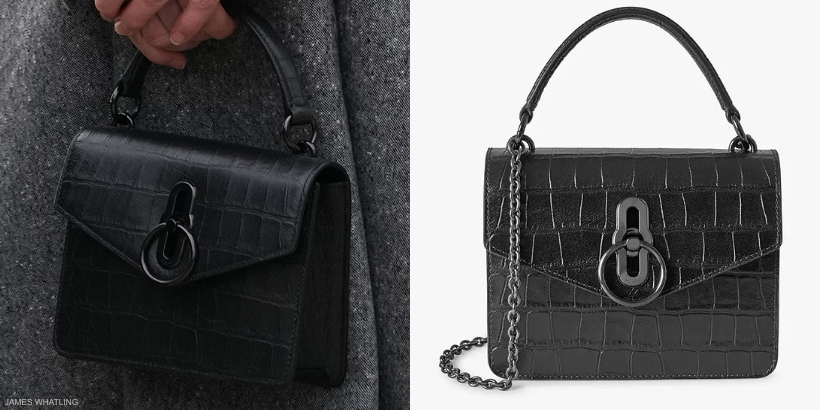 She carried the bag for a second time in Copenhagen, Denmark on the 24th of February 2022. (If you play the video, it'll start at a time where she's holding the bag.)
We saw her with the bag for a third time on the 16th of September 2022, during a visit to ATC Pirbright.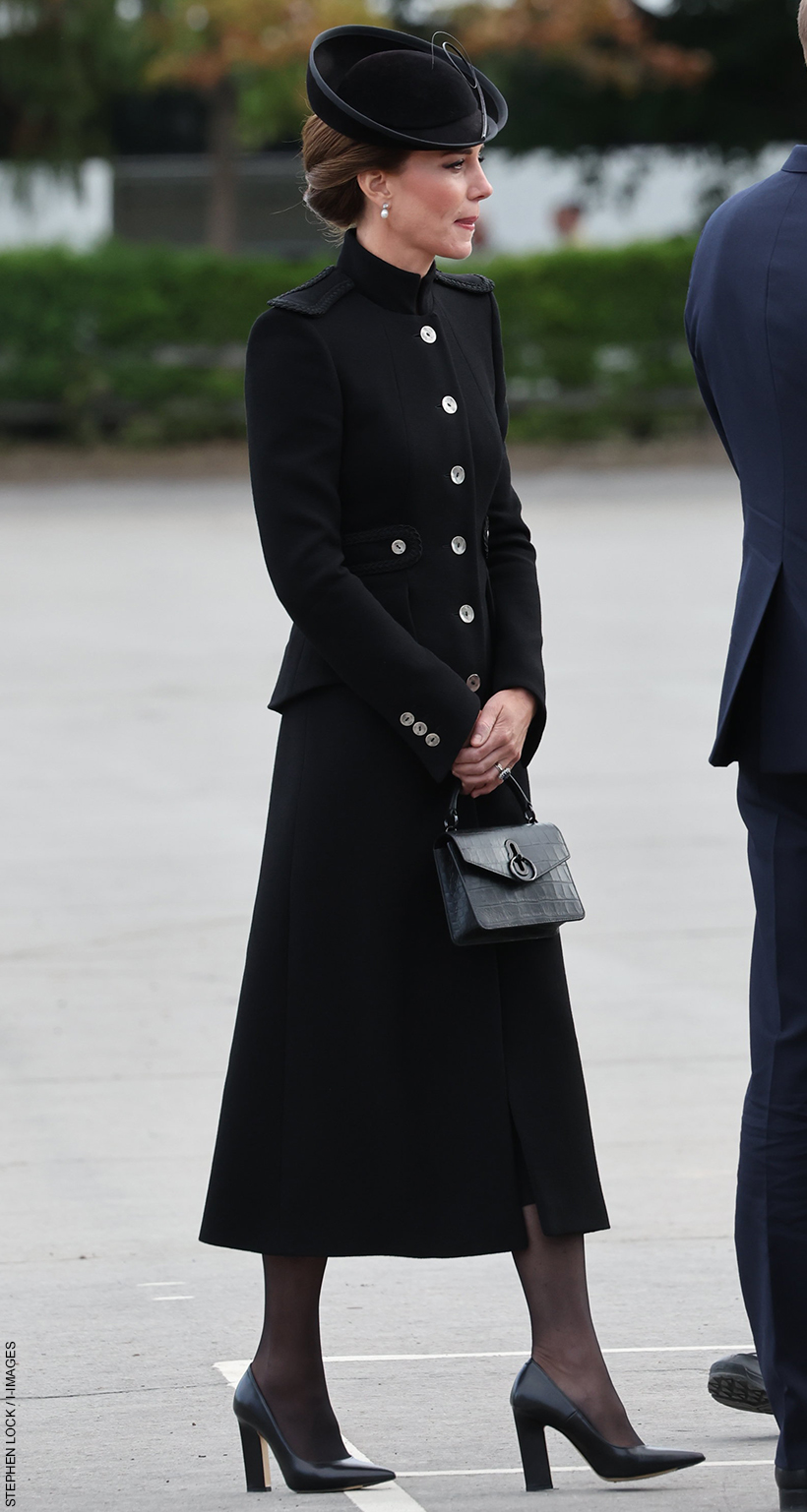 You can tell that the Princess is a fan of these small top-handled box bags. We've seen her carry 9 or 10 similar styles during public engagements to date.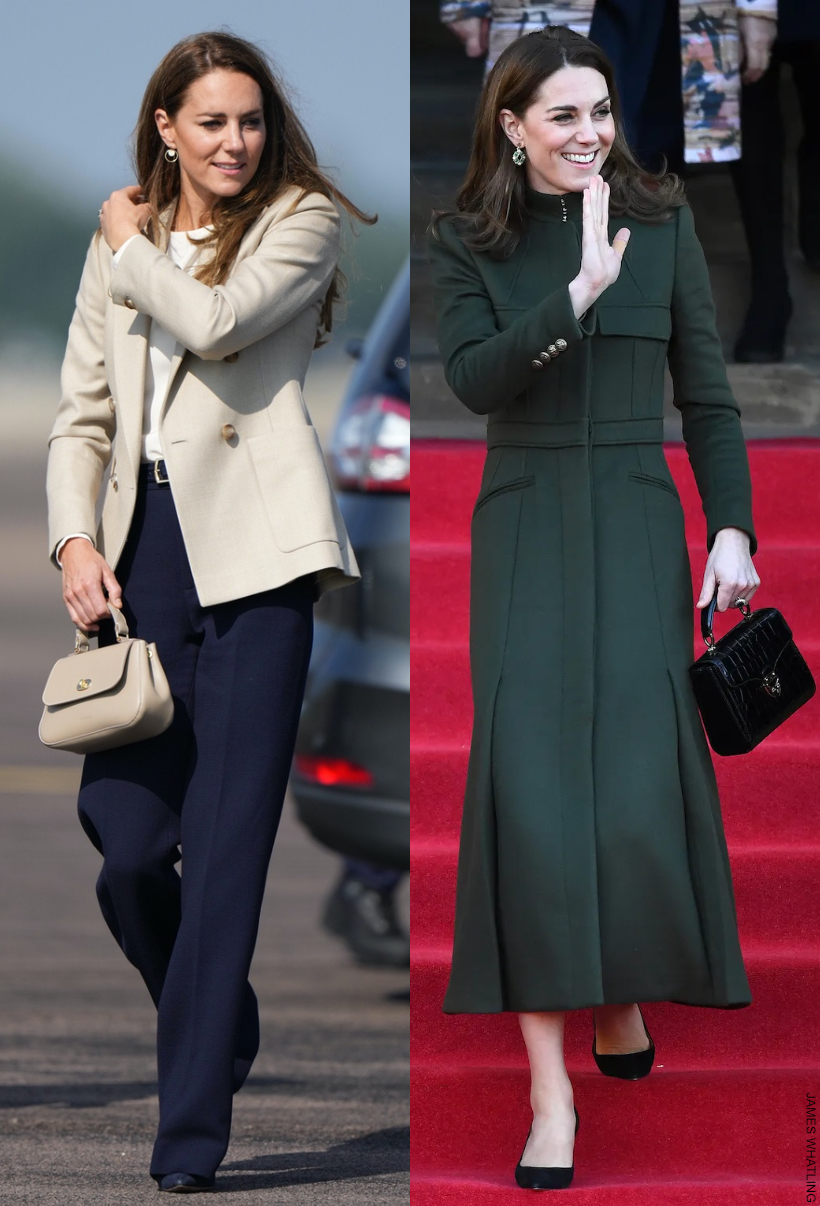 She clearly keeps abreast of new trends: micro and mini bags are having a moment in the world of fashion!
About Kate's Mulberry Amberley bag:
The black croc print black bag features a flap-over front with tonal black ring hardware and Mulberry's geometric rider's lock closure. Its suede-lined interior provides a touch of luxury. The bag is from Mulberry's equestrian-inspired Amberley collection.
The leather bag comes with a crossbody strap, which Kate removed (she often does this with her bags, opting to carry them in her hand instead).
RRP: £695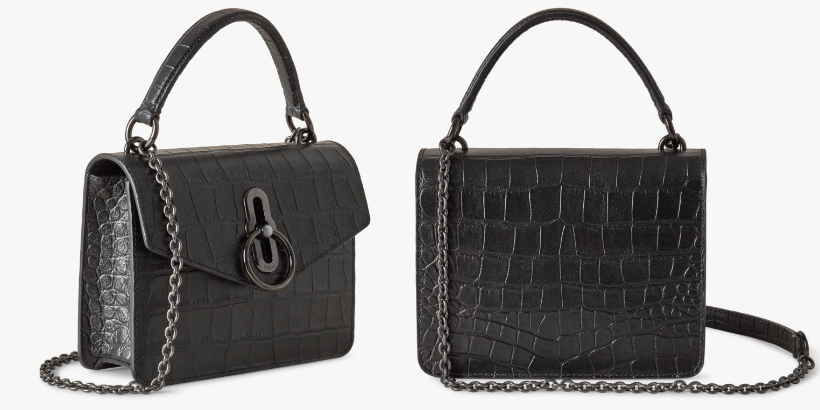 Where can I buy Kate Middleton's bag?
If you were hoping to buy Kate's exact Mulberry bag, I'm sorry to say you're out of luck. The piece is from an older season and now sold out. Browse similar at Mulberry.com instead.
If you're disappointed and had your heart set on the Amberley bag, I will suggest this design from Aspinal of London, which Kate carries frequently. That is still available to buy on their website (it's around the same price). Click here for photos of Kate carrying the bag.
Kate's Mulberry Amberley bag collection:
Kate clearly loves her Mulberry Amberley collection. She owns two other bags from the family! Here's her with the Amberley crossbody in white at Wimbledon in 2021: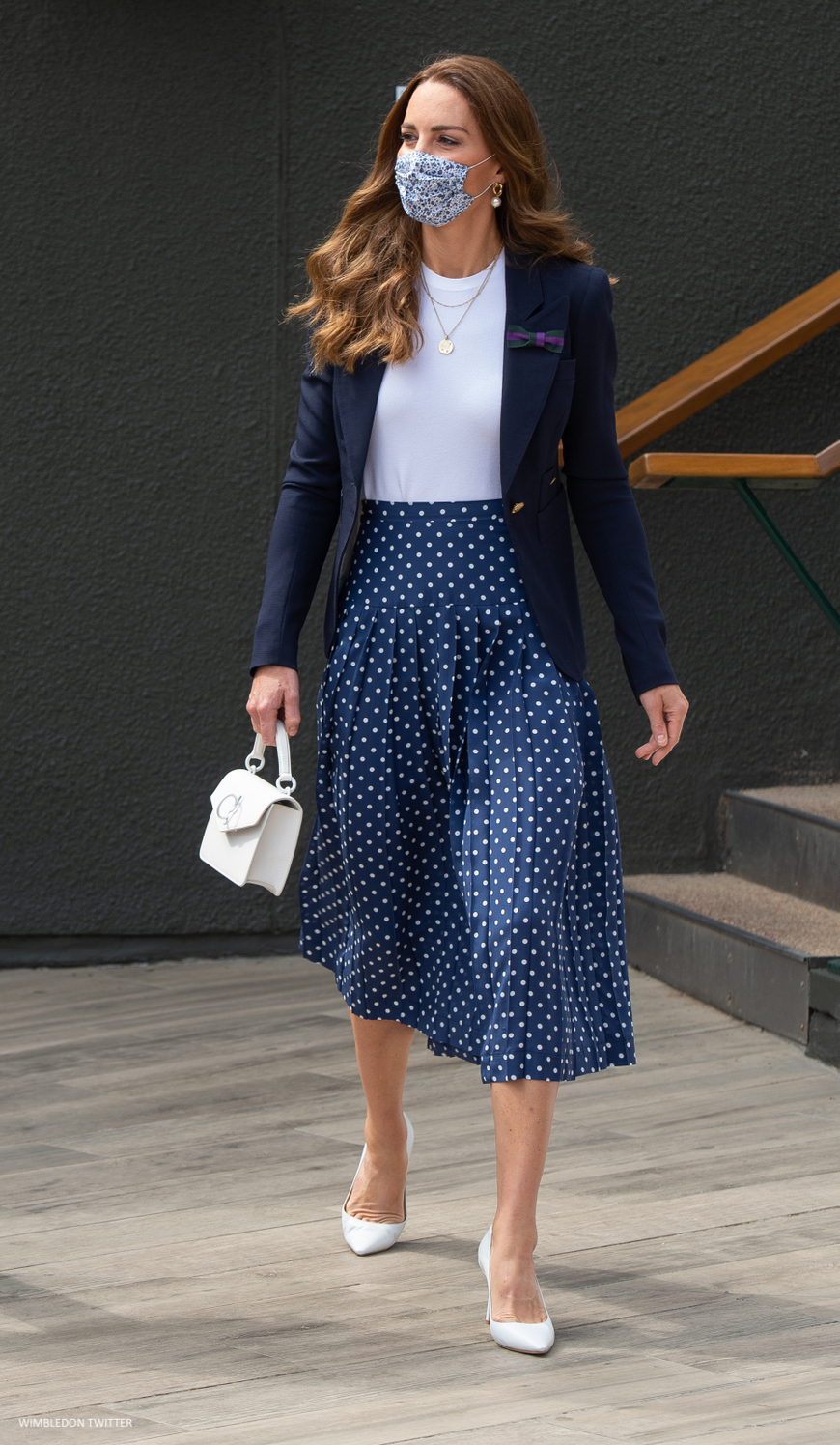 And here she is with the Amberley clutch in dark blush pink. She carried it to the Kantor Centre of Excellence in 2018.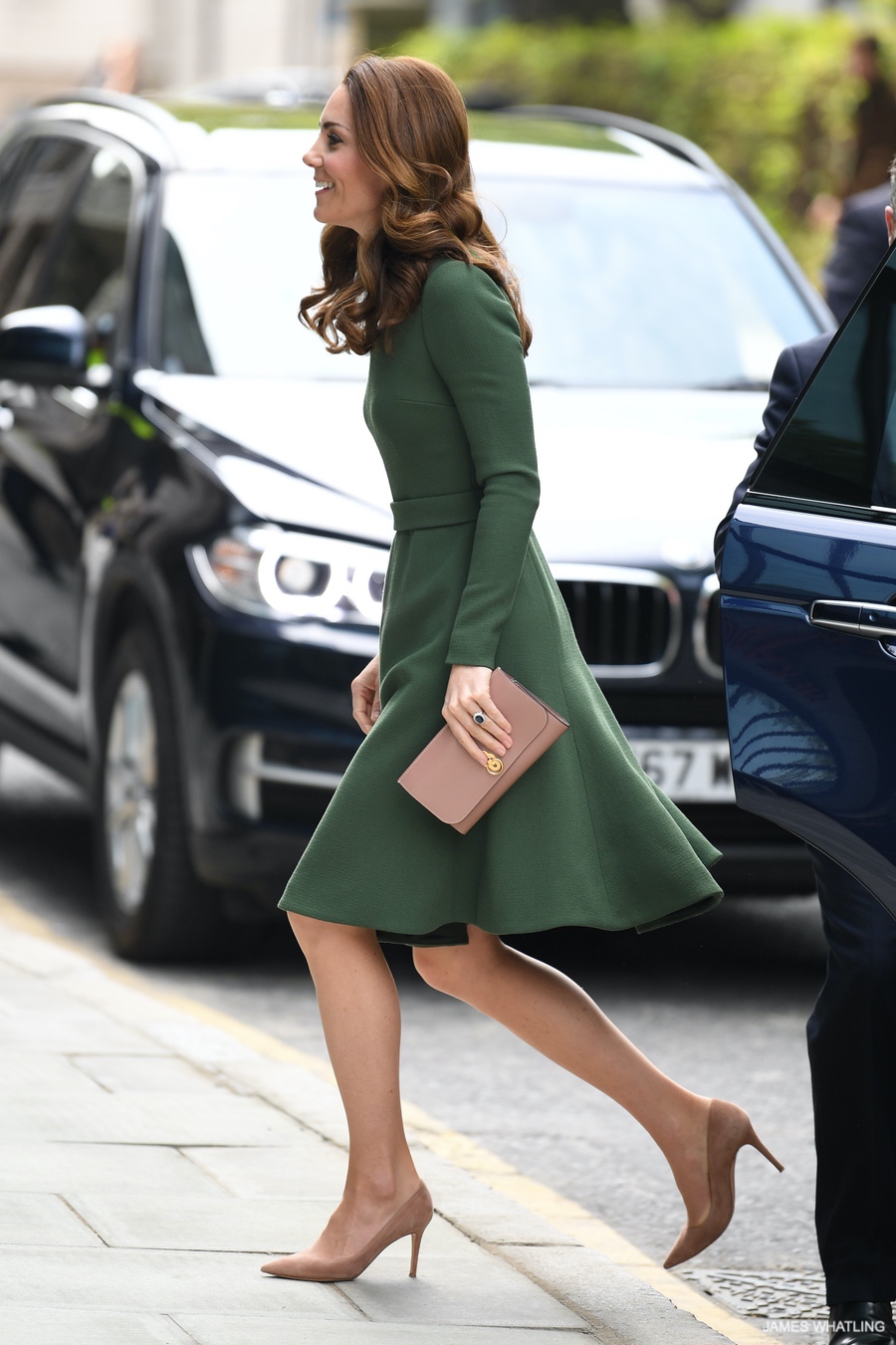 Is Mulberry one of Kate Middleton's favourite bag brands?
I'd say so, yes. Mulberry is definitely one of Kate's go-to brands. The Duchess regularly carries Mulberry handbags and clutches to public engagements—I've counted ten different bags from the company in her collection over the last decade as a working royal (and a few more before that).
Above: Kate carrying two Mulberry handbags over a decade apart. The photo on the left shows Kate during a visit to South Wales in 2020. She's carrying the Darley bag in red. The photo on the right shows Kate at Heathrow Airport in 2011, preparing to depart for Canada ahead of the Royal Tour. She's carrying the Polly Push Lock style in blue.
See more details of the Mulberry bags she owns specifically on this page.
About Mulberry:
Mulberry is an English company, founded in Somerset in the 1970s. Today, the brand's headquarters are still located in the county. It started as a family business, with the founder creating belts at his kitchen table using leather offcuts. His sister designed the company's now-iconic tree logo and his mother loaned him £500 to start the business. Over the decades, the company developed into a truly global British brand.
Mulberry is known for its luxury leather goods and timeless design.
Mulberry's heritage is quintessentially British. Early inspiration was drawn from London's dynamism, combined with styles synonymous with English rural pursuits – hunting, shooting, fishing – and Mulberry's utterly individual style came to be dubbed "Le Style Anglais". The idea still inspires us. Between town and country, between Somerset serenity and London energy, Mulberry combines authentic, age-honoured craft with an innovative edge. Heritage meets a modern sense of rebellion – the rules are broken to make something new.

Mulberry.com
Kate's crazy for croc!
Kate owns quite the collection of croc print bags! She must gravitate towards this style when shopping! Below, a collage of her carrying three different croc print bags in black—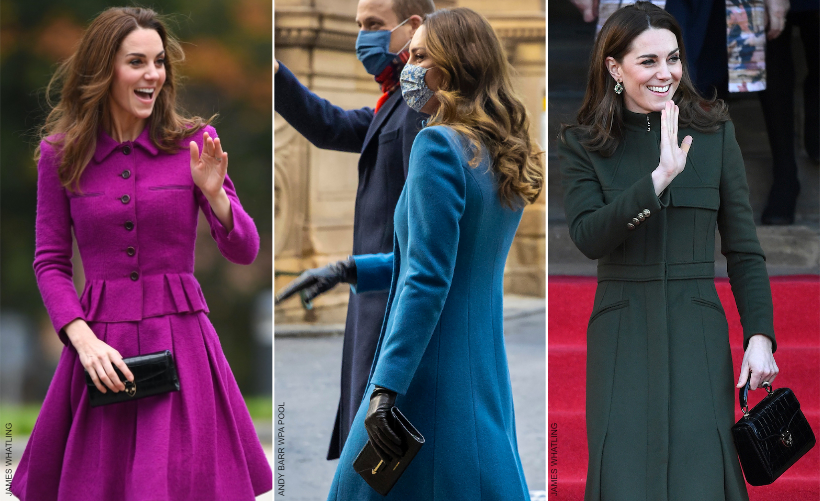 Left: Kate carrying the Aspinal of London x Beulah London Blue Heart clutch in black croc.
Centre: Kate holding the Strathberry Multrees Embossed Wallet in black croc. She also owns this in navy blue.
Right: Kate carrying the Aspinal of London Mayfair bag in black croc. She also owns this in lilac croc.
She has other croc print bags in her collection too, including this lovely berry red Darley bag, also by Mulberry.