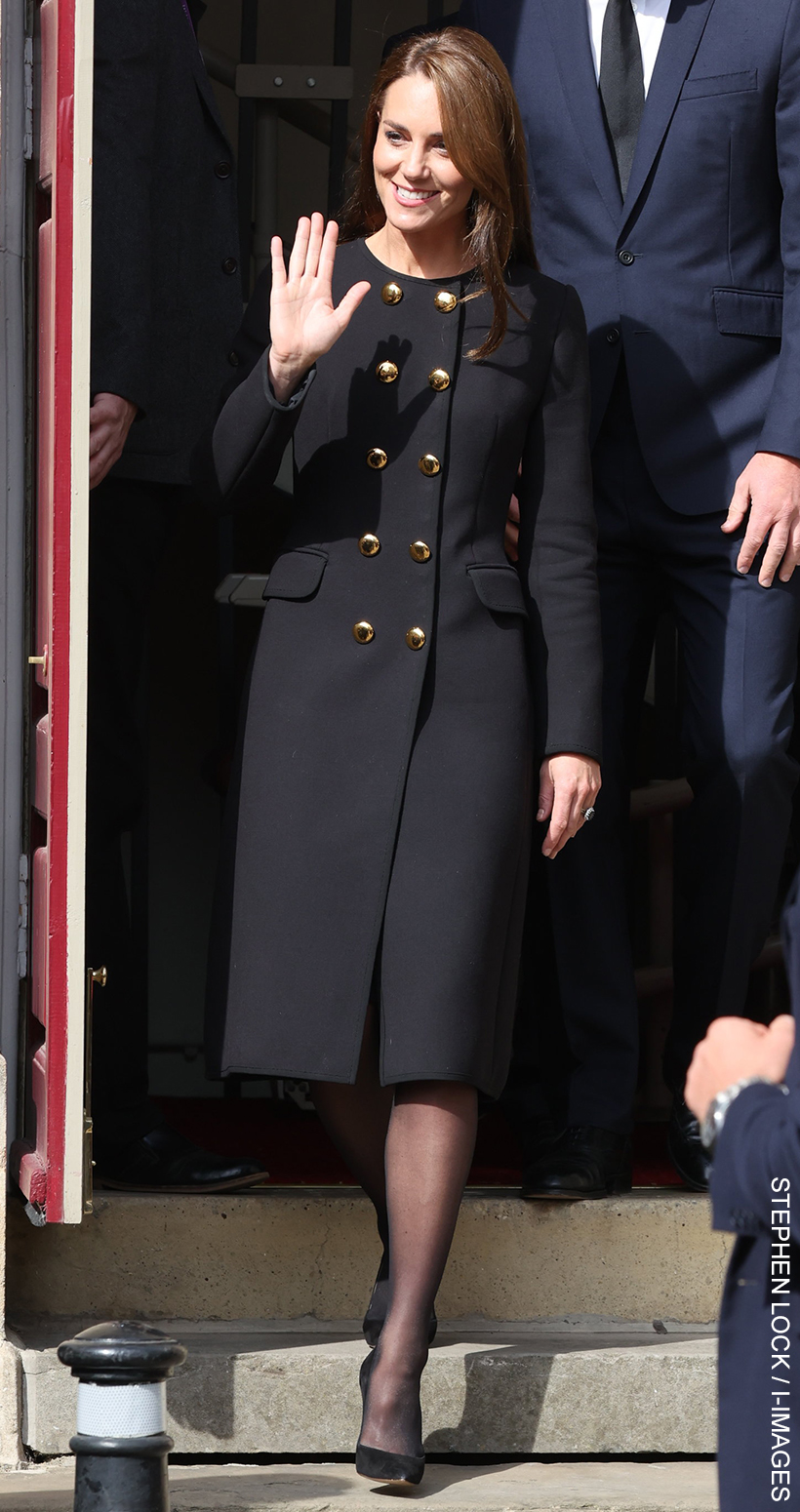 Today, Kate Middleton conducted her first public engagement since the Queen's funeral. The Princess of Wales accompanied her husband to Windsor's Guildhall, where the couple thanked operational staff and volunteers that organised and worked during the Queen's Committal Service at St George's Chapel on Monday.
Either by design or coincidence, the Princess re-wore her black Dolce & Gabbana coat—the piece she wore for the first engagement following Prince Philips's funeral in 2021.
In Windsor, the couple thanked some of the unsung heroes who supported the crowds of mourners that visited on Monday, including stewards, St John's Ambulance workers, transport staff, infrastructure organisers, logistics teams and council workers. The volunteers and staff helped with many jobs on the day, including directing crowds, assisting with floral tributes, putting up signage and managing toilet facilities.
According to Windsor's official government website, the borough welcomed over 100,000 people for the Procession and Committal service. Over 900 stewards and 90 ambassadors assisted the crowds.
Let's look at Kate's outfit:
As I mentioned in the opening paragraphs, Kate re-wore her black buttoned Dolce & Gabbana coat.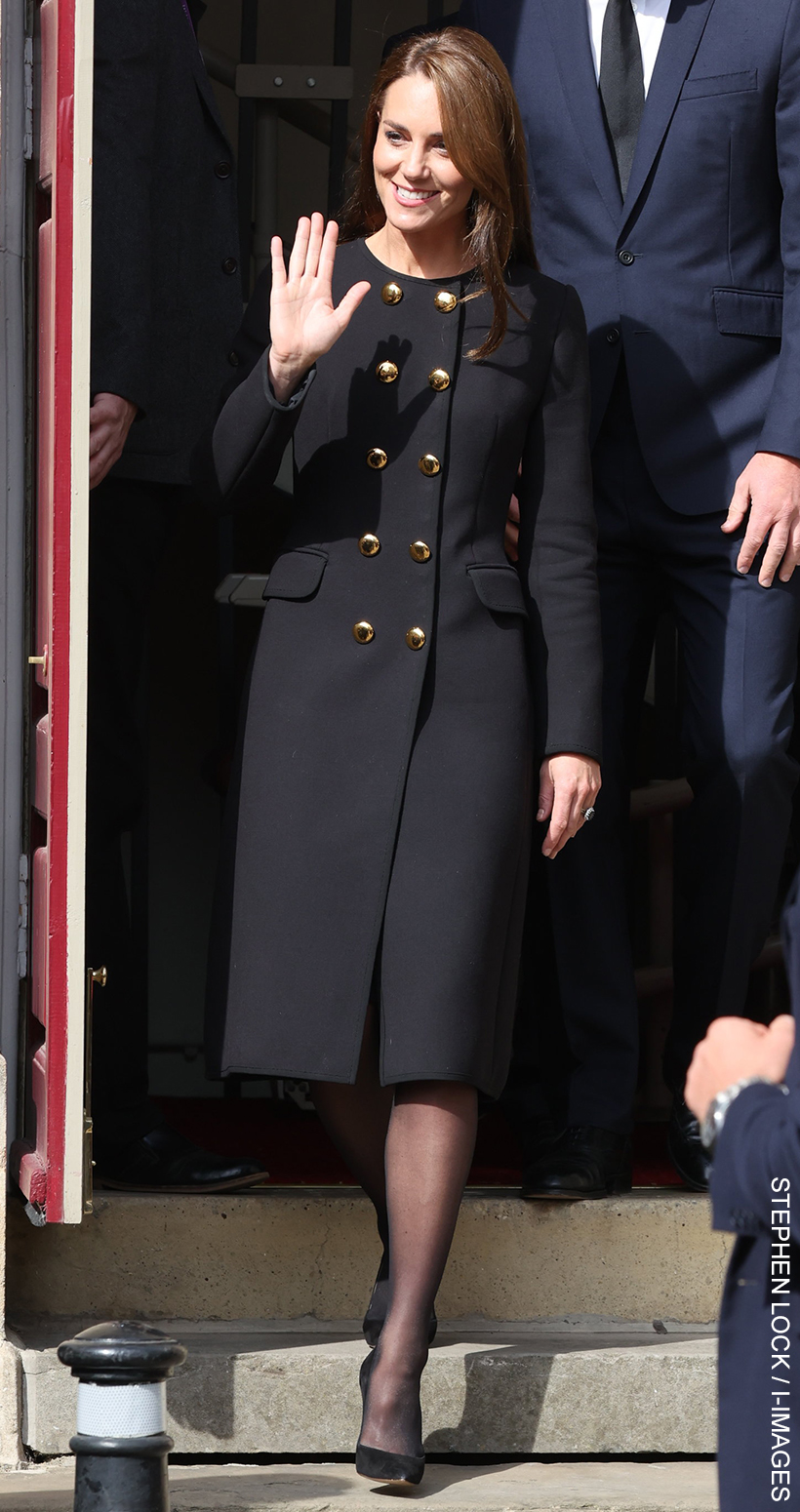 The Princess also wore the garment to visit the Air Cadets last year—the first engagement she conducted after Prince Philip's funeral in April.
I wonder if Kate knew this when she selected the coat today, but seeing as she regularly uses her clothing to signal something or make a statement, I would not be surprised if she choose it on purpose.
She also wore the coat in 2017 at the National Service of Remembrance.
The black mid-length coat is collarless with long sleeves. It's made from virgin wool-silk fabric and features double-breasted gold-tone buttons.
Unfortunately, it's from a past season and no longer available to buy.
INSPIRED BY KATE
Shop current season Dolce & Gabbana: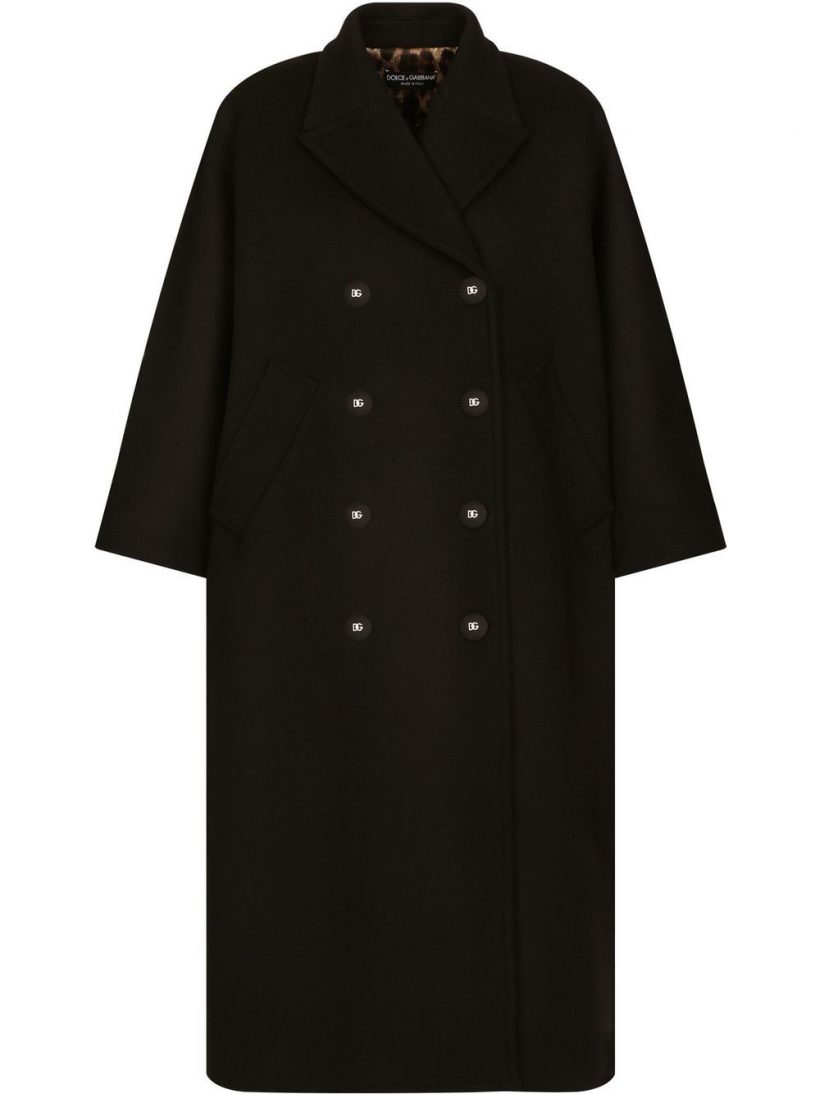 DOLCE & GABBANA
long double breasted button-up coat
Click to buy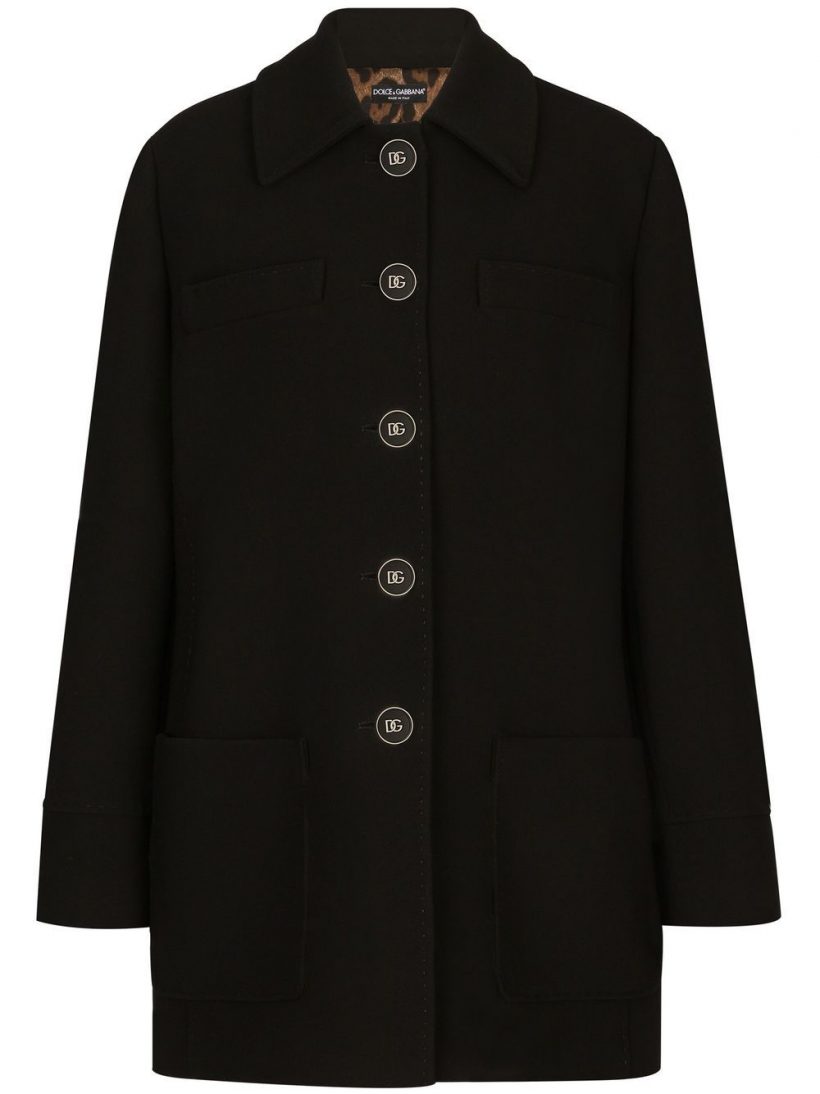 DOLCE & GABBANA
single-breasted button-up coat
Click to buy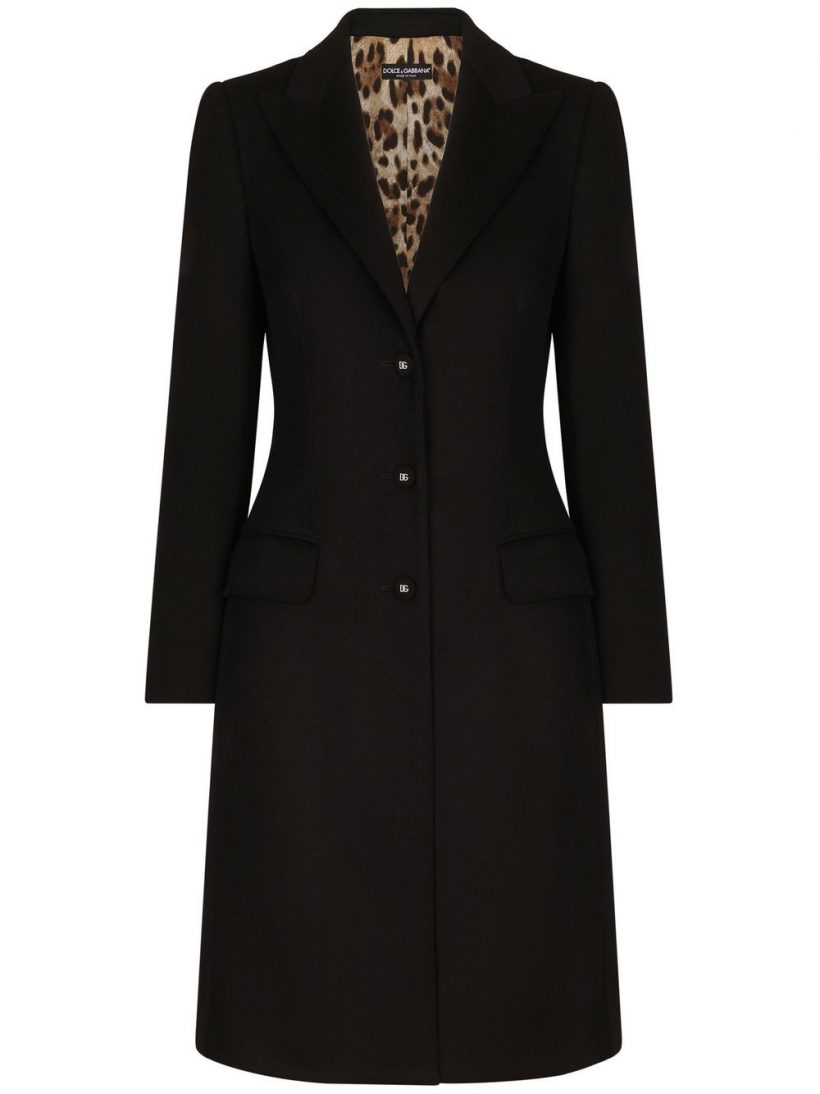 DOLCE & GABBANA
single-breasted button-up coat
Click to buy
I can see Kate wore her Annoushka pearl drop earrings and Kiki McDonough gold and diamond hoops to the Guildhall.
Kate clearly loves the pearl drops. She's worn them regularly for a decade now. They're one of her most-worn pairs of earrings (she's worn them to over 60 royal engagements).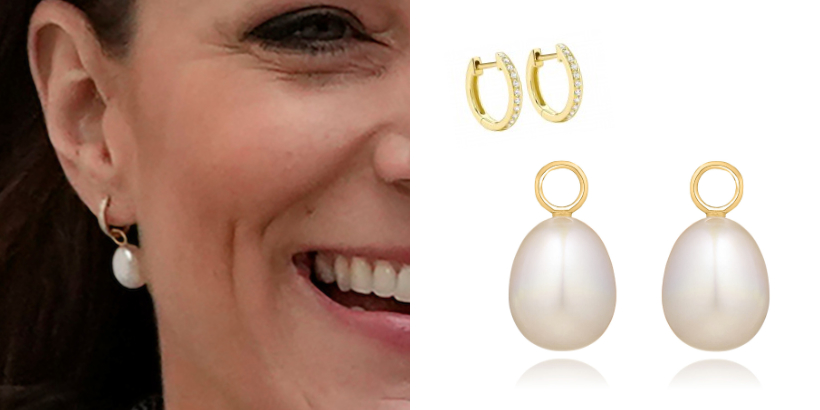 (Pictured above on another occasion).
The earrings feature creamy white freshwater pearls suspended from 18-carat gold rings.
Good news for anybody hoping to buy the pearls, they're still available at annoushka.com for £395 / $475 / €380. (Other currencies and worldwide delivery available too.)
Kate wears her pearls suspended from Kiki McDonough's gold and diamond hoops—another item still available to buy today.
The sparkly hoops cost £600 at kiki.co.uk.
I've not managed to get a glimpse of the dress or separates Kate wore under her coat. She donned a pair of black tights and black heels—likely her Gianvito Rossi 105 pumps in black suede.