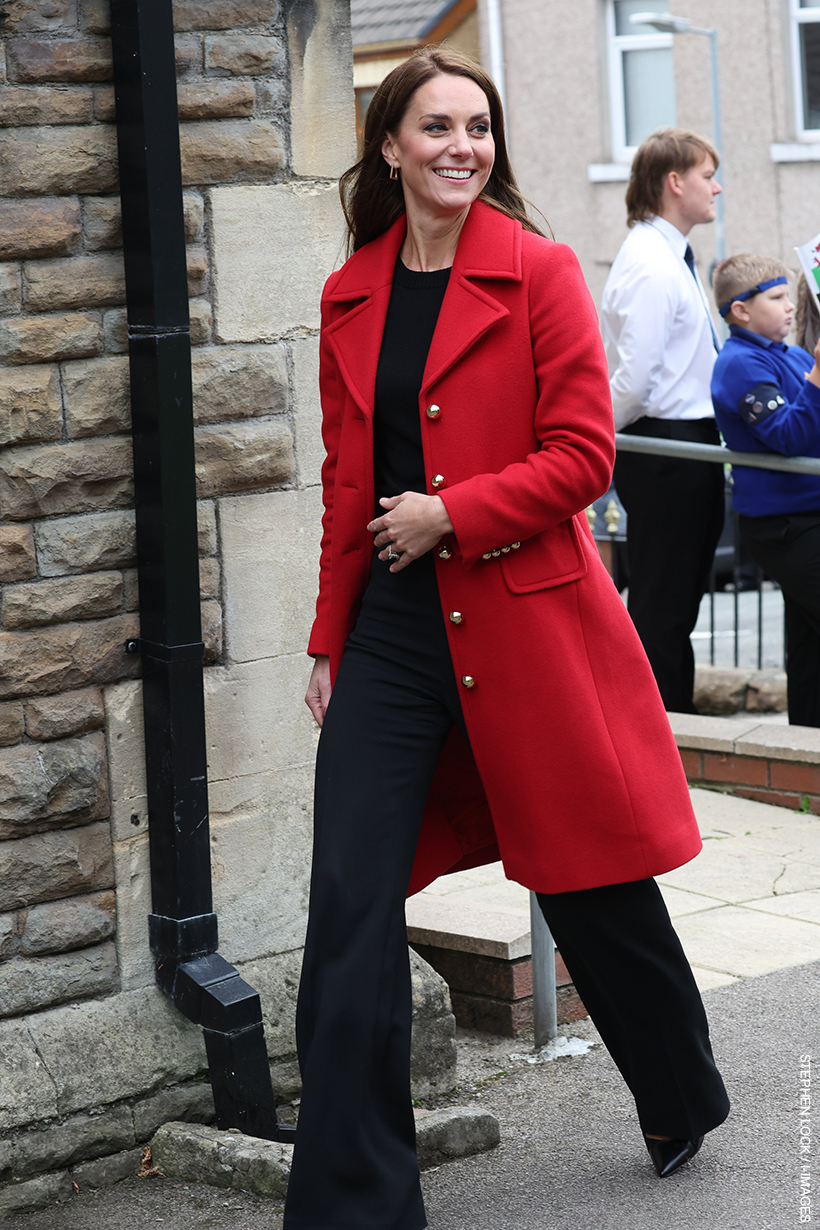 William and Kate returned to work on Wednesday following the end of the official royal mourning period. The pair visited both north and south Wales to champion charities and showcase local community groups. Kate looked vibrant in a red coat by L.K. Bennett.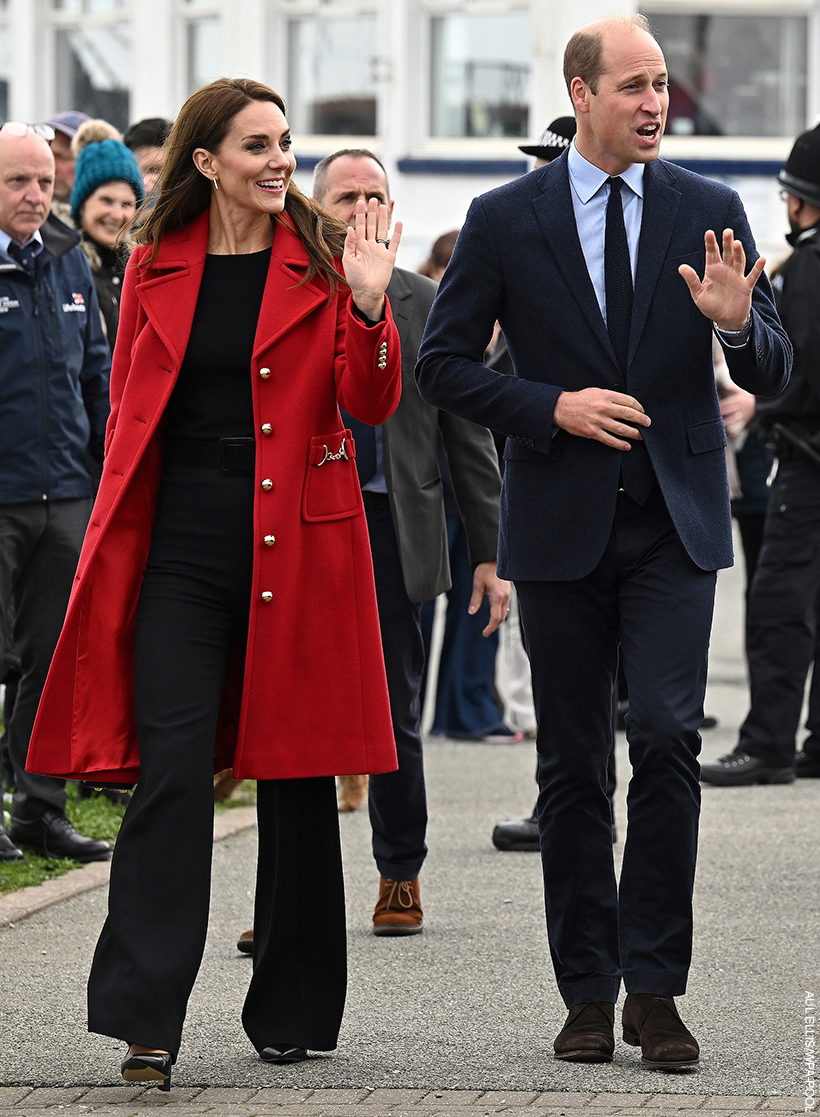 She obviously chose the bold hue as a nod to the country's national colour. (Kate is known for doing this. She'll often wear green in Ireland, blue in Scotland, etc.)
I have to say that it was refreshing to see Kate wearing a lovely, bold colour. (She'd only worn black in public since the passing of Queen Elizabeth on the 8th of September. Which I understand and respect, but as a blogger, you can understand why I'd like to write about her brighter outfits!
It was the couple's first visit to Wales since receiving the Prince and Princess of Wales titles from King Charles two weeks prior.
William and Kate wanted to visit the country, meet different communities, and learn about the work of key charities across the nation.
The couple started their Wales away day with a visit to Anglesey, an island in the North of Wales.
You may recall William and Kate lived on Anglesey for 3 years between 2010 and 2013. I imagine the couple relished the opportunity to return.
The pair spent the first years of their marriage on the island. They also brought Prince George home to Anglesey following his birth in 2013. It's often reported William and Kate could 'be themselves' on Anglesey and live a relatively normal life. I imagine the place means a lot to them.
The couple began the visit at the RNLI Holyhead Lifeboat Station—the place William and Kate conducted their first 'official' joint engagement in February 2011, just a couple of months before they were due to get wed. I imagine this was by design!
Back in 2011, the princess-in-waiting christened a lifeboat wearing a Katherine Hooker coat and Aquatalia booties.
There was no smashing of champagne bottles today. Four-year-old Theo Crompton (see video below) presented the couple with a posy of flowers before they met with crew and volunteers from the lifeboat station.
Holyhead is one of the three oldest lifeboat stations on the Welsh coast and has a remarkable history of bravery, having received 70 awards for gallantry.
William and Kate walked to the nearby Holyhead Marine and Café Bar to meet locals and representatives of small businesses and organisations, including the Coastguard and Sea Cadets.
Then, it was time for the Prince and Princess to travel to down to Swansea in the south of Wales.
Here, the couple visited St Thomas Church, a re-developed church in Swansea that supports people in the local area and across the city and county.
The church has become a thriving community hub and home to a vast array of services, including a food bank, facilities for the homeless, a not-for-profit café and community training kitchen, and a surplus food distribution network. Swansea Baby Basics—a baby bank—is also located in the church.
Regular readers will know Kate has worked with Baby Basics a handful of times in recent years. She's brought awareness to the charity and this (sadly necessary) service.
In 2020, she convinced nineteen British brands and retailers to donate over 10,000 new items to 40+ baby banks nationwide.
Pictured above, Kate at Baby Basics in West Norfolk in August 2020. Kate at a London baby bank in June 2022. Kate helping move boxes at Baby Basics Sheffield in August 2020.
(For those not in the know, a baby bank is a service that provides everything from baby clothes to prams and toys to parents and families in need, for free.)
In Swansea, the couple met volunteers from the initiatives housed within the church, plus they met members of the public who'd gathered outside.
A press release from Kensington Palace ahead of the visit spoke of William and Kate's deep affection for Wales.
Roya Nikkhah, The Sunday Times's Royal Editor, confirmed the couple will visit the principality again before Christmas. I've just watched four different journalists discuss this on The Daily Mail's Palace Confidential show. Definitely worth a watch if you have a spare 30 minutes.
She also confirmed there are currently "no plans for a grand investiture like Prince William's father had when he become Prince of Wales."
Let's move on to look at Kate's outfit now.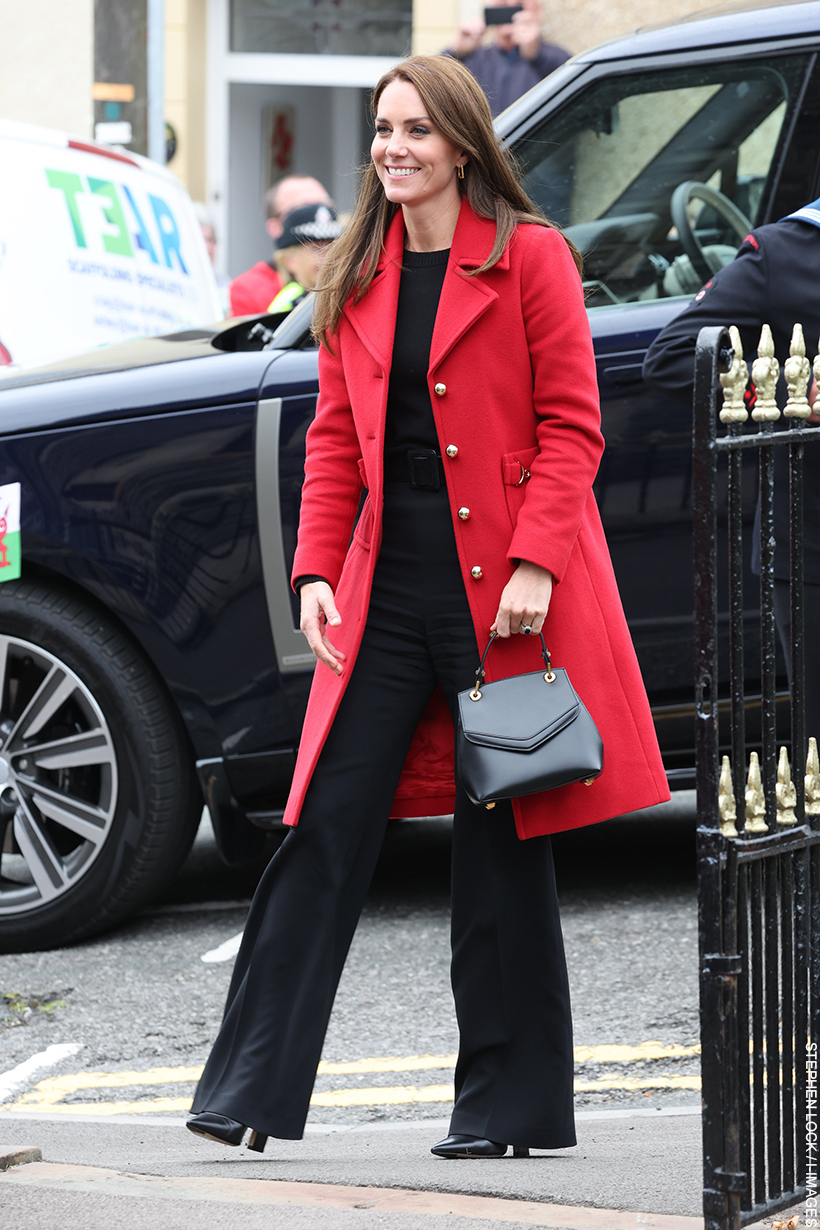 Kate Middleton's Outfit in Wales Today:
As I wrote at the top of the post, the Princess wore a bold red coat by L.K. Bennett. It's named the Spencer coat.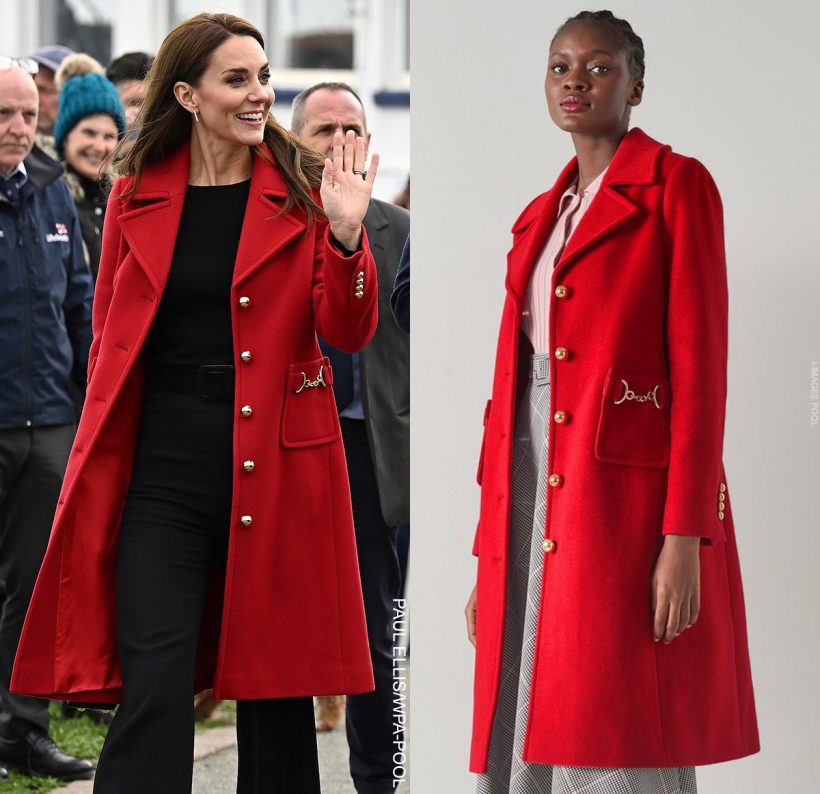 She looked polished in the smart red coat. The coat has three statement elements: the oversized collar, the golden snaffle (hardware) on the pocket and the golden dome buttons along the front and cuffs. It's a single-breasted design and features a tailored silhouette.
The coat is from L.K. Bennett's Conscious collection. It's made from recycled wool. The Princess has gravitated towards sustainable and slow brands of late. L.K. Bennett used responsible manufacturing processes to craft the coat. I am certain this will have factored into Kate's decision-making.
You can buy the coat from LKBennett.com for £599.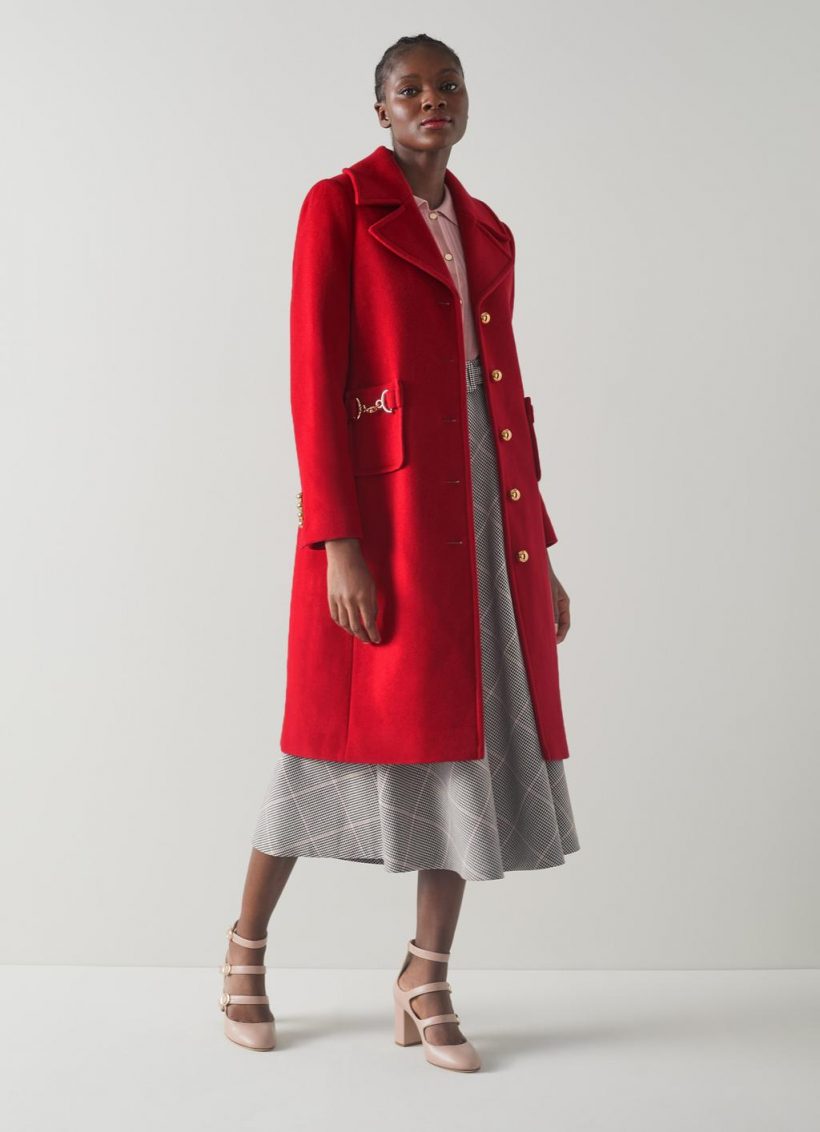 L.K. Bennett Spencer Coat in Red
EXACT MATCH – Boss your work wardrobe wit this red L.K. Bennett coat. This showstopper will elevate your outfits this autumn/winter. It has timeless appeal but the gold detailing and oversized collar give it a modern twist. You'll be wearing this coat for years. Pst….Take a cue from Kate and pair yours with a sleek black handbag.
It's lovely to see Kate return to wearing L.K. Bennett. The Princess wore a lot by the British brand in the early years of her marriage.
Kate re-wore the black crewneck sweater from the PACT visit in February. We suspect it's from Boden. The ribbing on the neckline is pretty similar. This is, of course, not confirmed.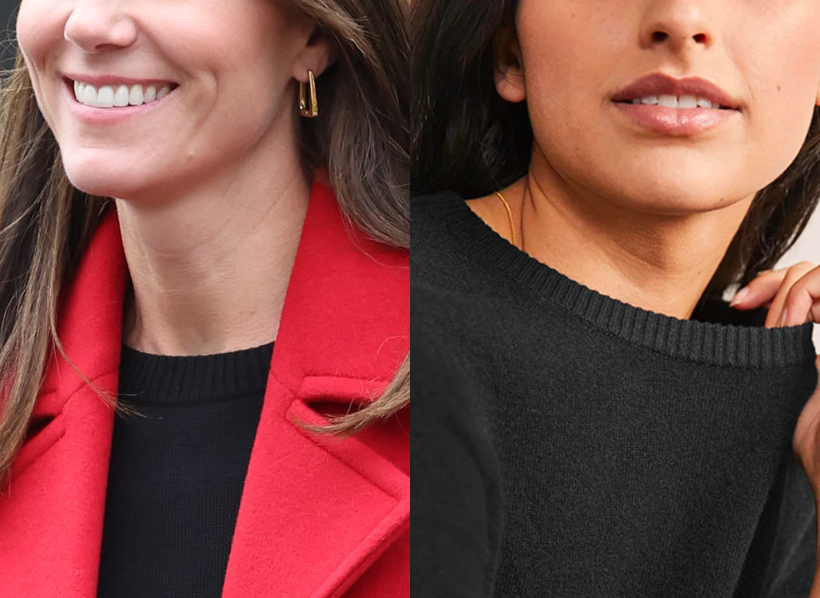 It's a good shout, in terms of the brand, as Kate has gravitated towards Boden in recent years. We've seen her in 7-8 other pieces.
It is made from black cashmere yarn.
You can still buy the sweater in size medium at bodenusa.com for $170.
Sadly, it is sold out at boden.co.uk (was £115). Though you can still buy in charcoal grey & chinchilla brown. Click here to view.
The British brand is known for its use of bright colours, eye-catching prints, flattering fits and good tailoring.
It looks like the Princess repeated her wide-leg 'Axon' trousers by Roland Mouret. They feature mock front pockets, a side zip and pressed creases along the front and back.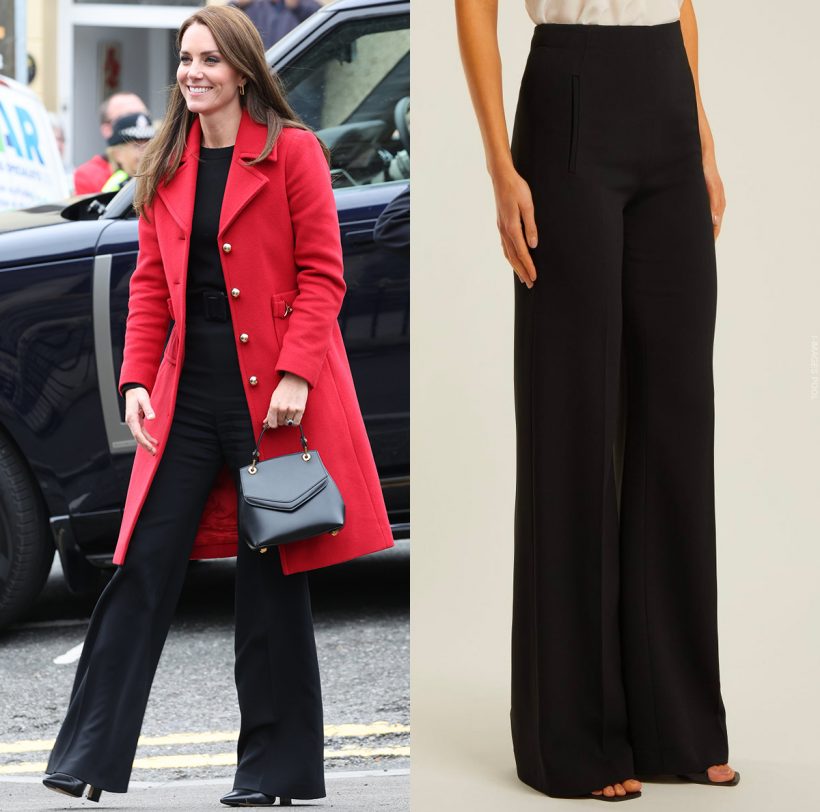 Earlier this year, the trousers retailed for £786 / $864 at Atterley. Sadly, they're sold out now. I thought this pair by Joseph was a good alternative for anybody wanting to copy Kate's look.
I can't say Roland Mouret is one of Kate's go-to brands. But she has worn five dresses (and these trousers) by the designer, in public, during the last decade.
Kate brought back her Grace Han 'Small Love Letter' bag for her visit to Wales.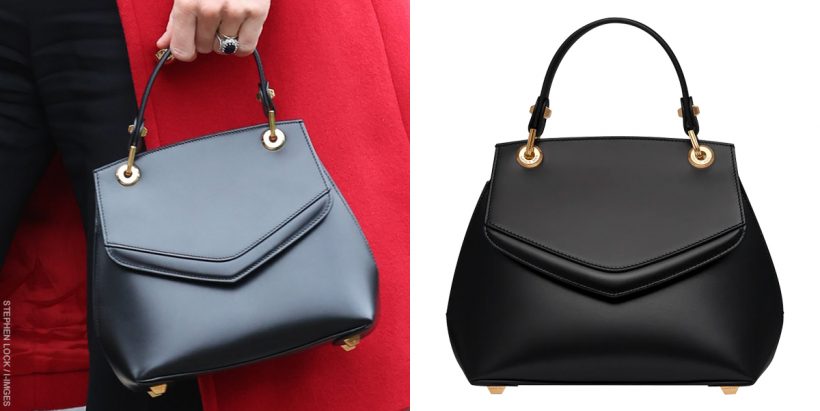 The elegant bag features an envelope closure and top handle. It's made from black leather, comes with a detachable strap and finished with gold tone hardware. Grace Han sells the design in various sizes and colours.
The Princess has carried the black bag to a handful of engagements over the last two years (often in autumn/winter with red/dark outfits.)
Grace Han is a relatively new brand, based in Knightsbridge, London. The company only launched in February 2019. The eponymous founder and designer grew up in Taiwan but has spent most of her life in London, where her parents met as students.
In an article about the bag, Vogue describe it as "sleek" and "compact yet capacious".
The Princess re-wore her Russell and Bromley 100 Point Block Heel Court Shoes. She debuted the shoes last month, during the visit to ATC Pirbright.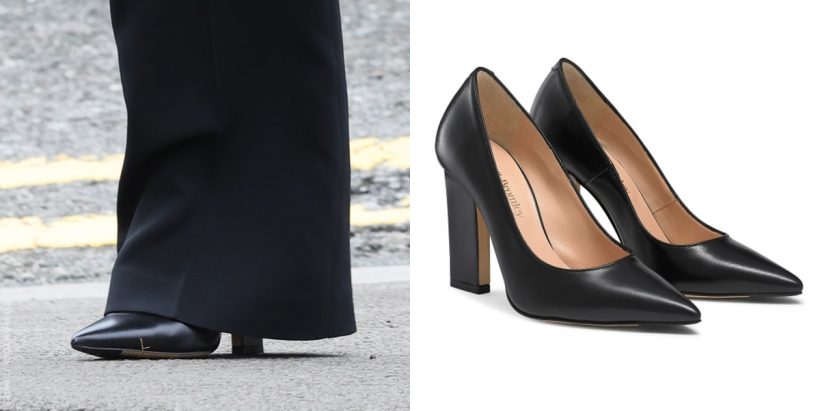 The shoes feature a 10cm blade block heel and a sharply pointed toe. Russell & Bromley describe the style as "elevated", and "an enhanced take on the classic court shoe".
They're made from black leather. RRP: £245 russellandbromley.co.uk.
Kate chose gold earrings from a Welsh brand for her visit to the country. They're the Spells of Love Alia Hoops.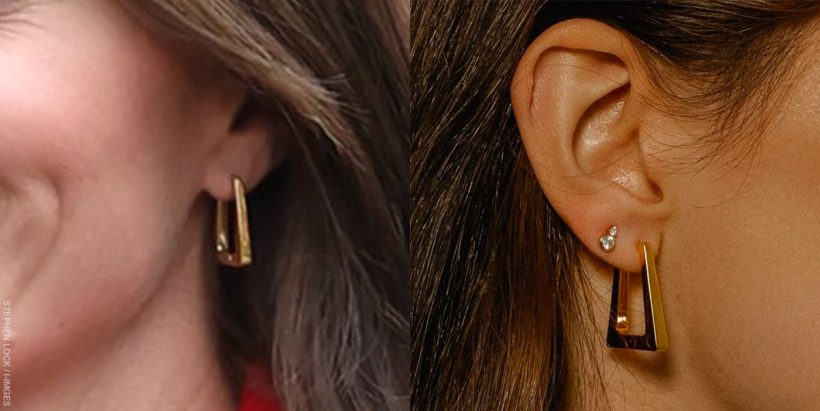 The Princess regularly wears the earrings for visits to the country.
The handcrafted hoops are made from 18k recycled gold plated brass. You can preorder at spellsoflove.co.uk for £79.
Finally, Kate wore her black belt, which we believe is from BA&SH.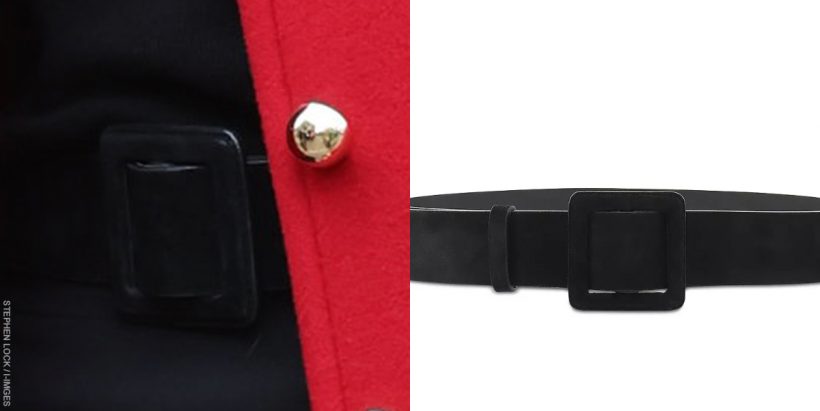 We first spotted her wearing it in 2019. She's worn it to a handful of public engagements since.
https://go.skimresources.com?id=80377X1531586&xs=1&url=https%3A%2F%2Fwww.bodenusa.com%2Fen-us%2Fcashmere-crew-neck-sweater-black%2Fsty-k0490-blk