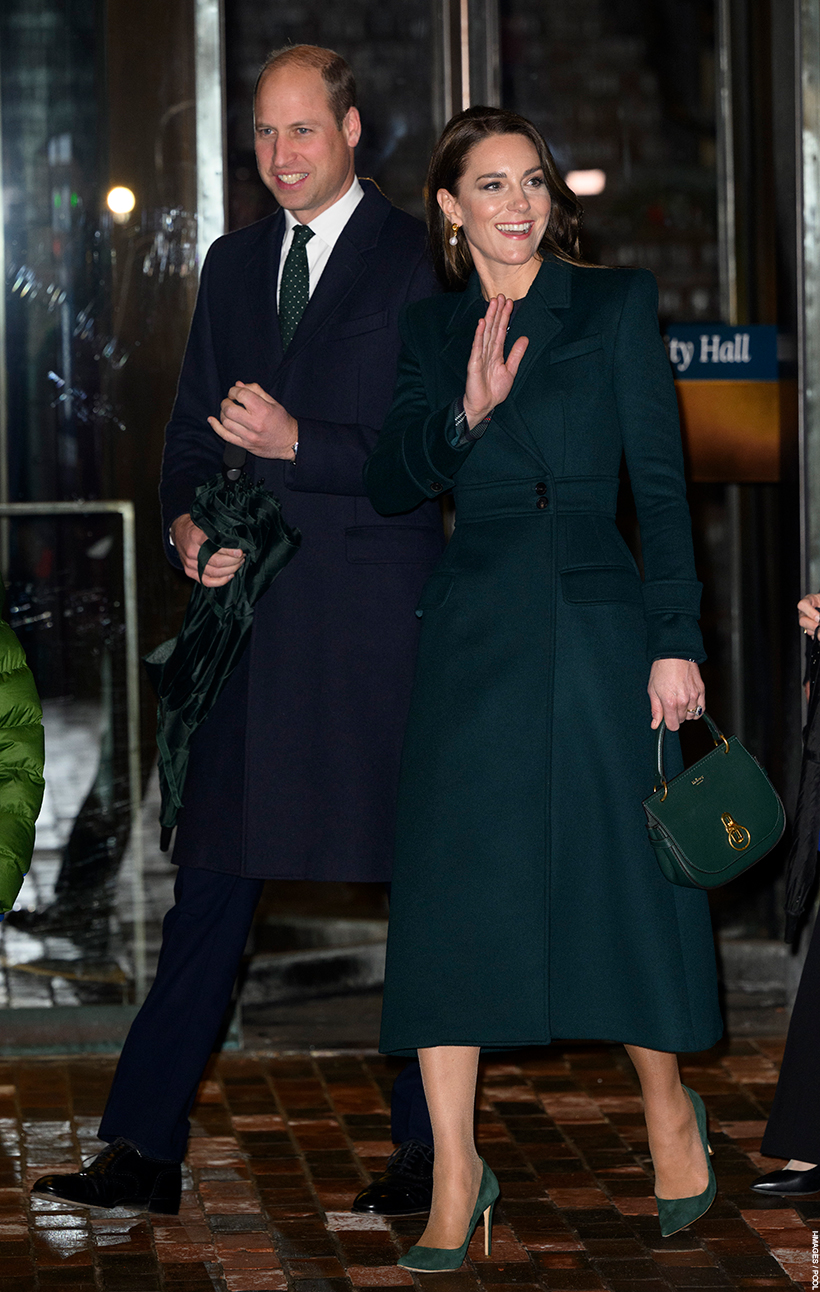 Kate Middleton showcased the best of British during an overseas visit to Boston, United States on Wednesday (30th November 2022). The Princess of Wales wore all green items from three iconic brands—Alexander McQueen, Burberry and Mulberry—for her first set of engagements in the city.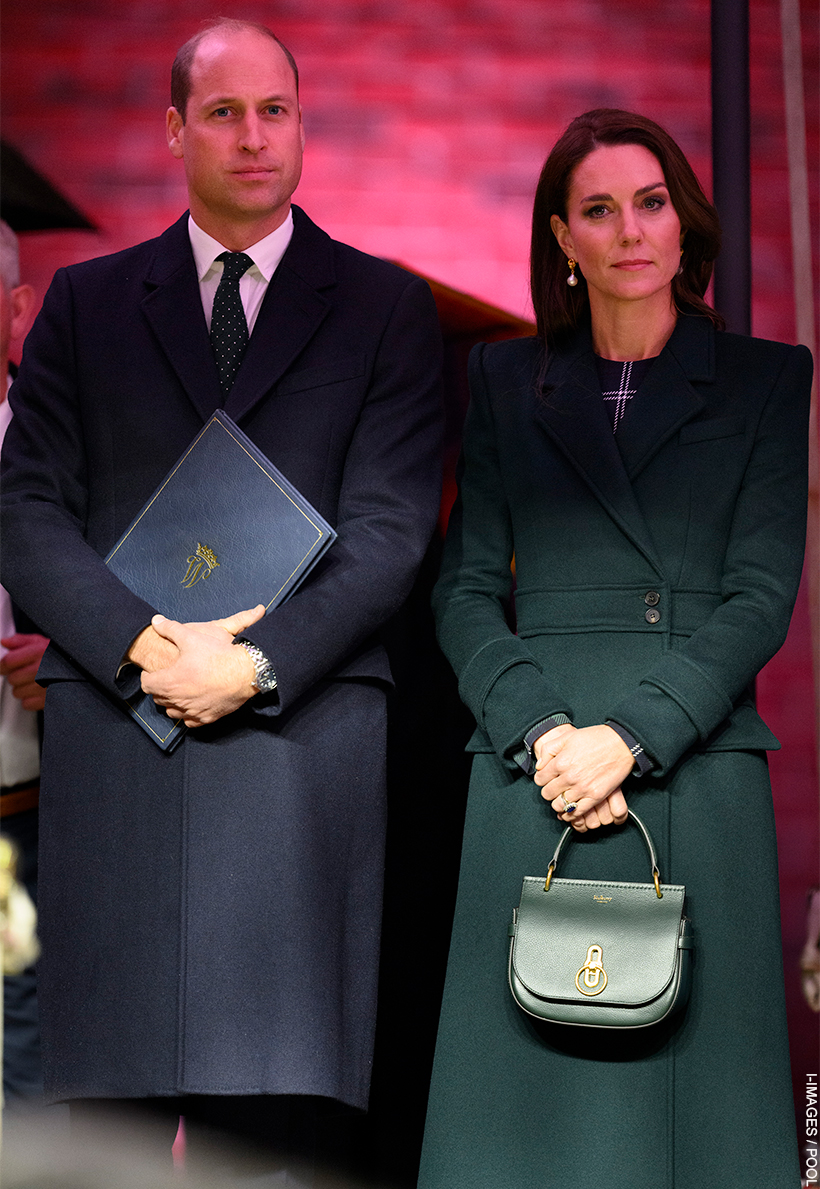 The Princess—who had landed at Logan airport a couple of hours earlier—changed out of a pantsuit into the dress and overcoat to meat Mayor Michelle Wu and her family at City Hall.
William and Kate were in Boston for The Earthshot Prize awards ceremony, which took place on Friday. The couple spent three days in the city visiting projects and organisations that aligned with their own goals ahead of the awards.
The VIPs ventured outside in the cold, rain and wind for a special event to officially start the countdown to the Earthshot Prize awards.
The Prince and Princess pressed a button that lit City Hall green in honour of Earthshot. You can watch the moment below:
For those who need a quick reminder, Earthshot is William's ambitious initiative to find solutions to repair the planet. Through The Royal Foundation, Earthshot awards money to people trying to solve the world's greatest environmental problems. Five prizes are awarded at the Awards Ceremony, annually. Earthshot is in its second year and will continue until 2030.
Following the event, William and Kate attended a Celtics game, which you can read about here.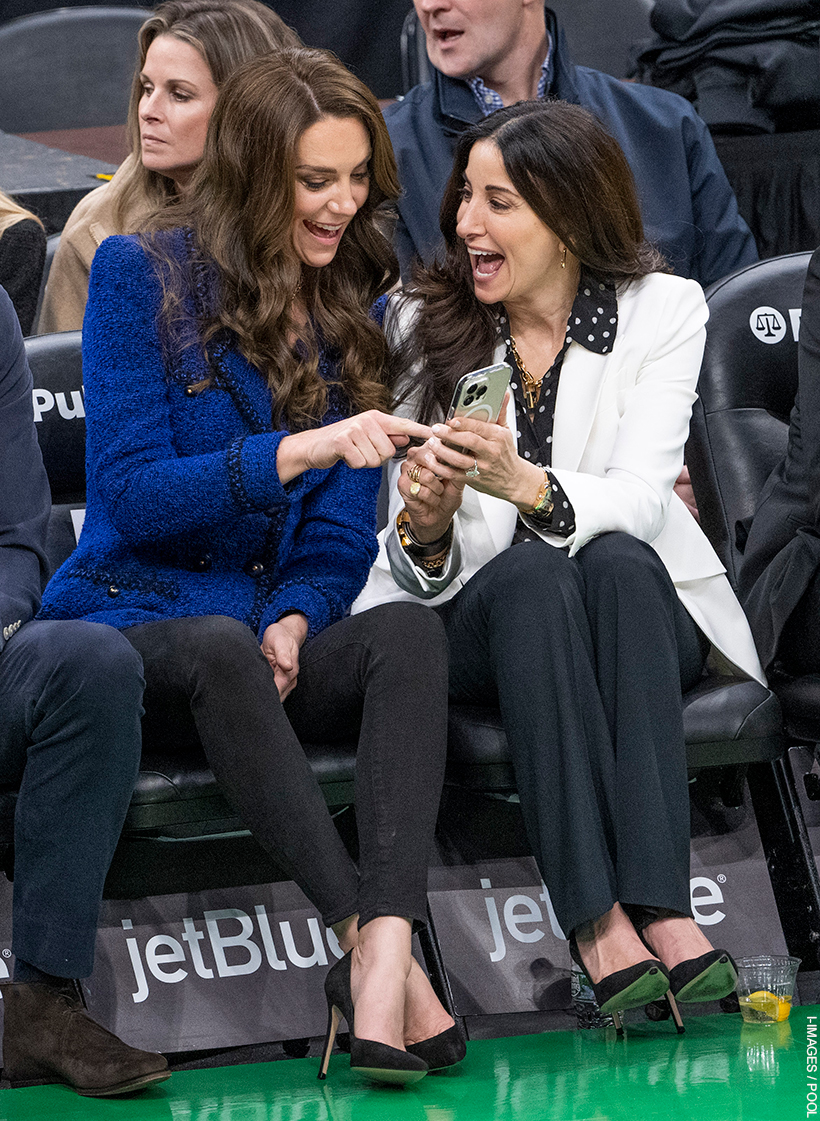 Kate's Outfit at Boston City Hall:
For her first official engagement in Massachusetts, Kate was the epitome of chic in a stunning green-on-green ensemble. She opted for a green tartan dress from Burberry and an emerald wool coat from McQueen, complemented by a new leather satchel bag from Mulberry England. Three iconic British fashion brands.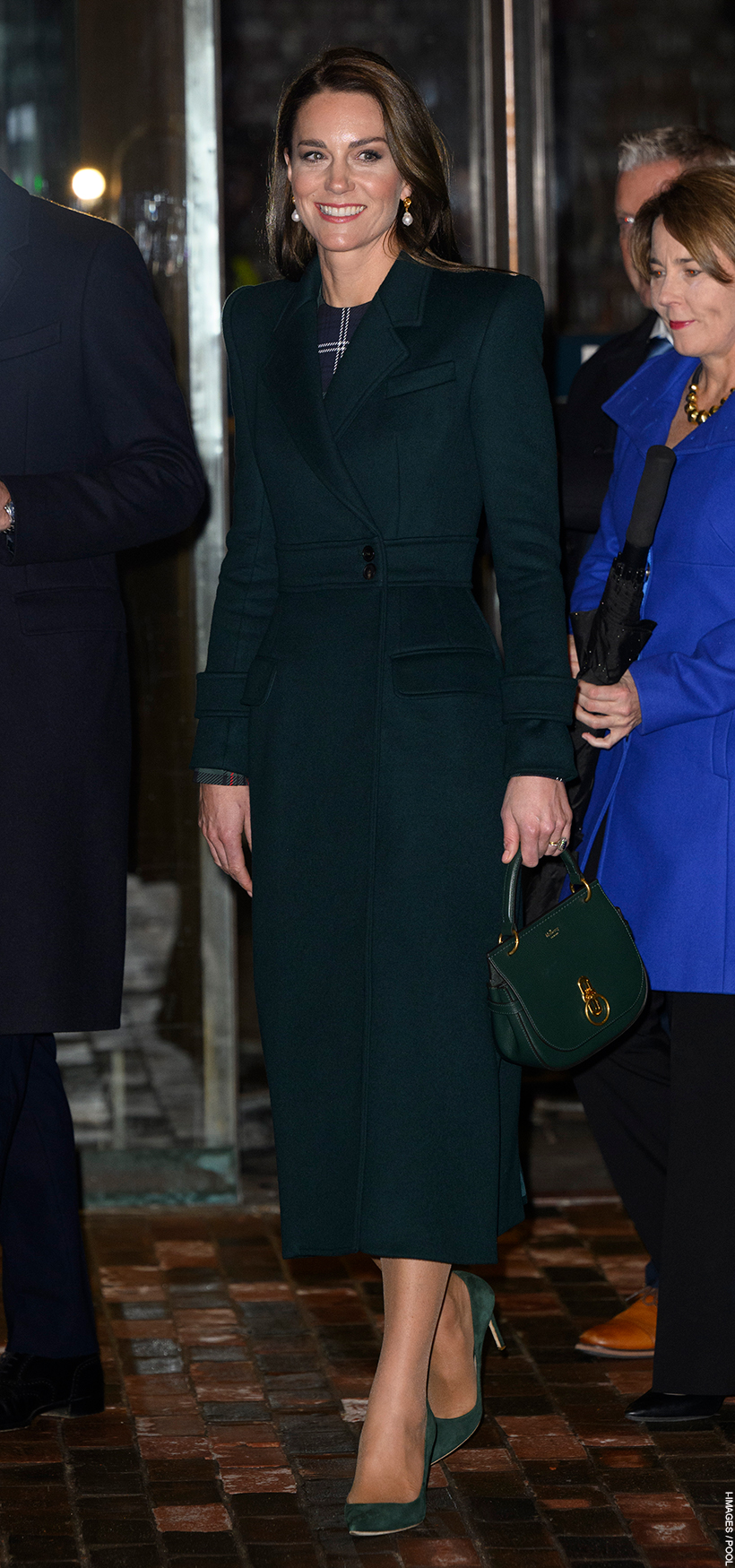 The Princess's love of "literal dressing" was on full display too, as the green colour of her outfit was a nod to the Earthshot Awards and its mission. She looked absolutely fantastic—effortless and polished. Her fashion choices once again proved why she is a style icon.
A look at the Burberry dress:
From what I understand, the dress is bespoke commission. The garment is not available to buy (for now, at least. Who knows, this may change.). However, you can see elements of the dress elsewhere in Burberry's current season collection: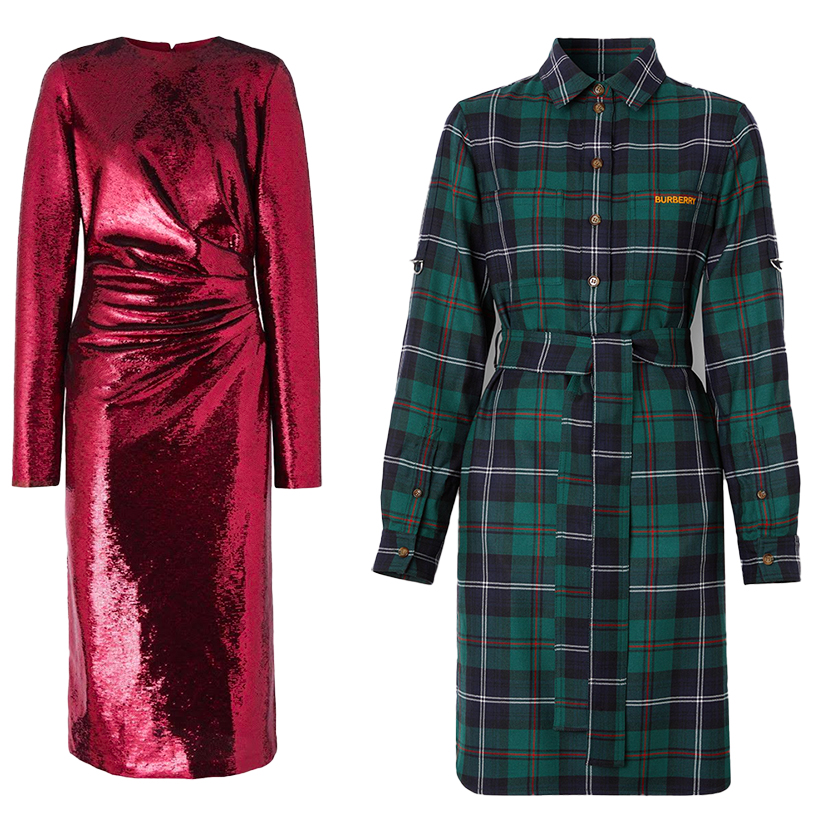 Note the shape of the Aurora dress on the left. It features the same ruched waist detailing, jewel neckline and long sleeves as the style worn by the Princess. (Thanks to Laura for noticing and sharing this.)
Kate's dress is crafted from a blue and green tartan print fabric. Burberry refer to it as the "Exaggerated Check" print in the colour "Dark Viridian Green." It features on a few items you can buy at present, including the shirt dress pictured above right.
Kate's beautifully structured coat is from Alexander McQueen. It's another bespoke creation. It features a fitted waist with a sort of inset belt/waistband that houses buttons that fasten the garment together. The coat also has notch lapels, a breast pocket at the top and straight flap pockets on the hips.
Unfortunately, I can't find anything McQueen produced (past or present) that's similar this coat to share with you.
Kate debuted a new green handbag at City Hall, the Mulberry Amberley Small Satchel.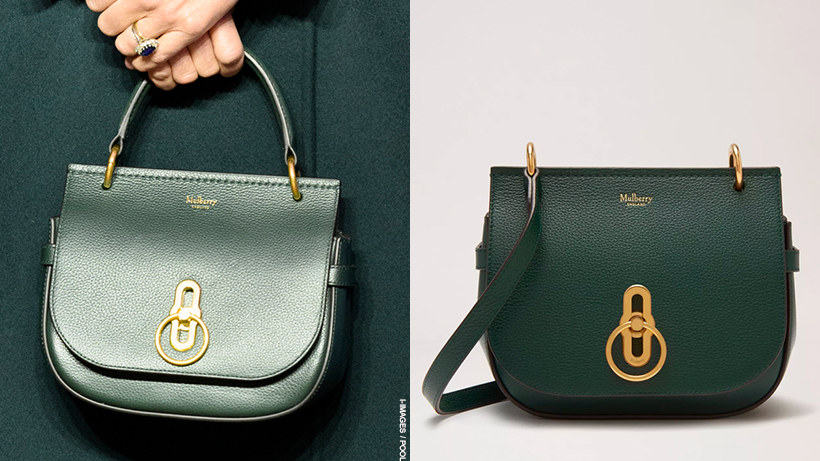 Above, I show a stock image of bag, which features a crossbody strap—not a top handle like Kate's. I can't find the bag in green with a top handle online. I wonder if it's a custom commission for the Princess? Mulberry do sell and have sold other Amberley Satchels with a top handle—just not this green style as far as I can tell.
This bag is part of the brand's equestrian-inspired collection and features the signature Rider's Lock closure, a modern reinterpretation of the iconic Postman's Lock.
If you'd like to buy the crossbody version of Kate's Amberley Satchel, you're in luck. The handbag is available at Mulberry.com.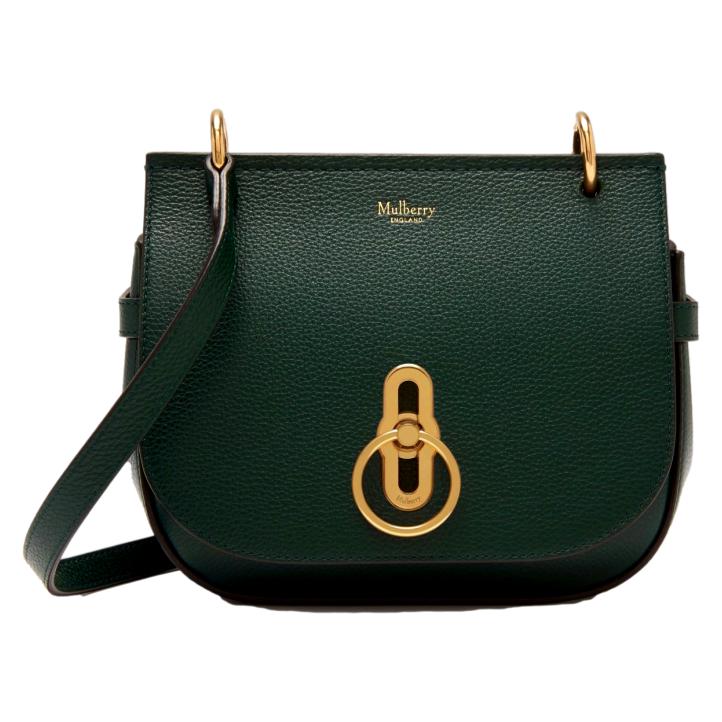 Mulberry Amberley Satchel in Green
Gorgeous in green! Add a touch of royal elegance to your wardrobe with this sumptuous green satchel. Featuring Mulberry's iconic postman lock and crafted from the finest leather, this handbag is not only stylish, but also built to last.
Kate's clearly a fan of Mulberry, as she has been spotted with 11 of the company's bags since joining the Royal Family in 2011. (She carried a few of their styles before her marriage too, but I haven't been tracking those older styles.)
Kate sported a pair of the Rebecca court shoes from Emmy London at Boston City Hall. She wears the colour 'Greenery.'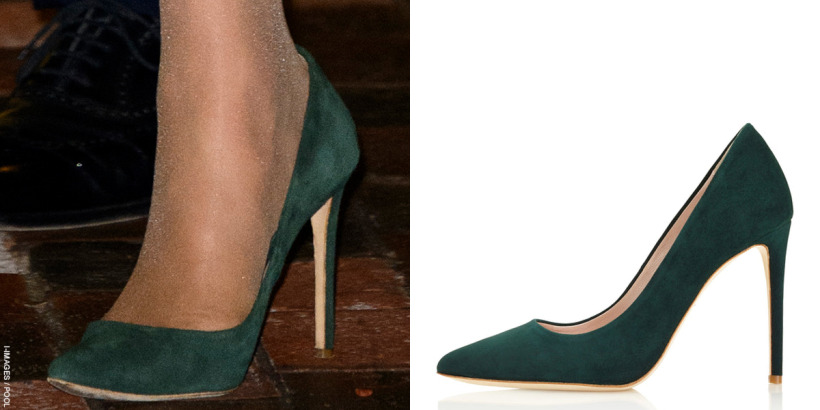 Made from sumptuous deep green suede with an elegant pointed toe and thin heel, these shoes are not only stylish and elegant, but also incredibly comfortable. In fact, multiple reviews from buyers rave about the comfort of these heels, with some claiming to have worn them all day without any discomfort.
Kate Middleton is clearly a fan of Emmy London's Rebecca court shoes, she owns eight pairs in various colorus. She has been spotted wearing this green suede version on 11 public occasions.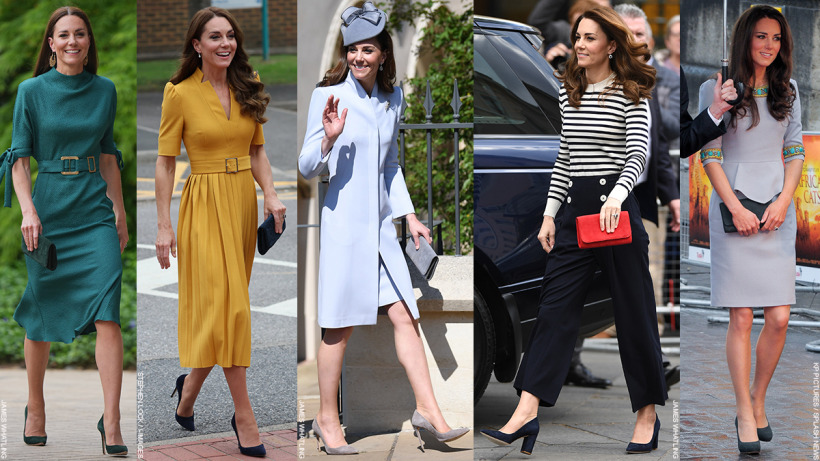 It's fair to say Emmy is one of Kate's go-to companies for shoes and accessories. In addition to her eight pairs of Rebecca pumps, we've seen the Princess wear three pairs of the Josie block heel pumps, two pairs of the now-discontinued Valerie pumps and eat least eight of the Natasha clutch bags.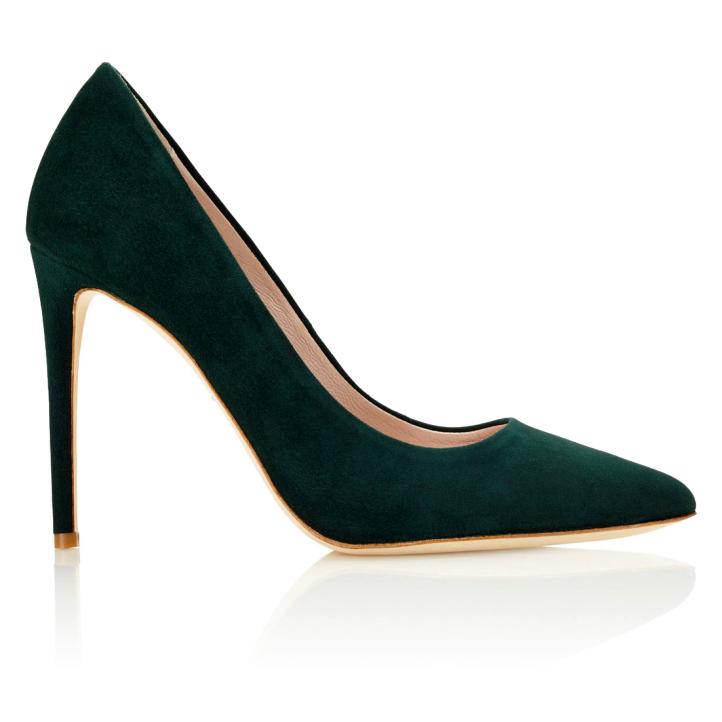 Emmy London Rebecca Heels in Greenery Suede
Exact match! It looks like Kate's found the perfect pair of heels—the Emmy London Rebecca—she owns them in eight different colours! Comfortable, stylish, and made from sumptuous, soft suede. Wear from desk to dinner. These shoes will complete any outfit.
Let's finish by looking at the new earrings Kate wore with her green outfit. The earrings feature a baroque pearl suspended from a chunky knot top finished in a high shine gold. The designer describes the style as "feminine, graceful, and elegant".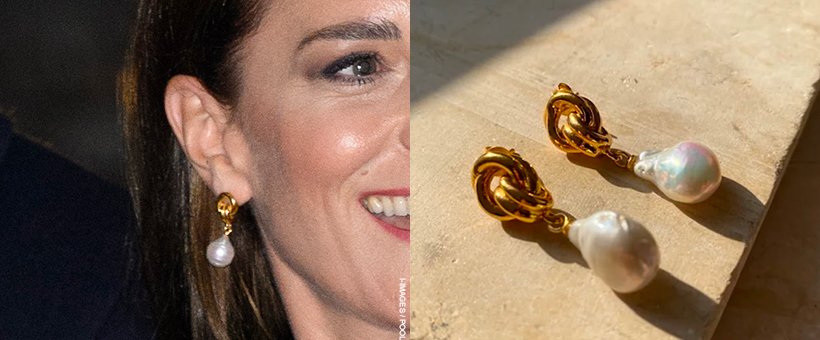 These earrings are made from 22 carat gold on silver and have a retail price of £72—they remain available to buy if you're looking to purchase the earrings.
Shyla is a new brand for Kate—we have not seen her wear anything from the company before.
Shyla London is a morally motivated and eco-conscious company that offers timeless, wearable and thoughtfully designed jewellery to suit women of all ages. Their clean, minimalist, and contemporary designs allow each item to flow comfortably from day to evening. All stones are natural, and the metals are ethically sourced or recycled.
Shyla London work with small charities in India to teach some of the poorest women in the country a new craft that they can use to support and sustain their families.
Additionally, they use recycled gold and silver, and all of their packaging is recycled. By wearing Shyla London, Kate is not only wearing beautiful jewellery, she is supporting a brand with a strong commitment to sustainability and women's empowerment.