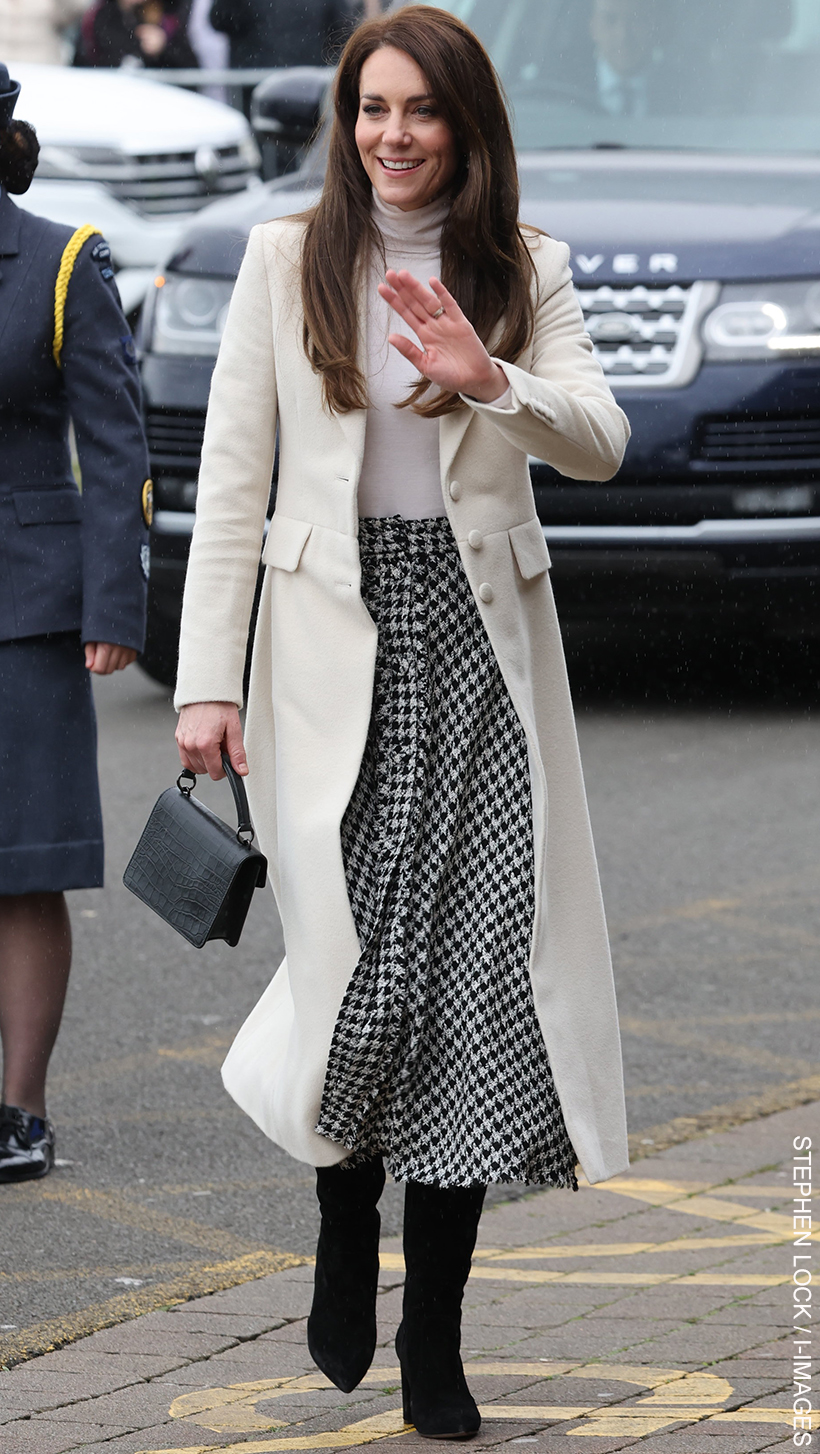 William and Kate wrapped up warm for their visit to south Wales on Tuesday (28th Feb). The royal couple—who have held the titles Prince and Princess of Wales since September—visited the region ahead of St David's Day—the national day of Wales—celebrated annually on March 1st.
The pair visited the region to meet local communities, champion mental health initiatives and show support to those who work in the emergency services.
The visit was the couple's second "community impact day"—a new model of royal engagement created by William and Kate with the aim of creating notable change in the areas they visit; this model is a break from the traditional mould of royal engagements, and is intended to have a lasting, positive impact on the ground.
The couple's first visit of the day took place at Brynawel Rehabilitation Centre in Llanhara near Pontyclun. Brynawel is the leading residential centre for the treatment of alcohol and drug dependencies in Wales.
Here, Wiliam and Kate were shown plans for a therapy garden—which will include allotments, a communal sensory and herbal garden, a mud kitchen and an interactive learning space.
Brynawel's therapy garden is just one of many William and Kate will launch across south Wales through their charity, the Royal Foundation, in the coming months. The Royal Foundation will collaborate with Life at No. 27., a non-profit gardening and wellbeing therapy organisation that provides horticultural therapy and mental health counselling.
Life at No. 27 uses nature, conversation, and human connection to support individuals experiencing mental illness, low confidence, self-esteem, and isolation.
Eventually, residents experiencing mental ill health in the wider community will be able to access the garden via a GP referral.
Next, the couple travelled to Port Talbot to visit the Aberavon Leisure and Fitness Centre. The royal couple were warmly received by the staff and locals and given a comprehensive tour of the facilities. They watched an athletics and gymnastics session in the centre's large indoor sports hall.
The couple even got involved, once again showing off their competitive sides (and fitness levels) by taking part in a 'spin bike competition.' Watch the moment below at around 0:38 seconds:
The pair had to 'spin' as fast as possible for 45 seconds. Kate led the way and joked "can I make it harder?" After being declared the winner, she received a small gold trophy.
The pair also met professional Welsh athletes, Harrison Walsh and Hannah Brier, in the centre.
During the visit William and Kate held conversations about the importance of physical activity and how sports can support mental wellbeing.
The Prince and Princess of Wales who have been advocates for promoting mental health awareness in the UK over the last decade. They both value the importance of sports and physical activity in promoting mental and physical health, as well as changing lives for the better. As a keen sportswoman herself, Kate has always had a passion for outdoor activities such as tennis, hockey, and sailing. She firmly believes that physical health is essential for mental wellbeing and is committed to ensuring that young people have access to outdoor activities and sports. This commitment is reflected through both her patronages and her work through The Royal Foundation.
After the indoor session, William and Kate went outside for a walkabout to greet the enthusiastic crowd who had gathered outside, including a group of local schoolchildren. Kate received flowers and William cooed over a cute baby.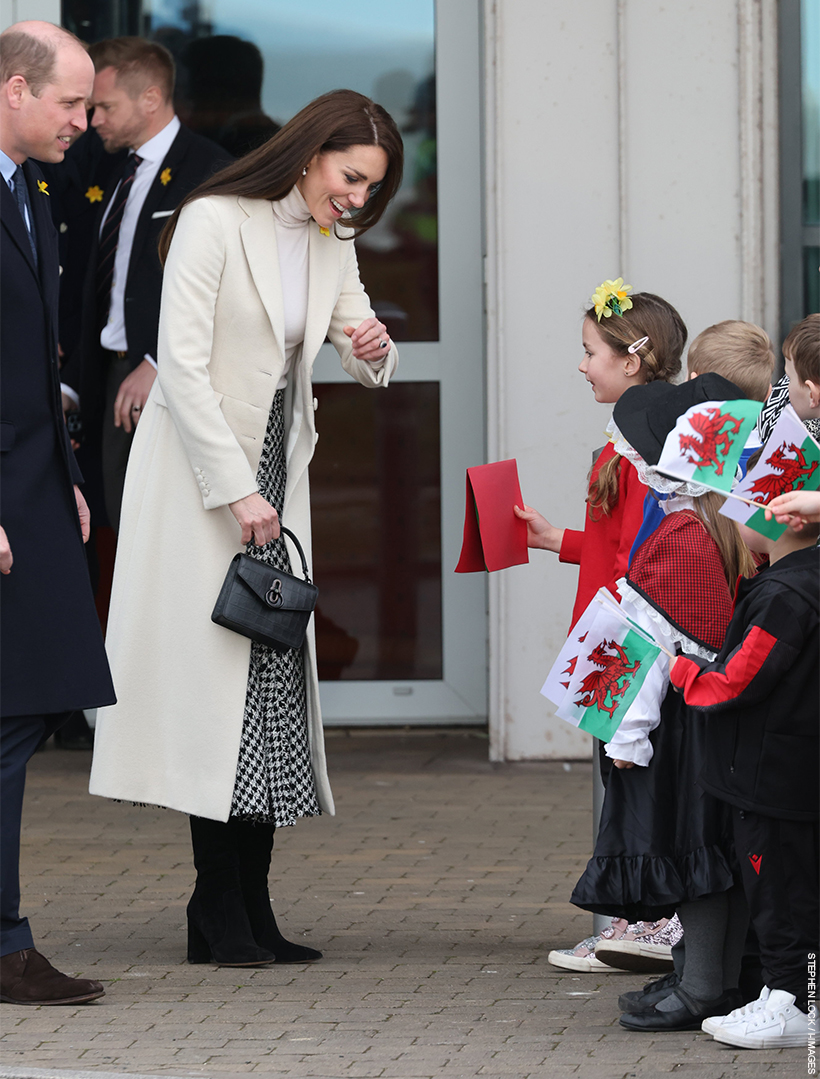 Aberavon Leisure & Fitness Centre opened in 2016 and offers a range of physical activities to promote a healthy lifestyle for local people. In addition to the large sports hall and spin studio, the centre boasts an an eight lane 25m swimming pool with a moveable floor.
Next, William and Kate visited their third and final location, the Wales Air Ambulance Headquarters in Dafen, Llanelli.
Wales Air Ambulance offers advanced critical care and is often described as a 'Flying ED'. The on-board consultants and critical care practitioners are highly skilled and carry some of the most pioneering medical equipment in the world. The charity, which has completed over 43,000 missions since its founding in 2001, is on standby 24/7, 365 days a year.
During their visit, the royal couple had the chance to meet with emergency workers, volunteers, and supporters and hear about the recent operations across Wales.
One of the main topics of discussion was the importance of prioritising mental health for emergency workers. William and Kate spoke with first responders about this issue.
Prince William has a deep understanding of the importance of mental health support for emergency responders, having worked as an RAF Search and Rescue Pilot from 2010 to 2013 and as an Air Ambulance pilot from 2015 to 2017. He has publicly spoken about how the "trauma" and "sadness" from the nature of the work affected his own mental health. His first-hand experience has led him to make it a priority to support the mental health of those working in emergency services.
In 2021, William launched the Blue Light Together package of mental health support, which provides mental health resources and training for emergency responders. The launch took place at the Royal Foundation Emergency Services Mental Health Symposium, which brought together experts from across the emergency services sector to discuss mental health challenges and solutions.
The visit also included the official opening of a new room, designed by a family who lost their father in a tragic road accident. The room, which provides a safe space for families, nurses, and volunteers, was created with the help of those who supported the family after their loss.
William and Kate met with the family who designed the room, along with the nurses and volunteers who have been supporting them.
Finally, it was announced that William has become Royal Patron of the Wales Air Ambulance charity. It is the first Welsh patronage for the Prince since receiving the title Prince of Wales.
Let's move on to look at Kate's outfit now.
Kate's outfit in south Wales
For the visit to south Wales, the Princess wore a long cream coat over a black and white houndstooth skirt, cream roll-neck sweater and black accessories. The perfectly put-together look worked well for the day of engagements.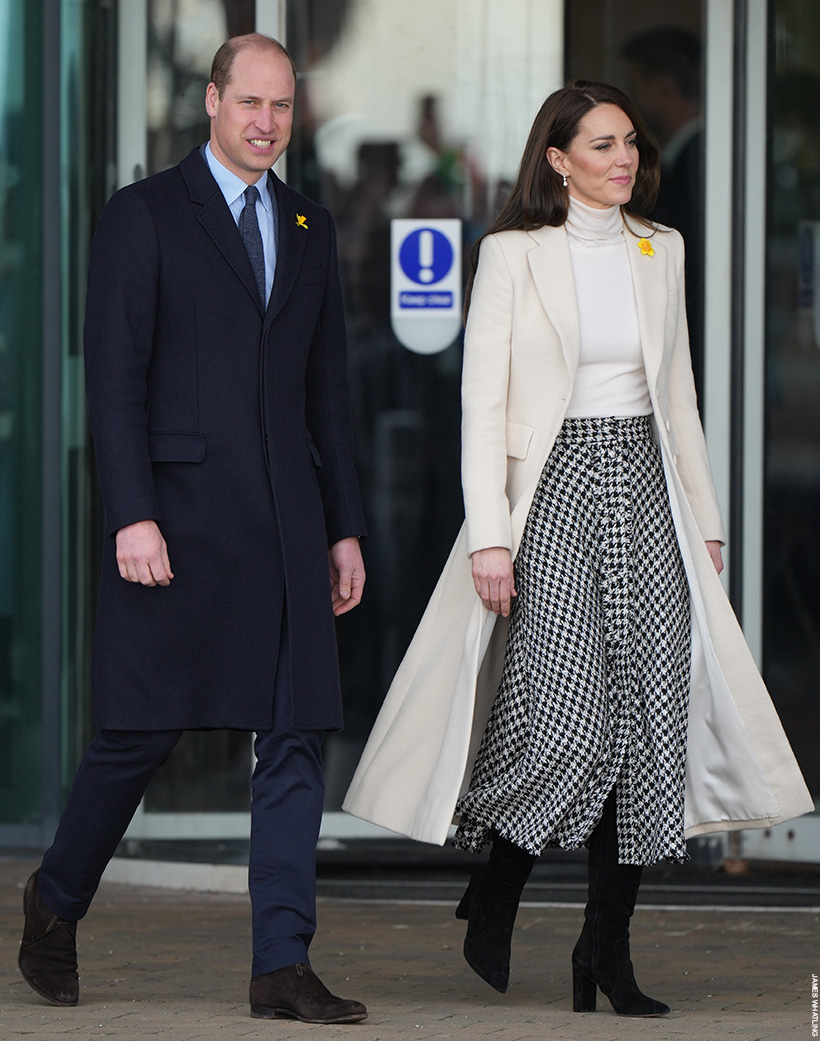 Kate—the Queen of Literal Dressing—has recently worn red for visits to Wales. It's the colour that's most associated with the country. I suspected she'd wear green for the visit, the second dominant colour on the country's flag. But a while ensemble makes sense too—it's the third colour on the flag 🏴󠁧󠁢󠁷󠁬󠁳󠁿.
It's possible that Kate's coat is a custom creation by Alexander McQueen. It's quite similar to three other coats she owns from the design house.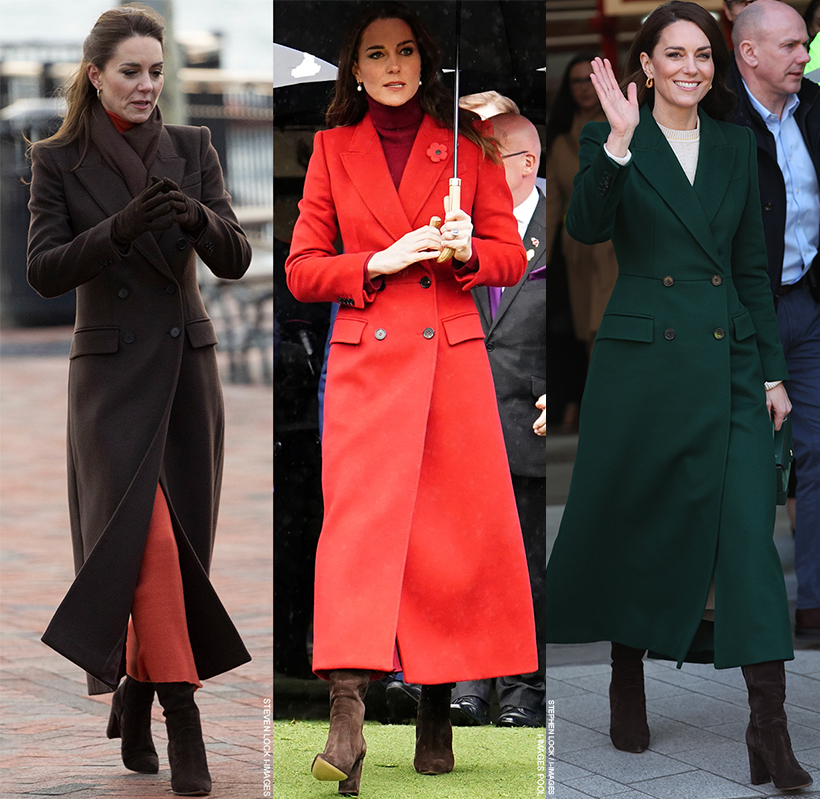 Note, the seams down the bust and across the waist (below).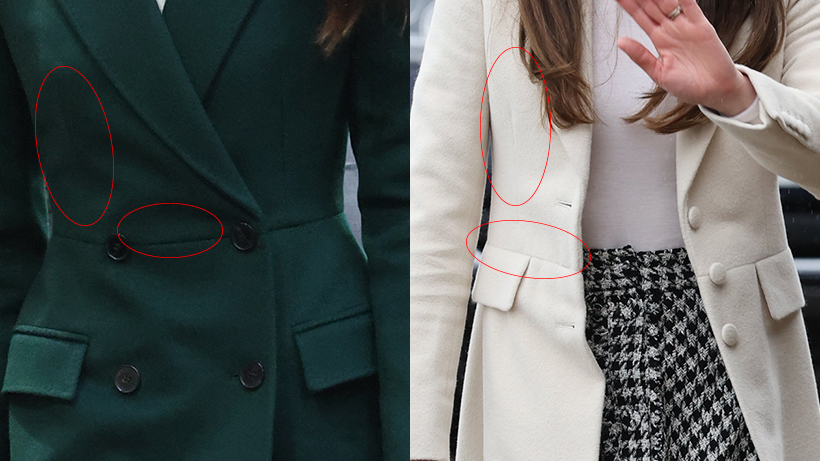 At first, I thought the cream coat was another iteration of the brown/green/red style but it's not. There are a few differences. The cream coat is single-breasted (the other three are double-breasted). The pockets are higher and they do not have the same top-stitching detail. The buttons on the cream coat are fabric-covered. The other three coats feature the same brown/tortoiseshell buttons.
INSPIRED BY KATE – GET THE LOOK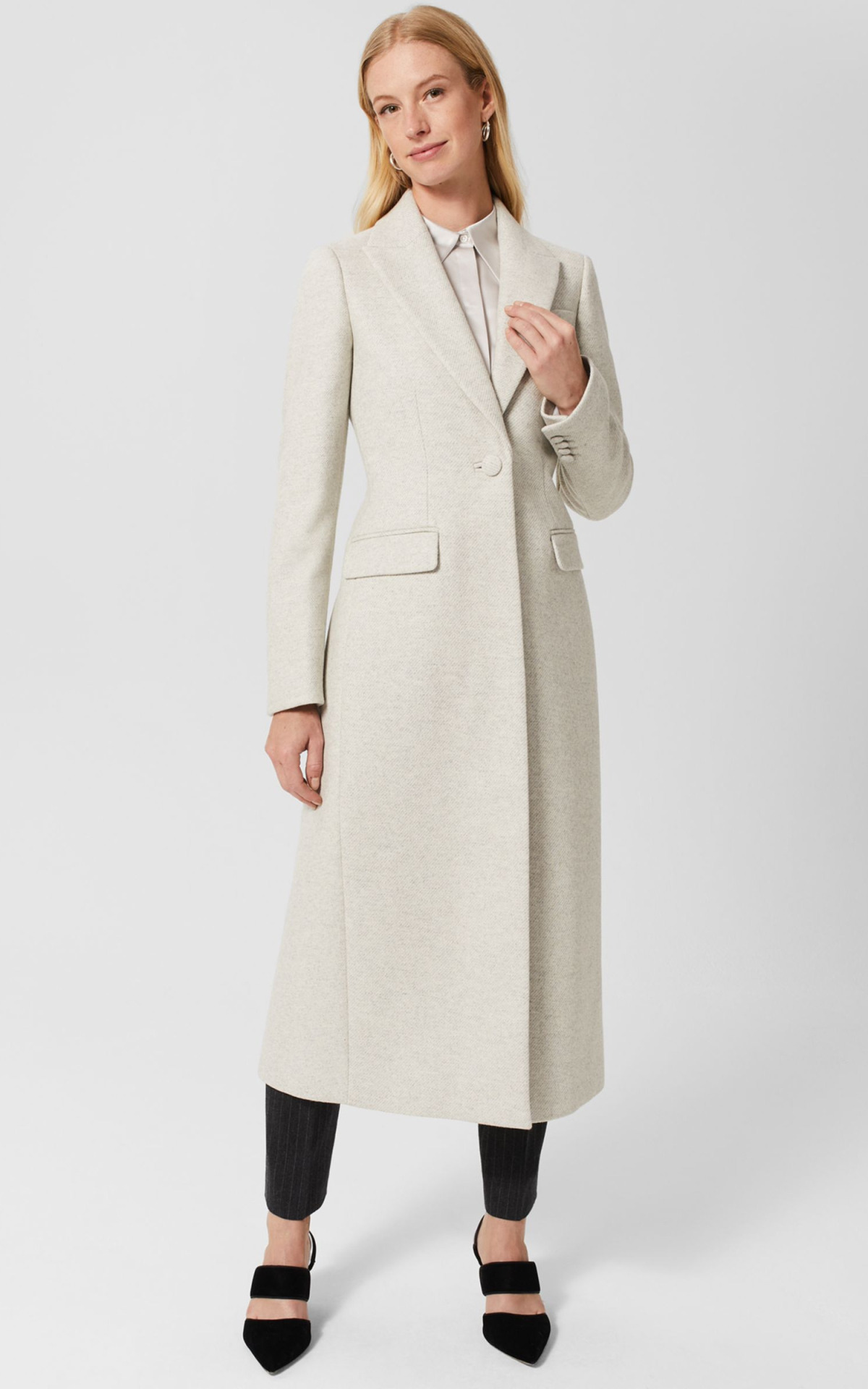 HOBBS LONDON
Rosario Light Grey
Click to buy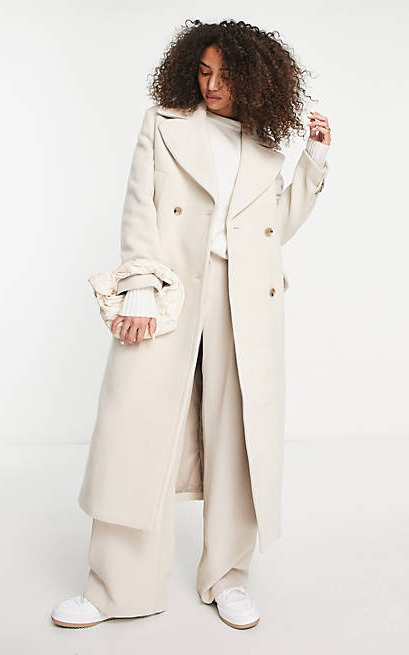 & OTHER STORIES
Wool Maxi Beige
Click to buy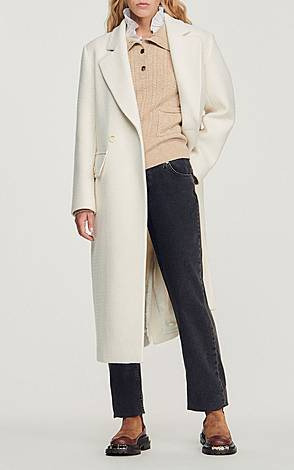 SANDRO
Derek Ecru
Click to buy
Under, the Princess wore a coordinating roll-neck sweater. Unfortunately, I cannot provide any information about this item.
I can tell you about her skirt though. It's from Zara, it's from a past season. (Thanks to Christine for finding the garment!)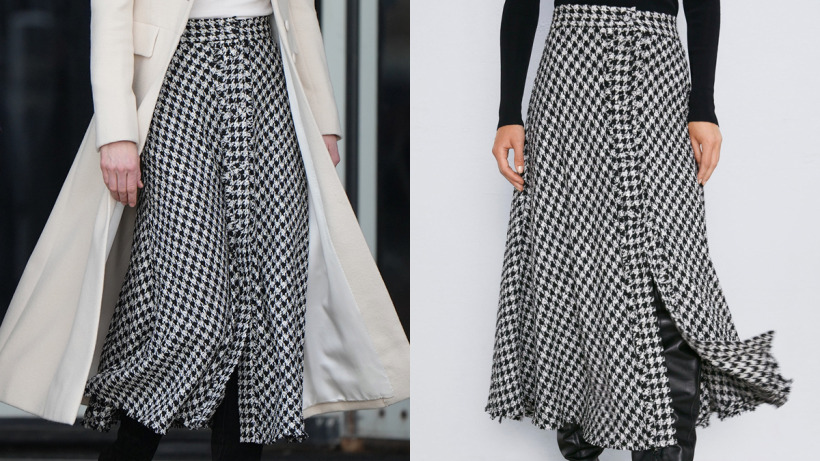 The skirt featured in a Who What Wear article in 2019 titled "all the under-$100 items in my cart right now". The article shows it retailed for $70 USD. The writer described the print as "on trend and classic at the same time."
There are a couple of listings for the skirt on eBay, if you'd like to copy Kate's exact look. The skirts are very overpriced though.
Kate wears Zara often, and has done for years. The Spanish clothing retailer is one of the largest fashion retailers in the world, with stores in over 90 countries.
Let's look at Kate's earrings now. They're from a brand called Heavenly. The elegant design includes resin pearls suspended from faux diamond drops. RRP: £90 ($109).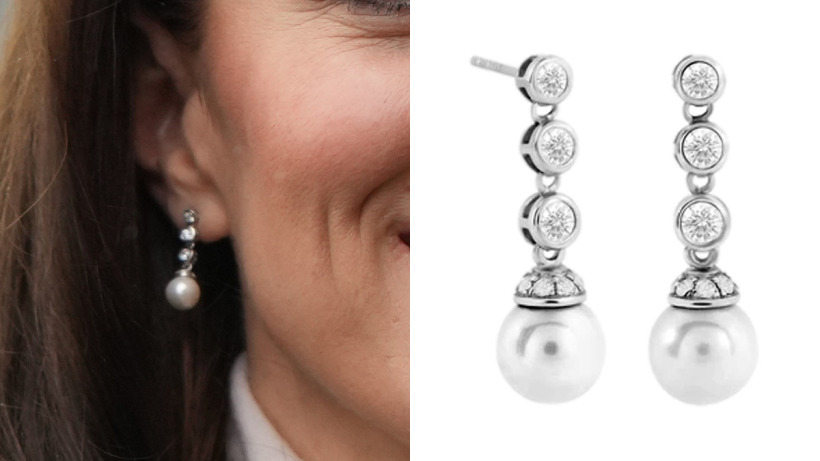 The Princess has worn them before, though we haven't seen them in over a decade. We only saw her wear them between June and July of 2012, if my notes are correct. To the wedding of Lady Emily McCorquodale and James Hutt, at Queen Elizabeth's Diamond Jubilee Service of Thanksgiving and during a viewing of her wedding dress exhibition with Queen Elizabeth.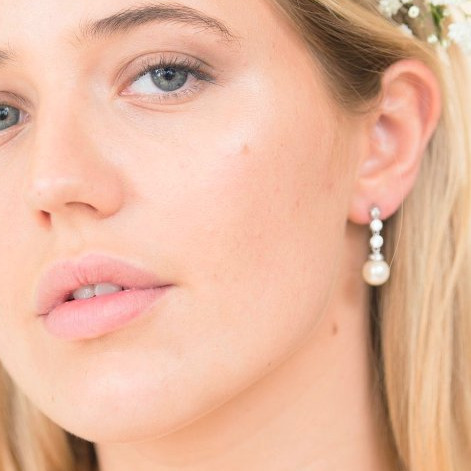 EXACT MATCH! Still available to buy!
It's been 11 years since Kate wore these elegant earrings in public but they're still available to buy! Shop them on Heavenly's website.
Heavenly London specialise in sourcing and designing luxury jewellery that's accessible to all. They're known for creating high-quality heirloom-like pieces using imitation diamonds at an affordable price point. Belinda Scott, who founded the brand in the early 1990s, has spoken of her customers' desires to wear jewellery with imitation diamonds so they don't have to organise insurance or be trailed by armed guards at high profile events. "Sparkle without the risk" she told the Daily Mail in 2012.
Today, the company is run by Scott's daughter, Madeleine and the brand has expanded into selling demi-fine jewellery made with responsibly sourced materials.
The Countess of Wessex (Sophie) owns multiple pieces from Heavenly and wears them regularly. It's speculated that Sophie might have purchased the earrings for Kate as a gift.
Let's look at Kate's black block heeled boots next. I'm pretty confident that they're by Gianvito Rossi.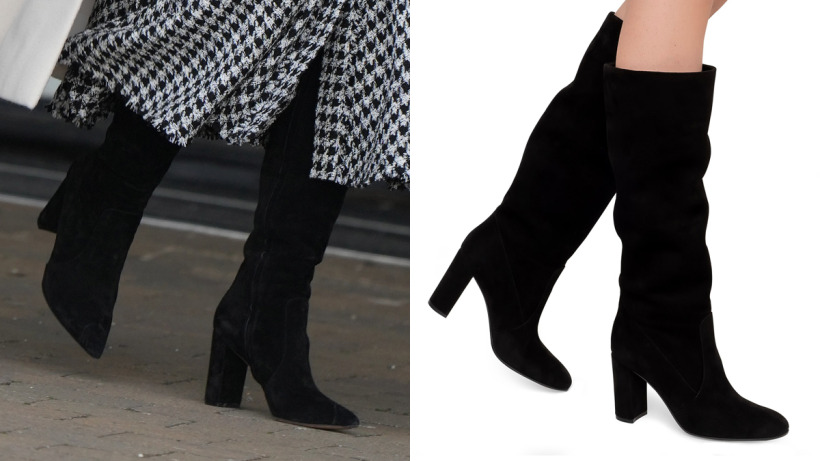 Kate's got two pairs exactly the same in brown suede and blue suede. When she debuted the brown pair, a fellow blogger and fan wrote to Gianvito Rossi asking if they created the boots for the Princess. They confirmed they were indeed a custom commission. It looks like she wears a bespoke version of the Glen boots with a pointed toe. The Glen boots that are available for general sale have a more rounded toe.
If you're in the market for a pair of black boots, you can buy the black suede Glen boots at FarFetch.com for £769 (currently 40% off). FarFetch do offer plenty of other currencies and ship across the world.
Kate's bag is a familiar piece. It's by Mulberry, the Amberley Crossbody in Black Croc. The version shown below is high shine leather, Kate's looks more matte.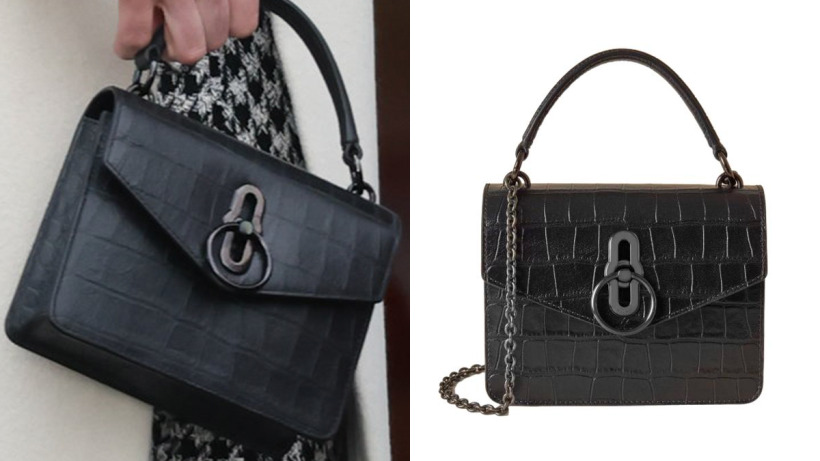 The bag features a flap-over front with tonal black ring hardware and Mulberry's signature geometric rider's lock closure. It's finished with a luxury suede-lined interior and comes with a crossbody strap, which Kate has removed (she often does this with her bags, opting to carry them in her hand instead). RRP: £695.
The Princess has carried this bag four times in public to date.
The bag is no longer available for purchase. It is from an older season and has now sold out. Try the new season Amberley satchel instead if you're looking for a similar piece.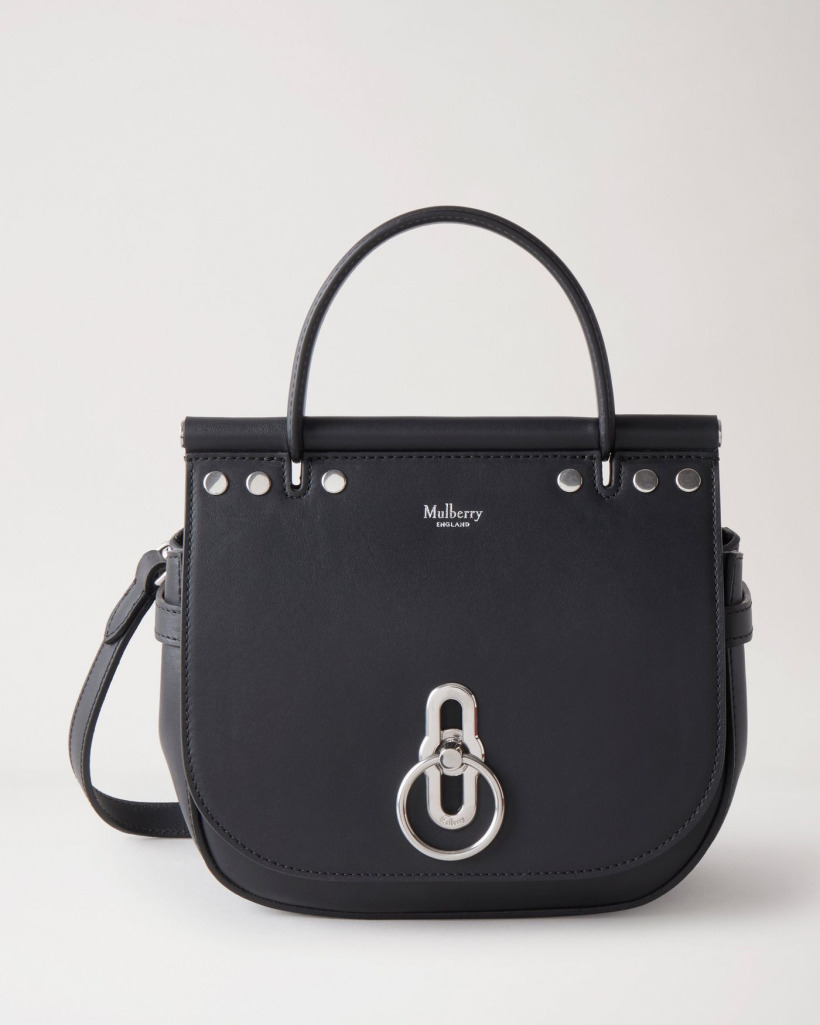 GET THE LOOK – New Season Mulberry Amberley Satchel in Black
Need a new black bag in your life? Disappointed that Kate's is sold out? Try the new season Amberley Satchel instead. The chic style features the same dainty top handle and elegant rider's lock closure. Plus, Kate also owns this design in green.
Or, may I recommend the Aspinal of London Midi Mayfair bag. Kate carries it frequently, it's quite similar to the Amberley in terms of size, shape and look, it's around the same price point and is still available to buy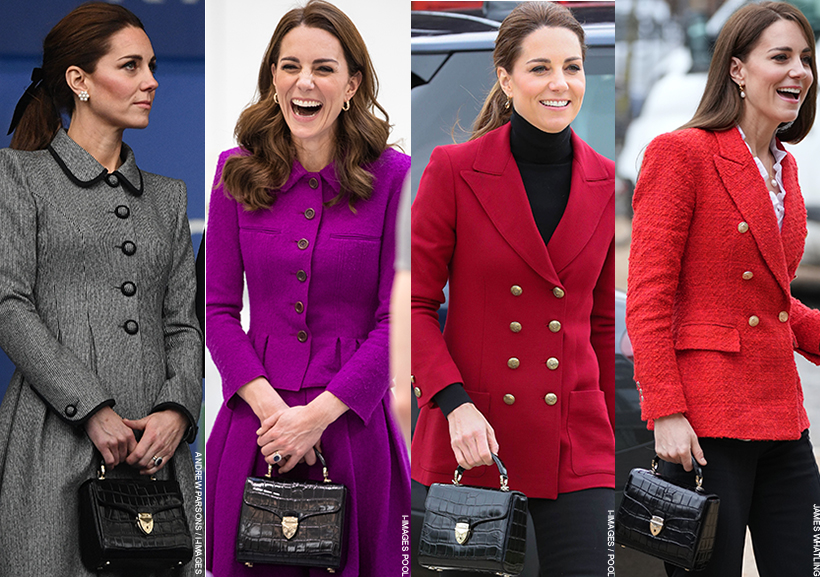 It's no secret that Mulberry is one of Kate's favourite handbag brands. The Princess has been photographed carrying their stunning designs on multiple occasions for over a decade now. We know she's carried at least eleven Mulberry bags since marrying into the Royal Family in 2011—including three other designs from the Amberley family. We've spotted her in several coats and dresses from the brand too.
Mulberry is a British luxury fashion brand known for its iconic handbags, which are crafted from high-quality materials and feature distinctive details like the signature postman's and rider's locks. Mulberry's designs are inspired by British heritage and culture, with a focus on timeless style and quality craftsmanship.
In photographs showing the couple leaving the engagement by helicopter, the Princess can be seen carrying her Smythson East-West Panama tote bag in black (pictured below on another occasion).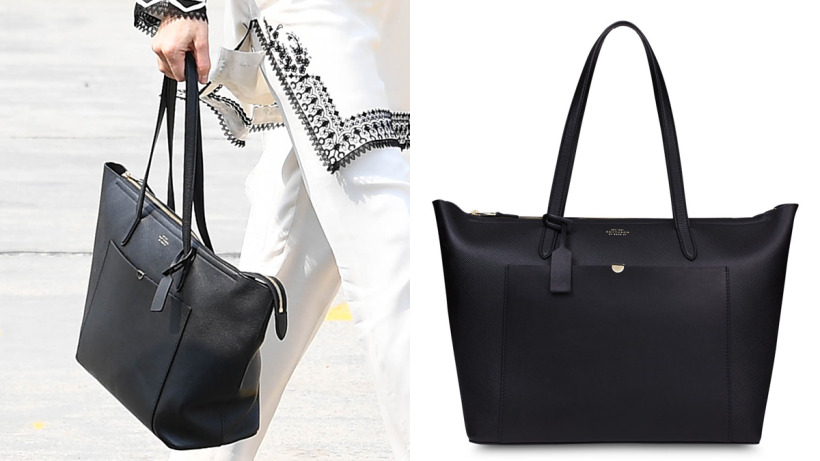 The black bag is a sizeable tote, making it an ideal travelling companion as Kate has demonstrated! We've spotted the Princess carrying it boarding helicopters, planes and trains.
The East-West name refers to the bag's shape, as it is noticeably wider than it is tall. This makes it ideal for carrying larger items. Smythson say the bag comfortably fits a laptop, for example.
The bag features tubular handles that are large enough to ensure the bag can be worn on the shoulder, plus an internal slip pocket handy for storing ID, travel passes and bank cards. The tote zips up for added security. It's finished with the brand's logo embossed in gold, and gold hardware.
Kate's owned the tote for about eight years, we first spotted her carrying it in candid photos taken in 2016. She also took it on tour in 2019.
Smythson have discontinued the style Kate carries, with the added front pocket. But they do still sell a refreshed version of the bag without the pocket today. Shop it here.
GET THE LOOK – Smythson East-West Tote In Panama
Looking for the perfect black tote? A simple black statement bag that's functional yet stylish? The Smythson East-West is perfect for busy days, travel, meetings and even the occasional royal-inspired shopping spree…. Note: Kate carries an older version of the bag with a front pocket from a past collection. This sleek, new refreshed version doesn't have the front pocket.
More currencies and international delivery available too!
I think it's fair to say Kate is a fan of Smythson, a London-based company known for its high-quality luxury leather goods. We've seen her carry four items from Smythson in total, including this bag.
Gloves – during the first part of Kate's visit, she donned a pair of black gloves, possibly leather. I've not managed a close enough look yet. TBC.