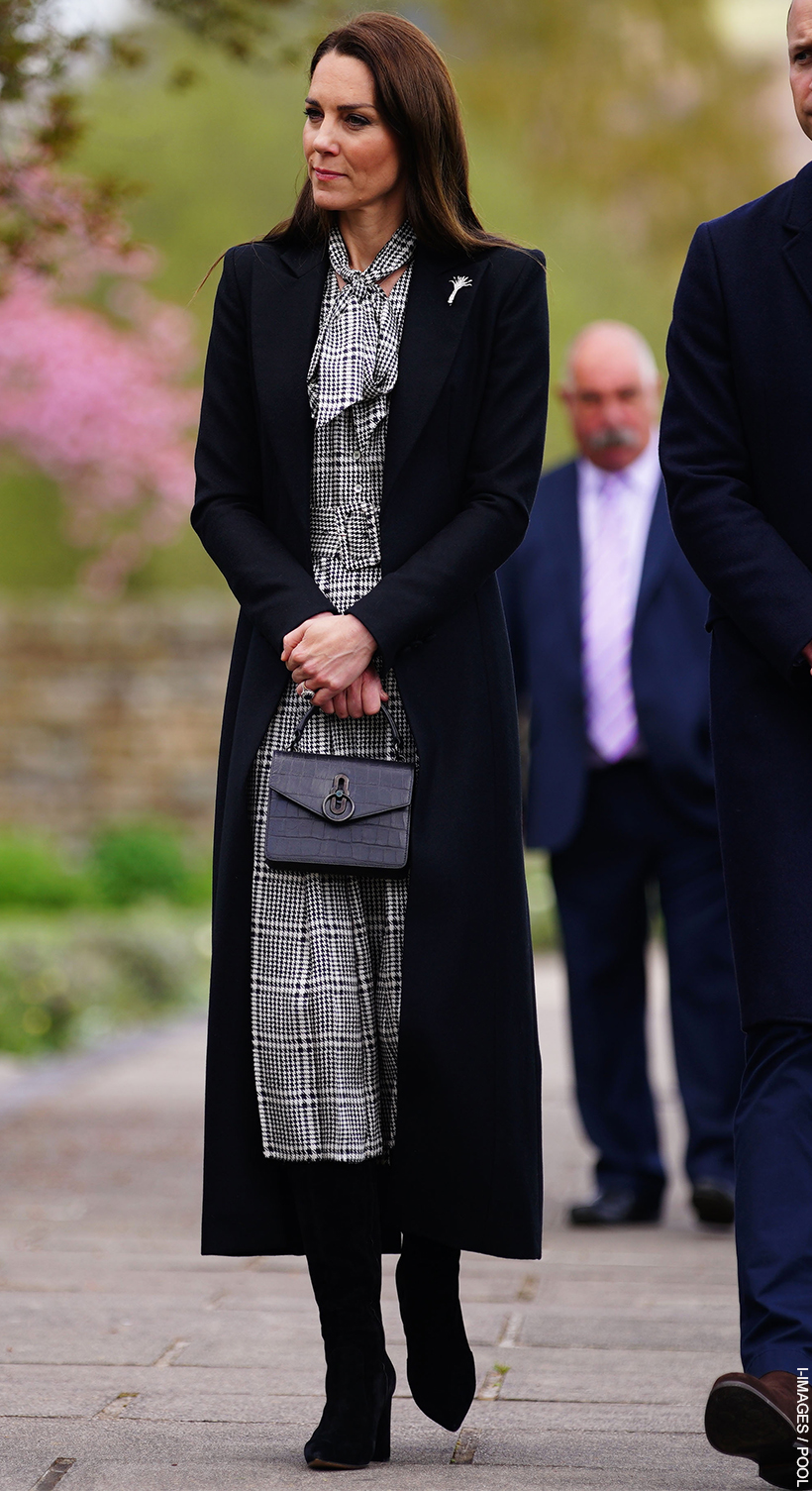 William and Kate continued their visit to Wales with a visit to the Aberfan Memorial Garden in Merthyr Tydfil this morning.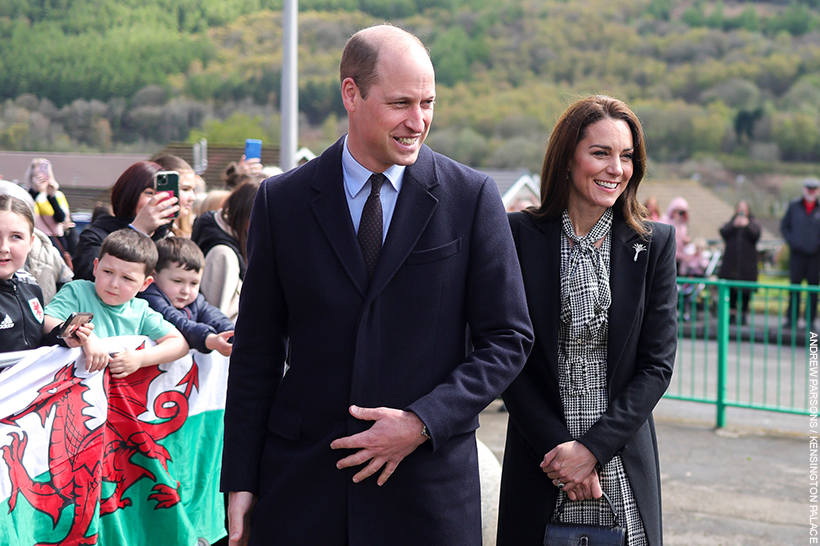 The Princess dressed in a black outfit that reflected the solemnity of the occasion. For my readers who do not know about Aberfan, it's a former coal mining village in the Taff Valley, South Wales. In 1966, a disaster occurred in the village, which killed 144 people, including 115 children. The waste from a coal tip slid down a mountainside resulting in a deadly landslide that obliterated a primary school, a farm and several houses.
The late Queen Elizabeth visited the site eight days after the disaster—something she'd regretted during her reign(she wished she'd not listened to advice and visited sooner.) She formally opened the memorial garden ten years after the disaster, in 1976.
The garden provides a place for victims, bereaved parents, siblings, survivors and the whole community to pay their respects. It underwent a £500,000 renovation in 2019.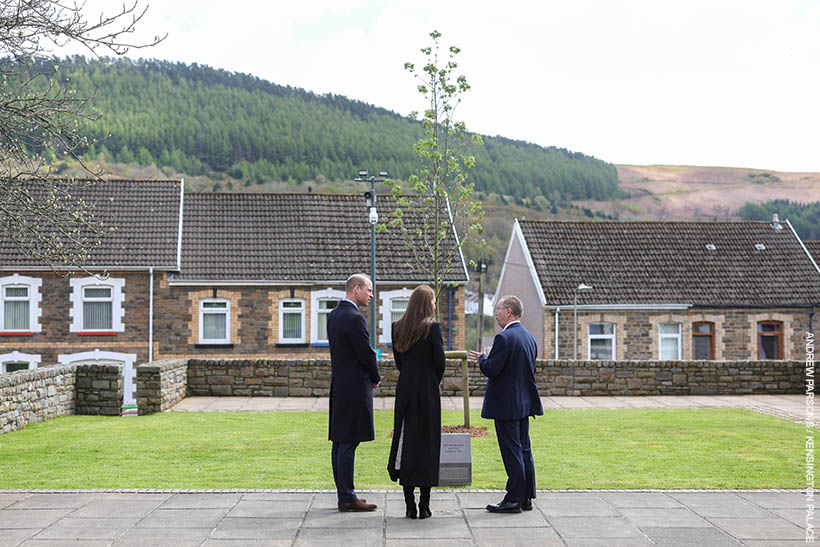 Today, Will and Kate were guided around the garden by one of the survivors and Professor Peter Vaughn, the Lord Lieutenant of Mid Glamorgan.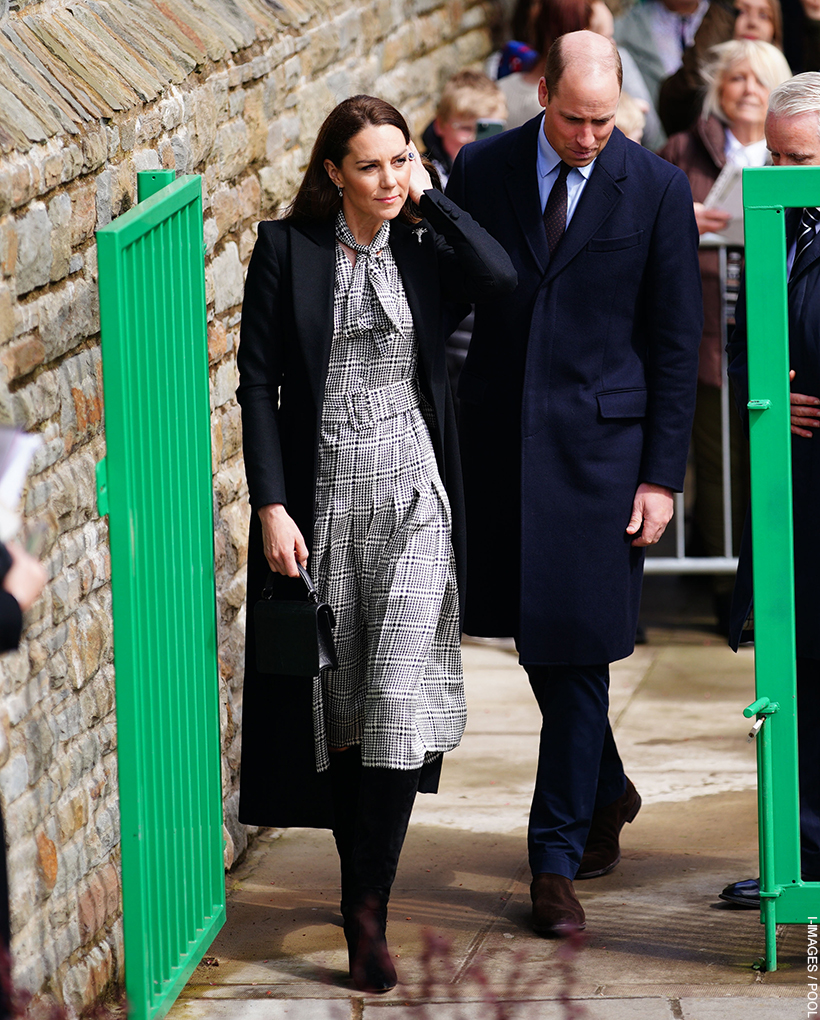 The pair also met trustees from the Aberfan Memorial Trust who are involved in keeping the garden maintained.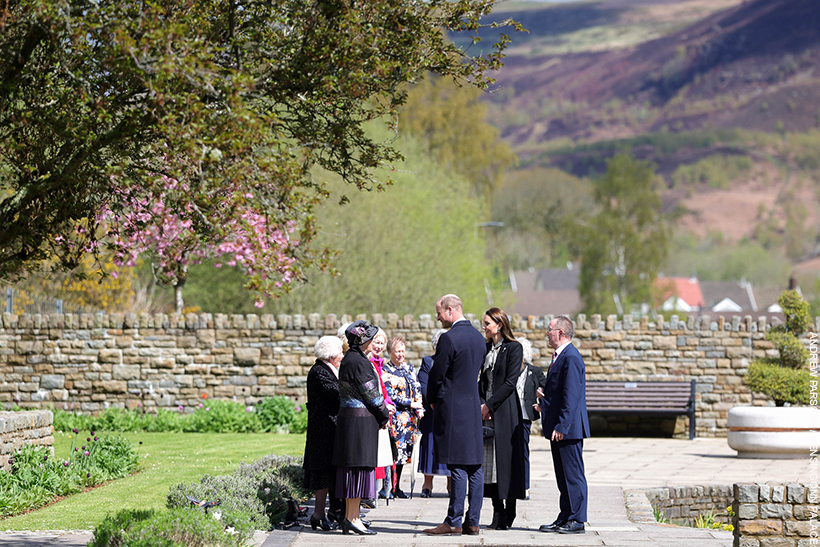 They also spoke with 'Aberfan Wives,' a support group formed by the relatives of those who lost their lives in the disaster.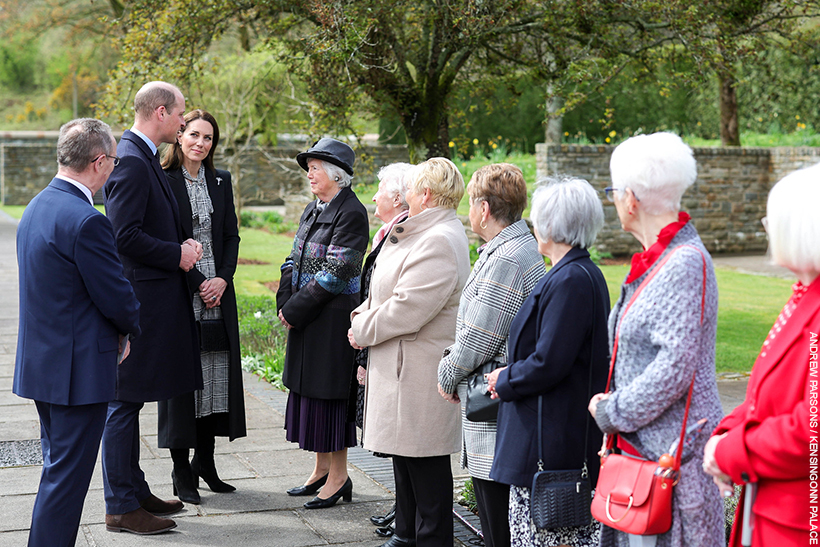 The pair also had a quick meet and greet with royal fans waiting outside the memorial garden.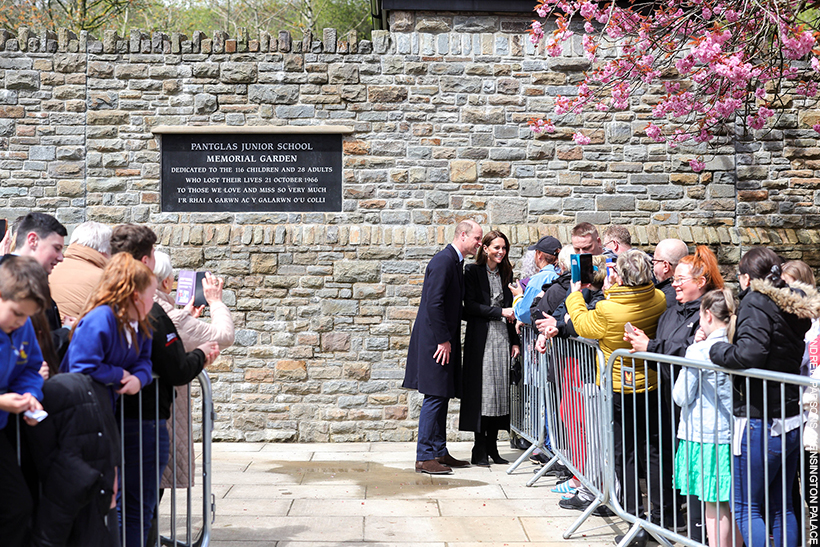 During the walkabout, a baby wanted to play with Kate's bag and become quite attached to the accessory!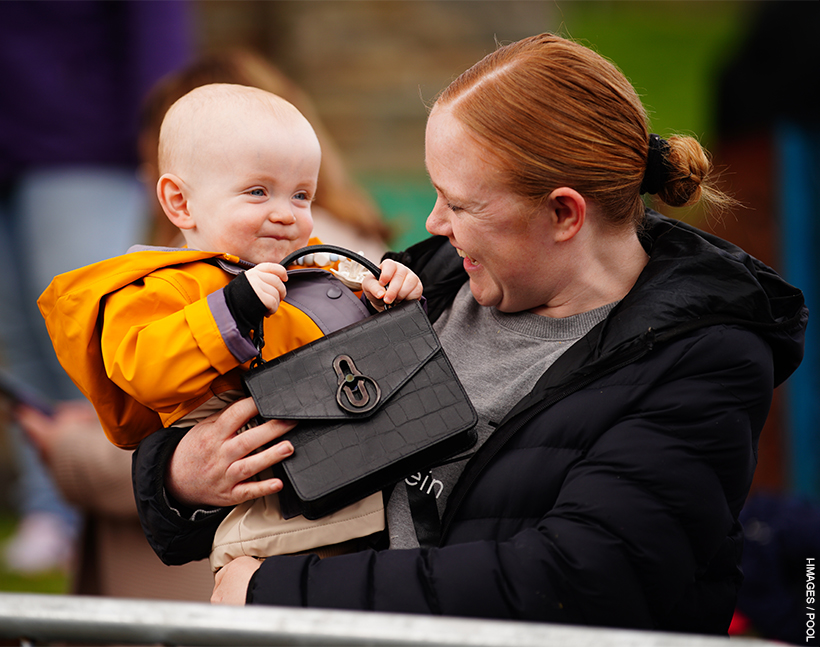 Kate handled the situation calmly as she let the baby continue to play with the bag while she chatted to people in the crowd. Watch the cute clip below:
If you follow the royals, you'll know the pair spent yesterday afternoon in Merthyr Tydfil taking part in mountain rescue training exercises. After, they visited the local rugby club bar to socialise with the volunteers and their families. You can read about their visit here, if you haven't already.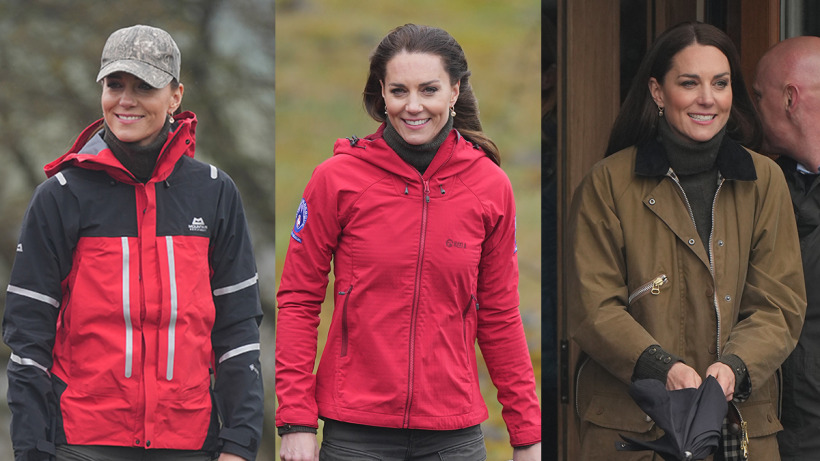 Now, let's look at Kate's black ensemble in Aberfan.
Kate's outfit in Aberfan:
The Princess remixed a number of items we've seen before, including a black coat from Catherine Walker.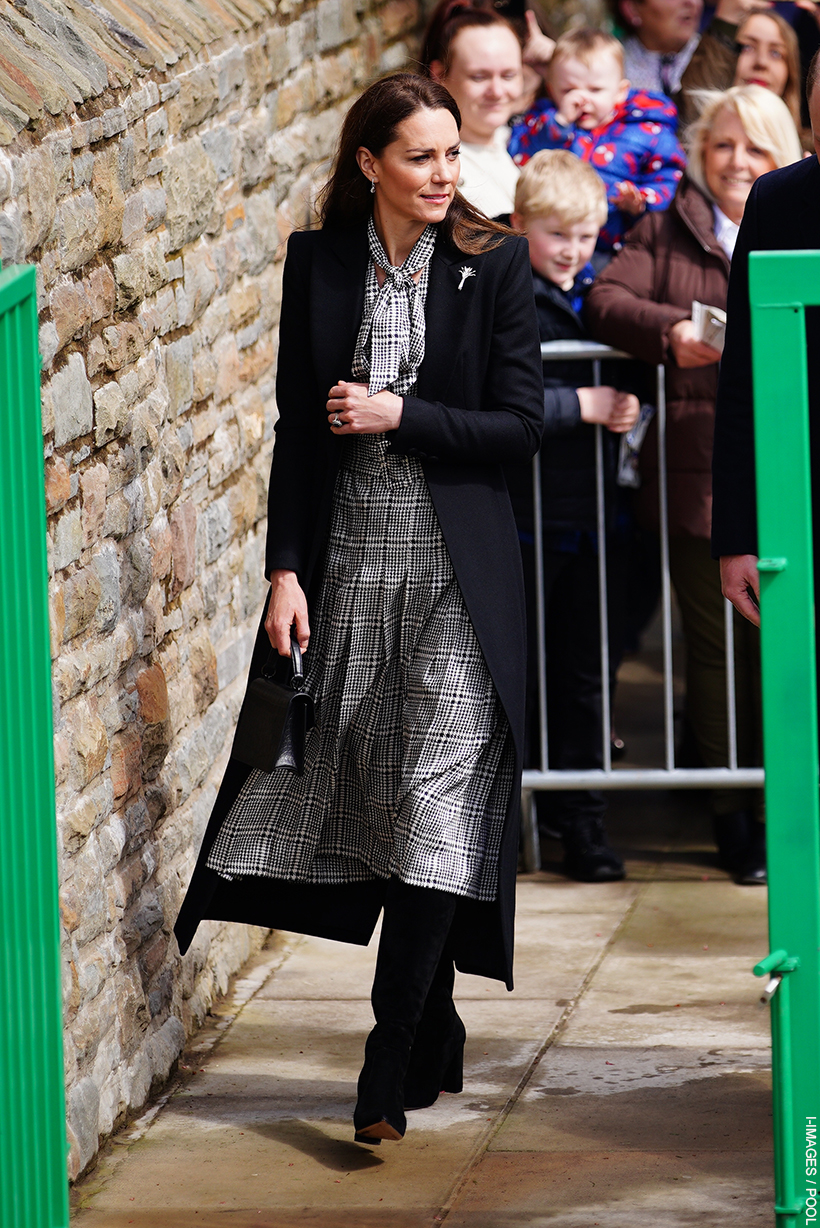 The black ankle-length topper features a peak lapel and three buttons at the cuff.
The garment is not listed on the Catherine Walker website, it looks like the atelier created the bespoke design for the princess.
You can schedule an appointment with the company if you want to have a similar design created. If you can't make it to London, you'll be pleased to know Catherine Walker offer an e-couture service. You have an online consultation with the brand and they'll supply a piece using the measurements you provide. They recommend you work with a local dressmaker to ensure the garment is adjusted to fit perfectly.
Kate debuted the black coat during the mourning period following Queen Elizabeth's death in September 2022 and wore it again, more recently, during a visit to an islamic community centre last month.
Kate's no stranger to Catherine Walker —she's one of the designers the Princess wears most frequently. She'll often choose bespoke pieces from Catherine Walker for high profile royal engagements and overseas visits.
Catherine Walker founded her eponymous label in 1977. Today, it's run by her husband Said Cryus, following the designer's passing in 2010. In Walker's obituary, The Guardian noted that Walker provided over 1000 outfits for the late Diana, Princess of Wales, won her trust and helped to "create her style".
Kate's pussybow midi dress is from the Spanish high street brand, Zara. The houndstooth check midi dress is belted at the waist and features long balloon sleeves.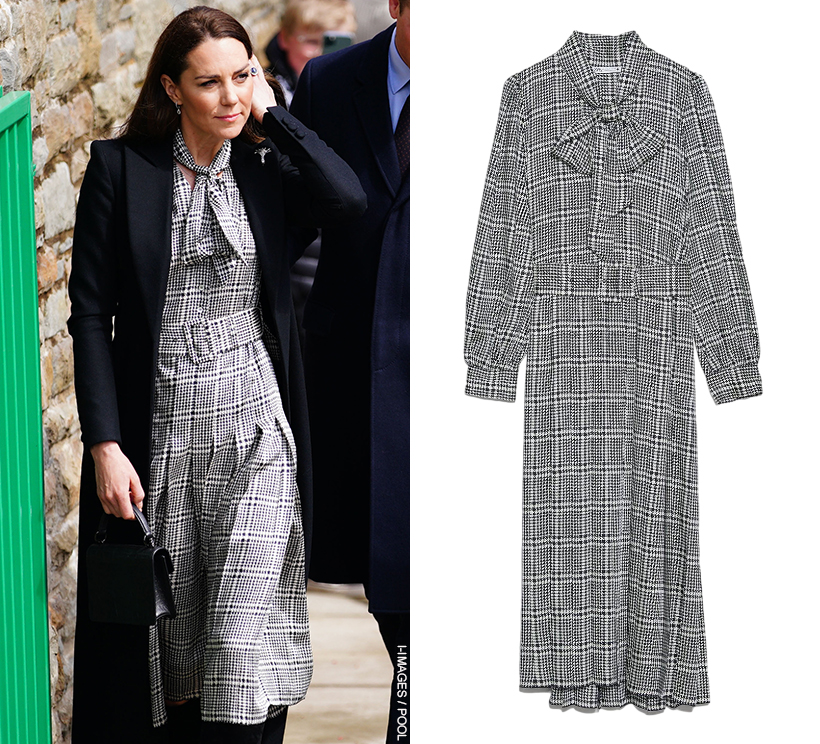 Kate's worn it on two other occasions. To visit Bradford in 2020 and at University College London in 2021.
Unfortunately, the piece is no longer available to buy (though there are some listed on eBay if you absolutely NEED the dress in your life).
Zara is one of the Princess's more affordable go-to brands. She's been spotted wearing an assortment of items from the company over the years, including blazers, dresses, tops, trousers and accessorises.
Zara is a Spanish retailer known for its trendy and affordable clothing. The global company operates in over 100 countries worldwide.
Let's look at Kate's handbag now. It'll probably be familiar to my regular readers. The Princess has carried five times prior to today. It's from Mulberry. The Amberley Crossbody in black croc.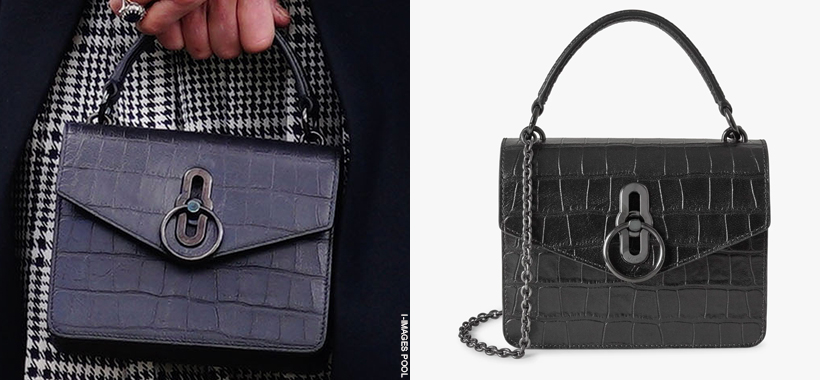 The black croc print black bag features a flap-over front with tonal black ring hardware and Mulberry's geometric rider's lock closure. Its suede-lined interior provides a touch of luxury. The bag is from Mulberry's equestrian-inspired Amberley collection.
The leather bag comes with a crossbody strap, which Kate removed (she often does this with her bags, opting to carry them in her hand instead). It. retailed for £695.
Sadly, the bag is no longer available to buy. (Looking for something similar? Let me recommend Kate's Aspinal of London Midi Mayfair bag. It's a close match in terms of size and design, it also comes in black croc and it's still in stock to buy.)
Since Kate joined the Royal Family in 2011, we've seen her fly the flag for homegrown fashion by carrying twelve Mulberry handbags. She's also worn a couple of dresses and coats from the company too.
Mulberry is a quintessentially British brand loved for its quality craftsmanship and iconic designs. The brand's focus on luxury materials, attention to detail, and classic yet modern aesthetic make it a favourite among those who appreciate timeless and sophisticated fashion.
Let's look at Kate's black suede boots now. They're from Gianvito Rossi. The suede boots feature a pointed toe and block heel.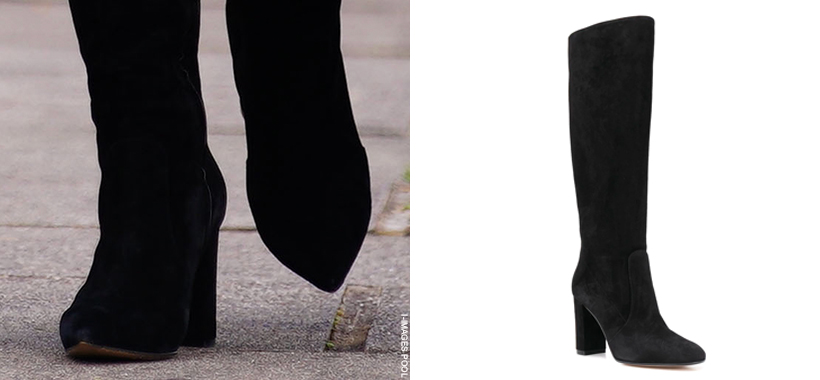 Another blogger wrote to Gianvito Rossi and confirmed the boots were a bespoke commission for the Princess. They look like they're very similar to the designer's 'Glen boots'. However, Kate's have a slightly more pointed toe. The Glen boots look a little more rounded.
This is the third time we've seen the Princess wear the black boots in public. She debuted them in February 2023 during a visit to South Wales ahead of St David's Day. She wore them again, last month, to the Welsh Guards' St David's Day Parade.
She also owns them in two more colours, navy and brown.
I think everybody who follows Kate's style will know Gianvito Rossi is her favourite shoe designer. Since she debuted her first pair in 2015, we've spotted the Princess in 20 different pairs of his footwear, from boots to sandals to pumps.
Gianvito Rossi is an Italian luxury shoe brand known for its elegant and modern designs, high-quality materials, and expert craftsmanship. It's a favourite among fashionistas, celebrities and royalty alike! Shop Gianvito Rossi boots at MyTheresa.com.
Let's finish up by looking at Kate's jewellery now. Let's start with her earrings. They're from Emily Mortimer (the designer confirmed this in an email to me). They're the Hera Diamond Pear Drops in white gold.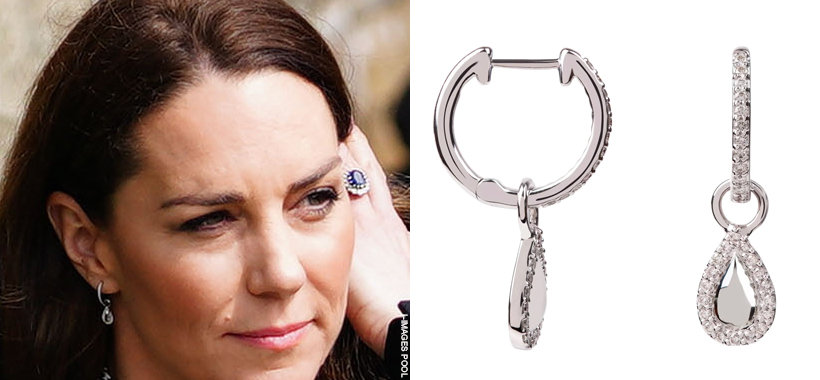 The earrings feature pear cut drops made from polished white gold surrounded by sparkling round cut diamonds. The detachable drops hang from sparkly diamond encrusted white gold hinged hoops. RRP: £825 GBP.
This is the second time we've seen the Princess wear the pretty earrings in public. She first debuted the drops last year, during a visit to a maternity hospital in Guildford.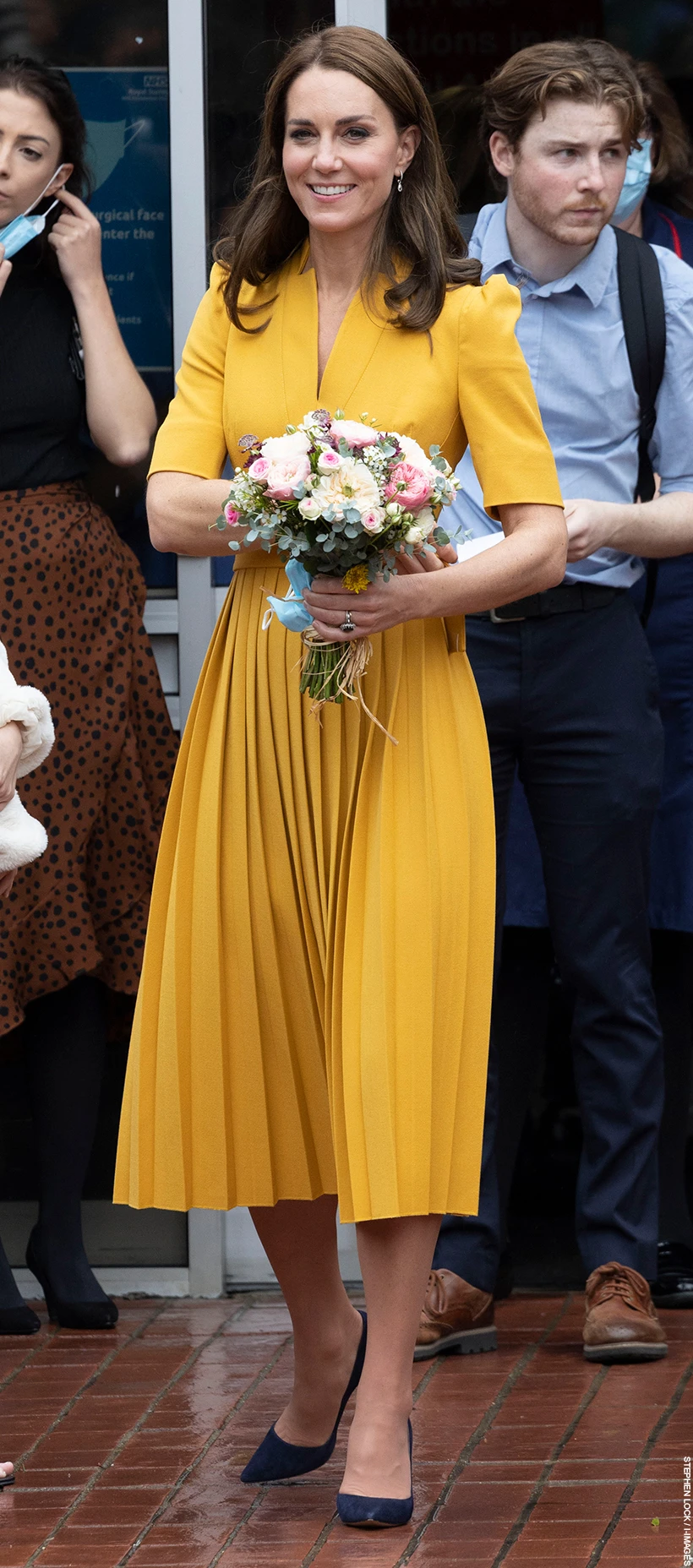 We haven't spotted Kate wearing any other Emily Mortimer jewellery to date, though we know the Duchess of Sussex is a fan.
Emily Mortimer is a UK jeweller who worked closely with Kiki McDonough—easily Kate's favourite jeweller—before setting up her own business.
Finally, the Princess finished her outfit by wearing a diamond-encrusted brooch pinned to her lapel. It's shaped like a leek, the Welsh national emblem.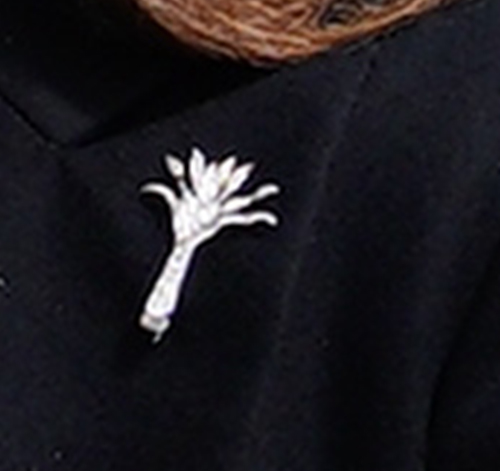 I can't tell you much about the brooch, unfortunately. I suspect it was gifted to Kate by the Welsh Guards, when her husband became Colonel of the regiment and the pair took on their Prince and Princess of Wales titles.
The brooch appears to be a replica of the one gifted to the late Queen Elizabeth II by the Welsh Guards in 1960.
Some media outlets report that Kate wears the same leek brooch as Camilla and Diana—but one person shared a graphic to Twitter showing the brooches all have slight variations, so that is unlikely.