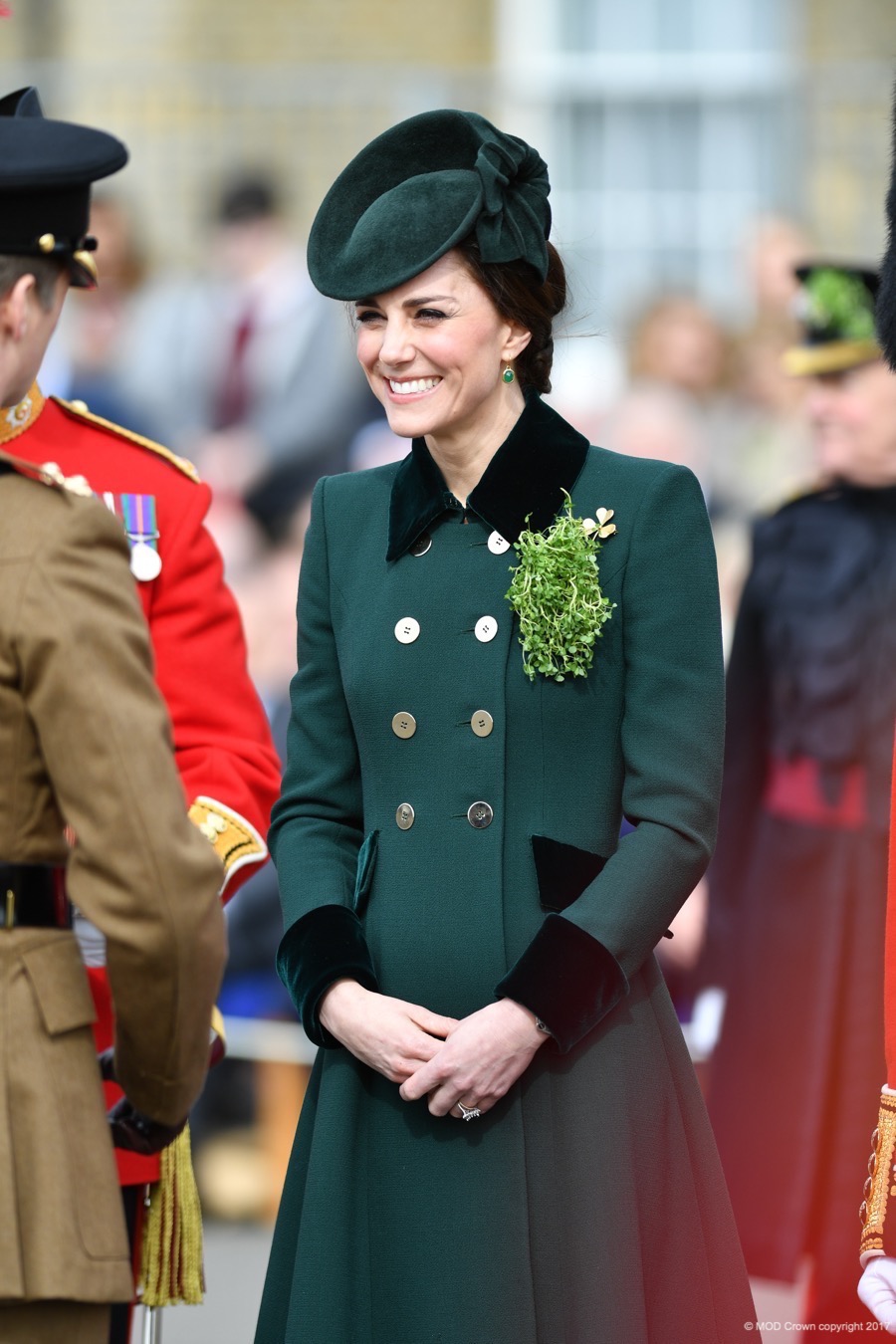 This morning, the Duke and Duchess of Cambridge celebrated St. Patrick's Day by visiting the 1st Battalion Irish Guards at their Barracks in Hounslow.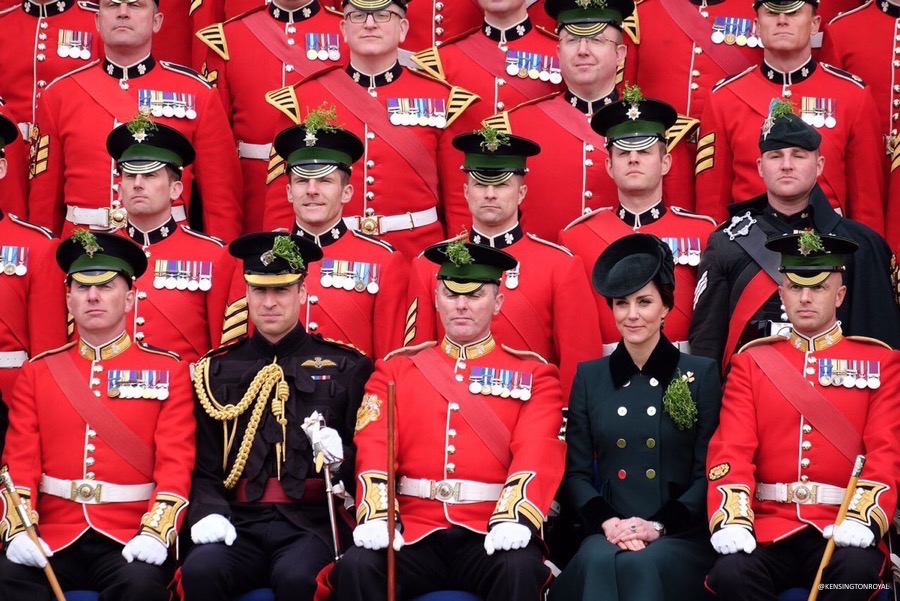 In a herald of Spring, 450 soldiers marched proudly onto the Parade Square at Cavalry Barracks, in their ceremonial red tunics, led by the Band of the Irish Guards.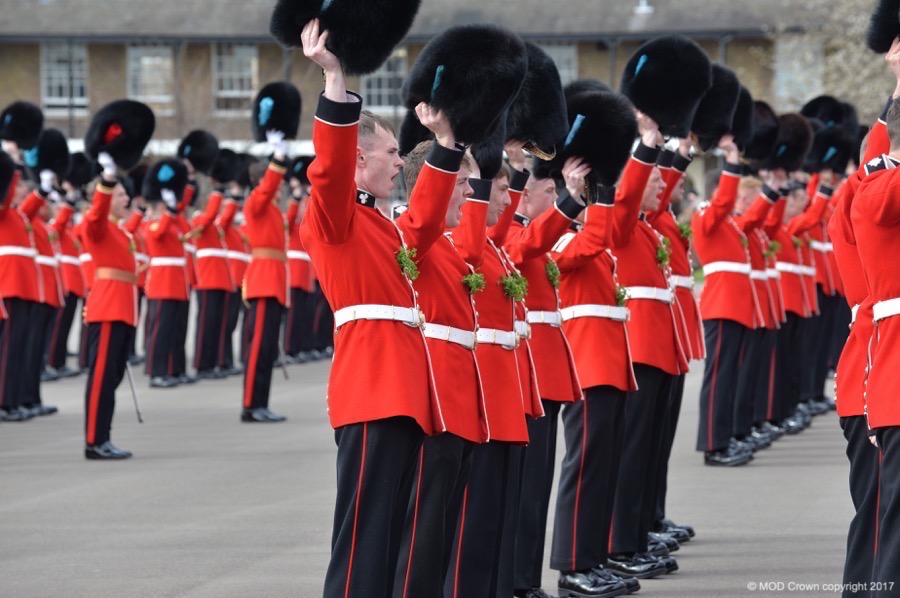 This is the fifth time the royal couple have visited the barracks and attended the regiment's annual St. Patrick's Day parade since 2012.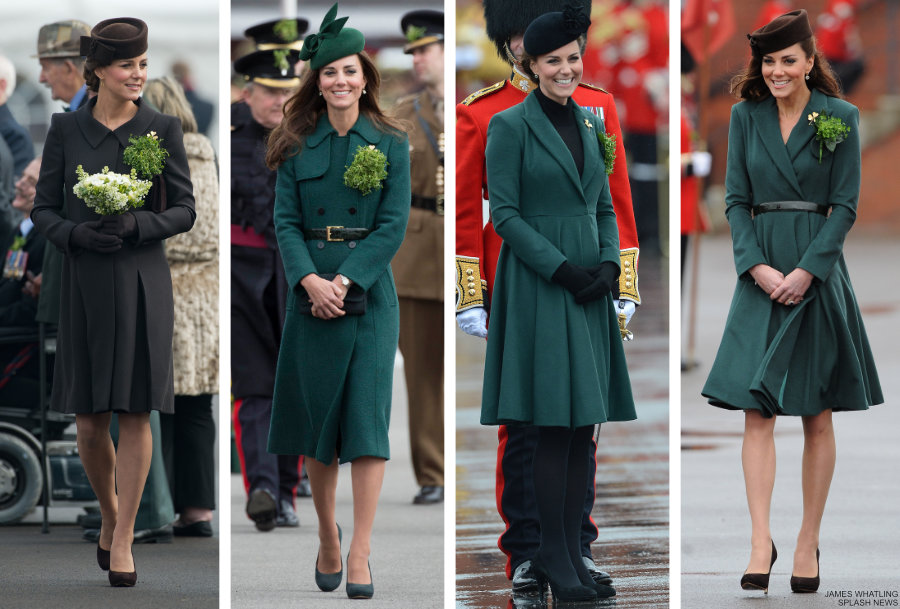 Pictured above:  Kate during previous visits to the barracks in 2015, 2014, 2013 and 2012.
During the ceremony, Kate handed sprigs of shamrocks to Officers and Warrant Officers, who in turn issued them along the ranks for the soldiers to wear on their uniforms.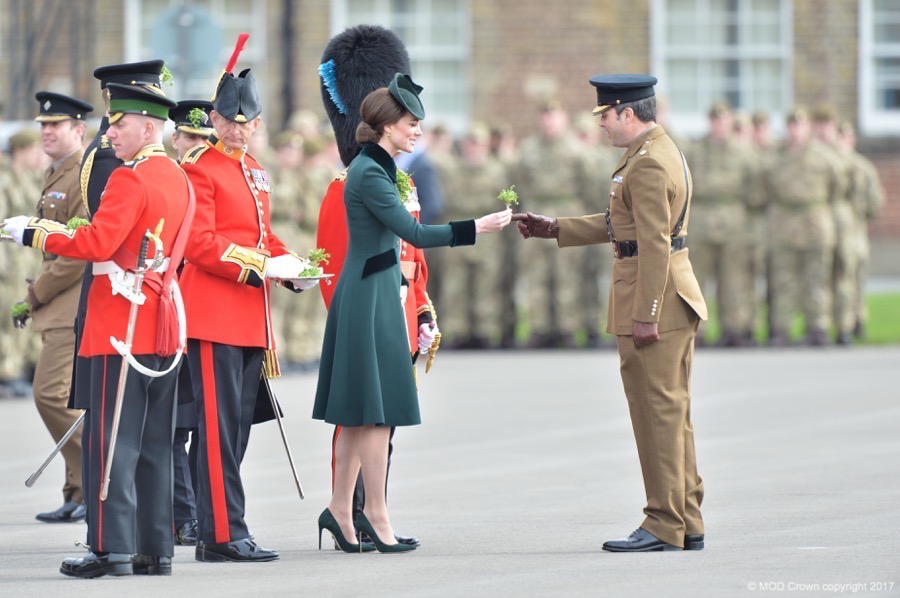 A further 150 regiment association members and Army Cadets also attended the event and received the shamrock.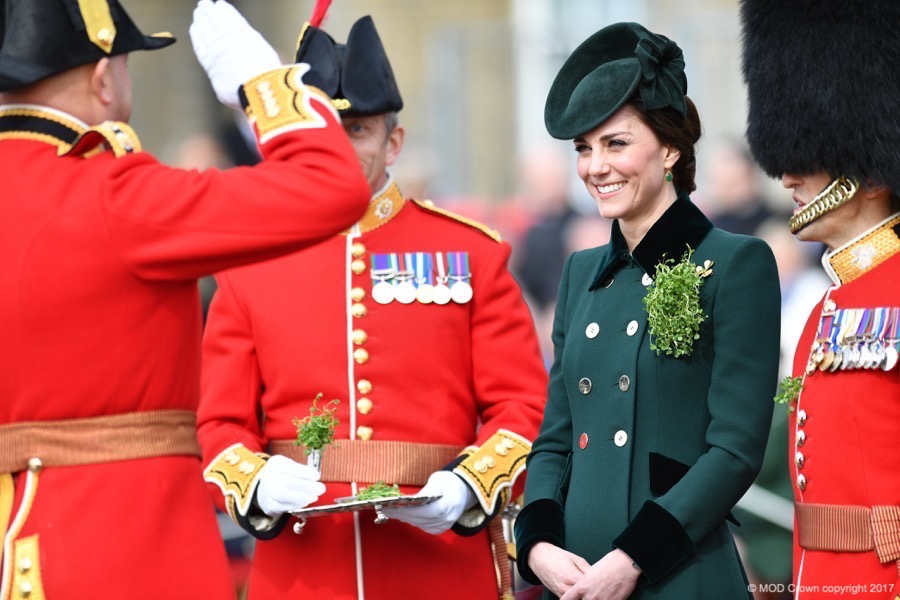 The national day is a highlight of the Irish Guards' calendar where all generations gather for a regimental celebration. The regiment's motto, 'Quis Separabit' or 'Who shall separate us?' is taken from the Order of St Patrick, an order of chivalry founded by George III.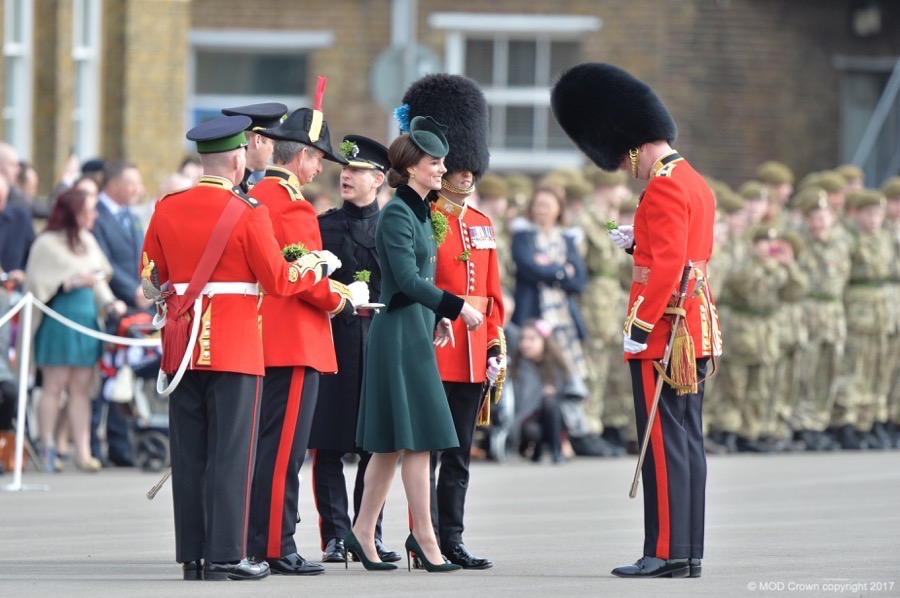 The Irish Guards' mascot, Domnhall the dog, wasn't forgotten.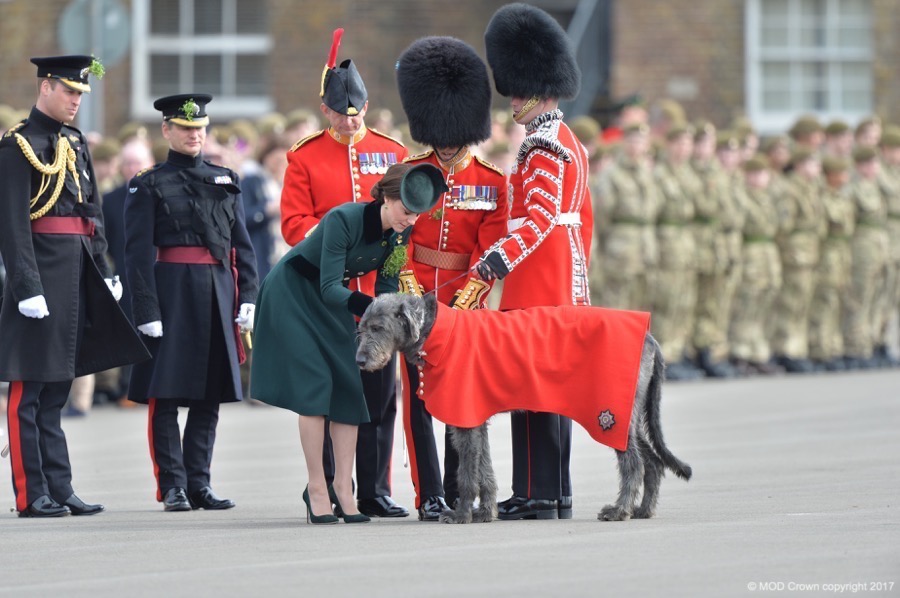 Kate pinned shamrocks to the Irish Wolfhound's ceremonial tunic too.
As you may recall, William was appointed Royal Colonel of the Irish Guards in February 2011.  Today's parade concluded with a march-past where His Royal Highness took the salute.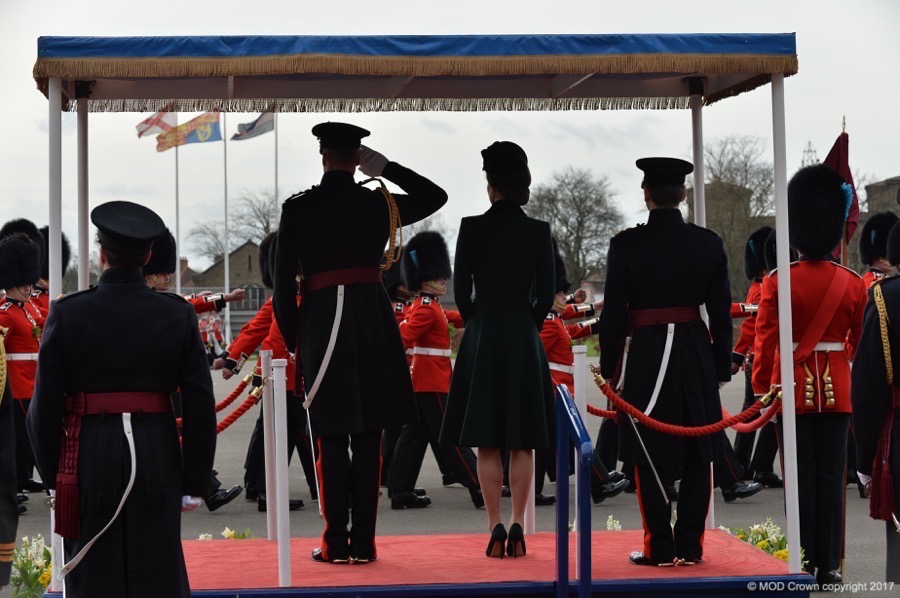 During today's visit, William and Kate visited the Officers' and Sergeants' Mess.  They met members of the regiment and their families before taking part in a toast (complete with a pint of Guinness!)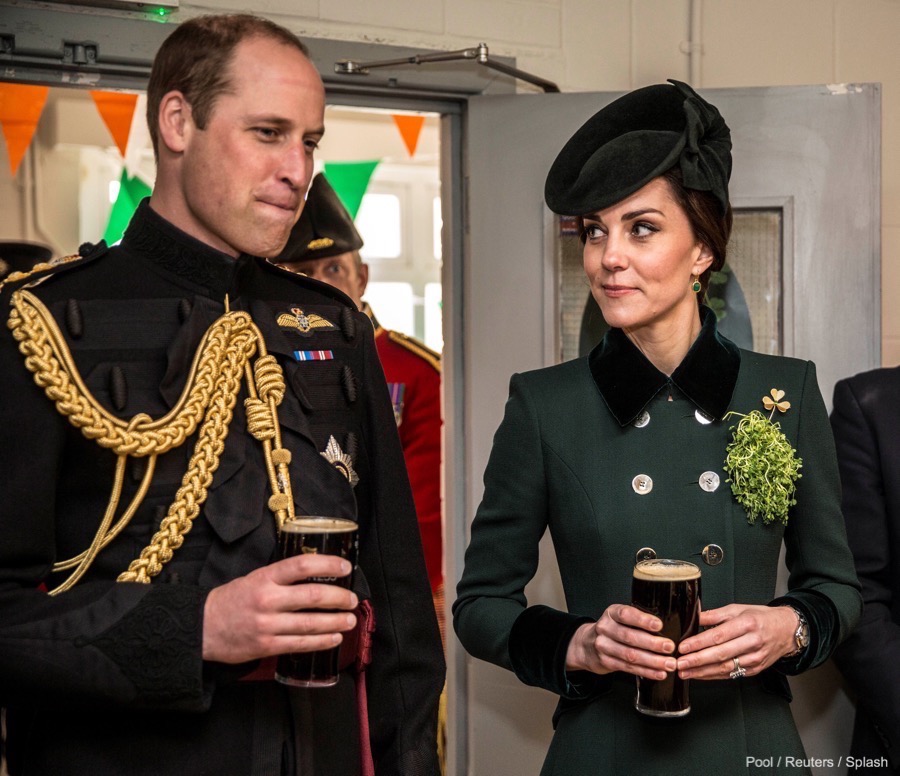 Kate's outfit:
Kate chose a festive green coat by Catherine Walker & Co.  I believe it's a bespoke piece.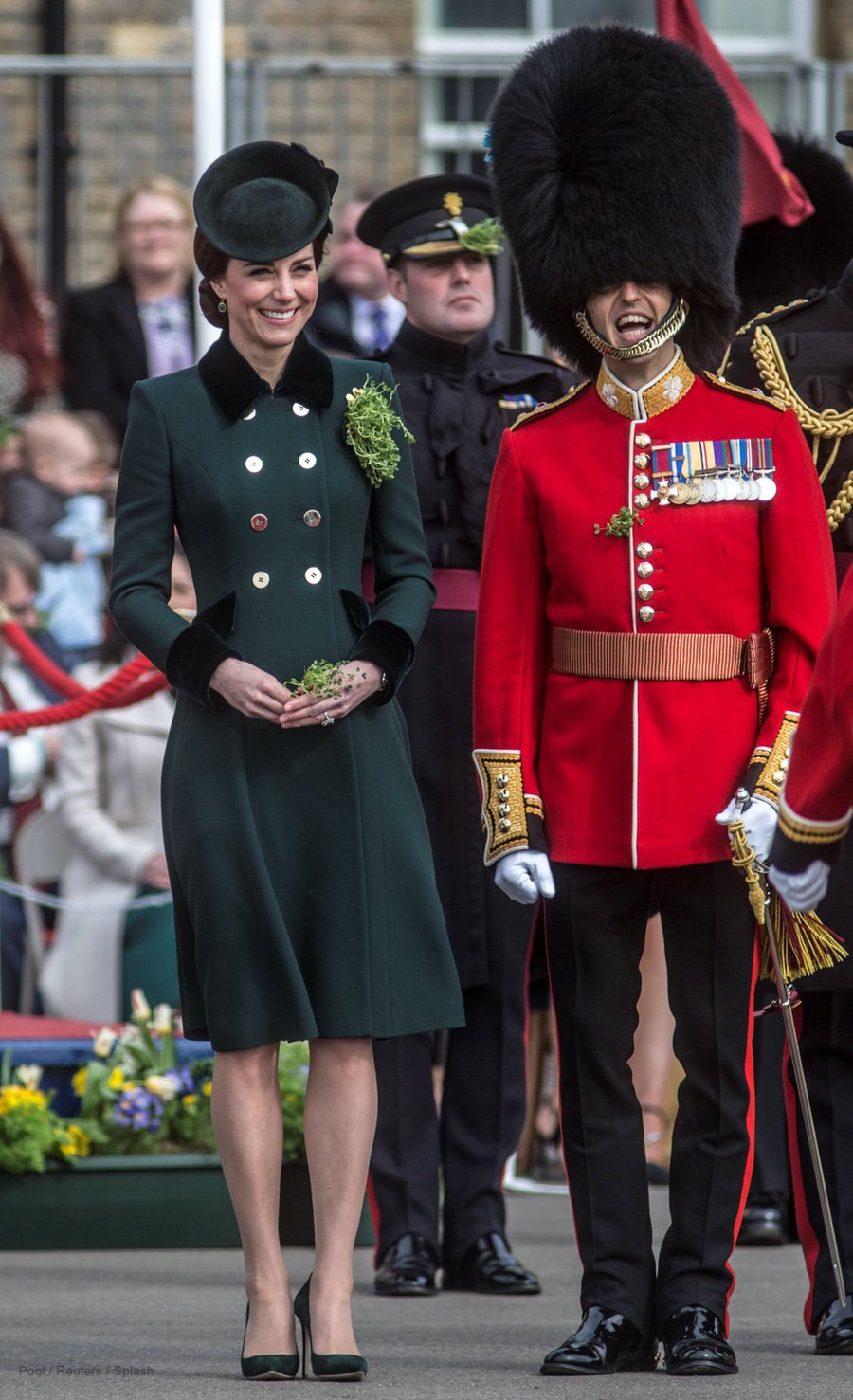 Does it feel familiar to you?  That's because Kate wore a very similar coat by the same designer for a visit to Wellington, New Zealand back in 2014.  (Hat tip to Katie on Twitter for the spot).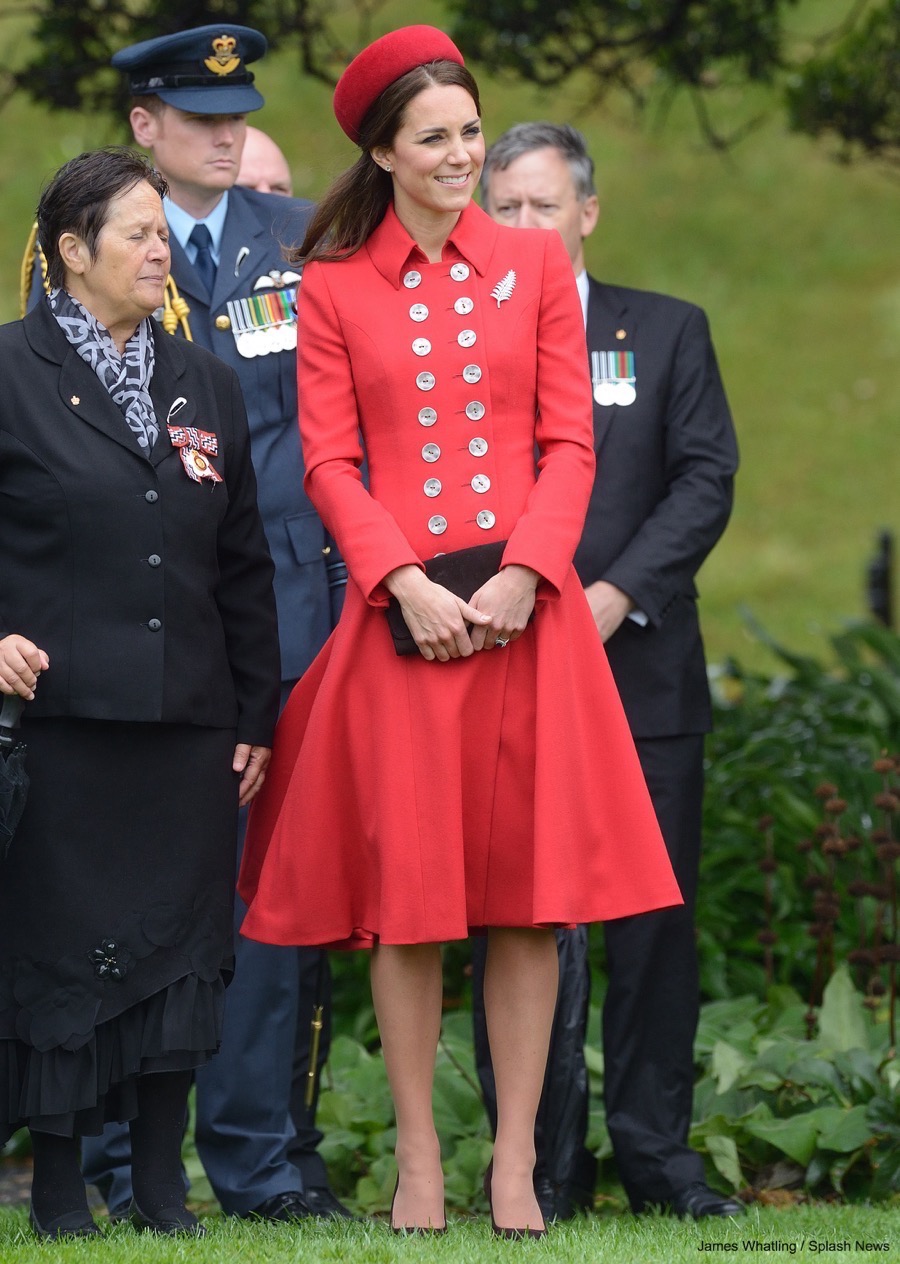 Both coats are double breasted with multiple rows of buttons, a classic collar and a flared skirt.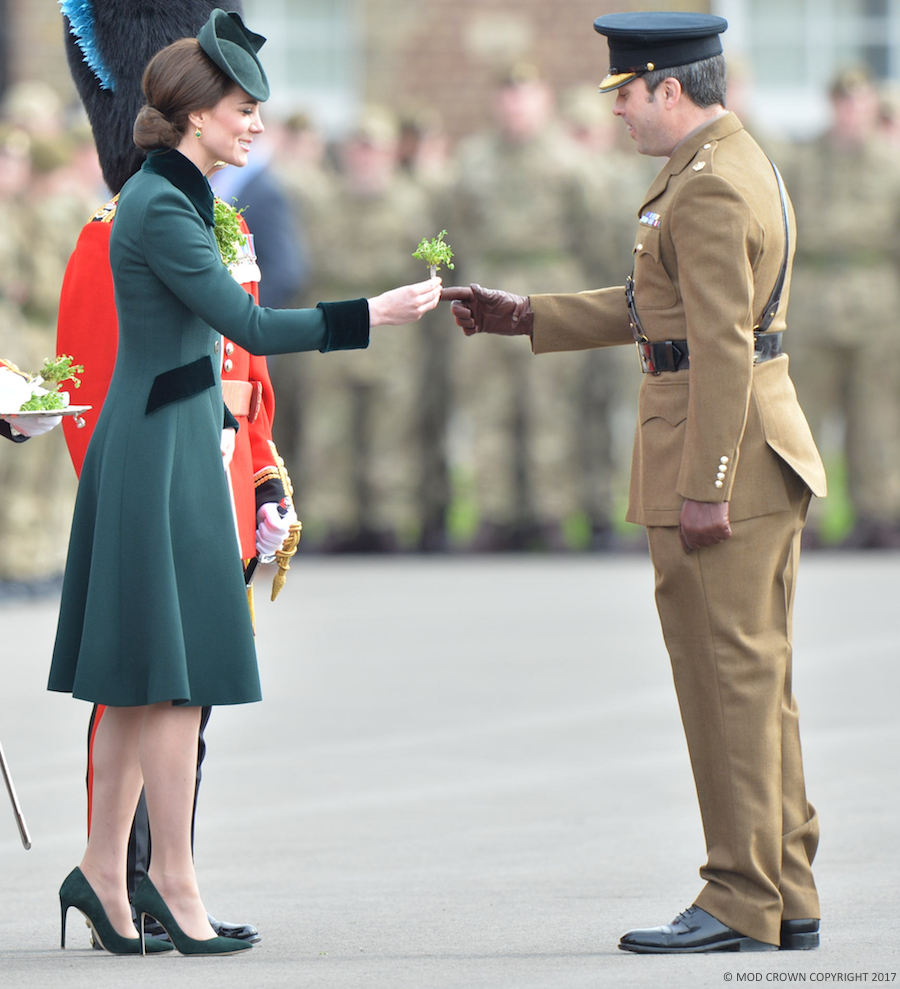 Kate's newer green coat also features velvet trims on the collar, cuffs and pocket flaps.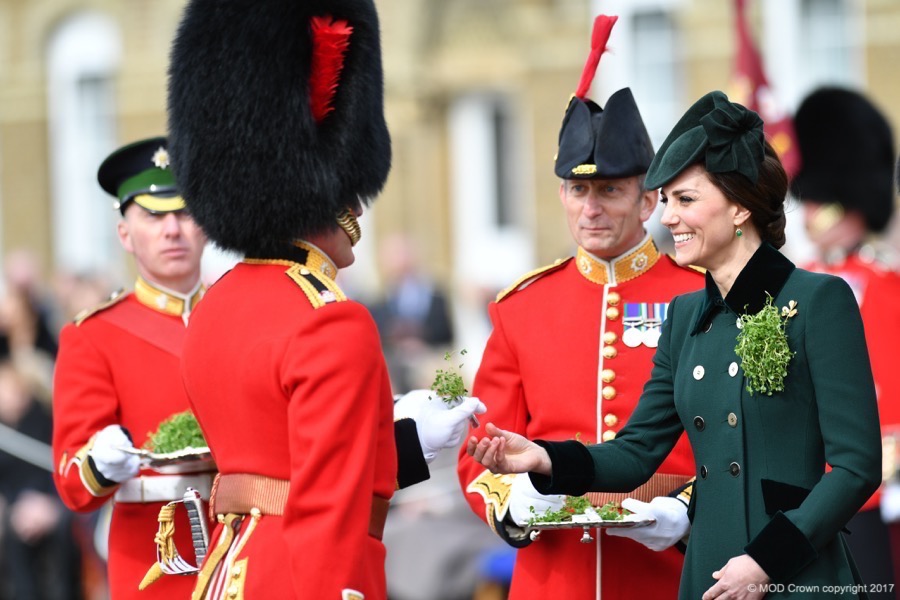 Kate donned a familiar pair of earrings for today's parade.  They're the Siren style by Monica Vinader.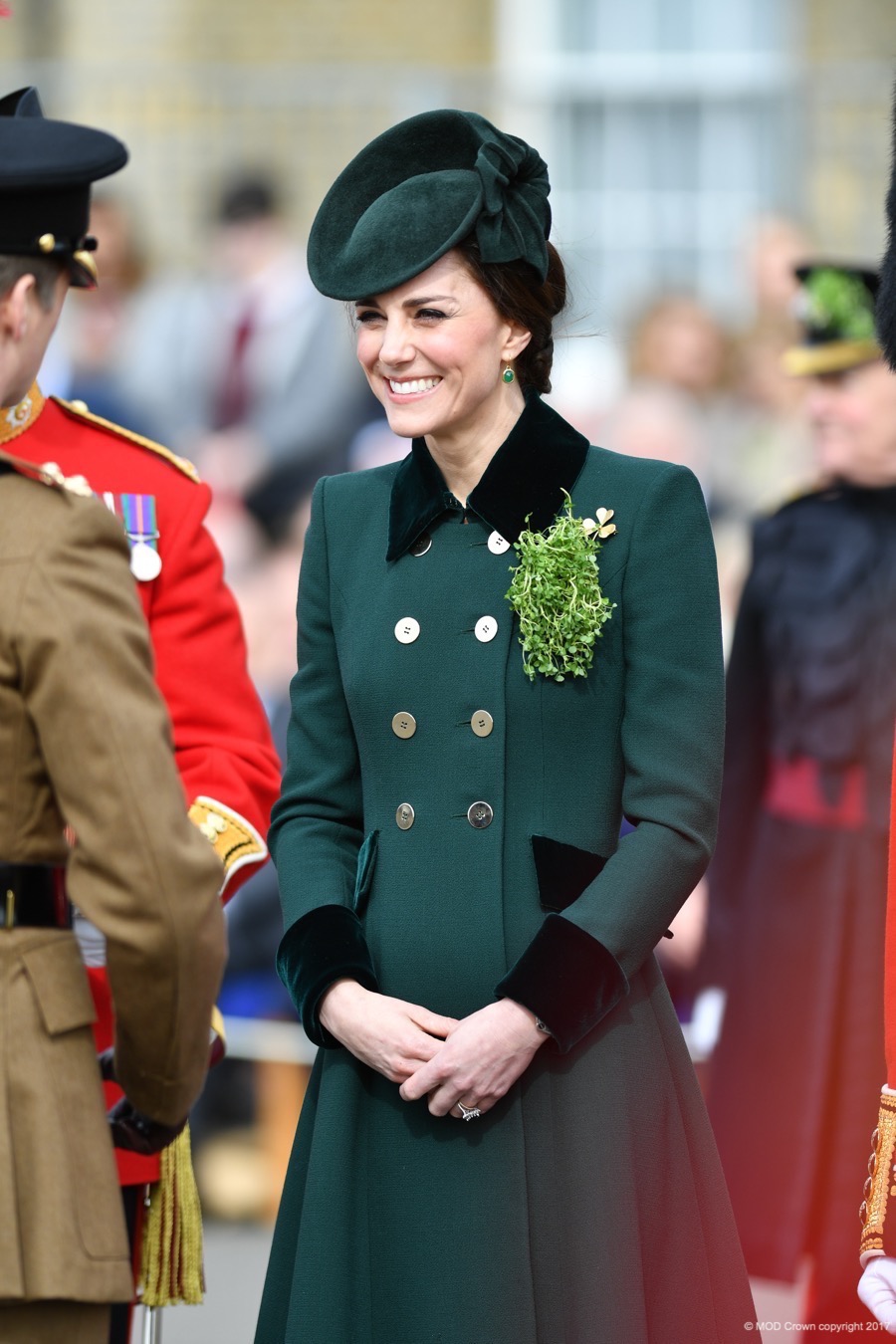 The earrings feature an irregular shaped multi-faceted Green Onyx gemstone set into 18ct Gold Plated Vermeil on Stirling Silver.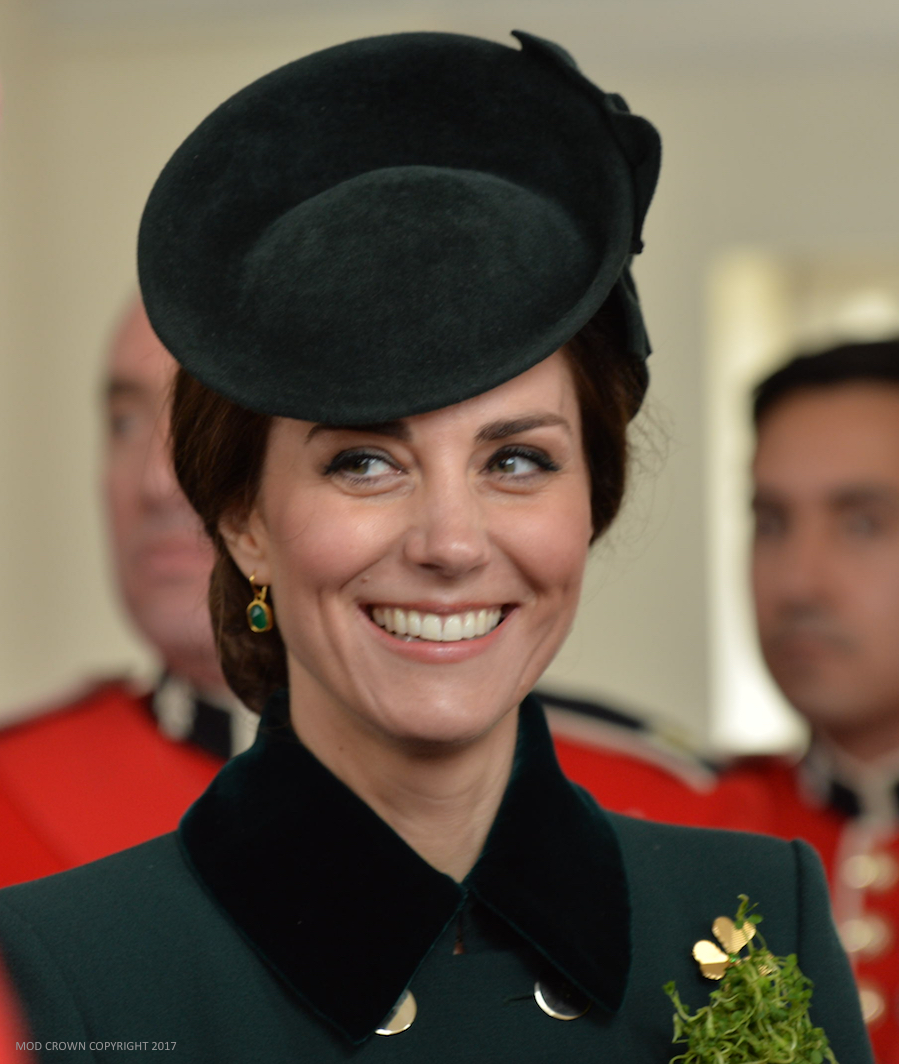 The Siren earrings can be purchased from the designer's official website, MonicaVinader.com.  The company ships to most countries.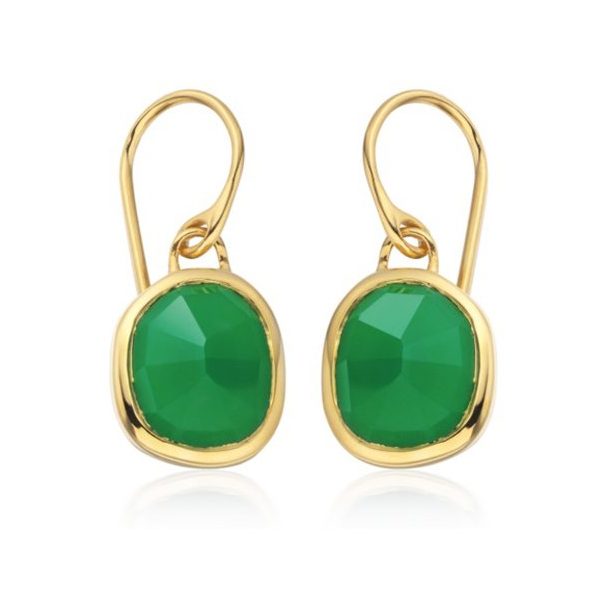 The earrings cost £125 GBP / £195 USD / €165 EUR.   They're also available at Selfridges and Liberty London.
As in previous years, Kate wore the gold Cartier shamrock brooch.   The brooch is a royal heirloom first worn by Queen Alexandra in 1901.  Since, it has been worn by a number of royal ladies, including Queen Elizabeth, Princess Anne and the Queen Mother.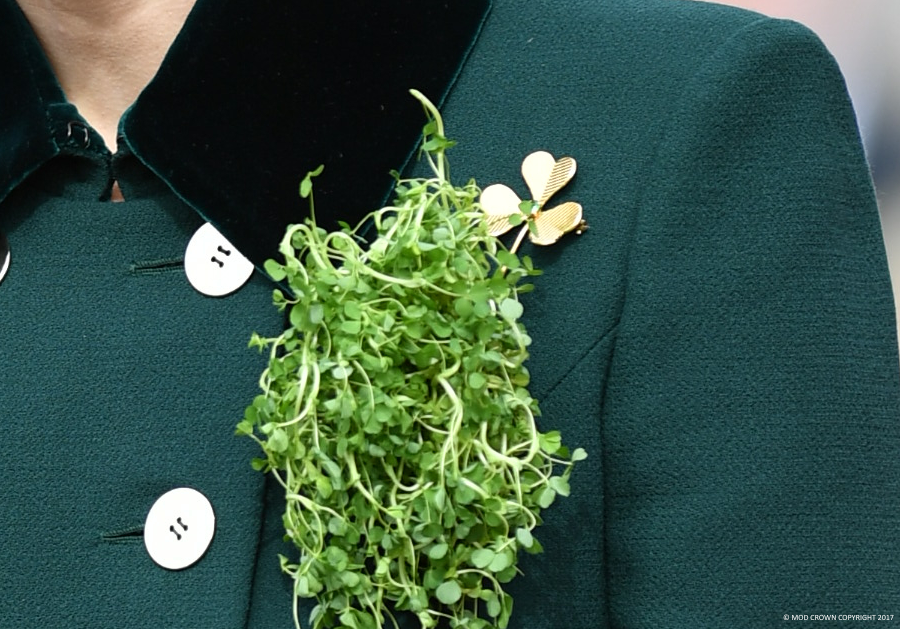 Kate chose a new pair of dark green suede pumps for the St. Patrick's Day celebrations.  You can see the Emmy Shoes logo on the sole of Kate's foot, as the following tweet illustrates:
I was going through HD photos and noticed Kate's shoes are by @EmmyShoes, not Gianvito Rossi as first thought! @WhatKateWore @KateMiddStyle pic.twitter.com/FQyZcf2WT8

— Kate's Closet (@katesclosetau) March 20, 2017
Emmy Shoes offer a bespoke service.  Both Kate and her sister Pippa have commissioned several different styles from the company in the past.   It looks like Kate's wearing either the Isadora or the Rebecca style in the colour "Greenery".  We're awaiting further details from the company.

Kate wore a dark green hat for the visit.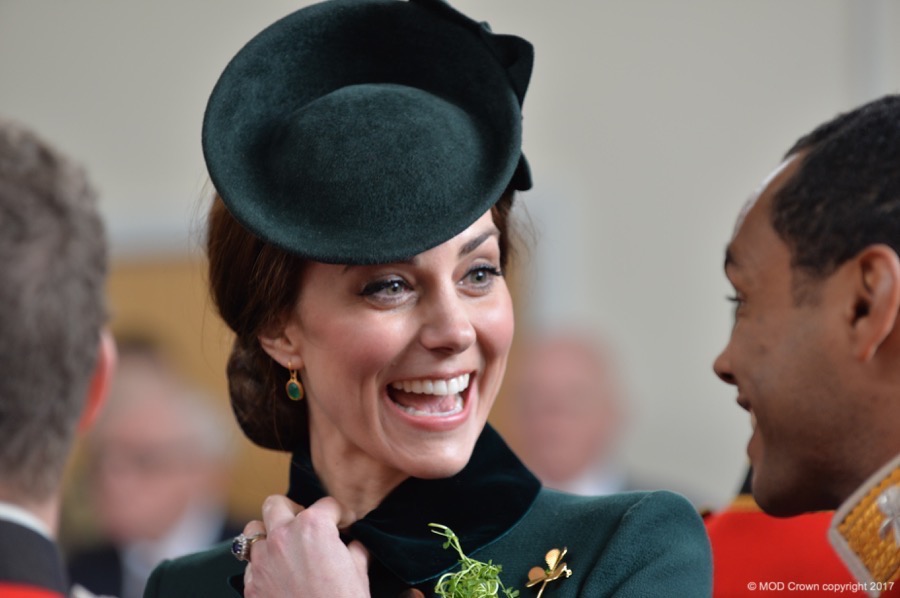 You may recall she originally wore it to the Christmas Day church service back in 2015 (pictured below).
You'll notice the large green floral detail on the side of the hat.  It's thought the piece is by Sylvia Fletcher for Lock & Co, though this was never confirmed.
Kate also chose her Cartier Ballon Bleu watch for the St. Patrick's Day celebrations.  She's worn it on numerous occasions since 2013.  It's available for £4,150 (around $5,133 USD) at Selfridges.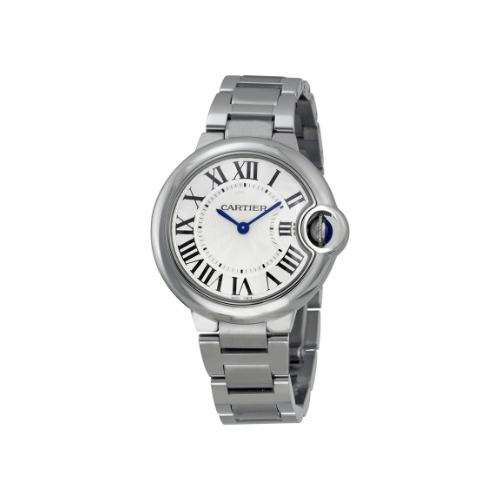 Finally, Kate carried a new clutch today.  We believe it's from a Polish brand called Etui.  My friend Anna emailed the company and they've confirmed it's one of their bags.  (Pictured below, right: a similar bag by the company).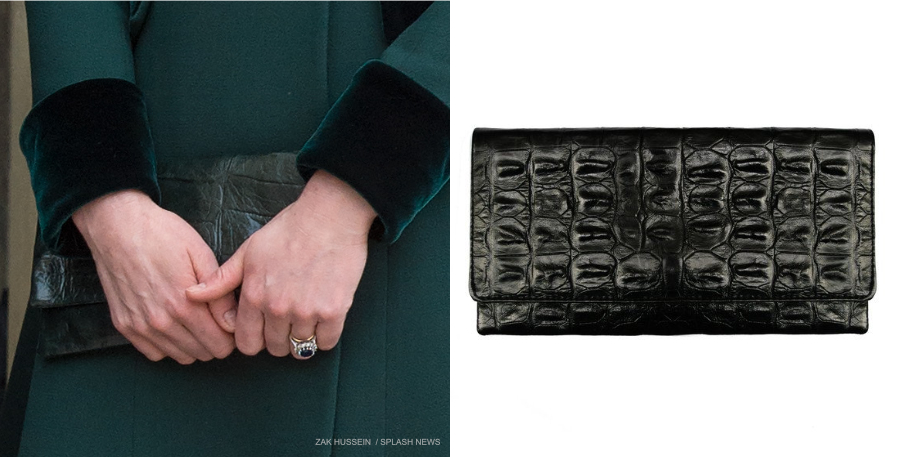 Etui's owners started the company started in London, but they're now based in Poland.  However, some of their production is still located in the UK.  I'm told that Etui's bags are stocked at Topshop Oxford Circus, Peter Jones and Harrods.  The picture above shows one of Etui's older bags in black leather.  Below, some of Etui's colourful leather clutches:

You'll find a number of Etui bags on eBay in multiple colours if you'd like to steal Kate's style:

Of course, it's worth pointing out that Kate will visit Poland later this year.