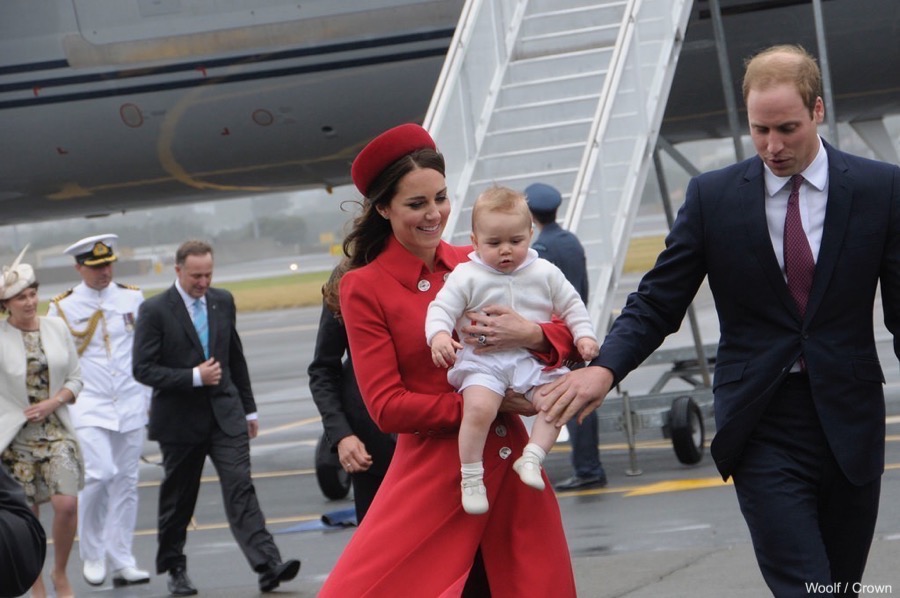 On the 6th of April 2014, the Duke and Duchess of Cambridge left the UK on a scheduled Qantas flight to Australia to kickstart the first part of the Royal Tour.  The family made a quick stop at Sydney Airport for a private transfer flight to New Zealand.  Local news crews spotted the pair at the airport.  Kate held on to baby George: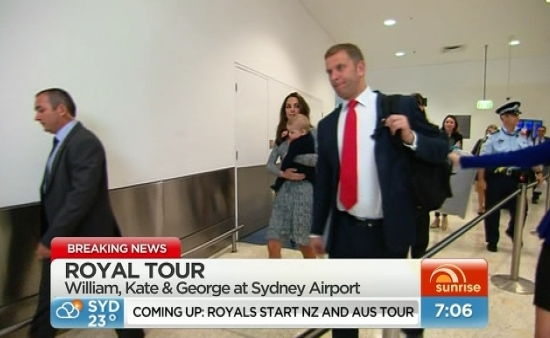 Kate wore an item we're familiar with: her MaxMara blue-grey cross hatch print dress.  We last saw her wear this dress in February last year for her visit at Hope House.  Here's a reminder of Kate wearing the dress at that event, and a clearer look at the dress: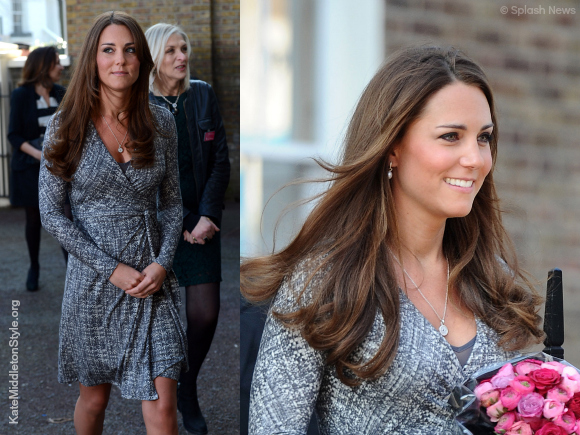 The Duchess ditched her L.K. Bennett pumps for a new pair of nude shoes, a suede pair with a low heel.  Unfortunately, these remain unidentified.
Eagle eyed fans noted that William carried Kate's Longchamp Le Pliage tote off the plane.  Susan from What Kate Wore says the bag looked like the shorter-handled style.  We know that Kate owns several different styles of the bag.
At approximately 12:00 noon local time, the trio landed in Wellington, New Zealand.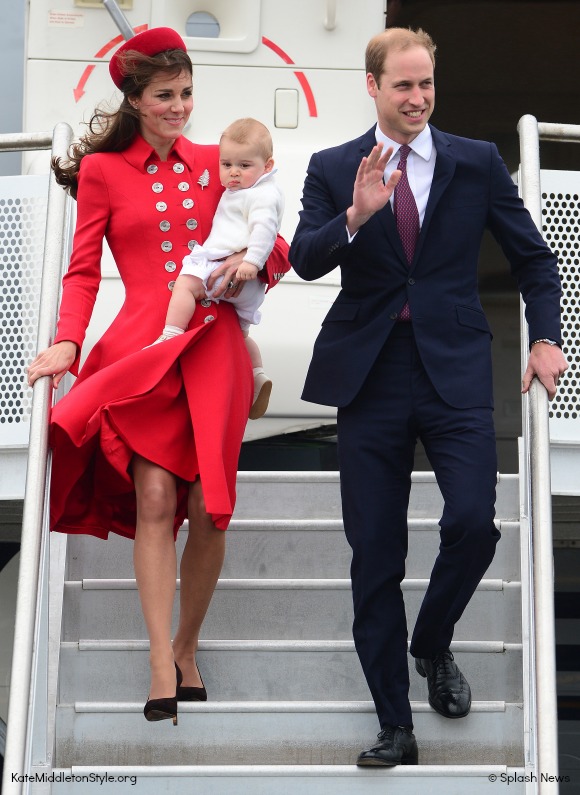 The Governor-General noted on Twitter that the Cambridges had a 'windy Wellington welcome'.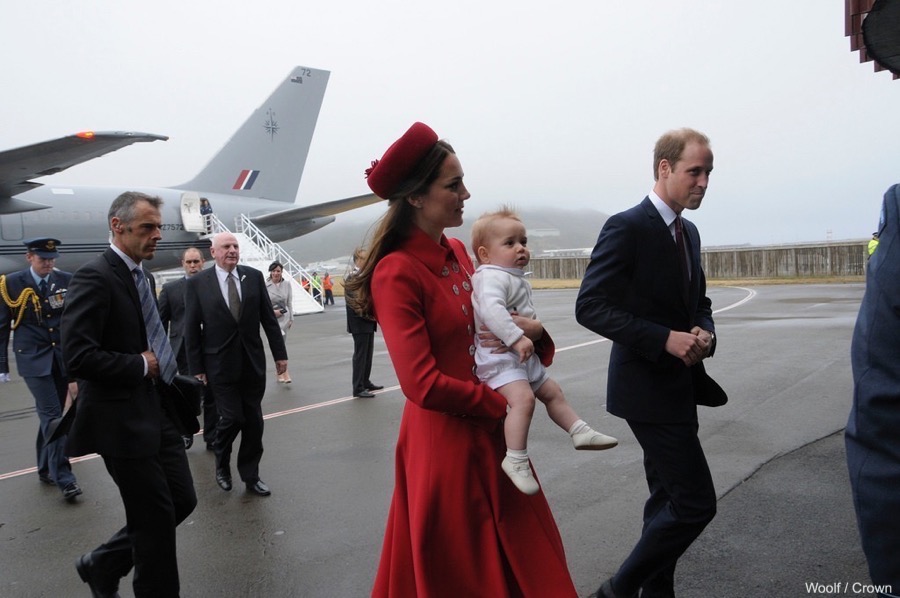 Here's a video of the royal trio stepping off the plane:
William and Kate accompanied officials to Wellington's Government House for a ceremonial welcoming party.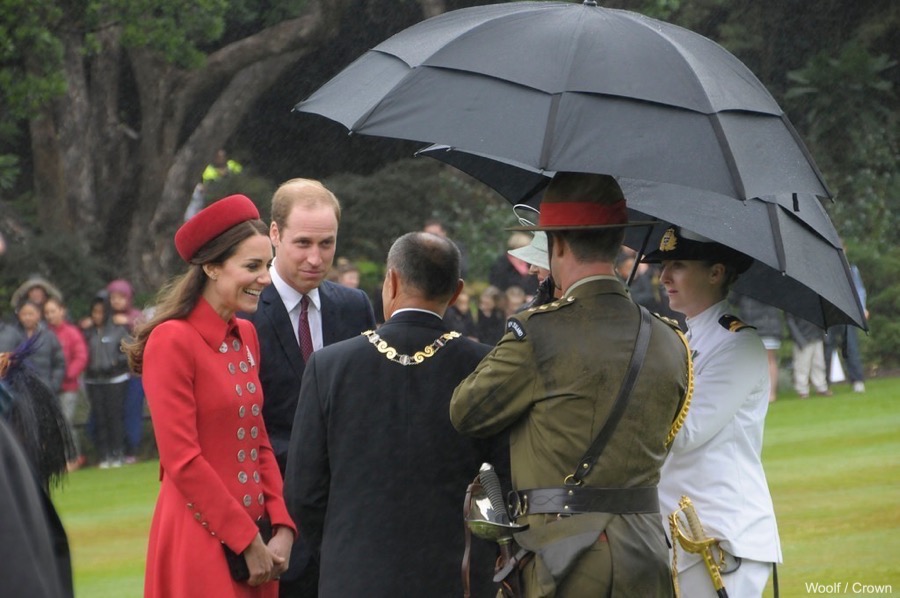 The traditional Powhiri welcome ceremony saw a Maori warrior approaching Prince William while carrying a taiaha fighting staff and placing a rakau tapu dart at his feet.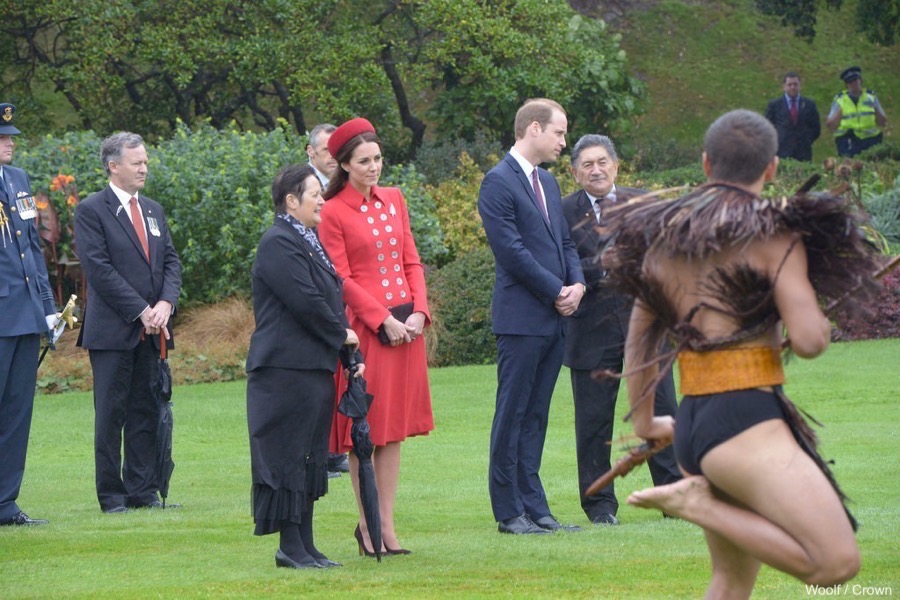 As part of the tradition, William had to pick up the dart as a sign that he has come in peace.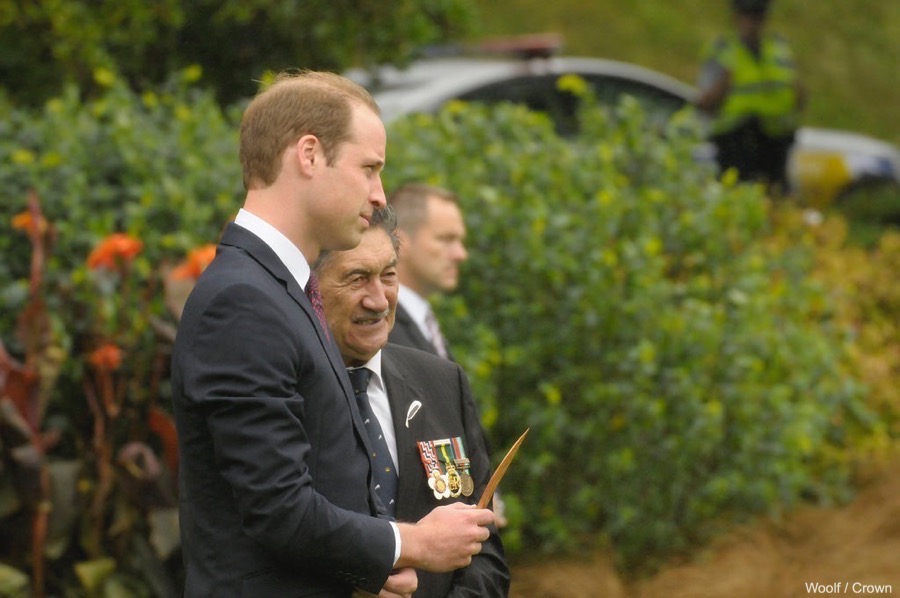 Both William and Kate partook in the traditional Maori 'hongi' greeting, which involves rubbing noses with an elder.
Kate's outfit:
Kate wore bright pillar-box red coat by Catherine Walker.  The designer is a favourite in royal circles; Diana, Princess of Wales wore clothing from the label many times too.  From the photo above, it looks like Kate is wearing a matching dress underneath.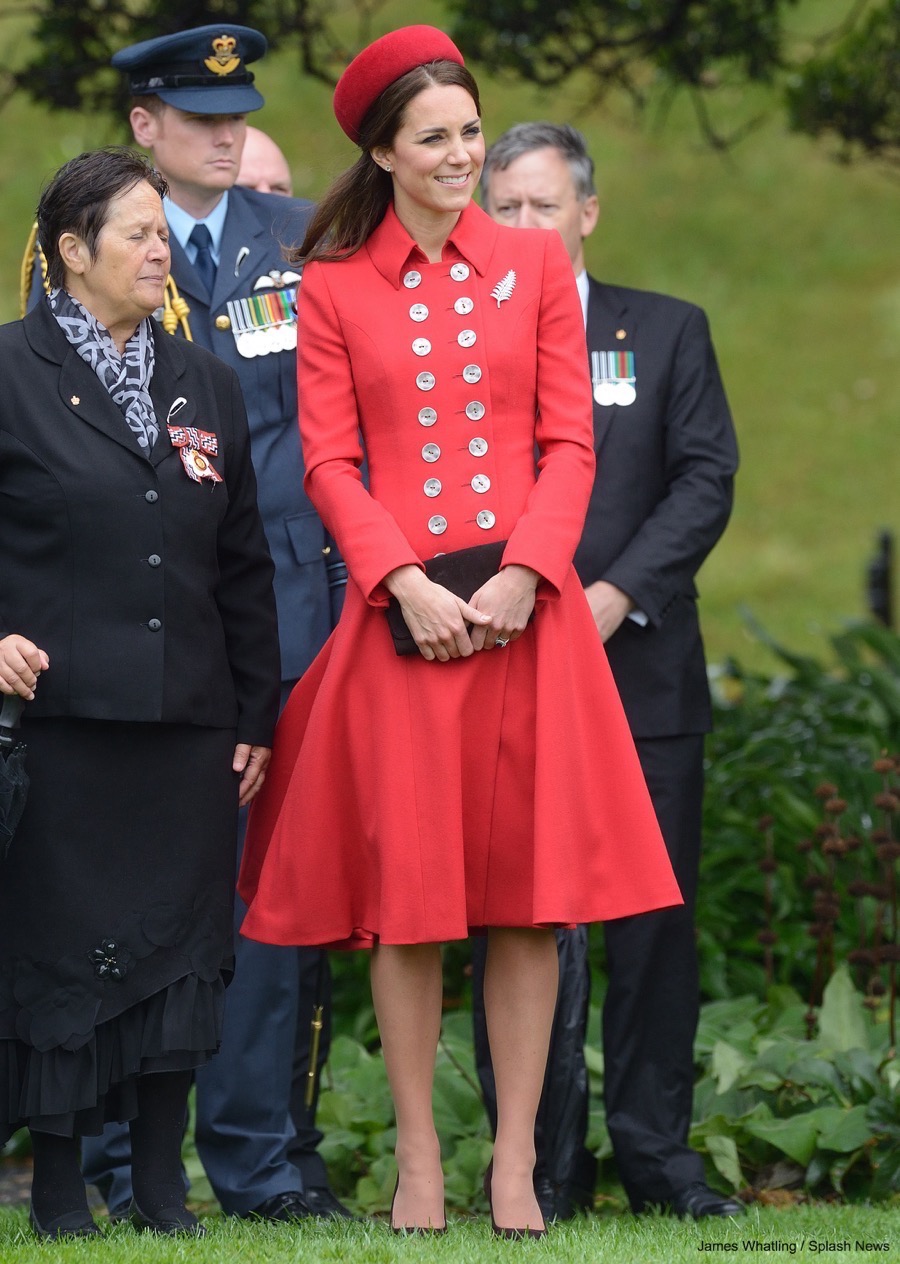 Kate finished her outfit off with a new red pillbox hat by Gina Foster, specifically, the 'Seaford' style:
She wore her Kiki McDonough Grace earrings.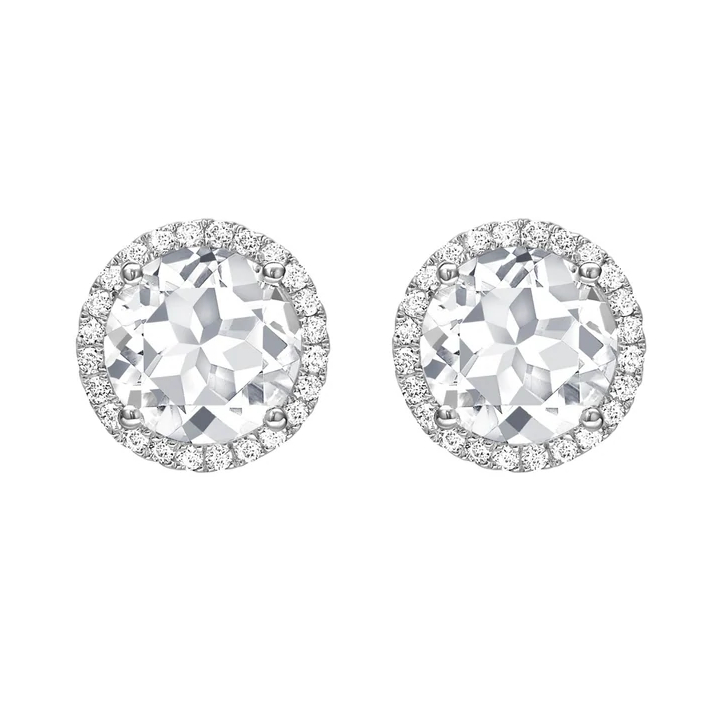 Kate accessorised her red outfit with her coordinating brown suede pumps and clutch bag from Emmy Shoes.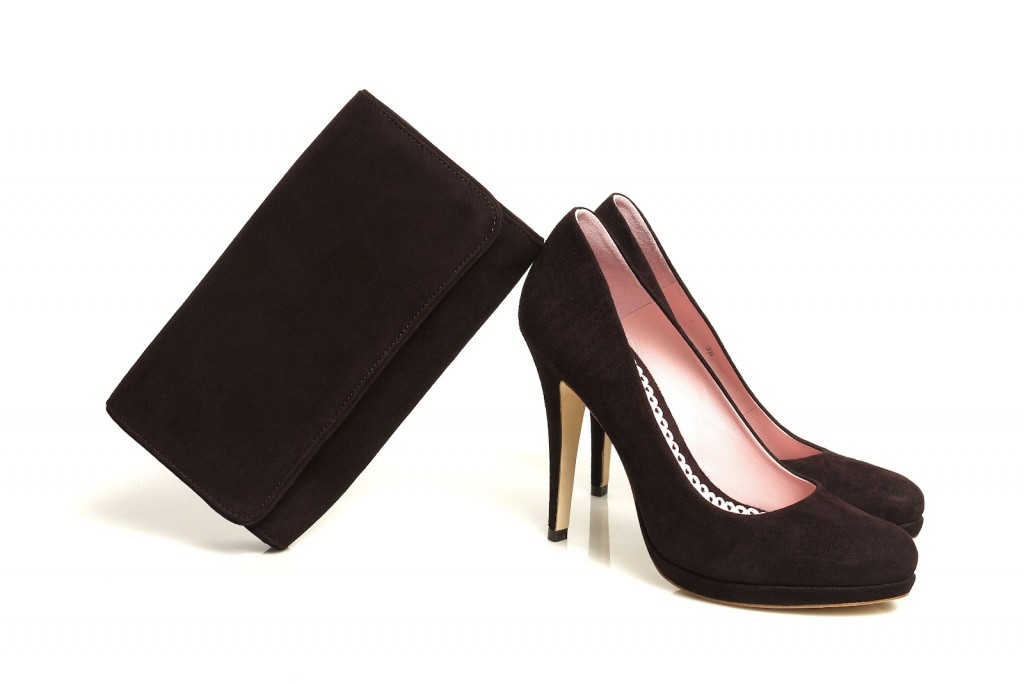 Finally, Kate finished off her outfit by wearing a fern-shaped diamond and platinum brooch, a piece borrowed from the Queen.  The fern is New Zealand's national symbol.  The brooch was given to the Queen during a Commonwealth tour in 1953-1954 and was presented on behalf of the Women of Aukland.  From the Royal Collection website: