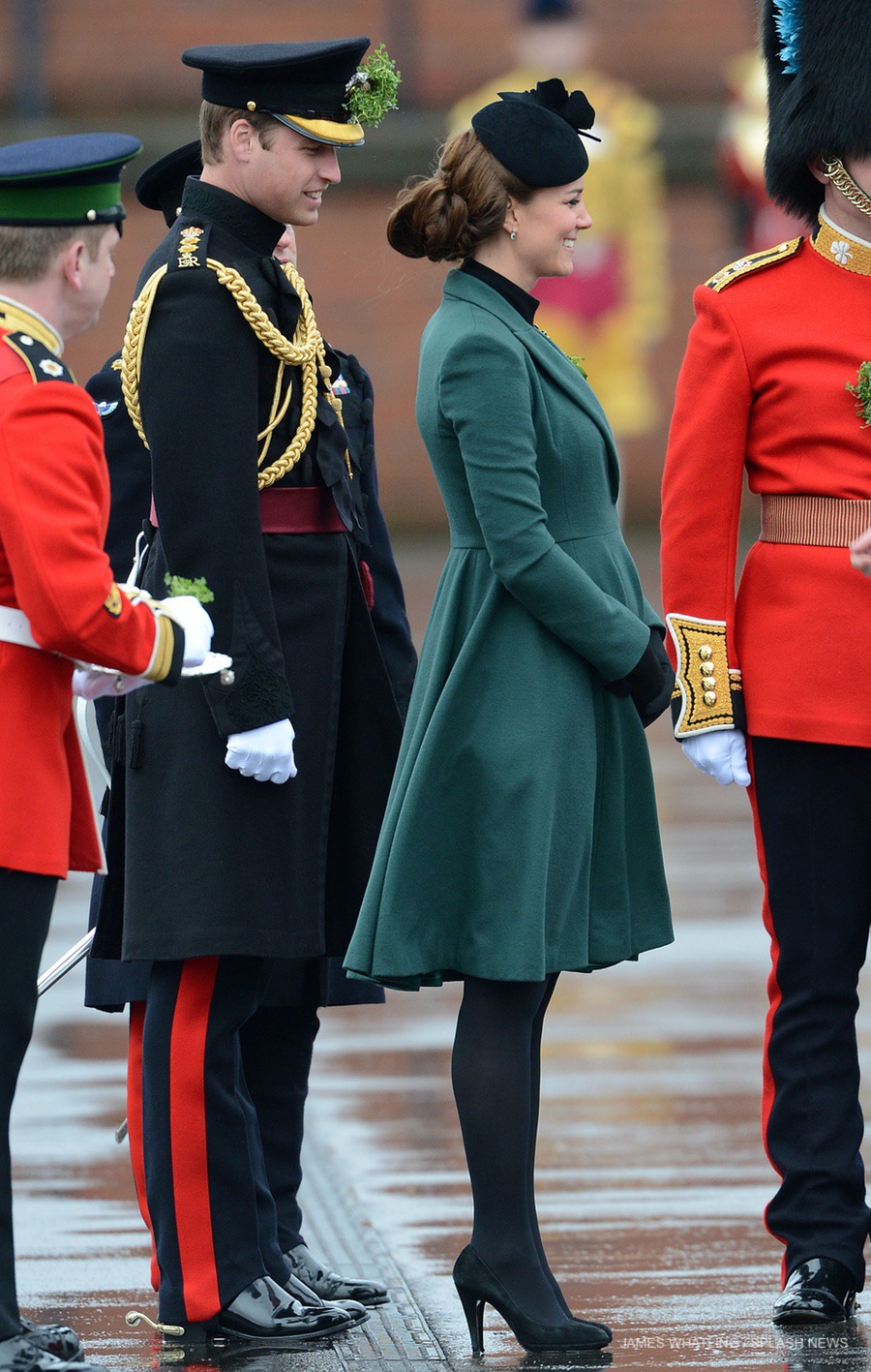 On the 17th March 2013, William and Kate visited the Mons Barracks in Aldershot for the annual St. Patrick's Day parade, where they met the 1st Battalion Irish Guards. In his capacity as colonel of the regiment, William took part in the parade. Meanwhile, Kate met officers and guardsmen and then pinned bunches of shamrocks onto their jackets. This tradition dates over 100 years, started in 1091 by Queen Alexandra, the wife of King Edward VII.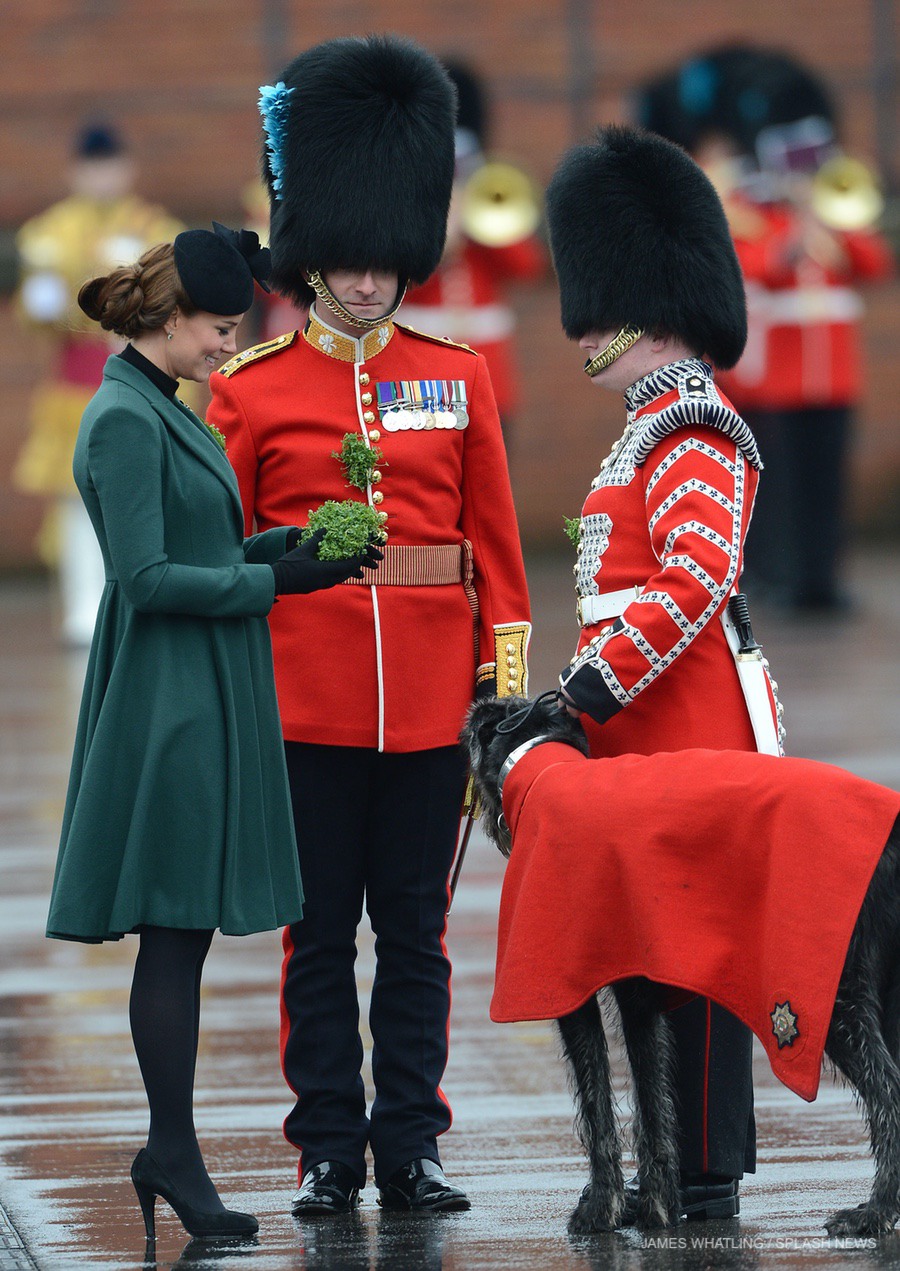 Kate also gave a shamrock to the regiment's new mascot, an eight-month-old Irish wolfhound named Domhnall, pinning the sprig to his bright red coat. You may remember Kate pinned a shamrock to Irish wolfhound Conmael last year? The six-year-old dog was recently retired and Domhnall has been training to take his place.
Kate's outfit:
Kate 'repeated' her dark green Emilia Wickstead coat dress, which she wore to last year's Irish Guard parade too. However, this time Kate paired the outfit with black accessories instead of brown. She also removed the belt to accommodate her growing baby bump. A look at Kate this year: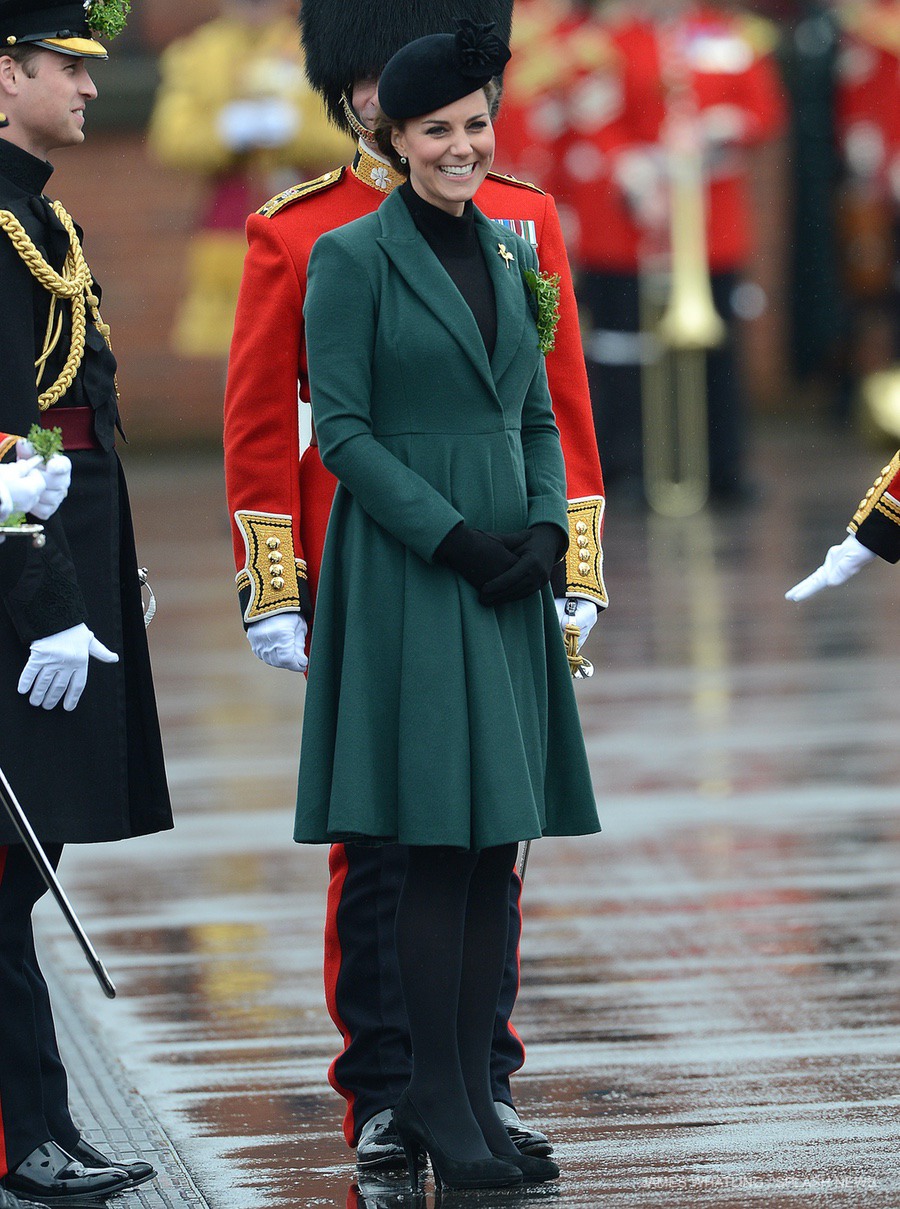 Kate last year: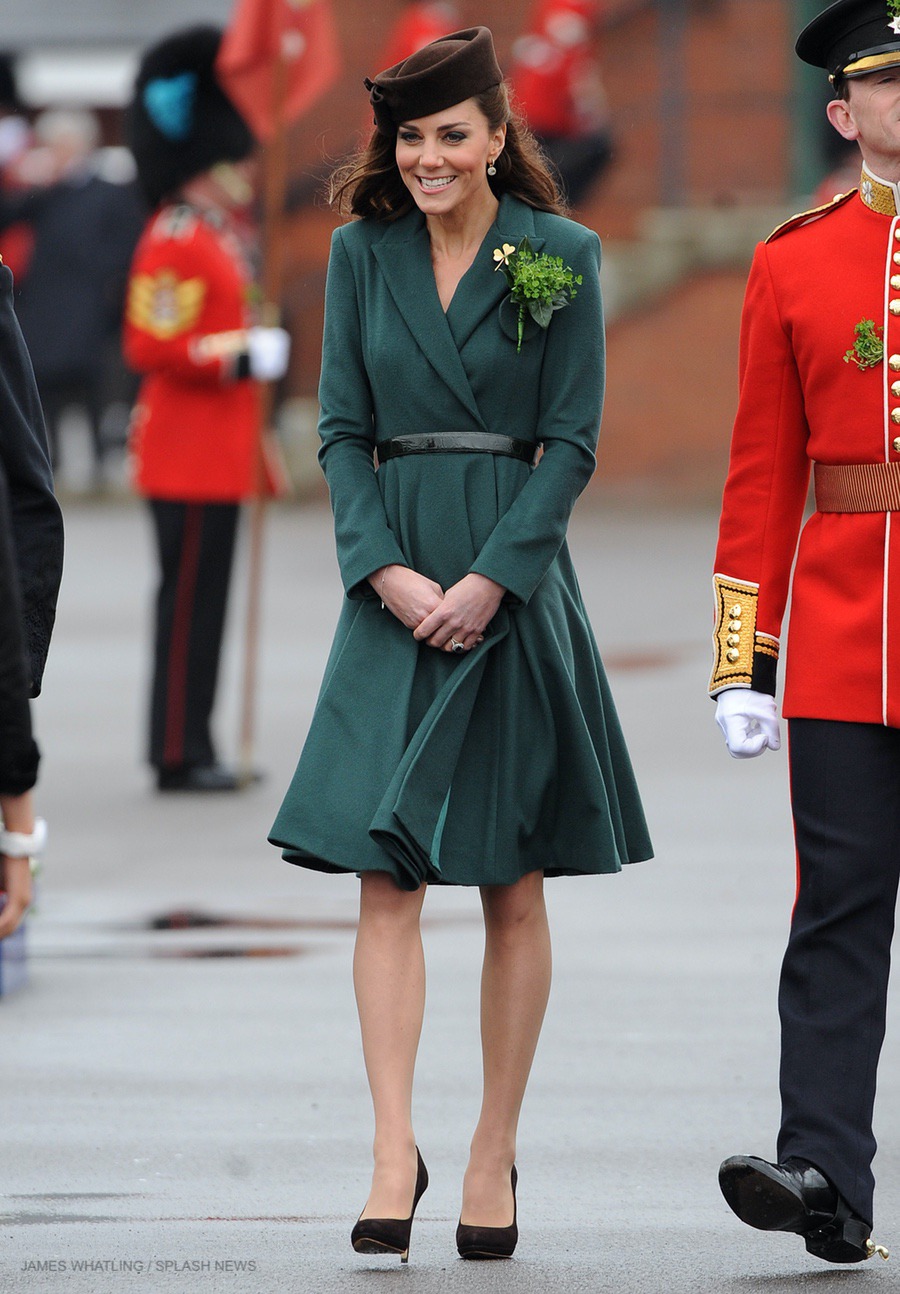 This year, Kate accessorised her Emilia Wickstead coat dress with her black John Lock "Fairy Tale" hat (last worn in March last year, during her trip to Leicester with The Queen and Prince Phillip. She also wore her black Episode 'Angel' shoes and the Cornelia James black wool gloves with side bow.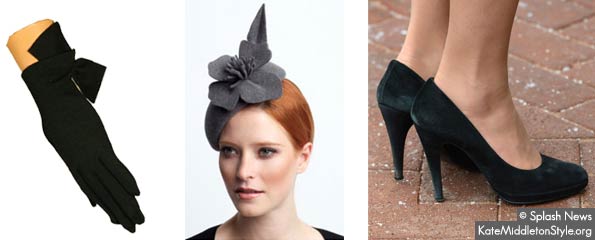 Under her coat dress, Kate wore a black polo neck (turtleneck) sweater. Many speculate that this could be the same garment Kate wore under her Luisa Spagnoli suit dress (left) from a visit to at St. Andrew's. Or, it could be the black Oasis dress she wore during a visit to Liverpool (right).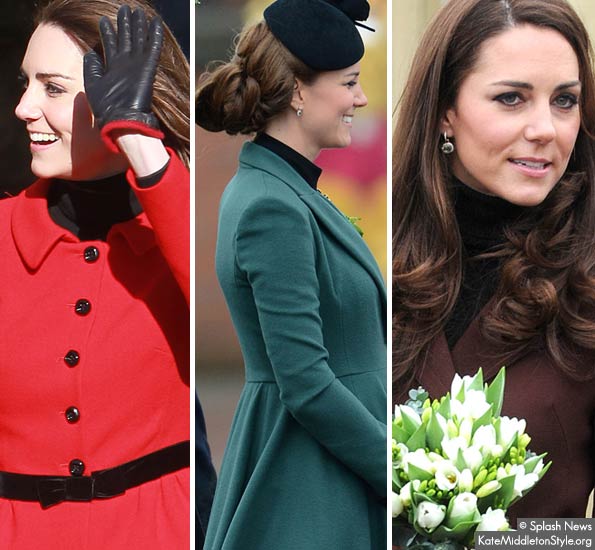 Kate also wore a gold shamrock brooch by Cartier. The brooch is a royal heirloom first worn by Queen Alexandra in 1901 and which has also been worn by Queen Elizabeth the Queen Mother too. (Pictured below on another occasion).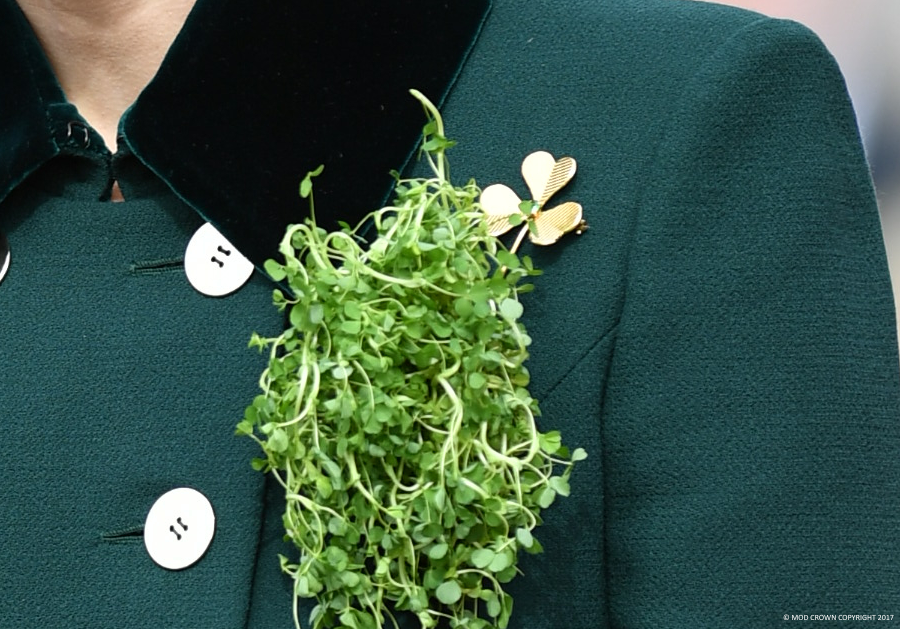 Kate wore a pair of unidentified emerald green earrings, last worn publicly to the London Natural History Museum in November 2012.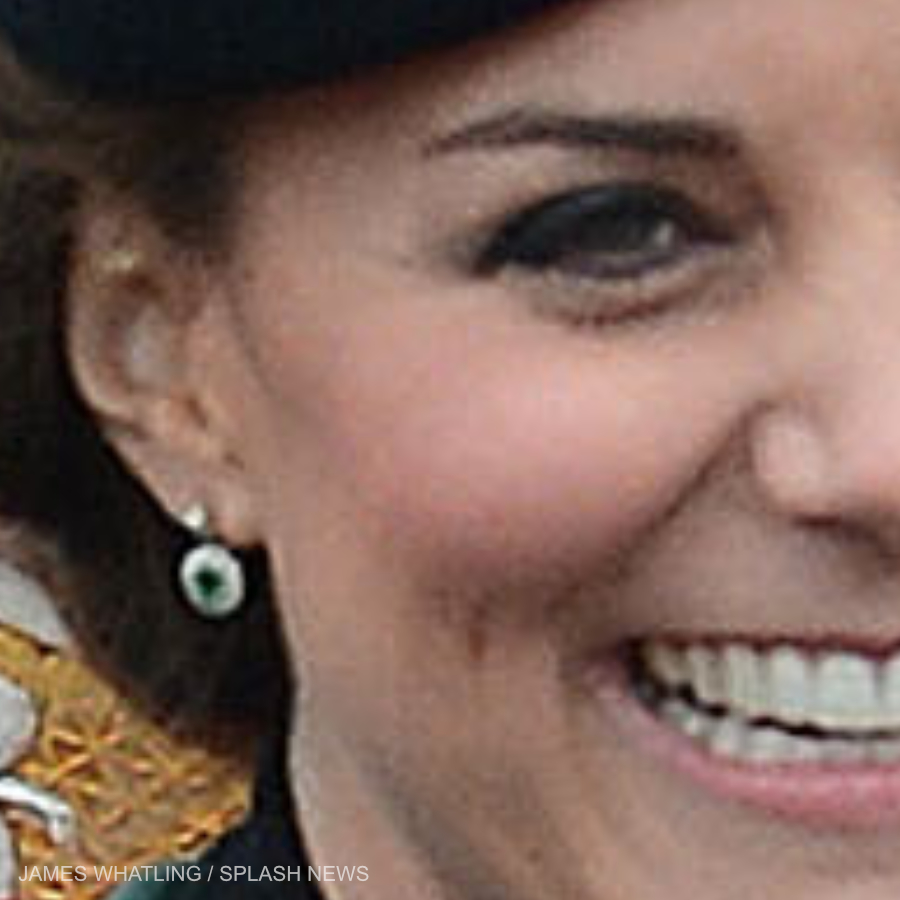 Kate wore her hair up today, tied into a neat chignon and pinned into place, with her hat resting on top. We contrast her hairstyle with last year's in the following picture – I have to say, I much prefer today's look – there's just something fabulous about Kate's up-dos!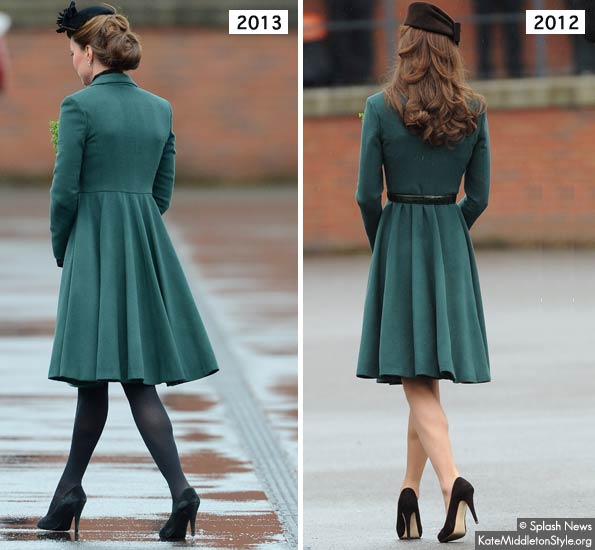 Kate gets her shoe stuck!
The parade didn't go without a hitch. And it was not puppy Domhnall that caused problems, as some might have expected – no it's was Kate's black heels getting stuck in a grate. The malfunction was only minor as Kate freed her shoe from the drain, clutching onto her husband William, who was dressed in full ceremonial uniform. The whole event only lasted a few seconds, but photographers managed to capture the moment (below) oops!