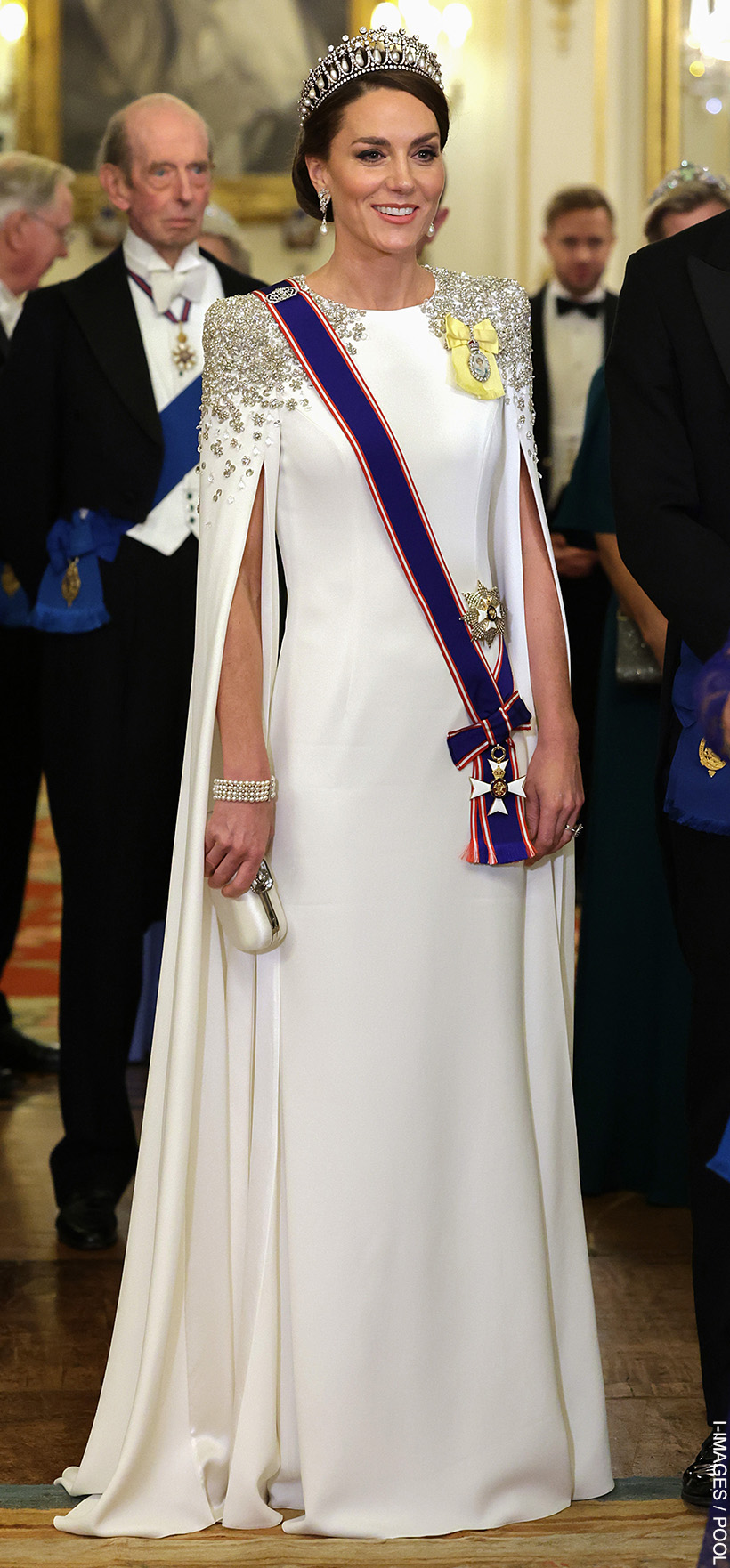 Kate Middleton attended a State Banquet for the South African President at Buckingham Palace on Tuesday (22nd November 2023). The Princess looked resplendent in a white floor-length gown by British designer Jenny Packham.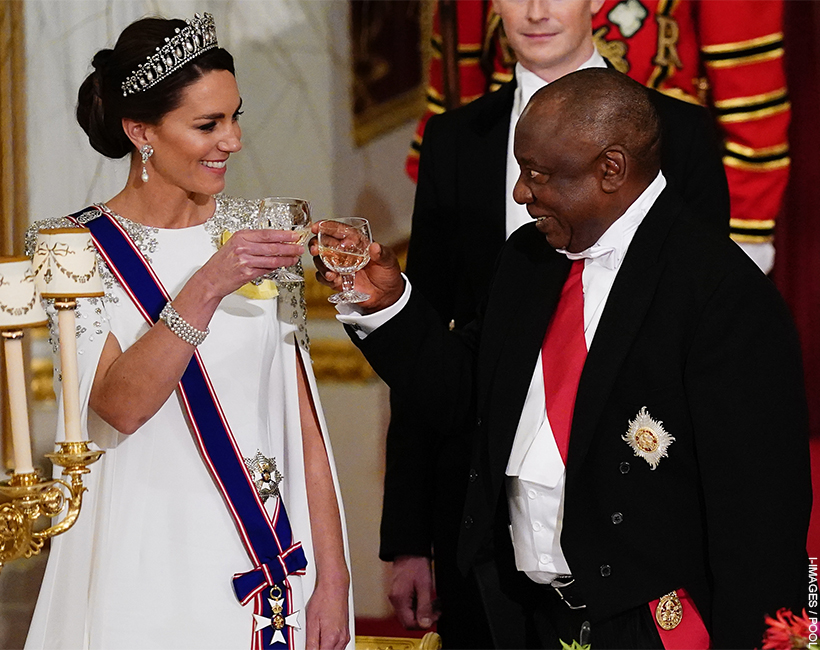 The dress featured cape-like sleeves and silver metallic floral embellishments on both shoulders. The stunning dress is from Packham's 2021 Bridal Collection. It's known as the Elspeth gown.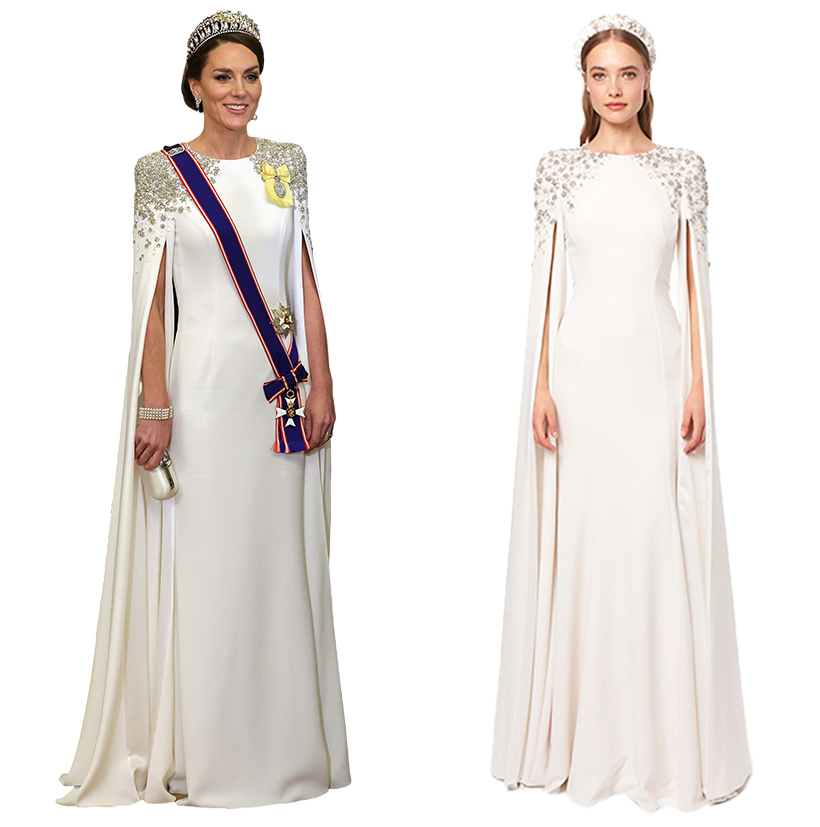 There are two key differences between Kate's dress and the Elspeth. First, the back. The bridal gown features an open keyhole back, Kate's dress omits this detail. The photos below show the Countess of Wessex, but in the mirror behind her, you can see Kate's reflection, showing the back of her gown.
The second difference is beading. There is more embellishment on Kate's dress. The bridal gown has fewer beads and sequins across the shoulders. (Hat tip to Ellie Hall from Buzzfeed News for noticing the mirror reflection. Thanks to Sarah for pointing out the beading.)
Looking to buy the Elspeth dress? District 5 Boutique is the only bridal stockist I've found that's taking orders.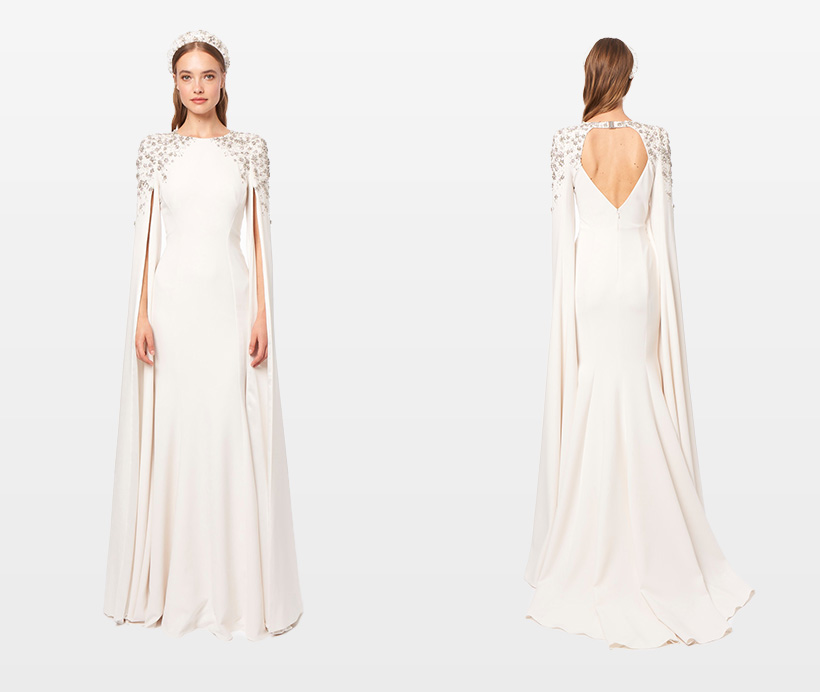 The company price the stunning white dress at £4,303.09 or $5.075 USD. You can pre-order it on their website, there's a 10-12 week wait for delivery.
Kate works very closely with Jenny Packham, I expect she has her on speed dial for formal events and overseas tours. The designer creates daywear and evening gowns for the Princess on a regular basis.
SHOP THE LOOK
Looking for a show-stopping white gowns for your big day?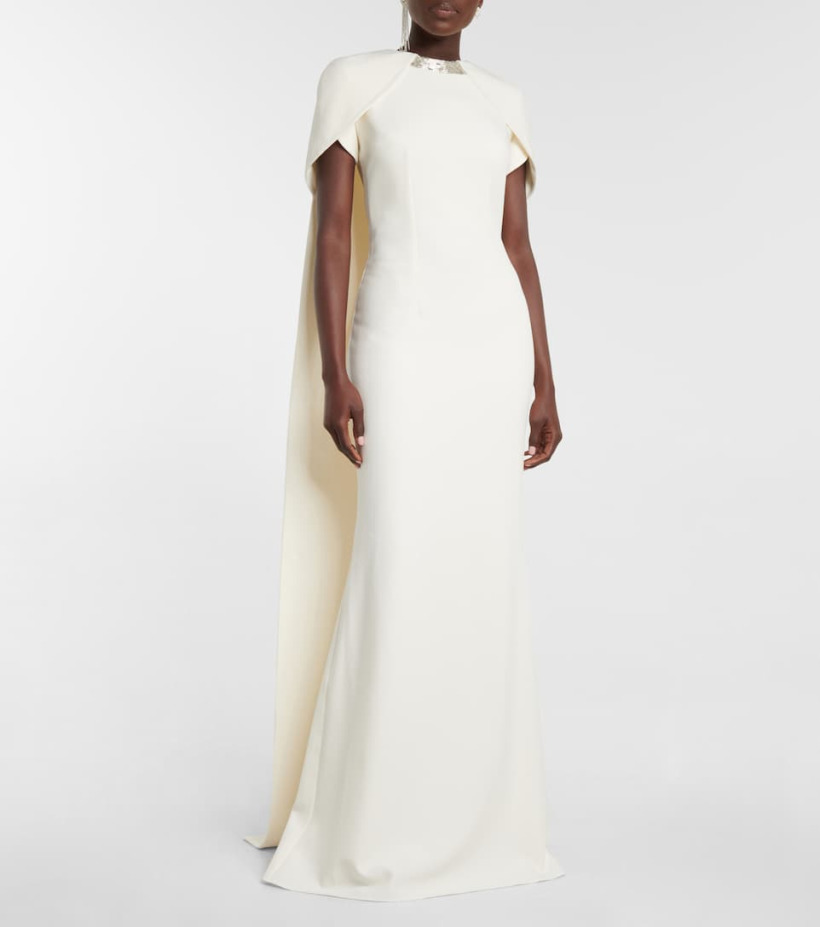 SAFIYAA CREPE CAPE GOWN, IVORY
This white floor-length gown from Safiyaa features a crystal-embellished neckline and a glamorous cape. I think it's the perfect way to interpret Kate's State Banquet look for your own event.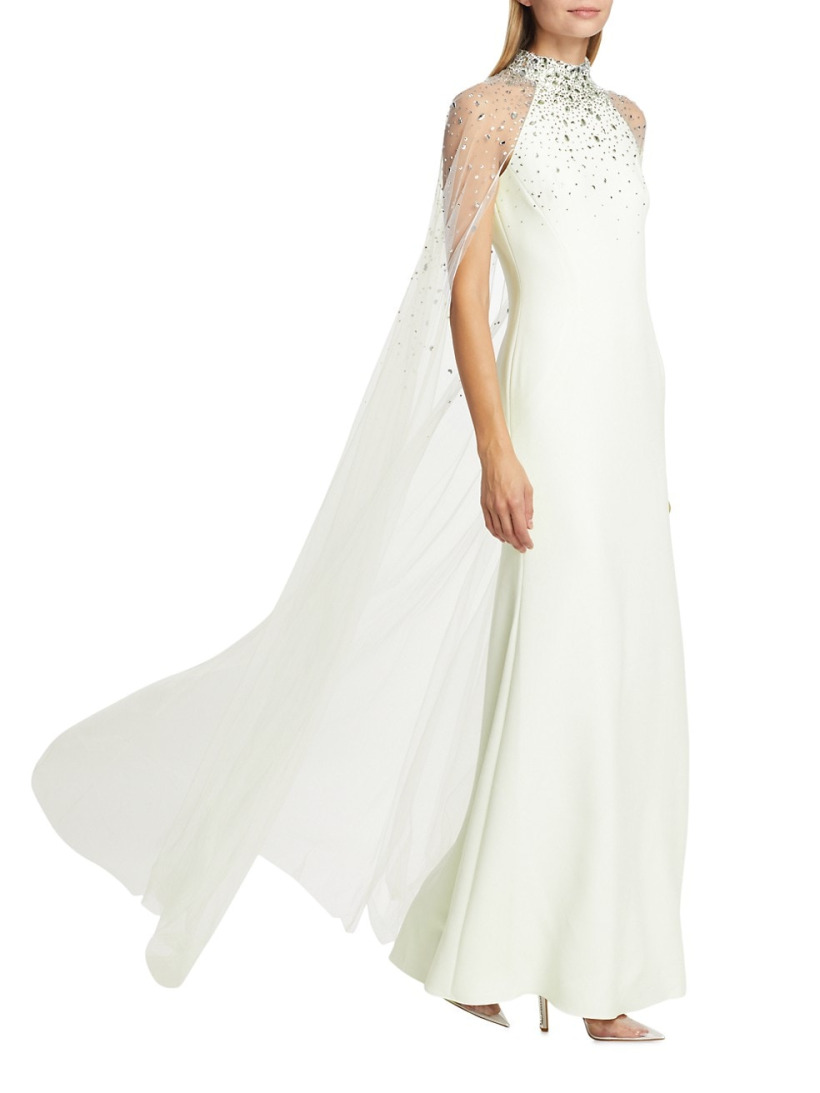 JENNY PACKHAM GILDED TULLE CAPE GOWN, IVORY
This Ivory gown is by the same designer Kate wore to the State Banquet–and this dress is just as glamourous. The cape overlay is adorned with light-catching beaded embellishments that'll sparkle as you dance.
Let's look at Kate's tiara now. The Princess of Wales paired her white gown with a familiar piece, the Queen Mary's Lover's Knot Tiara.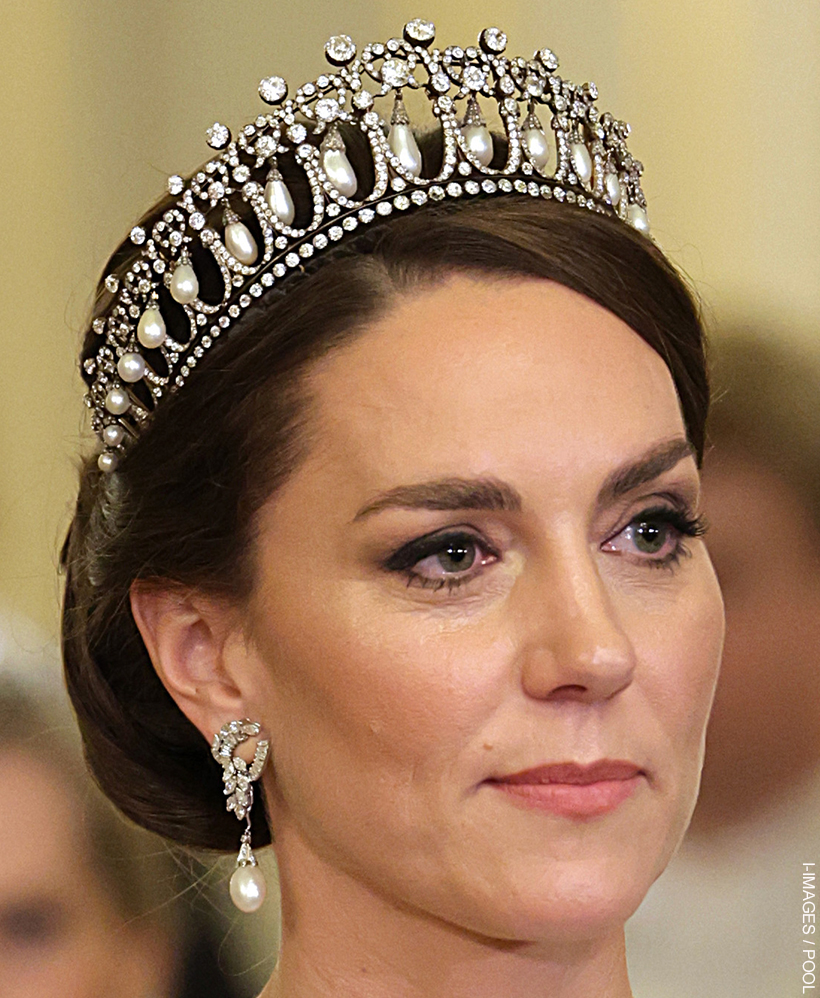 The tiara is often confused with the Cambridge Lover's Knot Tiara, an altogether different jewel that was sold at auction in the 1980s and is now owned by a German noble family. The two tiaras do, however, look very similar.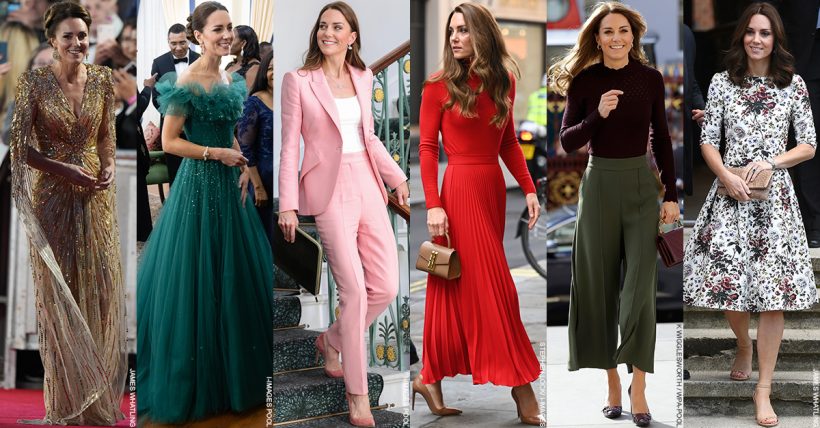 KATE MIDDLETON'S BEST OUTFITS
While you're here, take a look back at the Princess's best looks from the past 11 years, it's a treat!

CLICK TO SEE

The Cambridge Lover's Knot tiara is the original. Queen Mary adored the piece and commissioned a copycat in 1913. Upon her death, Queen Mary bequeathed the tiara to her granddaughter, Queen Elizabeth II. Queen Elizabeth loaned the tiara to her daughter-in-law Diana and later, to Kate.
The Court Jeweller has a comprehensive article about the two near-identical tiaras and the confusion surrounding the name and who wears what! It's where I learned of the difference—I suggest reading the post if you'd like to learn more.
Of course, Diana regularly wore the tiara throughout her time in the Royal Family.
Speaking of the late Princess, Kate finished her outfit with a pair of her pearl earrings. She also wore a bracelet that belonged jewellery that belonged to Queen Elizabeth. Let's take a look at both.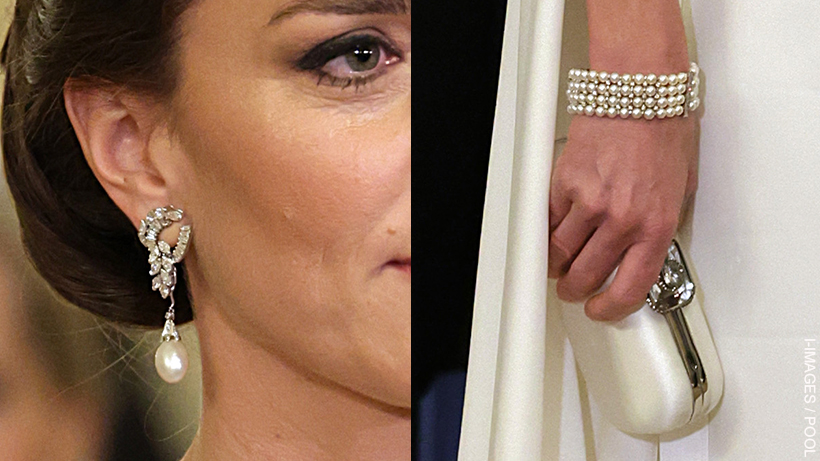 Diana clearly loved the diamond statement earrings. She wore them frequently in the 1990s.
Once again, I refer you to The Court Jeweller. It is my bible when it comes to Kate's borrowed pieces—Lauren describes the upper stud part of the earrings as "intricate, featuring a horseshoe set with baguette diamonds, with a leaf portion wrapping over and around it". Lauren also believes Kate attaches different pearls to the earrings, likely another pair from Diana's collection.
So far, Kate's worn the sparkling earrings on three occasions, to the 2019 BAFTAS, to Royal Ascot earlier this year, and earlier this month, to the National Service of Remembrance.

Unfortunately, little is known about Queen Elizabeth's Four Strand Bracelet. We first spotted Kate wearing at a state banquet 2019. She notably wore it to Prince Philip's Funeral and to Her Late Majesty's funeral. (Also note: the piece is not to be confused with the three-strand pearl bracelet by Nigel Milne, which Kate has worn a handful of times. That is another item from Princess Diana's collection.)
Onto Kate's sparkling diamond brooch now. You'll notice it on the top of her shoulder, pinning the blue sash (more on that below) in place.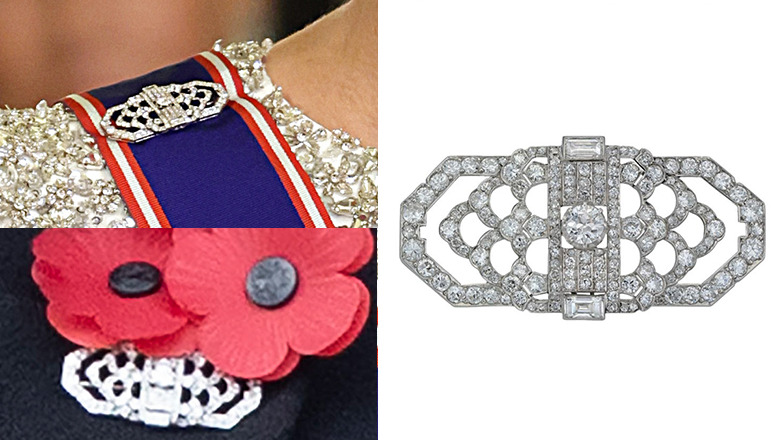 She debuted the sparkling brooch on Remembrance Sunday, a couple of weekends ago (pictured above).
The antique jewellery store, Bentley & Skinner, listed an identical brooch on their website earlier this year (pictured above). Here's how they described the piece:
An Art Deco diamond set brooch, of rectangular shape with corners cut away, with an openwork pattern comprising of a central, round brilliant-cut diamond with an estimated weight of 0.35 carat, with a baguette-cut diamond to the top and bottom of the rectangle, total estimated diamond weight 4.5 carats, all mounted in platinum, circa 1920, measuring approximately 4.4×2.2cm, gross weight 11.4 grams.

A sparkling Art Deco brooch. This brooch is of a classically Art Deco design, with geometric shapes and fine openwork platinum set throughout with lively diamonds. This beautiful piece was made in around 1920 and captures the glamour and elegance of the Jazz Age. It would look dazzling pinned to a silk scarf or the lapel of a jacket.
We speculate that The King purchased the piece from Bentley & Skinner for Kate's 40th birthday back in Janruary. We know Charles has purchased jewellery from the shop for his wife Camilla and daughter-in-law Meghan before. The company holds two Royal Warrants. A cached version of the page for January 2022 shows the brooch cost £14,500.
Let's look at Kate's insignia now. You'll notice the blue sash running over her dress, the Maltese cross hanging from it and the star badge? (Below right.) All three were given to Kate by the late Queen Elizabeth. They signify that the Queen appointed Kate as a Dame Grand Cross of the Royal Victorian Order, an order of chivalry established in 1896 by Queen Victoria to recognise personal service to the monarch.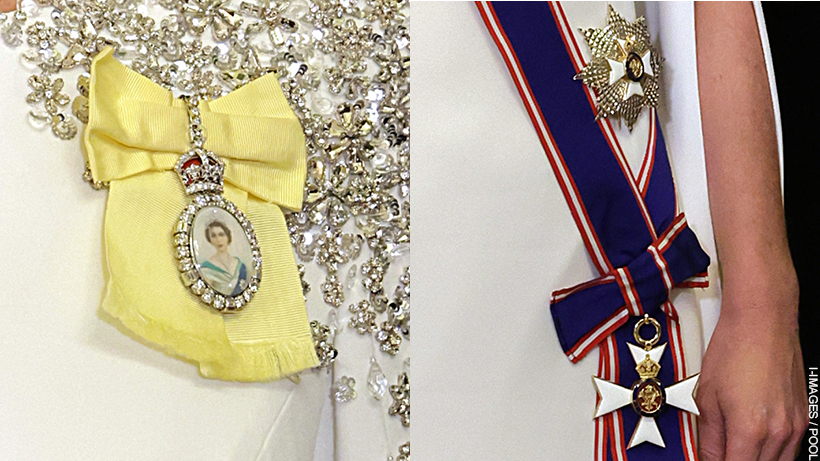 The yellow ribbon at the top of Kate's gown (above left) is the Royal Family Order, which Kate received in 2017. It features a portrait of the late Queen surrounded by diamonds. The Royal Family Order is usually awarded by the Sovereign to female members of the Royal Family. King Charles is yet to issue his Royal Family Order. When he awards it to Kate, I expect she'll wear both together, layered on the shoulder, as other royals have in the past. I just want to share this great resource from RoyalWatcherBlog.com. Their page on Queen Elizabeth's Royal Family Order helped me fill in a few blanks. Worth a look if you want to learn more.
Kate's white box clutch is by Alexander McQueen. The Princess owns several in this style.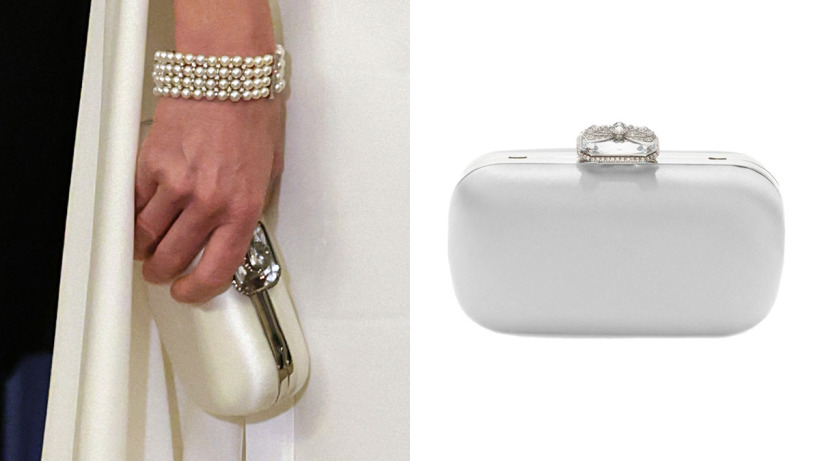 It's a bespoke piece. Alexander McQueen do sell the box clutches to the public, they often put something decorative or quirky on the clasp—a skull head, a beetle or a butterfly, as shown above. Kate will have these swapped for simpler jewelled designs.
The Princess has carried the bag on three formal occasions to date, to the 2019 BAFTA awards, to the US State Banquet and to 2019's Trooping the Colour.
Need a white box clutch for your next big event? L.K. Bennett's Dotty Clutch is a good option. Note: It's a bit bigger than Kate's.
Let's look at Kate's footwear next. The Princess wore the Gianvito Rossi Rania Embellished Pumps. I can't licence the photo to show you, so click here and it'll open in a new tab. Click to zoom, then pinch again to zoom further. You'll see the contrasting pointed toe and tell-tale embellishments.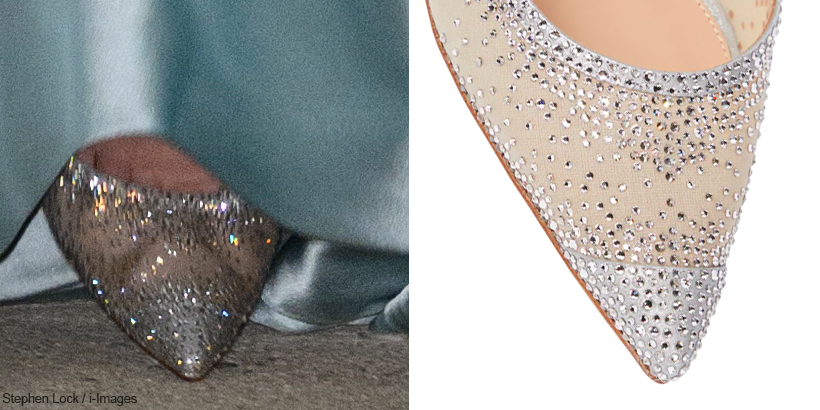 Kate's worn the sparkling shoes just once before, to a reception in The Bahamas. (The photo above shows Kate wearing the shoe on that occasion.)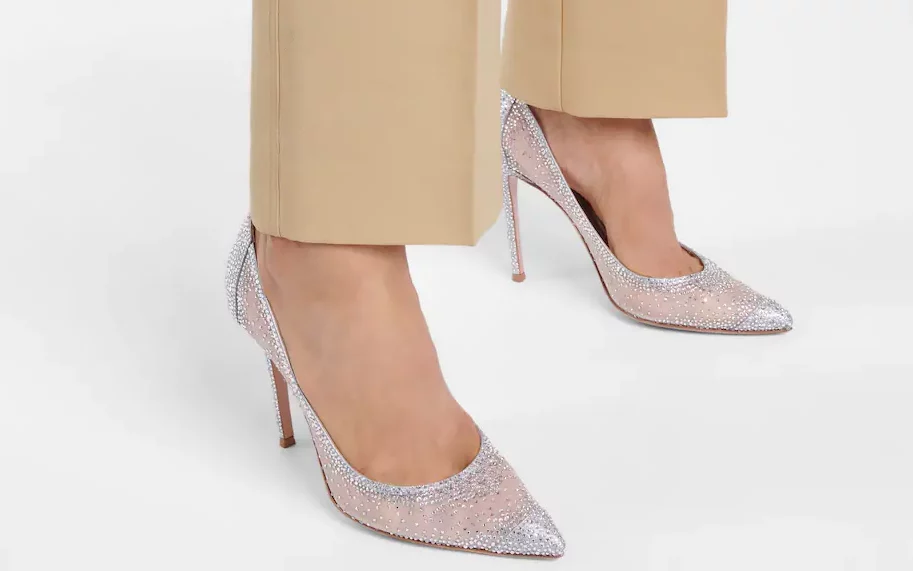 The shoes are made from mesh with suede inserts and are embellished with Swarovski crystals.
With an RRP of £1,750 GBP / $2,496 USD, the shoes are the most expensive Kate has ever worn (in public). (Data Duchess confirmed this on Twitter.)
It looks like Gianvito Rossi produces the sparkling shoe in lots of different colours. Below, we show them in blue, nude/beige and offwhite:
The State Banquet was held for South African president Cyril Ramaphosa, who visited the United Kingdom on an official State Visit.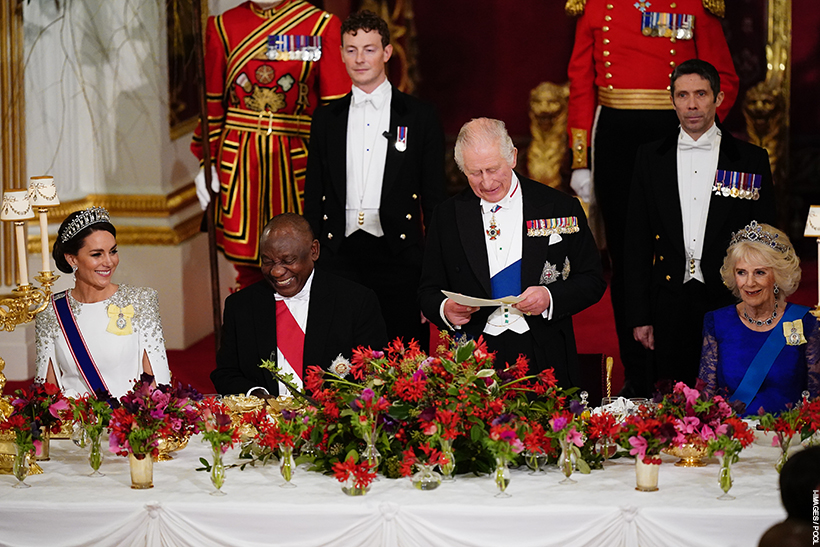 Both King Charles and President Ramaphosa delivered speeches during the dinner.
President Ramaphosa landed in the United Kingdom on Monday. William and Kate officially greeted The President at the Corinthia Hotel on Tuesday morning. They travelled together to Horse Guards Parade, where they met King Charles and Queen Camilla for a full Ceremonial Welcome.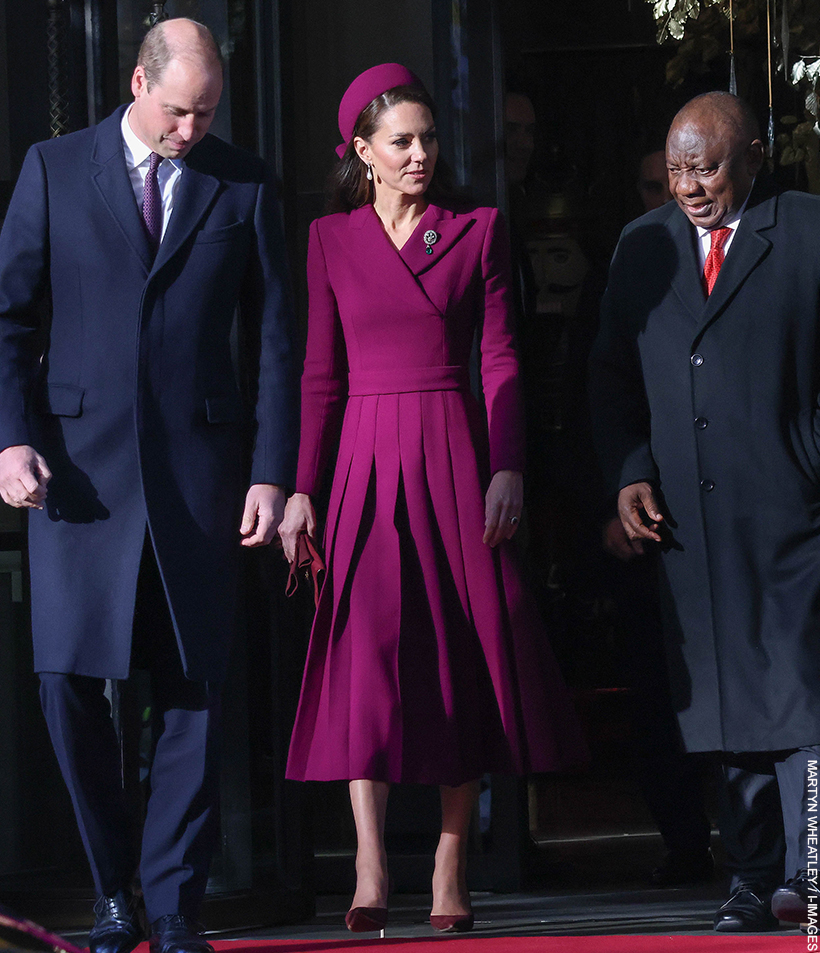 On Wednesday), President Ramaphosa undertook engagements across London before returning to South Africa.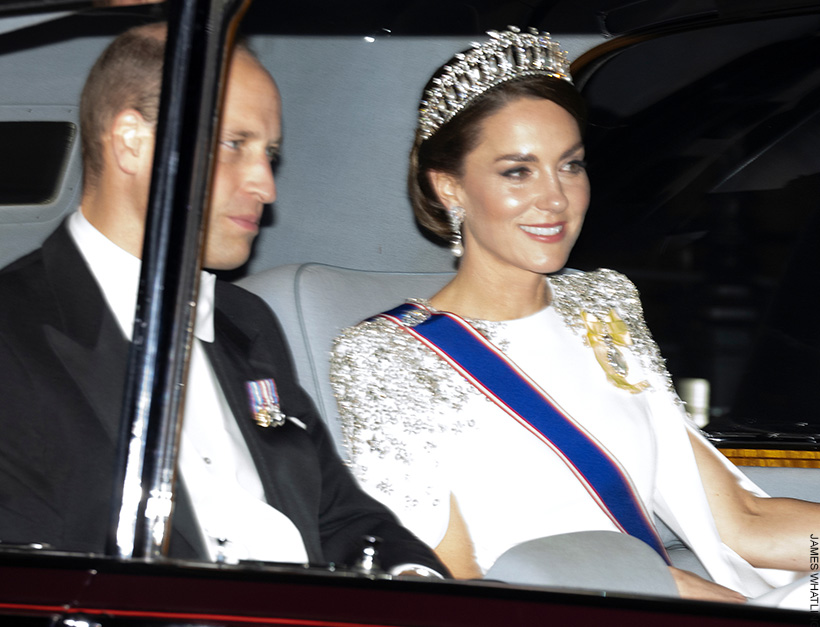 I'd just like to point out this was the first tiara we'd seen Kate wear in almost THREE YEARS (due to the pandemic). It's been lovely to see her in one again. Especially with such a show-stopping gown.
LET'S GO SHOPPING!
Black Friday discounts on Kate's handbags and jewellery!

CLICK TO SEE