Kate Middleton looked autumnal in plum purple tones this afternoon as she welcomed President Ramaphosa to the United Kingdom. The South African President is in the country on a State Visit.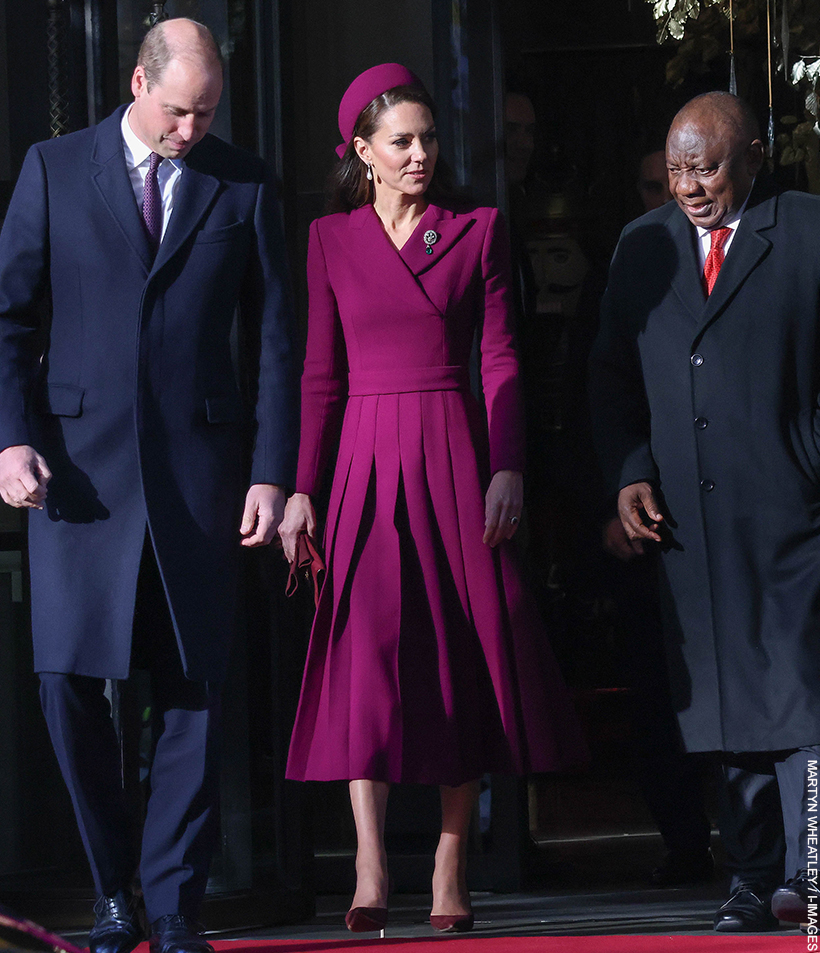 The Princess of Wales accompanied her husband to the five-star Corinthia Hotel where the two Royals met the President on behalf of The King. The three then travelled to Horse Guard's Parade where the President received a full Ceremonial Welcome.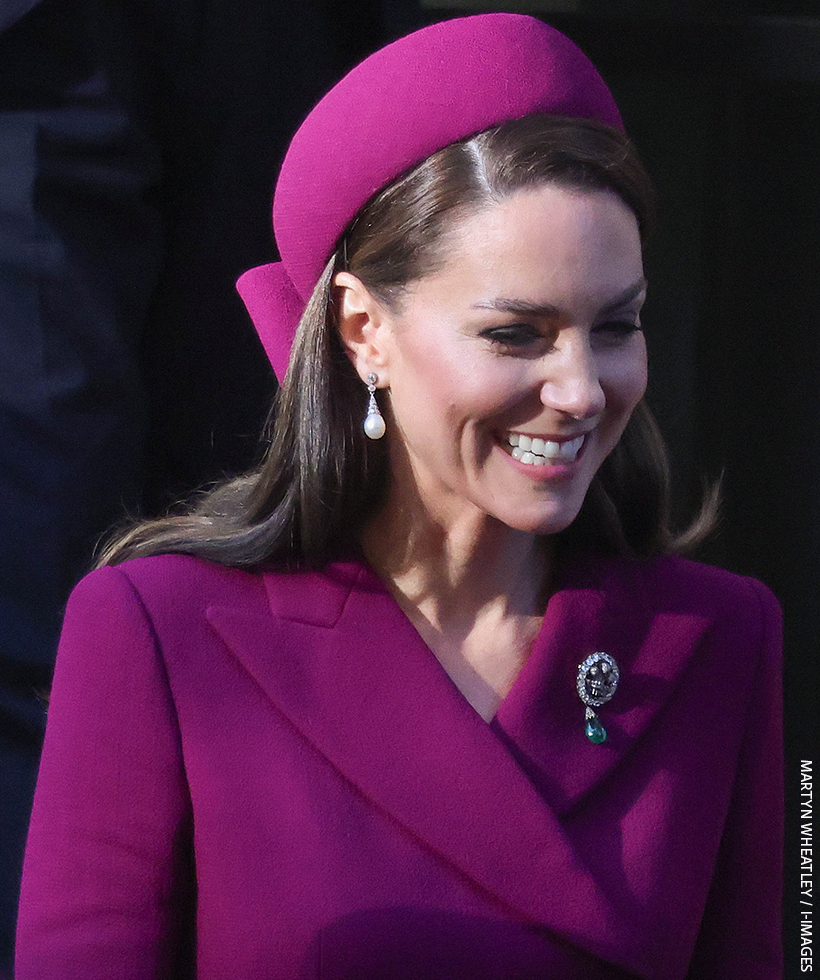 Kate Middleton's outfit today:
The Princess wore an all-purple ensemble comprising of of a coat dress with a matching hat, coordinating pumps, gloves and handbag. She finished the look with two special pieces of jewellery. Let's take a deep dive: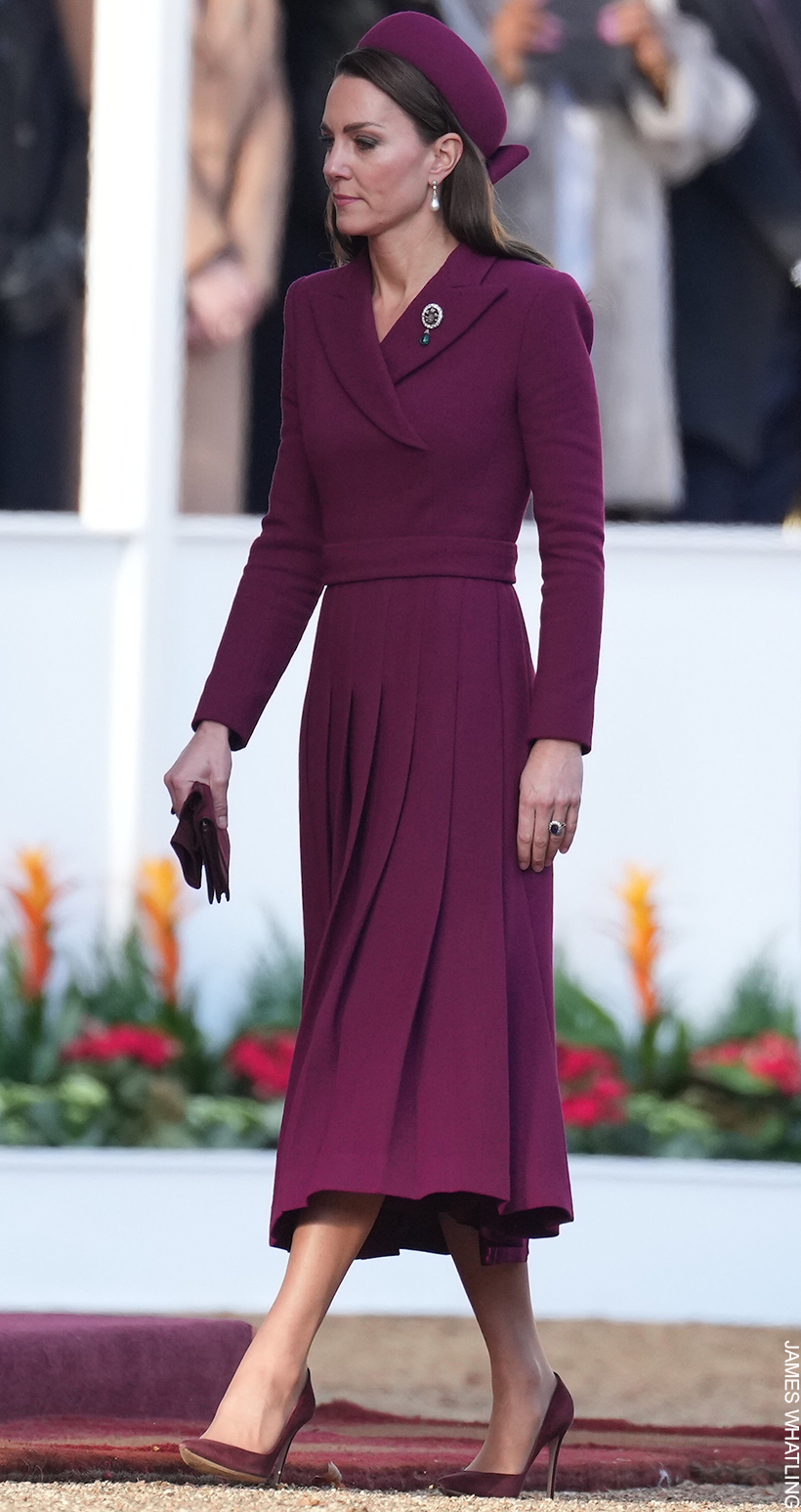 The Daily Mail confirmed the Princess wore a coat dress from her go-to designer, Emilia Wickstead. The piece features peak lapels, a mid-length knife-pleat skirt, waistband and long sleeves.
It looks like this is a bespoke piece—created just for Kate. You can see elements of the design in Emilia Wickstead garments she's worn previously. Namely, the peak lapels on the purple suit jacket she wore last autumn and the waistband.
These photos don't show one other key detail which is apparent in other pictures—both dresses also feature seams that run from waist to bust.
Emilia Wickstead sell various ready-to-wear coats and dresses, but to commission this exact piece you'd need to contact the atelier. Scroll down on this page and you'll see a phone number and an email address specifically for this purpose.
Emilia Wickstead is London-based designer (originally born in New Zealand). Luxury online fashion store, MyTheresa describes Wickstead as "a favorite label for countless powerful women, from royalty to A-list stars".
I'm sure if I sat and counted the designers Kate's worn over the last 11+ years, Emilia Wickstead would be near the top. Perhaps top three (I'd say Alexander McQueen will be top of the list. Second spot would be between Wickstead and Catherine Walker.)
Kate wore a coordinating pillbox hat with the dress. It looks like another Sean Barrett piece.
Earrings – Diana's Collingwood Pearl Earrings
Brooch – Princess of Wales Feather Brooch
Pumps – Gianvito Rossi 'Gianvito 105' in Burgundy Suede