William and Kate are stateside!  The royal pair landed at Logan International Airport in Boston, Massachusetts around 2pm local time on Wednesday (30th November 2022).  Kate stepped off the plane looking ready for business in a suit, roll-neck and heels.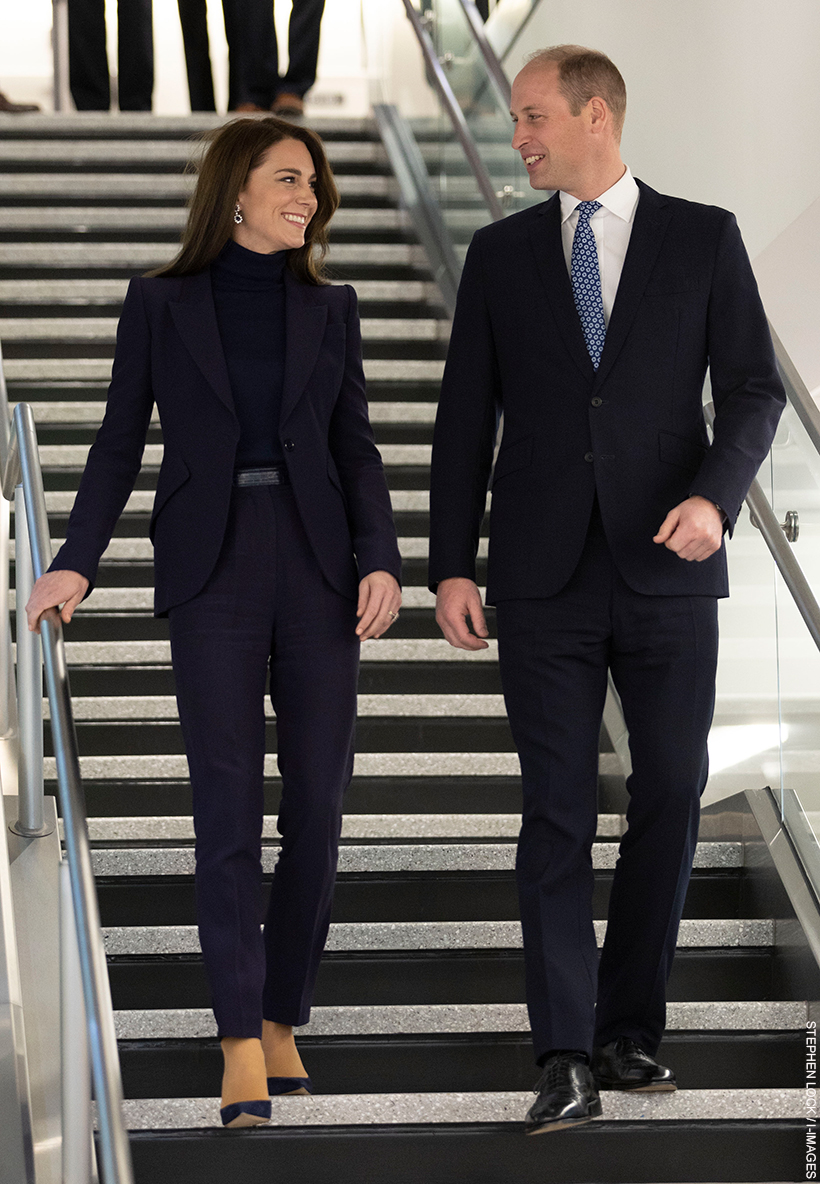 Governor Charlie Baker, First Lady Lauren Baker and Lt. Gov. Karyn Polito offered a warm welcome at the airport before the party set off for Boston City Hall.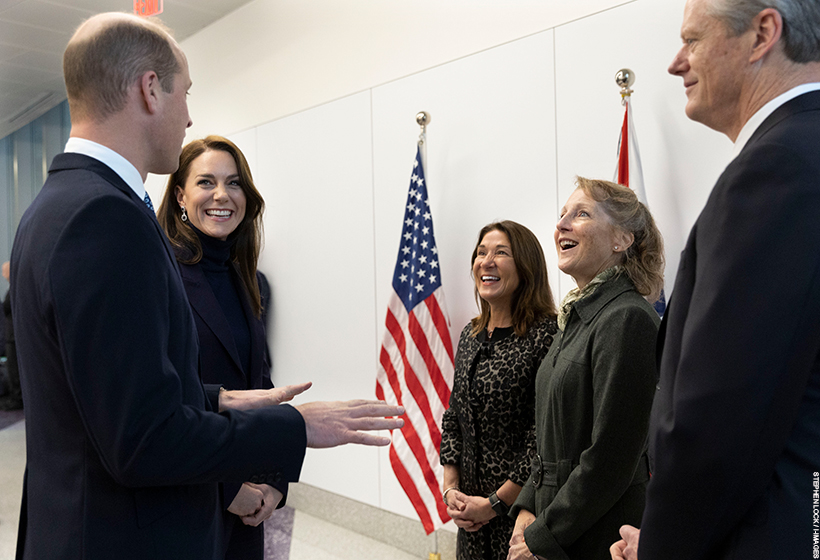 At City Hall, William and Kate met Mayor Michelle Wu and her family. Then, headed outside to meet Ambassador Caroline Kennedy, at Speaker's Corner, for a special event to officially start the countdown to the Earthshot Prize awards ceremony on Friday. (As Kate changed outfit, I will covering this in a second post—typing it up now!)
The Prince and Princess joined Ambassador Kennedy and Mayor Wu in lighting City Hall green in honour of Earthshot.
For those who need a quick reminder, Earthshot is William's ambitious initiative to find solutions to repair the planet. Through The Royal Foundation, Earthshot awards money to people trying to solve the world's greatest environmental problems. Five prizes are awarded at the Awards Ceremony, annually. Earthshot is in its second year and will continue until 2030.
Following the event, William and Kate attended a Celtics game (again, Kate changed outfits so this will be covered in a subsequent blog post).
William and Kate intend to fit a lot into their short trip. Over the next two days, the pair will visit a non-profit that helps young people, hear about local climate-related challenges, spend time with those who support vulnerable members of the community and learn about green technologies.
Kate will also visit the Center on the Developing Child at Harvard University, a leader of scientific research into the early years.
Kate Middleton's outfit at Boston Logan Airport:
Kate stuck to her tried and tested formula of wearing tonal separates. The Princess wore a blue-purple suit with a navy roll-neck sweater and coordinating accessories. Let's take a deep dive: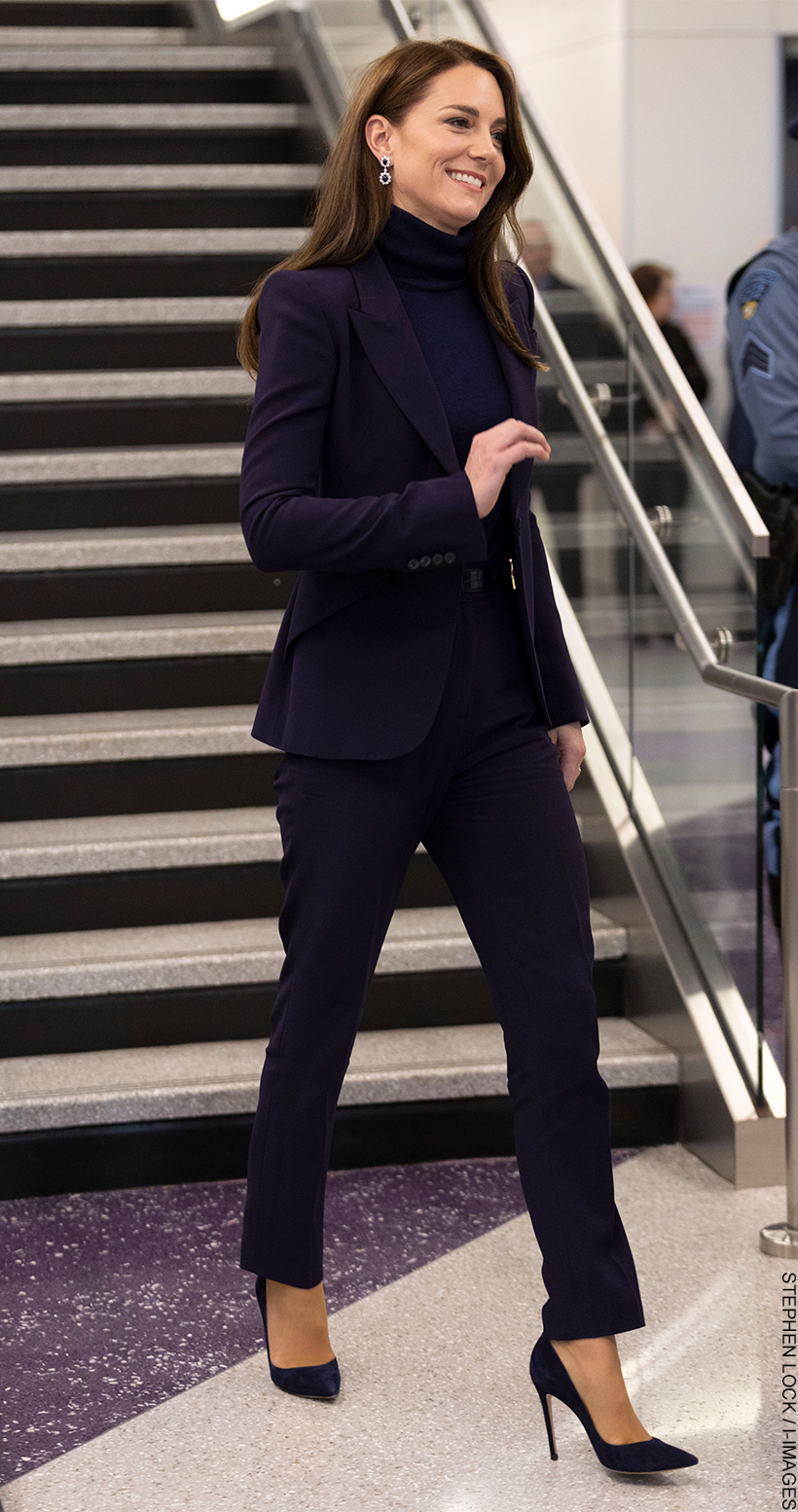 I'd say with some confidence that she's wearing the Leaf Crepe Jacket by Alexander McQueen with a pair of matching trousers by the same designer.
She appears to be wearing the 'amethyst' colour. However, I'm not totally confident to say 100%. In some photos, the suit looks more navy. McQueen did make it in navy: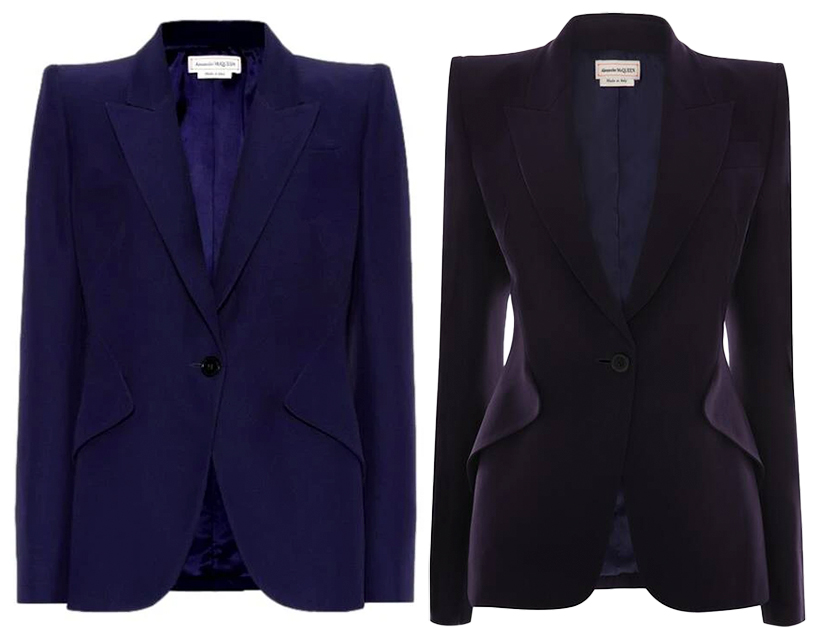 We know the Princess owns it in navy too, we've seen her wear it before.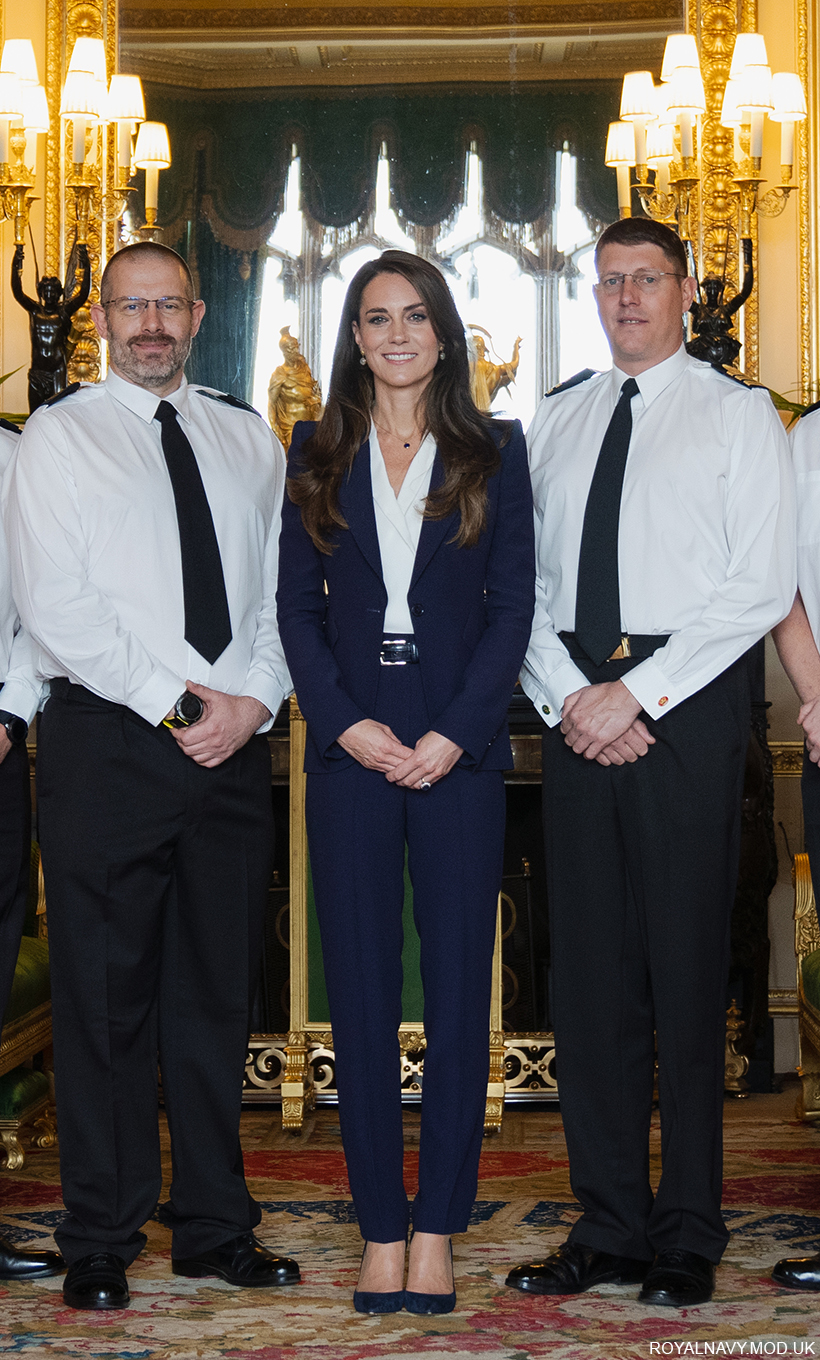 (With thanks to TrackingRoyal via Middleton Maven for finding the amethyst version of the suit). If I had to choose, I think she's wearing the Amethyst version at the airport.
McQueen describes the jacket as having "peak shoulders, flap pockets and a single button fastening." It's crafted from a viscose-acetate mix fabric.
The jacket is listed on Alexander McQueen's UAE site—sadly it's out of stock—but we can see it sold for AED 7,320—approximately £1,640 Stirling or $1,993 US dollars at today's exchange rate.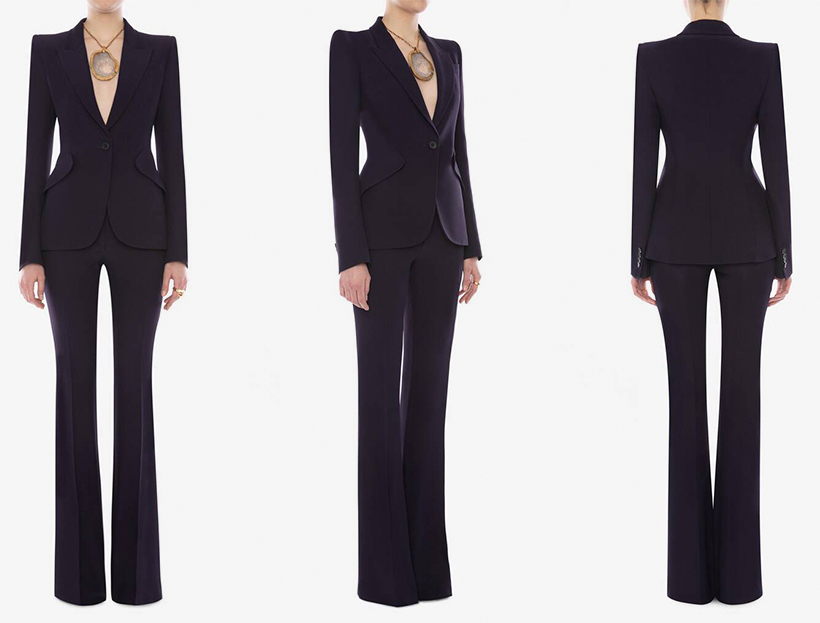 The Princess wears several Alexander McQueen suits—here's her wearing the same blazer and coordinating trousers in pink and white:
She also wore a very similar black design to film a video for the Wildlife Photographer of The Year Awards in 2020. (This is called the Leaf Tuxedo jacket).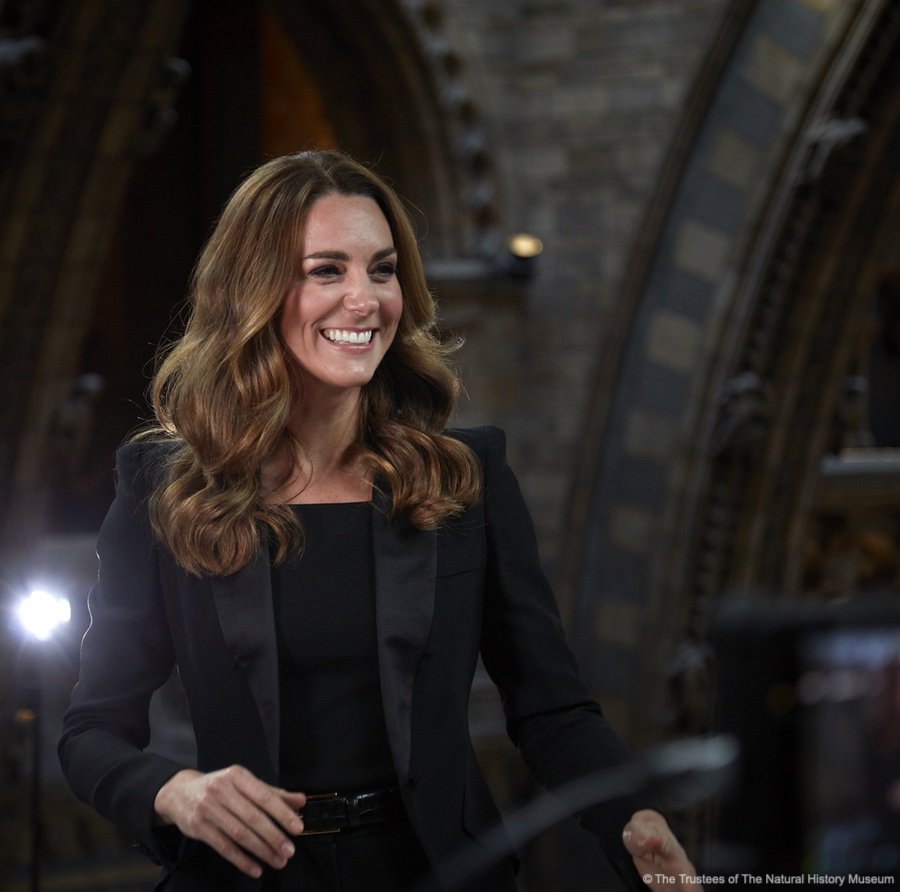 It looks like Kate paired the suit with her Gianvito Rossi Gianvito 105 pumps.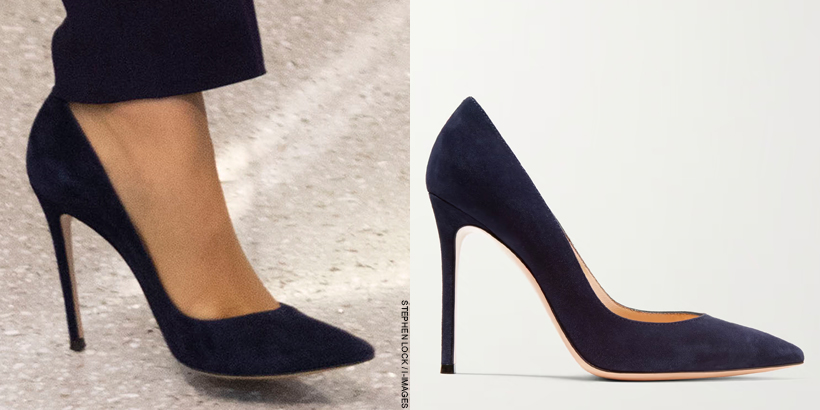 Kate owns this shoe in six or seven… maybe eight different shades? To be frank, I've lost count! The pumps feature a slim heel that measures at 105mm high, an elegant pointed toe and are leather lined with leather soles. The exterior of the shoe is crafted from fine suede leather. Each shoe is handmade in Italy.
The Princess finished the look with Diana's double sapphire drop earrings.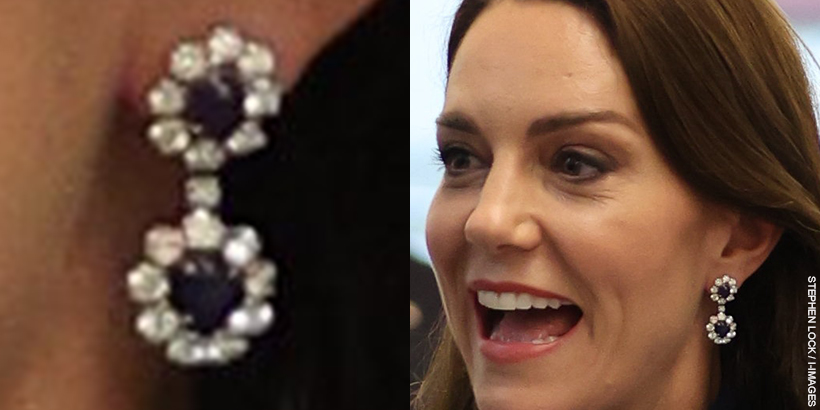 Kate first wore the stunning jewels to Trooping the Colour parade during Jubilee celebrations back in June. Pictured below: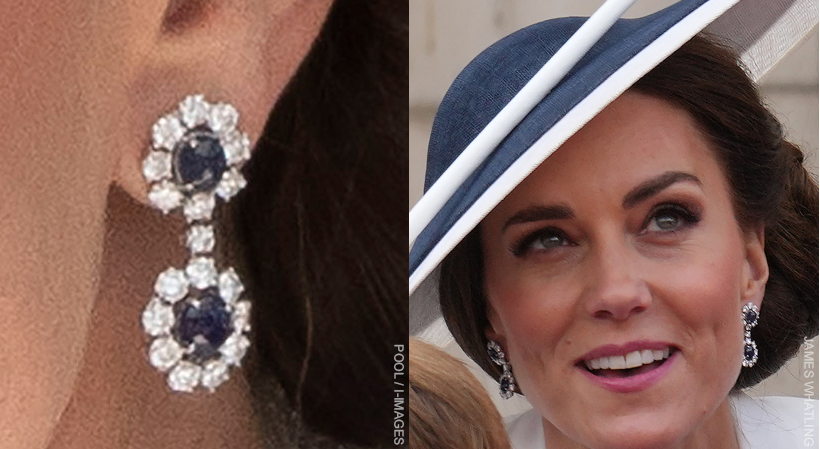 I'll refer you to my favourite royal jewellery blog for a description of the earrings:
diamond and cabochon sapphire earrings, with a stud and drop design

The Court Jeweller
Princess Diana often wore the earrings, including for a high profile visit to USA in 1985—I suspect Kate knew this when planning her outfit and choosing jewellery and this informed her descision.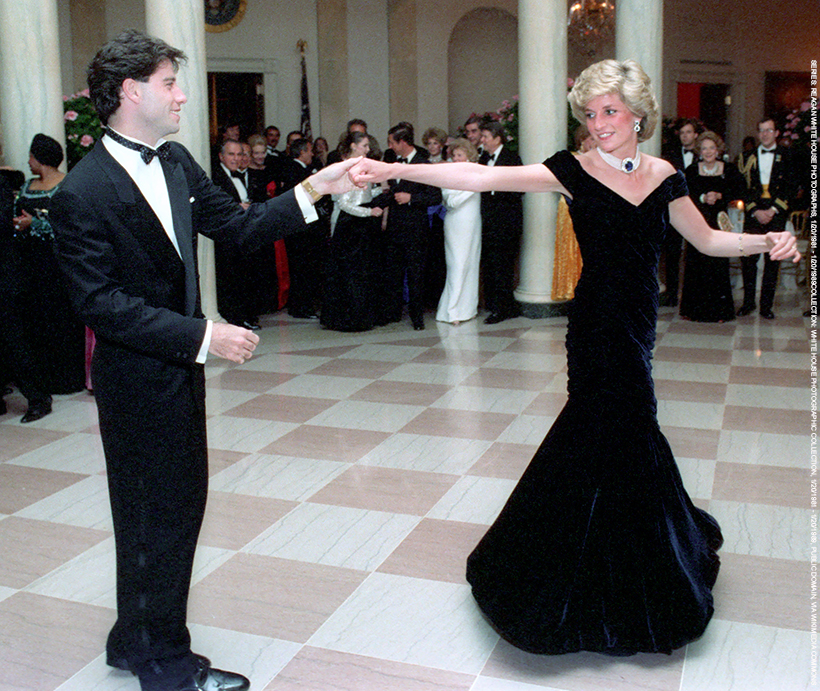 The late Princess of Wales wore the the sapphire earrings for dinner and dancing at the White House—this was the famous she took to the dance floor with John Travolta.