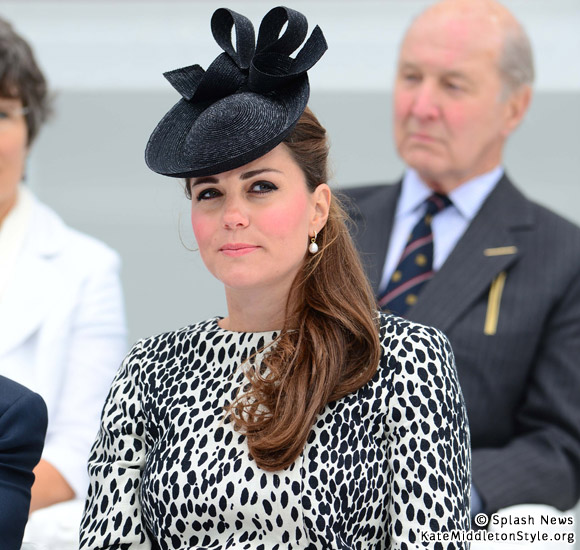 Today marked Kate's final solo public engagement before she is due to give birth next month.  The Duchess officially named the 'Royal Princess' ship in a traditional 'christening' ceremony.  The 3,600 passenger vessel is the newest in the Princess Cruises fleet.
Kate was honoured with the prestigious title of "Godmother" to the ship.  Typically, this role is awarded to female celebrities and the occasional royal family member.  During her rein, The Queen has christened three different Cunard ships.  The latest was her namesake, the Queen Elizabeth in 2010.
About Kate's outfit:
Kate wore the £169 "Dalmatian" print macintosh from the upper-end of the high street retailer, Hobbs:
The coat is described in the following way:
"Dalmatian is the print of the season. Be stylish and animal friendly with the Hobbs Dalmatian mac – a minimalist design that lets the print make the statement. Hanging to the knee, the collarless coat has a zip fastening and two front pockets. Wear it with a simple outfit to give the mac its full effect."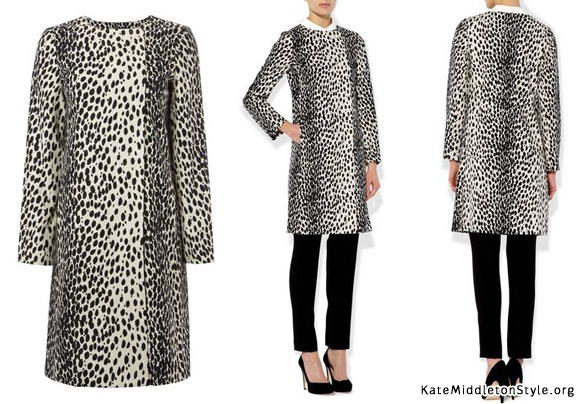 The black and white print coat is already sold out on the Hobbs website, but is still available in some sizes at both John Lewis and House of Fraser.
Shop similar Dalmatian print items from Hobbs:
Under, Kate wore a white dress, which we could not see.
She accessorised her printed coat with her Annoushka pearl drop earrings on Kiki McDonough ear hooks, her black suede Episode Angel shoes and a new (to the public!) grey-white clutch bag by Alexander McQueen:
The bag was available at Selfridges (seen here on ShopStyle) and Net-A-Porter in both black and red.
The small satchel bag is known as the "Wicca Mini Leather Satchel", the bag did retail at £640, but was reduced to £260 on Net-A-Porter, where it is described as follows:
Alexander McQueen's dark-red leather mini satchel bag is the new season's most sophisticated way to carry your cocktail essentials. Hold it by the short top handle, or wear it cross-body with the adjustable shoulder strap.
Anna from My Small Obsessions notes that Harry Potter star Emma Watson owns the larger size bag in the same white colour as Kate.
Finally, Kate debuted a new hat today, by Sylvia Fletcher for Lock & Co.  It's known as the 'Salsa' and retailed for £295.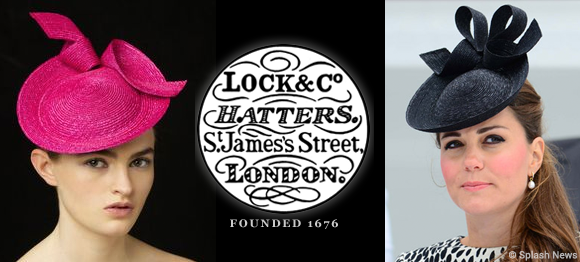 With thanks to Michelle F and Anna N for help with some IDs.
More about the naming ceremony:
In her capacity as Godmother to the ship, Kate cut a rope, which ceremoniously broke a £1,250 Nebuchadnezzar of Moet champagne on the ship's hull, officially naming the ship.  (A Nebuchadnezzar is 15 litre bottle of campagne.)
Kate announced: 'I name this ship Royal Princess, may God bless her and all who sail in her.'
The late Diana, Princess of Wales named the ship's predecessor in 1984.  That ship was also named Royal Princess, but it is no longer in service.  (It's very common for cruise lines to 'reuse' names like this.)
A number of celebrities attended today's event, including entertainer Bruce Forsyth and singer Natasha Bedingfield.  A number of special guests from Kate's charities and organisations were invited too.  EACH were one such organisation benefiting from today's events.
The new ship has been celebrated with a weeklong programme of events, including a celebrity-studded gala dinner onboard the ship last night.
Here's a video shot during the event:
httpv://youtu.be/d36oNCi8Y6I
Kate's future engagements:
Kate is expected to attend the Trooping of the Colour ceremony this weekend, though it as yet unclear whether she'll attend the Order of the Garter procession and service on the 17th June.
Baby Cambridge Twitter chat: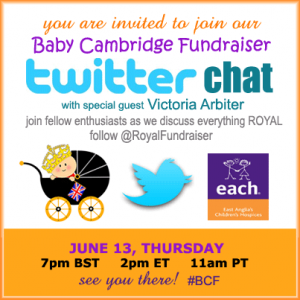 If you love chatting about all things royal on Twitter, PLEASE join us for a Baby Cambridge Twitter chat on Twitter later today. We'll be talking to special guest Victoria Arbiter, who is the Royal Contributor for CNN and CTV, and contributor for Entertainment Tonight, OMG Insider and Australia's Channel 7 Morning Show.
To join in, simply follow @RoyalFundraiser and open a stream for the hashtag #BCF to follow along with all the other royal fans.
Victoria will be answering questions, plus we'll be discussing lots topics about Kate, Baby Cambridge and EACH.
JOIN US AT:  7pm BST / 2pm ET / 11am PT
(To help those in Europe, I think that's 6pm GMT)