Kate Middleton wore this Hobbs London Dalmatian print coat twice between 2013-2015.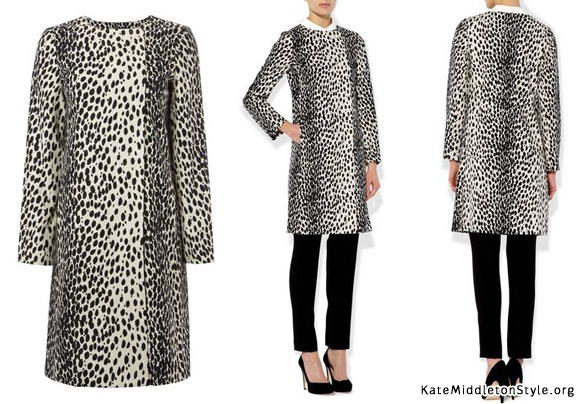 The Princess wore it while pregnant on both occasions. Although not strictly a maternity coat, the Princess clearly found the shape accommodating for her growing baby bump.
She wore the coat in June 2013 while around 8 months pregnant with Prince George.  She wore the coat to christen the Royal Princess ship.
The Princess wore the coat for a second time during a visit to Margate in March 2015.  She was around 8-months pregnant with Princess Charlotte.
About the Hobbs Dalmatian Mac:
Hobbs crafted the collarless knee-length coat from Dalmatian-print fabric. Black spots sit upon an ivory background.  It features long sleeves. From the Hobbs website (back in 2013):
Dalmatian is the print of the season. Be stylish and animal friendly with the Hobbs Dalmatian mac – a minimalist design that lets the print make the statement. Hanging to the knee, the collarless coat has a zip fastening and two front pockets. Wear it with a simple outfit to give the mac its full effect.
Here's a closer look at the fabric and the Dalmatian spot print: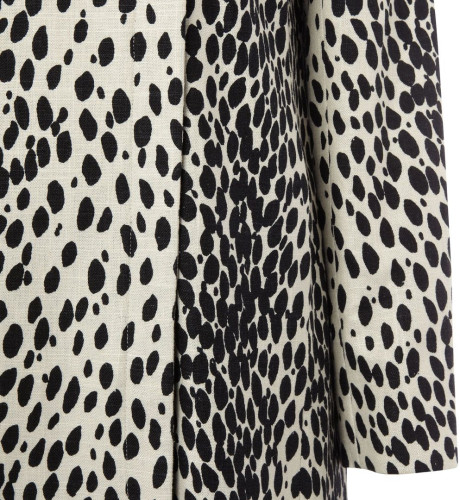 Can I still buy the Dalmatian print coat?
As you'd expect, the coat is no longer stocked by Hobbs London.  Original RRP: £169.
At the time of writing, October 2023, you can find a handful of Dalmatian coats on eBay.
About Hobbs London:
Hobbs London is one Kate's go-to brands for public engagements, and one we'd see quite often during the earlier years of her marriage.  She's worn a number of pieces from the high-street shop over the years.
Coats appear to be a particular favourite. Kate wore the brand's well-loved Tilda coat in fuchsia with a coordinating pink sweater for a school visit in 2021.
Recently, she chose the brand's Celeste coat in Chestnut brown for a day of engagements in Cornwall.