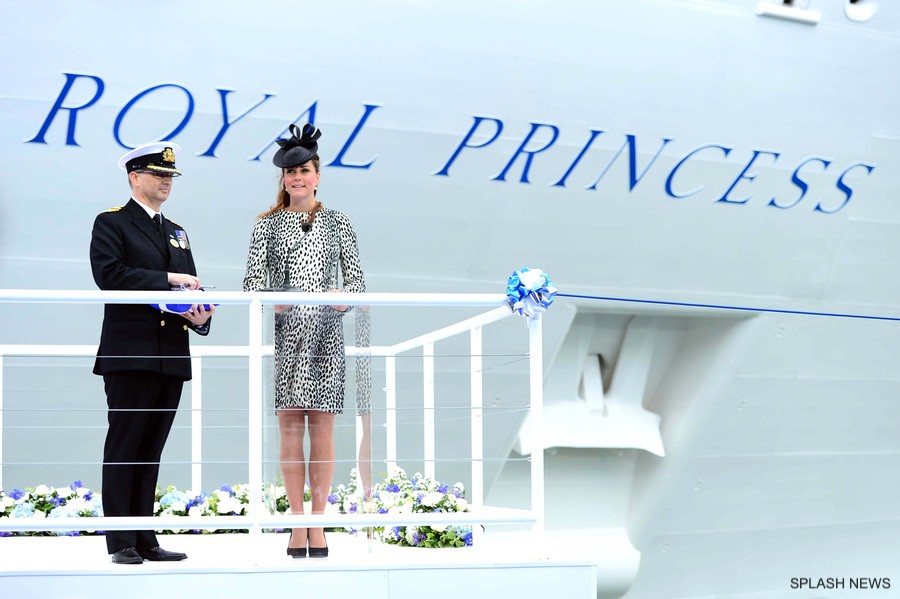 On the 13th of June 2013, the Duchess of Cambridge (Kate Middleton) attended a traditional ship 'christening' ceremony.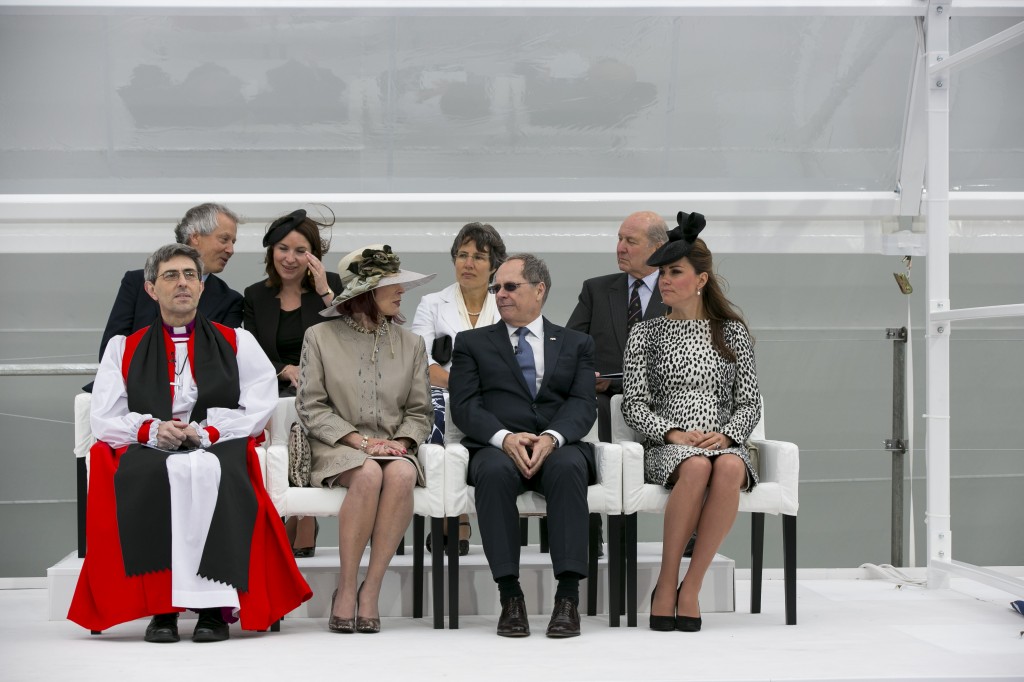 During the ceremony, she officially named the 'Royal Princess', a 3,600 passenger vessel from the Princess Cruises fleet.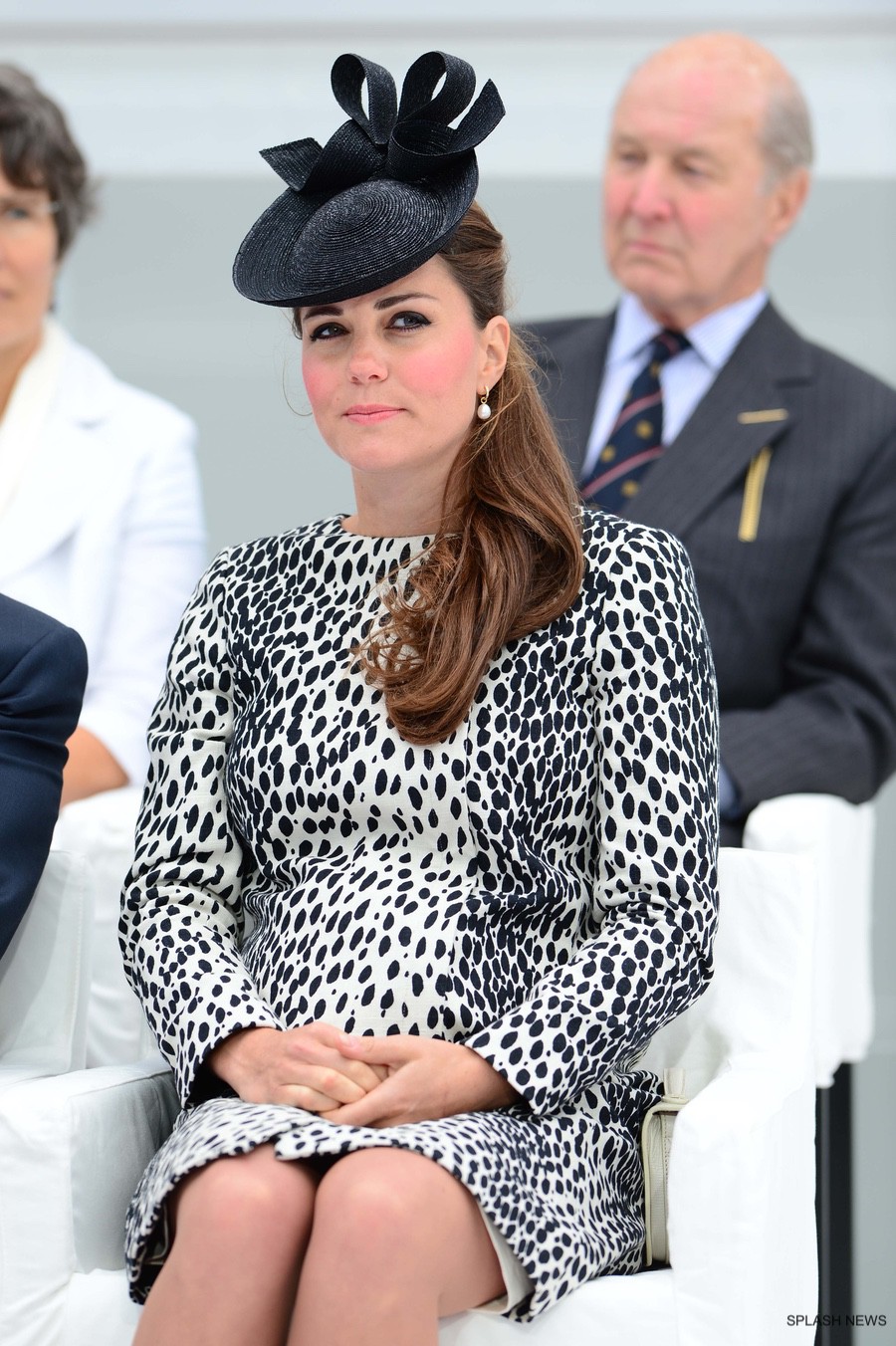 It was the heavily pregnant Duchess's final solo public engagement before she went on maternity leave.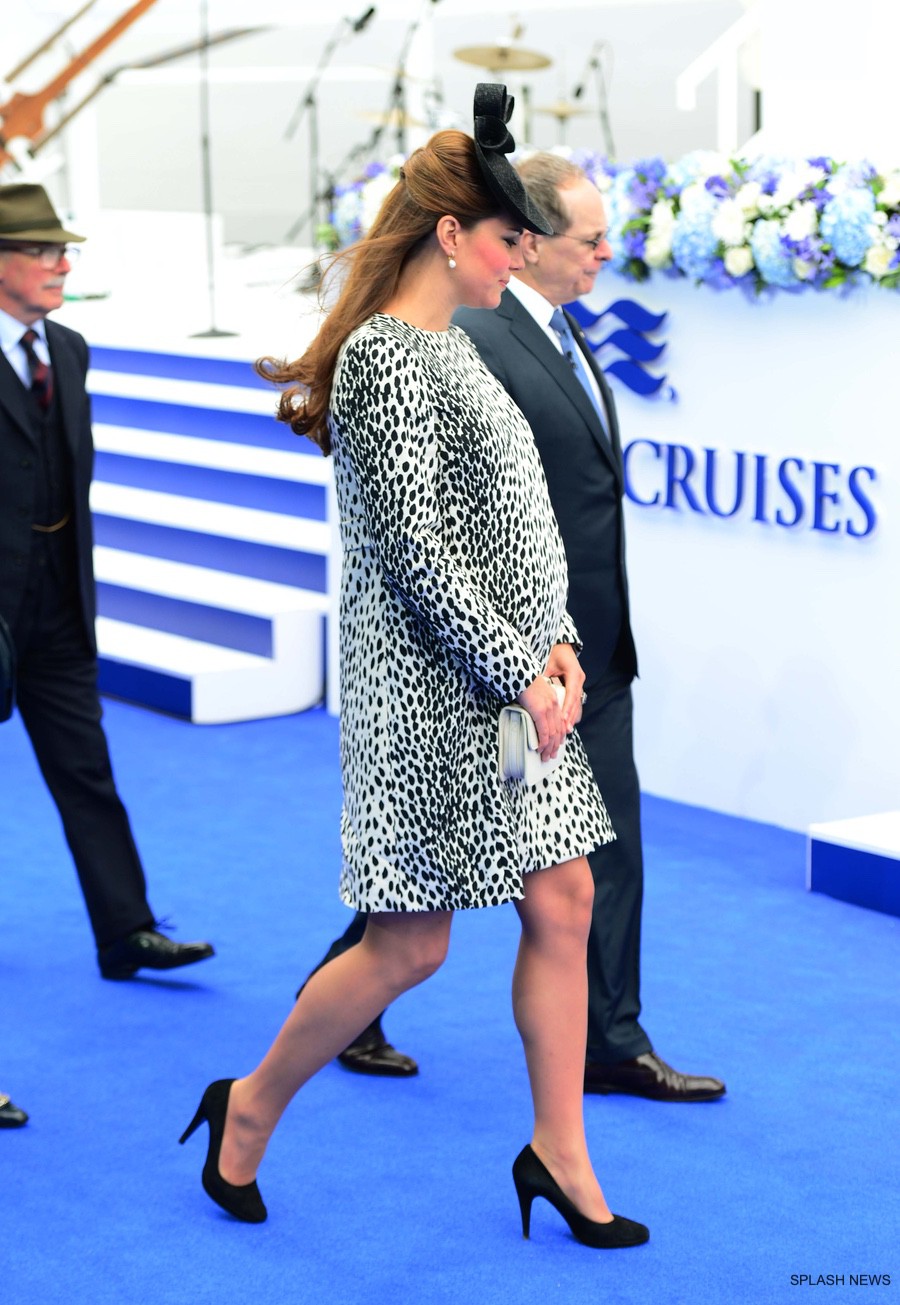 Princess Cruises named Kate 'Godmother' to the ship. Usually, this title is awarded to female celebrities and the occasional royal family member. The Queen has been Godmother to three ships during her reign.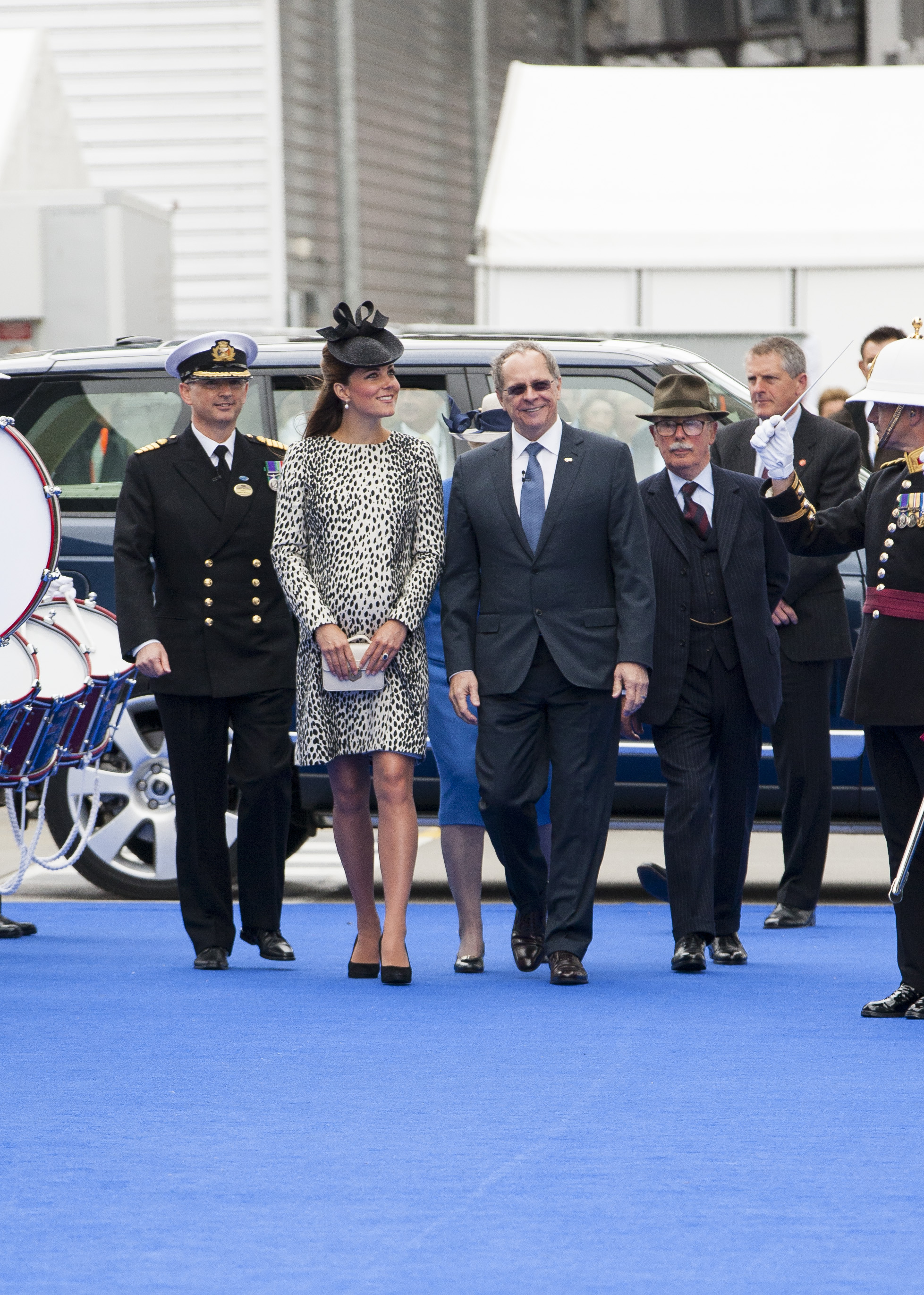 Kate cut a rope to break a £1,250 Nebuchadnezzar of Moet champagne on the ship's hull, officially naming the ship. (A Nebuchadnezzar is a 15-litre bottle of champagne.)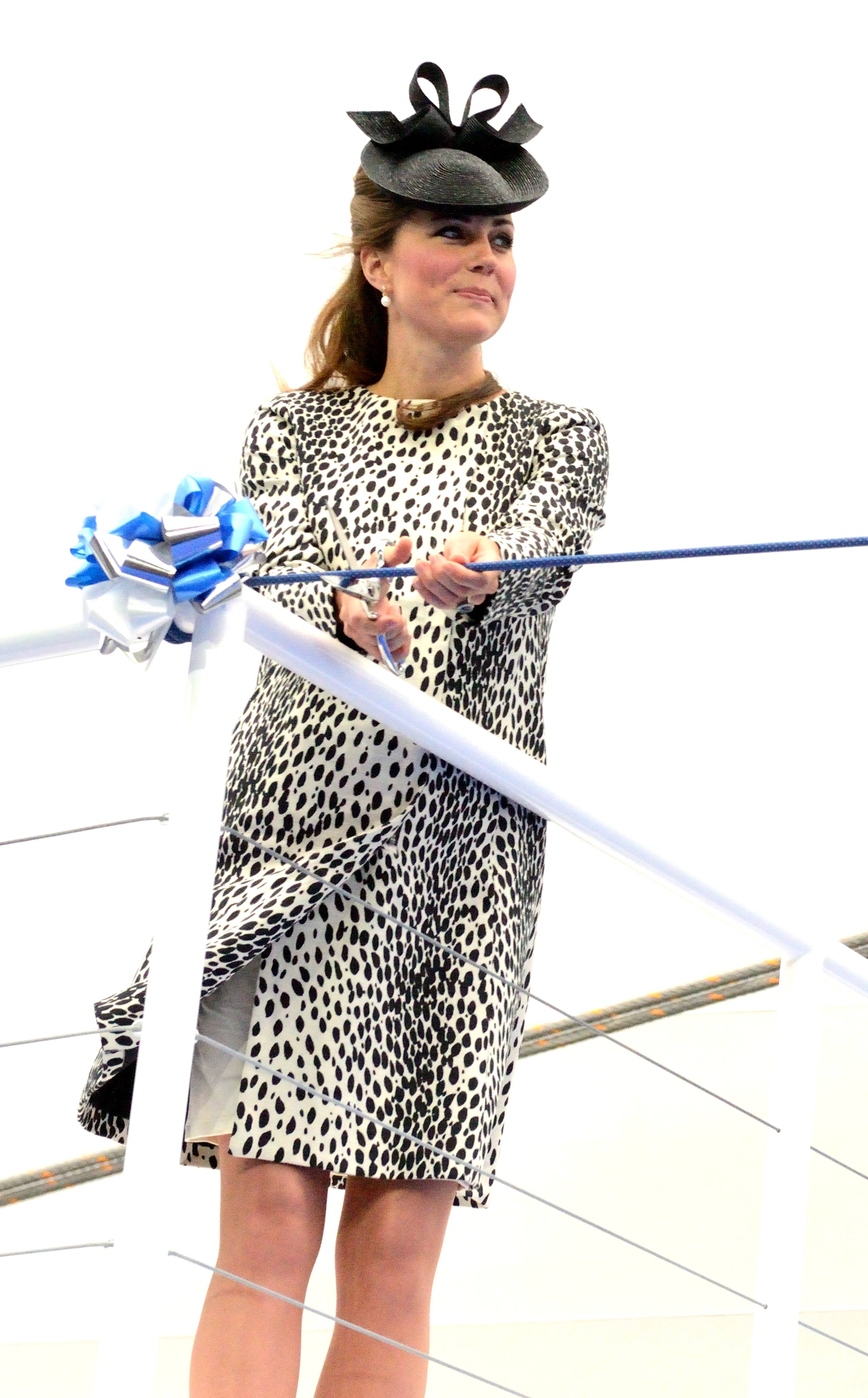 As the ceremonial bottle smash took place, Kate said 'I name this ship Royal Princess, may God bless her and all who sail in her.'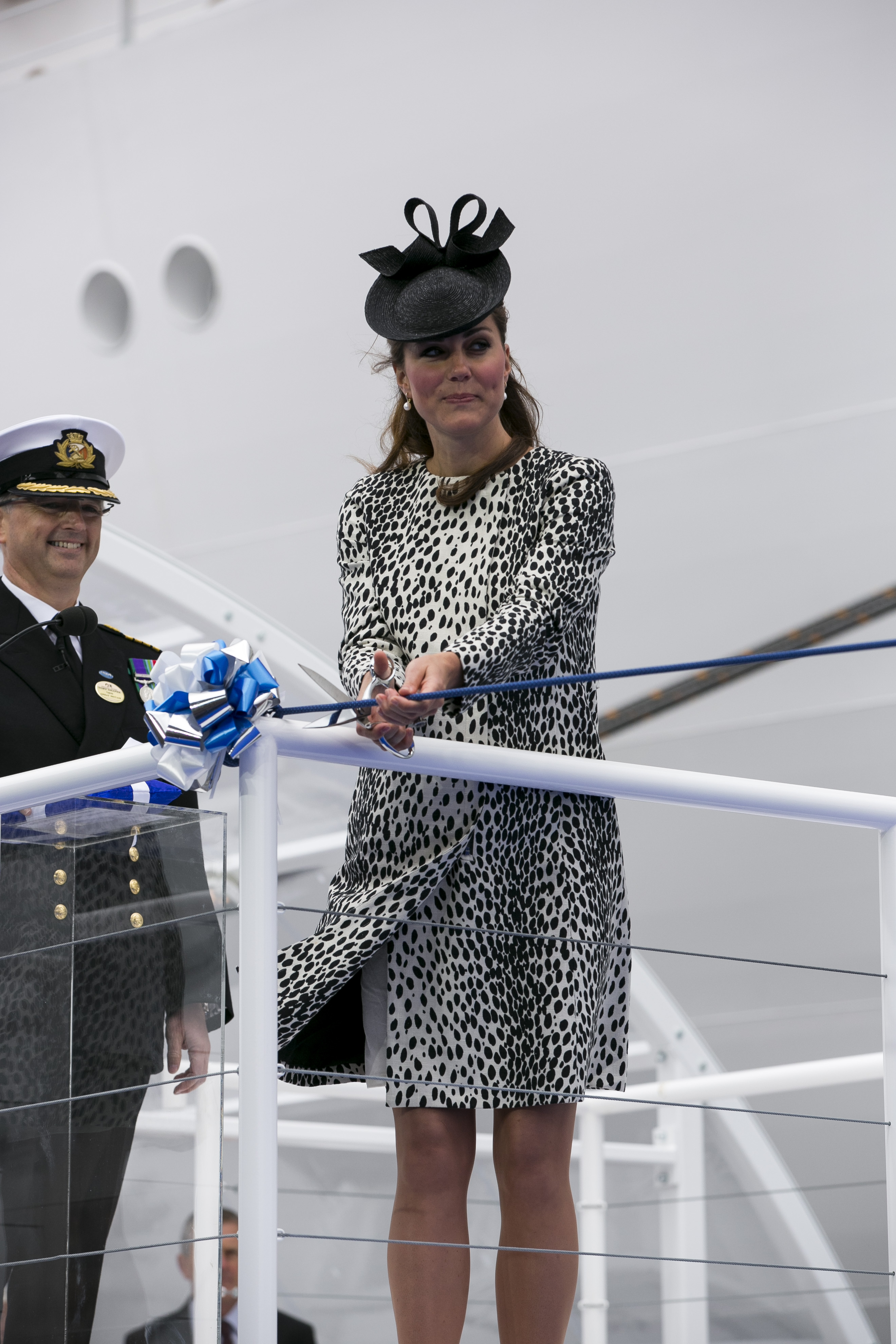 The late Diana, Princess of Wales named the ship's predecessor in 1984. That ship was also named Royal Princess, but it is no longer in service. (It's very common for cruise lines to 'reuse' names like this.)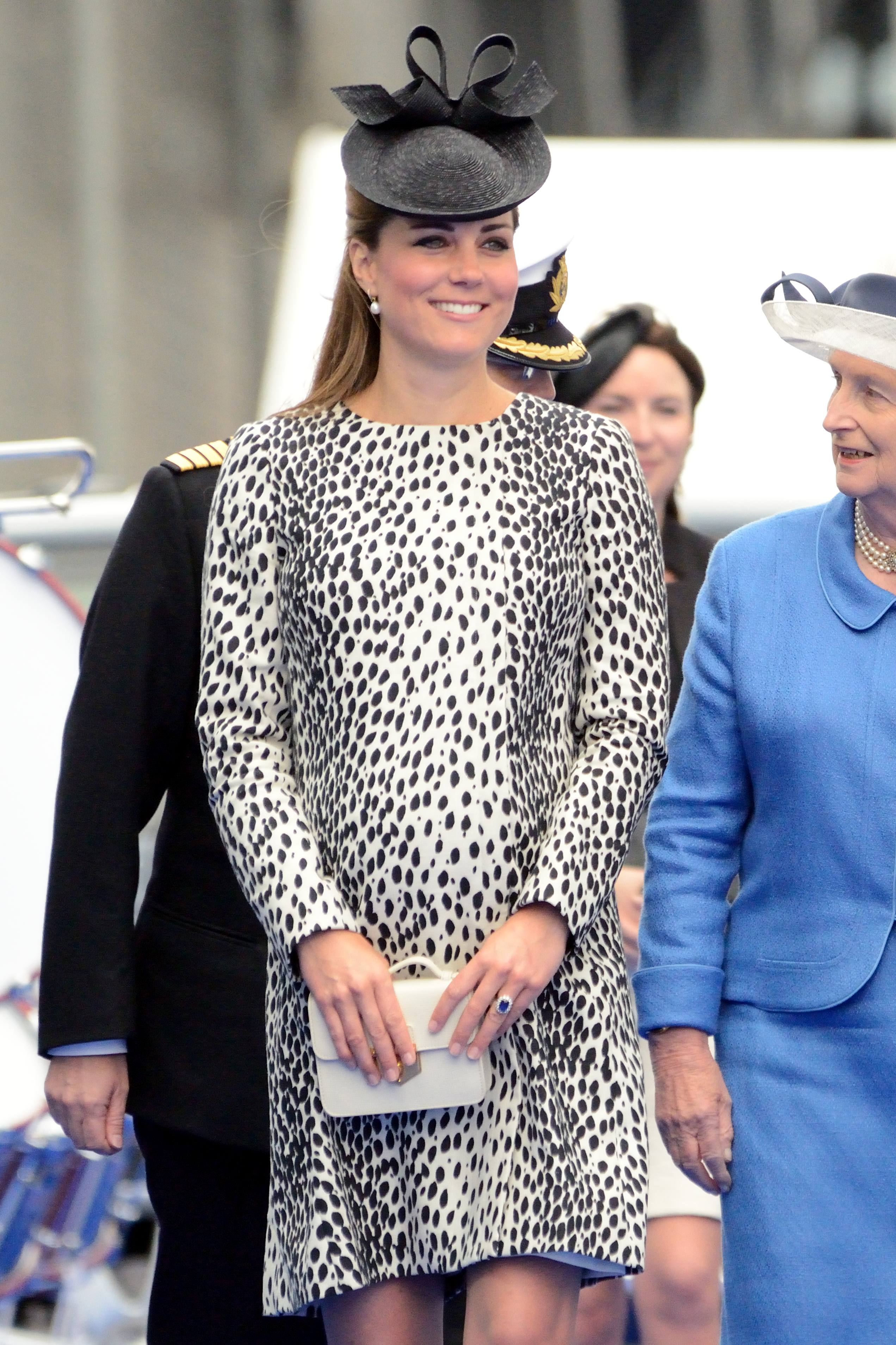 A number of celebrities attended the event, including entertainer Bruce Forsyth and singer Natasha Bedingfield (pictured below).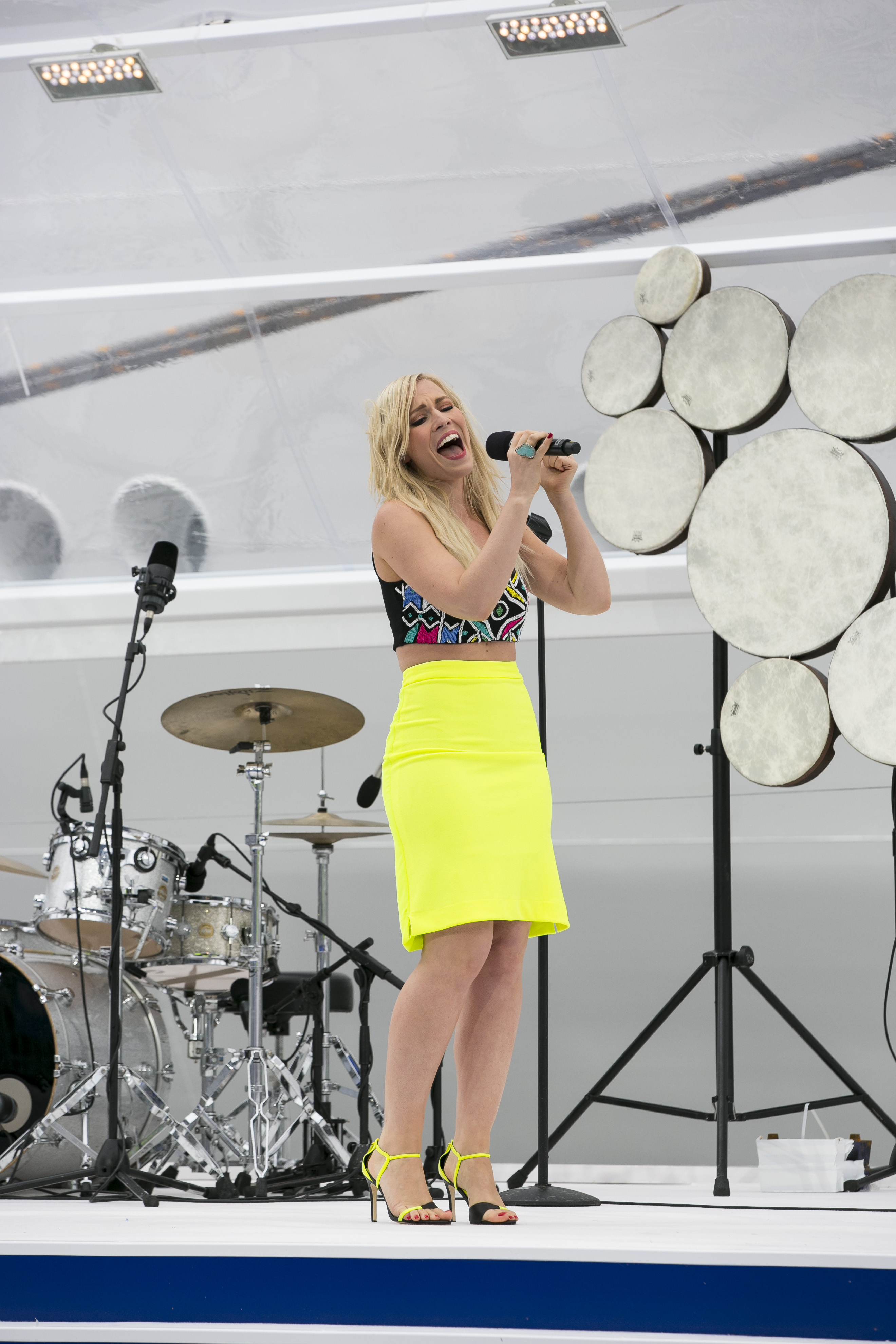 Guests from Kate's charities and organisations were invited too.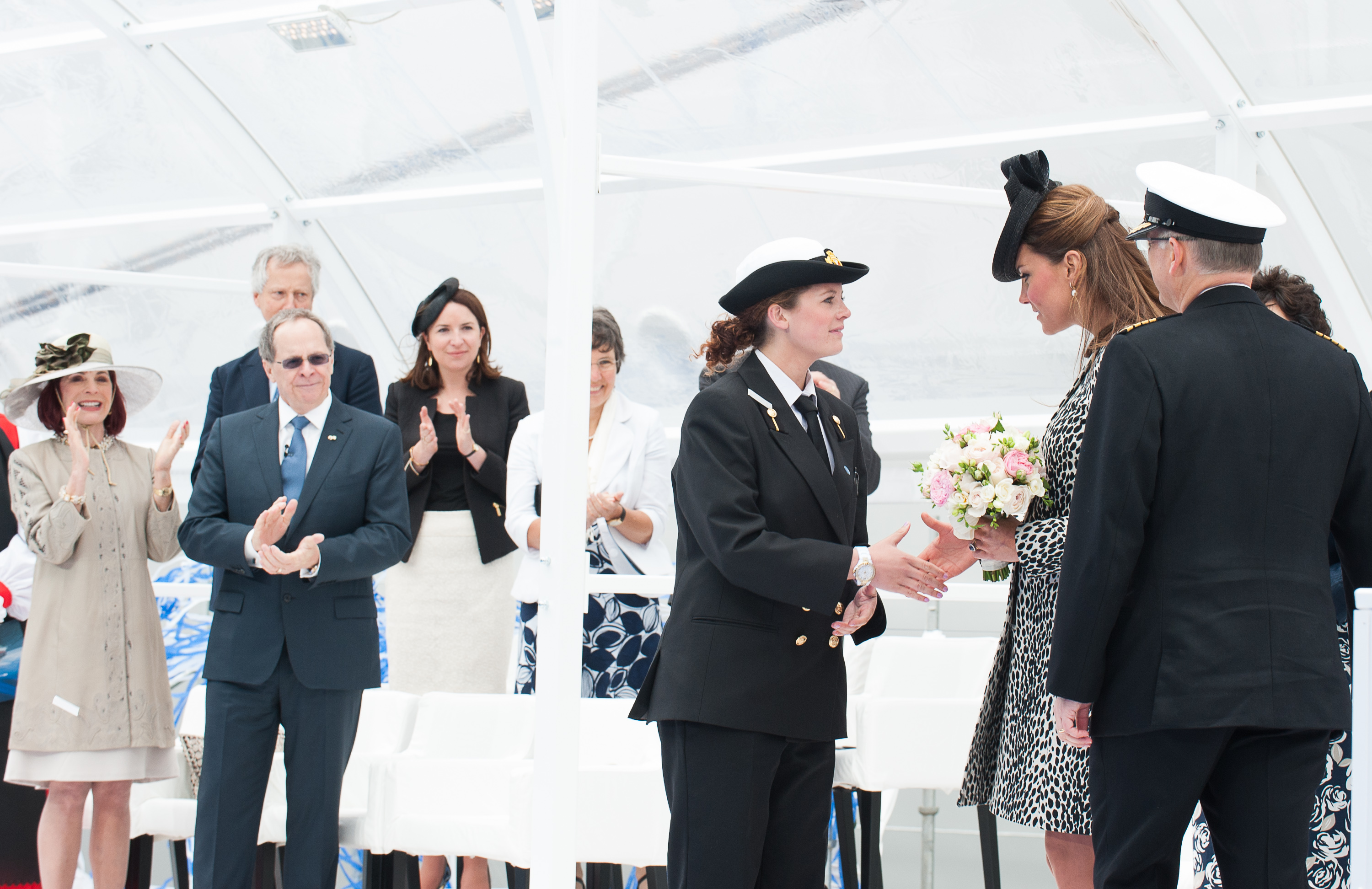 Kate also met with the ship's staff during her visit.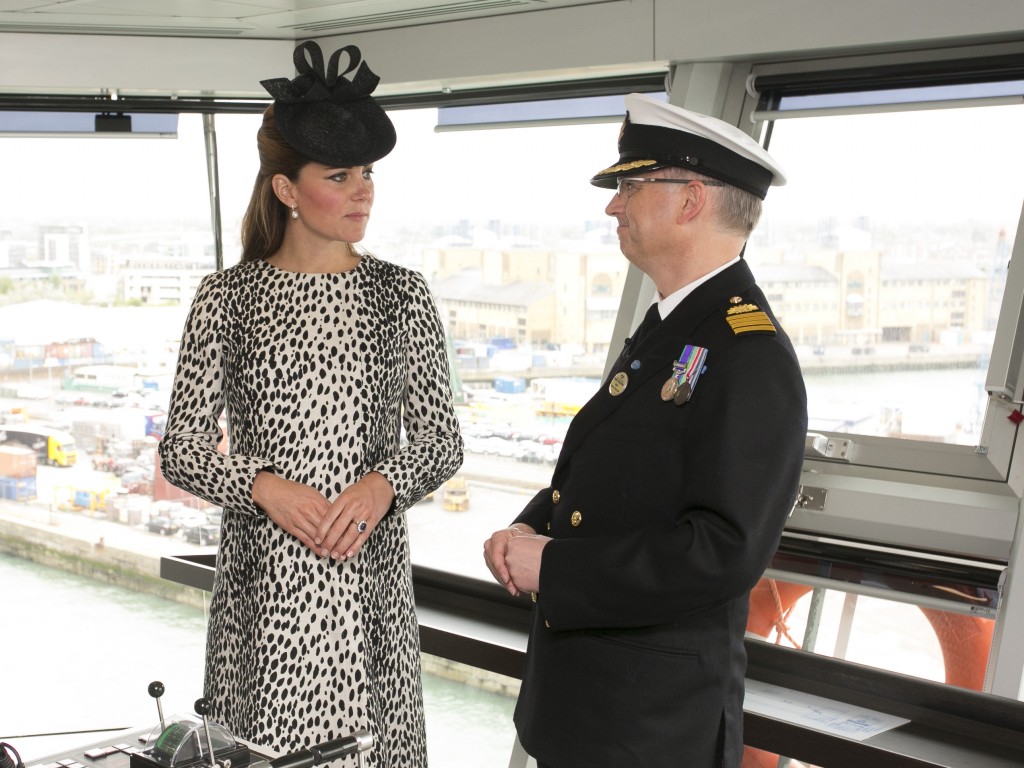 Princess Cruises celebrated their new ship with a weeklong programme of events, including a celebrity-studded gala dinner.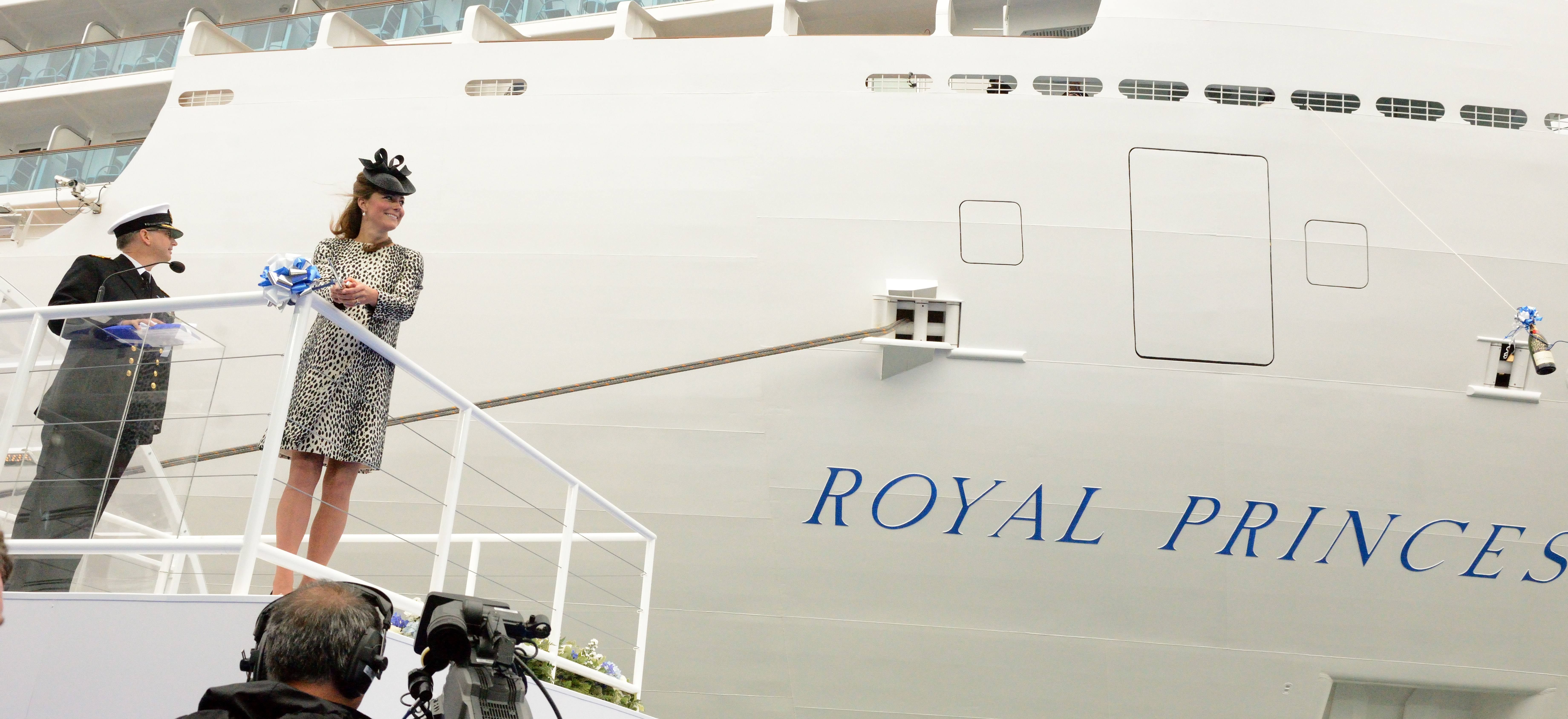 A video from the event:
About Kate's outfit:
For the ship naming ceremony, Kate chose the black and ivory 'Dalmatian' print macintosh from Hobbs London: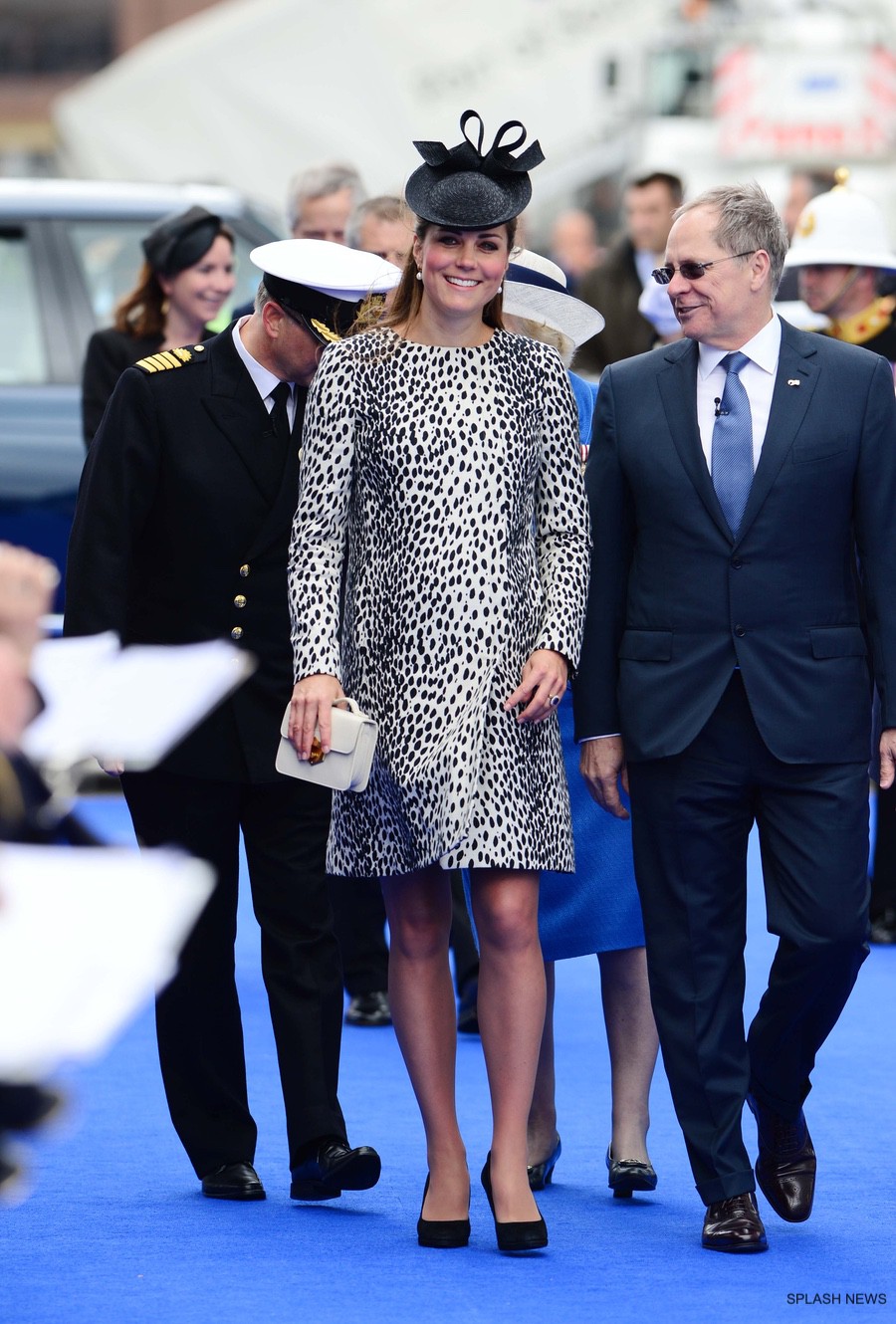 Here's how Hobbs described the coat back in 2013:
Dalmatian is the print of the season. Be stylish and animal friendly with the Hobbs Dalmatian mac – a minimalist design that lets the print make the statement. Hanging to the knee, the collarless coat has a zip fastening and two front pockets. Wear it with a simple outfit to give the mac its full effect.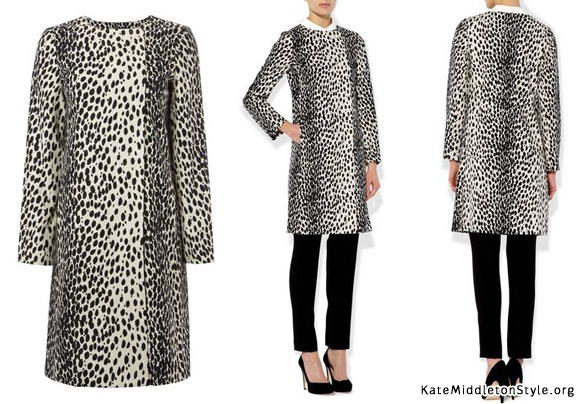 Kate paired the spotty coat with a white dress. Unfortunately, we could not see it under her dress so have no further details about the piece.
The Duchess accessorised her printed coat with her Annoushka pearl drop earrings, which sit upon gold Kiki McDonough hooks.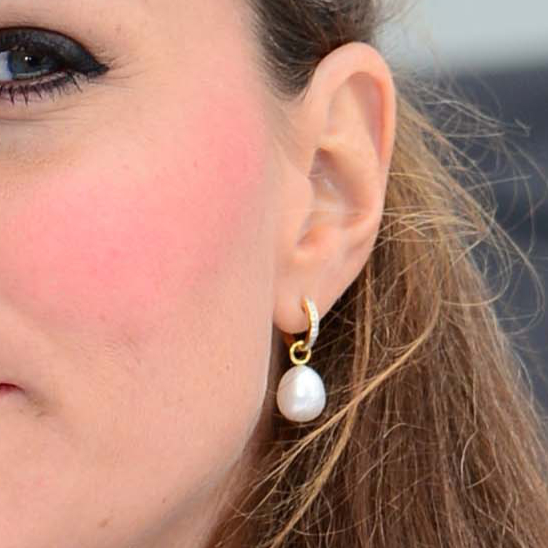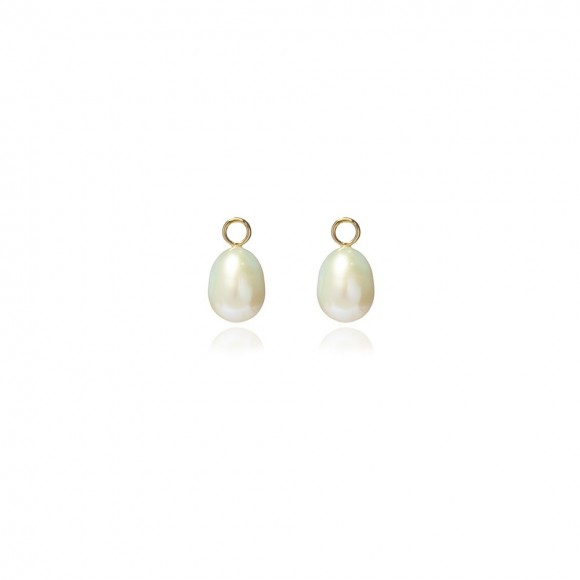 The earrings feature creamy white freshwater pearls suspended from 18ct gold rings. They cost £350 at the time of writing (September 2019). You can purchase them from the designer's website, here.
For the occasion, Kate carried a new clutch bag by Alexander McQueen. It is the designer's 'Wicca Mini Leather Satchel'.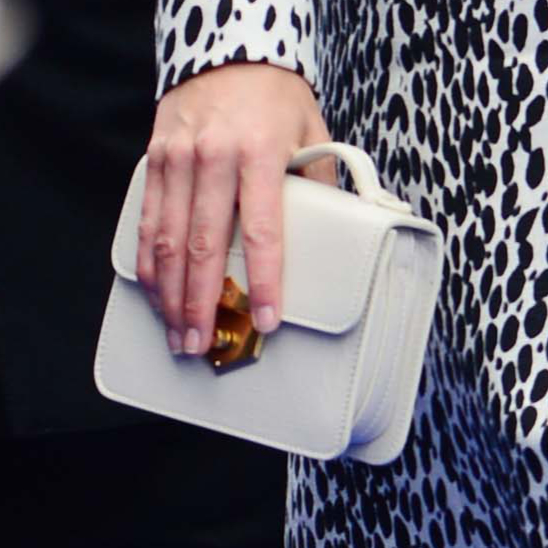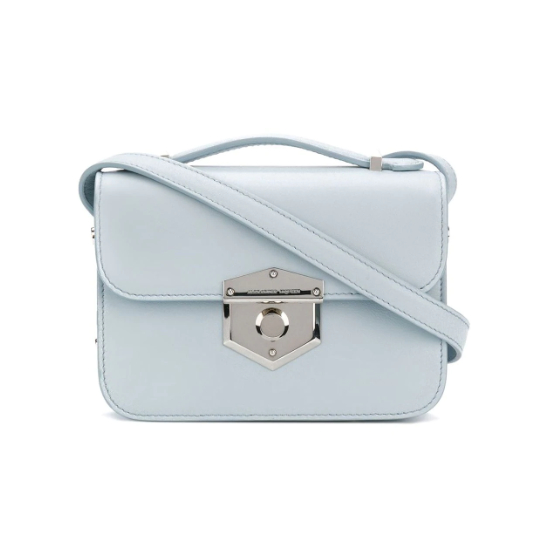 Note, Kate carries it in ivory/cream, but we show the ice blue version above – available on FarFetch.com for £1,190 at the time of writing (September 2019).
Finally, Kate debuted a new hat. It was by Sylvia Fletcher for Lock & Co. It's known as the 'Salsa' and retailed for £295.