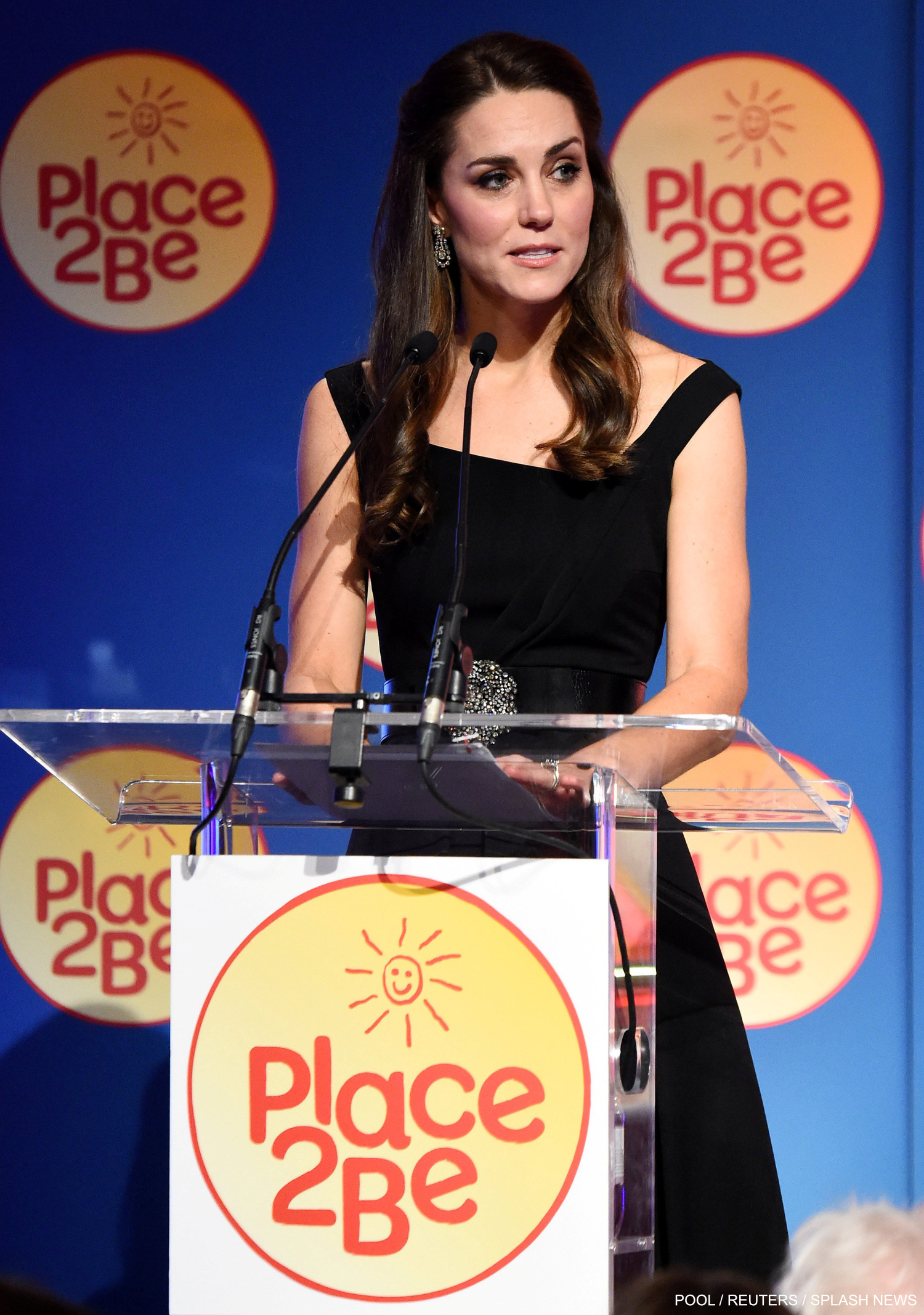 After a busy afternoon at the Natural History Museum, Kate attended Place2Be's Wellbeing in Schools Awards at Mansion House (the official residence of the Lord Mayor of London) on the evening of Tuesday 22nd November 2016.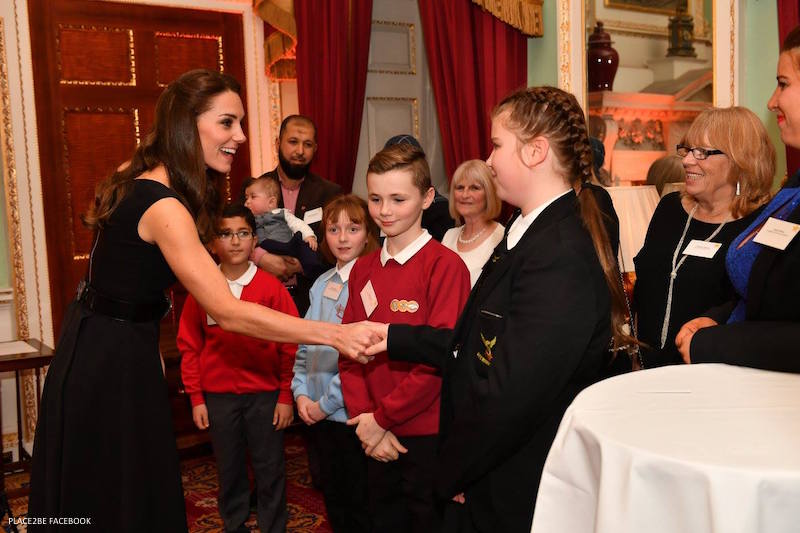 According to Place2Be, the awards ceremony "recognised the remarkable commitment to championing children and young people's mental health of individuals and schools from all over the UK".
This was the charity's second awards ceremony. They held their first in 2014. You may recall Kate was the guest of honour.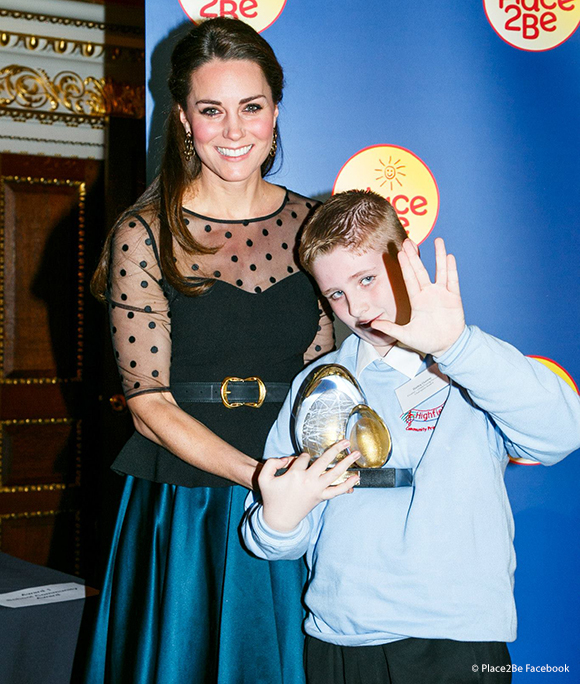 Kate met with pupils, teachers and School Leaders to celebrate the inspiring ambassadors of positive mental health in Place2Be schools.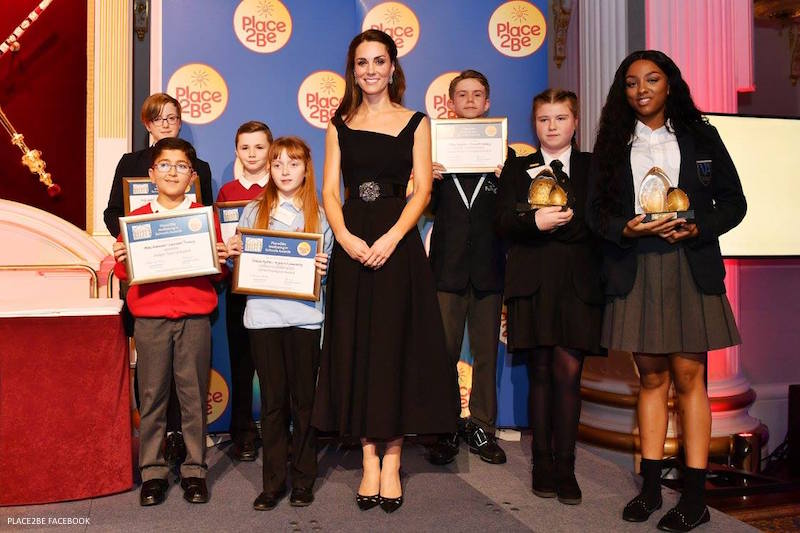 During the evening, Kate heard from an emotional mother whose son has autism. Kate hugged the lady to comfort her saying "I just had to do that, as a mother." Awww…!
During the awards ceremony, Kate gave a short speech:
I have been privileged over recent years to visit a number of schools and to meet the teachers, volunteers, and parents who make Place2Be's work a reality. Together, you ensure your students know they have somewhere to turn, someone who will listen, or simply a safe place to escape.
As you all recognise through your support of Place2Be, even the luckiest people can face great challenges. No matter how invincible we seem on the surface, all of us need help from time to time. This is why William, Harry and I have set up the Heads Together campaign. We want to end the stigma surrounding mental health that stops people getting the help that and support that they so desperately need.
You can read more about the awards and see the full list of winners and finalists on this page.
Kate's outfit:
If you followed along with the 2016 Canada Tour, Kate's black dress ought to look pretty familiar to you.
It's the same Preen Finella dress that she wore in red, back in September. Kate wore it on day three to the to the historic reconciliation ceremony with Canadian First Nations and to the reception that followed.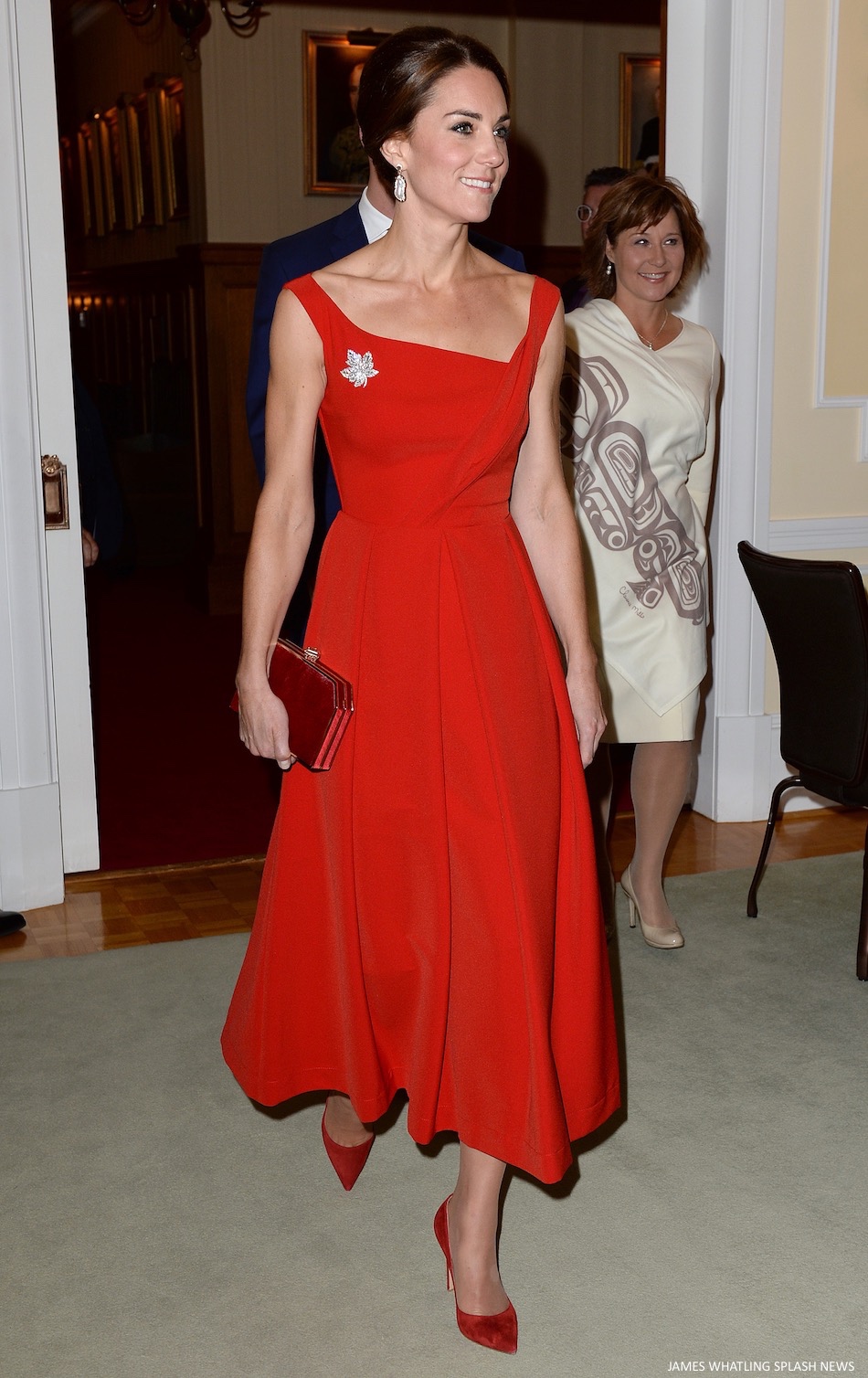 The black dress is made from a stretch-crepe fabric. It features a draped bodice, nipped-in waist and box-pleated skirt.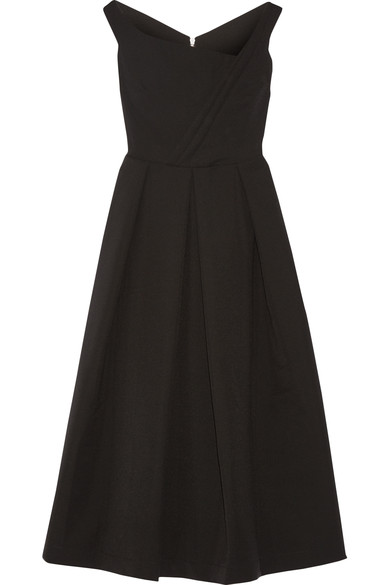 Net-A-Porter.com describes the dress as having an "ultra-flattering, elegant silhouette". Kate chose to fly the flag for British fashion, as this dress is designed and made in the UK.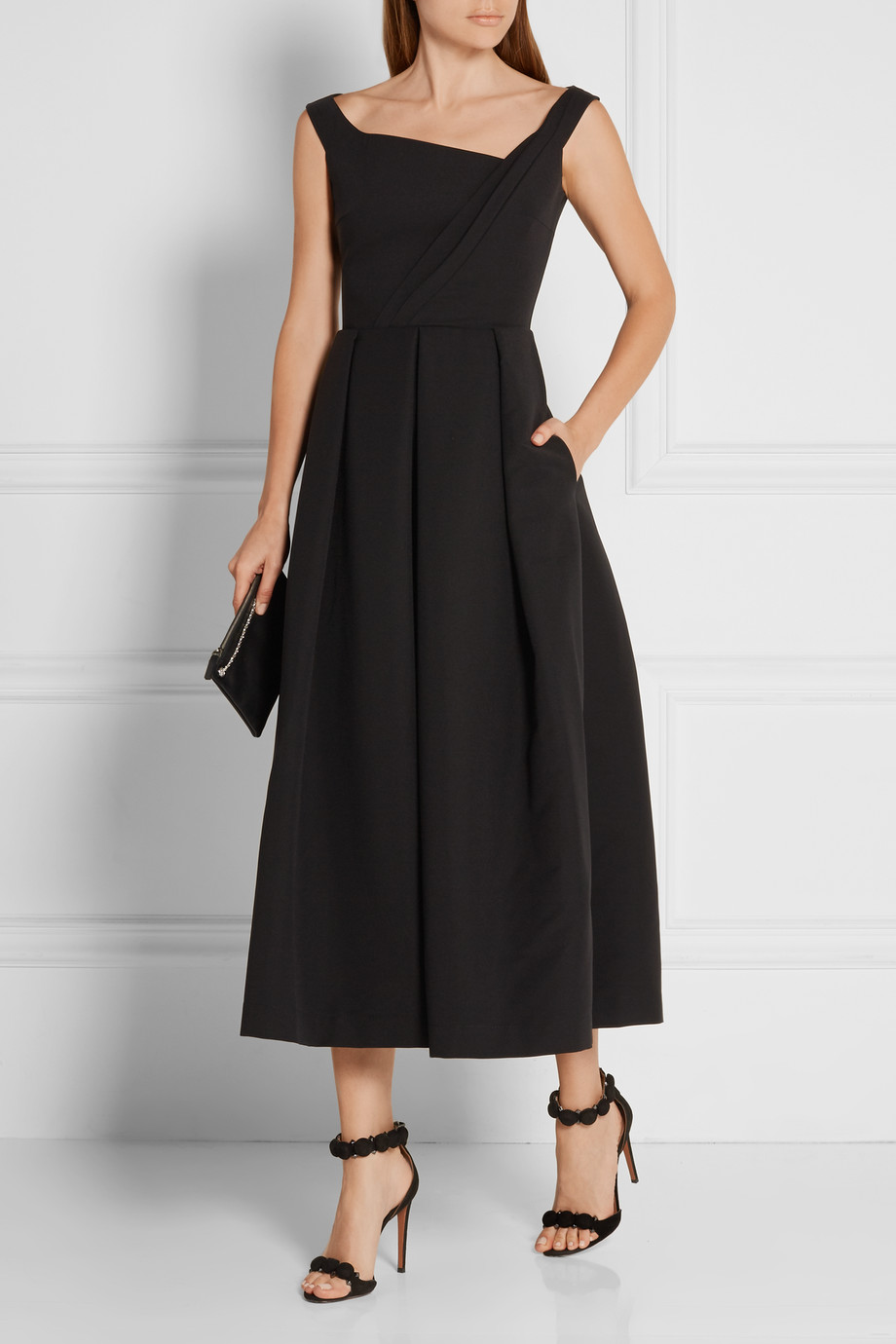 The dress is still available to purchase in limited sizes at Net-A-Porter, where it costs $1,715 USD / £889 GBP.
It can also be purchased from Browns in small, medium or large for £1,000 GBP.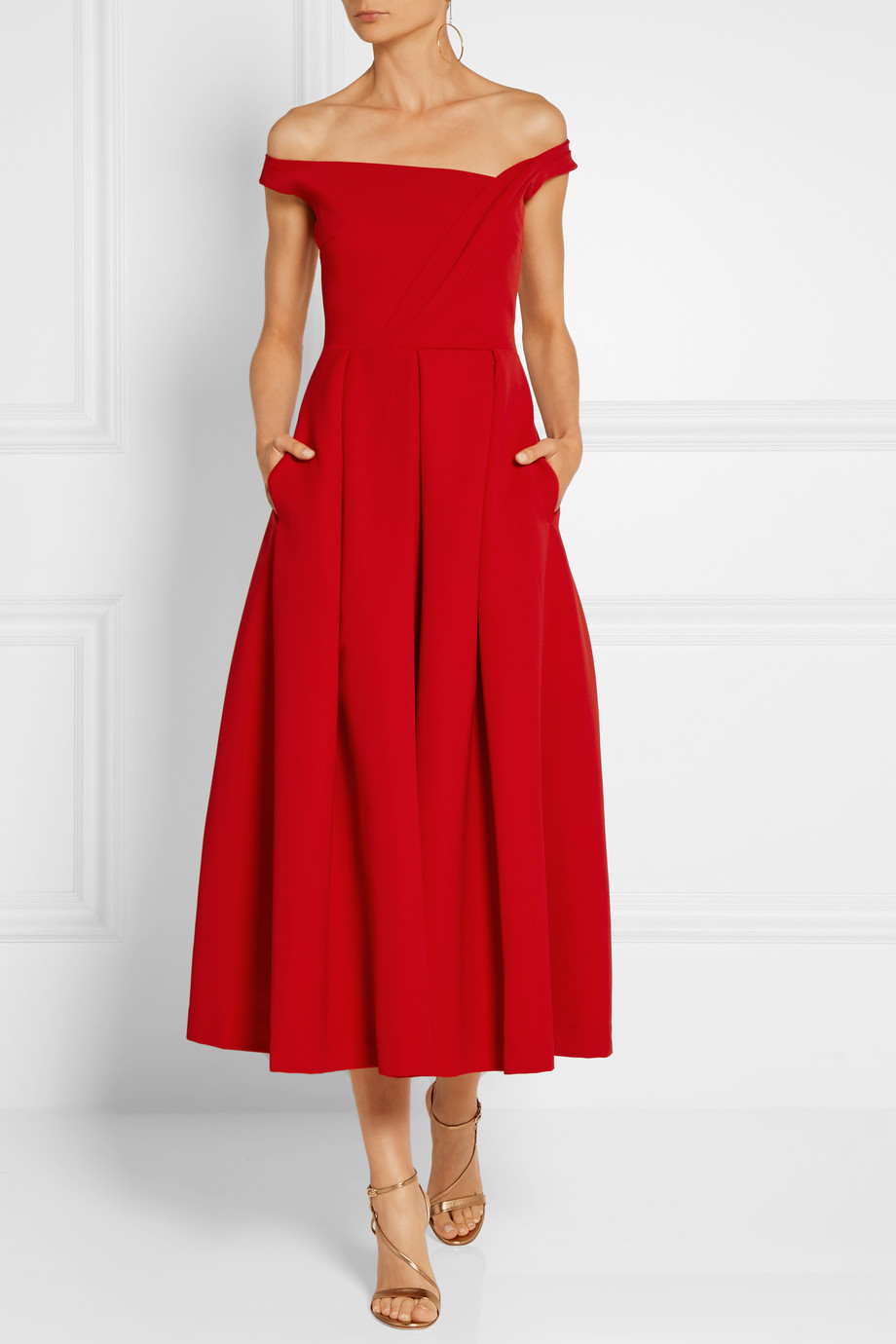 If you'd like to purchase the red version of the dress, it is still available at Matches Fashion and on Preen's website too.
Get the look: A number of retailers stock Preen dresses, including Shopbop, Net-A-Porter and Zappos.
According to the Telegraph's Fashion magazine, Kate purchased the two Preen dresses from Fenwick's Bond Street department store:
Kate reportedly purchased the first red dress from London department store Fenwicks and was so pleased that she requested the same style in black two weeks ago.
Kate cinched the black dress with an elegant sparkling belt.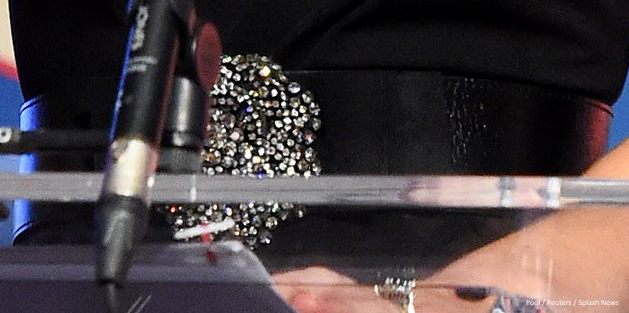 It's from Temperley London.  The belt sold for £298 at TemperleyLondon.com (though it is sadly no longer available).

The designer described the piece as follows:
Cinch in your waist with the beautifully crafted Crystal Bow Belt, wear in the day for an extra feel of glamour or to an evening cocktail party to spruce up your wardrobe. The back of this belt is elasticated, ensuring a perfect fit for every outfit. Should be worn on the waist.
She debuted a new pair of shoes for the evening event. They're by Prada. They're the company's Wavy-Cut Suede Pump in black.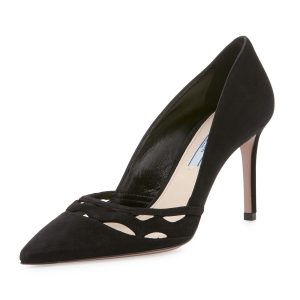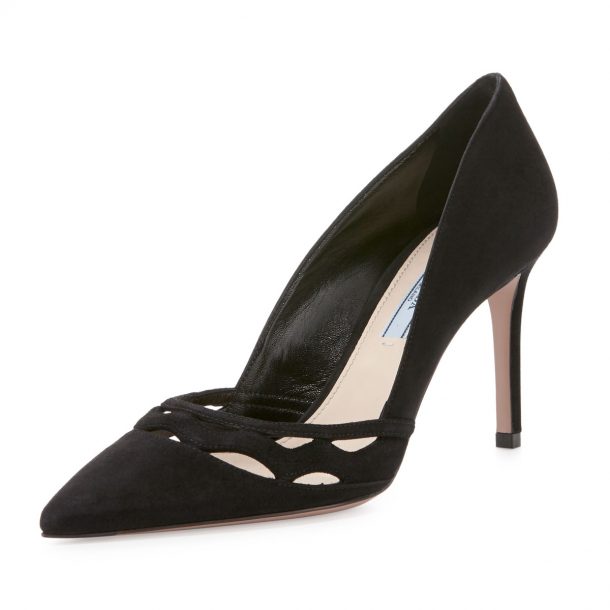 They feature a pointed toe (which Kate seems to be a big fan of at the moment, I notice!) a three-inch heel and cutout detailing. Unfortunately, the shoes are no longer available for purchase (they're from a past season). It looks like they originally retailed for $750 USD.
Kate borrowed another pair of glittering diamond earrings from the Queen's collection.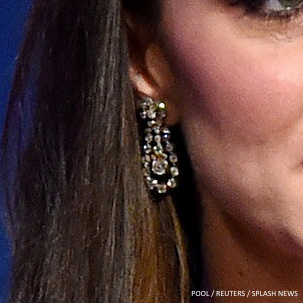 My friend Anna is the oracle on Kate's jewellery, and she informs us that little is known about the earrings' history at this point. Hopefully, we'll discover some information soon!
Kate carried a black clutch bag during the evening too.
It appears to be her Mulberry Bayswater wallet in black suede (pictured below in leather), but I'd need to see more photos before confirming.