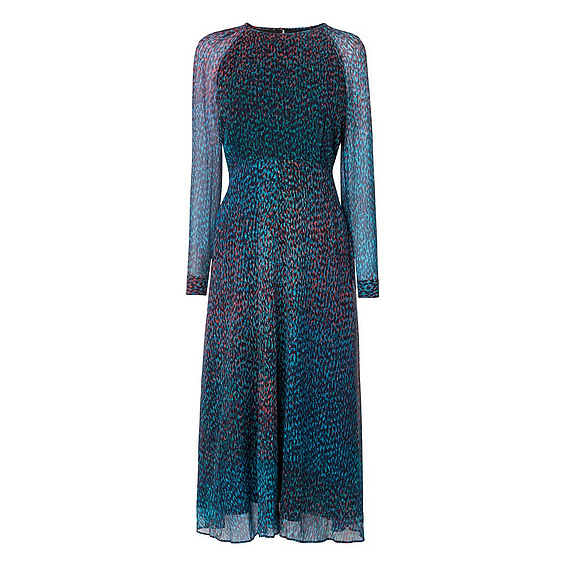 In April 2016, Kate Middleton, Prince William and Prince Harry hosted the President and First Lady of the United States for dinner at their Kensington Palace apartment.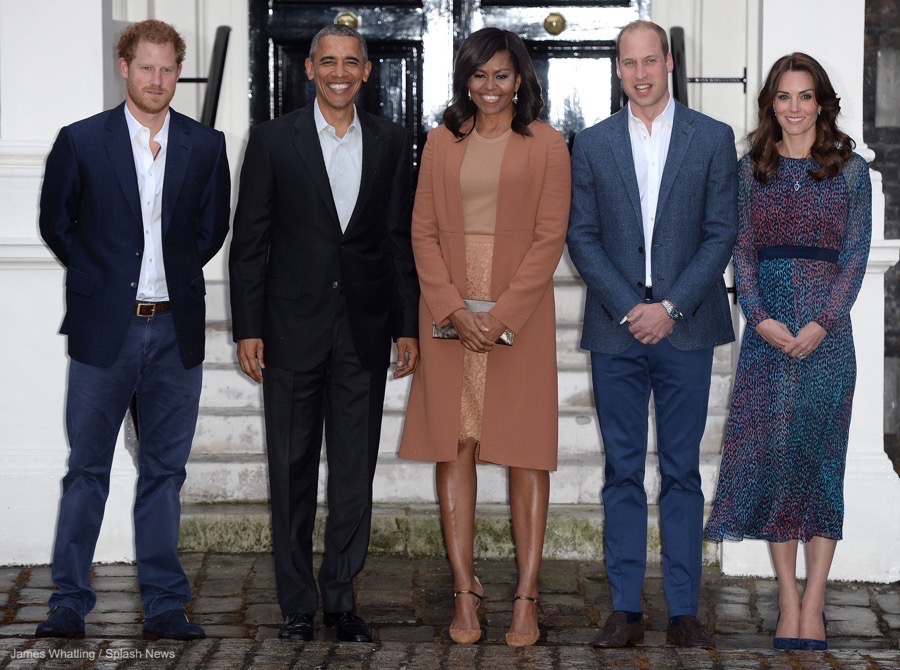 For the special occasion, Kate wore the L.K. Bennett's Addison dress.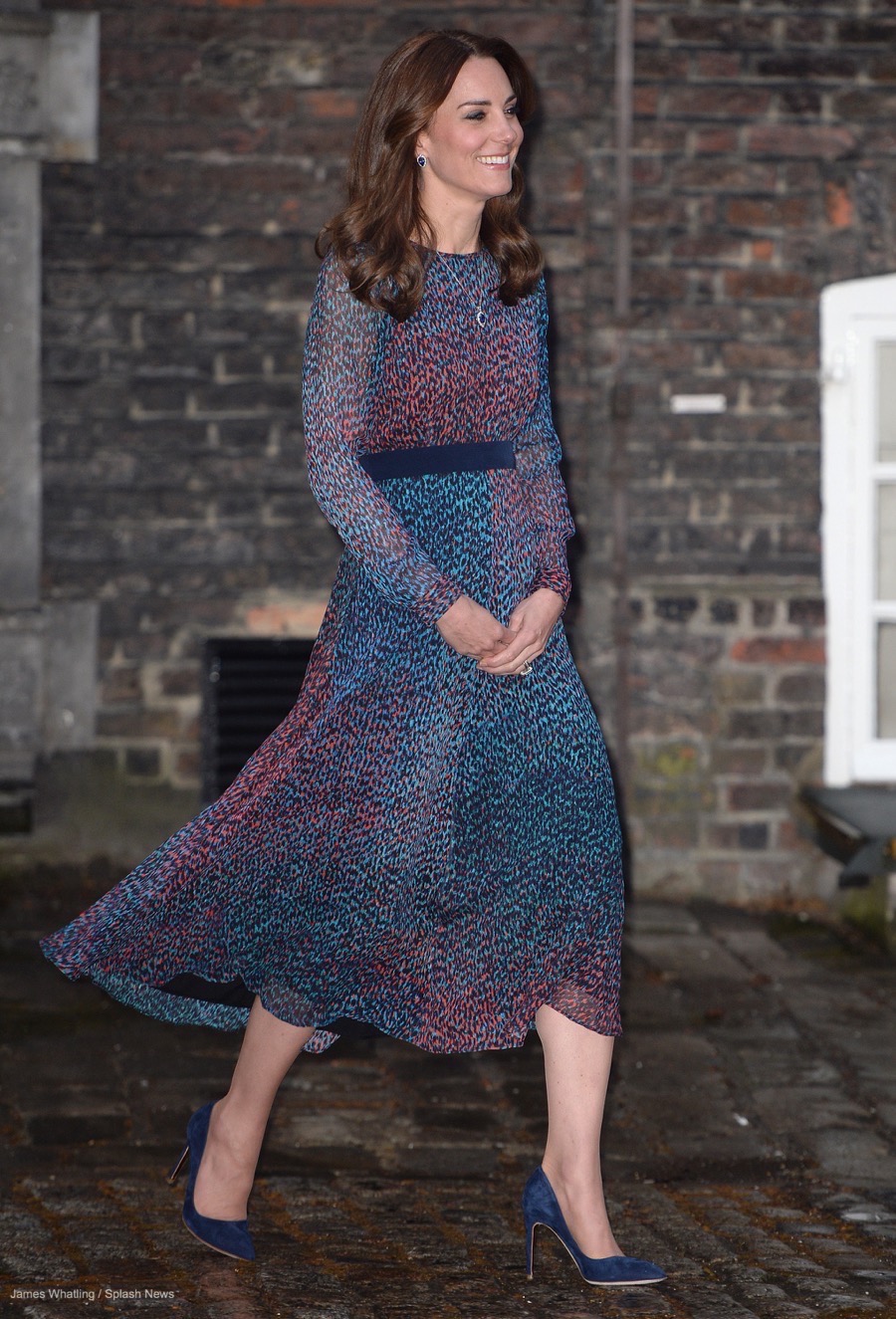 About the L.K. Bennett Addison dress:
The dress is made from 100% silk in a beautiful blue print.  It features a fitted waist and full midi skirt that hits well below the knee.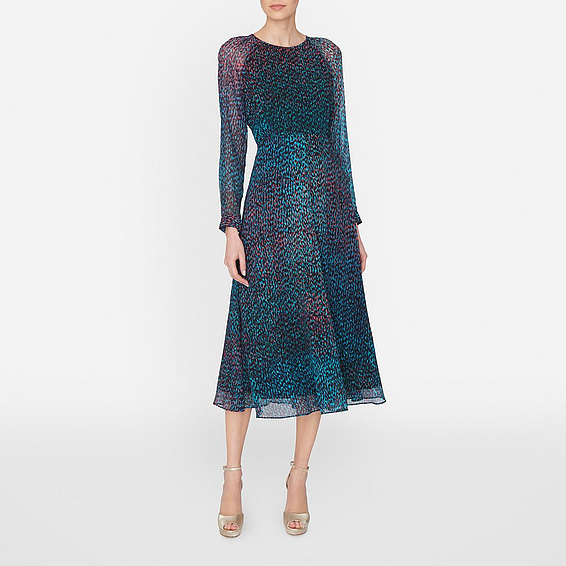 It has elegant sheer selves and a keyhole opening at the back.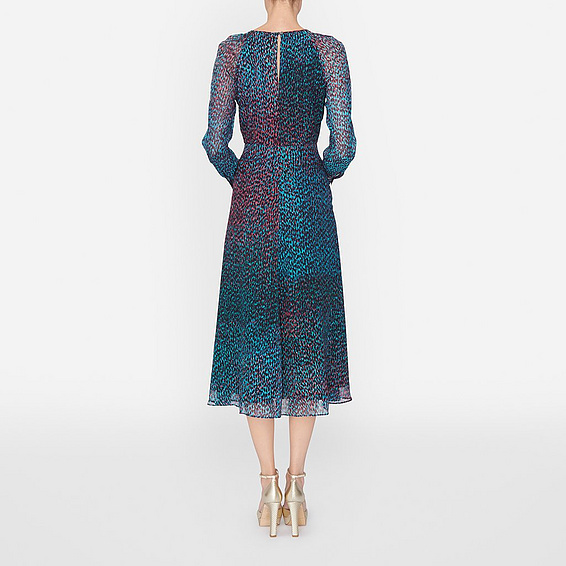 Here's how L.K. Bennett describe the piece:
"An eye-catching dress, timeless in its style and fashion-forward in its execution. Addison is ideal for events, both formal and casual, with its jewel-toned print, feminine transparent sleeves and ankle grazing length. A dress you'll wear for seasons to come."
Note:  Kate added a blue belt to her L.K. Bennett Addison dress.  It does not come with the dress.
Here's a closer look at the flecked pattern on the silk fabric: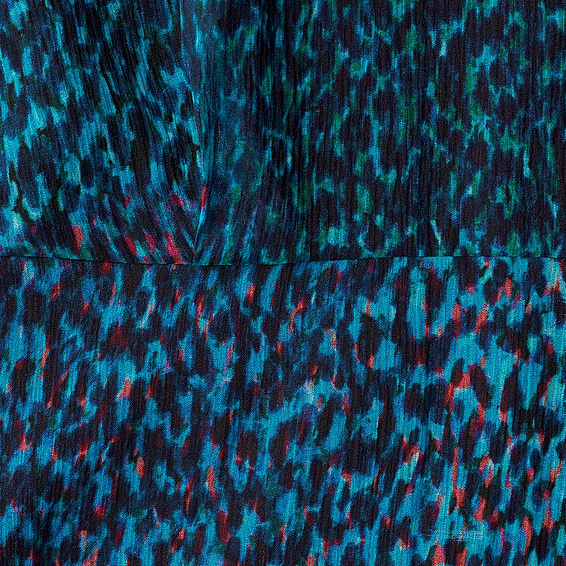 Where to buy the Addison dress:
At the time of writing (August 2017), you can still buy the L.K. Bennett Addison dress in limited sizes for $525 USD on the company's United States/Canada website.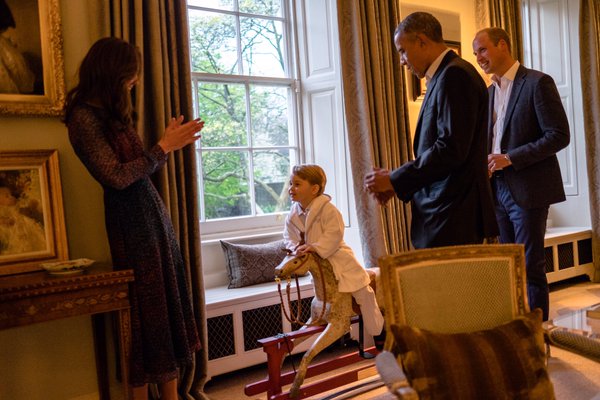 Unfortunately, it's sold out on the company's UK/EU/International website.
If the dress is unavailable in your size or location, try eBay.  There are several shops dedicated to Kate's style who still stock the dress.
Otherwise, check out L.K. Bennett for similar styles.  They appear to sell variations of the Addison dress in multiple prints.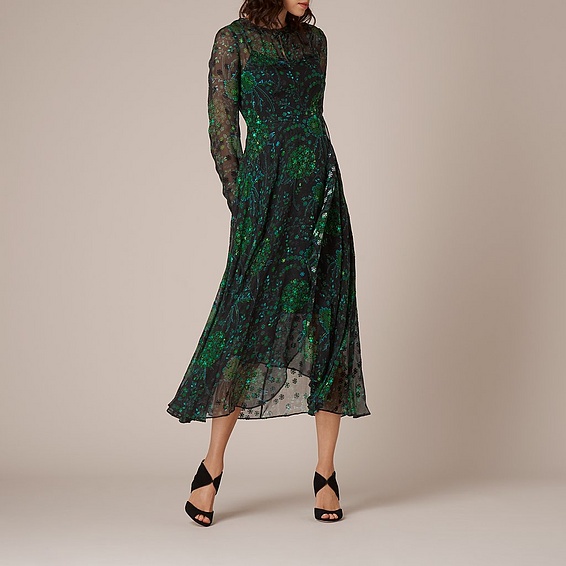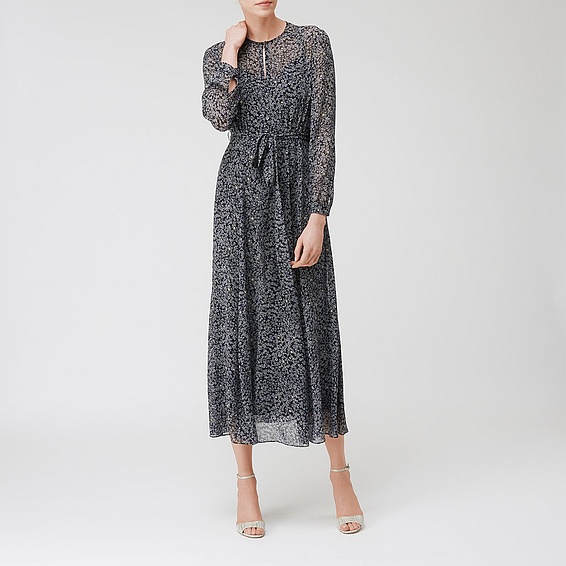 Kate Middleton wearing L.K. Bennett:
L.K. Bennett is one of Kate's go-to brands.  She owns multiple dresses, coats, bags and pairs of shoes from the company.
The L.K. Bennett Sledge shoes and Natalie box clutch bag are probably most famous.  She wore the two items continuously for years (pictured below):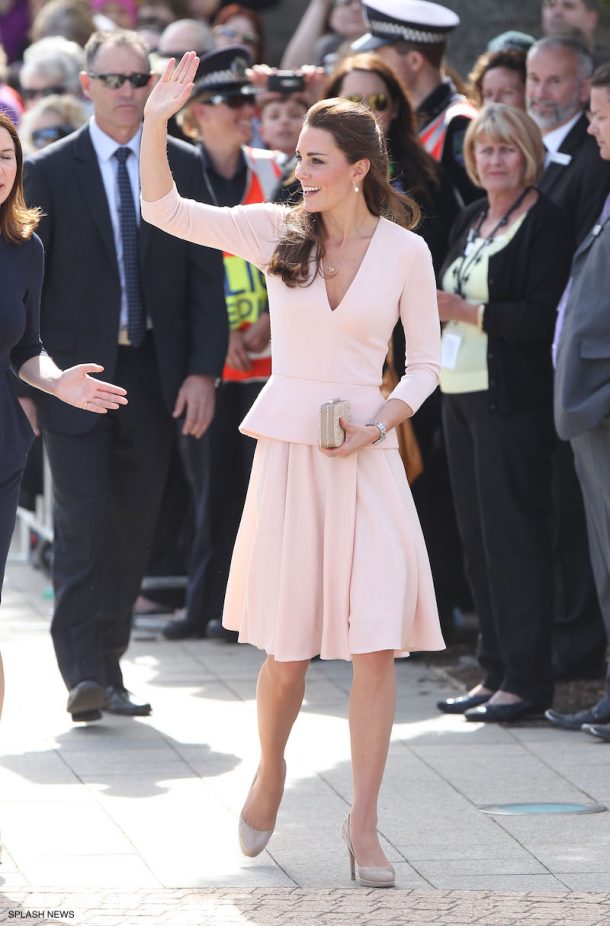 In 2016, Kate retired the Sledge shoes and Natalie clutch bag and started wearing L.K. Bennett's Fern pumps and Nina clutch instead: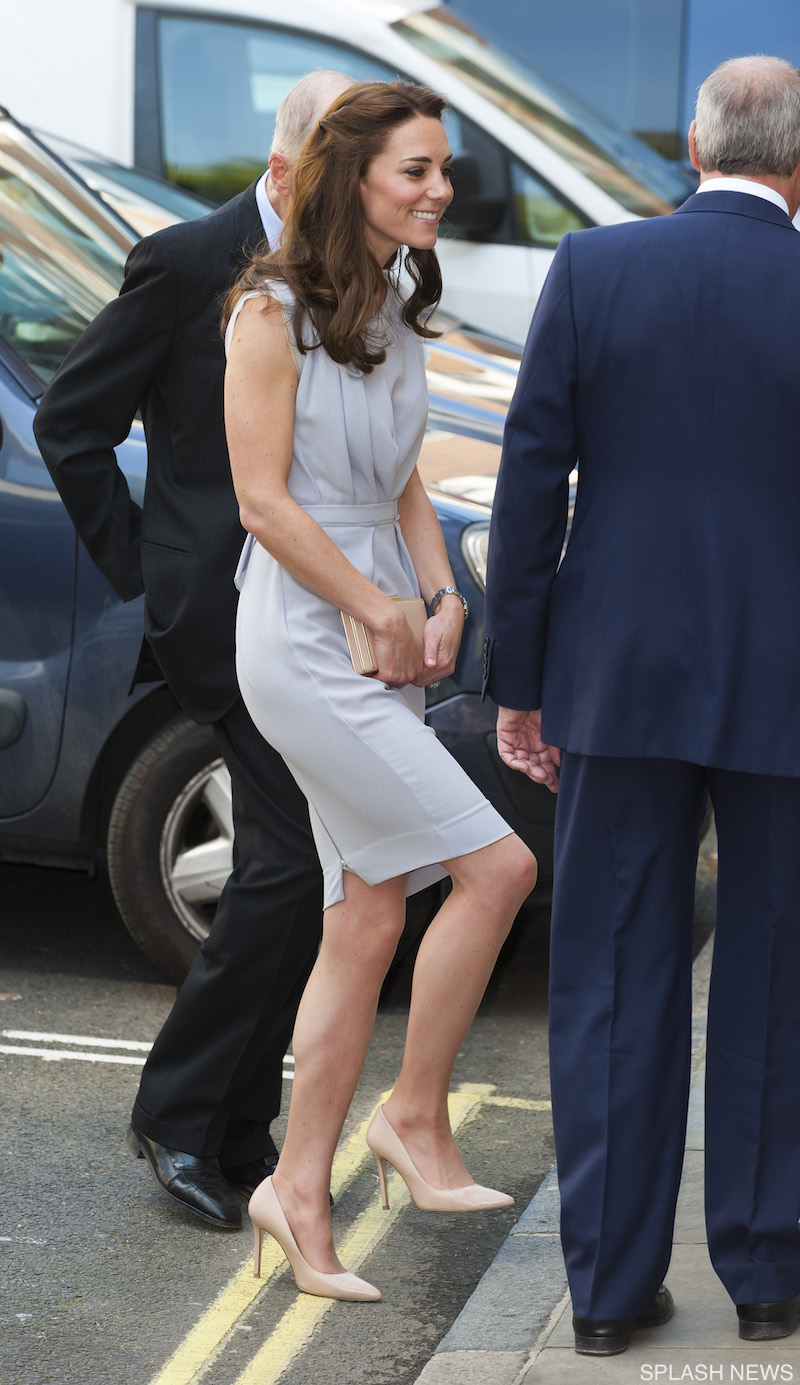 Kate's most famous L.K. Bennett dress is probably the "Lasa style". She wore it during the tour of Australia and New Zealand in 2014 and again in 2016 during a visit to Luton.   The dress was very popular with fans and sold out multiple times.  The company periodically re-release new and updated versions of the dress.