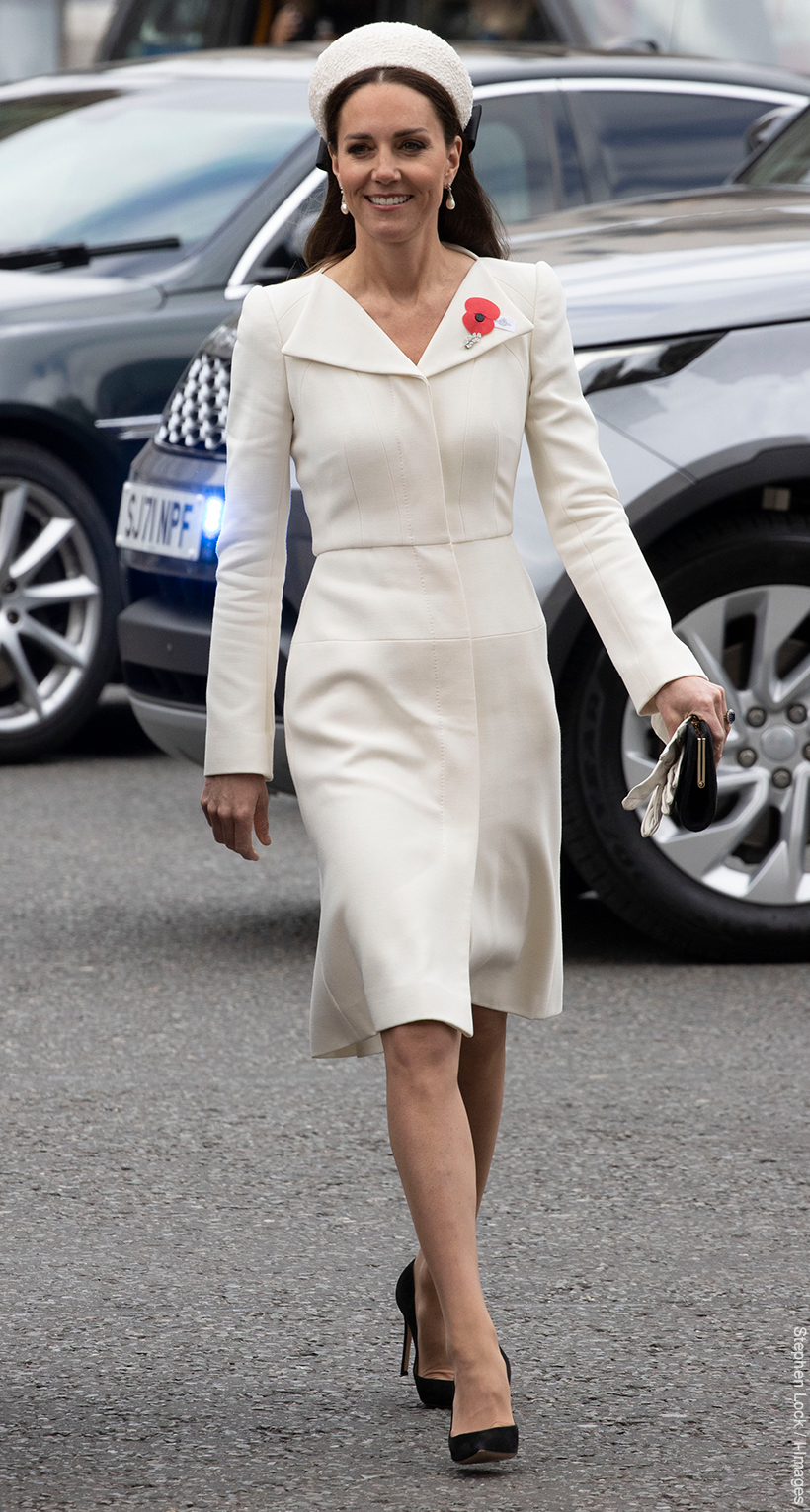 25 April 2022—The Duke and Duchess of Cambridge attended a service of commemoration and thanksgiving for Anzac Day at Westminster Abbey. Kate wore an ivory coat that we've seen on a handful of occasions before (as usual, you'll find Kate's outfit details further down the page ⬇)
Anzac Day, which is marked on the 25th of April each year, is a national day of remembrance in Australia and New Zealand that commemorates those who have served and died in conflict. It takes place on the anniversary of the First World War Gallipoli Peninulsa Landings. Anzac Day has been officially observed in London since 1916 when King George V and Queen Mary attended the first commemorative service at the Abbey.
The Royal couple are hosted by the Dean of Westminster Abbey Dr David Hoyle, who introduces them to New Zealand's High Commissioner to the UK Bede Corry and his counterpart from Australia George Brandis, before they listen to passages read by the two High Commissioners and an oration by Hoyle.

The Royal Family Channel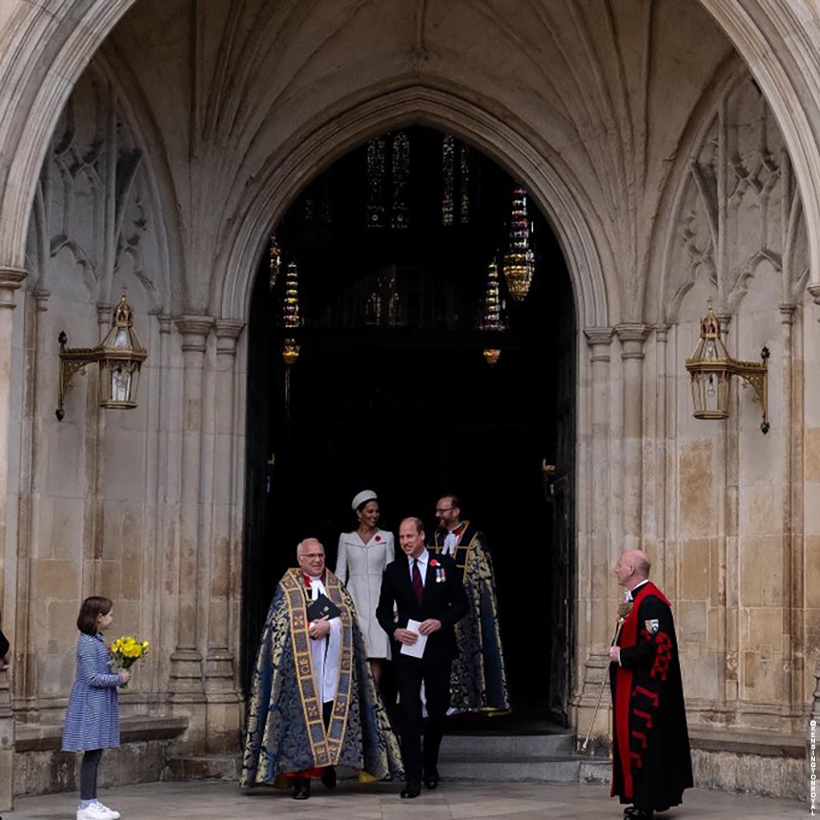 Before the ceremony, Prince William laid a wreath at the Cenotaph in London on behalf of the Queen.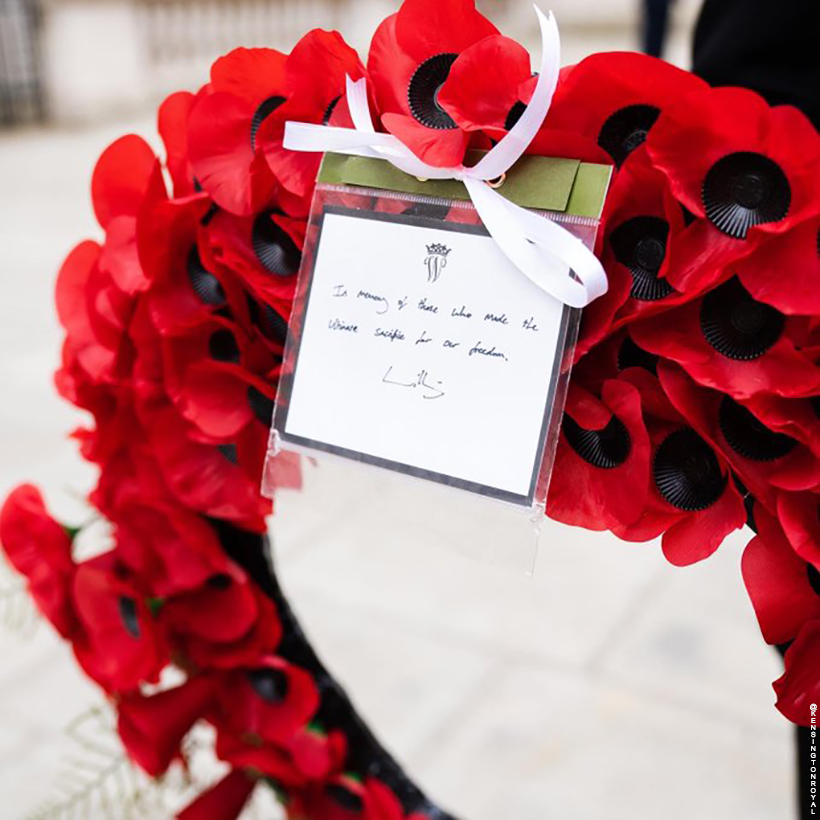 You can watch the wreath-laying ceremony below:
At first, only William had been slated to attend the service. The Palace announced Kate's attendance last minute. According to the Telegraph, a diary change meant that Kate was able to join her husband.
Let's take a look at Kate's ivory white outfit now.
Kate's outfit:
Kate chose ivory and black for the Anzac Day service—her outfit features a mix of new and old pieces. Let's take a closer look: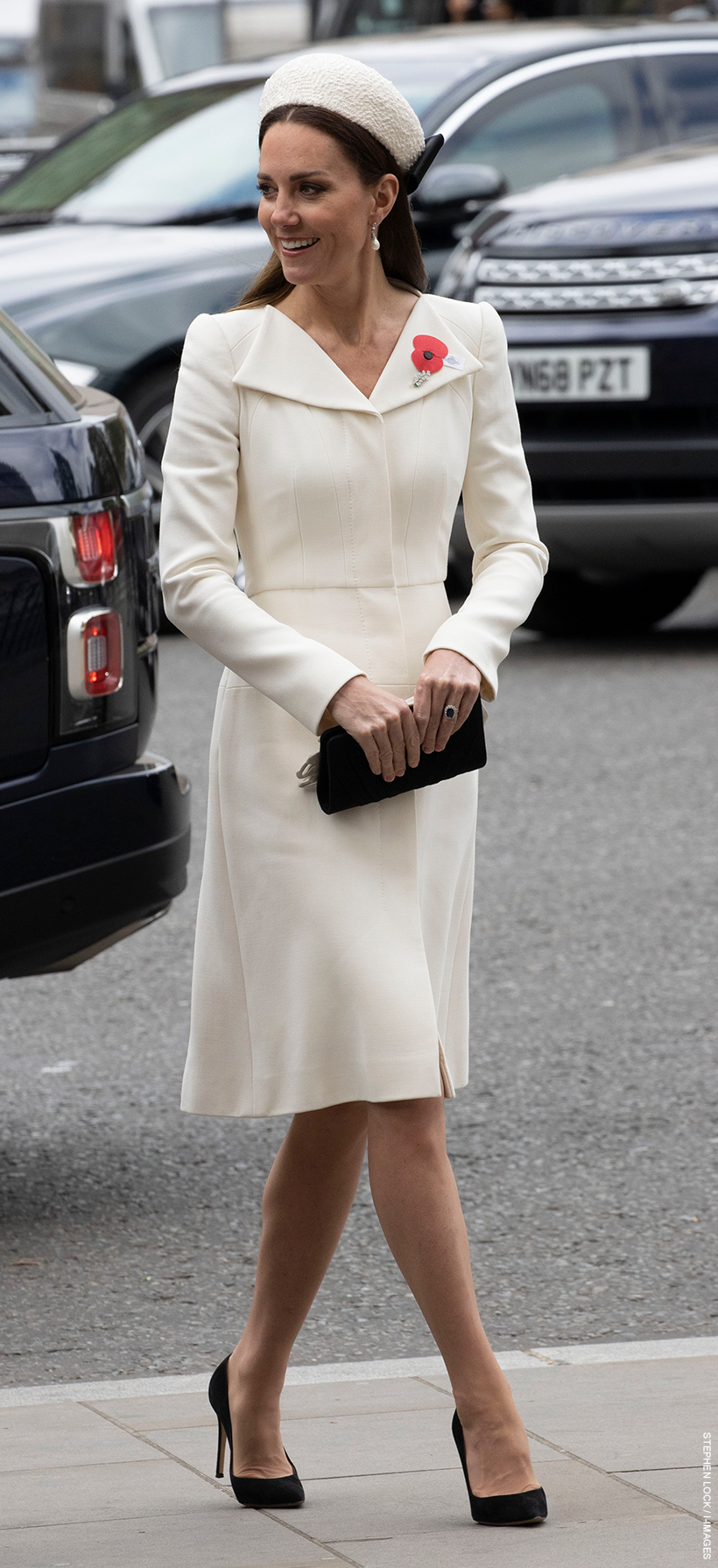 The ivory coat is by Alexander McQueen. It features a fit-and-flare silhouette, is nipped in at the waist and has an oversized collar.
Kate's coat is bespoke. Though, it is very similar to the Pleated Fit & Flare Wool Coat that McQueen sold as part of their ready-to-wear offering at some point (sorry, I am unsure which year/collection). See the comparison below: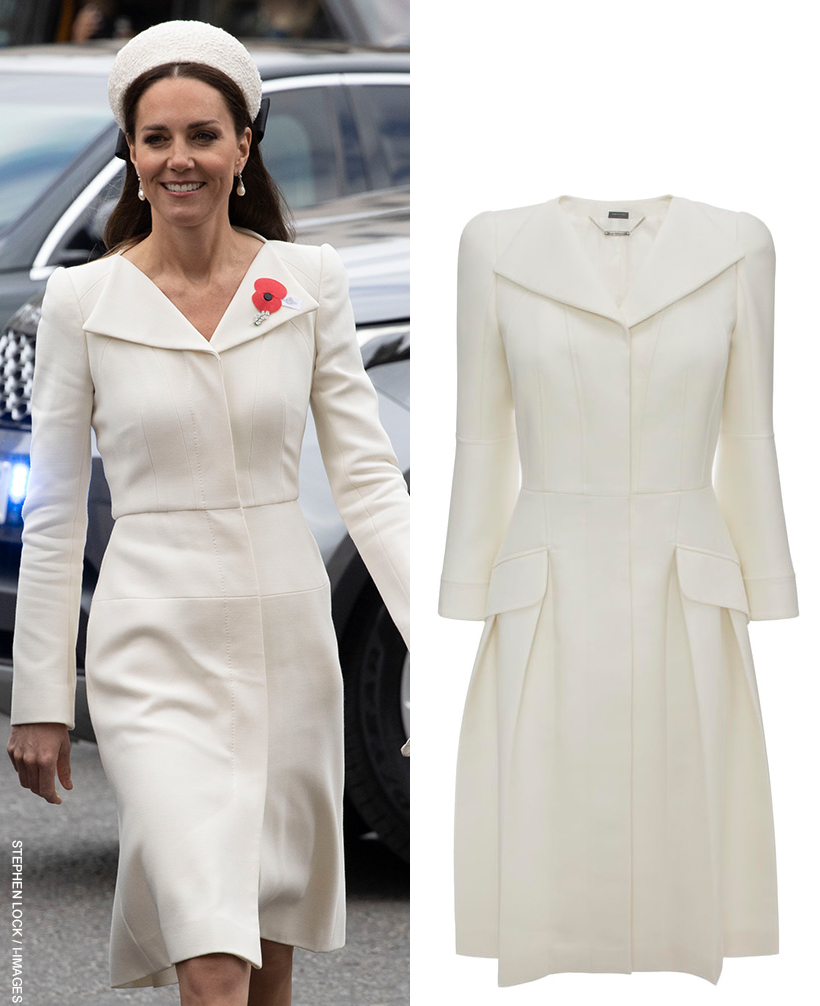 You'll note Kate's coat has a more streamlined silhouette. There are no pleats and no pockets. The oversized collar, structured shoulders, darts and waist seam all remain the same.
This is the fourth time we've seen Kate wear the ivory coat in public. She first debuted the garment at Princess Charlotte's christening in 2015 (below left). A year later, she wore it to Trooping the Colour (below centre). Then, she wore it for a third time in 2017 during a visit to Belgium, at a ceremony commemorating the Centenary of the Battle of Passchendaele (below right).
The coat is also very similar to the McQueen design she had made in primrose yellow for Harry and Meghan's wedding in 2018. (Note, many people think this was the same coat, it's not. I explain why on that page.)
Getting back to the Anzac Day service, I thought it was fitting that Kate chose a white Alexander McQueen coat. Of course, white is a popular colour of mourning in many countries around the world. It looked both solemn and respectful for the service. But Westminster Abbey, the venue of the service, was also William and Kate's wedding venue—the location where Kate said "I do" almost 11 years ago to the day. You might remember that Kate also wore an ivory coat when she visited last the Abbey in March of last year, close to her ten-year anniversary:
It's likely a coincidence—of course, Kate has attended lots of others services at the Abbey and worn a whole host of different colours. I just thought I'd point it out. Plus, it's given us another excuse to enjoy Kate's lovely wedding gown!
Onto her headpiece now. (Though some people refer to it as a 'hatband', a portmanteau of hairband/hat.) It's by Jane Taylor. It's the milliner's Calypso Halo in ivory tweed. The piece features a black bow at the back.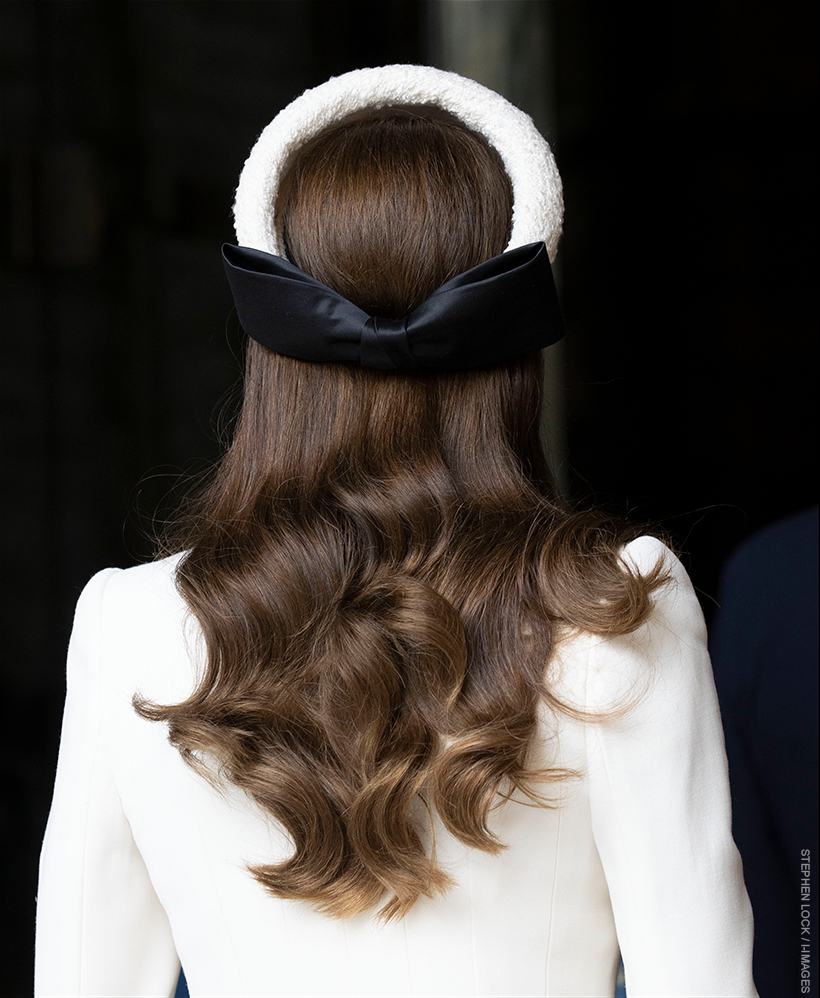 Stunning!
Here's how Jane Taylor describes the piece on her website:
A sensational all-rounder halo headpiece made from iconic British tweed – ideal for weddings, smart events, and races – topped off with a fetching tuxedo satin bow at the nape of the neck for a smart finish.

Jane Taylor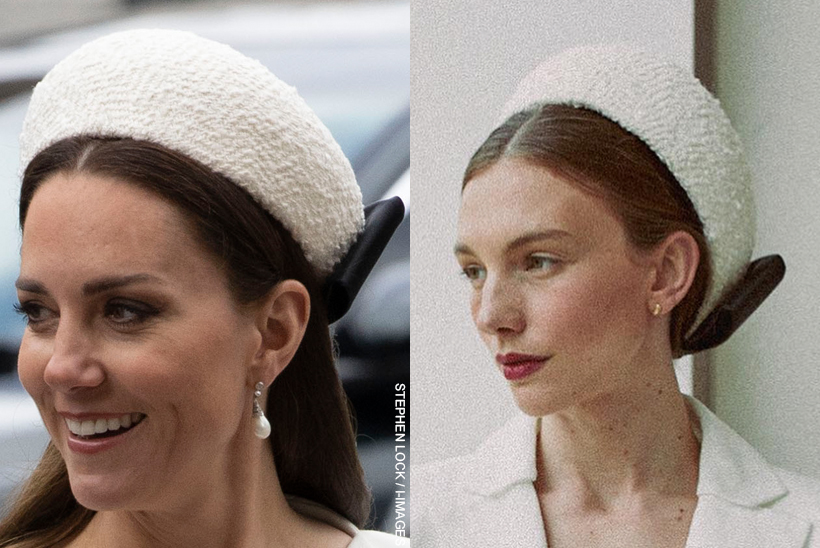 The Halo retails for £830 (around $1055 USD). They're made to order, which can take between one and three weeks. The piece comes in three colours as standard (black, ivory or ivory and black) but the company does take requests if you need something bespoke to match an outfit.
I really love Kate's hatbands-though I know from social media that they divide opinion.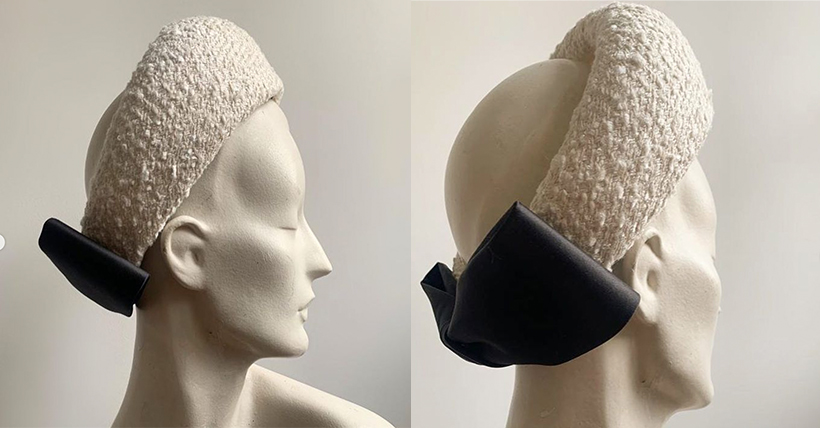 On to Kate's shoes now. It looks like they're the Gianvito Rossi 'Gianvito 105' pumps in black suede.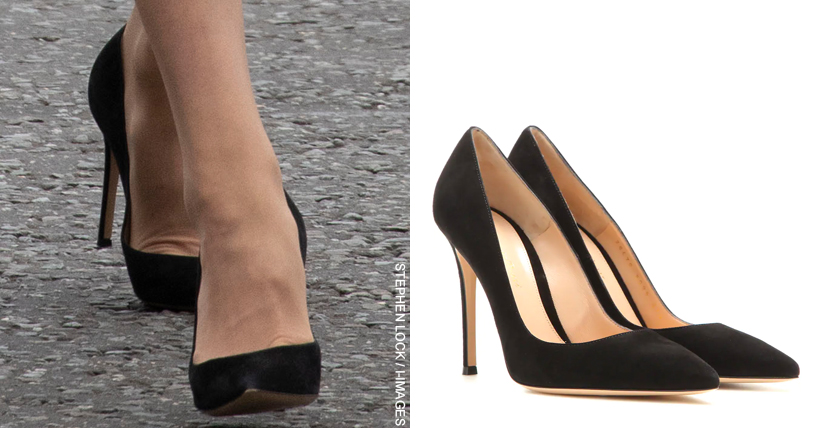 The shoes feature a 105mm thin heel and a sleek, sharply pointed toe. Like all of Gianvito Rossi's shoes, they're made in Italy using fine quality leather.
Kate's worn the black suede Gianvito 105 pumps for around seven years (of course, I cannot confirm if she wears the same pair or if she replaced them at some point). She owns the shoe in six other colours too: red, praline, white, burgundy, silver and bisque.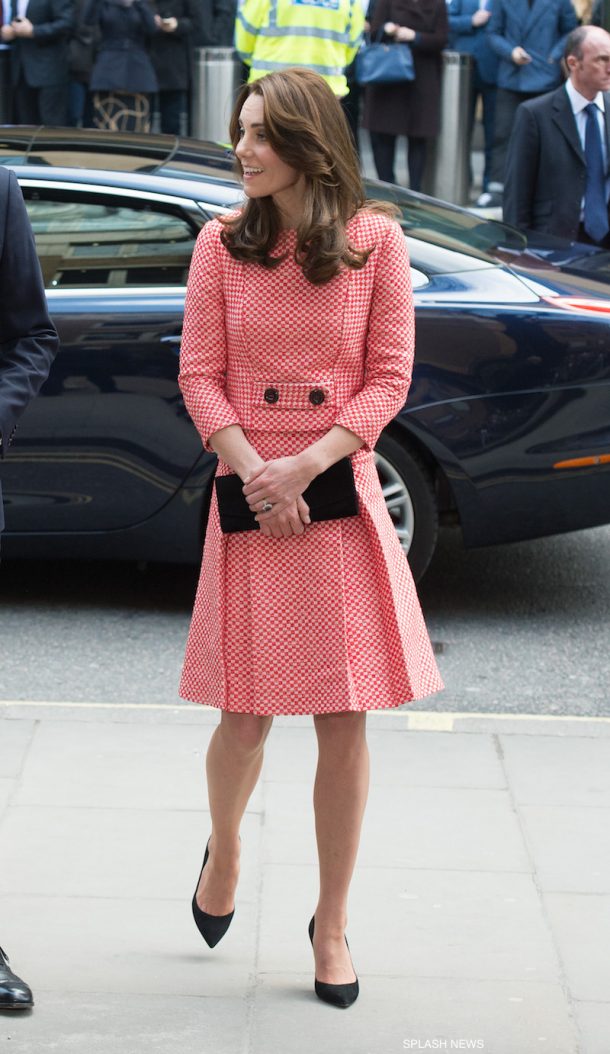 The Gianvito 105 is one of Rossi's signature shoes. They remain available to buy today. Find them in black suede at Net-A-Porter for $695 USD / £510 GBP (of course, the site offers other currencies and worldwide delivery too.)
Gianvito Rossi is an Italian footwear designer known for his timeless shapes and perfectionism when it comes to fit and comfort. His father is the famous shoe designer Sergio Rossi.
Let's look at Kate's pearl drop earrings now. They once belonged to Princess Diana.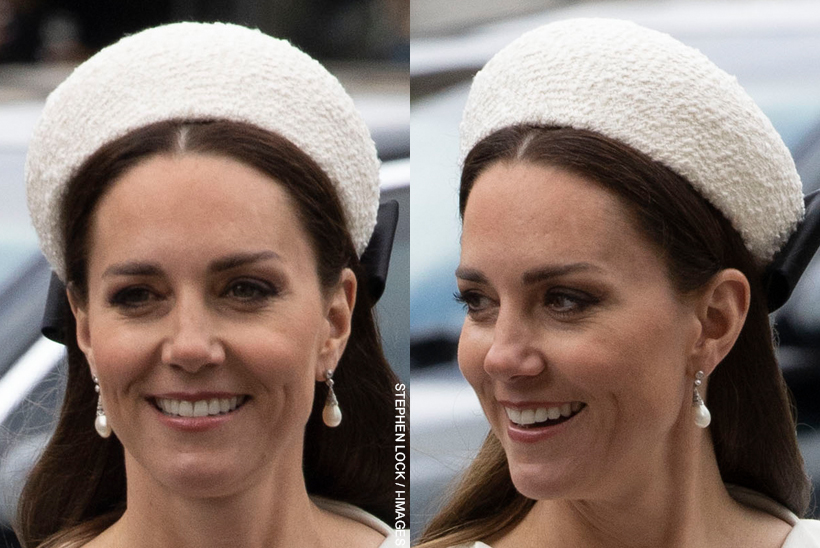 The earrings are regularly referred to as the Collingwood Pearl Drops or the Collingwood Pearl Earrings because the Collingwood jewellery company gave them to Diana as a wedding gift.
"The earrings feature a round diamond stud, from which is suspended an additional round diamond and a bell cap set with three more rows of small diamonds. The bell caps each contain a lovely pearl drop"

The Court Jeweller
The Court Jeweller describes the earrings as "ultimate classics: absolutely timeless, perfectly versatile, and endlessly useful". I'd agree!
We saw of return of Kate's Jenny Packham Roxy bag at the Abbey. The designer confirms it's from her AW14 Collection. Kate carries it in black suede.
It's hard to see from the photos above, but the bag features a sort of pleated/gathered design on the fabric. It has a gold metallic frame and gold clasp.
Here's how the piece was described on Jenny Packham's website back in 2014:
[The Roxy clutch bag is] a pleated, material design featuring a baguette cut, golden shadow Swarovski crystal clasp, the bag has a detachable long snake chain. Available with silver or gold hardware.Jenny Packham
Kate first carried the bag during the Singapore State Visit in October 2014. She was spotted with it at the 2019 Irish Guard's St Patrick's Day parade too.
We spotted Kate carrying a pair of white gloves with her black clutch bag. I don't have any more information about these at the moment. I've emailed Cornelia James to see if they made the gloves (they're Royal Warrant holders, Kate owns several pairs of their gloves) I'm just waiting to hear back. I'll update with their reply later.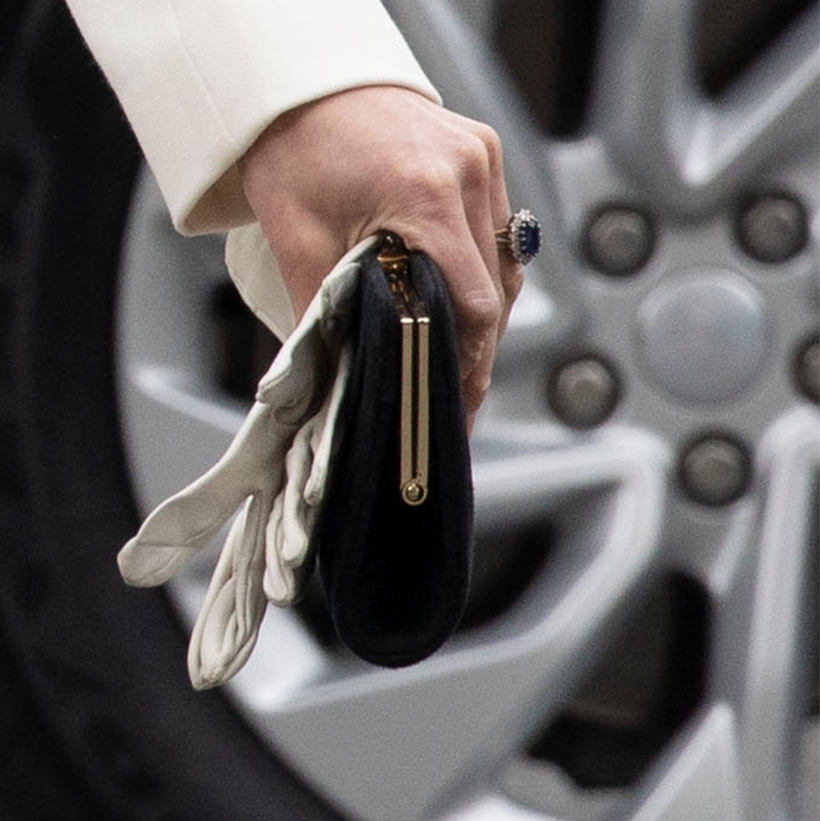 Let's have a quick look at Kate's poppy now. It looks like she's wearing a special poppy that supports the RSA (the New Zealand Returned and Services Association). The Queen is their Patron. Thank you to Natasha and Lady Parky for this information.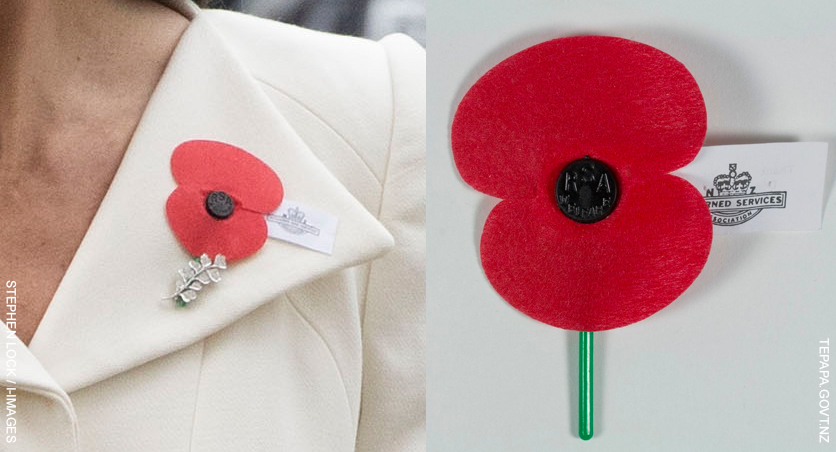 The Flanders poppy is distributed by the RSA throughout New Zealand to raise money for the health and well-being of all service personnel and their families.
Of course, a similar thing happens each November here in the UK. Kate has attended many of the Royal British Legion's remembrance services, events and engagements over the last decade. She's worn several of their different poppy designs too.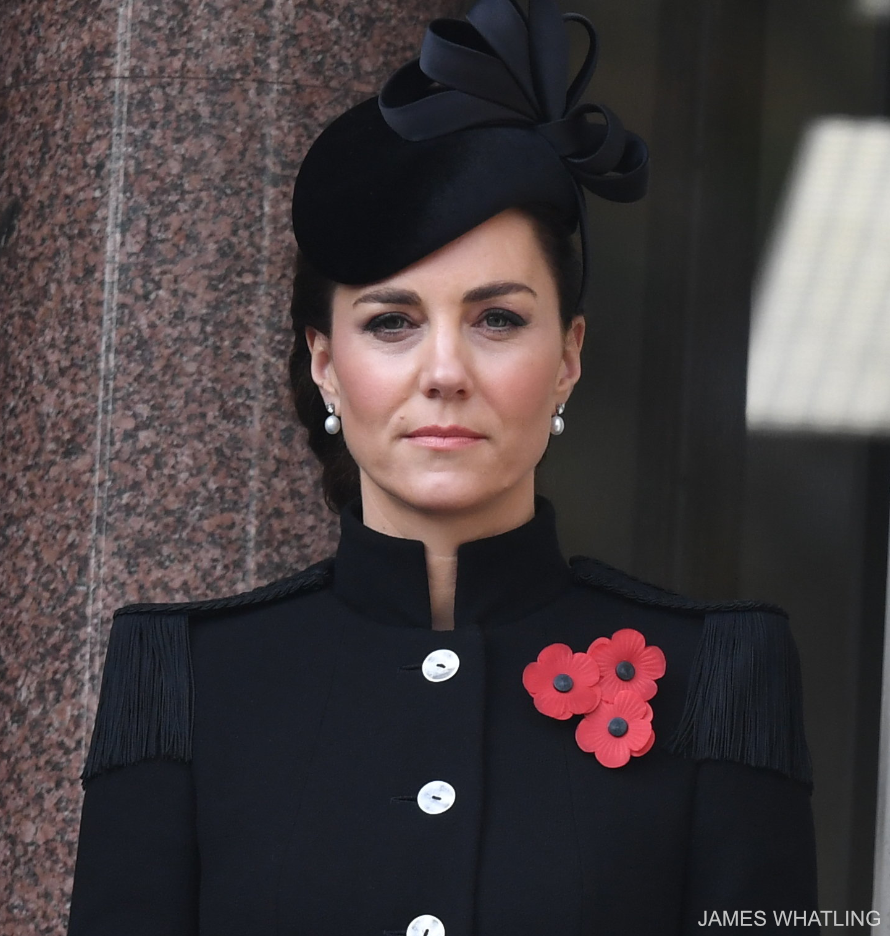 I love how the Duchess considers every small detail of her outfit, right down to the type of poppy she wears.
That's why I am certain The Court Jeweller's theory about Kate's brooch is true. TCJ believes the ornate piece is from Middleton family jeweller, Robinson Pelham. Kate used the brooch to cover the stem of her poppy: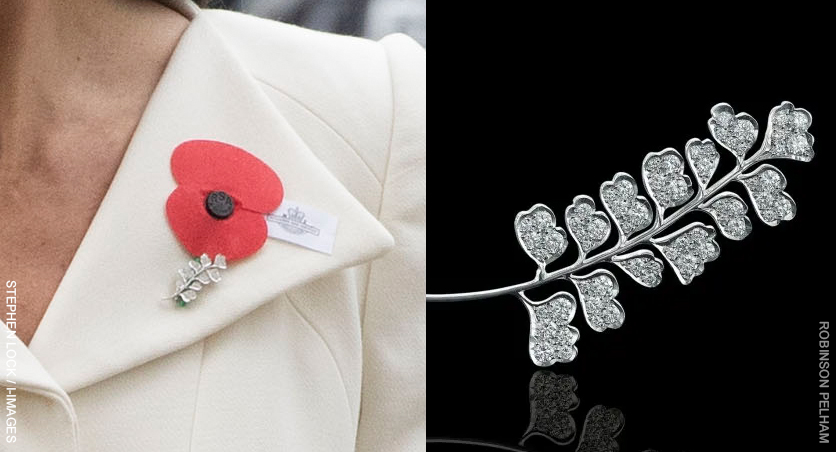 Robinson Pelham designed a very similar hair ornament for Kate's sister Pippa. Pippa used the ornament to secure her veil on her wedding day. That is what is pictured in the image above—part of the hair ornament. As you can see, the leaf design is very similar to that of Kate's brooch.
The Court Jeweller notes that Pippa's wedding tiara and hair ornament feature maidenhair fern leaves. If Kate's brooch also features fern leaves, it could be significant:
Ferns are, of course, important symbols for New Zealand. The silver fern is more commonly used as a national symbol, but the maidenhair fern is also native to the country.

The Court Jeweller