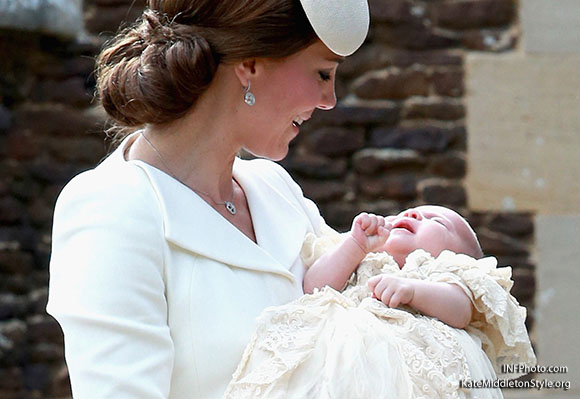 Princess Charlotte's christening took place this afternoon (July 5th 2105) at St Mary Magdalene Church on the Queen's Sandringham Estate. The Duke and Duchess opted for a small, intimate christening ceremony, with invitees limited to immediate family, godparents and spouses only.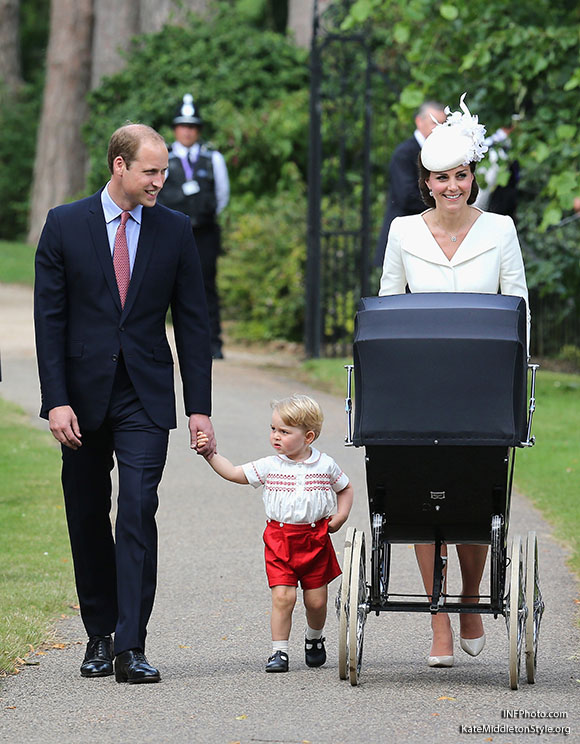 The Queen, Duke of Edinburgh, Prince Charles, the Duchess of Cornwall, Carole Middleton, Michael Middleton, Pippa Middleton and James Middleton (Kate's parents and siblings) attended the ceremony, along with the chosen godparents and their spouses. Prince Harry missed the ceremony due to other commitments. (He is currently in Africa undertaking conservation and charity work.)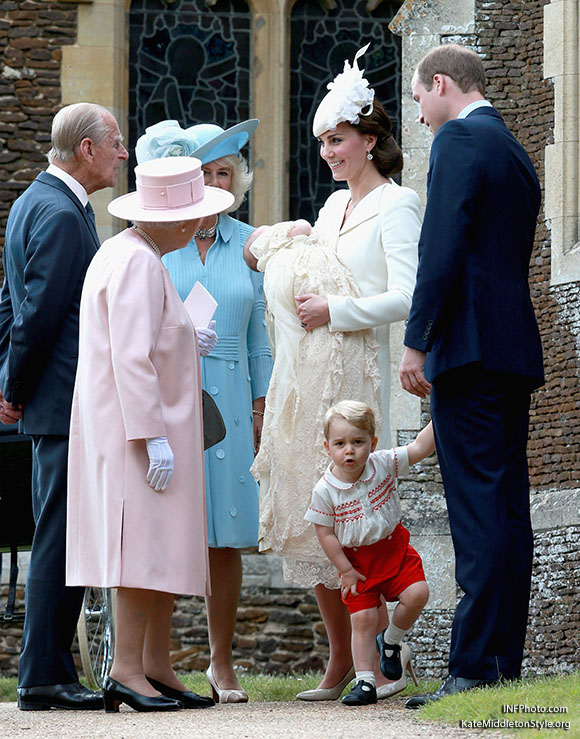 This morning Kensington Palace announced Princess Charlotte's five godparents, named by William and Kate. They are:
Miss Sophie Carter – One of Kate's closet childhood friends
Mr. James Meade – One of William's oldest school friends
Mr. Adam Middleton – Kate's cousin
The Hon. Laura Fellowes – Princess Diana's niece
Mr. Thomas van Straubenzee – William's best friend in school
Although the christening ceremony was small and private, provisions were put in place to allow well-wishers to gather outside the church. Royal fans stood in the nearby paddock hoping to catch a glimpse of the new princess. This didn't happen at Prince George's christening in 2013, which was a very private affair held inside the Chapel Royal at St James's Palace.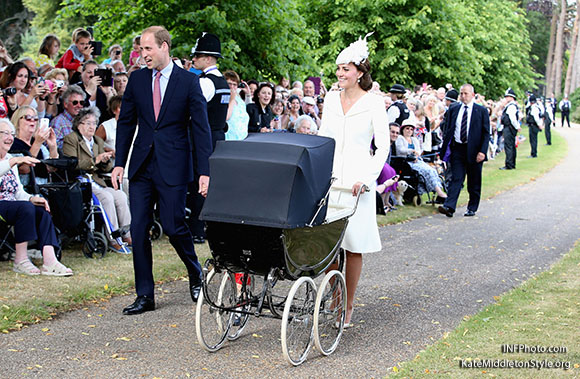 Today is the first time we've seen the Cambridge family together in public, since the birth of Princess Charlotte. The family of four walked from Sandringham House to the church. Kate pushed Princess Charlotte along in a vintage "Millson" pram, previously used by the Queen for sons Andrew & Edward.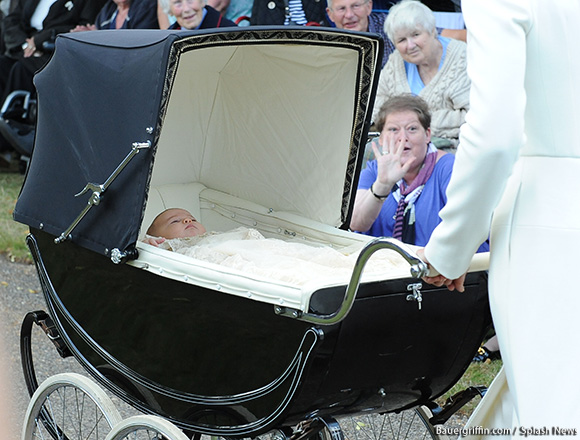 George looked a little bemused by the crowds at times, it must be a very strange experience for a child!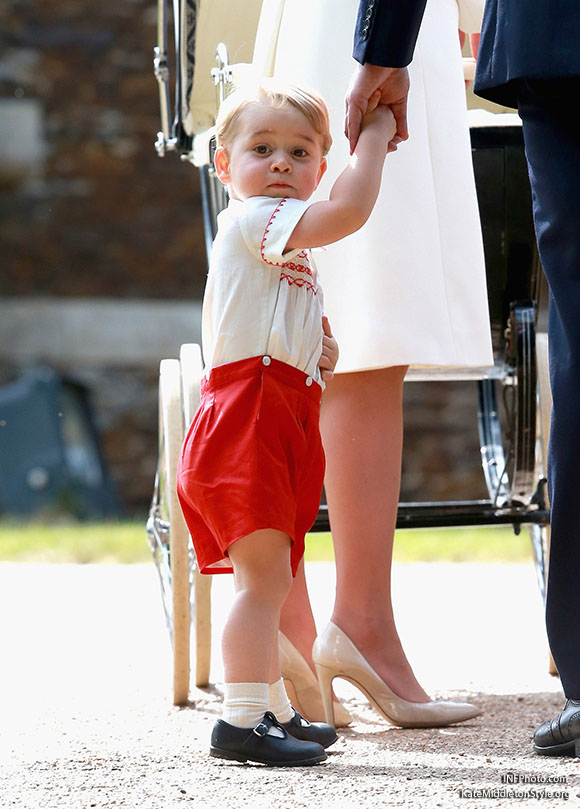 For the christening, Princess Charlotte wore the same lace robe that Prince George wore back in 2013. The gown is made from Hointon lace and lined with white satin. The dress is a replica of a robe made for Princess Victoria's christening in 1841 and it was handmade by the Queen's dressmaker Angela Kelley. The Telegraph have a piece on the history of both christening gowns here.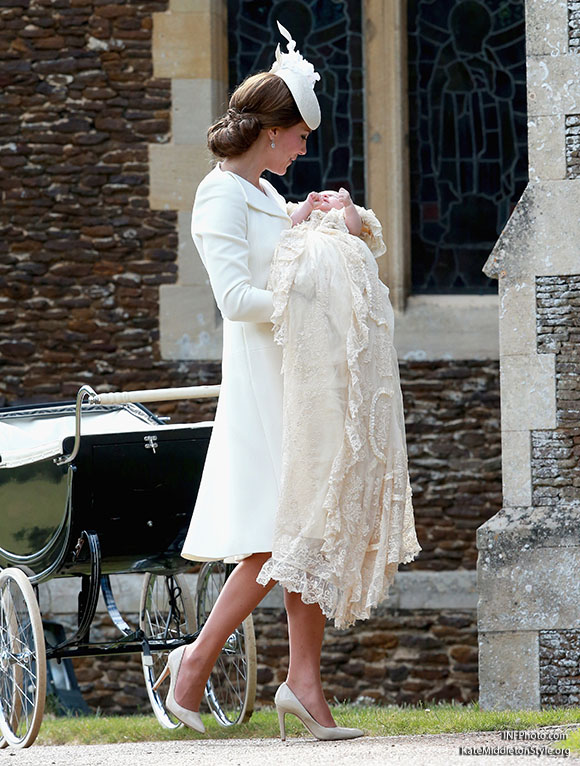 During the private ceremony, Archbishop of Canterbury Justin Welby conducted Princess Charlotte's baptism using the royal family's "Lily Font". This is a historic font constructed entirely from silver. It is 170 years old, commissioned by Queen Victoria for her daughter's christening. The Lily Font is so valuable that it's usually kept alongside the crown jewels in the Tower of London. The stunning ornate font has been used for every baptism since its commission, except for one.
After the service finished, members of the christening party stood for a moment to chat outside the church. Prince George seized this opportunity to check on his sister –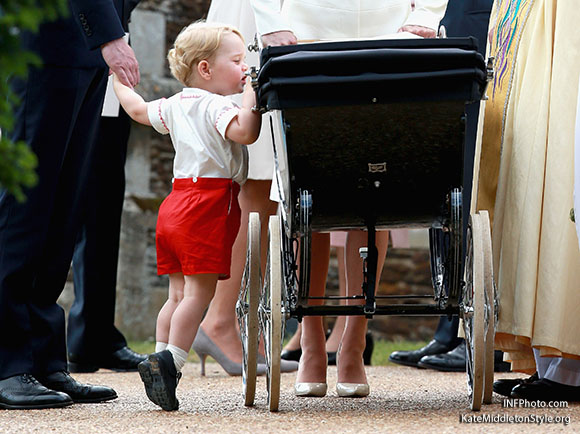 Next, it was time to walk back to Sandringham House, where William and Kate hosted a tea for their guests.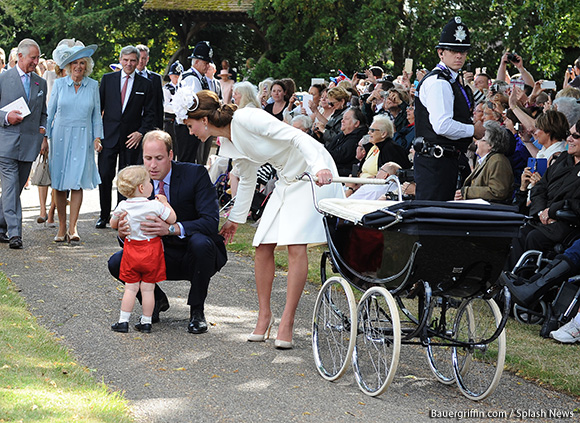 Guests were served slices of christening cake, saved from William and Kate's wedding cake in 2011. Apparently this is a tradition!
Kate's outfit:
The Duchess looked sophisticated and polished in a cream coat dress by Alexander McQueen.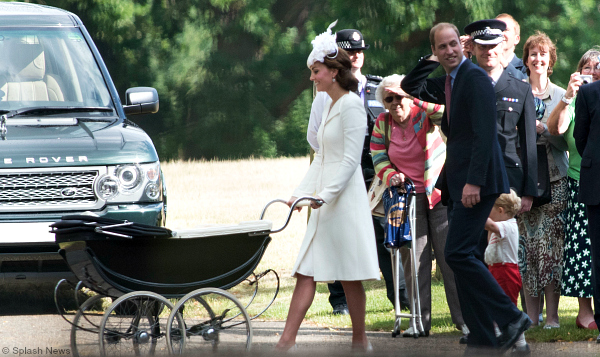 The fit-and-flare cut coat dress is nipped in at the waist with a seam and features an oversized collar.  Susan from WhatKateWore.com writes that the skirt has an inverted pleat in the back.
Kate accessorised her dress with a hat by Jane Taylor millinery. Once more information is known about the hat, I will update this blog post. The Duchess wore her hair up in a chic style.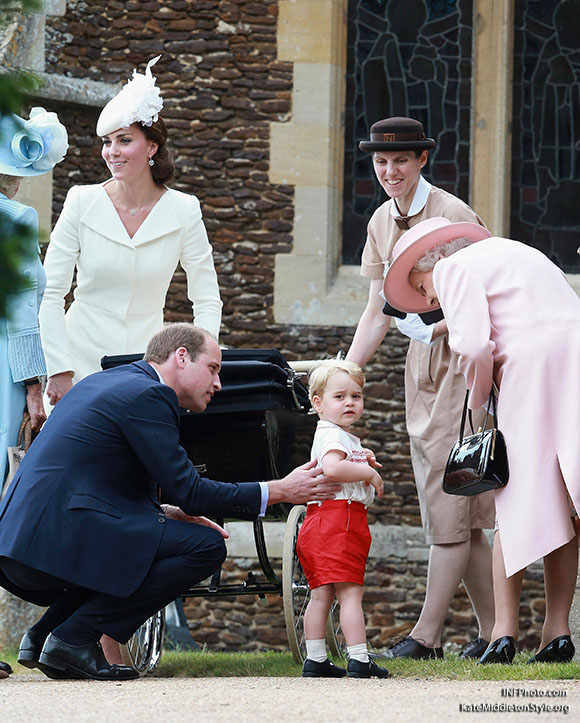 Kate wore her Mappin and Webb Empress white gold and diamond necklace, a piece we've seen her wear previously.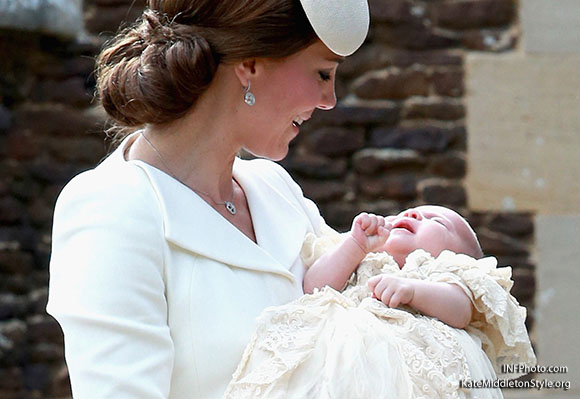 Today, we saw her wear the matching earrings. It is the first time she has worn them to a public event.
Finally, Kate wore her Russell and Bromley Fifth Avenue pumps.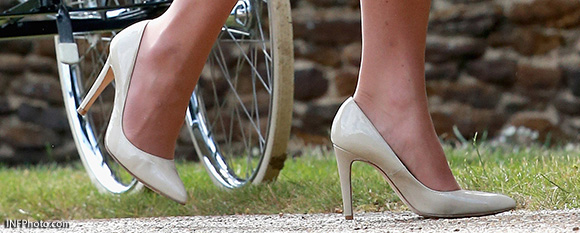 Prince George looked adorable in a "smocked set" by childrenswear designer Rachel Riley. The red and white ensemble is almost identical to the outfit his dad Prince William wore thirty years ago to meet his brother Prince Harry in hospital.
Prince George has worn Rachel Riley pieces a couple of times previously. I really like the clothing. Rachel Riley designs pieces for both boys and girls. I wonder if we'll see Charlotte in any pieces from the designer in the future?
Video from today:
Photographs:
William and Kate hired esteemed photographer Mario Testino to photograph and document Princess Charlotte's christening. You may recall Testino photographed the Duke and Duchess to celebrate their engagement in 2010. This is just one of the photos from the engagement shoot: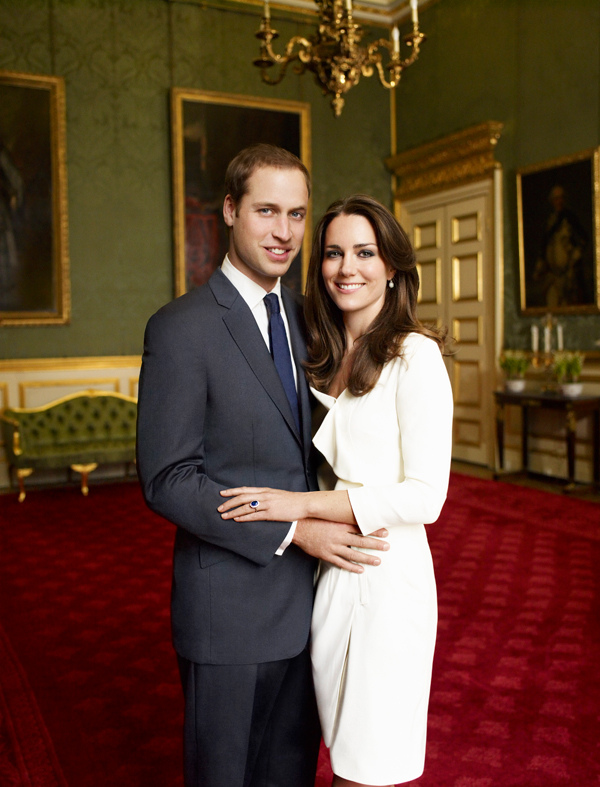 The photographs will be released to the public soon, I will update once they're live.
—-
That's all for today. Don't forget that the Duchess will be attending Wimbledon on Wednesday. We'll be back then!
—-
Do leave a comment below and let me know what you thought of Kate's outfit today. I felt it wasn't as 'special' as the ruffled ensemble she wore for Prince George's christening, but I have to say I did like it. It was very elegant and sophisticated.
—-