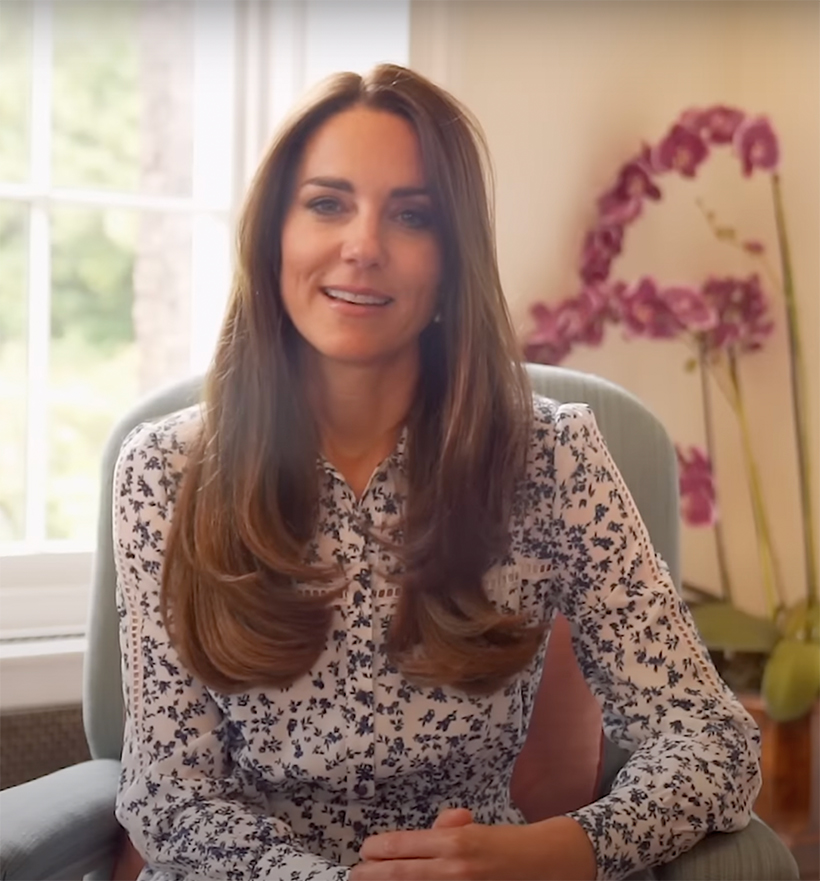 6th May 2022—Kensington Palace released a new video of Kate this morning. It features the Duchess speaking about depression and anxiety in motherhood and marks the closing of Maternal Mental Health Awareness Week. You can watch it below:
Here's a transcript for anybody who can't press play right now:
The birth of a child is one of life's greatest gifts. But it can also be one of the most challenging times for many families and one that should not be faced alone.

This Maternal Mental Health Awareness Week is about the power and importance of connection.

The past couple of years have reminded us just how much we need each other and how vital our relationships are to our long-term health and happiness.

This starts in the very earliest years of our lives, when we need close and continuous care from the people around us to nurture our development and ensure that we get the right start in life.

But we all know that pregnancy, childbirth and the first months and years of a child's life can be hugely demanding.

Parents often feel lonely and overwhelmed by these early years.

Around twenty per cent of women in the UK are reported to experience perinatal mental illness.

Sadly, we also know that many more are suffering in silence.

No one is immune to experiencing anxiety and depression during this time.

It is crucial, therefore, that all those who might be struggling are given the right support at the right time, so that they're able to share these feelings without fear of judgement and can access the information, care and support they need to recover.

Over the last decade, charities and organisations working in this space have come together to transform attitudes, raise awareness and ensure that services are available to parents and babies at this important time in their lives.

Much of this vital work has been led by the Maternal Mental Health Alliance, a fantastic organisation of which I am extremely proud to become Patron of today.

There is plenty more to be done.

And it's down to each and every one of us to support parents and carers, and all those who are raising children today.

Because by ensuring that the next generation of children can thrive, we can help to build a stronger, healthier and more nurturing society which benefits us all.

The Duchess of Cambridge
In the video, Kate announces she's become Patron of the Maternal Mental Health Alliance.
The Maternal Mental Health Alliance (MMHA) is a UK-wide charity and network of over 100 organisations, dedicated to ensuring women and families affected by perinatal mental health problems have access to high quality, comprehensive perinatal mental health care.
The new patronage is a good fit for the Duchess who has spent the last decade shining the spotlight on mental health through her work. In the years since growing her family, Kate has mainly focussed on early childhood development—a topic closely tied with maternal mental health. Below: Kate at a number of engagements focussed on these topics over the last few years:
Kate's outfit:
Kate filmed the video wearing a white dress with a ditsy floral print in blue. It's the Zaza style by Max Mara Studio. (ID: Middleton Maven)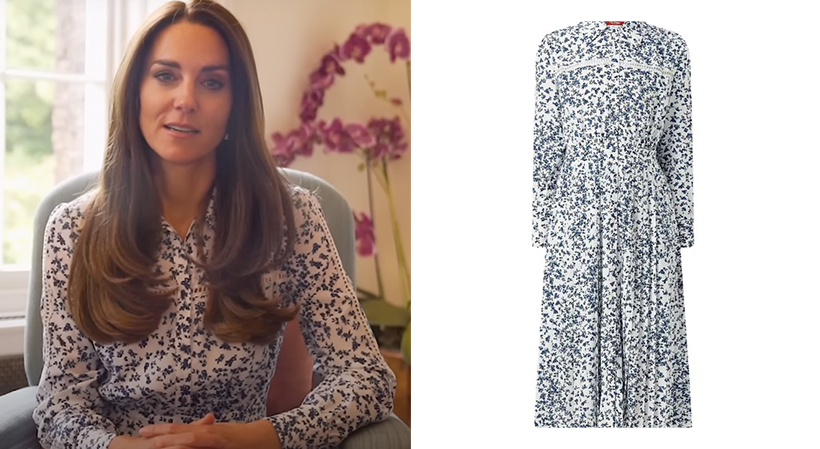 The floral print dress features a collar and long sleeves with embellished cuffs. The bodice and sleeves of the dress are decorated with hemstitch embroidery. The mid-length skirt is pleated.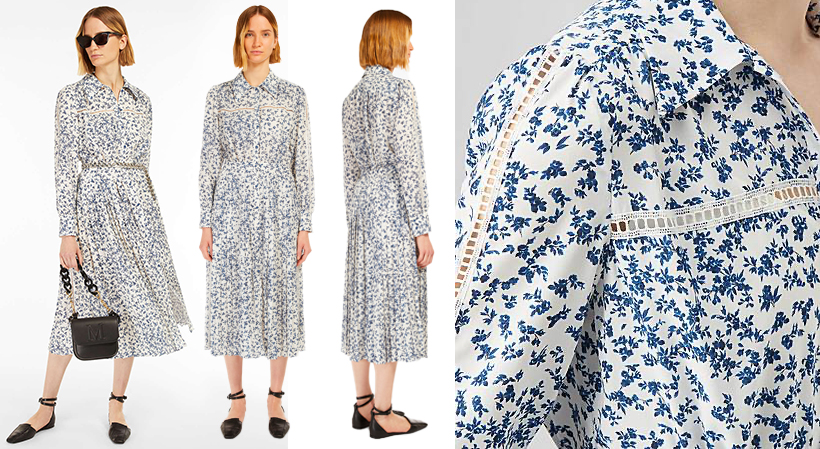 Want to buy Kate's floral dress? You're in luck. It's still available at Brown Thomas and on the Max Mara website. RRP: £680 GBP / $1,050 USD (£565 at Brown Thomas).
It looks like Kate wore a pair of pearl earrings with her dress but it's hard to make out which pair exactly. My best guess is her Annoushka drops (below left). Katie suggests perhaps the Maria Black pearls (below right).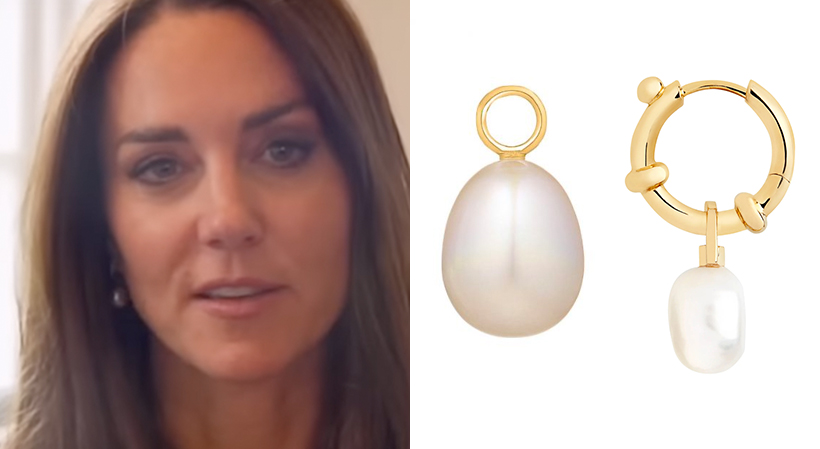 It's impossible to know for certain. Here's Kate in the Annoushka earrings: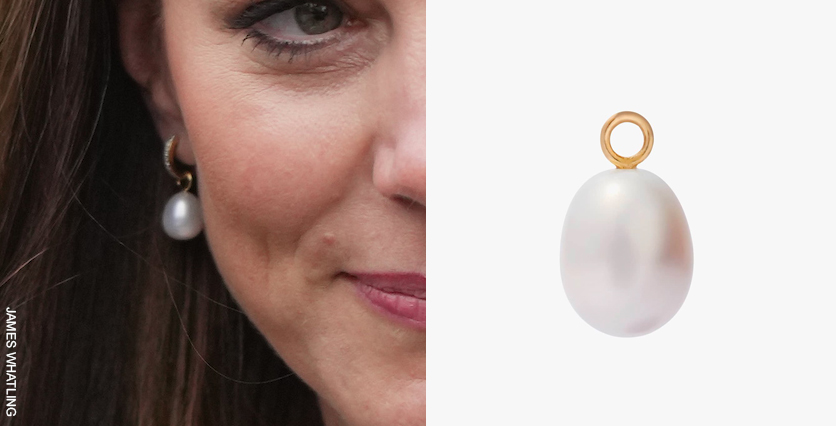 And the Maria Black: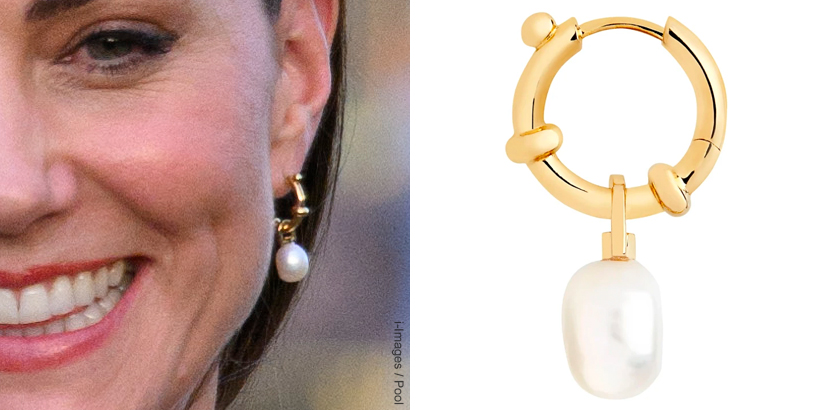 Kate's owned the Annoushka Baroque earrings for well over a decade and has racked up well over 60 wears in public. They're one of her most-worn pairs of earrings.
The Maria Black pearls are a recent addition to Kate's jewellery box. She debuted them in Copenhagen earlier this year and has worn them on just three occasions in public to date.