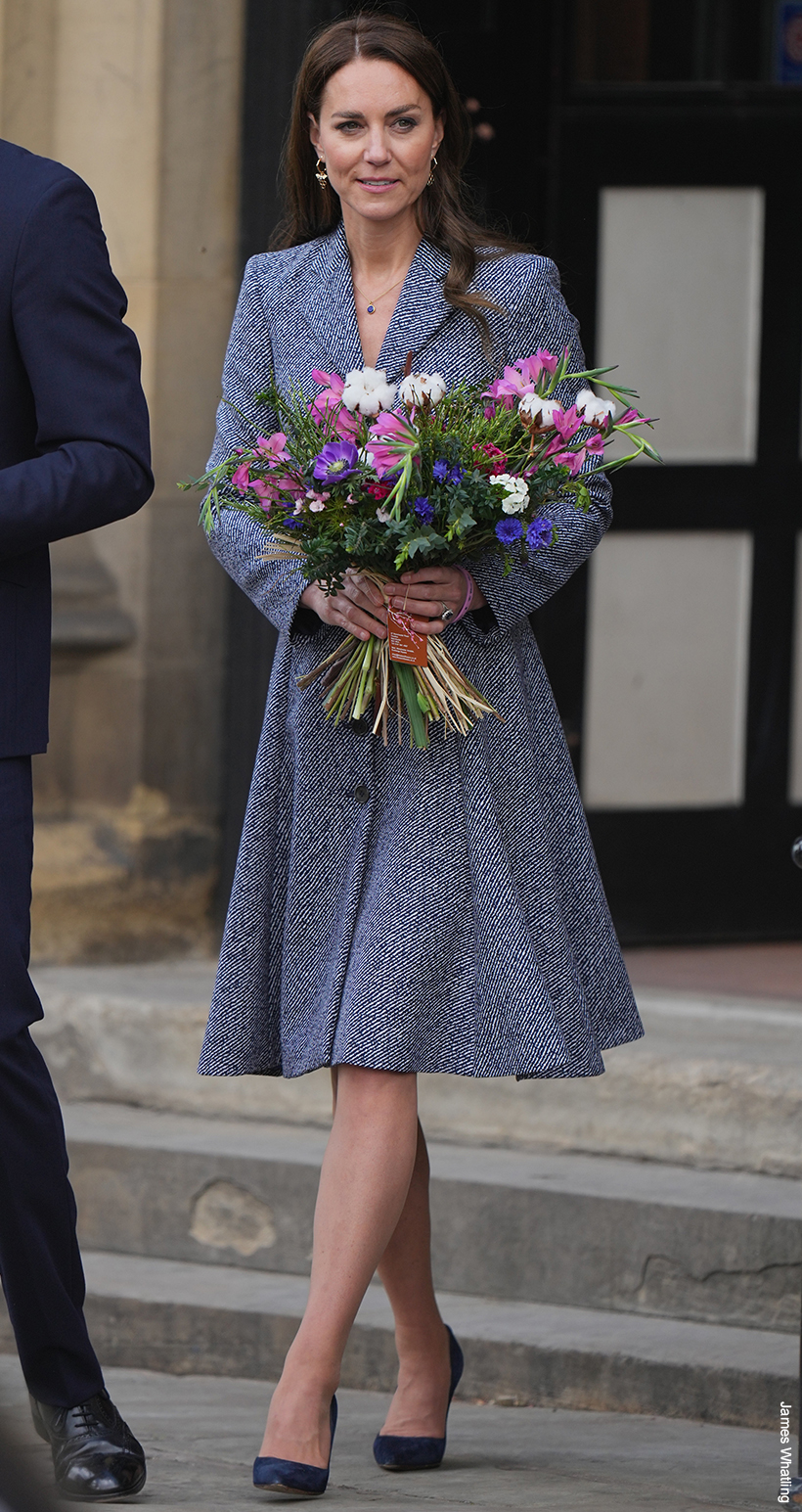 10th May 2022—William and Kate visited Manchester to officially open The Glade of Light Memorial Garden. The Duchess chose a blue-grey coat dress for the solemn occasion—it was a piece she had worn on three public occasions before.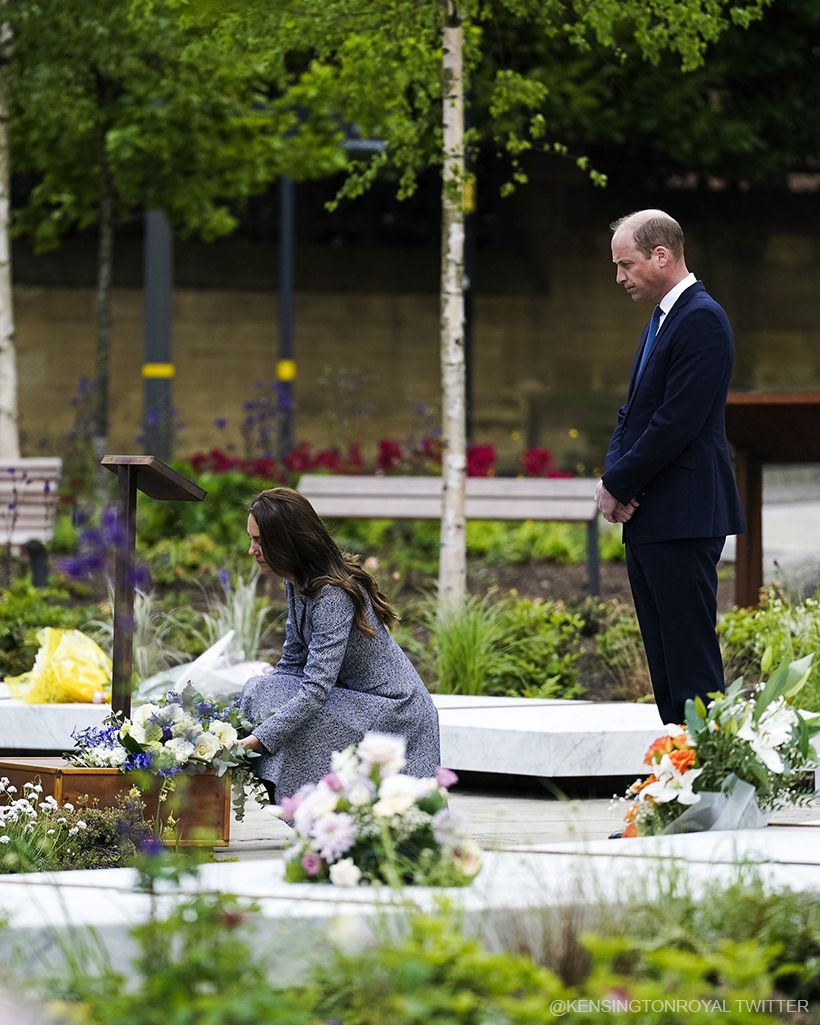 The garden commemorates the 22 victims of the Manchester Arena terrorist attack that took place at Manchester Arena in 2017. Over 90 people were injured and 22 people were killed as an attacker detonated a bomb at an Ariana Grande concert.
The Glade of Light is a tranquil space for people to pay their respects to those lost and injured. Revealed in January earlier this year, it features a memorial with the names of the 22 who died plus memory capsules created by their friends and family. A white hawthorn tree in the centre of the garden will flower each May, around the time of the anniversary of the attack.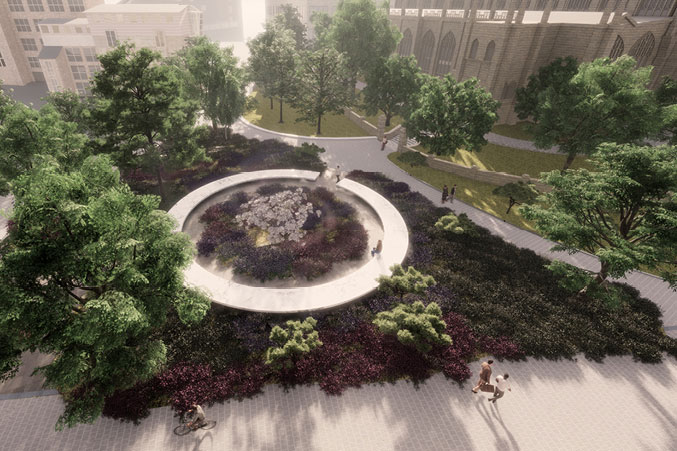 William gave a moving speech during a short ceremony at the official opening. You can hear the Duke speaking in the video below, at around 30 seconds in:
For those who can't press play right now, here is a transcript of the speech:
Thank you Joanne. For Catherine and I, it is very important that we are with you here, today. To remember the twenty-two lives so brutally taken. To acknowledge the hundreds of lives that were irrevocably changed and to pay tribute to the resilience of this great City.

I remember only too well the shock and grief on the faces of those I met when I visited Manchester in the days following the atrocity. And the rawness of emotion at the Commemoration Service, held at your Cathedral just here, a year later. Five years on I know that the pain and the trauma felt by many, has not gone away.

As someone who lives with his own grief, I also know that what often matters most to the bereaved is that those we have lost are not forgotten. There is comfort in remembering. In acknowledging that, while taken horribly soon, they lived. They changed our lives. They were loved, and they are loved. It is why memorials such as the Glade of Light are so important. Why Catherine and I so wanted to be amongst you today.

A memorial is a physical statement that the memory of those who died lives on. It is a focal point for commemoration and reflection. A place of solace for the families, the injured and all those affected. A place for Mancunians and visitors alike to acknowledge what the City went through. It is a counter to the violence and hateful disregard for human life that caused this tragedy.

I hope that this beautiful, tranquil space which, for all the challenges, I know many of you were involved in shaping, will provide all of this and more for generations to come.

Catherine and I know that the atrocity's impact will last a lifetime and beyond, and that the healing process is still on-going. We want to assure all of you who are struggling that you are very much in our thoughts. We stand with you as you continue on that difficult journey.

Alongside the bereaved, I also want to acknowledge all the lives changed that day. The injured, physically and mentally. The First Responders. NHS Staff. Those who were in or around the vicinity of the Arena, and who provided care and first aid.
And we remember the entirety of the Manchester community who responded in the most heart warming and life-affirming ways possible to support those affected. This was an attack on an evening of music. And it occurred in a city that has given the world so many songs to sing.

When the people of Manchester gathered to pay respect to the victims just days after the atrocity, you told the world that your music would not be silenced. Instead, you raised your voices together and you sang a song of love that was written by some of this city's most famous sons. On that day you told each other that you would not look back in anger. And you showed the world the true heart of this extraordinary place.

So, when we come to this memorial let's look back with love for those we lost. Let's look back with love for the people who cared for and protected this community. And let's look back with love for the ongoing strength of the great city of Manchester.

The Duke of Cambridge
After the ceremony, William and Kate signed a book of condolences before privately meeting with families of those who lost loved ones during the attack.
Kate's outfit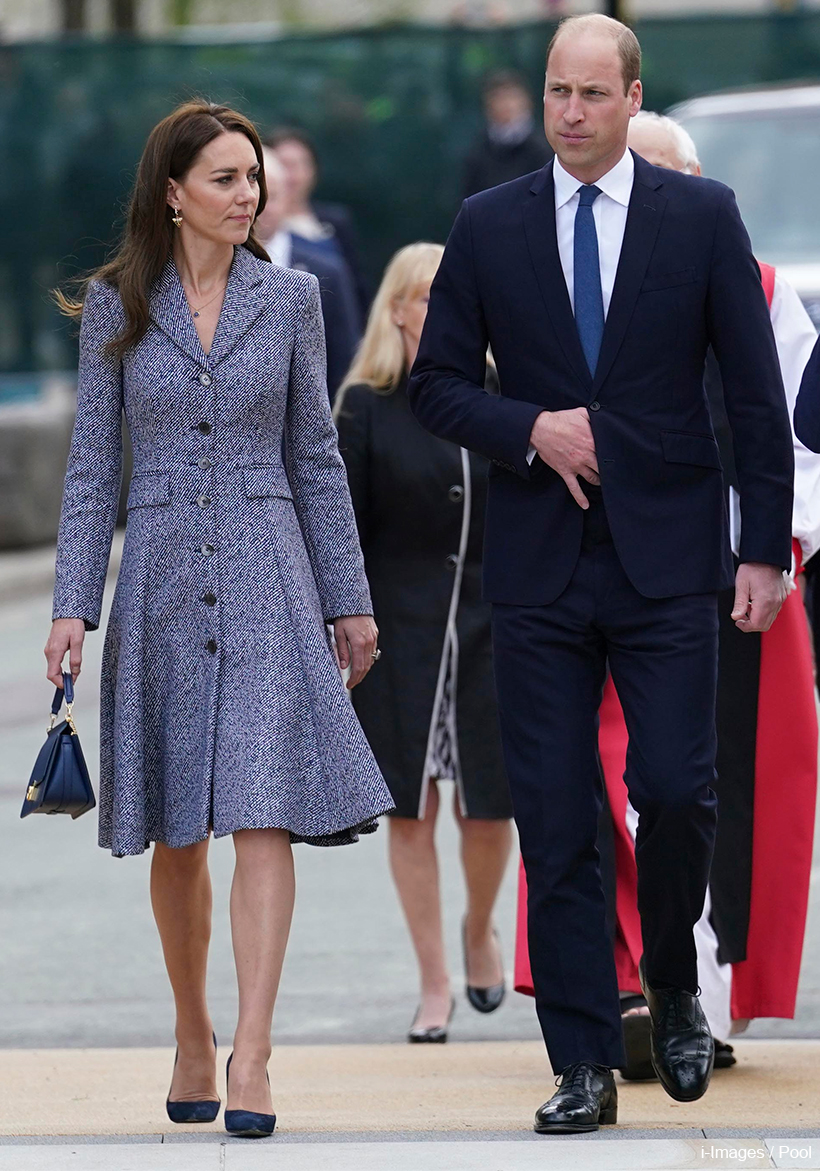 Coatdress: blue-grey twill fit and flare coat from the Michael Kors SS14 Collection.
Kate's worn the coat to at least three other public engagements.
Military Drumhead Service Horse Guards Parade in 2017
Playground opening in May 2016
ANZAC Day in Australia during 2014 tour
Bag: New. It's the Numéro Sept Mini in blue leather from Poléne, a Parisian leather goods brand founded in 2016. We've not seen Kate carry this brand before.
Shoes: Repeat. Rupert Sanderson Mallory. The Duchess has worn the navy shoes fairly regularly since 2016.
Earrings: New. A pair of honeycomb and bee motif hoop earrings by London-based company, VANLELES. The earrings were a bespoke commission from the designer, Vania Leles. All Vanleles pieces are ethically sourced from Africa, designed in England and crafted in Italy.
The bee is a symbol associated with Manchester.
The Manchester worker bee is one of the best-known symbols of Manchester and has been an emblem for the city for over 150 years. The bee denotes Mancunians' hard work ethic and the city being a hive of activity. It has also come to represent the sense of unity in our great city.

Manchester City Council
Many people chose to wear bees to show their support to Manchester and Mancunians after the terrorist attack.
Necklace: Astley Clarke Stilla pendant. Kate has worn the necklace on six other occasions, in public, to date. She first debuted the piece last year (2021). Astley Clarke say this pretty necklace is a "celebration of vibrancy". It features a hand-cut and hand-polished multifaceted blue lapis lazuli gemstone pendant hung from an adjustable demi-fine chain made from 18ct yellow gold vermeil. The chain is finished with a gold nugget detail and one of Astley Clarke's signature star tags.
As Kate departed from the event, she sported a pink bracelet on her wrist. It's a charity band from Liv's Trust.