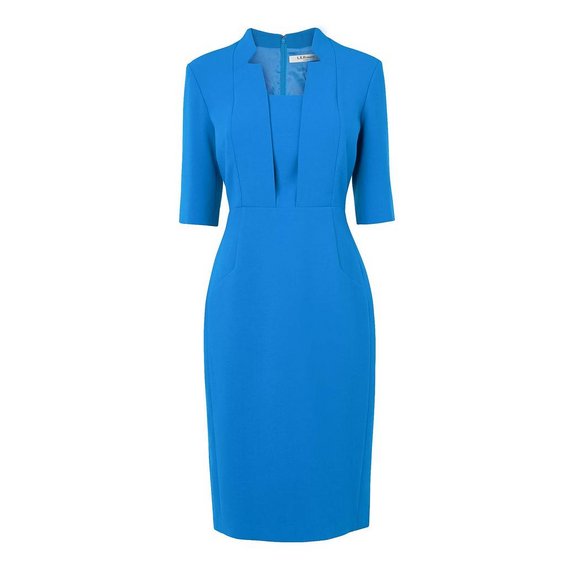 On the 14th of February 2014, Kate Middleton wore the L.K. Bennett Detroit dress during a visit to a school in West London.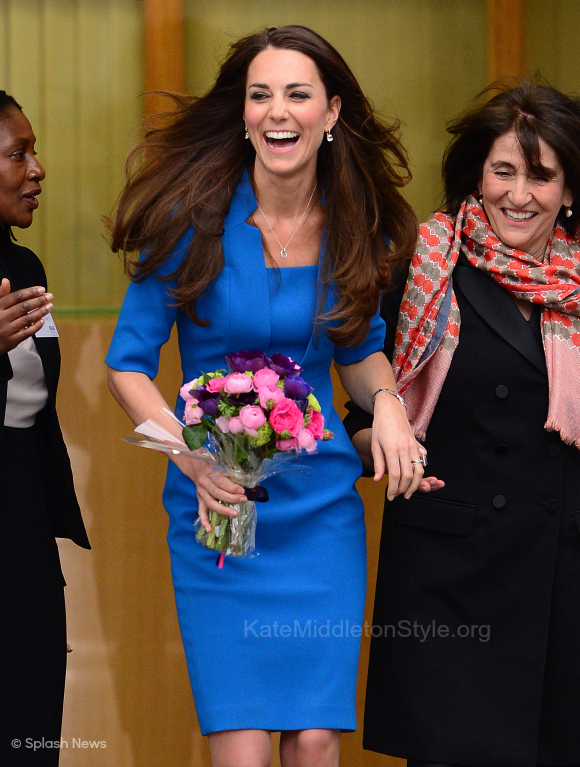 Although she visited the school on St. Valentine's Day, she shied away from the usual reds and pinks associated with the lovey-dovey holiday and instead chose to wear a dress in this brilliant, vibrant blue hue.  The colour is described by L.K. Bennett as 'snorkel blue'.  It featured heavily in their spring/summer 2014 collection.
The Duchess wore the dress again later in the year; this time visiting the poppy installation with Prince William at The Tower of London: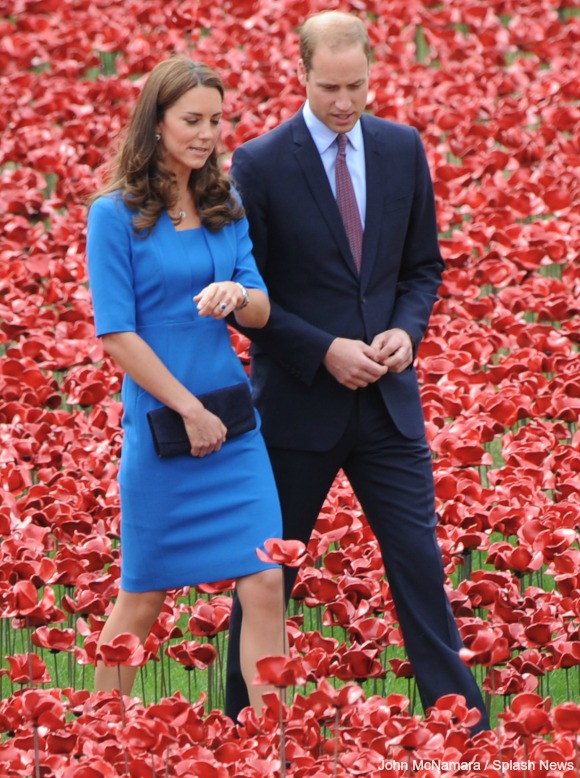 The bright blue colour ensured Kate stood out while walking around the sea of red poppies.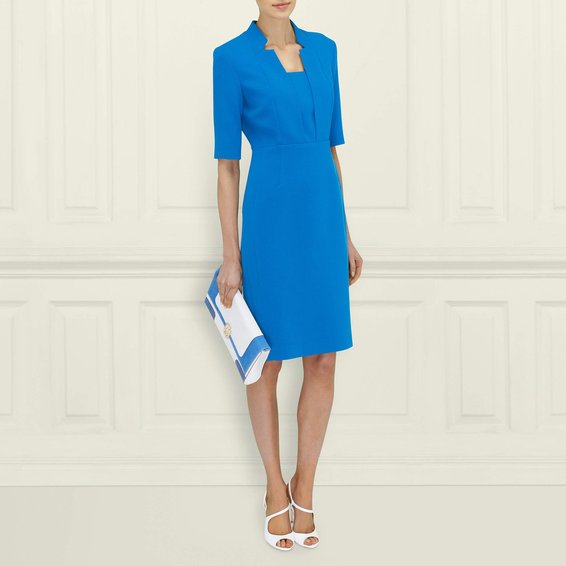 About the Detroit dress:
The L.K. Bennett Detroit sheath dress is made from polyester crepe fabric, features a cinched waist, three quarter length sleeves and a 'notch collar' detail neckline. It originally retailed for £225 GBP / $395 USD.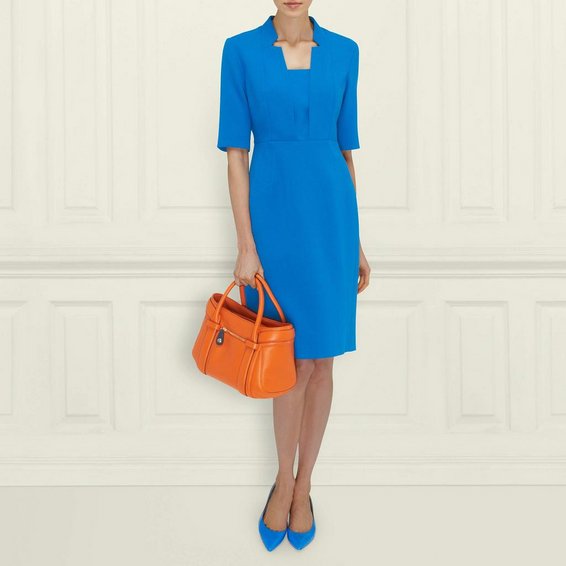 In addition to the snorkel blue colour, L.K. Bennett sold the dress in a bold shade of violet and a soft, creamy white too:

Buying the L.K. Bennett Detroit dress today:
The dress is from L.K. Bennett's 2014 spring and summer collection, which means it's no longer available to purchase. It often pops up on eBay. It's worth checking there if you'd like to buy it.
About Kate and L.K. Bennett:
It's fair to say that L.K. Bennett is one of Kate's go-to brands. The Duchess wears frequently wears clothing, shoes and accessories from the premium high street store.
Arguably, her most famous piece from L.K. Bennett is her Sledge heels. She frequently wore them for years: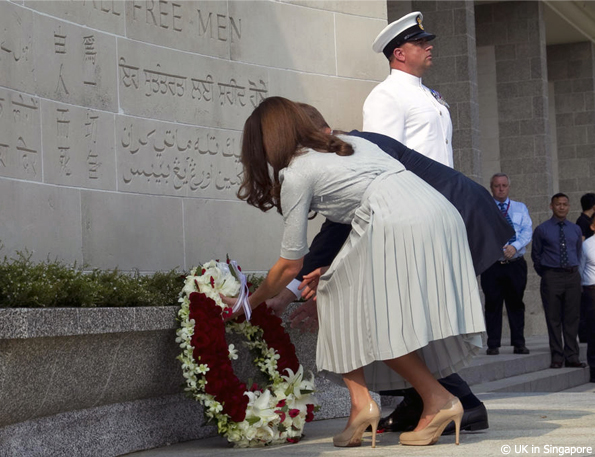 It appears that she's retired the Sledges now and regularly wears L.K. Bennett's Fern heels instead: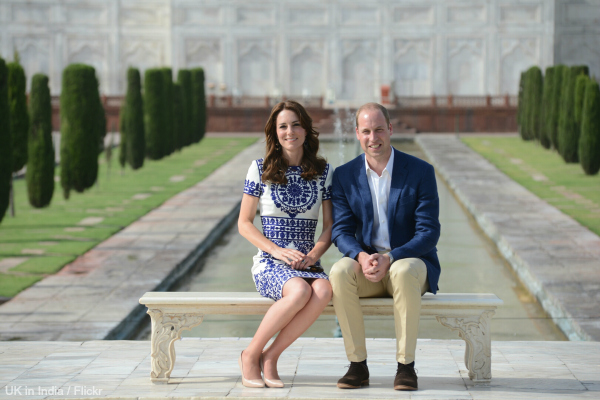 Kate frequently carries her L.K. Bennett Natalie straw clutch bag.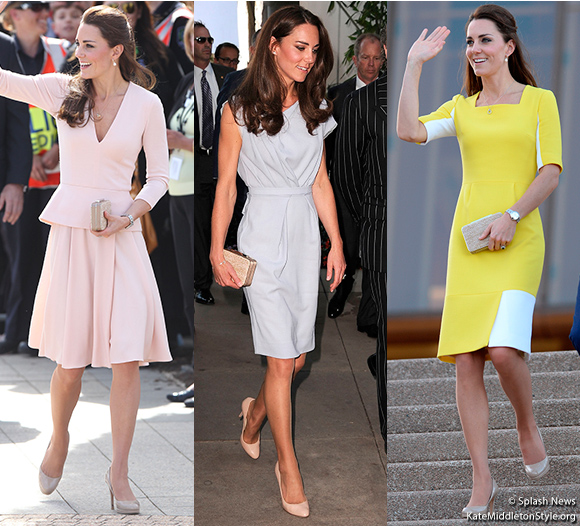 She also owns L.K. Bennett's Lasa dress in a wonderful bright blue poppy print; the Darwin jacket, made from sheepskin and shearling; the black patent and raffia heeled Maddox wedges, which she famously wore the days before and after the Royal Wedding in 2011 and the Agata sandals, which are pink and feature a cute bow, the red Cayla dress worn to Wimbledon in 2015 – and many, many other items.