Kate Middleton wore the L.K. Bennett Sledge pumps frequently between 2011-2014. The nude/beige platforms were her go-to pair.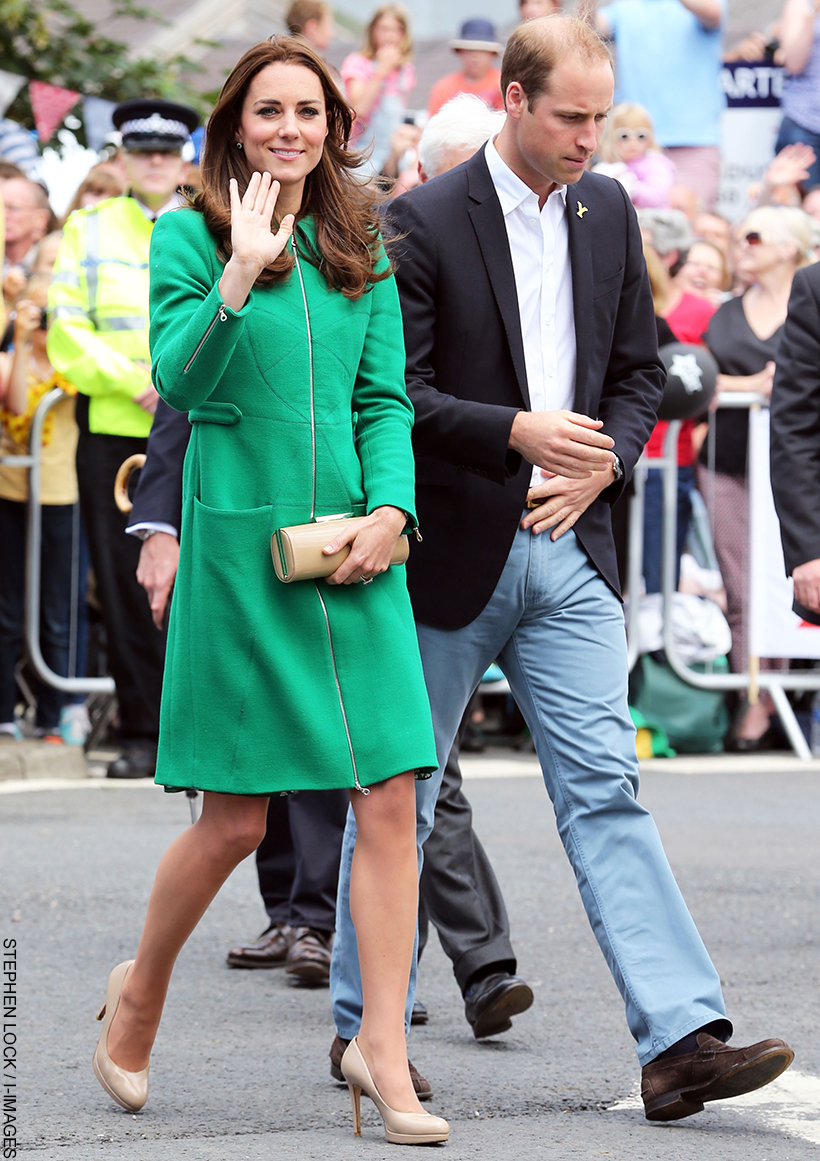 The Sledge pumps were the Princess's 'most worn' pair of shoes in 2011, 2012 and 2014— she wore them to 39 public engagements during the three-year period, this is a significant amount compared to other items in her wardrobe. (Source: Data Duchess.)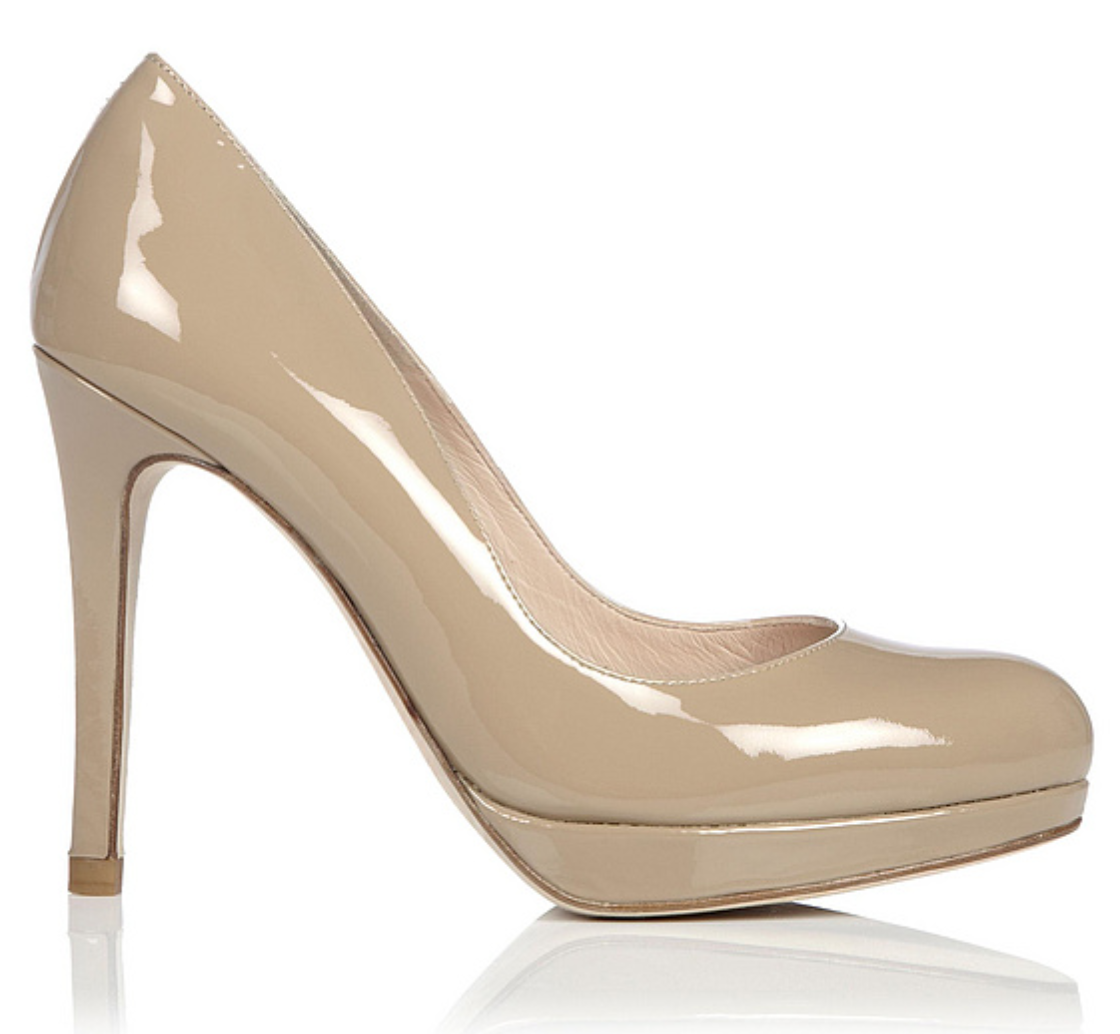 Iconic:
Kate's love of the nude shoe accumulated magazine column inches during those first few years, elevating them to 'icon status'.
The Sledge pump became synonymous with Kate—they were known as her signature shoe.
L.K.Bennett's 'Sledge' nude pumps came to define her style in the early years of her marriage, so ubiquitous were they in her wardrobe.

Georgina Lucas, The Telegraph Fashion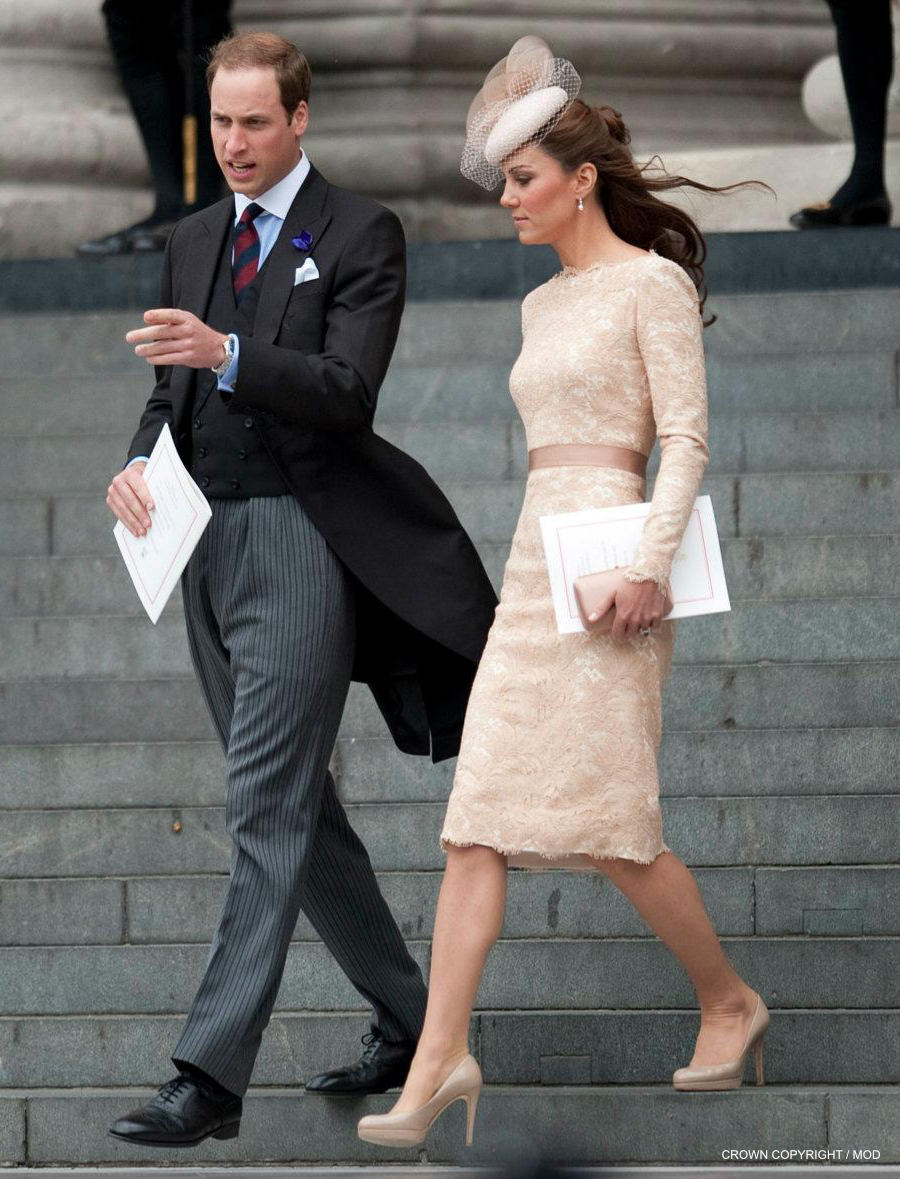 Kate and the rise of the 'nude' shoe:
Nude-coloured shoes had a moment in the early twenty-tens. Kate's popularity during her early marriage contributed to the trend. Shops were clamouring to produce their own 'look-a-like' versions of the famous Sledge shoe for those on a budget. "RepliKate" guides were popping up all over the internet (including here, on my site!)
It helped that nude platforms are easy-to-wear. The versatile colour and ability to transcend age barriers cemented the shoe's status as de rigour for both occasion and the office dressing.
Kate paired her nude pumps with everything—from pastel lace dresses to vibrant bold coats. From understated and elegant to business-chic.
Flying the flag for British fashion:
During the early years of her marriage, Kate wore the L.K. Bennett Sledge pumps all around the world! The nude shoes became an important part of her 'tourdrobe' (tour wardrobe). From the Solomon Islands to Sydney;  Scotland to Singapore, Calgary to California, London to Kuala Lumpur… and beyond! Kate flew the flag for British brand L.K. Bennett across the globe.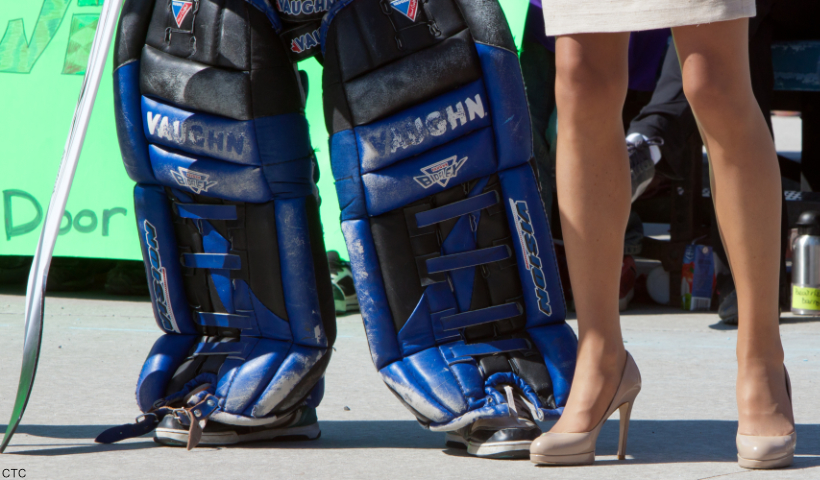 Above: a snap of Kate's nude heels in Yellowknife, Canada during the 2011 tour. The Duke and Duchess were observing a game of street hockey.
About the L.K. Bennett Sledge pumps:
Let's take a closer look at the shoes in question. L.K. Bennett's Sledges are made from beige-coloured patent leather. They feature a platform and a large heel.   Here's a product description that I copied from the brand's website a few years ago:
Sledge is a sleek, versatile platform in a modern, gloss patent leather. The feminine and sculptural toplines balance the amount of exposed toe cleavage. The built-in comfort factor ensures you won't want to take these off, as they take you from desk to dinner effortlessly. Sledge is worn consistently by some of the most stylish women in the world.

L.K. Bennett
Buying the Sledge pumps:
If you'd like to buy a pair of the Sledge pumps, you're in luck. The brand still sell the style today (as of February 2023). The British brand recently released an updated version as part of their Reimagine capsule collection – click here to shop!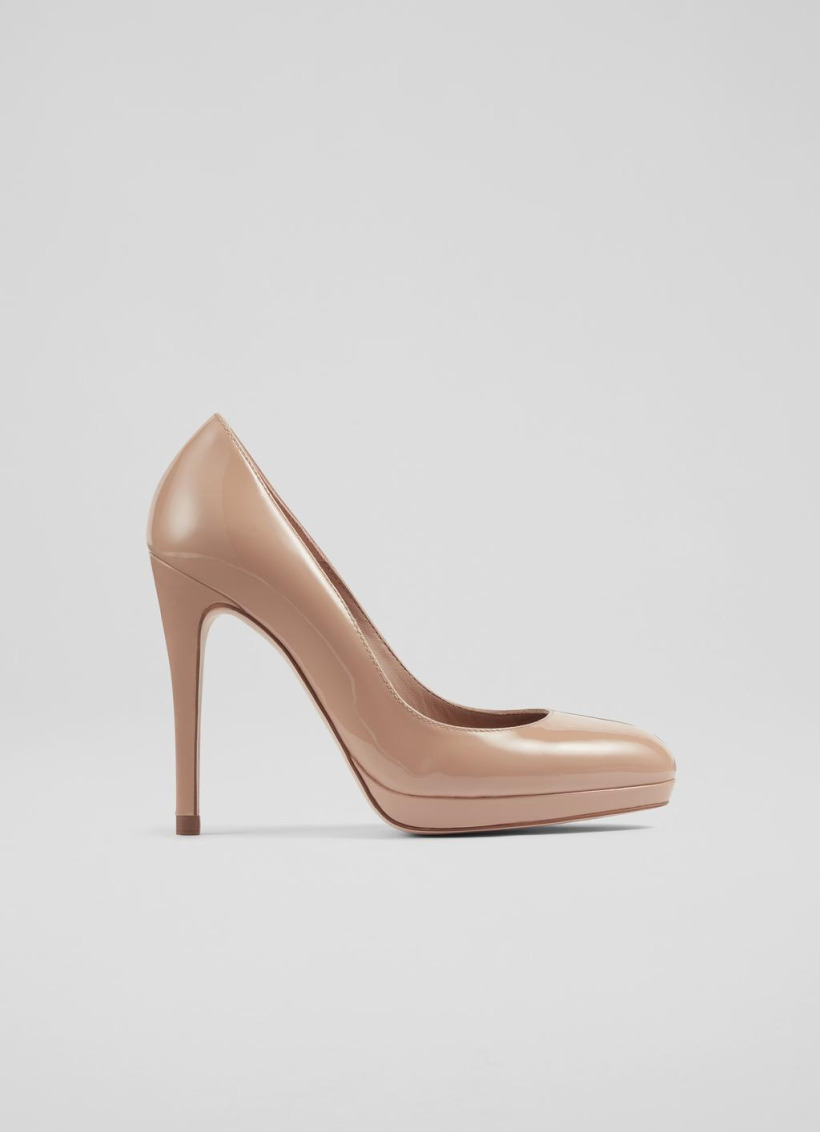 COPY KATE: L.K. Bennett Sledge Pumps in Beige
Introducing the shoe that has stolen the spotlight for years – the iconic L.K. Bennett Sledge. Reimagined for the modern fashionista, these patent leather pumps boast an almond-shaped toe, a 15mm platform sole for added comfort and a sky-high 110mm stiletto heel that will make you feel like royalty. Crafted in Spain from luxury materials and the utmost attention to detail. Slip into the Sledge and experience the unparalleled elegance that only L.K. Bennett can offer.
The Reimagine collection features items from the brand's archive that have been modernised. I believe the Sledge pumps were just refined a little, giving the heel and platform small tweaks to create a more streamlined silhouette. The colour is slightly different too.
My review of Kate's L.K. Bennett Sledge pumps:
I wanted to buy a pair of Kate's Sledge pumps to wear to a wedding back in 2012. In the end, I opted for the patent charcoal grey colour, because they matched my outfit. Here's a picture of me wearing them: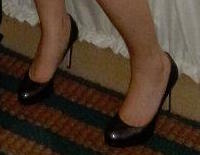 This was the first time I'd worn the Sledges out of the house, and you did see a little toe cleavage, but the leather soon stretched and the toes disappeared. I found the Sledge platforms to be super comfortable; I can see why Kate wears them so often. My feet didn't really ache or get sore – you don't feel don't feel like you're wearing huge high heels.
Sizing:
I bought the Sledge pumps in a UK size 7. I typically buy EU41 shoes, which is a 7.5 in some stores and 8 in others. I think in an ideal world, a 7.5 would have been perfect for me, but I tried on the 8 and they were far too big. The size 7 Sledges pinched a little, to begin with, but then they stretched for me. I noticed that L.K. Bennett does sell some styles in half sizes – I'll certainly buy half a size up on any future purchases.
My Verdict:
I've worn my Sledges several times now and I really love them. Further, I have chunky ankles and I think these really elongate the leg. They made me feel very ladylike!
Reheeling and re-soling your L.K. Bennett Sledges:
One of the events I attended was outdoors. I was worried about water damage to the bottom of my Sledge shoes, so I took them to Timpson and had a very thin, beige half sole applied to the bottom after the first wear (this was recommended to me by a friend).
Just be careful when getting them re-soled – tell the Cobbler explicitly that the shoes are expensive and need extra care – the man at Timpson nicked a tiny bit of the patent leather near the sole, but it's not very noticeable. I've been thinking about using a Sharpie to cover it over!
During one evening, I scuffed a bit of the patent leather on the heel. I took the shoes back the Cobbler and he put a little glue on the shoe which fixed the issue nicely. You cannot really see the scuff mark now.
Also worth knowing – L.K. Bennett provides a spare heel tip with the shoes.
Please note: L.K. Bennett did NOT compensate me for this review; I paid full price for my L.K. Bennett Sledge pumps and simply reviewed them to help my readers decide whether or not to buy a pair.
L.K. Bennett Sledge is favourite with Royals around the world!
Did you know, three other royals wore L.K. Bennett Sledge pumps too?  Sophie, Countess of Wessex and Princess Marie of Denmark both wore the nude colour pumps worn by Kate.  They also wore a second pair of Sledge pumps in a different colour too!  Sophie wore them in metallic glitter while Marie has them in pink.  Queen Maxima of the Netherlands also wears the platform shoe in two colours: burgundy and black.  (Source: UFO No More.)
Fun fact: Sophie wore the shoes in public before Kate. She first wore them to a public engagement in 2010!
Why did Kate Middleton stop wearing the Sledge pumps?
To be perfectly honest, I can't answer this question. She retired the pumps in the August of 2014 (we haven't seen her wear them in public since). I do not recall her wearing any platform styles after this date, though she's worn plenty of nude styles since (see below).
Perhaps they looked tired, or maybe she just wanted to try a different style?
Does Kate Middleton own any other nude pumps?
Yes, she owns quite a few pairs. She added several pairs of nude pumps to her collection after she stopped wearing the Sledge in 2014. In 2015, she was on maternity leave over the summer (she mostly wore the Sledge pumps over the summer months) so didn't wear many nude shoes. She did wear the Jimmy Choo Gilbert Gilbert style for the photocall after Princess Charlotte's birth—but nothing else for the rest of the year.
In 2016, Kate added two new nude styles by L.K. Bennett into her collection, the Fern and the Floret. The Floret and Fern soon replaced the Sledge as Kate's go-to nude pumps. (The two pairs are pretty similar, they have different heel heights). Kate wore them frequently in 2016 and 2017, but not since.
In 2016, Kate also added the Gianvito Rossi 105 style in praline suede to her collection (below). These have become her go-to. She's since started wearing the same shoes with a lower heel height too.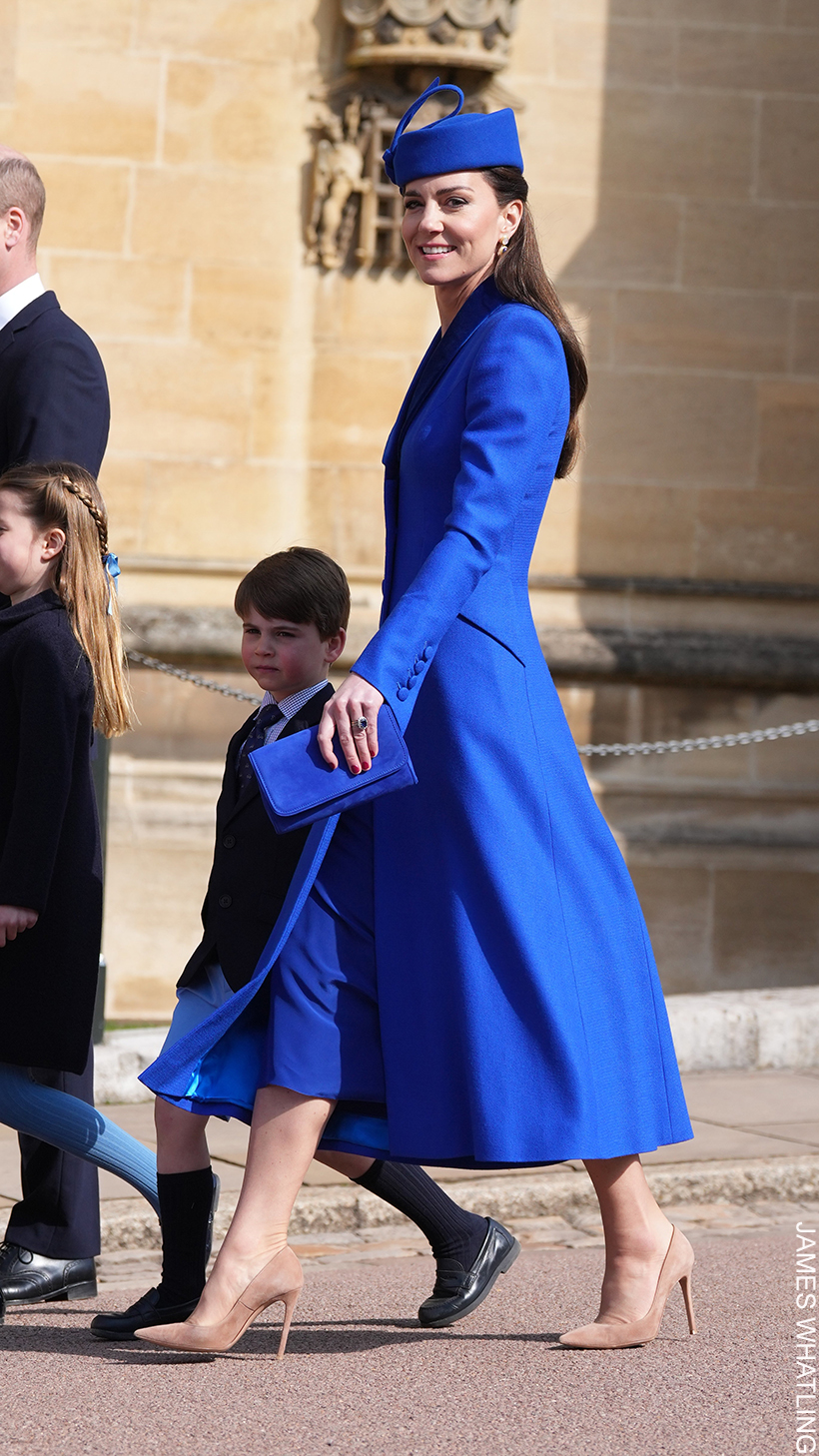 A shout out to some of the other nude shoes in her collection: the Rupert Sanderson Malory pumps, the Jimmy Choo Romy 100 pumps and the Emmy London Rebecca pumps. 
While you're here, why not browse more of Kate's wardrobe? Take a look at her other pumps/heels here.