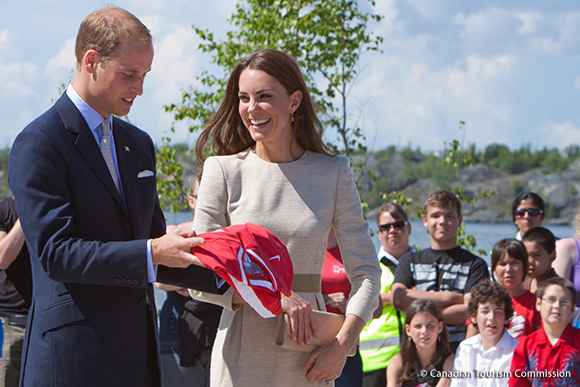 On day six of the 2011 Royal Tour of Canada and USA, Kate and William spent time in Yellowknife, a city in the Northwest Territories.
The royal duo landed in Yellowknife during the previous evening.  Here's a quick reminder of Kate's outfit:
You can find details of Kate's trench coat in this article here.
The royal couple's day in Yellowknife was busy, packed full of events.  They began the morning with a visit to the Somba K's Civic Plaza.  Here they enjoyed prayer drum song, a demonstration of Dene games and Arctic sports.  They assisted in shrub-planting and plaque unveiling, plus observed some street hockey.
Kate, who used to play hockey in university, did not partake in the game but William did; he took three goal shots (and missed).
During their visit, William and Kate were presented with hockey jerseys:
Each jersey had "Cambridge" written on the back:
Kate's outfit:
Duchess Kare wore the By Malene Birger "Bullet Dress".
The piece is made from silk linen mix fabric and features strong shoulders and a contrast waistband.
As we've seen from this tour so far, Kate is a fan of 'cropped' or 3/4 sleeves, trousers & jackets – and this dress follows suit
Selfridges used to stock the Bullet dress.  They described the piece as "a contemporary silhouette" with a "striking yet classic style".
Shop By Malene Birger:
Kate teamed the dress with her nude L.K. Bennett shoes, as you can see in this photo from the hockey pitch:
She also carried her nude coloured Stuart Weitzman 'Muse' clutch bag.  The clutch is known as the Raz in the United States, and comes in a number of colours and designs.  Here we show a more recent version of the bag in nude, but without the snakeskin print that Kate's piece has:
Kate wore a familiar pair of earrings for the day in Yellowknife:
They are her Citrine Drop earrings by designer Kiki McDonough, you can read more about these earrings by clicking here.
The pair later attended a legislative assembly and observe a Youth Parliament. Read Part 2 and learn about the rest of the activities and outfits by clicking here.