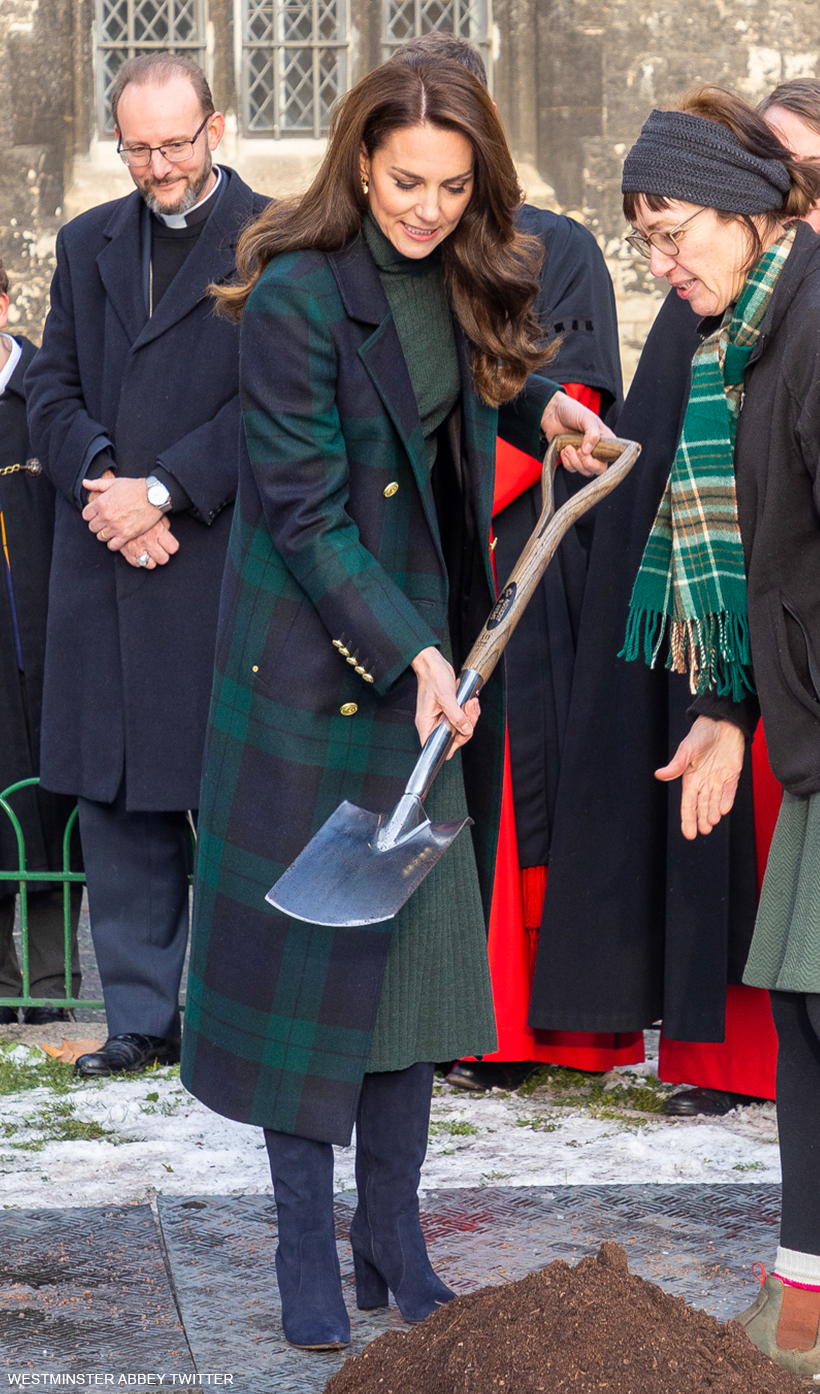 Kate Middleton wore a classic tartan coat to plant a tree in honour of the late Queen Elizabeth at Westminster Abbey last week. The Princess of Wales wore Holland Cooper's Blackwatch Tartan coat over green knit separates and blue suede boots as she shovelled earth and unveiled a plaque in the Dean's Garden.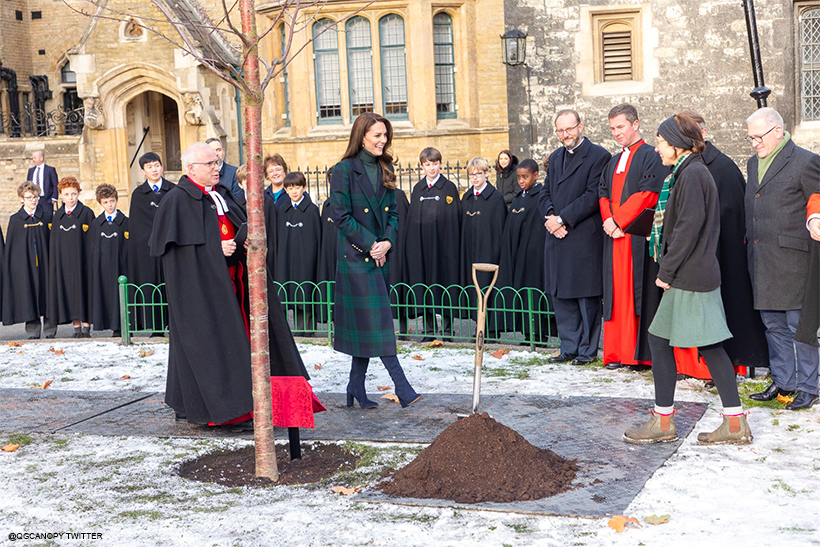 Kate joined the Dean of Westminster, the Very Reverend Dr David Hoyle, and members of the Westminster Abbey gardening team in planting a wild cherry tree in memory of the late monarch—and as a way to mark the Queen's Green Canopy initiative.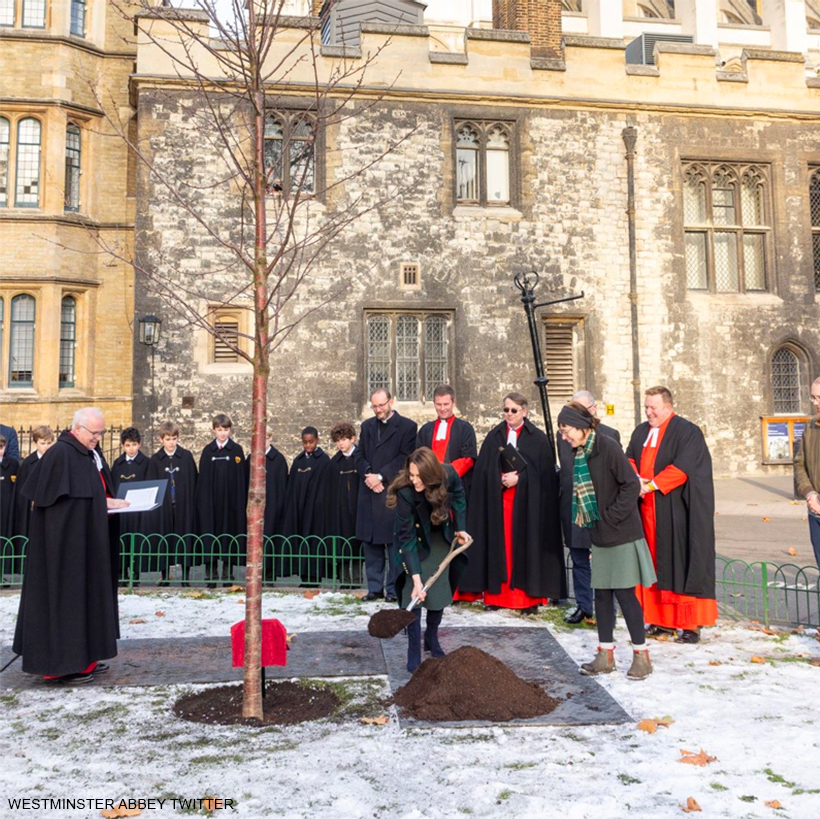 A little more information about the tree:
The tree is a wild cherry tree (Prunus avium Plena) from the estate of the Duchy of Cornwall. It replaces a horse chestnut tree that was rotten and suffered with Summer Sudden Limb Drop earlier this year.

The Princess shovelled the last spadefuls of earth on to the tree and unveiled a plaque.

Westminster Abbey
The Queen's Green Canopy was created to mark Her Majesty's Platinum Jubilee in 2022. It aims to plant over one million trees across the UK.
The initiative was supposed to finish in December to coincide with the end of the Jubilee year. However, following the death of the monarch, it has been extended to March, to include the full tree planting season. This allows more people the opportunity to plant trees in memoriam to honour Her Late Majesty.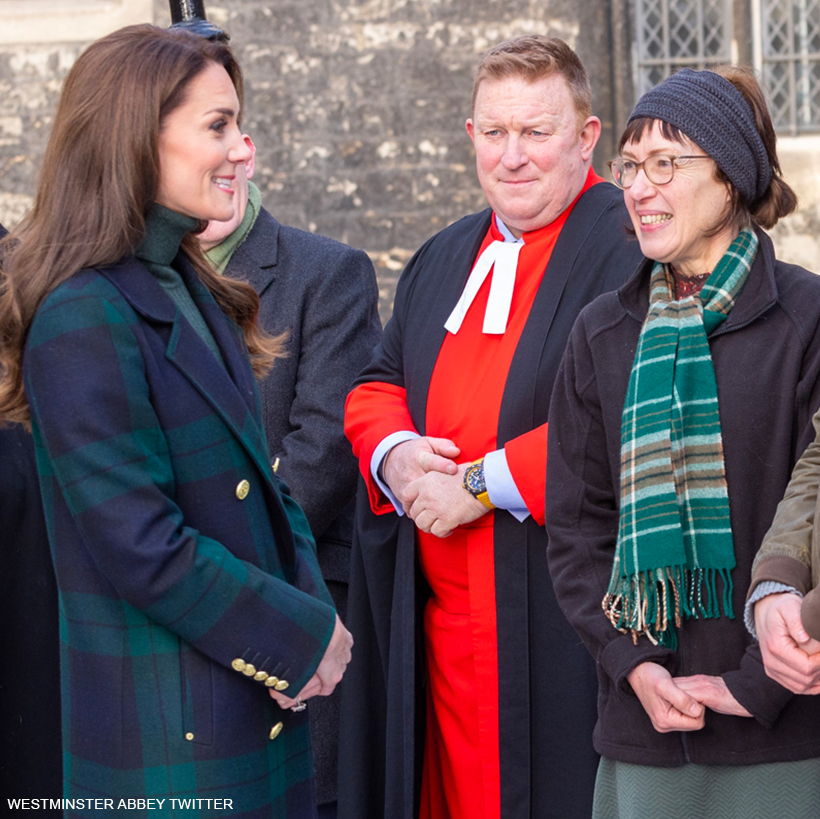 The Queen's Green Canopy is proud to be creating a living legacy with over a million trees planted in Her Majesty's name across the nation during the first planting season, October 2021 to March 2022. The extension of the QGC initiative will build on this legacy and serve as a lasting tribute to Her Majesty's extraordinary service to her country and her people.

The Queen's Green Canopy
Kate planted the memorial tree on the 14th of December, the day before her Christmas Carol Service took place at Westminster Abbey. It looks like the Princess coordinated the tree planting to coincide with final preparations for the concert.
Photographs show Kate meeting with members of the Westminster Abbey choir. I'd expect she'd just watched their rehearsal.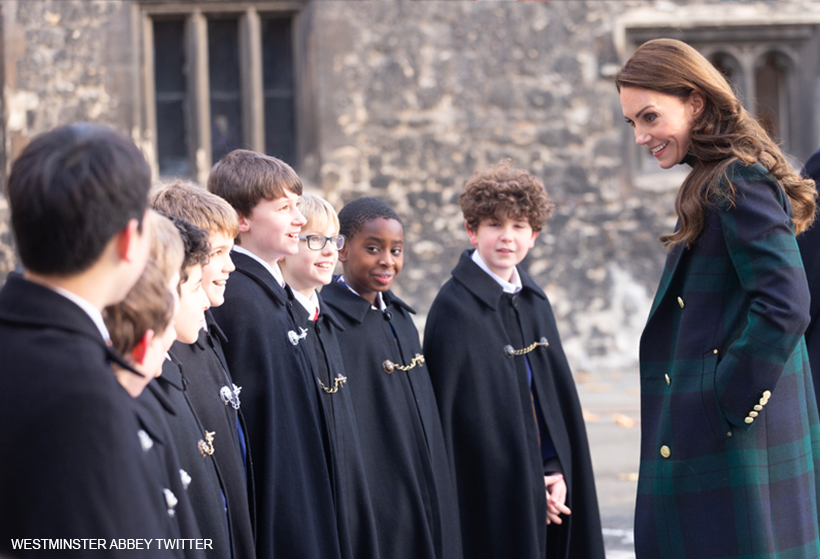 Let's take a closer look at Kate's gorgeous green and blue outfit now.
Kate Middleton's Outfit:
The princess chose a sophisticated and stylish ensemble to plant the tree in honour of the late Queen. Plus, the Blackwatch tartan coat added a festive finishing touch—perfect for December!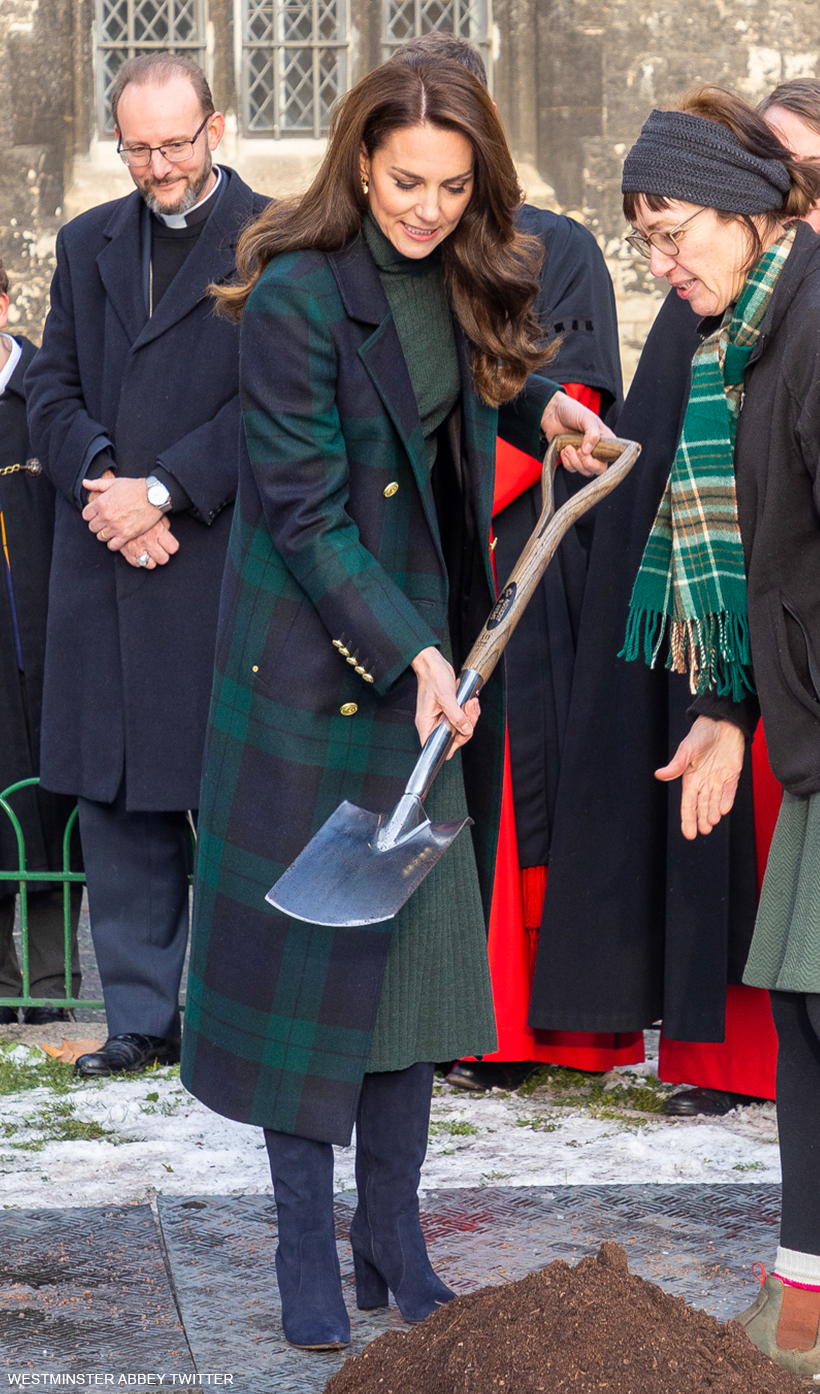 As mentioned in the opening paragraph, the coat is from Holland Cooper. The full-length coat, which retails for £749, features a relaxed silhouette with double-breasted styling and oversized welt pockets with branded metallic buttons and rivets.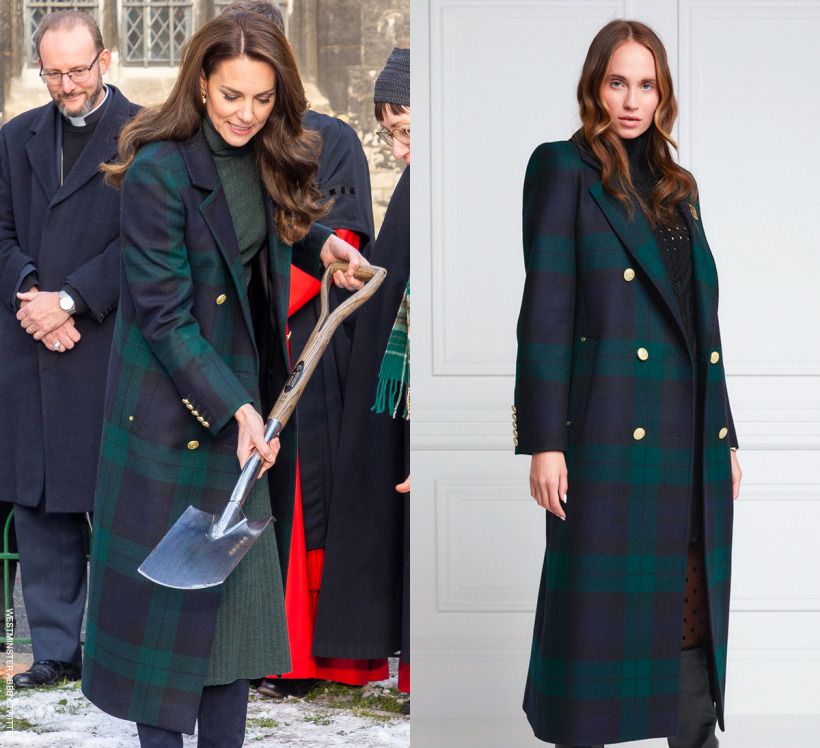 The coat is cut and made in England using UK Wool. I expect the slow, sustainable and local manufacturing process informed Kate's choice to buy the garment—she's gravitated towards more eco-friendly pieces in recent years.
The coat remains available to buy at Holland Cooper and Excel Clothing.
Kate's worn this particular check coat just once before in public. In November 2021 in a video filmed with the Royal British Legion and The Scouts for Remembrance Day.
Kate's no stranger to Holland Cooper, although she's only started wearing the brand (in public) relatively recently, we know she has a few of their items in her wardrobe.
Fashion designer Jade Holland Cooper founded the brand in 2008. It's known for its high-quality, classic pieces with a strong focus on traditional British style, plus for its use of luxurious materials like cashmere, wool, and leather.
Let's look at the Princess's green knitwear now. You'd probably assume she's wearing a roll-neck dress? Nope, it's a turtleneck sweater and matching skirt. Both are from The Outnet's in-house brand, Iris & Ink.
The sweater features unique contrasting ribbed sections and is finished with a cosy roll neck. It originally retailed for $190 USD / £145 GBP at The Outnet.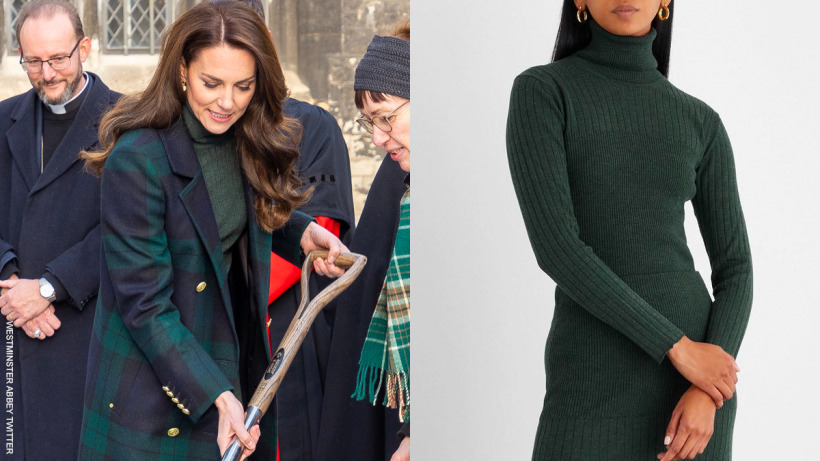 The skirt is mid-length with a fluted hem, which creates a flattering silhouette. The skirt originally retailed for $215 USD / £165 GBP.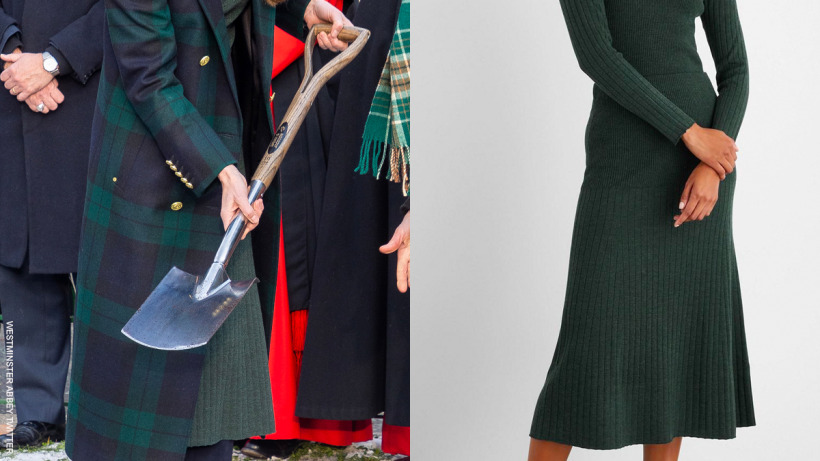 Both items are made from a mid-weight knitted fabric crafted from super soft merino wool mixed with a hint of elastane for stretch.
This is the second time we've seen the Princess wear the ensemble in public. She wore the top and skirt under the same Blackwatch coat in November 2021 to film a special Remembrance video with the Royal British Legion and The Scouts.
Sadly, you can no longer buy the outfit in green—but you could try Iris & Ink's navy blue Emilie roll neck sweater and Emma skirt if you're wanting to achieve a similar look: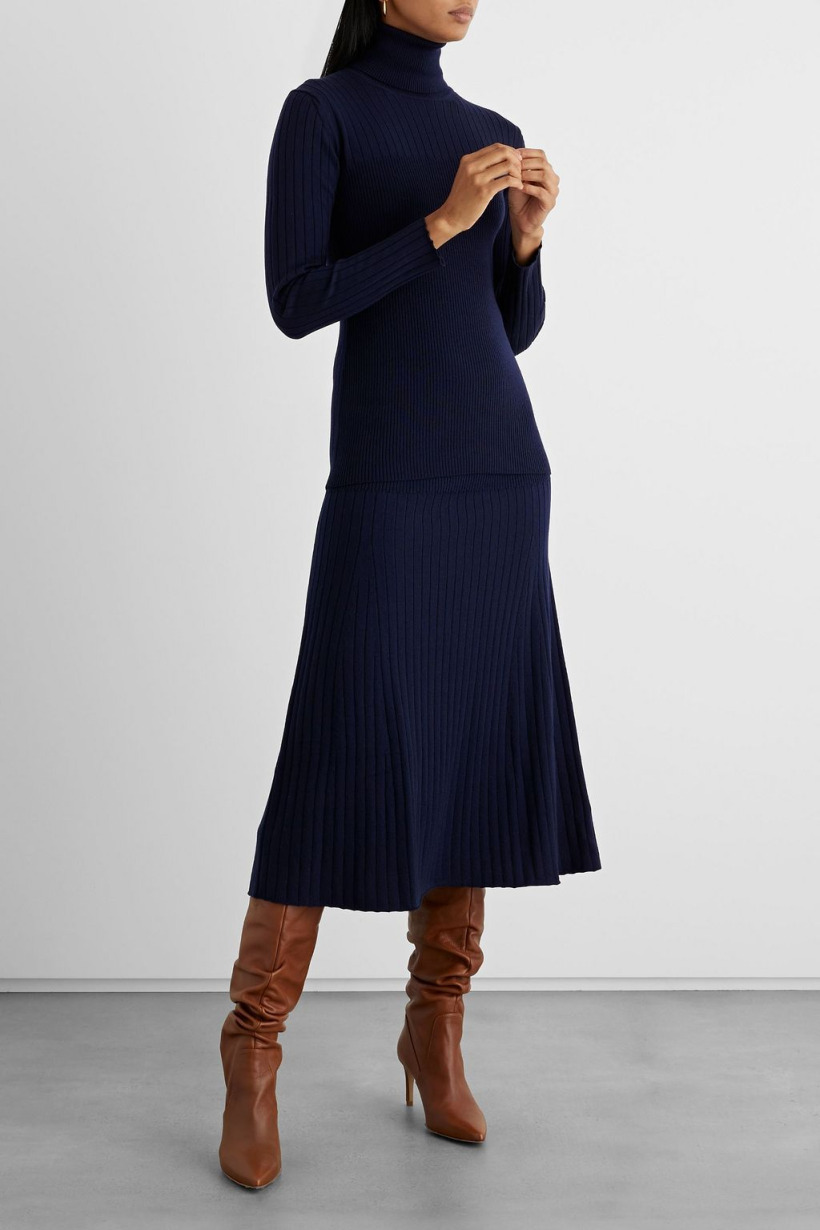 GET THE LOOK: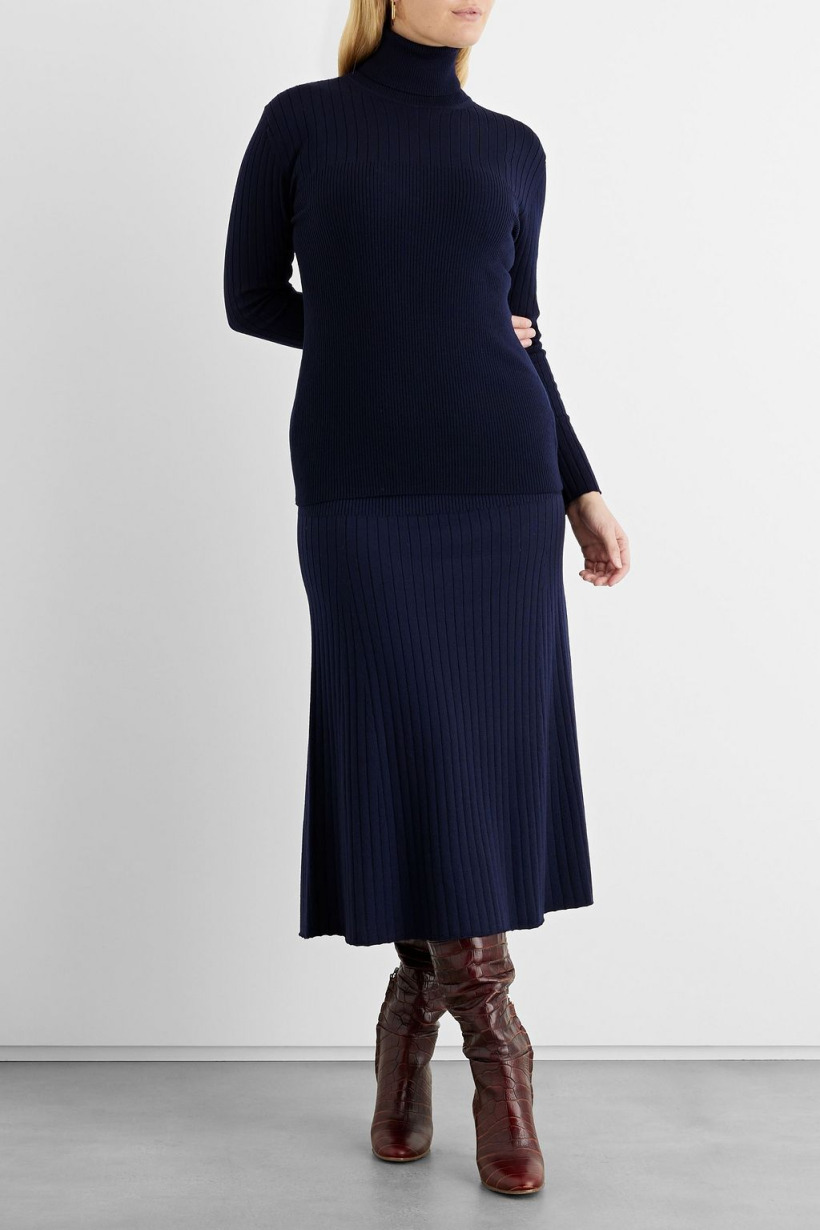 IRIS & INK CO-ORD SET
Elevate your wardrobe with this elegant skirt and top combo. The perfect solution for those who need to look put-together at a moment's notice. On a weekend, tuck the sweater into jeans for chic off-duty style.
Kate owns the same outfit in another colour and at least one other sweater from the brand.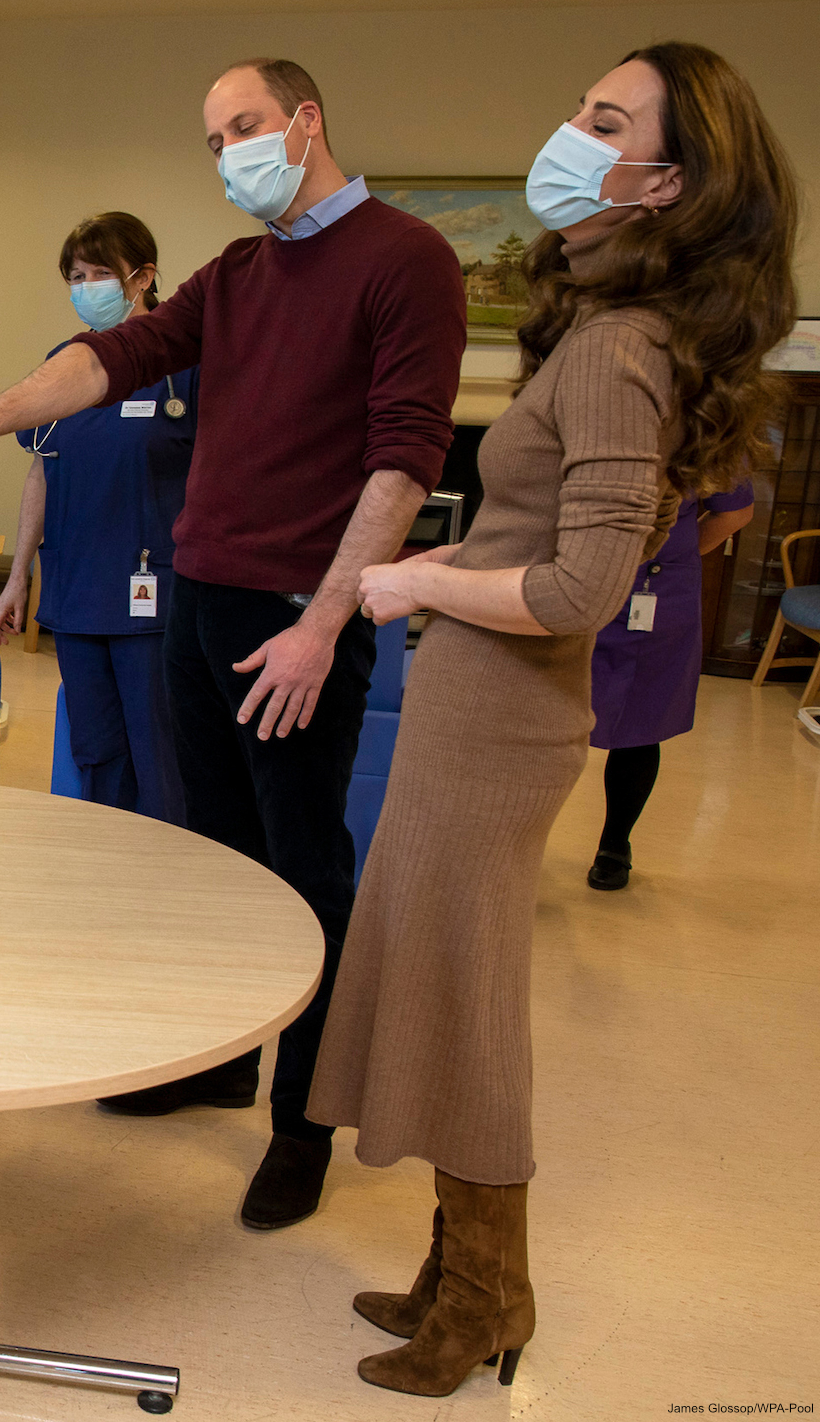 The Outnet launched Iris & Ink in 2012. The brand is known for its simple yet refined style brand aesthetic. It delivers high-quality fabrics, well-fitting clothes and refined silhouettes that work with every wardrobe and lifestyle.
The Princess accessorised with a pair of gold and white–likely pearl—earrings, I have no idea which pair she's wearing. My guess? Her Freya Rose hoops. Perhaps!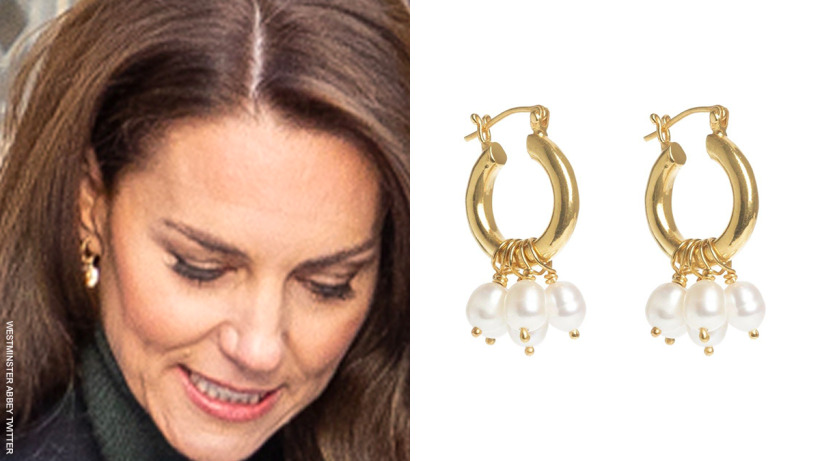 To complete her look, Kate wore a pair of blue suede boots. I think they're by Gianvito Rossi, a bespoke version of the Glen boot with the rounded toe swapped for a pointed toe.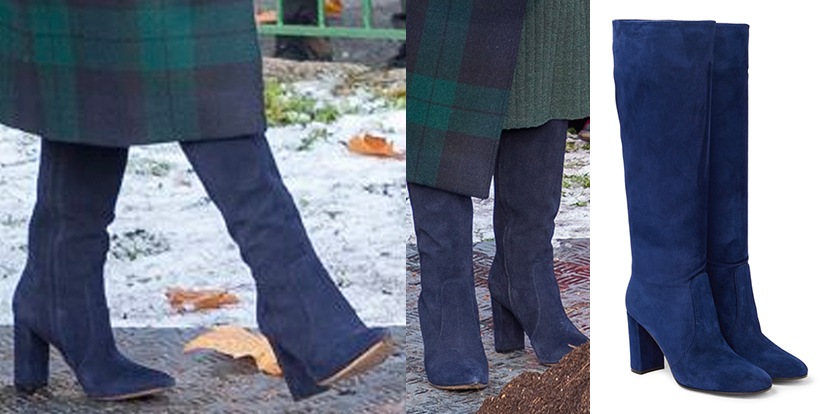 I noticed they look identical to another pair of suede boots made for her by the Italian luxury shoe brand—this time in brown. They feature the same side zip, curved fabric panels along the front of the boot, beige soles and and suede-covered block heels.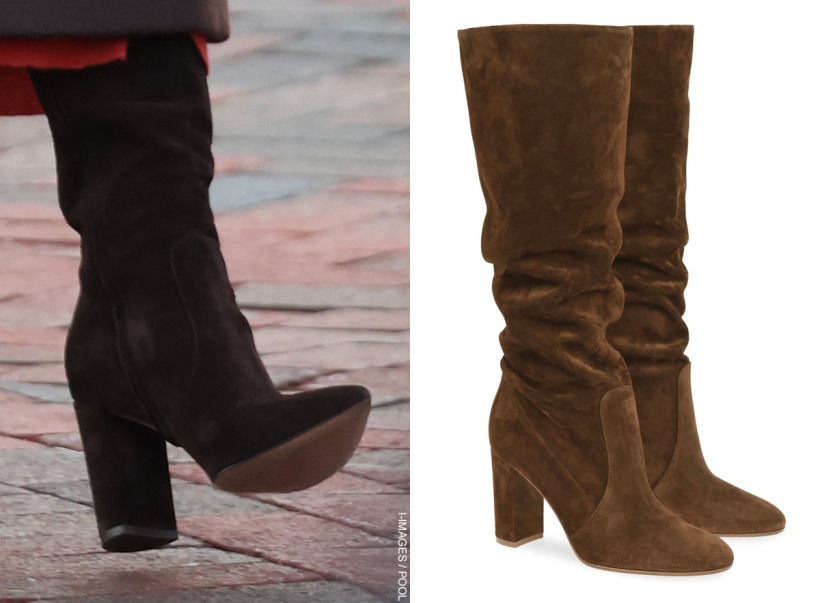 A representative confirmed the company created the brown pair of boots to another blogger—they were a custom commission for Kate. It looks like she's purchased the same design in blue.
Gianvito Rossi is a luxury footwear designer. He is known for his elegant and refined aesthetic, as well as his use of high-quality materials and exceptional craftsmanship. Kate's clearly a huge Gianvito Rossi fan—she owns owns a bunch of his designs, including sandals, boots, pumps and more. She owns Gianvito Rossi's signature shoe in a whopping 8 different colours (that we know of!)
I love this outfit, and how Kate's effortlessly mixed blues and greens to create a cohesive look. What do you think of Kate's outfit? Share your thoughts in the comments below!