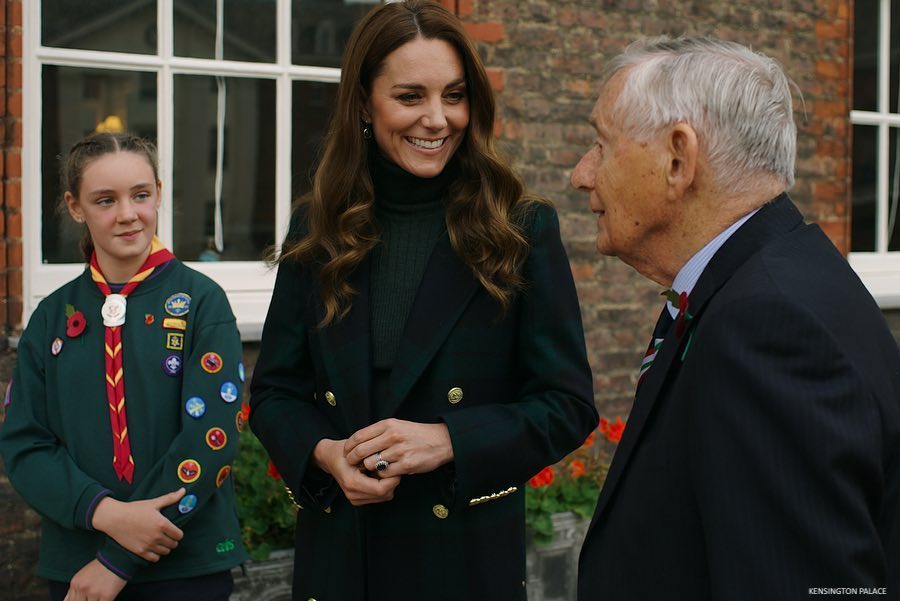 12 November 2021—Earlier this month, Kate met with 98-year-old war veteran Colonel David Blum OBE and 10-year-old Cub Scout Emily Edge at the Royal Hospital Chelsea in London. The trio discussed the importance of Remembrance as they turned their hand to crafting.
Emily taught the two adults how to make poppies—a symbol of Remembrance in Britain.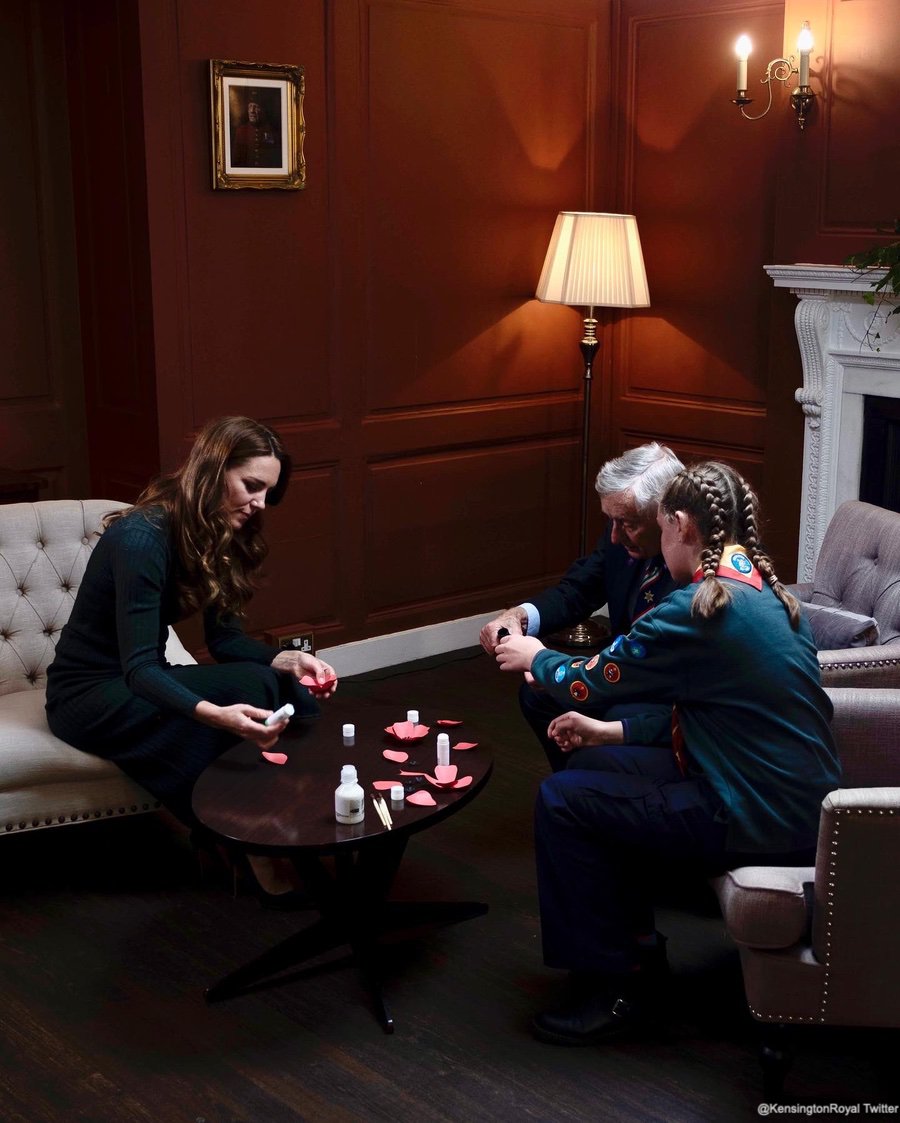 The short video, titled "Remembrance 2021: A Conversation Between Generations" is a collaboration between the Royal British Legion armed forces charity and The Scouts. It marks the creation of the new Scouts Centenary Remembrance badge, an initiative spearheaded by Kate to mark 100 years of the Royal British Legion. The badge is awarded to those who take part in meaningful Remembrance activities.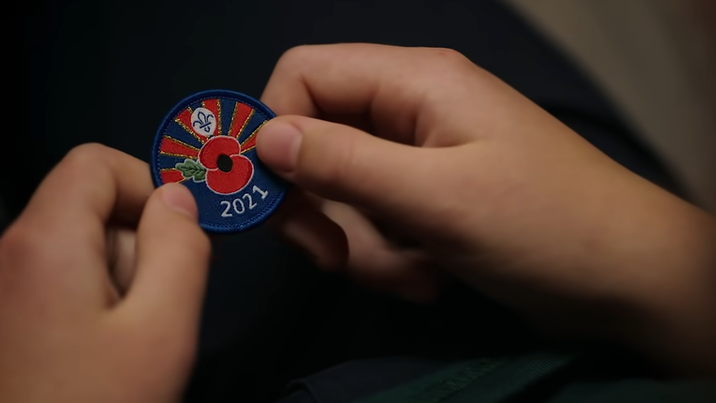 Kate awarded to badge to Cub Scout Emily as their meeting came to a close. In addition to speaking thoughtfully about Remembrance in the video, the youngster earned the badge by creating a large poppy display at her local church.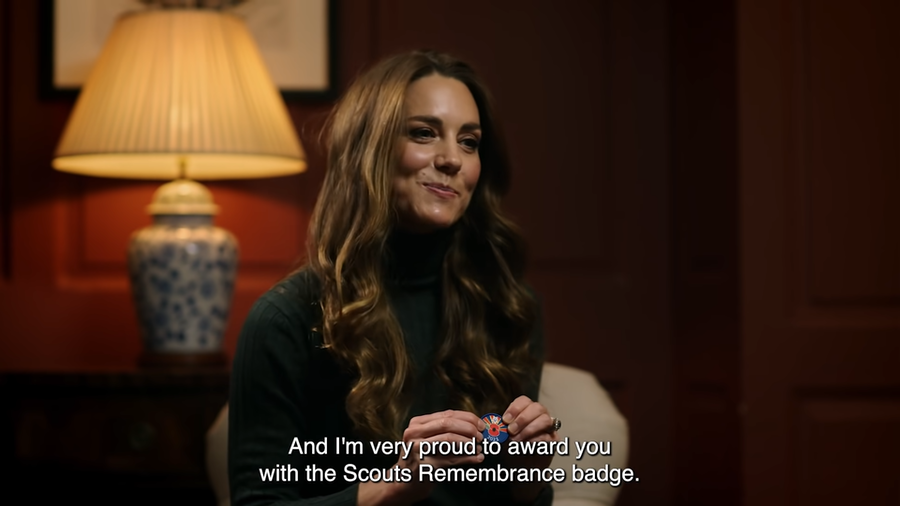 Emily wasn't the only person with a connection to the Scouts in the room. Colonel Blum was a Boy Scout for "many years" as a child and, of course, Kate is co-president of the organisation. All three discussed the benefits of joining the Scouts and the key role the organisation played during World War II. Emily was well-versed in the Scouts' contribution to the war efforts, explaining how the youngsters watched out for fires, helped to bring in the harvest and settle evacuated children. There's further reading on the Scouts' website if you'd like to learn more.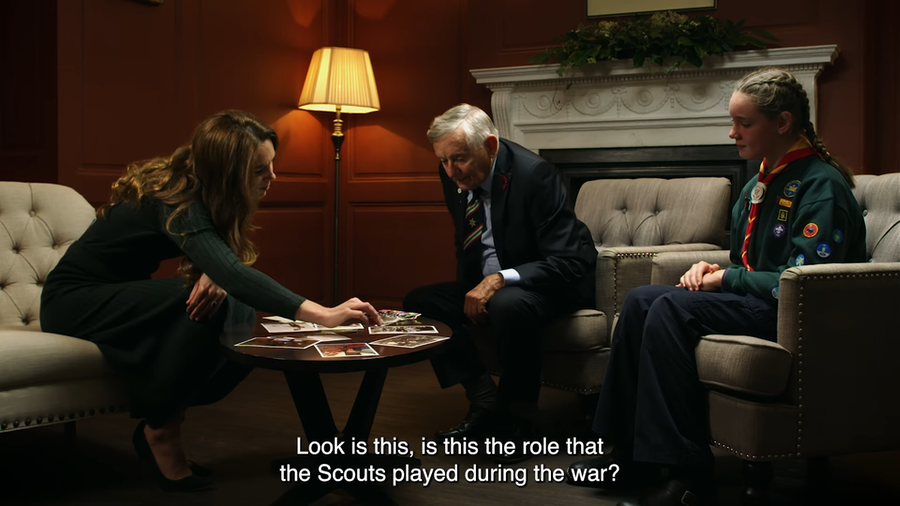 In the video, Colonel Blum told Kate why Remembrance is important to him and spoke about friends he lost during the war.
I lost a few friends… one in particular, I remember he was killed a day or two before the war ended. That, I must say, affected me quite a bit
The veteran showed Kate and Emily photographs, including a picture of his late wife, letters and medals. The three also looked at pictures of young Scouts during World War II.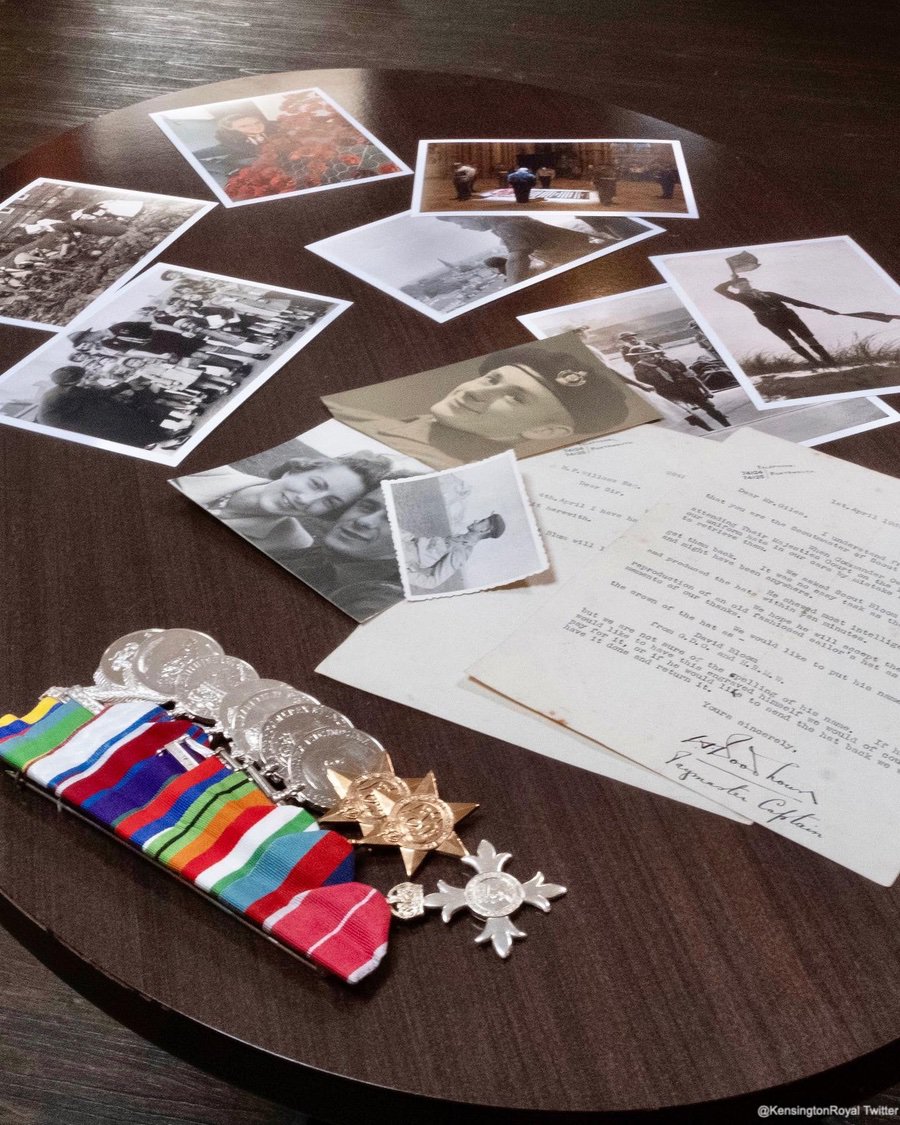 In a statement uploaded to her official social media channels and signed off with her initial, Kate said:
It was a true honour to spend time with Colonel Blum and thank him for the sacrifices he made for our country. Speaking to him highlighted again to me why Remembrance is so important, and why we must pay our gratitude to those who fought and died so we could live in peace today.
We must keep their stories alive for generations to come. And many congratulations to Emily for receiving her Centenary Remembrance Badge! C

The Duchess of Cambridge
The palace released the eight-minute film during Remembrance Week.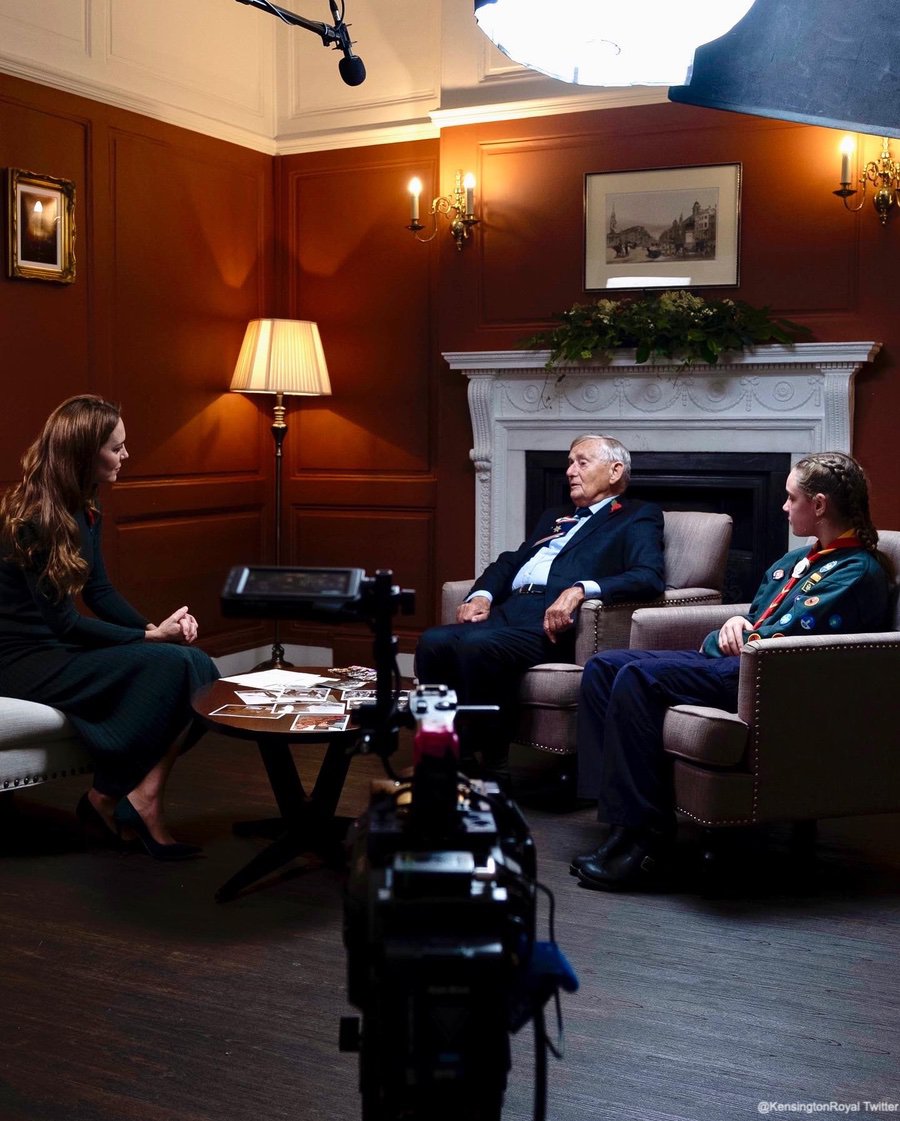 As I write this, it feels strange to pivot from a topic as heavy as war, loss and remembrance to something as frivolous as fashion, but this is a style blog and I know a lot of my readers come here to learn more about Kate's outfit choices, so here we are.
Kate's outfit:
Kate's blue and green check coat is by Holland Cooper. It's the brand's Double Breasted Coat in Blackwatch Tartan (Thanks to Mallory for this super speedy ID). Note, I've filtered the photos of Kate below so you can see the checks on her coat clearly, they weren't too apparent on the original image released by the palace.
The double-breasted coat is cut from a Blackwatch tartan wool fabric and lined with satin. It features oversized pockets and is finished with metallic buttons.
The long coat retails for £749 on the company's website. This is because it's a 'slow fashion' piece, made-to-order. Holland Cooper say the coat's fabric is made from UK woven wool. The piece is hand-cut and sewn in England, giving it a lower carbon footprint than its fast-fashion counterparts.
Holland Cooper is a luxury British brand that produces timeless clothes for women. The company mix heritage fabrics with contemporary design.
Kate's worn a few items from Holland Cooper in the past, she isn't new to the brand. Here's a quick peek at her wearing the company's Shirt Bodysuit, Marlborough Trench and Black Twill Blazer:
On to Kate's knitwear ensemble now. At first, I thought she was wearing a ribbed midi-length dress with a turtleneck. Nope, it turns out it's a top and skirt combo. They're both from Iris & Ink (thanks to Middleton Maven for this ID).
Let's take a closer look at the sweater. You can see the ribbed detailing on both:
It's described as the Éloise ribbed merino wool-blend turtleneck sweater in forest green. The mid-weight knit is described by The Outnet's Editors as having an "insulating turtleneck and neatly contrasting ribbed panels for a figure-skimming fit."
The company suggests pairing the turtleneck with the Ernestine skirt for "monochromatic elegance". It looks like Kate took this advice:
The ribbed merino wool-blend midi skirt fits snug on the hips and relaxed through the hem, for a flattering look.
At the time of writing, the green sweater ($190) and skirt ($215) are both sold out in the USA. (You can get both in camel, though).
There's better luck for those in the UK. The sweater (£145) and skirt (£165) are both available in green and camel, in several sizes.
Sorry, I have not checked any other countries.  For our readers in Europe, Asia, Australia etc., you'll need to head over to The Outnet and use their country-switching tool (top left).
Iris & Ink is The Outnet's in-house label, so these items are exclusive to the website. Kate has worn clothing from the brand before, on at least one other occasion that I can recall. Coincidentally, she wore a turtleneck sweater to an engagement with the Cub Scouts back in 2016:
Kate brought back her Monica Vinader Siren earrings, we've seen her wear the earrings pretty regularly since 2016 (she debuted them on the Canada tour).
The earrings feature a multifaceted Green Onyx gemstone set into 18ct Gold Plated Vermeil on Stirling Silver. According to the designer, the earrings were inspired by "sea-worn treasures and the glamour of southern Italy."
If you'd like to buy the earrings, you're in luck! You can purchase the green and gold earrings from the designer's website for £125 GBP / £175 USD / €165 EUR (other currencies available too). Green and gold not your thing? Monica Vinader sell the Siren earrings in other combinations of gemstones and metal finishes too.
Monica Vinader is a popular brand stocked by many luxury retailers, including Nordstrom, John Lewis and FarFetch. The British jewellery designer creates demi-fine jewellery that's priced in the "gap between fine and fashion jewellery". Kate's only worn three pieces from Monica Vinader over the last decade: these earrings and the Riva diamond earring/necklace set.
Kate finished her all-green ensemble with a pair of pointy suede pumps by Emmy London. They're the Rebecca style in the colour 'Greenery'.
The dark green suede shoes feature a nubuck leather sole and 4.5" straight heel.  The elegant shoes retail on Emmy's website for £395 GBP / $405 USD (other currencies are available too).  Each shoe is designed and hand finished in London, and handmade in a family-run workshop in Portugal.  
Emmy London is run by designer, creative director and founder Emmy Scarterfield.  Emmy designs all of the shoes and accessories for her eponymous brand. Emmy graduated from Cordwainers College in London (Jimmy Choo is another famous alumni) before working with top fashion labels in Milan for five years.  She then moved back home to London to start her own business.  Kate owns several pairs of shoes and a bunch of matching handbags by the designer:
Note: Each of the brands Kate wore show some committment to sustainability, e.g. make their items from recycled materials or produce 'slow fashion'. I plan to add more information about this ASAP (it's getting late here, sorry!)